New Age Islam News Bureau
16 Sept 2017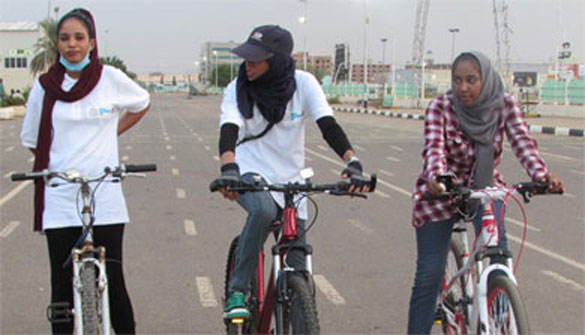 Launched In February the initiative was made to encourage girls to ride bicycles in a city that is suffering from a daily traffic congestion. (Majid Mohammed Ali / Al Arabiya English)
-----
• Pakistan Honour Killing: Teenage Lovers 'Were Electrocuted', Say Karachi Police
• Female Cyclists Breaking Norms As They Take To the Streets in Khartoum
• Efforts for Female-Only Staff in Saudi Women's Wear Shops Welcomed
• Muslim Women: Switzerland to Ban Facial Coverings
• Tajikistan Officials Are Texting Women to Tell Them What to Wear
• A Solid Foundation Completed, New Facilities for the Women of the ANP
• Thirty Foreign Islamic State Women, Child Arrested Near Tal Afar
Compiled by New Age Islam News Bureau
URL: https://www.newageislam.com/islam-women-feminism/first-mehsud-jirga-return-swa/d/112551
--------
First Mehsud Jirga on Return to SWA Bans Women's Photos, Videos
16-Sep-17
By Rehmat Mehsud
Islamabad: The recently-repatriated elders of Mehsud tribe in South Waziristan tribal region held a mammoth Jirga, or tribal council, culminating in an 11-point declaration covering issues like dispute resolution mechanisms and marriage customs.
Restrictions on women: Two clauses of the declaration are conspicuous for restrictions imposed on women's liberties.
Clause no4 bars women from visiting Army camps on their own to get tents or edibles and clause no6 imposes a ban on use of cameras to take women's photographs or make videos featuring women, even if those photographed have given their consent for the purpose. The violators including women who have given their consent to be photographed or featured in a video will face expulsion from the area as well as a fine of Rs.500,000, says the declaration a copy of which is available with Daily Times.
According to clause no4, "If a woman violates the decision, a fine of Rs.100,000 will be levied on her family." A woman should instead approach the jirga members with her request, the declaration adds.
The 60-member Jirga in Speen Qamar near Makeen Tehsil - a scenic hamlet in the heart of South Waziristan - was held following a series of meetings among elders of five sub clans of the Mehsud tribe.
Locally known as teenga, the agreement's implementation would be the responsibility of the jirga. Those found violating the declaration will be required to pay fines and if a dispute remains unsettled at the jirga-level it will be handed over to the military authorities for resolution. "If the warring parties refuse to accept the decision of the jirga, the tribal elders will have the authority to hand the wrongdoer over to the military to keep him in detention," the declaration stated.
Marriage customs: The jirga fixed haq mahr at Rs.150,000 and two tolas of gold. Those found violating this provision will be required to pay the principal as well as an additional fine to the aggrieved party.
In case of a divorce, the woman's family will be required to return the full amount of haq mahr including the gold if she has initiated the divorce. The declaration prohibits the woman from marrying another man in the village where her former in-laws are settled.
However, if the husband initiates divorce proceedings, the woman will be free to marry another man in the village where of her former in-laws are settled. Though, she won't be allowed to marry another man in the family of her former husband.
Walwar or bride price: The jirga has put an end to the practice of walwar, or bride price, payable to a woman's family by the groom at the time of the marriage. The groom's family will now be required to 'gift' a sheep or goat to the bride's family. Khalwat, or fee of the jirga members, has been set at Rs10, 000 payable by both sides.
Narcotics: The tribal council also imposed an immediate ban on sale and purchase of narcotics, saying that anyone found violating the ban will be fined Rs.500,000. Those using narcotics will face a fine of Rs.500 fine.
Settlements of disputes: The jirga also reached consensus on efforts for settlement of business, property, and land-related disputes. It formed a six-member committee to oversee implementation of the grand jirga's decisions. The parties involved in a dispute will have a right to raise objections against the decision. However, any party who refuses to accept the decision will be handed over to the Army to be kept in jail until they accept the decision.
Finances: Almost 80 percent of the amount to be generated from fines collected on violation of declaration will go to the jirga members and the remaining 20 percent will be deposited in the tribe's main fund pool to be used on promotion of collective well-being.
The elders of Makeen, a main town in the Mehsud populated area, are the first tribe to have held a jirga following their repatriation from IDP camps in Tank, D. I. Khan and Karachi.
http://dailytimes.com.pk/pakistan/16-Sep-17/first-mehsud-jirga-on-return-to-swa-bans-womens-photos-videos
--------
Pakistan Honour Killing: Teenage Lovers 'Were Electrocuted', Say Karachi Police
Sep 16, 2017
A teenage couple who planned to elope were electrocuted to death by their families on the orders of tribal elders in the Pakistani city of Karachi, police said.
Bakht Jan, 15, and her boyfriend Rehman, 17, were killed last month in the port city after the Pashtun council of elders, known as a jirga, ruled they had brought dishonour to the community.
"The innocent souls were tied to a charpai (rope bed) and given electric shocks," said Aman Marwat, the police officer who arrested some of the family members. "The girl was killed and buried first, followed by the murder of the boy the next day."
Officer Marwat said he is pursuing the fathers and two uncles of the murdered teenagers, as well as around 30 members of the tribal council, who are now in hiding.
The couple's bodies were exhumed as part of the investigation.
Pakistani activists and commentators say the murders highlight the huge power exerted by tribal councils.
Zia Ur Rehman, one of the first journalists to report on the case inside Pakistan, said that both families had already agreed to the marriage, but the tribal elders didn't want it to go ahead.
"They warned that if the two families did not carry out the barbaric deed, their family in their village back home would have to bear the consequences," he said.
Mumtaz Ahmed Tarar, the Federal Minister for Human Rights, later condemned the killings.
The independent Human Rights Commission of Pakistan had said there are hundreds of so-called "honour killings" in Pakistan each year. It recorded 837 killings, all of women and girls, in 2014, when it last published figures.
The majority were shot, strangled or injured with an "edge tool", a description which includes knives and axes.
Before they were murdered, some of the women were raped or tortured. The most common killers were husbands, brothers or fathers.
In January, a mother was sentenced to death after burning her 18-year-old daughter alive for getting married and eloping to live with his family.
Many similar killings go unnoticed and unreported, activists have warned.
http://www.independent.co.uk/news/world/asia/pakistan-honour-killing-teenage-couple-electrocuted-police-karachi-bakht-jan-rehman-a7947821.html
--------
Female cyclists breaking norms as they take to the streets in Khartoum
15 September 2017
Two thousand women in the Sudanese capital Khartoum have taken to the streets riding bicycles, breaking the norms and customs of the conservative society they are part of and promoting eco-friendly healthy living.
Launched In February of this year, the initiative was launched to encourage girls to ride bicycles, not only as a sport, but as an environmentally friendly day-to-day transportation method in a city that is suffering from a daily traffic congestion.
The "My Bicycle for me and my Environment" initiative, which started with two women, now includes more than 2,000 female riders who go cycling on a weekly basis on cycling routes in the cities of Khartoum and Omdurman.
Despite women in Sudan driving since the 50's, cycling was never culturally accepted and viewed only as means of transportation for boys and men.
Co-founder of the initiative, Enas Muzamil, told Al Arabiya English that she loved cycling since she was four years old, but what held her back was the social norms of society where it was not acceptable for a young girl to be seen riding a bicycle.
"This denial deprives Sudanese girls of riding bicycles, and their right to this sport is beneficial both health wise and economically," Enas said.
"There is no law forbidding a girl to ride a bicycle, but the public and families do not accept this. We are subjected to many negative comments. Even when positive comments are directed at us, they are very embarrassing," she added.
Enas said that despite a lack of openness within Sudanese society and its acceptance of new ideas in many ways, including sports, her initiative was welcomed.
"Through this initiative, we are trying to break the barrier that prevents girls from cycling," she said.
At launch, the initiative attracted a small number of women, and they were training in a closed space. However, as word got out, hundreds of women followed soon after.
Abeer, one of the cyclists, said that the initiative encouraged her to use her bike in her daily commute. Through her personal experience over the past months she discovered that the bike is faster than other means of transportation, adding: "After using the bike, I don't call for any rides or have to wait for public transport."
"Riding a bike is not just a sport but an attempt to deliver environmental awareness messages to the community as global awareness of environmental issues grows and communities join forces to preserve it," Abeer said.
"The Sudanese street accepted my new hobby and I was not bothered or harassed,"she stated.
Another participant, Noha Abdul Mohsen, noted that the initiative allowed participants to fill their leisure time with active sports, social and volunteer activity, rather than other non-useful activities.
"The initiative also brought together participants from across the Sudan, contributing to the communication, exchange of knowledge and life experiences," she affirmed.
"The environmental awareness campaigns we did have been welcomed by the community, official bodies and regional and national organizations working in the context of preserving the environment, which gave great support to the initiative and its objectives," she underlined.
The initiative attracted the attention of many Sudanese and expatriate women of all ages and backgrounds since its inception, especially those looking for a sport that suits their lifestyle.
Furthermore, the initiative's website on Facebook received a great following from over 5,000 subscribers.
Lilly Osman, an employee, says cycling is an economic sport that can be practised by most social groups, including low-income women.
"Bicycles are not expensive compared to other sports equipment, and you can ride a bike anywhere," she said.
https://english.alarabiya.net/en/features/2017/09/15/Female-cyclists-breaking-norms-as-they-take-to-the-streets-in-Khartoum.html
--------
Efforts for female-only staff in Saudi women's wear shops welcomed
RASHID HASSAN
6 September 2017
RIYADH: The Ministry of Labor and Social Development said that the plan to implement third phase of its decision on feminizing and nationalizing shops selling women's accessories at indoor malls, outdoor shopping centers and independent stores will start Oct. 21; the decision has been welcomed by women across the country.
Emphasizing that this third phase was to begin last Oct. 2, the delay gave both the establishments and employers the opportunity to prepare female-friendly workplaces in a better way.
The decision comes within the efforts and the commitment of the ministry to ensure proper provision of suitable and stable work environments, and expand work fields for Saudi women in the private sector, thus contributing to productivity and motivation in the workplace.
It further said that the third phase follows the earlier implemented first and second phases targeting stores selling women's accessories such as perfumes, shoes, socks, purses, ready-to-wear clothes and women's fabrics, in addition to department stores selling only women's garments and other accessories.
Moreover, the decision also covers independent stores that sell gowns, wedding dresses, abayas (cloaks), jalabiyas (traditional dresses), mother-care products and other related accessories, as well as pharmacies with sections that sell cosmetics.
Welcoming the move Hayat Al-Maskeen, a public relations manager in Riyadh told Arab News Wednesday: "Feminizing these women-only stores in the Kingdom is a great step and I support it for creating opportunities for Saudi women."
She, however, underscored that proper training should be provided to each employee for efficient customer service.
"We go shopping and pay for purchased accessories expecting good service in return, but sometimes girls in the sales segment lack the required skills; fulfilling that will make the decision even better," she pointed out.
Iffat, a shopper at a city mall, said: "We welcome the move; it will make shopping more women friendly, and dealing with women staff is a better idea."
http://www.arabnews.com/node/1161966/saudi-arabia
--------
Muslim Women: Switzerland to ban facial coverings
September 16, 2017
(Reuters/NAN) Switzerland could become the latest country to ban facial coverings worn by some Muslim women after activists collected more than 100,000 signatures required to put the proposal to a national vote.
The group, called "Yes to a Mask Ban" delivered the petition on Friday, setting up a vote by 2020.
Some of its leaders also spearheaded the 2009 Swiss ban on new minarets being built in the country.
A delegation of leaders from the group delivered three boxes containing 106,600 signatures to the federal chancellery, part of the Swiss parliament building in Bern.
Full-face coverings such as niqabs and burqas are a polarising issue across Europe, with some arguing that they symbolise discrimination against women and should be outlawed.
The clothing has already been banned in France.
"Facial coverings are a symbol of radical Islam that have nothing to do with religious freedom but are rather an expression of the oppression of women,'' said Anian Liebrand, a Swiss campaign leader.
"In Switzerland, we show our faces when we talk to each other.''
Others contended that bans unnecessarily intrude on religious freedom.
"How many people wear these burqas in Switzerland?'' said Oender Gueneş, a spokesperson for the Federation of Islamic Organisations in Switzerland, which represents more than 200 mosques,'' he said.
Walter Wobmann (R), National Councillor and Co-President committee for "Yes to a Mask Ban'' (Ja zum Verhuellungsverbot), speaks next to Jean-Luc Addor, National Councillor, in front of boxes containing more than 100,000 signatures collected.
These signatures are required to put the proposal of a ban on facial coverings worn by some Muslim women to a national vote, at the Federal Chancellery in Bern, Switzerland.
"You can probably count those living in Switzerland on maybe one or two hands. The rest are usually rich tourists from the Gulf, two thirds of Switzerland's 8.4 million residents are Christians.
But its Muslim population has risen to 5 per cent, largely because of immigrants from former Yugoslavia.
"One Swiss canton, Italian-speaking Ticino, already has a similar ban.
"At least two demonstrators who wore veils in defiance after the ban came into effect in July 2016 and paid fines of 260 dollars,'' Swiss media have reported.
The Switzerland-wide initiative foresees parliament deciding on penalties.
Though the measure would also forbid protesters from concealing their faces during demonstrations, the main focus has been on burqas.
France's ban was upheld in 2014 by the European Court of Human Rights.
This year Germany's parliament backed a ban on full-face veils for civil servants, judges and soldiers, while Austria and the Netherlands have also debated the issue.
With signatures in hand, leaders of the Swiss initiative expect three years of wrangling in Switzerland's system of direct democracy before voters get the chance to register their view.
Liebrand is optimistic his initiative's path would mirror the progress of the 2009 minaret ban.
"The minaret campaign started as underdogs and was something the big parties didn't want, but I reckon the facial coverings ban will also resonate with the people,'' he said.
http://www.nan.ng/news/muslim-women-switzerland-to-ban-facial-coverings/
--------
Tajikistan officials are texting women to tell them what to wear
Tajikistan is using a text message campaign to publicize a new law requiring people to "stick to traditional and national clothes and culture" at events like weddings and funerals.
"Observe Tajik traditional clothes," one message read. Another advised citizens to "respect traditional clothes."
What's out
The law bans "nontraditional dress" and "alien garments." Activists say those are euphemisms for the hijab, which officials have labeled part of "alien culture and traditions" in the past.
The government says the new rule, passed by legislators in August, will help combat Islamist radicalism. The country's legislators are still figuring out how they might punish those who don't oblige.
Tajikistan's Muslims, though, see a more nefarious aim — an effort to regulate their faith. Ninety percent of Tajiks are Muslim, but the government has worked assiduously to stamp out most markers of the faith.
The government's battle against Islam
Tajikistan was once part of the Soviet Union, which was officially atheist. When the country gained independence in 1991, the hijab became highly unpopular, and the government has implemented strict laws on religion ever since:
All religious groups must register with the state, and the government has final say over whether houses of worship can be built and whether children can attend religious schools.
Officials regulate the distribution of religious literature.
Those younger than 18 cannot participate in public religious activities, and Islamic prayer is tightly monitored.
Religious weddings and funerals are regulated by state officials.
More recently, the government has cracked down on outward appearance. Officials have tried to discourage women from wearing the hijab through advertisements and news reports on state media suggesting that women who cover their faces might be prostitutes.
Last year, it closed scores of shops selling women's religious clothing, and in August, more than 8,000 women were stopped because they were wearing a hijab.
According to reports, teams of state officials instructed the women on how to tie their headscarves in a more "traditional" way, warning them to tie the scarf from behind, which would leave the front of the neck exposed.
And, in March 2016, government officials forcibly shaved beards off approximately 13,000 Muslim men.
The government also publicly criticizes Muslim women who wear hijabs.
In 2015, President Emomali Rahmon, who has been in power since 1992, said the hijab was a sign of "poor education and incivility."
Last month, an official told Radio Liberty that "all Salafist wives wear hijabs."
"We have many examples where women wearing the hijab take drugs, deal in human trafficking and other things that are far from Tajik culture and the honor of Tajik women," he said.
The Tajik government says rules like the one regulating dress are imperative to the fight against terrorism. Officials say that hundreds of Tajiks have gone to fight for the Islamic State, though activists contest that number.
Muslims and human rights advocates say the government is obsessing about the wrong things.
"Defending our culture, traditions and national values is undoubtedly important for the Tajik people and the unity of the population," Faiziniso Vohidova, a lawyer and rights activist, told Eurasianet. "But this should not be accompanied by the violation of human rights and interference in people's lives. … I think lowering poverty levels and improving the economy are more important matters than women's clothing."
https://thelily.com/tajikistan-officials-are-texting-women-to-tell-them-what-to-wear-5723da2e4d81
--------
A Solid Foundation Completed, New Facilities for the Women of the ANP
September 16, 2017
KABUL, Afghanistan – U.S. Army Corps of Engineers' Transatlantic Afghanistan District Commander U.S. Army Col. Kimberly Colloton attended a special ribbon cutting ceremony marking the turnover of a newly completed Women's Participation Program Compound located within the Afghan National Police Complex in Kabul on September 13.
"This turnover marks a strong step forward, and the facilities create a solid foundation, for the future of the Women of the Afghan National Police and enables their participation in the continued efforts to maintain a secure and stable Afghanistan. I'm really proud of my team's hard work to deliver this project," said Colloton.
Also in attendance were Rula Ghani, wife of President Ashraf Ghani, the current First Lady of Afghanistan; Minister Wais Ahmad Barmak, minister of Rural Rehabilitation and Development in the Afghan government; Fauzia Kofi, Chief of Women's Affairs within Parliament; and U.S. Army Maj. Gen. Robin Fontes, Combined Security Transition Command-Afghanistan commander.
This project was a collaboration between USACE, Combined Security Transition Command-Afghanistan and the Afghan Construction Companies Umbrella (ACCU), who performed 70 percent of the design and construction efforts with 85 percent of the materials being procured locally from Afghan vendors. ACCU employs women in both management and project level positions.
This was the first Women's Participation Program project for ACCU, but they have constructed approximately 40 million dollars' worth of projects with the Corps of Engineers in Afghanistan.
"Our mission is bigger than building facilities," Colloton stated. "Throughout the entire construction process, we strive to provide opportunities to employ, and mentor Afghan engineers, builders and tradesman, for they, and the facilities that they deliver enable the security forces, and are the cornerstones for building a solid future for Afghanistan."
Additionally, eight Afghan University students sponsored by ACCU, along with four of their eight women employees had key roles on this project.
"The work is being done by those who are the most committed to the rehabilitation and reconstruction of Afghanistan. Afghan companies putting Afghans to work. And now, more than ever, women are among those contributing, putting bread on their family's table and hope in their hearts," said Colloton.
There are more than three thousand women currently courageous enough to serve in the Afghan National Police with a near term goal of enlisting five thousand or more.
Maj. Gen. Fontes, CSTC-A commander, spoke during the ceremony and explained how it is our collective goal that these facilities be a place where women feel safe and cared for and respected.
"The compound that we dedicate today is for them. It includes a Family Response Unit – built as a safe place for victims to come in and report domestic abuse like rape or receive counseling," Fontes said. "These facilities are all centered on serving the women who serve their country."
In addition to taking control of CSTC-A earlier this year, Fontes also assumed the role of deputy chief of staff, security assistance for Resolute Support headquarters. CSTC-A is part of NATO's Resolute Support mission aimed at developing Afghan security forces. It provides resources and training in areas such as management and sustainability.
The U.S. Army Corps of Engineers' Transatlantic Afghanistan District continues to play a vital role in international efforts to establish a secure and stable Afghanistan. As of 2016, USACE managed a 10.8 billion dollar construction program, and had completed 1275 projects valued at more than 8.8 billion dollars in construction.
The dedicated military and civilian personnel who have deployed to Afghanistan during the past 16 years have helped our Afghan Partners build a solid foundation on which to continue their growth toward stability and peace.
https://www.dvidshub.net/news/248517/solid-foundation-completed-new-facilities-women-anp
--------
Thirty foreign Islamic State women, child arrested near Tal Afar
by Nehal Mostafa
Sep 15, 2017
Baghdad (IraqiNews.com) Several Islamic State members were arrested as security troops were combing the group's recently lost bastion in Nineveh province.
In a statement on Friday, the Defense Ministry's War Media Cell said troops found a child and arrested 14 females members in Aiyadhiya region, located near Tal Afar.
Thirteen of the arrested members were Turkish national and a Russian one with sixteen children with them. They were arrested in Qasabet al-Ra'ie village at the outskirts of Aiyadhiya,
Speaking to Sputnik, a source said the children and women were families of the foreign IS members
A security source and eyewitness were quoted on Wednesday as saying that IS female members, most of whom were foreigners, turned in themselves to Iraqi troops. Around 1,000 foreign women from Turkey, Tajikistan, Russia, Azerbaijan and China, left Aiyadhiya along with their children.
The women were transferred to Hammam al-Alil camp, allocated for the displaced, in south of Mosul. They are under high security and are being interrogated.
Another source from the camp said IS women arrived today to the camp on board for more than fifteen buses.
On Tuesday, Brig. Gen. Yehia Rasool, spokesperson of the Joint Operations Command, said in a statement that army troops, backed by fighter jets, killed 65 militants, including 15 suicide bombers, during an operation to purge the village, located west of Aiyadhiya.
Iraqi troops were able to liberate Tal Afar on August 31. PM Haidar al-Abadi announced in a televised speech on August 20 the beginning of operations to recapture the town, which has been held by the militants since 2014, when the extremist group first emerged to proclaim its self-styled 'caliphate'. This came after 40 days of declaring victory in Mosul, the group's former capital, where operations lasted between October to July.
Joint troops then recaptured Aiyadhiya, located 11 KM away from Tal Afar, after invading it on August 29.
https://www.iraqinews.com/iraq-war/thirty-foreign-islamic-state-women-child-arrested-near-tal-afar/
--------
URL: https://www.newageislam.com/islam-women-feminism/first-mehsud-jirga-return-swa/d/112551
New Age Islam, Islam Online, Islamic Website, African Muslim News, Arab World News, South Asia News, Indian Muslim News, World Muslim News, Women in Islam, Islamic Feminism, Arab Women, Women In Arab, Islamophobia in America, Muslim Women in West, Islam Women and Feminism