New Age Islam News Bureau
6 Jan 2019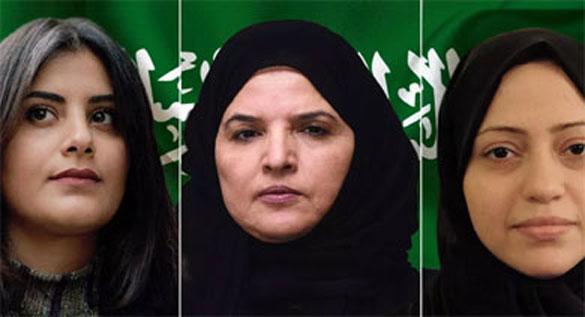 Some of the female Saudi Arabian activists detained by Saudi authorities - From right to left: Samar Badawi, Aziza al-Yusuf and Lajin al-Hathall
------
• 'UN's Position on Women's Equal Rights Applies to All Religions'
• Women Donate Long Locks for Cancer Patients In Dubai
• Rashida Tlaib Slammed As New House Dems Get Early Uncomfortable Lesson
• No Hijab, No Vote, Nigerian Muslim Women Tell Politicians
• The Dangerous Lives Of Iraqi Women Activists
Compiled by New Age Islam News Bureau
URL: https://www.newageislam.com/islam-women-feminism/detained-saudi-woman-activist-threatened/d/117378
--------
Detained Saudi Woman Activist Threatened with Naked Footage, Filmed By Her Captors
January 5, 2019
A detained female Saudi activist was filmed naked by her captors, who then used the footage against her in interrogation.
London-based Al-Qst Human Rights Organisation revealed the shocking details of the Saudi woman's suffering in a statement yesterday, detailing how the woman in question was deliberately filmed naked by her captors, who then displayed the images on the table in front of her during her interrogation.
According to Al-Qst, one of the interrogators then asked the woman who would protect her after she was arrested and whether human rights organisations would be able to help her. The statement added that the interrogators also flogged other female detainees and electrocuted them, highlighting that three are suffering from severe torture scars, tremors and weight loss.
Al-Qst also pointed out that the former adviser to the Saudi Royal Court, Saud Al-Qahtani, was seen more than once in the torture chambers, where he threatened one of the detainees saying: "I will do whatever I desire with you and then I will decompose your body and flush it down the toilet." Al-Qahtani was sanctioned by the US in October for his alleged role in the brutal murder of Saudi journalist Jamal Khashoggi, whose body was allegedly disintegrated and disposed of.
The statement added that one of the detained women was subjected to psychological torture, during which interrogators told her that some members of her family had died and that they need to finish the investigation soon so that she could see their bodies before they were buried.
Al-Qst welcomed the British Independent Investigation Commission's request earlier this week that the Saudi authorities allow them to visit female activists detained in Saudi prisons to monitor their conditions.
https://www.middleeastmonitor.com/20190105-detained-saudi-woman-activist-threatened-with-naked-footage/
--------
'UN's Position on Women's Equal Rights Applies to All Religions'
January 5, 2019
United Nations, January 5 (IANS): The UN's fundamental position on equal rights for women applies across the board to all religions and in the case of Sabarimala, since the Supreme Court has ruled on women's right to enter it, the world body encourages respect for rule of law, according to an official here.
While answering a reporter's question on Friday about the Sabarimala controversy, UN Secretary-General Antonio Guterres' Deputy spokesperson Farhan Haq said: "You are aware of the UN's position on equal rights of all people."
Asked if the UN's position on equal rights for women applied to all religions, including Catholicism and Islam, he said: "It applies across the board. The question is how that is to be carried out… this is a question on which the courts have pronounced themselves and we encourage respect for the rule of law."
In answer to another reporter's pointed question about the "frenzy" in Kerala over two women entering the Lord Ayyappa shrine and former UN Under-Secretary-General Shashi Tharoor's criticism of the women, Haq said: "This is an issue on which the Supreme Court of India has commented. So we will leave the matter in the hands of the rule of law authorities in India. Of course, we want all parties to respect the rule of law."
Asked if not allowing women to enter the temple was a violation of human rights, Haq did not give a direct answer, but said: "We encourage all to respect the laws of the country."
The Supreme Court ruled in September against the temple's ban on women between the ages of 10 and 50 entering the shrine dedicated to Lord Ayyappa.
After prolonged protests blocked women from entering the temple, two women in their 40s entered the shrine under police escort on Wednesday.
Demonstrations have been held across Kerala both in support of women entering the temple as well against it.
Tharoor, now a Congress Party MP representing Thiruvananthapuram, had criticised the women who went to the shrine on Wednesday, saying that it was an "unnecessary provocative act".
But he added, that he was "very much in favour of women equality but was also in favour of respecting the sanctity of religious practices in our country".
http://morungexpress.com/uns-position-on-womens-equal-rights-applies-to-all-religions/
--------
Women Donate Long Locks for Cancer Patients In Dubai
Saman Haziq
January 6, 2019
Over 30 ladies and young girls on Friday parted with one of their most prized possessions - their long hair - for a noble cause.
This was the first public hair donation event by Hair for Hope India campaign run by Indian expat Premi Mathew, who creates awareness about hair donations, which are converted into wigs and given for free to chemotherapy patients.
The event saw women of different age groups, religions - Hindus, Muslims, Christians, etc ? gather at St Thomas Orthodox Church in Oud Metha and donate at least 12 inches of their hair.
Fr Ninan Philip Panackamattom, vicar of the cathedral, inaugurated the event by symbolically holding a pair of scissors and helping cut the hair of one of the participants.
Mathew said: "Struck by cancer, too many ladies end up confined at home without the courage to face the society when they lose hair. Hair donation was an unknown concept when I launched this campaign in 2011, but today it has become a huge movement.
Many women even go bald defying social norms and taboos to avenge cancer for stealing their loved ones. Hundreds of men, too, have donated."
Mathew said that the event also falls in line the UAE's Year of Tolerance. "We saw people of different religions - Hindus, Muslims and Christians - gather at this church to donate their hair to give a new lease of life to a cancer patient, regardless of caste or creed."
It was the first time that Sumayya, a Muslim resident, entered a church in Dubai. "My friend told me about this campaign happening at this church and I didn't think twice about joining in. It was very motivating to sit with so many women of different religions and age groups and donate our hair at the same time.
"This campaign is a great way of involving the community in charity work without asking them to give anything from their pockets. I have nothing to give financially but I am giving something more valuable - a part of me - my hair. This is the third time I'm donating my hair and I will continue to do so whenever I get a chance."
Mother of two Ancy Binuvarghese was present with her two daughters Sharon, 9, and Sherin, 6, who were both donating their hair for the first time.
"Sharon has never let me cut her hair ever since because it is her most prized possession, but today, for the first time in her life, she has got them chopped and donated 12 inches of her locks for cancer patients. This is because she has seen pictures of how cancer patients go bald during the treatment and this is her way of comforting them. Her younger daughter is just following her elder sibling. As a parent, I am happy to see them empathise and understand the importance of helping others," Ancy said.
Cancer survivor Steffy Thomas, 27, said that when she was told she had cancer four years ago, the only worry she had was that she would lose her long hair.
"My sister donated her hair so that I could get a wig when I was going through the cancer treatment. For a woman, losing hair is traumatic and I think this campaign is a great way to spread awareness and bring happiness to both the donors and the beneficiaries."
The event saw 106 ponytails chopped and donated. The hair will be handed over to Friends of Cancer patients, under the patronage of Sheikha Jawaher bint Mohammed Al Qasimi, wife of the Ruler of Sharjah.
https://www.khaleejtimes.com/nation/dubai/women-donate-long-locks-for-cancer-patients-in-dubai-
--------
Rashida Tlaib Slammed As New House Dems Get Early Uncomfortable Lesson
5 January 2019
The education of the star-studded class of House freshmen has begun.
Lesson one: Speaking with the bluntness of a candidate can produce swift and uncomfortable results.
Rep. Rashida Tlaib learned that before lunch Friday, when her profane remarks the night before vowing to impeach President Donald Trump drew almost no support, and plenty of pushback, from members of her party.
"It's been pretty intense," Tlaib, D-Mich., told The Associated Press in a brief hallway interview Friday as she reported to the House to face her colleagues.
Hours after Tlaib was sworn in as part of the history-making class of freshmen that helped flip the House to Democratic control, she ran afoul of the widespread sense among her colleagues that they should focus for now on health care and other policies rather than impeachment - at least until special counsel Robert Mueller's investigation concludes.
"We're gonna impeach the motherf---er," Tlaib exclaimed during a party Thursday night hosted by the liberal activist group MoveOn, according to video and comments on Twitter.
It was a striking coda to the Democrats' heady ascendance to the House majority Thursday, sparking unusually public corrections from House veterans.
"I disagree with what she said," said House Judiciary Committee Chairman Jerrold Nadler, D-N.Y., during a CNN interview. His committee would be the one to begin impeachment proceedings.
"It is too early to talk about that intelligently," Nadler said. "We have to follow the facts."
Newcomers routinely stumble as they learn how things are done on Capitol Hill. But Tlaib and her classmates have been celebrated in magazine profiles for their independence and their promises to stand up to the powers that be. By rebuking one, the more seasoned Democrats were effectively warning the others.
"I think some of our new members probably don't realize that you are always on, that when you are a member of Congress, there's always someone listening," said Rep. Jan Schakowsky, D-Ill. She said she hopes Tlaib's remarks aren't news for long.
More than Tlaib's profanity, it was her vow to impeach Trump that drew her colleagues' disapproval.
Tlaib's defiance flew in the face of Speaker Nancy Pelosi's warning to focus on policies the candidates had promised ahead of the Nov. 6 elections.
The timing also chafed, just hours before congressional leaders were headed to the White House to try to resolve the standoff over the border wall Trump is demanding in exchange for reopening the government. Republicans pounced, using the occasion to question the Democrats' true priorities and Pelosi's leadership.
With a tight smile, Pelosi rejected Tlaib's profanity and her impeachment vow.
"That is not the position of the House Democratic caucus," Pelosi said on MSNBC of Tlaib's comments. "I don't think we should make a big deal of it."
Rep. Gerry Connolly, D-Va., served up a reminder to the new members that seniority rules in Congress.
"She's a freshman. It's her first day here," Connolly said of Tlaib. "She went in front of an enthusiastic crowd of her supporters and it was red meat for them. She yielded to that temptation."
"I'm sure upon reflection," Connolly suggested, "She might choose other words to describe her feelings."
Talk of impeachment remains in the air, fueled by a handful of Democrats on Pelosi's left flank who are pressuring her to more aggressively pursue the issue. But such proceedings appear unlikely for now.
Even if the House advances any articles of impeachment, a two-thirds-majority vote to convict Trump in the Republican-controlled Senate and remove him from office would seem out of the question, barring astonishing new revelations.
Tlaib wasn't the only freshman who got a lesson in how one comment can upend Capitol Hill.
Some of Tlaib's classmates were pursued for reaction - standard results when a political ally says something that raises eyebrows.
"I am not talking about those things," laughed Rep. Abigail Spanberger, D-Va., when asked Friday to respond to Tlaib's remarks.
She said she was elected because she talked about preserving health care. "I'm not going to tell anyone else what to do, but certainly, I think, it would behoove all of us to really be working for the people who need" Congress' help.
https://english.alarabiya.net/en/features/2019/01/05/Rashida-Tlaib-slammed-as-new-House-Dems-get-early-uncomfortable-lesson.html
--------
No Hijab, No Vote, Nigerian Muslim Women Tell Politicians
ANUARY 3, 2019
The National Amirah, Al-Mu'minaat (The Believing Women) Organisation, Hajia Nimatullah Abdullateef has urged politicians vying for various offices in the country to respect the right of female Muslim to use of hijab.
She stated this while addressing Muslim women during the closing ceremony of 23rd National Convention and Annual Training Forum held at Vanguard Academy, Odosenlu, Ogun State. Stressing that the believing women will only vote candidate who respects their inalienable rights to use hijab.
The All Progressives Congress, APC, deputy governorship candidate in the state, Engr. Naimat Salako-Oyedele was a special guest at the occasion. Recall that the Muslim Students' Society of Nigeria (MSSN), Lagos State Area Unit recently stated its members would vote any candidate who will challenge to ban on the use of hijab in schools.
According to Hajia Abdulateef, "we are not a political organisation, but all our members across different zones in country will not vote any candidate who opposes our right to use hijab. So, no hijab, no vote." Lamenting moral decadence in Nigeria, Hajia Abdullateef said shameful acts in various forms have become the order of the day, and until mankind revert to the Creator, solution to Nigeria's challenges will remain elusive. "Today, man is in a state of confusion. Vices and moral decadence have become the norm in the society, music has become the order of the day and musicians are using their medium to promote all sorts of atrocities, evils and vices. Our Muslim women cannot freely use their hijab, our young girls are not safe, our women have become victims of battering, and rape. "Apart from moral decadence and vices in the world today, there is also a disheartening situation of economic recession and depression and political instability, war, insecurity, insurgency and natural disasters. The situation is so terrible that suicide has now become the order of the day. She however stated that efforts made by mankind to proffer solution to these problems will only amount futility if recourse is not made to God. Indigenous Lagosians endorse Sanwo-Olu, seeks special status for Lagos According to her: "Allah stresses the need for mankind to keep a steady and constant relationship with Him for proper guidance. So, any attempt by man to run his affairs by himself without the guidance of the Creator will only put him at peril. The only hope is to revert to Allah and adopt the pristine teachings of Islam. "This proposition is not merely hypothetical as its manifest can be seen all around us. A very good example is the recent trend in the financial sector globally on the adoption of the Islamic Non- interest Banking. NIB. On the forthcoming general elections, Hajia Abdullateef urged the federal government and the electoral body to adopt the Islamic principles of Justice, equity, fairness and truthfulness. . She also advised the electorate not tobe apathetic, but actively participate in the process without fear or favour. Also, in a lecture titled 'Islam the only Hope', Hajia Idiat Jumah, a seasoned teacher in the state, advised women to remain steadfast in their prayers and unflinching in their relationship with God, adding that Prophet Ibrahim and others relied on Allah despite adversities. She advised leaders to make available interest-free loans arguing that the subsisting interest based loan is capable of exacerbating the economic condition of the borrower. In her goodwill message, the Deputy Director, Ministry of Physical Planning, Lagos State, Alhaja Jelilat AbdulHameed, thanked organisers of the event, adding that the forum has helped Muslim women to rediscover themselves in their spiritual and economic pursuit.
https://www.vanguardngr.com/2019/01/no-hijab-no-vote-muslim-women-tell-politicians/
--------
The Dangerous Lives Of Iraqi Women Activists
06/01/2019
BAGHAD - Human rights activism is a risky business in the Middle East in general but it is more so in Iraq where female activists have been targeted. A series of killings in 2018 sparked fears of a coordinated campaign to silence successful and outspoken women in Iraq.
In August and September, four prominent women were assassinated, including activist Soad al-Ali in Basra and social media star Tara Fares in Baghdad. They had campaigned for women's freedoms and rights in a conservative, tribal society.
"The new political situation in Iraq has been detrimental on all Iraqis, especially women," said Yanar Mohammed, president of the Organisation of Women's Freedom in Iraq (OWFI). "After the US-led invasion (2003), a new political system was created leading to a most sectarian, tribal and religious society where women's lives don't have much weight."
"Women in Iraq are constantly exposed to social stigma and scrutiny because of their gender. It is a flagrant violation of their rights which under the constitution are supposed to be equal to men," Mohammed said in a Skype interview from self-exile in Canada.
She said discriminatory practices against women have become a fait accompli and the norm in Iraqi families in rural areas as well as big cities, including Baghdad, after the rise to power of Islamist parties.
"They introduced extremist religious ideas based on hatred for women and viewing them as sexual and reproductive tools," added the activist, who was among the BBC's 100 most inspirational women worldwide.
However, campaigning by Mohammed's OWFI has been instrumental in blocking a personal status legislation, the Jaafari law, which allows the marriage of 9-year-old girls to adult men, encourages polygamy and getting rid of wives if they are not sexually pleasant for husbands.
"The amount of humiliating material in this law against women is mindboggling and out of this era. It's something that modern humanity cannot even conceive," Mohammed said.
Women's activism resulted in scrapping Clause 409 of the Iraqi penal code, which provided for light sentences for men in cases of so-called honour killings.
Despite intimidations and accusations of promoting secularism and encouraging women to go against their families, OWFI, which provides shelters for women who survive domestic violence, has been expanding since it was established in 2003.
"Over the past 15 years, we have been able to save 820 women from inevitable death. They included victims of domestic violence and potential victims of honour crimes," Mohammed said.
"We had extremely difficult years fearing violence by tribal and Islamist communities who are utterly opposed to women's rights and freedoms but we were determined to continue and today we have ten shelters in Baghdad and in rural areas where the tribes and clergy are very powerful," she added.
In the shelters, victimised women not only keep safe but are educated and empowered, Mohammed said, adding: "Our shelters are schools for social transformation for women to turn from victims into defenders of women."
Activist Hana Addour, president of Al-Amal organisation, said entrenched tribal values are still largely applied although Iraq has endorsed the Universal Declaration of Human Rights, which stipulates freedoms of expression, movement, opinion and the right to choose a partner without force or intimidation.
"Divorce rates are on the rise in Iraq for many reasons including traditional marriages without prior acquaintance between couples and early marriage of girls who are not fit to start a family," Addour said.
"The constitution says clearly that women are full citizens and have equal rights as men but, in Iraq, patriarchy is predominant. However, many unacceptable practices such as gender-based violence and harsh discrimination against women can be reversed through raising awareness in the society."
She refuted as "baseless" accusations that activists were provoking women against social traditions. "We did not import our ideas and we do not contest customs or religious texts," Addour said. "We only seek to implement the constitution by rejecting forced and early marriages and many other matters that we cannot accept under any pretext."
Dominated by Islamist and sectarian parties, the Iraqi government has been resisting changes to improve women's conditions, Mohammed said.
She said the government has been reluctant to provide legal status to shelters that are run by OWFI and other NGOs. Although there is no law that says shelters are illegal, neither is there a law that determines their legal status.
"Some of the tribal and misogynist officials did tell us in the past that we are doing an illegal thing but they did not shut us down," Mohammed said, adding that one obvious, partial remedy to gender-based violence in Iraq would be to improve the rule of law.
https://thearabweekly.com/dangerous-lives-iraqi-women-activists
--------
URL: https://www.newageislam.com/islam-women-feminism/detained-saudi-woman-activist-threatened/d/117378
New Age Islam, Islam Online, Islamic Website, African Muslim News, Arab World News, South Asia News, Indian Muslim News, World Muslim News, Women in Islam, Islamic Feminism, Arab Women, Women In Arab, Islamophobia in America, Muslim Women in West, Islam Women and Feminism