New Age Islam News Bureau
25 September 2023
· Dental Scientific Conference in Iran Closed For Women Not Complying With Mandatory Hijab
· Entrepreneur Sara Wahedi Shares Picture Of Afghan's Women-Run Restaurant, With 100% Female Staff, Before Taliban Takeover
· UN: New Iranian Dress Code Law Further Represses Women
· Canada's Trudeau Questioned For 'Conspicuous Silence' On Baloch Activist Karima Baloch's Death
· Afghan Woman Held Captive In Dark Room For 25 Years By Brother
Compiled by New Age Islam News Bureau
URL: https://newageislam.com/islam-women-feminism/dental-scientific-iran-hijab/d/130754
------
Dental Scientific Conference in Iran Closed For Women Not Complying With Mandatory Hijab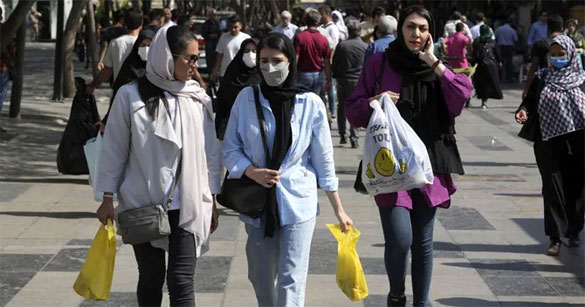 Photo: Iran Wire
-----
SEPTEMBER 25, 2023
Authorities in Iran shut down a dental scientific conference in the northeastern city of Mashhad last week because female participants were not wearing mandatory head coverings.
In a video shared on social media, a conference organizer can be seen apologizing to the attendees and asking them to vacate the venue.
Journalist HediehKimiaee reported that police officers forcefully shut down the event and compelled all attendees to exit the hall where it was taking place.
Around 600 dental specialists participated in the September 21 conference, including guests from South Korea.
In recent months, the government has launched an extensive campaign to enforce mandatory hijab regulations on Iranian women and girls.
On September 23, the police commander in northern Gilan province announced that 1,094 businesses have been sealed across the province over the past five months for "non-compliance with Islamic laws."
Source: iranwire.com
https://iranwire.com/en/women/120871-dental-conference-in-iran-closed-for-not-complying-with-mandatory-hijab/
-------
Entrepreneur Sara Wahedi Shares Picture Of Afghan's Women-Run Restaurant, With 100% Female Staff, Before Taliban Takeover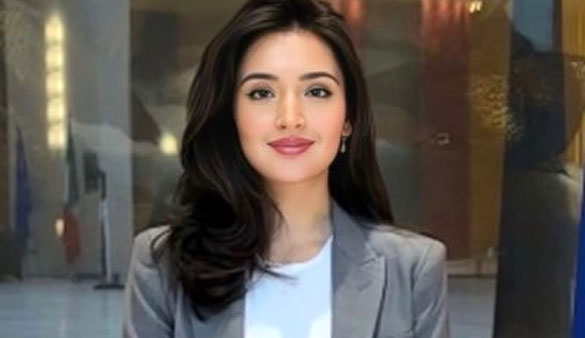 Sara Wahedi
-----
By Trisha Sengupta
Sep 24, 2023
Sara Wahedi took to X to share that the Bost Restaurant in Afghanistan's Kabul was owned by a woman and had "100% female staff" before the Taliban takeover.
Sara Wahedi, CEO of the digital startupEhtesab, took to X to share a picture of a restaurant in Kabul, Afghanistan. In her post she mentioned that the photo is of a restaurant that was managed and owned by women before the Taliban takeover. She also shared that the image was taken a few months before the Taliban marched into Kabul on 15 August 2021 and took control of the country.
"Me in Kabul, at Bost Restaurant. It was woman-owned (@MaryAkrami), with 100% female staff. This was a few months before the Taliban takeover. Behind me are images of legendary Afghan women. We smiled then - excited about the future. Afghan women were unstoppable. Still are," Wahedi wrote. Mary Akrami is a human rights activist.
"Afghan women earned the right to vote in 1919, a year before women in the U.S. could. Behind me is Queen Soraya of Afghanistan, who led the charge for women's suffrage. We come from fierce, powerful women. This is the Afghanistan I want the world to know. It's what we fight for," she shared in another tweet.
The picture posted by Wahedi shows her sitting in the restaurant and looking at the camera with a smile on her face.
The Taliban government banned millions of women and girls from attending schools, colleges, and universities after returning to power over two years ago. A few months ago, the United Nations (UN) said in a statement that the country has become the most repressive in the world for women and girls. The UN also added that Afghanistan's female population is deprived of many of their basic rights under Taliban rule.
Source: hindustantimes.com
https://www.hindustantimes.com/trending/from-60-000-customers-to-more-than-1-crore-how-did-nitin-kamath-grow-zerodha-101695625919519.html
----
UN: New Iranian Dress Code Law Further Represses Women
September 22, 2023
VOA News
The U.N.'s human rights office Friday assailed a new law passed by Iran's parliament which increases jail terms and fines for female citizens who do not comply with the nation's strict Islamic dress code on head coverings and modest clothing.
Speaking at a news conference in Geneva, spokesperson for the U.N. High Commissioner for Human Rights RavinaShamdasani said the decree — fully named the Bill to Support the Family by Promoting the Culture of Chastity and Hijab — is both repressive and demeaning.
She said under the new rules, women or girls found not following the strict implementation of the dress code could face 10 years in jail, where the previous term was two months. Fines have been raised from the equivalent of about $12 to about $8,500.
The new law comes about a year after the death of 22-year-old Mahsa Amini, who died in morality police custody in September 2022 three days after being arrested for allegedly not wearing her hijab in accordance with Islamist rules.
Her death, following what witnesses said was a physical assault perpetrated by authorities, triggered months of mostly peaceful nationwide protests that posed the greatest challenge yet to the 44-year rule of Iran's ruling Shiite clerics.
Shamdasani told reporters Friday, "Unfortunately we haven't seen much progress in spite of the outpouring of outrage following the killing of Mahsa Amini. The situation has not improved with regards to the rights of women in Iran."
She said the High Commissioner for Human Rights, Volker Türk, said the "draconian" dress code bill "flagrantly flies in the face of international law, and that it must be shelved."
Some information for this report was provided by AFP.
Source: voanews.com
https://www.voanews.com/a/un-new-iranian-dress-code-law-further-represses-women-/7279840.html
-----
Canada's Trudeau questioned for 'conspicuous silence' on Baloch activist Karima Baloch's death
By AniruddhaDhar
Sep 25, 2023
Amid the simmering tension between India and Canada following Prime Minister Justin Trudeau's allegations that the Indian government could be behind the killing of Khalistan Tiger Force chief Hardeep Singh Nijjar, the Baloch Human Rights Council of Canada (BHRC) has questioned the "lack of action" in the kidnapping and alleged murder of exiled Baloch human rights activist Karima Baloch.
Baloch was found dead in 2020 in Toronto, Canada, where she had been living for five years in exile after being slapped with terrorism charges in Pakistan. Baloch, 37, from the restive region of Balochistan in western Pakistan, was a vocal critic of the Pakistani military and Inter-Services Intelligence (ISI).
Accusing Trudeau of playing politics and ignoring the death of Baloch, the BHRC, in a letter to the Canadian PM, on Saturday pointed out that there had been "perceived inconsistencies" in his government's response to the "mysterious death of Balochistan rights activist and protected individual, Karima Baloch, in December 2020, in Toronto".
Claiming that there was a "stark contrast" with the Canadian government's actions on the pro-Khalistan leader, the letter said that Trudeau's "conspicuous silence regarding the high-profile, unexplained death of Karima Baloch stands in stark contrast to his impassioned speeches in the House of Commons and extensive media coverage concerning the shooting death of Hardeep Singh Nijjar in Canada".
The BHRC also questioned the Canadian government's consistency and fairness, particularly with regard to the handling of Balochistan's alleged ongoing human rights violations by the Pakistan Army.
Michael Rubin, a former Pentagon official and senior fellow at American Enterprise Institute, has slammed Trudeau over the death of Baloch.
Participating in a panel discussion at the Hudson Institute think-tank recently, Rubin said what is striking about Trudeau's "shameless action and cynical action" is that while he's making a statement now, the killing of Karima Baloch that was carried out allegedly with Pakistani assistance is a police matter and has not been taken to the Prime Minister's Office.
Tensions flared between India and Canada early this week following Trudeau's explosive allegations of the "potential" involvement of Indian agents in the killing of Nijjar on his country's soil on June 18 in British Columbia.
India had designated Nijjar as a terrorist in 2020.
India has angrily rejected the allegations as "absurd" and "motivated" and expelled a senior Canadian diplomat in a tit-for-tat move to Ottawa's expulsion of an Indian official over the case.
(With inputs from agencies)
Source: hindustantimes.com
https://www.hindustantimes.com/india-news/nijjar-killing-canadas-trudeau-questioned-for-conspicuous-silence-on-karima-balochs-death-101695621019056.html
-----
Afghan woman held captive in dark room for 25 years by brother
By Fidel Rahmati
September 24, 2023
Nikbakht, a woman who was imprisoned by her brother in a small, dark room 25 years ago during the first phase of the Taliban administration's rule, was released with the help of local people and security officials during the second phase at around the age of 50.
In 1998, when she was a young woman 25, Nikbakht was imprisoned in a small, dark room resembling the prison by her brother for reasons that have not been definitively determined. She spent 25 years in this dark room, receiving inadequate food daily through a hole in one part of the cell.
About a week ago, she was transferred to a hospital near Kabul with the help of local people and security officials. Nikbakht has been under special care for about a week but can still speak. She vaguely says, "Do not blame my brother," but the doctors cannot fully understand her.
Ghulam Sakhi, Nikbakht's brother responsible for all these misfortunes, confessed his crimes, saying, "I am originally from Sheikh Ali District in Parwan Province. My sister had a neurological problem and was imprisoned by me for 25 years."
Ghulam Sakhi and his three sons have been detained in connection with this case and are currently under interrogation by the Ministry of Interior Affairs of Afghanistan.
Abdul Rahim Ajmal, the officer of Kabul's 10th security district, tells the Khaama Press News Agency that about a week ago, security forces, in cooperation with residents, rescued this lady from the Charadihi area within the jurisdiction of the 10th security district.
This security official believes that the reason for the confinement of this lady at home was due to domestic disputes. He adds, "Nikbakht was abandoned by her husband before she was imprisoned due to 'childlessness,' and afterwards, her cruel brother kept her confined in a room without doors or ventilation, where she spent 25 years on the bare ground."
Nikbakht is now almost unable to speak, having endured 25 years directly in darkness amidst filth and squalor. Interestingly, she somehow wants security officials not to harm her brother.
Ms Nikbakht has spent this long period constantly confined in a dark room, never able to see the light or breathe fresh air.
Khadem Hossein Hosseini, in charge of the area, considers Ghulam Sakhi incompatible with his neighbours and says they were unaware of these events over the past 25 years.
He continues, "Children playing in the lane noticed that there was a lady named Nikbakht in a dark room and informed us about the situation."
Nikbakht is currently under medical care in one of the government hospitals, and doctors say her health is gradually improving.
Sohaila, a doctor at the government hospital in Wazir Akbar Khan, says, "On the first day when they brought the patient, she could not speak. She behaved like a child, and her bones were damaged, but her health improved."
Although domestic violence in Afghanistan is one of the most pervasive forms of violence against women, Nikbakht's suffering is heartbreaking.
Source: khaama.com
https://www.khaama.com/afghan-woman-held-captive-in-dark-room-for-25-years-by-brother/
-----
URL: https://newageislam.com/islam-women-feminism/dental-scientific-iran-hijab/d/130754:
New Age Islam, Islam Online, Islamic Website, African Muslim News, Arab World News, South Asia News, Indian Muslim News, World Muslim News, Women in Islam, Islamic Feminism, Arab Women, Women In Arab, Islamophobia in America, Muslim Women in West, Islam Women and Feminism