New Age Islam News Bureau
17 March 2019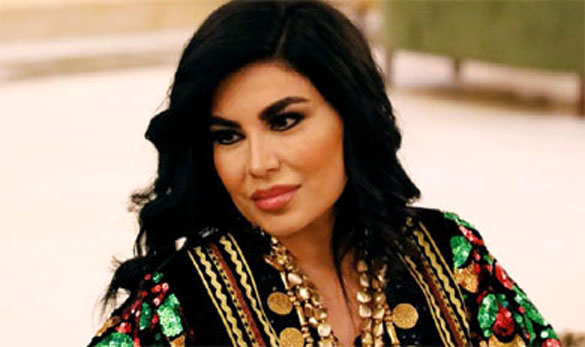 Afghan singer Aryana Sayeed is pictured at the Intercontinental Hotel in Kabul, Afghanistan March 8, 2019. REUTERS/Omar Sobhani
------
• Acid Attack, Honour Killing, And Suicides Take Toll On Iranian Women
• Saudi Princess Al-Bandari: A Lifetime Dedicated To Philanthropy, Women's Rights
• Husband Of Slain Woman Forgives New Zealand Mosque Gunman
• J-K: Militants Kill Woman SPO At Home In Shopian, Hunt On For Attacker
• Pakistan Women's March Organisers Highlight Online Death Threats
• JCI Bangladesh Awards 12 Women Leaders
Compiled by New Age Islam News Bureau
URL: https://www.newageislam.com/islam-women-feminism/defying-threats-afghan-singer-aryana/d/118048
--------
Defying Threats, Afghan Singer Aryana Comes Home For Women
March 16, 2019
KABUL, Afghanistan: Each time Aryana Sayeed, one of Afghanistan's most famous singers, returns to the country of her birth, she braves threats and endures scrutiny right down to her choice of clothes.
Still, she returns often, as much to encourage women in a restrictive country as to share her music, a mix of pop and traditional songs.
"It's really hard for me as a female singer to carry on with my work in Afghanistan with the type of pressure that I have on my mind, the threats that I get on a regular basis, the attacks on social media," she said in an interview in Kabul.
"I get messages, scary ones actually."
Aryana, as she is usually known, had just finished performing last week on Afghan Star, a televised singing competition.
In 2017, Aryana enraged conservative Afghans when she was photographed wearing a self-colored dress at a Paris concert. Clerics threatened that she would be killed if she returned to perform a scheduled concert in Kabul.
She performed anyway.
"People love to hear her voice. But they don't love her," said filmmaker Sadam Wahidi, who is working on a documentary about Aryana, who is often compared to Hollywood reality star Kim Kardashian.
Aryana's success in Afghanistan and among Afghans living abroad illustrates how much the treatment of women has changed since the 2001 ouster of the Taliban by US-led forces. But the vitriol she draws shows how intractable some attitudes remain.
Born in Kabul, she fled Afghanistan's civil war at age 8 with her family, stopping in Pakistan, then Switzerland. After the family's asylum case was rejected, they hired a smuggler to get to London, and settled down.
Aryana, 34, now splits her time between Kabul and Istanbul.
'SO SCARY'
In her home city, Aryana travels by armored vehicle, but more often she lives in isolation.
"I'm basically a prisoner in my own room," she said. "All I do is go to my room and back to the set and record the show."
Women have gained the right to work and girls can attend school since the Taliban government fell.
It is a stark contrast to life under the hard-line Islamists, when women were banned even from appearing in public without a male relative or with faces uncovered. Playing musical instruments was also forbidden.
Still, rural Afghanistan remains more conservative than the cities, and many people object to Aryana's clothing and her promotion of women's rights.
"Aryana Sayeed's concerts are not in accordance with our society and Islam," said Layeq Khan Wahdat, 26, a resident of Paktika province. "Dress-up like this can promote prostitution and seduction."
Aryana's latest return to Afghanistan came as the United States discusses peace with the Taliban to end the 17-year war. The prospect of re-integration of the Taliban is chilling to the singer.
"That's so scary even to think about it," she said. "I don't want to accept that this is my last concert. If they come with the same mindset, I'm afraid the rights of women will be taken away from them again."
The Taliban have said their return to Afghan society would be less harsh and that they do not oppose women's education or employment; however they are against women wearing "alien culture clothes."
At her Afghan Star performance, Aryana wore a tight-fitting white jumpsuit and cape, with no headscarf.
TOLO TV, Afghanistan's largest private station that airs the singing show, closely cropped images of her in the outfit to display her only from the chest up.
Several hundred young women wearing headscarves watched in the studio audience admiringly and dozens mobbed her afterwards for photos.
"The Taliban are always trying to cut off the voices of women," said a teenage girl, 17. "But it was Aryana Sayeed who taught us that 'you are not weak'."
http://www.arabnews.com/node/1467796/offbeat
--------
Acid Attack, Honour Killing, And Suicides Take Toll On Iranian Women
Mar 16, 2019
On March 16, 2019, an Iranian official website reported an acid attack on a woman in Tehran.
According to the state-run website, on Wednesday, March 13, 2019, a masked man sprayed acid on a woman in the Tehransar area. The 38-year-old woman who is a deputy in one of the girls' high schools in Punak, was heading to the high school on the morning of the acid attack. According to the physicians at Motahhari Hospital in Tehran, due to the acid attack, the woman has a 5% burn on the face area and one of her eyes has seen the most damage. (The state-run Davat Online website – March 16, 2019)
Honor killing in Kermanshah Province: A man hanged his wife in Sonqor city on Thursday, March 7, 2019. The young woman, Maryam Mohebi, had two children. After returning home, Maryam was faced with her husband's insults, harassment, and abuse as to why she was late and subsequently hanged by her husband only because she was home late.
In another incident, a 17-year-old girl, Yasra Fathi, hanged herself and ended her life in Javanrud, Kermanshah Province, on Thursday, March 14, 2019.
Also, in Zeynabad, a district in Dehloran, Ilam Province, after a dispute with her father, a 16-year-old teenage girl, Zaynab Azadi, shot and killed herself with her father's gun on February 18, 2019, while her father was in the bathroom.
According to a report from Urmia, recently in March, a mother who was not able to buy some meat for her children due to poverty, hanged herself in front of them.
The mother, whose children had not eaten meat for a few months, went to a butcher to buy some meat but, with the amount of money she had, they would not sell any meat to her. A man who witnessed this scene bought some meat in order to help her and followed the woman to her house. He knocked on the door of the house and told the child who opened the door, "Call your mother, I have an important thing to tell her". However, the little child tells him, "Uncle, my mother is swinging!" When the man goes into the house, he sees that the deprived woman had hanged herself.
https://women.ncr-iran.org/2019/03/16/acid-attack-honor-killing-suicides-women/
--------
Saudi Princess Al-Bandari: A Lifetime Dedicated To Philanthropy, Women's Rights
16 March 2019
Saudi Arabia's Princess Al-Bandari bint Abdulrahman bin Faisal bin Abdulaziz al Saud, a pioneer of philanthropy and social work, and a frequent contributor to a number of charities and non-profit organizations, has died on Friday, Saudi Arabia's Royal Court announced.
She was the CEO of the King Khalid Foundation (KKF), the co-founder of the Shaghaf program, and a member of the Al-Nahda Philanthropic Society for Women.
"Princess Al-Bandari was a pioneer in many aspects. Whether it was through the foundation or by partnering with other organizations, her goal was always to protect those that needed protection," Princess Al-Bandari's cousin, Prince Talal bin Mohammed al Abdullah al Faisal al Saud, told Al Arabiya English.
As the CEO of the King Khalid Foundation, she provided innovative solutions to critical social and economic challenges in the Kingdom.
The foundation's most prominent program has been the 'No More Abuse' initiative, the first anti-domestic abuse campaign in Saudi Arabia that aimed to raise awareness and protect women against violence.
The campaign, launched in 2013 by the foundation in collaboration with Memac Ogilvy in Riyadh, was only meant to spark a debate locally, and was covered by local newspapers and the KKF's social media pages. However, it quickly grabbed international attention.
The controversial campaign featured a full-page image of a burqa-clad woman with a blackened and bloodshot eye displayed on local newspapers with numbers of abuse hotlines victims could contact. "Some things can't be covered. Fighting abuse together," the campaign's slogan read.
"She wasn't afraid to talk about issues that needed to be talked about no matter how taboo they were. She started the conversation on domestic abuse years ago when no one else was talking about it in the Kingdom," Prince Talal said.
In 2013, the KKF submitted a draft law on "Women and Child Abuse Prevention Law", which the Saudi Arabian government adopted and passed.
Under the 17-article bill, those found guilty of committing psychological or physical abuse could face prison sentences of up to one year and up to 50,000 riyals ($13,300) in fines.
Through the foundation, Princess Al-Bandari also contributed to research aimed at helping elevate people below the poverty line in the Kingdom.
"She launched programs to help bring people out of poverty and ensure that they don't fall below that level again," Prince Talal added.
In 2016, Princess Al-Bandari's foundation teamed up with the Bill & Melinda Gates Foundation to launch "Shaghaf," a fellowship program that enrolls 11 young Saudis annually in a summer course at Colombia University in New York, and provides them with internship opportunities at the Gates Foundation.
She has also participated in numerous conferences and forums both regionally and internationally to discuss the importance of philanthropy.
Princess Al-Bandari was also a member of the Al-Nahda Philanthropic Society for Women in Riyadh.
"She did whatever she could to help people, and she did so diligently," Prince Talal said.
Princess Al-Bandari received her Bachelor's degree in English Literature from the King Saud University in Riyadh, and obtained her Master's degree in Public Policy from Harvard University at the John F. Kennedy School of Government.
https://english.alarabiya.net/en/features/2019/03/16/Saudi-Princess-Al-Bandari-A-lifetime-dedicated-to-philanthropy-women-s-rights.html
--------
Husband Of Slain Woman Forgives New Zealand Mosque Gunman
March 17, 2019
CHRISTCHURCH, New Zealand: A man whose 44-year-old wife was killed in the Christchurch mosque attack as she rushed back in to rescue him said he harbors no hatred toward the gunman, insisting forgiveness is the best path forward.
"I would say to him 'I love him as a person'," Farid Ahmad told AFP.
Asked if he forgave the 28-year-old white supremacist suspect, he said: "Of course. The best thing is forgiveness, generosity, loving and caring, positivity."
Husna Ahmed was among 50 people killed in the attack on two mosques that were packed for Friday prayers.
When the shooting started, she helped several people escape from the women's and children's hall.
"She was screaming 'come this way, hurry up', and she took many children and ladies toward a safe garden," Ahmad said.
"Then she was coming back for checking about me, because I was in a wheelchair, and as she was approaching the gate she was shot. She was busy saving lives, forgetting about herself."
Ahmad, 59, who has been confined to a wheelchair since being hit by a drunk driver in 1998, believes he escaped the hail of bullets because the gunman was focused on other targets.
"This guy was shooting one person two, three times, probably that gave some time to us to move out.. even the dead he was shooting them again."
He did not see his wife when he left the mosque and only learned of her death after somebody photographed her body.
"Her picture was out in the social media, so somebody showed me the picture and I identified quite easily."
Ahmad said if he was able to sit down with the mass murderer he would encourage him to rethink his outlook on life.
"I will tell him that inside him he has great potential to be a generous person, to be a kind person, to be a person who would save people, save humanity rather than destroy them," he said.
"I want him to look for that positive attitude in him, and I hope and I pray for him he would be a great civilian one day. I don't have any grudge."
http://www.arabnews.com/node/1467871/world
--------
J-K: Militants Kill Woman SPO At Home In Shopian, Hunt On For Attacker
by Adil Akhzer
March 17, 2019
A woman special police official (SPO) of the Jammu and Kashmir Police was killed Saturday by suspected militants at her home in South Kashmir's Shopian district. While security forces launched a search in the area for the attackers, the incident marks the first time in the recent past that a woman police official has been killed.
The SPO was identified as Khushboo Jan and according to police, she was attacked at her home in Vehil area of Shopian district. A J&K Police spokesperson said she suffered critical injuries after militants opened fire inside her house.
"She sustained critical injuries and was evacuated to hospital where she succumbed," the spokesperson said. "We condemn this gruesome terror act and stand by her family at this critical juncture."
Jan's father, Mohammed Manzoor Bhat, told The Indian Express that two people visited their house at around 2 pm. "They were carrying copy and a pen and we thought they are taking some details…we invited them inside, and they entered. They asked they want talk to Khushboo…they fired at her with the pistol," he said.
He said Jan was the only earning member of the family. "A few years ago, our house was burnt as well…," he said.
Jan is survived by her parents and two brothers — one in Class VIII and another in kidergarten.
A senior police officer said that Jan was off duty and was at her home and that they have registered a case.
Doctors at the district hospital in Shopian told The Indian Express that Jan was brought dead to the hospital. "She had bullet wound near the nose," said a senior health official.
Since the Lok Sabha poll dates were announced last week, militants have carried out a series of attacks in South Kashmir. On Thursday night, a 40-year-old man was shot dead by suspected militants at Awantipora in Pulwama district and militants shot at and injured a block president of National Conference (NC) Mohammed Ismail Wani (60) at the neighbouring Bijbehara in district Anantnag. Suspected militants also shot dead a former Army recruit in South Kashmir's Pulwama district on Wednesday.
Mainstream political leaders condemned the killing on Saturday and former J&K Chief Minister Omar Abdullah said on Twitter, "A lady special police officer (SPO) was shot & killed outside her home in South Kashmir earlier today. I condemn this act of terror & extend my condolences to her family & all her J&K police colleagues."
Former Chief Minister Mehbooba Mufti said: "I strongly condemn this brutal act of terror. My condolences to the family. This vicious cycle of death and destruction seems to have no end."
Last year, militants had targeted SPOs, who they believe track of militants and act as informers for security agencies. The targeting of the SPOs by the militants then also triggered a spate of resignations from the SPO service and some even joined militant ranks. In January this year, an SPO was killed in Pulwama district.
SPOs are contractual employees of the J&K Police and comprise of over 30,000 men and women. They are considered the backbone of the police force in the region performing jobs from security to law and order.
https://indianexpress.com/article/india/j-k-militants-kill-woman-spo-at-home-in-shopian-hunt-on-for-attacker-5630100/
--------
Pakistan Women's March Organisers Highlight Online Death Threats
March 17, 2019
ISLAMABAD: Organisers of an International Women's Day march in Pakistan say they have had death and rape threats on social media over the event, which prompted complaints from some conservative groups.
Nighat Daad told Reuters that the march organisers are looking into filing a complaint with Pakistan's Federal Investigation Authority about the online harassment.
"It has gone too far in terms of death and rape threats to the organisers and also to the marchers," Daad said, adding that one of the threatening accounts had been suspended by Twitter.
The event, which attracted tens of thousands of women on March 8, was only the second of its kind in Pakistan, which a Thomson Reuters Foundation poll found to be the sixth most dangerous country for women in 2018.
A Human Rights Watch report last year estimated that 1,000 "honour killings" — the practice of relatives murdering girls or women because they think the victim has brought shame or dishonour on the family — take place in Pakistan each year.
Another march organiser, who asked not to be identified, said the backlash "shows that this collective organisation of women has threatened the patriarchal forces".
Pakistan has experienced a surge in social media usage with more than 40 million Facebook users. The rapid growth has sparked an online debate about misogyny, with some women highlighting daily hate and pornographic messaging.
The days following the march have seen social media attacks on women, while some prominent men have complained about "obscene" signs carried by protesters.
A member of a religious political party filed a complaint with police, seen by Reuters, in Karachi where 7,000 women attended the march, saying the protesters "provoked religious sentiments" and spread vulgarity.
The march organisers also said the media had focused on the backlash more than the original aims of the event.
"The media played a massively negative role in this campaign … they just looked at what trolls were saying online and picked up (on) a few placards that were provocative to try and sell their content," Daad said.
https://www.pakistantoday.com.pk/2019/03/17/pakistan-womens-march-organisers-highlight-online-death-threats-2/
--------
JCI Bangladesh Awards 12 Women Leaders
March 16, 2019
Junior Chambers International (JCI) Bangladesh honoured 12 women in recognition of their outstanding contribution towards the society.
They were handed over the "Woman of Inspiration Award" during a programme titled "Lead Women 2019 - Think equal, Build smart, Innovate for Change" organised by JCI Bangladesh, with support from JCI Dhaka North, at Six Season's Hotel in Dhaka on Friday, said a press release.
During the event, a panel discussion was also held on "Gender Equality & Women Empowerment by embracing Innovation for change" to discuss how innovation can remove barriers and accelerate the progress for gender equality, encourage investment in gender-responsive social systems, and build services and infrastructure that meet the needs of women and girls.
Selima Ahmed, MP, and president of Bangladesh Women Chambers of Commerce and Industry (BWCCI) graced the event as the chief guest, while Amzad Hussain, executive vice-president of JCI, was present as the special guest. Arpit Hathi, vice-president of JCI was present as the guest of honour.
The program was hosted by Irfan Islam, national president of JCI Bangladesh.
https://www.thedailystar.net/city/news/jci-bangladesh-awards-12-women-leaders-1715944
--------
URL: https://www.newageislam.com/islam-women-feminism/defying-threats-afghan-singer-aryana/d/118048
New Age Islam, Islam Online, Islamic Website, African Muslim News, Arab World News, South Asia News, Indian Muslim News, World Muslim News, Women in Islam, Islamic Feminism, Arab Women, Women In Arab, Islamophobia in America, Muslim Women in West, Islam Women and Feminism