New Age Islam News Bureau
16 May 2015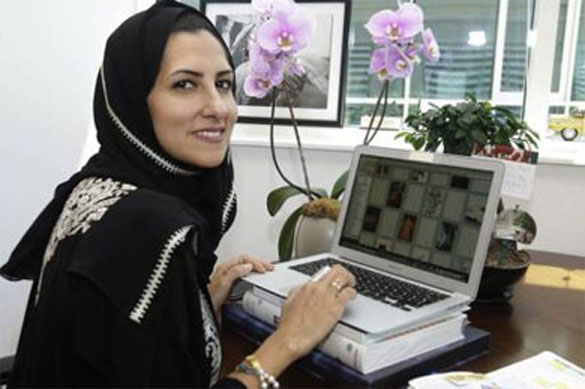 Noor Shamma, Head of Department of Communications & Public Affairs, Paris Sorbonne University, Abu Dhabi Image Credit: Abdul Rahman /Gulf News
-------
• Two Christian Women Attacked With Acid in Quetta
• Organised Group behind Pak Model Ayyan Ali's Money Laundering Case
• 'It's a Good Thing': Indonesia's Military Chief on Virginity Testing of Female Recruits
• Emirati Woman 'Artrepreneur' Revives Postcards
• Are Saudi Women Active Partners in the Kingdom's Development Process?
Compiled by New Age Islam News Bureau
URL: https://newageislam.com/islam-women-feminism/charlatan-spiritual-healers-exploit-saudi/d/102993
----------
Charlatan Spiritual Healers Exploit Saudi Women
May 16, 2015
The Commission for the Promotion of Virtue and the Prevention of Vice (Haia) recently caught an Arab expatriate who was pretending to be a Saudi professor and a spiritual healer with special powers. He blackmailed several women and made them believe he had powers to hold séances and communicate with spirits. He told them he was able to treat their psychological problems and they believed him. He even exploited these women sexually.
Men who exploit women pretend that they love them. They play with these women's emotions and take advantage of their feminine nature. In most cases, they give these women false promises of marriage.
In the case of this particular Arab expatriate, he used his supposed psychic powers to entice and extort women. This story underscores the fragile nature of women who can easily be manipulated, especially if they are already suffering from mental problems. Weak women can become easy prey to men who make them believe that they have the power to heal.
Many studies have shown that women are more likely than men to fall victim to charlatan sorcerers and conmen. I do not know why women are more likely to fall prey to impostors. Is it because they are more emotional and tend not to think clearly when they feel desperate, meek, stressed or psychologically tired?
Most problems faced by women involve men. Therefore, men—and I mean husbands, fathers and brothers—should not absolve themselves of their responsibilities and their involvement with the women they are related to. Women may suffer from psychological problems that lead to depression and they may end up clutching at straws, even if those straws are being dangled at them by an impostor.
I would like to remind all men that Prophet Muhammad (peace be upon him) told men in his Farewell Speech to be kind to women.
© Copyright 2015 The Saudi Gazette. All Rights Reserved. Provided by SyndiGate Media Inc. (Syndigate.info).
https://en-maktoob.news.yahoo.com/charlatan-spiritual-healers-exploit-saudi-women-065048894.html
----------
Two Christian women attacked with acid in Quetta
SYED ALI SHAH
May 16, 2015
QUETTA: A man severely injured two Christian girls in Quetta on Friday when he threw acid on them in the city's Kasi road.
Through a syringe, the accused sprayed acid on the faces of both the women, police said.
The girls identified as Rimsha Masih and Hina were rushed to Bolan Medical Hospital (BMC) for emergency medical treatment.
"The girls were admitted in the burns ward of BMC," said Dr Masood Nowsherwani.
"Rimsha's face was 30 per cent affected whereas 15 per cent of Hina's face was burnt in the attack," Nowsherwani added.
Capital City Police Officer Quetta, Razzaq Cheema said that Rimsha and Hina were 27 and 15 years old respectively.
Cheema stated that the families have already nominated an accused Vijay Masih, a resident of Brewery Road in the case.
Vijay was subsequently arrested and taken into custody.
Last year in July, four men sprayed acid on six women inside a house in Balochistan's Pishin district. The attack was also carried out through syringes. Similarly, two acid attacks also took place in Mastung and Sariab last year in July.
Read more: Unforgiving scar: 2014, a year of horrific acid attacks
Acid, found easily and cheaply across Pakistan has been used a weapon to exact 'revenge' in domestic violence cases. The victims are often left with no legal recourse and suffer severe psychological trauma as well facing social stigma which comes with disfigurement.
The horrific crime, which disfigures and often blinds its overwhelmingly female victims, has long been used to settle personal or family scores with hundreds of cases reported every year.
http://www.dawn.com/news/1182153/two-christian-women-attacked-with-acid-in-quetta
----------
Organised Group behind Pak Model Ayyan Ali's Money Laundering Case
By Web Desk: May 16, 2015
RAWALPINDI: Customs intelligence on Saturday deemed model Ayyan Ali's case a money laundering case as opposed to a currency smuggling case adding that it was a highly organised crime conducted by a group of people, Express News reported..
The ongoing case following the arrest of the model on March 14 was confirmed by customs officials to be a money laundering case which was previously said to be a currency smuggling case.
A customs court accepted her case to be heard and she was summoned for a hearing scheduled on May 25.
Sources further revealed that the attempted money laundering was organised by a group of people.
Just last month investigators probing money laundering charges against the supermodel submitted an interim charge-sheet in court and included two new suspects for interrogation.
http://tribune.com.pk/story/887368/money-laundering-case-customs-court-summons-ayyan-on-may-25/
------
'It's a Good Thing': Indonesia's Military Chief on Virginity Testing of Female Recruits
May 16, 2015
Jakarta. The commander of Indonesia's armed forces believes that invasive virginity tests for female recruits are a good thing and the only way to gauge the women's morality.
Asked for his response to growing international condemnation of the practice, Gen. Moeldoko insisted to reporters at the State Palace in Jakarta on Friday that the so-called two-finger test was one of the requirements for women joining the Indonesian Military, or TNI.
"So what's the problem? It's a good thing, so why criticize it?" he said.
He conceded, though, that there was no direct link between a woman being a virgin and her abilities as a member of the armed forces, but insisted that virginity was a gauge of a woman's morality – one of the three key traits he said a woman must have to serve in the TNI, along with high academic aptitude and physical strength.
The virginity test "is a measure of morality. There's no other way" to determine a person's morality, Moeldoko claimed.
His statements came a day after the group Human Rights Watch urged Indonesia to abolish the practice, pointing out that international treaties had described it as degrading and cruel.
"The Indonesian armed forces should recognize that harmful and humiliating 'virginity tests' on women recruits do nothing to strengthen national security," said Nisha Varia, HRW's women's rights advocacy director.
"President Joko Widodo should set the military straight and immediately abolish the requirement and prevent all military hospitals from administering it," Varia said in a statement.
The Indonesian Council of Ulema, or MUI, the country's highest Islamic authority, has also come out in opposition to the practice, saying it goes against Muslim jurisprudence, Tempo reported on Saturday.
Syarifudin Damanhuri, the head of an East Java district chapter of the MUI, suggested a religion test instead, arguing that it would give military recruiters a better profile of an individual's character than a virginity test ever could.
HRW said it was calling for the support of the International Committee on Military Medicine (ICMM), which will hold its world conference in Indonesia this coming week. The ICMM aims to foster collaboration between members of armed forces' medical services.
To justify the tests, military officers told female recruits they were crucial to preserving "the dignity and the honor of the nation," HRW said.
Officers who wish to marry require a letter of recommendation from their commanders, who only issue them upon confirmation that the fiancée has undergone a medical examination, including the "virginity test" at a military hospital.
The tests have been recognized internationally as violations of the right to non-discrimination and the prohibition of "cruel, inhuman or degrading treatment" under international human rights treaties that Indonesia has ratified, HRW said.
http://thejakartaglobe.beritasatu.com/news/good-thing-military-chief-virginity-testing-female-recruits/
----------
Emirati Woman 'Artrepreneur' Revives Postcards
MAY 15, 2015
Dubai: Upon every trip to the nearest mailbox, Noor Shamma, an Emirati artist working part-time at Paris Sorbonne University in Abu Dhabi, takes a quick photo of her hand placing postcards in the mailbox.
But these are no ordinary garden-variety postcards.
Every postcard Noor sends is personally hand-designed by her using graphics and images provided by local and international artists to help her revive the time-honoured tradition of sending best wishes through snail mail.
"The digital world is taking over the real world. People are losing the essence of physical communication and interaction, so I've decided to send a simple postcard, the most basic way of communication, to family, friends and strangers," she said.
Noor wanted to revive a tradition she holds dear to her heart but which she feels has been lost in the fast-paced digital world. In January this year, she made an announcement on social media asking people to send her their addresses if they wished to receive a postcard in 2015. By mid-February, she received a total of 70 addresses.
"So far I've sent out 47 postcards, and I currently have over 200 addresses from 40 countries and 101 cities and counting," she said.
Noor uses the term 'artrepreneur' to refer to herself to illustrate a thinking that transcends art. She wanted to develop her idea into an initiative that people in need could benefit from. She decided to approach both local and international artists including photographers, doll makers, visual artists and jewellery designers to have their work printed on a postcard for Dh500 with 20 per cent of the proceeds going to Noor Dubai Foundation and the remaining money towards the production of postcards.
Noor Dubai has recently endorsed Noor's initiative, allowing her to place its logo on the postcards.
"This collaboration with Noor Shamma and the supporting artists brings light to our efforts to help restore eyesight as well as provide medication to protect against preventable blindness and provide glasses to those who cannot afford them," said Dr Manal Omran Taryam, Board Member and CEO of Noor Dubai Foundation.
Dr Manal added that the initiative's support of our cause is important "since providing the gift of sight aids both economic and social development in countries of need."
Noor chose Noor Dubai Foundation, a non-governmental, non-profit organisation since it aims at eliminating all forms of preventable blindness globally.
"I am very passionate about this cause; the gift of sight. Our senses are things we take for granted. But being an artist allows me to highly depend on my senses to create and execute art," said Noor.
The young Emirati explained that according to the World Health Organisation (WHO) a person goes blind every five seconds.
The passionate artist participated in Noor Dubai Foundation's Art4Sight Exhibition and auction but did not stop there. She resolved to help others around the world regain their vision.
"The artists send a high-resolution image of their submission and I design, produce and market the postcards while crediting the work of the artists and send these postcards out to different cities around the world — while 20 per cent of the Dh500 goes to my charity of choice, Noor Dubai Foundation," she said.
Currently, Noor has a total of 42 art submissions from 30 artists in 18 different professions and 14 different nationalities. A common factor in the submissions is the art of giving, she says.
— Maria Botros is a trainee at Gulf News.
http://gulfnews.com/news/uae/culture/emirati-artrepreneur-revives-postcards-1.1511510
----------
Are Saudi women active partners in the Kingdom's development process?
May 15, 2015
Omaima Al-Khamis
Al-Riyadh
October 22, 1959 was a historic day for Saudi women. On that day, the education of girls became a reality in the Kingdom. Education was the first public domain where calls were made for women's participation.
Now, half a century later, there is immense support from the state through massive budget allocations for education and training. In spite of all this, it must be asked if Saudi women are truly active partners in the Kingdom's development process. While Article 8 of the Basic Governing Law stipulates that men and women are equal and that there will not be any gender discrimination, Saudi Arabia is one of four countries in the world where there is no separate portfolio for women's affairs in the Council of Ministers.
While speaking at a ceremony held on the sidelines of the exhibition entitled "A step before employment" organized by the Ministry of Labor in cooperation with the Human Resources Development Fund, the Emir of Riyadh underscored the significance of giving women a prime role in the sustainable development process in a way which strengthens their confidence and encourages them to achieve more productivity and innovation.
In spite of such assertions and the supportive action of the leaders of the nation, women's issues have not advanced as quickly as they might due to the extreme personal views of some people who oppose the participation of women in public life. Even though the government is taking initiatives to empower women, the participation of women is not up to the mark in most fields and they are deprived of many of their rights.
Let us examine, for example, the percentage of women who have registered for the Hafiz unemployment allowance. Women make up 86 percent of applicants. This huge number of unemployed women is bound to have a negative impact on the social and political stability of a country, which sets aside the world's largest budgetary allocations for education.
In the Kingdom, women own 40 percent of personal assets. This poses the question of whether this wealth will have a positive impact on the economy or if women will merely continue to be consumers. A Cabinet decision taken 10 years ago to increase job opportunities and the areas of women's participation in the nation building process is yet to materialize.
It was revealed at the World Economic Forum in 2009 that Saudi Arabia ranks 119 among 134 countries with regard to the wide gap between men and women as far as job opportunities and participation in political activities are concerned. However, there was tremendous improvement in this figure by 2014 when the government took bold steps to empower women through more participation in politics and by creating more jobs and more opportunities to take part in the nation building process and by providing training for women and sending them to foreign countries under the King Abdullah scholarship program for higher studies.
If women get a chance to participate in decision making and the political process, the stereotype of Saudi women will change. There should be serious efforts to appoint women to key positions in major sectors. Apart from education, women can play a leading role if they are appointed to key posts in some sectors, such as health, justice, social affairs and municipal and rural affairs.
All of these are sectors that deal with issues that affect women directly. Qualified and competent women should be considered along with their male counterparts when appointments are made.
http://www.saudigazette.com.sa/index.cfm?method=home.regcon&contentid=20150516243942
----------
URL: https://newageislam.com/islam-women-feminism/charlatan-spiritual-healers-exploit-saudi/d/102993