New Age Islam News Bureau
28 March 2014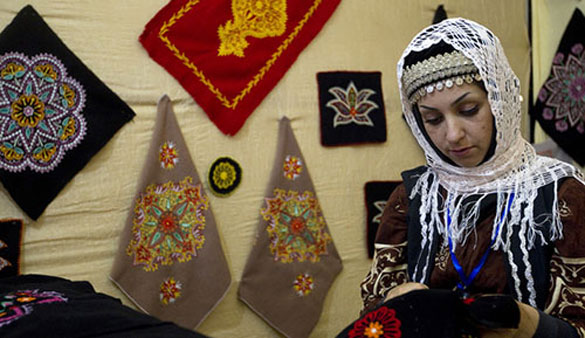 A woman works on traditional embroidery at a handicraft exhibition in Tehran, (photo by REUTERS/Caren Firouz)
-------------
• CAR's Christian Militia Enslaving Muslim Women
• Pak Woman Kills Two Minor Daughters to Save Them from Prostitution
• Angelina Jolie in Bosnia on Mission Against Rape In War
• Controversy over an Assyrian Woman Marrying a Muslim Man
• Female Saudi Student Invents Nanotechnology Vest
• Women Can Play Larger Role in Iranian Economy
• Women's Movement in Iraq Faces Setbacks
• Syria's Islamist Rebels Force Christian Activist to Wear Veil
• Why Ipas Is Wrong To Say Legalising Abortion Worldwide Would Save Lives
• Refuge Centre for Muslim Women on Hume Council Meeting Agenda Tonight
• Blasphemy Case: Aasia Bibi's Appeal Adjourned
Compiled by New Age Islam News Bureau
URL: https://newageislam.com/islam-women-feminism/'assaults,-insults,-sly-remarks-threats'/d/66316
-----------
'Assaults, Insults, Sly Remarks and Threats': She Is Racially Abused Every Day
28 March 2014
ASSAULTS, insults, sly remarks and threats. All have been hurled at Kelly Ziane since she converted to Islam at the tender age of 18. She was not coerced, nor did she change her religion in order to marry – she did so because she believed it was the "right" faith for her.
For a white girl from Bedminster it was a bold and radical change to make, something she has been reminded of on numerous occasions since then.
But the 36-year-old mum-of-three has not wavered from Islam – she says her skin has grown thicker and her resolve stronger, even when she felt forced to take her children out of their primary school because she was racially abused by another parent.
Kelly contacted the Bristol Post after we reported on a racially motivated assault in a Bedminster shop last week.
She said: "I saw the news the other night, about the Muslim women attacked at Poundstretcher in East Street, and there was a police officer saying racist incidents are very rare in Bristol. In my experience, that's not the case at all.
"I converted to Islam 19 years ago. I grew up in Bedminster and over the last ten years it's got a lot worse. I don't have enough fingers to count on my hands the number of incidents.
"It gets to the stage where you don't see the point in reporting everything that happens to you. I know I should, and I would urge everyone to report hate crimes, no matter how small.
"The insults used to bother me, but over the years you get used to blocking it out and carrying on with your life. If you let it get to you, you would end up feeling so hateful towards everyone.
"You have to have strength, otherwise you might end up thinking I can't do this, it's not for me."
Kelly said the abuse has varied over the years, from being spat at by a man who tried to pull off her headdress (Hijab) on her way home from work, to being called a "Paki" and a "raghead" by women in shops, to the ignorance of being asked whether she speaks English in everyday situations.
Arguably the most extreme incident was in 2011, when a man drove his car at Kelly, her two daughters and son – whom she does not want to name – as they crossed a road in Bedminster.
He revved his car and sped towards them before screeching to a halt and shouting abuse at them out of the window. Kelly says he was convicted of a driving offence and given penalty points.
After that incident, one of her daughters, then 18 months old, started repeating the "Paki" slur she heard.
Kelly also said she took her eldest two children out of their previous primary school, Compass Point on South Street, when she was racially abused by another parent in the school grounds and felt the school did not deal with her complaint as well as they could have.
When asked why she feels she has been subjected to so much abuse, Kelly said: "I think it's a combination of things – negative stories in the media about Muslims, incidents like the killing of the soldier in London (Lee Rigby) and international events like 9/11. After things like that, it can get really tense."
Kelly converted to Islam when she was 18, after going to a meeting about religion in Newport.
The former Ashton Park pupil, who prays five times a day, recalled: "I was a Christian and had been looking for the religion that was right for me. I came out of that meeting and I knew Islam was. My religion has been a massive part of my life since."
Kelly had an arranged marriage to Algerian husband Abdelkadir when she was 26.
"I had a mixed reaction when I converted," she added. "I found the people who had a negative reaction didn't really have any idea what Islam was about. But I also had a lot of support. I've still got friends from when I was a teenager."
The foot health practitioner added: "To be honest, most of the time I don't think it's about the colour of my skin – I think it's purely because I have my head- dress on.
"I often get asked if I'm Syrian, because I have very fair skin and I'm a Muslim. But I've also been called Somali and I've never seen a white Somali.
"But there are lots of Asian and African Muslims who get abuse too. I lived in North London for a couple of years and didn't have any problems there – only when I moved back to Bristol."
Her husband can only recall two incidents where he has been verbally abused.
One of Bedminster's ward councillors, Colin Smith, can only remember one example of a resident coming to him after a racist incident, since he was elected in 2007 – a Somali family getting verbal abuse in Ashton Vale.
"That is not to say there may have been other incidents but none brought to my attention," he said. "My ward is typical of most and I can honestly say there are no significant negative attitudes towards ethnic minorities and public incidents are extremely rare.
"Bedminster is a traditional, working- class area, with a history of tolerance towards in-comers of all ethnic backgrounds, religions and lifestyles.
"Having said all that, last week's incident in Poundstretcher was disgusting, abhorrent and disgraceful and I welcome the finding of the perpetrators by the police."
POLICE spokeswoman Hollie-Marie Bone said: "Any report of race hate crime is taken very seriously and will always be investigated thoroughly.
"We are working hard to ensure victims of race hate crime have the confidence to come forward and report incidents to us.
"Better partnership working with organisations such as SARI and other agencies has led to an increase in reporting of hate crime."
Kelly believes councils should encourage more racial integration in terms of where people live and would like to see those punished at court for racist crimes to be ordered to work in the community of the person they offended against, to "break down the barriers of racism".
She also urges people to always report incidents to the police or organisations like SARI (Stand Against Racism and Inequality).
SARI can be contacted on 0117 942 0060. Call the police on 999 in an emergency, 101 otherwise.
http://www.bristolpost.co.uk/TOUGH-LIFE-WHITE-MUSLIM-LIVING-CITY/story-20851359-detail/story.html#ixzz2xJ10SgkD
-----------
CAR's Christian Militia Enslaving Muslim Women
World Bulletin / News Desk
28 March 2014
The Central African Republic has been almost completely emptied of Muslims after hundreds of thousands of Muslims were forced to flee from the violence of the anti-Balaka Christian militia.
The anti-Balaka forces have blamed Muslims for atrocities committed by seleka rebels, who came from the mainly Muslim north of the country, after they conducted a coup on the government last year.
As the violence flared out of control, the country's first Muslim president resigned as France and African Union forces stepped in to bring the violence under control.
However, since the election of CAR's new Christian president, Muslims have complained that violence against them has only increased. They have also accused French forces of being biased against them after disarming Muslim militias and leaving them defenceless against machete-wielding Christian gangs.
Under a thousand Muslims are left in the country, with many of them seeking refuge in a local church under the protection of a priest in Carnot, in the west of the country.
A small group of African Union peacekeepers are guarding the church, but they may not be strong enough to ward off an attack from anti-Balaka militiamen, who have already threatened to attack the church and kill everyone inside it, including the priest himself.
Many of them have narrowly escaped with their lives, having lost loved ones along the way, as anti-Balaka militants raid their villages and ambush Muslims still trekking through the forests trying to make it to safety. BBC Newsnight's Tim Whewell also recorded incidents of anti-Balaka militants seizing Muslim women as slaves.
It is not clear how many Muslims have been killed exactly, but the figure is estimated to be in the thousands, as thousands more have been forced to seek refuge in neighboring countries.
http://www.worldbulletin.net/world/131674/cars-christian-militia-enslaving-muslim-women
-----------
Pak Woman Kills Two Minor Daughters To Save Them From Prostitution
28 March 2014
LAHORE: A woman in Pakistan's Punjab province has allegedly killed her two minor daughters fearing that her husband would force them into prostitution when they grow up.
Balqees Bibi, in her 30s, also attempted suicide after forcing her daughters, Ishrat (4) and Muqaddas (2) to consume poison on Wednesday, police said.
While she survived, her daughters were pronounced dead by doctors at District Headquarters Hospital Layyah, some 350 kilometres from Lahore.
The accused, a resident of Paharpur village, recorded her statement with police saying her husband, Muhammad Amin, was a drug addict and earned nothing to feed the family.
"He had been forcing me into prostitution to meet daily expenses," she said, adding he often tortured her over the issue.
"Yesterday after a quarrel with Amin I made my daughters drink poison. I also took the poisonous liquid," she said, adding she had no regret as had her daughters been alive, their father would have pushed them into prostitution one day.
The couple also has a six-year-old son, Amir, who was at school at the time of the incident.
Police have registered a case against Balqees and her husband.
http://timesofindia.indiatimes.com/world/pakistan/Pak-woman-kills-two-minor-daughters-to-save-them-from-prostitution/articleshow/32790460.cms
-----------
Angelina Jolie in Bosnia on mission against rape in war
28 March 2014
Hollywood superstar Angelina Jolie arrived in Sarajevo on Thursday with British Foreign Secretary William Hague to take part in a conference on sexual violence in war.
Dressed in black, the U.S. actress arrived at the Sarajevo airport in pouring rain and headed to a hotel in downtown Sarajevo.
Jolie and Hague are due to co-host a high-profile summit focused on ending rape as a weapon of war, scheduled for June in London and expected to be the largest ever gathering of its kind, according to the British foreign minister.
Friday's conference on preventing such crimes is organized by Bosnia's defence ministry.
Hague was also to meet members of Bosnia's tripartite presidency and visit Srebrenica, where Serb forces massacred some 8,000 Muslim men and boys near the end of the country's 1992-1995 war.
Jolie's 2011 directorial debut, "In the Land of Blood and Honey," dealt with the issues of war crimes and violence against women during Bosnia's war.
Jolie, whose movie was shot with several actors from the former Yugoslavia, was.
Bosnia's war between its Croats, Muslims and Serbs claimed some 100,000 lives.
Around 20,000 women were raped during the conflict, according to estimates by local organizations.
http://english.alarabiya.net/en/variety/2014/03/28/Angelina-Jolie-in-Bosnia-on-mission-against-rape-in-war-.html
-----------
Controversy over an Assyrian Woman Marrying a Muslim Man
28 March 2014
On March 8, International Women's Day, many of the people in south-eastern Turkey only want to discuss one thing. She is Sara, an 18-year-old Assyrian/Syriac woman, who was allegedly kidnapped by sympathizers of Huda-Part, Allah's party, the Kurdish equivalent to Hezbollah. Others say she merely followed her heart and converted to Islam to marry the love of her life. Or that that she is just a pawn in the upcoming election, that they have manipulated a naive and vulnerable Christian girl to marry a Muslim in order to get more votes from Islamists, because if you convert a non-Muslim you have completed a great deed for Allah and Muhammad, and you should be rewarded. I decided to hear her own version of this modern Shakespearean drama, in a place where world politics has a habit of colliding with ancient civilizations and religions at war.
It is early morning in Midyat in southeast Turkey. The rooster is crowing and the first prayer of the day is heard loudly from the eleven mosques. I have booked an appointment with the only Assyrian parliamentarian in Turkey, Erol Dora, to talk about the upcoming election. When I mention that I am also interested in hearing the story about Sara, he introduces me to Vadi Aydin, a colleague and also his bodyguard. "He travelled to Idil to see the leaders of the clan she is with and her husband's family," Dora says.
"We were four people who went to see her," Aydin says. "It was the 20th of February, and we met at the home of one of the relatives to the family she is staying within Idil. There was a lot of tension in the air. Understandably so as we were there to take her back and they were there to tell us that they would keep her. The whole town sympathizes with Huda-Part . . . and we belong to the competing Kurdish party. That only made things worse."
He shakes his head and says that just the mere thought of "that little girl" in the company of fundamentalists upsets him.
"Finally they agreed. If Sara truly was not a victim of a kidnapping then we would leave the family alone, but if she told Hasibe anything else we would take her home to her mother. They took Hasibe to Sara. Half an hour later Hasibe was back and we left Idil empty handed."
Aydin said the whole situation is unfortunate for Sara, but also for the other Christian Assyrian/Syriacs who left the area.
"This might be difficult for people who are not from here to understand, the girl's naivety is used as a political weapon in the election campaign. Islamists show the voters that they do the errands of Allah, and that they have managed to convert a non-Muslim. And at the same time they are scaring the other Assyrian/Syriacs into leaving Turabdin."
When Aydin and Dora leave us, I decide to travel to Idil myself.
An hour later, we drive into a very colourful town with approximately 20,000 inhabitants, most of them Muslims. There are flyers hanging everywhere. Most of them belonging to the biggest parties in the area: yellow, red and green for the biggest Kurdish party, BDP, or orange for the current Turkish party, AKP. Music and election propaganda streams out of loud speakers. It is a warm day and the people of Idil are enjoying the sun. Everywhere there are groups of older men who are either discussing local or national politics. On the main street young boys and girls are dressed in a modern fashion and without any veils, as a stark contrast to many of the older veiled women and abaja-clad men.
After a long lunch and discussion among the restaurateurs and servers about the upcoming election, poverty, corruption, religion and history, I am ready to start looking for Sara. But before I leave, I enter the kitchen and give the two veiled women who cooked our food a tip for International Women's Day. They are very happy, not so much for the money but more because a stranger congratulates them on such an important day.
On the street, an Idil inhabitant whispers to me: "Be careful, the family the Christian girl is staying with belong to Huda-Part. They're not to mess with, they are very dangerous."
We walk into the grocery store where she was last seen. Apparently it is owned by her husband's older brother, who we find standing behind the cash register.
He is very upset. He says he has had enough, a young man and woman have fallen in love and married and he does not understand why everyone is making such a big deal about it. Another man joins us. He introduces himself as Nuri, my namesake, and says he is married the store owner's sister. He is even more upset.
"What do you want? What does everyone want from us? Leave us alone," he spouts out. "No one was forced to anything. Can young people not fall in love? You can fall in love across religions. No?"
When I and Eliyo Eliyo, an Assyrian architect who has followed with me from Midyat, tell him we are here to understand and learn, not to argue, and as I ask everyone to calm down, we are presented with plastic chairs to sit on. We sit down in front of the cash register. There is still tension in the air. When I hold my hand out, the store owner introduces himself as Hasret Akdeniz. He is now trying to control his temper and tells his version of Sara and his younger brother's love story.
"They met three years ago. My younger brother was in her village Midin to work for twenty days but they have kept in touch since. And a few weeks ago he surprised us all by saying he wanted to marry her. It was no more than that. And she ran away from her village, came here and said she wanted to marry our brother. It was not anything we wanted chose or interfered in."
Nuri, the brother-in-law, continues:
"There are plenty of unmarried Muslim girls in Idil. Beautiful. Rich. But he chose a Christian girl. The whole thing is hard for all, even for us. We have run this grocery shop for twenty years, Assyrian/Syriacs have always been faithful customers. We have plenty of friends amongst them. But now that has ended, none of them shop here anymore."
I show them wedding pictures that are available online and ask them why Sara is shown wearing a veil. Both look at me with a surprised look.
"She is married, of course she should wear a veil," Nuri says. "Unmarried women, look at the street, it's filled with them, and they can choose not to wear a veil, it is up to them what road they take, but a married woman must wear a veil."
When everyone calms down and we finish the soda we were treated to, I tell them I would like to meet Sara and get her version of the story. Only she will know the full truth.
Akdeniz gives Nuri a signal to take over the cash register. We ask if we should follow their car. Instead, he offers to drive us.
Suddenly we are on our way to the home where Sara lives. I am under the impression we are going to the village the family is from. But a few minutes later, still in central Idil, he stops the car. We jump out in front of three newly built pink houses, on a street where most of the houses are new. In every balcony and window there are people, some curious and some upset, who wonder why we are here. From one of the balconies a man raises his voice above everyone else.
"They are definitely not entering my house. You are stupid for taking them here," he screams at Akdeniz, and we understand that he is the father, also known as the clan leader. He looks like he's about to have a heart attack, red in the face, gesticulating. He is Sara's father in law, the man that politicians in Mardin and Midyat say is the local unofficial Hezbollah leader. He is screaming. Threatening. Swearing. I am telling him to come down from the balcony and meet me eye-to-eye. He hesitates, but then disappears from the balcony and we hear him and a few others hurry down the steps behind the main door they are refusing to open for us.
He runs out of the building and almost hits his son, who drove us to the house, therefore giving away their address.
"If you don't leave immediately there will be trouble," he shouts with his fist in the air whilst giving me a threatening look. When I say we are reporters interested in Sara's story and that we are not here to fight, he threatens to call the police. I think that sounds like a good idea so I ask him to do so. I would have done it myself if I had the number.
He gazes at his son, who brought us here, and shakes his head. Then it starts again, the screaming and shouting. I shouted back that I can't hear anything that anyone is saying unless everyone calms down.
"Ok, I might let you in," he says suddenly, "but on one condition: You have to ring her mother and demand she takes back her police report." I don't understand.
"Her mother has reported us to the police; if she withdraws her statement I'll let you into my house. Those are my conditions."
I repeat that we are journalists, we neither can nor want to persuade Sara's mother, or anyone else, to do anything. We can, however, relay the message. By now, we all speak with raspy voices. But it has paid off; a woman whispers in Kurdish that they are done, that she is ready, and refers to Sara.
They make space for us in the doorway so we can pass through. We continue to an apartment on the first floor where we are asked to remove our shoes. All the floors are covered in rugs. There are teenagers, children, men and women. The whole house is full. We are escorted into a large sitting room without any furniture other than rugs and mattresses.
A young couple sits tightly together at the front of the room. The man was in the crowd on one of the balconies as we arrived at the house. Though it is not only from the balcony I recognize him, but from wedding pictures circulating on the internet. The woman must be Sara. She is more beautiful in person than in the pictures, where she is covered in loads of makeup. She is wearing no makeup at all now, but instead is covered in gold on her neck and both arms. She casts us a demure glance. He looks down to the floor.
"It's a lie that we are part of or sympathize with Huda-Part. An even bigger lie is that she was kidnapped, persuaded or manipulated. Shame on those who say so," says a man who initiates the discussion but does not introduce himself. Later, we are told he is still another of Sara's brothers-in-law.
He is even more hot-tempered than his father. Every question I ask fires him up and he acts as if we are in the middle of a fist fight. Once again I'm forced to shout that enough is enough; either we use a friendly tone with each other or we leave the house and report how we could not conduct a civilized conversation with the family. Some try to calm the others who are more upset.
We are offered coffee and water and the tone gradually becomes friendly, or at least friendlier.
After a lot of persuasion I manage to get permission to speak to Sara in Turkish, the language she and I share. But to be able to speak to her at all, she must first move closer; she is now at least four meters away from me. Whispers start floating left, right and center; people whisper to each other and then to Sara. She is granted permission to move closer. She and her husband are now just a meter or so away. Before any one of us has the chance to say anything, the husband produces the marriage certificate to show us. Sara then says:
"Please, I beg you, convince my mother to withdraw the police report. The district attorney can request that I undergo a psychological evaluation. The whole situation is very upsetting. I chose to come here, I chose to become Muslim and now everyone will believe I am retarded. She is interrupted by her father-in-law.
"I'm rich, I'm powerful, and my son could get any of our beautiful Muslim women. No one would turn me or him down if we asked for them. More beautiful girls. Richer girls. More intelligent. I have a lot to offer, gold, property. My son chose her and no one else. As I said, more beautiful... "
A woman silences him, gesturing towards Sara.
"I cannot understand why everyone makes such a big deal out of this. After all, at the end of the day we are all Kurds", blurts one of Sara's brothers-in-law.
We are astounded. What does he mean? Eliyo and I exchange glances. "I'm not Kurdish," I say. Emotions fly high again. The brother-in-law acts surprised.
"You should be ashamed to say such a thing. All who are born and live in this area are Kurdish, you just happen to confess to the wrong religion. We are all Kurdish, you, we and everyone else here, except for certain public service officials who are Turkish."
I turn to Sara. What does she think? Is she Kurdish? Her eyes begin to water. Everyone else's eyes are on her: "No, we are not ... I haven't heard that we ... in the village where I grew up we are not..." She is interrupted again.
Each time Sara says something, she looks around the room to assure herself that she had said the right thing. This time she nervously looks only at me and Eliyo. She briefly also turns to Adam Ottowa, the photographer.
I ask if she misses her family.
"Of course I miss my little brother and my mother. It was only the three of us." She tells us of how her father died when she was a child, and her mother had to work day and night to provide for her children, in a small village of about 50 households.
Adam would like to photograph Sara and her husband, but she wants to know what the picture will be used for. "There will be no pictures," her brother-in-law decides. I instead turn to her father-in-law to ask if we can at least take a picture of him. Such a brave man like himself. He wants to know first where Adam is from. I inform him that Adam is from Iowa, USA.
"May Allah's martyrs forever be blessed," is the surprising response I get.
As we stand up to leave after taking the pictures, Sara's husband begs us to listen to him. He emphasizes that they were married out of love. Sara in turn gives me her mother's mobile phone number and asks me once again to call her.
"My mother will lose a lot of money on a trial," she says, worried. She turns to one of the brothers-in-law with a questioning look.
"Yes, that's right, she will lose a lot of money because of the complaint she lodged about us manipulating Sara -- money we know she doesn't have, tell her that," he says. "It's alright for us, we can afford a trial, but she can't."
In the car, I dial the mother's number. No answer.
It is now dark; it's already 5 p.m. when we ask to be let past the gates of the Syriac-Orthodox monastery Mor Gabriel. During the past few years the monastery's board has dedicated most of its energy to fight the government's confiscation of monastery land, parts of which were returned only days before from none other than Prime Minister Recep Tayip Erdogan himself. The archbishop, Samuel Aktas, greets us with open arms. He insists we dine with them. It is lent: vegetables, fruits and bulgur is offered, all from the monastery's farms.
"You should be aware that there is always an ulterior motive," he explains during the meal. "In the same manner of using a poor naive girl to fish for votes, Erdogan uses us to attract liberal votes. 'Look! How good I am towards Christians,' he wants to display."
Aktas is annoyed. "She does not understand how big this is, how many she has hurt. What emotions she has stirred. She is just a little child. Parliamentarians, other politicians, us priests and many others, have spoken of nothing else in the last few days. This was somewhat of the last straw. We have endured so much in the last few years, oppression and persecution, sometimes openly but mostly not. And today, after only seven years in jail, they've set free the people who brutally killed Christians in the Turkish city of Malatya."
It reminds me of what one of the police chiefs in Mardin said about Sara. "Promise you will not publicize my name," he asked me. "It's very simple; had it been a Muslim girl who ran away with a Christian boy, we would not have been able to guarantee the safety of the boy's family. I am not prepared to say more than that."
The next morning, I have an appointment with the teacher and Yazar Kaygisiz, a feminist well known for fighting for Christian and women's rights. She has also tried to meet with Sara, and is surprised that we managed to do so. "All we got to see was the marriage certificate," she tells us.
"I do not believe that she got married and converted by free will," Kaygisiz says. "Too many things points to the contrary. For instance, the guy only had six months left to finish his military service. Why not wait until he finishes and comes home? Yesterday, when you got to meet them, he was only on leave. The fact they claimed that they do not belong to the Huda-Part, Allah's Party, is plainly ridiculous. We know for sure that they do. Another thing is that she didn't use her mother tongue when she called home, instead she spoke in broken Kurdish with her mother to tell her two things: that she had got married, and that she had found the proper religion."
Kaygisiz's voice is full of resignation. "The situation for Assyrians/Syriacs is sad. Far too few people dare to speak openly about the persecution. Of course, the law protects them, but real life, the life they live here, is different. Not a day goes by without news reaching me about yet another assault. I'm sorry, but I cannot stop thinking of Sara: She will now live in a large Islamic family whose language, culture or religion she barely knows, while the man she supposedly fell in love with is not even there. It's sick."
Before we part, she says, "What is important to understand is that everyone tries to assimilate the Assyrian/Syriacs: first the Turks, then the Arabs, and now the Kurdish. Suddenly some Kurds insist that the Assyrian/Syriacs must refer to themselves are Christian Kurds. You must include this point in your report. And one last thing, how come that several of the most prominent Turkish artists, actors and singers have married Christians but do their utmost to hide it? Well, otherwise they wouldn't get a single record sold or never again be considered for an acting part.
"A Christian person I know in Istanbul got married to a famous Muslim Turkish pop star, it's very secret. Now I know why."
In Mardin, I meet with the author and teacher Yusuf Begtas, who for many years served as a managing director at the monasteries Mor Gabriel and Deyr ul-Zahfaran. We are interested in his view of Sara's situation.
"I'm deeply touched by the fate of this family," he says. "Sara's father and I did our military service together. He died of a serious illness; Sara was only a little child then. Already before that the family was in deep economic difficulty because of expenses for medical care and medicine. He left behind a family in financial misery. Perhaps it is the poverty that drove her to this?"
I call the archbishop, Samuel Aktas. There was something he said when we met that has acquired new meaning. I want him to repeat it.
"We believe that they have been manipulating her for years. Well, yes, simply preparing her for this," he says. "For them it is a feat to have managed to convert one of us. I understand that in European ears it may sound as though we exaggerate our feelings. One has to live here to understand why this has hurt us, how it has upset us and frightened us at the same time."
Nuri Kino is an independent investigative reporter, filmmaker, author, Middle East & human rights analyst. This article was translated from Swedish by Izla Rhawi and and Vivianne Deniz.
http://www.aina.org/news/20140327142251.htm
-----------
Female Saudi Student Invents Nanotechnology Vest
28 March 2014
TAIF — A Saudi woman obtained a doctorate for using nanotechnology to invent a vest that would provide effective protection for security officers, Al-Sharq daily reported.
Hind Abdulghaffar, a Taif University student, discussed her invention at Umm Al-Qura University's design college last week in order to obtain her doctorate. She explained the importance of using modern technological developments and praised the role of the Military Industries Corporation (MIC) for contributing to her success.
The discussion lasted for three hours, during which the student explained the protective properties of the material used in manufacturing vests.
Abdulghaffar noted that all the materials used are petroleum-based and can be manufactured in the Kingdom to produce better and lighter vests.
She pointed out that the vest she has invented weighs only 2.9 kilograms, allowing soldiers and security personnel to move easily. "Military research receives the most support in advanced countries and I hope that this will materialize in the Kingdom," she said.
She said her thesis on using nanotechnology in vests was the first of its kind in the Arab world.
At the end of the discussion, the committee decided to award the student her doctorate with honours and recommended that the thesis be published.
http://www.saudigazette.com.sa/index.cfm?method=home.regcon&contentid=20140327199943
-----------
Women can play larger role in Iranian economy
28 March 2014
Iran is facing a socioeconomic issue in women's unemployment. According to an article published in the March 2014 issue of Iran Economics, only 13% of the workforce consists of women and the latest official statistics for women's unemployment stands at 15.6%, though unofficial unemployment figures for this group is 38.3%. Furthermore, only 9.2% of the entrepreneurs in Iran are women.
It is true that these figures are somewhat distorted, as many women in Iran decide not to enter the official workforce due to social limitations and prefer to work from home. Based on many studies, a sizable segment of Iran's unofficial economy consists of women's occupations that are carried out in their homes (from tailors to hairdressers to caterers). However, when one looks at younger women who are looking for employment, the country is facing an unemployment rate of 42.7% in the age group between 18 and 24. According to Mohsen Ranani, professor at the University of Isfahan, some 75% of female university graduates remain without an appropriate job, and that is a heavy price for a country that is aiming to grow its economy.
Traditionally, Iranian women have had an important role in the rural household economies, not just by contributing to the family business — whether weaving carpets or working on the farm — but also by producing the main food items for the family. Interestingly, some 90% of Iranian women in rural communities are still engaged in some sort of revenue-generating activity within the household or in the family business. The problem starts when one looks at Iran's growing urban population. In fact, fast-pace urbanization and industrialization has changed the role of women and once accompanied with the social limitations of post-revolutionary Iran, the role of women in economic activities has been reduced to a minimum.
Notwithstanding, in the past few years, one of the positive indicators in Iran's socioeconomic developments has been the growing presence of female students in higher education. In fact, over the past five years, an average of 60% of university students was women. However, success in attracting women to higher education has not translated into a growing role of women in entrepreneurship and economic activity. In other words, the government has been successful in removing the educational obstacles to women's participation in the workforce, but has failed in removing all other barriers.
According to Iran Economics magazine, the obstacles to a larger role of women in the Iranian economy include:
Personal impediments: Lack of self-confidence, lower educational credentials and a deficiency in appropriate skills alongside family commitments and an absence of family support for their employment contribute to a reduced level of interest to participate in the workforce.
Social impediments: Many Iranians still adhere to the social norms in dividing responsibilities between men and women. In fact, the overwhelming belief remains that men should be the breadwinners in the family. Furthermore, social insecurities undermine the position of women in the active workforce.
Cultural obstacles: The authoritarian and male-dominated culture that promotes gender-related cliches in the upbringing of women leads to the belief in society that women are not acceptable in the work environment working alongside men.
Legal obstacles: There is a law that obliges women to secure their husband's consent for working outside the household, which represents a barrier for many families with a traditional and religious background.
Organizational barriers: Many organizations and their staff still believe that there are limitations to women's capabilities. Such beliefs represent an organizational ceiling for the promotion of women.
Financial barriers: The financial system also constitutes an obstacle to women's active participation in entrepreneurship. Evidently, lack of access to loan facilities as well as to other support functions compels women to look for capital in their own social network which limits their ability to succeed.
However, despite the overall negative climate for women to contribute to economic activity, there are some underlying positive currents. The growing presence of women in higher education is gradually having a positive impact on perceptions in the average Iranian family. No one can argue anymore that women are less capable than men — the competition for university places proves the opposite. Furthermore, the actual performance of women in the workplace is transforming the misperceptions about their capabilities. Another positive parameter is the economic need of young urban families for two incomes, which compels the younger generation to look more favourably at women working outside the household.
Other phenomena produce mixed signals. On the political level, while the role of women in government is on the rise (in the form of vice presidents, deputy ministers, mayors, etc.), only 3% of the country's Majles deputies are female. Nonetheless, there are areas where women have a strong impact to change perceptions: For example, a considerable segment of the internationally recognized Iranian film directors are women. Famous actresses and sportswomen are also making a major impact on empowering Iranian women and changing social perceptions. Furthermore, women's role as university lecturers and scientists is on the rise.
Essentially, socioeconomic developments are gradually changing social and cultural perceptions in a country in which the traditional and conservative elements remain powerful. Interestingly, even in the more traditional frame of mind in Iran, officials and experts wish to see a greater role for women. Monireh Nobakht, who is a member of the Women's Socio-Cultural Council, argues that one should not just see a role for men in the economy. She states that the economic impact of women in Iran can also be seen in their contribution on streamlining the consumption patterns in Iranian households.
Even though a number of nongovernmental organizations have addressed the issue of women's entrepreneurship and participation in the economy, the actual results have been disappointing. Therefore, the new government needs to address the above-mentioned barriers and help transform outdated perceptions. A good starting point would be to change some of the laws and regulations impeding women's participation and also to appoint capable women as directors of governmental enterprises. Furthermore, the government can provide for targeted campaigns to promote women's entrepreneurship through allocating bank facilities and other support programs that will generate a greater confidence among key social constituencies in the capabilities of women in economic activities. There is no doubt that Iran's ambitious economic growth objectives would be achieved more feasibly, if the role of women would grow in the country's economy.
http://www.al-monitor.com/pulse/originals/2014/03/iranian-economy-women-reform.html#ixzz2xIx83EWR
-----------
Women's movement in Iraq faces setbacks
28 March 2014
When well-known feminist activist Mona Eltahawy put forth her theory that women are hated and detested in the Middle East, she faced objections from both men and women in various Arab countries. Yet, when we consider the Iraqi model and watch the decline and regression in the status of women and feminist activism, we might have no choice but to accept this theory.
Iraq was a pioneer of women's movements demanding equality between women and men in Arab countries. Very early on, Iraq saw the emergence of important figures who fought for women's rights and to liberate them from social and religious persecution. In 1910, the famed Iraqi poet and teacher Jamil Sidky Zahawi published an article in the Egyptian journal Al-Moayed about the need to liberate women from the shackles of backward social traditions. It was later republished in the Iraqi journal Tanweer al-Afkar. This article sparked a widespread social movement, with participants split between supporters and opponents of the idea.
In 1924, renowned Iraqi journalist Hussein al-Rahal and his colleagues founded a broad social movement for the liberation of women. The same year, the Women's Renaissance Club was established in Baghdad. Since that time, women activists emerged calling for the liberation of women. Among the most famous of these activists is Paulina Hassoun, one of the leaders of the women's renaissance. Hassoun launched the first Iraqi feminist journal in 1923, called Layla. Moreover, Iraq witnessed the first female minister of state in the entire Arab world, with Naziha al-Dulaimi serving as minister of municipalities from 1959-62. In 1952, Dulaimi founded the Iraqi League for the Defense of Women's Rights (later known as the Iraqi Women's League) and served as its first president.
Since its founding, the Iraqi women's renaissance has been concerned with calling for a personal status law to replace the discriminatory laws that remained from the Ottoman era. After years of struggle, their efforts finally succeeded, when Iraq issued a civil personal status law in 1959. This law tried to comply with international conventions concerning women's equality, without compromising the prevailing religious beliefs in society.
Despite the succession of dictatorships in Iraq, the secular system employed by those regimes protected the women's movements and did not suppress them. However, when the regime of late Iraqi President Saddam Hussein launched its famous "faith campaign" in 1991, things changed completely. The political regime sought to regain legitimacy after the defeat of the Kuwait War via a union with tribal forces and fundamentalist religious groups. This resulted in a decline in social enlightenment movements, first and foremost feminist activism demanding equality for women. This activism contradicted the nature of patriarchal authority in the tribal structure and the religious beliefs of fundamentalist groups.
After 2003, the women's current did not have the opportunity to thrive, in light of emergence of Islamic parties whose fundamentalist principles did not believe in the equality of women and men. These parties considered feminist movements a type of Masonic activity that was imported from the corrupt West. It is very clear that the beliefs of decision-makers have an obvious impact on the path of society. When the Ministry of Women's Affairs in Iraq was taken charge of by Ibtehal Qasid al-Zaidi in 2011 — a woman with a religious background who opposed the freedom of women — and when she stated that she was against equality between men and women and believed in the necessity of the guardianship and power of men over women, then what chance did women's rights institutes in the country have for growth and prosperity?
A number of feminist activists in Iraq have tried to conduct research and fieldwork to elevate the status of women in the country, but these attempts have ended in failure. One of the most important examples is the Iraqi Women Foundation, founded by Asmaa Jamil in 2005. This foundation submitted a number of studies and reports on various matters related to the persecution of Iraqi women, including their subjection to violence, exclusion and other forms of persecution in tribal environments or in special cases such as those of widows. The foundation also submitted legal proposals to improve the status of women in the patriarchal environment that surrounds them. However, the foundation finally closed its doors in 2011 due to a lack of finances and a complete lack of interest in its legal and social output by the concerned governmental agencies.
Furthermore, as part of an ongoing effort from 2005-11, feminist activist Nadje Sadig al-Ali tried to open feminist studies branches at Iraqi universities, as is common in international universities. But this did not attract interest or support from the concerned agencies in the Iraqi government.
After all these failures, civil activists are trying to stop draft laws that discriminate against and target women who are adopted by the religious parties in the government. The latest such incident was the passing of the Personal Status Code by the Council of Ministers, which legalized polygamy and marriage to girls as young as 9, treating the woman as a sexual commodity in society.
Finally, the civil current — which includes the feminist movement — feels very disappointed. It feels that a hundred years of struggle to advance society in women's affairs is facing a miserable defeat, and that there has been a regression from the achievements obtained by women previously. This, in turn, emphasizes the need for concerned international institutions to support this current so that it can continue its work in spreading education, enrichng society, confronting despotic legislation and replacing the latter with civilized legal proposals.
http://www.al-monitor.com/pulse/originals/2014/03/iraq-women-rights-challenges-setbacks.html#ixzz2xIzPQWhD
-----------
Syria's Islamist rebels force Christian activist to wear veil
28 March 2014
It is easy to forget amid all the mayhem, carnage and brutality in the Syrian conflict today that it was once an inspirational and peaceful mass movement for political change and civil rights. That time seems like an eternity ago, and everything that has transpired since then — all the destruction, murders, beheadings, extremism, barrel bombs, dead children and floods of refugees — could never have been imagined by the people who were its inspiration and its spark, the brave civil activists who started it all.
These activists were predominantly liberal and secular, but hailed from all social and religious backgrounds. They were united by a vision and a noble aim. They espoused the kinds of freedoms and political rights for which most Syrians yearned. The way they were marginalized and ruthlessly hunted — first by the regime and later by the extremist Islamist rebels as secular apostates and the moderates for exposing their crimes — is just one more tragedy in a seemingly endless list that has afflicted this miserable nation.
The civil activists are now a dying breed, hunted into extinction by the malice of those who view them as a threat. In Syria, that means just about anyone with a gun. Most of them are now dead, in jail or have fled the country. Perhaps nothing better highlights their plight than the story of Marcell Shehwaro, the daughter of a respected priest and a well-known opposition civil activist in Aleppo.
Shehwaro has been involved with the anti-regime civil movement since the start of the Syrian crisis, and along with a small group of friends engaged in a number of activities ranging from aid work to organizing protests, online activism to distributing anti-government fliers. After the rebels stormed and took east Aleppo in July 2012, Shehwaro and most of her group left the regime-held west for the newly "liberated" areas, where they continued their work as before, only now with a larger degree of freedom. This situation did not, however, last long.
As rebel factions became increasingly radicalized, and an extremist hard-line ideology spread among their ranks, her group began to run into all sorts of trouble. The main problem, of course, was that they believed in a secular democratic state, which is anathema to the jihadists. In fact, many activists across Syria have been negatively labeled as secular, an accusation that has landed them in rebel jails or worse.
Shehrawo's group was acutely aware of this danger and did not openly campaign or actively spread their ideas, preferring to stick to aid work, which meant that the armed rebels, for the most part, left them alone. That is, until last week, when Shehrawo and her group were busy at a bustling roundabout making murals to the martyrs of the revolution in time for the third anniversary of the rebellion.
A member of the radical Jaish al-Mujahidin approached and demanded that Shehrawo wear a Hijab to cover her hair, even after being told that she was a Christian. Shehrawo refused, and a scuffle broke out, after which she was arrested by armed men and taken to a rebel Sharia court. She was freed only after signing an agreement to wear the veil from then on.
Distraught, Shehrawo immediately wrote a poignant post for her Facebook page, which she later removed out of fear and following pressure from other activists. Regardless, she had already revealed a great deal about how she felt. Most important was her message to other Christians: "It is impossible for Christians to live with this armed opposition. … When I asked what they will do with them, some groups said they will force them to wear the veil. Others said they will kick them out. … I was wrong, your fears were justified. Leave this country, it's not ours anymore."
A Jaish al-Mujahidin commander later issued an apology for his men's actions, but the ruling still stands, and Shehrawo still has to wear the veil. This incident caused an uproar in opposition ranks and gained widespread media coverage, but it did not change anything on the ground or the behavior of the rebel groups, who believe that might makes right and have thrown away any pretense of fighting for the freedom of the Syrian people. Instead, they have perverted the course of a noble uprising into a hate-fueled sectarian war for power and establishment of an extremist theocracy.
Any who openly opposes or criticizes these extremist rebels will share the fate of the renowned activist Razan Zaitouneh and her colleagues at the Centre for the Documentation of Human Rights Violations in Syria, who disappeared from Duma, on the outskirts of Damascus, after releasing a damning report outlining the crimes and abuses of Islamist armed groups.
Silencing the civil activists of Syria with threats, violence and intimidation was a practice first perfected by the regime and later adopted with just as much vigour by the rebels. The last nail in the coffin of the Syrian revolution was when its guns silenced its voices of reason. It then ceased to be a popular uprising for freedom against tyranny and mutated into a grotesque mockery of itself, replacing one form of tyranny with another.
On a different but related note, I was recently reunited with the mentor of our own now-defunct activist group, a young woman who also happens to be a Christian. Misho had been just like Marcell at the beginning: a devoted, selfless and tireless activist. But unlike Marcell, Misho saw the writing on the wall when the rebels invaded Aleppo. She has since stopped supporting the opposition movement altogether and ceased all her activities except for aid work to help displaced and needy families.
I was somewhat surprised when I learned that she was now helping rebel fighters trying to escape to Turkey to find work and a fresh start, away from the war and the guns. When I asked her about it, she said, "They're fighting because they have honor, because they are noble men. But they see the crimes of the rebels and the extremists, and they want out. Many are afraid to leave, afraid of reprisals by the rebels or being caught by the regime. They don't trust the regime enough to give themselves up. They think they'll be killed."
That sums up the dilemma of all honorable Syrians, surrounded by enemies on all fronts in a war of dishonor.
http://www.al-monitor.com/pulse/originals/2014/03/marcel-shehrawo-activist-syria-christian-mujahideen.html#ixzz2xIzYOs9c
-----------
Why Ipas Is Wrong To Say Legalising Abortion Worldwide Would Save Lives
28 March 2014
The international abortion advocacy organization Ipas helped convene a meeting this week calling for governments to "repeal laws that criminalize abortion and remove barriers on women's and girls' access to safe abortion services," making "safe, legal abortion universally available, accessible and affordable for all women and girls." The conference attendees say abortion must be legalized to "sav[e] women's lives."
That is false. Maternal health depends far more on the quality of medical care (and related factors) than on the legal status or availability of abortion. Consider:
Maternal mortality declined dramatically in the developed world as a result of advancements in modern medicine that took place before the widespread legalization of abortion.
Today Ireland, Poland, Malta and Chile significantly restrict or prohibit abortion and yet have very low maternal mortality ratios.
Among the few countries that achieved a 75 percent reduction in their maternal mortality ratios (a target of Millennium Development Goal 5) by 2010, Maldives, Bhutan and the Islamic Republic of Iran did so while generally prohibiting abortion.
After Chile banned abortion in 1989, its maternal mortality ratio continued to decline significantly and at about the same rate, dropping 69.2 percent over the next 14 years, according to a 2012 study by Elard Koch, et al. Even maternal deaths due specifically to abortion declined—from 10.78 abortion deaths per 100,000 live births in 1989 to 0.83 in 2007, a reduction of 92.3 percent after abortion was made illegal.
Legalizing abortion, the Chilean study's authors conclude, is demonstrably unnecessary for the improvement of maternal health and the saving of women's lives.
In fact, legalizing or expanding abortion can be detrimental to the health and safety of pregnant women. Abortion poses physical and psychological risks. These risks include immediate complications such as hemorrhage, infection and death as well as long-term risks such as breast cancer.
A wealth of worldwide research has established that abortion increases the risk of subsequent preterm birth, which can cause death or disability in newborn children. Abortion is also associated with a variety of psychological and social problems, including depression, drug abuse and suicide.
The health risks of abortion are exacerbated in countries where basic health care is lacking. The legalization or expansion of abortion in such countries can increase the incidence of abortion, increasing the number of women subjected to the risks of abortion.
The evidence shows that better maternal health care, not abortion, is the way to save lives.
http://www.nationalrighttolifenews.org/news/2014/03/why-ipas-is-wrong-to-say-legalizing-abortion-worldwide-would-save-lives/#.UzYIwKhdUqM
-----------
Refuge centre for Muslim women on Hume Council meeting agenda tonight
28 March 2014
A PROPOSAL for a shelter and refuge centre for Muslim women will be among the big-ticket items considered by Hume councillors when they meet in Broadmeadows tonight.
Among the planning applications on the agenda is a request to extend the first floor of an existing retail premise in Broadmeadows to make way for an emergency shelter and refuge centre for Muslim women.
But councillors have been recommended to refuse the application based on unsuitability of the site.
Council is also expected to approve Hume Horizons 2040, a long-term community plan outlining vision for the future.
If accepted, the plan will go on public exhibition for 28 days before final approval on May 12.
Councillors are also expected to write to Planning Minister Matthew Guy and the Metropolitan Planning Authority to object to fast-tracking a planning scheme amendment process, which will see the Craigieburn North Employment Precinct Structure Plan added to the Hume Planning Scheme.
As part of this, they are also likely to object to lack of compensation for landowners affected by new growling grass frog conservation areas.
The meeting starts at 7pm at the Hume Global Learning Centre, Broadmeadows.
http://www.heraldsun.com.au/leader/north/refuge-centre-for-muslim-women-on-hume-council-meeting-agenda-tonight/story-fnglenug-1226863221043
-----------
Blasphemy case: Aasia Bibi's appeal adjourned
28 March 2014
LAHORE: The hearing of death row convict Aasia Bibi's appeal was adjourned on Wednesday by a special division bench of the Lahore High Court when counsel for the complainant did not show up. Earlier on February 24 and March 17 the case had been fixed before the court but the cause list was later cancelled and the case could not be taken up.
The hearing is now scheduled for April 14. On Wednesday, the complainant, Qari Muhammad Salam, and Aasia's husband, Ashiq Masih, were present before the court.
Salam had alleged that Aasia Bibi uttered blasphemous remarks on June 14, 2009. He said that although he was not present, Asma Bibi, her sister, and Yasmin told him about the incident. He said that he along with Muhammad Afzal and Mukhtar Ahmed had summoned Aasia Bibi and the witnesses.
He claimed that Bibi had confessed and begged pardon. Salam said Bibi had hurt their religious sentiments and should be tried under blasphemy law.
Advocate Yasif Badar, Bibi's counsel and a member of the Free Legal Aid and Settlement (FLAS), told The Express Tribune that Bibi had categorically rejected Salam's story. She said Asma Bibi and her sister had falsely implicated her due to an altercation between them when they refused to take drinking water brought by Bibi because she was a Christian.
FLAS chairman and advocate Anis AA Saadie told The Express Tribune that eight witnesses had recorded their statements against Bibi, but even among the Chrisitian community not a single witness had dared to defend her in court.
Saadie said she had been convicted for a confession made under pressure of a mob of more than 200 people. He said such extra judicial confessions held no value and could not be used to convict any person.
He said the investigation had not been conducted under guidelines issued by the Supreme Court.
Bibi has been in jail since June 2009. She was sentenced to death and fined Rs 100,000 by a Nankana Sahib additional district and sessions judge on November 8, 2011, under Section 295-C of the Pakistan Penal Code.
http://tribune.com.pk/story/687784/blasphemy-case-aasia-bibis-appeal-adjourned/
-----------
URL: https://newageislam.com/islam-women-feminism/'assaults,-insults,-sly-remarks-threats'/d/66316