New Age Islam News Bureau
2 Jun 2017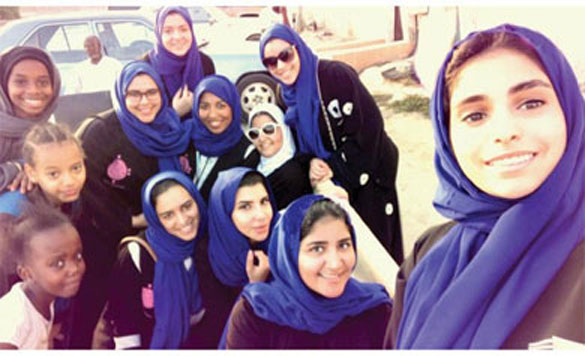 Lina Tahlawi, founder of the Bassmat Al-Badr non-profil organisation poses with a group of young volunteers during the distribution of Iftar meals to needy people. (ANPhoto)
----
• Malawi to Allow Muslim Women Wear Hijab on Driving License Photos
• 'They Used To Lead Camels': Saudi Prince Stands Up for Right Of Women To Drive
• Young Women of Jeddah Put Food on the Needy's Table
• First Arab Woman in French Open 3rd Round Faces Ramadan Dilemma
• Indonesian Muslim Women Engage With Feminism
Compiled by New Age Islam News Bureau
URL: https://www.newageislam.com/islam-women-feminism/a-muslim-woman-breaks-century/d/111387
--------
A Muslim woman breaks century-high glass ceiling as the first religious court judge in Israel
June 01, 2017
By Ari Plachta
Israel is often celebrated for LGBTQ rights, gender equality in its military and electing one of the world's first female heads of state back in 1969. But women still lack equal representation in positions of power, especially in Israel's religious realm. For these reasons, Hana Mansour-Khatib's appointment as Israel's first woman religious court judge is being celebrated by Arab and Jewish leaders alike. She will serve as judge, or Qadi, in Israel's Sharia courts.
"It's not only a personal achievement," Mansour-Khatib insists. "It's ours, for Arab women and Muslim women in Israel who are seeking the best rights they can get from the religious courts."
Jewish, Muslim, Christian and Druze religious courts in the region date back to the Ottoman Empire and operated throughout Britain's mandate control of Palestine. Today, rabbinical courts in Israel oversee marriage, divorce and other personal status issues for Jews, as do the Sharia courts for Israel's Muslim Arab citizens, who comprise about 17 percent of Israel's population.
Mansour-Khatib is a mother of four and family lawyer specializing in Islamic law, identifying both as a modern Muslim and feminist. In the small law firm she shares with her husband, Fouad, in northern Israel, awards and certifications line the walls.
"Most of them are hers," he brags.
From Mansour-Khatib's perspective, Israel's Sharia courts are vital to its Muslim communities. But the courts have no shortage of critics, many pointing to their condoning of practices like underage marriage in some districts, polygamy and glaring misogyny.
Speaking from experience, Mansour-Khatib notes that when many women testify in the Sharia courts, "she comes with her father, she comes with her brother and she comes with her grandfather. They start the first trial and finish the ninth or the 10th trial without expressing a word."
But from her new position, Mansour-Khatib hopes to begin making a positive difference in the lives of those women.
"When a woman stands in front of a woman judge, she can express herself," she says.
All Israeli citizens also have access to secular, civil courts, but many Muslim women prefer the Sharia. Mansour-Khatib acknowledges that Muslim and Arab women in Israel face hurdles of discrimination and inequality, but is frustrated by stereotypes that portray them as weak or suppressed by Muslim society. Her own appointment is proof, she thinks, that it's a fairly good time to be a Muslim woman in Israel.
"There's a lot of young girls who became doctors, managers in schools, high-tech specialists," she says. "It's also in the West Bank. They go study in Jenin, or in Nablus. They go alone without their fathers. It means that we live in a good era, people cope with the success of women as an achievement."
That may be true, but her judgeship was only achieved after a fraught, 20-year battle between two opposite political factions. Hard-line Islamic organizations, for one, accused the Israeli justice minister of meddling in Islam. Such conservative groups do not accept the notion of a woman as Islamic judge.
Ultra-Orthodox Jewish lawmakers also fought her appointment, fearing a woman Sharia judge would set precedent in the rabbinical courts, where female judges are still forbidden. Could their fears prove to be well-founded?
"Up until recently, very few even thought to ask," says Jewish legal expert Dr. Rachel Levmore. "But through study of the actual laws, it is apparent that a woman can be a rabbinic judge in a court that deals with monetary matters. The rabbinic courts that deal with matters of marriage and divorce is still up for debate. Even what I just said is a revolution and would be highly contested by the rabbinical establishment. This is something that's going to be debated for quite a few more years, and we'll see what happens."
Islamic and Jewish law have one thing in common — they are both extraordinarily complicated. But what is clear, is the surprisingly long road ahead for an Orthodox Jewish woman in Israel to reach what Mansour-Khatib just accomplished. And that from her seat as judge, Mansour-Khatib will aim to bolster the voices of Muslim women while protecting their rights, likely inspiring more to follow her.
https://www.pri.org/stories/2017-06-01/muslim-woman-breaks-century-high-glass-ceiling-first-religious-court-judge-israel
--------
Malawi to allow Muslim women wear hijab on driving license photos
Jun 2 2017
Officials from Malawi's Department of the Directorate of Road Traffic and Safety Services (DRTSS) have announced that Muslim women in Malawi will no longer be required to take off their hijabs for their driving license pictures.
The move follows after reports emerged that some Malawian women were being forced to remove their hijabs to obtain their driving licenses and traffic registration identity cards.
In a statement issued on Wednesday, the country's traffic authority said the decision to lift ban on hijab for driving licenses was made after "serious talks" were held with the Muslim Association of Malawi (MAM) and an agreement was reached on how to handle Muslim women at the authority's offices nationwide.
"Muslim women may not be required to remove the head gear entirely but they should at least expose necessary facial features for facial recognition," the statement said.
https://www.dailytrust.com.ng/news/islamic-forum/malawi-to-allow-muslim-women-wear-hijab-on-driving-license-photos/200201.html
--------
'They used to lead camels': Saudi prince stands up for right of women to drive
1 Jun, 2017
A Saudi prince has declared his support for women driving cars, arguing that females used to lead their own camels in the past. He also noted that women are the "bases of society" in Saudi Arabia and "hold a significant place in Islamic civilization."
"The ban on women driving has been imposed on us, and women in the past used to lead their own camels. Women need to be empowered, because they represent more than half of the society and they are highly dependable," Prince Faisal Bin Abdullah said in an interview with Riyadh-based Rotana Khalijia TV, as cited by Gulf News newspaper.
According to Faisal Bin Abdullah, who served as Saudi Arabia's Education Minister from 2009 to 2013, the changes are "inevitable."
"Change, in all cases, must start from within, and women need to prove their success and their positive influence on society," he said.
The Prince said he is confident that women "can succeed whenever they have the opportunity."
"I have great pride in Saudi women. They are mothers, wives, and daughters, and I take immense pride in them and in their faith, beliefs, and commitments in our modern times. Women in Saudi Arabia are the bases of society and they hold a significant place in Islamic civilization," he said.
Faisal Bin Abdullah is not the first member of the House of Saud, Saudi Arabia's ruling royal family, to speak out in favor of lifting the driving ban for women.
In December of 2016, an influential member of the Saudi royal family, Prince Al-Waleed Bin Talal, called on Saudi Arabia to lift the ban, saying it is draining billions of dollars from the kingdom's struggling economy. A longtime advocate of women's rights in the kingdom, Bin Talal said it is a matter of economic necessity, as well as women's rights, to lift the restrictions. The average family in Saudi Arabia spends $1,000 (3,800 Saudi riyals) on a driver every month, Al-Waleed estimated.
However, not all members of the House of Saud share the same progressive views. Earlier in 2016, Deputy Crown Prince Mohammed bin Salman dismissed suggestions that the ban would be lifted soon, saying that Saudi Arabia wasn't ready to allow women to drive cars.
Saudi Arabia is the only country in the world where women are not allowed to drive, and women's rights activists are arrested for defying the ban. Although there is no formal written legislation banning women from driving in the ultra-conservative country, they are not issued licenses, making it illegal for them to operate vehicles.
Many of Saudi Arabia's most prominent clerics are strongly against females operating vehicles. In 2016, Grand Mufti Sheikh Abdulaziz bin Abdullah al-Sheikh said that allowing women to drive was a "dangerous matter that should not be permitted." In 2013, Sheikh Saleh al-Lohaidan hit the headlines by saying that women who drove risked damaging their ovaries.
In December of 2014, Saudi authorities arrested two women's rights campaigners who were challenging the ultra-conservative, absolute monarchy's ban on female drivers. Both spent at least 72 days behind bars.
For a long time, women needed a guardian's approval to engage in a vast number of their everyday activities – from getting an education or accepting a job, to opening a bank account or receiving medical treatment.
In May of this year, however, Riyadh introduced some reform measures, saying that women will no longer need a male guardian's consent to receive some state services. The new decree was issued after Riyadh, which has been constantly slammed for its poor record on women's rights and gender inequality, was appointed to the UN Commission on the Status of Women. The government has yet to release an exact list of services that woman can apply for without the permission of a guardian, however.
https://www.rt.com/news/390385-saudi-prince-women-driving/
--------
Young women of Jeddah put food on the needy's table
2 June 2017
JEDDAH: Ramadan is all about feeling the suffering of the poor, and is the month of giving.
Charity work takes different shapes during the holy month, from distributing dates and water at traffic signals and intersections to reaching out to the needy in their homes.
Lina Tahlawi, 24, and a group of young women are keeping up with the habit of distributing food to the needy during Ramadan.
"I believe the main drive behind it all is that we share the same passion for helping others," Tahlawi, founder of the Bassmat Al-Badr non-profit organization, which is involved in charity work, told Arab News.
A few hours before iftar time, which coincides with sunset, the volunteers knock on doors in needy neighborhoods to distribute hot and cold food and drinks among needy families. The volunteers cover several areas around Jeddah, mainly in the south.
Needy families, orphans and old jobless people are given priority, he said.
Tahlawi said food distribution is the most difficult part of the process, but the rewarding feeling the team gets is greater than the hard work.
"Bearing the heat is insignificant when we see people's smiles while distributing food, which is the greatest reward," she said.
Hot meals consist of rice, chicken and samosas along with water, dates, juice or laban (yogurt). Croissants or cupcakes are also distributed.
Bassmat Al-Badr is named after Lina Tahlawi's father Badr Tahlawi, whose death in 2010 inspired her to embark on charity work dedicated to his soul.
The initiative aims to empower women through education and volunteer work.
"The team that works in Bassmat Al-Badr works with love and happiness with all their heart, even though it's completely voluntary work," she said.
http://www.arabnews.com/node/1108806/saudi-arabia
--------
First Arab woman in French Open 3rd round faces Ramadan dilemma
June 2, 2017
NS JABEUR became the first Arab woman to reach the third round of a Grand Slam Wednesday, but admitted her success has caused a dilemma for the Muslim holy month of Ramadan.
The 22-year-old Tunisian, ranked at 114, defeated sixth seed Dominika Cibulkova of Slovakia 6-4, 6-3 at the French Open, having earned her place in the main draw as a 'lucky loser' after being beaten in qualifying.
However, she said her unexpected run means she will have to defer her Ramadan fasting obligations until her Roland Garros adventure ends. "I cannot go without eating or drinking, but after the tournament I will give it back, day by day.
"I won't be able to do the 30 days but I have time to do it before the next Ramadan," she explained after her first career win over a top 10 player.
Jabeur, who had never won a match at the majors before her visit to Paris, has now bettered the previous best by an Arab woman at the Slams.
That mark was set by compatriot Selima Sfar who made the second round at Roland Garros twice, three times at Wimbledon and once at the US Open.
Jabeur, who was the French Open girls' champion in 2011, goes on to face Swiss 30th seed and 2015 semi-finalist Timea Bacsinszky for a place in the last 16.
"I am very happy to reach the third round of a Grand Slam for the first time," added Jabeur, who proudly waved a Tunisian flag on Court Suzanne Lenglen. "The fans here and all the Tunisians really helped me."
Jabeur hailed the help she has received from Sfar, a trailblazer for Arab women's tennis. "She is such a great inspiration, she always comes to help me and support me," said Jabeur, who fired 30 winners to 2009 semi-finalist Cibulkova's 13, taking the match when her opponent double-faulted.
Jabeur only squeezed into the main draw when Germany's Laura Siegemund was forced to withdraw through injury. Gloria Pizzichini was the last 'lucky loser' to reach the third round in Paris in 1996.
Nicole Jagerman of the Netherlands was the only 'lucky loser' to make the fourth round in Paris in 1988. Jabeur's win has already guaranteed her the biggest pay day of her career with 118,000 euros guaranteed for third round players.
"This is a second chance for me. Now I will do everything I can to continue on this path," added the Paris-based Jabeur. She also believes her victory is an important step forward for women's tennis in the Arab world and is prepared for the extra scrutiny.
"Tunisia is a very small country but I feel it has got a bit bigger," she said. "It's an honor to represent the Arab world and Africa."
Cibulkova arrived in Paris under an injury cloud having been forced to wear a cast on her wrist earlier in the season. She played just three clay court matches before Roland Garros. — AFP
http://saudigazette.com.sa/world/mena/first-arab-woman-french-open-3rd-round-faces-ramadan-dilemma/
--------
Indonesian Muslim Women Engage With Feminism
BY DINA AFRIANTY
02/06/2017
Can a Muslim be a feminist? Many Muslim women and men have fought for liberation, justice and freedom, but some still question if feminism and Islam are aligned.
The practice of Muslim women wearing headscarves is often taken as a sign that they are objectified through religious practices. Genital mutilation, child marriage, domestic violence and polygamy in Muslim majority societies are practices said to be based on Islamic teachings.
This leads to the argument that being a Muslim means one lacks "agency" as one must submit to certain teachings.
Western feminism understands agency as a self-realisation and freedom for everyone to exercise their free will. Therefore, they should not be subject to tradition, culture or social coercion.
Indonesia's first feminist
Stories of Indonesia's early feminist, Kartini, and the recent world-first female Muslim clerics congress in Indonesia both offer insights in this discussion. They highlight the struggle of Muslim women for equality, justice and freedom.
A national hero, Kartini was a young woman fighting against feudalistic and patriarchal Javanese culture founded on diverse foreign values, including Hinduism, Islam and Western colonialism. In her time (she was born in 1879), education was not for girls. Society's expectation was only for girls to become a wife, give birth and look after children.
Her story, which has recently been made into a feature film in Indonesia, suggests her ideas about equality were influenced by her Dutch friends. But it was also Kartini's encounter with Islamic teachings that allowed her to learn that the Quran guaranteed equality for men and women.
Tragically, although she campaigned against polygamy, her ailing father's request forced Kartini to accept marriage to a man who already had three wives.
Female clerics taking over
As if in the steps of Kartini, the gathering of almost 500 female religious scholars in Cirebon, West Java, is a milestone in Muslim women's fight for equality.
The well-versed clerics are leaders of Islamic boarding schools and preachers.
They believe gender equality is guaranteed in Islam and that the Quran, the source of Islamic teachings, is not misogynistic. The subjugation of women has instead been influenced by the male domination of Quranic interpretation.
Since the time of the Prophet, the authority to read and interpret the Quran has always been in the hands of men. In the congress, female religious scholars from the Middle East and the region passionately discussed strategies to take over this space and gain authority.
Malaysian Zainah Anwar, the founder of Sisters in Islam, delivered a passionate speech about fighting male domination in Quranic interpretation.
She told congress participants Islam gives women the right to define what Islam is. It is important for women to initiate reform and participate in public policy within the framework of Islam, the Indonesian constitution and universal human rights and women's rights, she said.
The clerics believed complex issues like child marriage, domestic violence, polygamy and women's role in combating the rise of radicalism could only be challenged if women took the lead in the interpretation of Islamic teachings.
Polygamy was one of the prominent themes in the congress. Ruhaini Dzuhayatin, a former human rights official at the Organisation of Islamic Cooperation, told the audience she always had to argue against her male colleagues in various meetings on women's rights, and on polygamy in particular.
She said: "I told them it [polygamy] is not the teaching of Islam and I use verses in the Quran to support my argument."
The audience responded with a big round of applause.
Nur Rofiah, a professor in Quranic studies, explored how men have exploited particular verses to justify taking additional wives. According to Nur, Islam says every human being has to elevate the status of humankind, and polygamy does not.
At the congress, the female clerics released a fatwa to lift the minimum age for girls to marry to 18. The Indonesian Marriage Law stipulates 16 as the minimum marrying age for girls.
Although a fatwa does not have legal force in Indonesia, by issuing it the female clerics have taken a bold stand. Fatwa-making is traditionally a male-dominated field.
By taking this approach, the female clerics are attempting to open Muslim women's minds to the idea that they should not only listen to male clerics on questions affecting their identity as Muslim women.
Muslim women's agency
The idea that Muslim women lack agency is hard to reconcile with this vibrant new network of intellectual women. They no longer accept becoming victims of male domination and they use Islamic teachings to challenge patriarchal practices. They take advantage of any available public avenue to express their need for independence, to be seen and heard.
https://thewire.in/142514/indonesian-muslim-women-engage-feminism/
--------
URL: https://www.newageislam.com/islam-women-feminism/a-muslim-woman-breaks-century/d/111387
New Age Islam, Islam Online, Islamic Website, African Muslim News, Arab World News, South Asia News, Indian Muslim News, World Muslim News, Women in Islam, Islamic Feminism, Arab Women, Women In Arab, Islamophobia in America, Muslim Women in West, Islam Women and Feminism