New Age Islam News Bureau
11 Jun 2012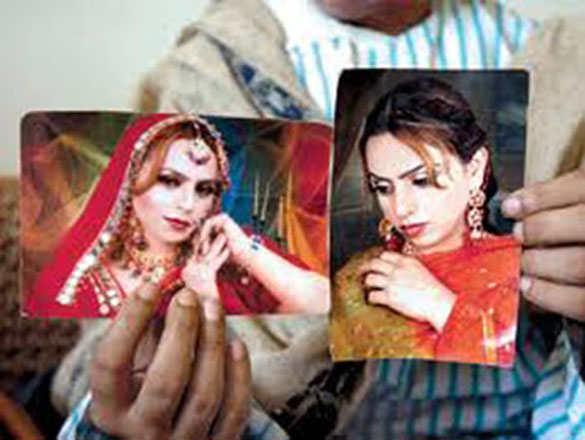 • Co-education among Muslims would result in greater progress and help
• Acid attack Survivor determined to rebuild life
• Paving a political path to Bradford's Muslim women
• British legislation: A welcome proposal on forced marriages
• Manal al-Sharif: The Face of 'Saudi Arabia's Women2Drive movement'
• London-based group demands Asma Jahangir's protection
• First woman to wear hijab in Canadian Forces dies of cancer
• Why so few women hold office
Complied by New Age Islam News Bureau
Photo: Acid attack Survivor determined to rebuild life
URL: https://newageislam.com/islam-women-feminism/a-45-year-old-woman/d/7586
-----------
A 45-year-old woman raped to settle loan in Pakistan
June 11, 2012
PESHAWAR: A 45-year-old woman was allegedly raped after her husband offered his relative to sleep with his wife in order to settle a loan.
The woman lodged an FIR with the Bana Marhi police station on Saturday, stating that her husband Farid Gul had taken a loan from a family member, which he was not able to return on time. Upon increased pressure from their relative Raj Wali, her husband told Wali that he could sleep with his wife in order to settle the loan.
"My husband came to our house with the man and told me to sleep with Wali. When I refused to do so both men overpowered me," she told the police, adding that with the help of her husband, Wali raped her after which both men left.
Police said the woman had registered an FIR under sections 376 and 109 of the Pakistan Penal Code (PPC). "We have registered an FIR under the PPC and Hudood Ordinance," he said.
SP Asif Iqbal told The Express Tribune that said several raids had been made but the police have failed to make any arrests. "I am hopeful that the accused will be arrested soon and they will face trial in court."
http://tribune.com.pk/story/391998/45-year-old-woman-raped-to-settle-loan/
-----------
Co-education among Muslims would result in greater progress and help
By Madhulika Sonkar
11 Jun 2012
It has been a tough battle for Faiza Nisar Ali who helped steer the entry of girls into the erstwhile male bastion of the historic Anglo-Arabic School.
Faiza and the struggle of many other Muslim women created history when the school admitted girls for the first time in its over 300-year-old existence.
Faiza's fight began in March when she was appointed to prepare a feasibility report on why Muslim boys and girls should study under the same roof.
She had to contend with numerous pitfalls along the way, including frantic phone calls from community hardliners trying to dissuade her, being blamed for scripting something "un-Islamic", countless sleepless nights and also the trauma of a miscarriage.
"After months of research, consultations with educationists, psychologists and parents, I concluded in my report that co-education among Muslims would result in greater progress and help them in the later stages of life," says Faiza, who is in her thirties and is the business studies teacher at the same school for over six years.
She recounted the events with moist eyes.
"After the report was done, the staff became very resistant. The teachers went against me and I was held liable for being un-Islamic," she said.
The report spoke on how co-education could boost academic performance of both the sexes, and also highlighted that Muslim parents wanted their girls to go to a co-ed institution.
Despite facing internal resistance from the predominantly male school staff, the managing committee of the school in a meeting on March 26 decided to open its doors to girls.
The decision was considered historic for the school, located at Ajmeri Gate, in the old quarters of Delhi.
However, the landmark decision did not end Faiza's agony. While her family was supportive about the step she had taken, the mental pressure due to the angry reactions brought her to hospital.
Then eight weeks pregnant, Faiza went through a miscarriage. But she was gutsy enough to pursue her dream.
"I had this invisible pressure about how to face colleagues in the school. I had gone through a lot, but I did not want to leave it in the middle," the mother of a five-year old admits, adding that her "mother had even suggested her to distance herself from all the activities".
She got support when more Muslim women joined the cause. A Jawaharlal Nehru University student, Fatima Alvi, filed a petition in the Delhi High Court.
On May 24, the court backed their cause. The school management swung into action and has so far admitted over 30 girls in Classes 6 to 11.
For many Muslim girls studying in nearby girls' government schools, the move is a dream comes true as they can switch to the Anglo-Arabic School that has produced the likes of Liaqat Ali Khan, the first prime minister of Pakistan, Sir Syed Ahmad Khan, founder of Aligarh Muslim University, and J.N. Dixit, former national security adviser and foreign secretary.
Burqa-clad petite Darakshna Fatima, 17, beams with joy for having made it to the school.
"I lost my father 6 years back, since then my mother has been the pillar of strength for me," says Darakshna, who aspires to become a chartered accountant.
The Class 11 student added, "Our relatives had reservations, but I am proud that my mother fought for my education."
Darakshna's sister Gulafshan has also secured admission to the school, which was started as Madrasa Ghaziuddin around 1692.
Jamia Millia Islamia Vice Chancellor Najeeb Jung, president of Delhi Education Society, under the aegis of which the school runs, felicitated the first batch of 15 girl students who were admitted to the Anglo-Arabic School.
"This is the girls' first step towards better schooling. The change will come gradually. .. Modern education has started arriving for girls from the community," Jung said.
"We are expecting more girl students in the coming days. There will be a female teacher to attend to the special needs of girls and we plan to recruit more female staff," said Azra Razzak at Jamia Millia Islamia, who is also secretary, Delhi Education Society.
However, Faiza says the fight is not over yet. Though girls have been admitted, the resistance among many staff members remains.
"Let's hope there is an attitudinal shift and changes begin to happen," Faiza said.
She herself had faced resistance when she was selected among three women teachers to join the 80-member strong male staff at Anglo-Arabic School. She remembers facing hostility from her male colleagues.
"Initially it was very suffocating, but gradually came better understanding," Faiza says, hoping attitudes will change for the girl students too.
http://www.theweekendleader.com/Heroism/1172/educating-girls.html
-----------
Acid attack Survivor determined to rebuild life
By Maha Mussadaq
June 11, 2012
ISLAMABAD: Covered in bandages, Shama's wounds are still fresh after surgery to treat acid burns inflicted by her husband of 10 years.
"The habit of covering my face with a pillow when I sleep saved it from burns," said Shama, who is the mother of four children, two boys and two girls, at the age of 24.
Living at the Acid Survivors Foundation (ASF), while she recuperates from surgery performed at the Benazir Bhutto Hospital Rawalpindi, Shama said the horrific incident ruined her life. But she is not ready to give up.
Shama was asleep at her home in Sadiqabad in Multan when her husband, Maqsood Ahmed, poured acid on her in the middle of the night. Shama was burnt from the neck down to her waist. This was seven weeks ago.
"He was jealous of my beauty," she said. She had recently won a beauty pageant, and was considered to be the most beautiful girl in her village.
"People used to say we look like father and daughter and he couldn't handle that," she added. Ahmed is 17 years older than Shama.
Unsure of what to do, Shama lay in pain till sunrise. She then went to the nearest PCO and called Rescue 1122. Although she underwent surgeries in Nishtar Hospital, Multan, her wounds did not heal.
At the time she was working in marketing and sales with a company in Multan. "While all the other girls used makeup, I got compliments for looking beautiful without it."
But now she won't be going back to her old job. "Being physically attractive is part of my job and I've lost my self-confidence."
Her family has asked Shama to reconcile with Ahmed for her children's sake. "He broke my trust," she said wiping her tears, "I will go back and begin a new life without him."
Ahmed, meanwhile, continues to roam about freely.
Shama's case is not alone. There are many instances in which the perpetrators continue to evade the law, while their victims live in agony. The law on acid was amended last December and passed by the Senate, said Muhammad Khan from ASF, but even though acid throwing is now criminalised, with a minimum sentence of 14 years to life imprisonment and a fine of Rs1 million, some concerns need to be addressed.
Khan said investigation into the crime should be completed within a number of days determined by a judge. "In case that does not happen, a board should be set up to look into the delay."
Surgery is very costly, for which funds should be made available from Baitul Mal, he added. "The sale of acid to farmers is something that needs to be more strictly regulated."
Khan said the ASF will now set up awareness camps to inform people how to control damage from acid burns. "You should immediately pour as much water as you can on the parts of the body affected by acid to control the damage," he said.
All healthcare units should be bound by law to care for an acid victim as a priority case without demanding an FIR and help in reporting the crime, he suggested. The number of acid victims has been on the rise with each passing year, despite laws to check the crime. Most acid attacks are reported from southern Punjab and Sindh, he added.
http://tribune.com.pk/story/391732/acid-attack-survivor-determined-to-rebuild-life/
-----------
Paving a political path to Bradford's Muslim women
June 11, 2012
Ed Miliband was left in no doubt that a vigorous and down-to-earth group of voters no longer accepts that men can do the speaking for them. Irna Qureshi was there and here's her take on the Labour leader's visit
Much has been made of Pakistani Muslim male politics in Bradford since Labour's historic defeat in the Bradford West by-election earlier this year. And since Muslim women were credited with being a key component of George Galloway's stunning victory, Labour has been keen to court this unlikely female electorate.
Labour's real challenge though goes much further than developing a dialogue with Muslim women; the party must also give serious consideration to the means of access. Labour will have to pave a direct political path to lead them to Bradford's Muslim women.
There's a history of wariness about reaching out to Muslim women in Bradford. We're singled out as a difficult-to-reach group, and branded by public institutions and policy makers as voiceless, passive homemakers. All too often, issues affecting Muslim women are evaded on the basis that they are too sensitive. The ongoing Islam-bashing in the media simply reinforces the stereotype. So when the Bradford Muslim Women's Council (BMWC) invited Ed Miliband to listen to the views of its local members, it is hardly surprising that the Labour leader accepted the invitation on the spot.
BMWC was established in 2010 to create a space where women rather than men determine their own needs. The organisation also aims to raise Muslim women's voices in policy making arenas. What struck me about the 70 or so women, who met Miliband on Saturday, was that their primary concerns were the same as anyone else's in Bradford. Ranging from solicitors, civil servants, unemployed graduates, businesswomen and college lecturers, the women quizzed the Labour leader about the Westfield site, the low level of educational attainment in local schools, as well as the lack of jobs, university fees and austerity cuts.
While their questions underlined their passion for the city of Bradford, the Muslim women were also concerned with issues further afield. They wanted to hear Miliband's views on British troops in Afghanistan as well as drone attacks, for instance. Despite an impromptu half hour extension to the Q&A session, which resulted in the Labour leader missing his scheduled train back to Whitehall, there just wasn't time for me to ask how scarce an opportunity it was for someone like Miliband to have an audience with regular Muslim women like us.
Miliband inadvertently touched on this in response to concerns raised by the women about the media's persistent demonisation of Islam. Acknowledging our alarm with a somewhat regretful tone, the Labour leader suggested that "99% white" communities living in areas like his own constituency of Doncaster, inevitably don't have any contact with Muslims or Islam. It is this filtered or "indirect exposure" as he called it, which leads to ignorance, he explained.
Ironically, this is exactly the sort of ignorance fuelled by precisely that "indirect exposure" to Muslim women which robbed the Labour Party of its long-held seat in the Bradford West by-election so spectacularly. The outdated biraderi system has been particularly popular among the older generations of Pakistani Muslims, where voting on the basis of clan membership takes precedence over merit. Even though the concept of biraderi politics has never served Muslim women well, the Labour candidate, Imran Hussain, nevertheless depended on his biraderi 'qualification' to see him through. He also completely underestimated George Galloway's ability to galvanise Muslim women, from under his nose, in a campaign which gave Muslim women a voice for a change.
BMWC is also contributing to this agenda. The organisation mobilised 150 Muslim women who turned out to question the candidates on their policies in the Bradford West by-election hustings, a first for most of the women. BMWC is a reminder to Muslim women that becoming involved in the community falls under their collective religious obligations, which run alongside personal duties.
Biraderi politics remain rife in other parts of the city despite Galloway's victory in Bradford West. Surely one of the adverse legacies of Pakistani Muslim male politics in Bradford is the complacency to sidestep women to negotiate with men on our behalf. This is why many of the women I spoke to at the BMWC event, believed doing away with corrupt clan politics alone won't be enough to connect with Muslim women. Policy makers need to revise their old habits too, such as overcoming the inherent fear of offending us, or worst still, offending the men in our communities! They also need to overcome the stereotype and prejudice which is perpetuated every time a man is called upon to speak for us.
If policy makers want to court the Muslim female electorate, then it's crucial that they locate a path that leads straight to us. Our views can't be represented without direct lines of communication. We won't be satisfied with a handful of female equivalents of 'community leaders' who may be equally prone to gatekeeping as their male predecessors. We care more for outcomes than power, so accountability carries more weight than favour. Policy makers must also recognise that despite our common faith, Muslim women have diverse views and voices, and that we come in veils, hijabs, niqabs and none. Ultimately though, there's really no justification for bypassing us. We don't expect to be pandered to, but we do want our voices heard and our contribution to be valued. Rather than regarding us as a problem, perhaps it's time policy makers viewed Muslim women as part of the solution.
Irna Qureshi is an anthropologist and writer specialising in British Asian culture. She also blogs candidly about being British, Pakistani, Muslim and female in Bradford, setting her stories against the backdrop of classic Indian films.
You can read the Guardian's Helen Pidd on Miliband's meeting here; and a Northerner post on it from Ratna Lachman of JUST West Yorkshire here. More welcome.
http://www.guardian.co.uk/uk/the-northerner/2012/jun/11/ed-miliband-bradford-muslim-
-----------
British legislation: A welcome proposal on forced marriages
June 10, 2012
The British government is considering introducing legislation against expatriate parents who force their daughters to marry according to parental choice. The plan is to make forced marriage a criminal offence. This is in reaction to 2,000 cases of persons coerced into matrimony since January 2011. A majority of the cases involved girls under 21 years of age "with some under 15". Many of the cases pertained to families coming from Pakistan and Bangladesh.
This was bound to happen. Already, girls in the UK are told to report coercion to the police. There are cases where girls are brought to Pakistan and Bangladesh and then suddenly asked to marry a cousin, whereupon, some girls approach the British embassy for help. As far as Pakistan is concerned, forced marriage is against the law and there are daily incidents of girls being forced to marry inappropriate spouses under parental fiat. Furthermore, girls daring to get married without parental permission are maltreated and sometimes killed.
In the UK in particular, and in Europe in general, Muslim communities are not integrating too well into local society and culture. While some of the identity differences must be maintained, there are certain rituals like the treatment of the woman or girl by the male head of the Muslim family, which is not permissible even in the country of origin. One well-known sociologist sums up the expat plight thus: "Common understandings of the way Muslims define their boundaries with European society focus on the areas of purity, sexuality and religion. Purity relates to food (pork, Halal meat), drink (alcohol) and habits of cleanliness. Sexuality relates to control over women. In terms of religion, Muslims may view Europe as an anti-Islamic society because of its degree of secularisation and the separation of church and state. Purity and sexuality provide a sense of moral superiority, which may compensate for class inferiority."
Full report at:
http://tribune.com.pk/story/391680/a-welcome-proposal-on-forced-marriages/
-----------
Manal al-Sharif: The Face of 'Saudi Arabia's Women2Drive movement'
By John D. Sutter
June 10, 2012
Growing up in Saudi Arabia, Manal al-Sharif was taught in school that listening to music -- just like driving, showing her face in public or making a decision without consulting her male guardian -- was forbidden and sinful.
She believed so strongly in music's satanic powers that she burned many of her father's and brother's cassette tapes so they couldn't play them anymore.
Then one day in 2001, al-Sharif was about to dub over one of her brother's American tapes with a lecture on Islam when curiosity got the best of her. She let herself listen to a few bars. And the first song to touch her ears helped reroute the course of her life.
It was the Backstreet Boys' "Show Me the Meaning of Being Lonely."
"They had been telling us that music was Satan's flute -- was a path to adultery," she said in a recent presentation at the Oslo Freedom Forum, a human rights conference in Norway. "This song sounded so pure, so beautiful, so angelic. It can be anything but evil to me. And that day I realized how lonely I was in the world I isolated myself in."
Al-Sharif, now 33, gained international attention last summer after she uploaded a YouTube video of herself driving in a country where women are banned from doing so. Now she is the face of Saudi Arabia's Women2Drive movement, which plans to hold demonstrations on June 17 calling for women in that Middle Eastern country to be able to do something that's downright banal everywhere else in the world: drive themselves around town in an automobile.
Full report at:
http://edition.cnn.com/2012/06/10/world/meast/sharif-saudi-women-drive/index.html
-----------
London-based group demands Asma Jahangir's protection
June 11, 2012
LONDON: The Campaign for People's Dignity and Security in Pakistan (CPDSP) condemned the recent assassination threats to Asma Jahangir and demanded the authorities take necessary steps to ensure her safety. At a meeting held at School of Oriental and African Studies, University of London, members of CPDSP expressed concern over threats to Asma Jahangir and demanded the role of intelligence agencies in public life be curtailed and the supremacy of parliament maintained. In this regard, the CPDSP has decided to petition the Parliamentary Committee of Defence and National Security to conduct a full and an independent inquiry into the threats and make their conclusions public, to appeal to the leadership of key political parties to take a united stand for the protection of all human rights activists, to start a signature campaign for the protection of Asma Jahangir's life and address it to the government besides British parliamentarians, the United Nations Human Rights Council and all major international human rights organisations and to mobilise the Law Society of England and Wales, the United Kingdom Bar Council and academics based in the United Kingdom. The CPDSP was founded by a group of academics, journalists, lawyers and students to support human dignity and security in Pakistan. The same group played a significant role in the restoration of democracy and rule of law in Pakistan during the dictatorship of Gen Pervez Musharraf and was a prominent platform for Pakistanis in Britain to protest against the Musharraf regime.
http://www.dailytimes.com.pk/default.asp?page=2012\06\11\story_11-6-2012_pg7_20
-----------
First woman to wear hijab in Canadian Forces dies of cancer
By Louisa Taylor
June 5, 2012
OTTAWA — The first woman to wear the hijab in the Canadian Forces died Tuesday.
Lt. Cmdr. Wafa Dabbagh was an energetic, optimistic person who entered the naval reserve in 1996 in search of adventure and a job. She got both.
In 2010, Dabbagh was awarded one of the first Operational Service Medals, and last month she received a Diamond Jubilee Medal. The medal ceremony was held in the hospital where she was being treated for lung cancer, a diagnosis she received in 2010. She underwent chemotherapy and radiation while continuing to work.
Here is a December 2010 profile Dabbagh that was published in the Citizen.
'I wanted an adventure and I wanted a job'
A Tenacious Spirit; As the first member of the Canadian Forces to wear a hijab, Wafa Dabbagh is a pioneer and has risen to the ranks of lieutenant-commander.
Wafa Dabbagh is many things. She is a tiny, bubbly bundle of energy who loves Zumba fitness. She prays five times a day, keeps an immaculate home and bakes a cake for her beloved neighbours each weekend. She has a bachelor's degree, a master's in business administration and a cancer diagnosis, the last of which she treats like a bothersome cold.
Full report at:
http://www.ottawacitizen.com/news/First+woman+wear+hijab+Canadian+Forces+dies+
-----------
Why so few women hold office
Jeannette Ross
09 June 2012
Women seeking elected office in the U.S. have yet to achieve parity with men, but their lives, for the most part, are not in danger.
Some 50 members and friends of the Wilton League of Women Voters gathered Friday, June 1, at the Silver Spring Country Club in Wilton for the group's annual meeting and to hear a talk by Patricia Russo, president of The Women's Campaign School at Yale University.
Ms. Russo recounted how one woman attending the school was running for president of Cameroon. When she arrived two days late she explained she had been kidnapped by her opponents.
"Three years ago we had a woman from Afghanistan ... Her country didn't know she was here," Ms. Russo said.
"It puts everything in perspective."
Ms. Russo, a New Canaan resident, also discussed the school's beginnings and its progress in training women to be candidates for public office.
Full report at:
http://www.acorn-online.com/joomla15/wiltonbulletin/community/124011-league-speaker-considers-why-so-few-women-hold-office.html
-----------
URL: https://newageislam.com/islam-women-feminism/a-45-year-old-woman/d/7586