New Age Islam News Bureau
4 Sept 2013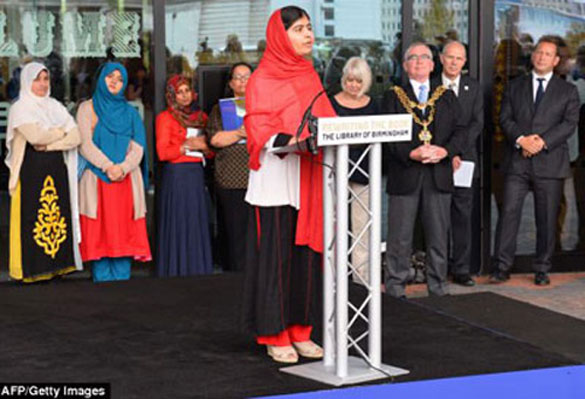 Photo: Malala Speaking at UK Library Opening
---------
• Woman Steals over $1M from Afghan Bank
• Mixed-Gender Classes Won't Be Tolerated, Saudi Kingdom Schools Told
• Gambian Women Fleeing Female Genital Mutilation Threat
• Palestinian Women Hope to Gain Divorce Rights
• Malala Says Books Can Defeat Terrorism at UK Library Opening
• Prohibiting Married Women from Retaining Maiden Names Unlawful: ECHR
• Saudi Princess Dishes Out $62m for Geneva Estate
• Squaddie Becomes Muslim Woman
• Iran's Foreign Ministry's Spokeswoman Is Squarely In the Limelight
• Senussi's Released Daughter Kidnapped
• Karzai Should Prevent Child Marriage, Domestic Violence against Women: HRW
• Nigeria: Pastor Rapes Woman in Church during 'Spiritual Bath'
Compiled by New Age Islam News Bureau
URL: https://newageislam.com/islam-women-feminism/11-year-old-paksitan-girl,/d/13360
-----------
11-Year Old Paksitan Girl, Sold Into Marriage, Escapes
September 4, 2013
MULTAN: An 11-year old girl allegedly sold by her father to a 38-year old man ran away from the latter's house on Monday.
Saima* had been married off to Ehsan Ahmed, 38, a resident of 9/3-R Haroon Abaad, Bahawalnagar, three months ago. Her father Muhammad Bashir, a resident of 38/14-L Kassowal, Chichawatni, had, according to Ahmed's statement to the police, received Rs115, 000 in exchange for her.
Saima told police that she had been chained and sent off with Ahmed, who she said, used to keep her locked up. She said his sister Moonda Bibi would beat her up regularly.
She said that she fled from Ahmed's house and went to the Haroon Abaad bus station so she could take a bus back home. However, her in-laws followed her and tried to take her back. Saima then began crying and shouting for help and the people at the bus station called the City police.
The police took her into custody and began investigations. They have arrested Ahmed and his sister. Ahmed told police that he had married Saima so he could save her from her father, who was addicted to drugs.
Saima told police that she had not been allowed to go to school and that she wanted to study.
Police have sent a team to Chichawatni to apprehend the girl's father and collect more evidence in the matter.
*Names have been changed to protect identities
http://tribune.com.pk/story/599332/child-sold-into-marriage-escapes/
-----------
Woman steals over $1M from Afghan bank
September 04, 2013
KABUL: The young woman worked for three years at the Afghan bank, officials say. Then one day she vanished. As did $1.1 million.
Afghan authorities have been scrambling to track down the suspected thief and at least nine other alleged accomplices, and an international arrest warrant has been issued. Still, the revelations are another embarrassment for the banking sector in this country, which has seen corruption already unravel one major institution amid ongoing security threats from militants and criminals.
Shokofa Salehi, 22, worked in the money transfer division at the headquarters of Azizi Bank, a major Afghan lender in Kabul, officials said. She disappeared around two months ago, according to Azizi chief executive Inayatullah Fazli. Investigators say she is suspected of transferring some $1.1 million out of the bank's coffers to accounts of relatives. They believe at least 10 people aided the young woman.
"They are a mafia group," Fazli alleged.
An Interpol red notice - the equivalent of an international arrest warrant - describes authorities as seeking Salehi on charges of fraud and misusing her authority. Afghan officials believe Salehi used fake documents under the name Samira to reach India after transferring the money; her current whereabouts are unknown.
Two suspects in the case have been detained in Dubai, senior Afghan police official Gen. Aminullah Amarkhail said, adding that he's in touch with counterparts in Dubai and India for help tracking down Salehi and other suspects. He said one suspect is alleged to have spent some $850,000 of the money to invest in a tire business and possibly other ventures in Dubai.
Amarkhail said Salehi's parents were among the suspects, and are believed to have returned to Kabul after going with her to India. Another top police official, Mohammad Zahir, said investigators were still seeking the parents.
Azizi Bank's website says it began operating in 2006, and that it now has "a 1,500-plus strong team of employees and with a 20 percent female work force is playing a quiet but effective role in women('s) emancipation and empowerment." It also calls itself "the bank you can trust."
As striking as it is, Salehi's alleged pilfering pales in comparison to some other examples of corruption in Afghanistan's banking sector.
In 2010, regulators seized Kabul Bank, Afghanistan's largest lender, amid allegations of severe levels of graft. Its near-collapse and subsequent bailout represented more than 5 percent of Afghanistan's gross domestic product, making it one of the largest banking failures in the world in relative terms.
An independent report described Kabul Bank as being run like a Ponzi scheme. Investigators said some $861 million in fraudulent loans had disappeared into the pockets of associates of the men behind the bank.
Earlier this year, an Afghan tribunal sentenced two top Kabul Bank executives to five years in prison for misappropriating funds. Critics said the punishments were far too light and raised questions about President Hamid Karzai's commitment to rooting out corruption.
On Tuesday, Afghanistan announced it was trying once again to privatize what it had salvaged of the bank, which is now called New Kabul Bank.
Banks in Afghanistan have also been targeted by Taliban militants and criminal gangs.
Not only are they prime targets for people seeking to steal money, they also are gathering places for many government employees seeking to make deposits or cash their paychecks, thus making them attractive to suicide bombers.
http://www.dailystar.com.lb/News/International/2013/Sep-04/229930-officials-woman-steals-over-1m-from-afghan-bank.ashx#ixzz2dw0xY9cc
------------
Mixed-Gender Classes Won't Be Tolerated, Saudi Kingdom Schools Told
Sep 4, 2013
The Ministry of Education has warned private and foreign primary schools that the Kingdom does not allow mixed classes for boys and girls.
The regulations do not permit coeducation at schools even at the primary level, the ministry stated.
The ministry noticed last year that some schools had violated its order to keep separate classes for boys and girls. This had taken place during the ministry's new experiment of assigning primary classes for boys to woman teachers, media reports said on Monday.
The ministry ordered the owners of the schools that used the experiment to monitor the extent to which their schools were following the conditions laid down by Deputy Minister of Education Noura Al-Faiz.
The ministry would conduct inspections and record violations in a register that has to be signed by representatives of school administrations and owners.
If a school administration does not rectify the violation within one month, the regional director of schools will issue a written warning to the school owner.
If a school does not comply after a warning, the matter would be reported to the Administration of Private and Foreign Schools, which would cancel the school's permit for women to teach boys.
The ministry currently stipulates that women be allowed to teach primary school boys and girls in separate classes. The boys and girls should also be separated at interval times, at toilets and all other occasions.
http://www.arabnews.com/news/463516
-----------
Gambian Women Fleeing Female Genital Mutilation Threat
Sep 4, 2013
Fear of female genital mutilation (FGM) is grounds for seeking asylum in the UK, but campaigners say that hundreds of women have had such applications rejected. Newsnight's Sue Lloyd-Roberts spoke to two women from The Gambia whose applications failed, and travelled to their home country to test their cases on the ground.
Fatima, a 23-year-old mother from The Gambia, was 10 years old when she was taken, along with about 200 other primary school children, out into the bush to be cut:
"There are two people holding you and then they cut it in one go," she recalled. "And then you cry for the rest of the day. The pain is the worst. It is even more painful than giving birth and you have to live with it for the rest of your life."
As an adult Fatima sought asylum in Britain to save her three-year-old daughter, who was born in the UK, from being mutilated too. The head of the family is an imam, she said, "so my daughter doesn't stand a chance. If we return to The Gambia she will be cut".
The threat of FGM is recognised as a justification for claiming asylum in the UK. However, the UK Border Agency has rejected Fatima's claim. After three years, she has exhausted the appeals process and she and her daughter could be deported any day.
I travelled to The Gambia to try to find out whether Fatima was telling the truth, making the one-hour drive south-east from the capital Banjul to her village, Sohm.
I made the journey with Amie Bojang from Gamcotrap, a local NGO campaigning against female genital mutilation. On the way she explained that they have been successful in persuading about one third of communities in The Gambia to abandon FGM.
However, she said that, due to lack of resources, there are many areas they have not yet reached, including Fatima's village.
Health complications
We found Fatima's mother in the family compound. She was welcoming but unequivocal: "If Fatima comes back, her daughter must be cut. If not, everyone will point at her and call her a 'sulima', an unclean girl."
While in Sohm, the village head agreed to a meeting in which Ms Bojang spoke to locals about the health problems associated with FGM: children dying from loss of blood and infection, and death in childbirth - all problems which normally get blamed on witchcraft.
They listened, which was a promising start, but Ms Bojang said it takes years for people to turn their back on what is a deeply entrenched practice.
Not only has mutilation taken place for generations, it has also provided employment for generations of women. The Gambia has thousands of women circumcisers. Often they inherit the role from relatives, with expertise handed down within the family.
Ms Bojang took me to the town of Janjanbureh on the north bank of the Gambia River to meet several of them.
"We take pride in our work," Aja Babung Sidebah said. "We cut the girls and then we sew them up them so that no man can interfere with them, then, the day before their wedding, they come back to us so that we can cut a hole to allow for penetration."
Lucrative role
The cutters say they enjoy great respect because of their role and are well paid. "I get £2 per child cut plus a bag of rice and clothing," one said.
Ms Sidebah admitted having cut girls from the UK: "I don't cut those who have one white, English parent. But, in the case of my daughter who is married to a Gambian there, I called her girls back here to cut them."
However, she said she no longer works as a cutter having, thanks to a £100 grant from Gamcotrap, invested in a bakery instead. Another woman used a grant to set herself up as a goat herder with her own flock.
Back in West London, I met a 40-year-old Gambian woman who fled to the UK in an attempt to avoid her inherited role as a cutter. Maimouna Jawo said that after her grandmother, who was a circumciser, died, her mother began training her in the family trade at the age of 16.
One day she was required to hold her own blindfolded, five-year-old daughter on the ground while the girl's grandmother cut her.
"She was screaming and calling 'Mum', but Mum is the one who is holding your legs and there is nothing Mum can do," she recalled. "I was shaking my head and tears were coming to my eyes and I said in my mind that whatever happens, I will never do this."
Ms Jawo said that she kept her decision to herself, fearful of the consequences if anyone found out. She showed me gaps in her teeth which she said were the result of a beating by a group of older women, meted out when she showed distaste for the job.
Reprisal fear
Shortly afterwards she travelled to the UK for her brother's wedding and applied for asylum while there, but, as with Fatima, her application was rejected by the UK Border Agency and she is due to be sent back to The Gambia.
Ms Jawo claims that she will be killed if she returns. When I visited her family's home in Wellingara village, her older sister had a similarly dim view of her prospects if she returned and refused to take up her role as a cutter:
"Everywhere among black people we have our traditions and if you don't obey that tradition, something bad will happen to you," Kombeh Jawo said. "I am telling you, anything could happen to her."
The hold such traditions have in The Gambia was made apparent when I met Muhammed Alhajie Lamin Touray, the country's most senior imam and president of the Islamic Council in The Gambia.
"Apart from the religious reasons in favour of female genital mutilation, I have heard on reliable authority that the clitoris makes a woman itch, making her want to scratch all the time and that the clitoris makes water leak from her private parts," he said.
To which I retorted, "I have had a clitoris for 60 years and this has never happened to me."
"Then you are an exception among women!" he said, laughing.
It was the laughing that I found most shocking. It was as if he was admitting to the absurdity of his position. Surely if he truly believes that the mutilation of young girls is ordained by God and is good for women, he would not laugh.
Tribal ties
Both Fatima and Maimouna Jawo have been advised by the UK Border Agency that they should return to The Gambia and simply relocate, but both say such a suggestion shows little understanding of the country, where tribe is paramount.
"I shall not be safe because The Gambia is too small and they will know which tribe I come from," Fatima said. "I could only be a prostitute. A woman living alone is seen as a bad woman. I will not be part of the society. It will be difficult for my daughter to be married."
"Gambia is a very small country. There is no where you can live in The Gambia where the people cannot get you from there," Maimouna Jawo said.
When Newsnight approached the Home Office to comment on its report, a government spokesperson said: "The UK has a proud record of offering protection to those in genuine need and every asylum application is considered on its own merits. Female Genital Mutilation is child abuse and has no place in our society. We are working closely with frontline agencies to help prevent women and girls from becoming victims and the Director of Public Prosecutions to help secure convictions.
"We also support overseas organisations who work to combat FGM, including funding a UN programme which has been working in Gambia since 2009. We are sending out a strong message - this practice is illegal and will not be tolerated."
http://www.bbc.co.uk/news/uk-23933437
-----------
Palestinian Women Hope To Gain Divorce Rights
By: Abeer Ayyoub
Sep 4, 2013
The Supreme Religious Court in the Hamas-controlled Gaza Strip is considering legal amendments allowing women to divorce their husbands when they can show proof that their married life cannot go on.
The proposed amendment derives from a more moderate interpretation of Islam and is likely to face opposition by hard-line lawmakers from Hamas, the Islamic movement that runs the Palestinian enclave separately from the West Bank, which is ruled by President Mahmoud Abbas' secular Fatah party.
The Khula, or unconditional divorce law, gives women the choice to break up Islamic-approved relationships before or after marriage in exchange for giving up their financial rights. The dominant traditional version of divorce is that the man has the final and only word on it.
Hassan Al-Jojo, the head of the Supreme Religious Court in Gaza, said that while he received the proposal from the religious court in the West Bank, his court won't be able to apply it before the beginning of 2014, requiring approval from the Palestinian Legislative Council (PLC) in Gaza — in other words, Hamas.
"We appreciate our brothers in the West Bank coordinating with us. We will do our best to apply it as soon as it's approved," Jojo explained to Al-Monitor.
Gaza and the West Bank have been divided administratively since 2007, when Hamas took over Gaza and ousted Fatah forces.
During a workshop in Gaza City last month, Jojo warned that his council's bid to implement the Khula law "may face opposition from the PLC."
Jojo did not give a reason as to why the proposal might be opposed in Gaza, but his warning implies political and ideological considerations on behalf of Hamas.
This idea was denied by Yahya Moussa, a moderate Hamas lawmaker in Gaza's PLC. Moussa told Al-Monitor that the amendment should not face any issues in the PLC, as it is in line with Islam.
"I don't think anyone from the parliament will oppose it. This amendment will retain dignity for women and the society as well," Moussa said in a phone interview.
Jojo said that the legislation comes as a solution for dozens of women who are being denied their right to divorce, especially those who have been abandoned by their husbands.
In Gaza, Jojo plans to go further in implementing the law, if it's approved, than in the West Bank, where he believes it's partially implemented. In the West Bank, women can split from their partners only during the engagement period, when they have a marriage certificate, but must still be living with their families.
"We will apply it for all the women, either before real marriage or after," Jojo clarified.
According to Palestinian traditions, families prefer that engaged couples have an official marriage certificate so their meetings are religiously and socially accepted.
The West Bank law thus differentiates between engaged and married couples. In an engagement, the couple are not permitted to have sex before the wife moves in with her husband, despite an official marriage certificate.
What distinguishes "real" marriage is, therefore, the act of sex. A marriage is considered "real" once the couple are living in the same home, and the married couple have engaged in intercourse. Living separately, despite having an official marriage certificate, is considered the engagement period. One problem that has arisen in attempts to align societal attitudes with the legality of marriage is that there are now two types of divorce: one for the engagement period, and the other for the marriage.
In Islam, a man pays a non-refundable amount of money to his bride as a dowry before getting married. At the same time, he pledges to pay another sum in the future in case he decides to divorce her. Yet, prior to this law, a woman could not divorce unless she sued her husband for causing her harm.
With the new law, women will be able to divorce without their husbands' permission, but will have to pay them back every single penny, including their dowry and living costs from their time together.
The nongovernmental Center for Women's Legal Research and Consulting in Gaza estimates the divorce rate in the coastal enclave for the years 2011 and 2012 at 17.1%, of which 40% were "engaged" women with a marriage certificate. The head of the center, Zihab Ghuneme, welcomed the change.
"By asking the man for divorce permission, the woman is no longer free. This is what we want to fight," Ghuneme told Al-Monitor, explaining that improvements in the law came after hard lobbying by feminist organizations in Gaza. She added, "We haven't asked for a new law because we are totally against issuing new laws under two divided governments in Gaza and the West Bank, yet modifying such a part of the law became urgent."
Ghuneme also urged the religious court to stop changing women's marital status on their identity cards from single to married during the engagement period, because doing so will deem them officially divorced if they decide to end the relationship before moving into the husband's home and engaging in sexual intercourse.
Lawyer Fatma Ashour warmly welcomed the decision as "excellent."
"Every woman has the right to get divorced for whatever reason she sees reasonable. She doesn't have to wait for a court sentence to set her free. This is a right that Islam approved for her," Ashour told Al-Monitor.
Jojo said that the new decision does not contradict Sharia, as marriage in Islam is based on love and tolerance. If neither exists in a marriage, the couple should break up and live in peace separately. He noted, "Marriage is an agreement between two sides; logically, both sides should have the right to end it."
A woman seeking a divorce from her husband, who is denying her this right, told Al-Monitor on the condition of anonymity of her frustrations with the current law. She protested, "Why should a man choose on my behalf? It's my right as well, Islam says it!"
Abeer Ayyoub is a contributor to Al-Monitor's Palestine Pulse. She graduated from the Islamic University of Gaza with a BA in English literature. She is a former human rights researcher turned journalist whose work has also appeared in Al Masry Al-Youm, Al Jazeera and Haaretz. On Twitter: @Abeerayyoub
http://www.al-monitor.com/pulse/originals/2013/09/palestinian-women-divorce-marriage-law.html#ixzz2dutX9RV5
-----------
Malala Says Books Can Defeat Terrorism at UK Library Opening
Sep 4, 2013
AFP_BIRMINGHAM: Malala Yousafzai, the Pakistani schoolgirl shot in the head by the Taliban after campaigning for girls' right to an education, said books were "the weapons to defeat terrorism" as she opened a new library in her adopted English city on Tuesday.
The 16-year-old gave a speech before unveiling a stainless steel plaque to mark the opening of Europe's biggest public library, the gleaming new Library of Birmingham.
Yousafzai, who was flown to the central English city for surgery last October after being targeted by a gunman as she travelled to school in Pakistan, said she had challenged herself "that I will read thousands of books and I will power myself with knowledge. Pens and books are the weapons that defeat terrorism."
She added: "There is no greater weapon than knowledge and no greater source of knowledge than the written word."
The teenager, who has been nominated for this year's Nobel Peace Prize, spoke confidently with just a hint of stiffness on the left side of her face.
Malala, who came close to death when the Taliban gunman's bullet grazed her brain, is attending a school in Birmingham, which has a large Pakistani population. Her family has moved to the city to be with her.
The high-tech Library of Birmingham, the latest in a string of projects aimed at regenerating the 1970s-era city centre, has a skin of metal hoops and replaces the nearby brutalist concrete Central Library, which opened in 1974.
The new library contains a million books and houses first editions of William Shakespeare's works.
http://www.thefrontierpost.com/article/38058/
-----------
Prohibiting Married Women from Retaining Maiden Names Unlawful: ECHR
Sep 4, 2013
The European Court of Human Rights (ECHR) ruled today those Turkish laws that compel women to adopt their husbands' surname after marriage is a violation of the European Convention on Human Rights.
In a complaint filed by Gülizar Tuncer Günes, a Turkish national who was born in 1966 and lives in Istanbul, the court said the practice violated Article 14, which prohibits discrimination, in conjunction with Article 8, which encompasses the right to the respect of private and family life. The ECHR fined Turkey 1,500 euros for non-pecuniary damage and 3,030 euros in cost and expenses.
The case concerned Günes's complaint that she had not been allowed to keep just her maiden name after her marriage in March 2005. She claimed in particular that the fact that Turkish law allowed married men but not married women to use only their own surname after marriage amounted to discrimination based on sex.
According to Turkish laws, women can keep their maiden name after marriage but are obliged to also use their husband's surname.
http://www.hurriyetdailynews.com/prohibiting-married-women-from-retaining-maiden-names-unlawful-echr.aspx?pageID=238&nID=53738&NewsCatID=339
-----------
Saudi Princess Dishes Out $62m for Geneva Estate
Sep 4, 2013
GENEVA: A Saudi princess has bought a historical Geneva estate that once belonged to a former Swiss president for 57.5 million Swiss francs ($62 million, 47 million euros), media reported on Monday.
Princess Latifa Bin Fahd bin Abdulaziz Al Saud, who is 54 and a daughter of former king Fahd, bought the 18,800-square-metre (202,362-square-foot) estate from the wealthy Nordmann family that co-owns upscale department store chain Manor and the maker of Lacoste clothing.
The purchase price for the property, which once belonged to Gustave Ador who served as Swiss president early in the 20th century, is the second-highest on record in the city. The daughter of Kazakhstan President Nursultan Nazarbayev, Dinara Kulibayeva, holds the current record after she bought a property on the posh southern shores of Lake Geneva in 2009 for 74.7 million Swiss francs.
Al Saud, who like Kulibayeva has settled nearby, has committed to "preserving the heritage", the Tribune de Geneve daily reported.
She joins a number of other Saudi royals who already live in luxurious settings in the Swiss city.—AFP
http://www.dawn.com/news/1040137/saudi-princess-dishes-out-62m-for-geneva-estate/print
-----------
Squaddie Becomes Muslim Woman
Sep 4, 2013
Territorial Army private goes from Laurens to Lucy in sex change
AN ex-Territorial Army private has gone from a gun-toting male soldier to Britain's first Burqa-wearing transgender Muslim woman.
Fighting-fit Lucy Vallender was one of the lads who went drinking and fired rifles on TA training — before having a sex change and converting to Islam.
Now, instead of warpaint and camouflage gear, she wears a black veil, prays five times a day and never touches alcohol.
http://www.thesun.co.uk/sol/homepage/news/5114933/territorial-army-squaddie-has-sex-change-and-becomes-muslim-woman.html
-----------
Iran's Foreign Ministry's Spokeswoman Is Squarely In the Limelight
Michael Theodoulou
Sep 4, 2013
To say that Marzieh Afkham is under pressure as she takes over as the Iran foreign ministry's spokeswoman would be, to put it mildly, a gross understatement.
Looming on the horizon are issues that place Iran's foreign policy – and thus the 48-year-old Ms Afkham – squarely in the limelight: possible missile strikes against the Islamic Republic's close ally Syria and talks on Iran's disputed nuclear programme.
If that were not enough, she is the first woman to represent the ministry to the world's media.
Ms Afkham, a career diplomat, gave her first news conference on Sunday and, a day later, tackled an Arab League declaration that held the Syrian president, Bashar Al Assad, responsible for last month's chemical weapons attack on the outskirts of Damascus.
She said the declaration was hasty and politically motivated.
"The adoption of this stance by the Arab League before the official announcement of the results of the United Nations' investigation proves that it is politically motivated and is a kind of prejudgment," she said.
Though hardly a surprising pronouncement, there is no denying the import of the person uttering it.
Ms Afkham's appointment late last month was "significant because it challenges traditional resistance to women speaking in public, particularly in such a visible and politically sensitive post" said Farideh Farhi, an Iran expert at the University of Hawaii. She will be "watched closely by many inside Iran and around the world".
Ms Afkham got the job after strident criticism from women's groups that Iran's moderate new president, Hassan Rouhani, failed to include any women in his "all-male club" cabinet after he was sworn in on August 4.
Even his hard-line predecessor, Mahmoud Ahmadinejad, who did much to set back women's rights, appointed a woman as a cabinet minister - the Islamic Republic's first. That was seen as a gesture of populist tokenism and he later sacked her.
Before Iran's 1979 Islamic revolution, two women served as cabinet ministers under the autocratic, western-backed Shah.
During his campaign, Mr Rouhani pledged to promote equality for women and create more jobs for them. Last month he appointed a woman, Elham Aminzadeh, as vice president for legal affairs. Like Mr Rouhani, she studied in Glasgow. He holds a doctorate in law from Glasgow Caledonian University, while she has a Phd in international law from the University of Glasgow.
Mr Rouhani, a cleric, said she was appointed because of her scientific competence, legal qualifications and "moral virtues".
In another precedent for the Islamic republic, Mr Rouhani plans to appoint a woman as ambassador to as a yet unnamed country.
But Ms Afkham's appointment is the most significant because she is entrusted with communicating the position of Iran's foreign ministry on regional and global issues.
She has worked in the foreign ministry for nearly 30 years and was head of its public relations department under Iran's reformist former president, Mohammad Khatami.
"She was always very polite and cooperative although I've no idea of what her political affiliations might be," said a female journalist in Iran. "My guess is that she's quite apolitical and that was probably one of the reasons why she was appointed because no one could oppose her except on the grounds that she is a woman."
Those grounds can be a significant hurdle in Iran.
The promising political career of one young female city councillor in the city of Qazvin was torpedoed last month when religious hardliners deemed she was too attractive to take up the post she had won.
"We don't want a catwalk model on the council," a senior official in Qazvin scoffed.
When Mr Khatami was elected in 1997, he acknowledged his huge debt to female voters by appointing a woman, Massoumeh Ebtekar, as a vice president in charge of environmental protection.
She gained notoriety years earlier as the teenaged spokeswoman for the radical Islamic students who seized the US embassy in Tehran in November 1979, holding 52 hostages for 444 days.
Fluent in English and cowled in an abaya, she was nicknamed "Sister Mary" by the American media. But like many in the embassy takeover, Ms Ebtekar became a prominent supporter of Mr Khatami's reforms, which included mending ties with the US.
Other women have very high public profiles in Iran, even though they do not hold government positions.
One is Faezeh Hashemi, the daughter of Iran's former president, Akbar Hashemi Rafsanjani, whose last-minute support helped Mr Rouhani secure his surprise landslide victory in June.
Another is Zahra Rehnavard, the charismatic wife of Mir-Hossein Mousavi, the man millions of Iranians believe was the real winner of the "stolen" presidential election in June 2009 that returned Mr Ahmadinejad to power.
Ms Rehnavard, like her husband, has been under house arrest since early 2011, while Ms Hashemi recently spent six months in Tehran's Evin prison.
True to her reputation for defiance, she claimed the experience "was the best time of my life".
mtheodoulou@thenational.ae
http://www.thenational.ae/news/world/middle-east/irans-marzieh-afkham-is-a-woman-squarely-in-the-limelight#ixzz2duvuYqPh
-----------
Senussi's Released Daughter Kidnapped
Ashraf Abdul-Wahab and Aimen Eljali
Sep 4, 2013
TRIPOLI – Anoud Senussi, Abduallah Senussi's daughter, was kidnapped by gunmen late this afternoon just after she was released from prison.
According to the Justice Minister, Salah Marghani, she was seized just 100 metres from the women's section of Ruhaimi Prison at Ain Zara after the convoy she was being transported in was attacked by an unknown armed gang.
It had been a well executed plan, he said.
In a statement, elders from the Megraha tribe, of which her family is a member, have accused the Judicial Police of collusion in her abduction; it provides prison security and is responsible for transporting prisoners.
The statement says that the attack could not have happened without the Judicial Police's help, citing as evidence the fact that they had requested to take her from prison but had been refused.
They have given the authorities three days to secure her release.
Marghani has called her kidnapping "a slap in the face of the 17 February Revolution" and that he expected help from everyone "especially the thuwar" to find and free her.
Anoud was arrested in a Tripoli hotel on Oct. 6 after she had entered Libya earlier in the day from Algeria, allegedly on a forged passport. It bore the name Anoud Abdullah Mohamed.
Entering the country on a forged document is a crime under Article 350 of the Libyan Penal Code.
A week ago, the Justice Minister said that preparations were in place to release her, now that she had served 10 months in prison. The announcement surprised many as she had never publicly been found guilty of the charges against her and sentenced.
Despite her incarceration, Anoud was allowed occasionally to visit her father in his prison.
http://www.saudigazette.com.sa/index.cfm?method=home.regcon&contentid=20130904179279
-----------
Karzai should prevent child marriage, domestic violence against women: HRW
By ANI |Sep 4, 2013
New York, Sept.4 (ANI): Afghan President Hamid Karzai should fight child marriage and domestic violence against women, or risk further harm to development and public health in the country, Human Rights Watch said today in a letter to the president.
In the 15-page briefing paper titled, "Afghanistan: Ending Child Marriage and Domestic Violence," Human Rights Watch highlights the health and economic consequences of marriage under age 18 and violence against women and girls.
Karzai, who is barred by term limits from running in the April 2014 presidential election, should make full enforcement of the 2009 Law on the Elimination of Violence Against Women (the EVAW Law) a priority for his last year in office.
"President Karzai's signing of the violence against women law in 2009 ushered in vital protections against child marriage and domestic violence," said Liesl Gerntholtz, women's rights director at Human Rights Watch.
"By ensuring the law is enforced, Karzai would leave a lasting legacy of support for the rights of women and girls in Afghanistan," she added.
The law imposed tough new penalties for abuse of women, including making child marriage and forced marriage crimes under Afghan law for the first time.
Child marriage remains common in Afghanistan, increasing the likelihood of early pregnancy, which heightens the risk of death and injury in childbirth.
According to a 2010 mortality survey by the Ministry of Public Health, 53 percent of women in the 25-49 age group were married by the age of 18; 12 percent of Afghan girls aged 15-19 became pregnant or gave birth; and 47 percent of deaths of women aged 20 to 24 were related to pregnancy. It found that one Afghan woman died every two hours because of pregnancy.
Child marriage and early pregnancy also contributes to fistula, a preventable childbirth injury in which prolonged labor creates a hole in the birth canal.
A 2011 government report found that 25 percent of the women and girls diagnosed with fistula were younger than 16 when they married and 17 percent were under 16 when they first gave birth. Fistula leaves one leaking urine or faeces, and often results in social ostracism, loss of earning capacity, medical expenses for treatment, and depression. Left untreated, fistula can cause further serious medical problems, even death.
Children born as a result of child marriages also suffer increased health risks. The 2010 mortality survey found a higher death rate among children born to Afghan mothers under age 20 compared to those born to older mothers, which reflects global findings.
"Afghan officials should act to end the harm being caused by child marriage," said Brad Adams, Asia director at Human Rights Watch.
"The damage to young mothers, their children, and Afghan society as a whole is incalculable," he added.
Domestic violence harms individual women and their families and also takes an economic toll on society, including through healthcare costs and lost productivity, Human Rights Watch said.
Domestic violence is alarmingly common in Afghanistan: a 2006 study by Global Rights, an international nongovernmental organization, found more than 85 percent of Afghan women reporting that they had experienced physical, sexual, or psychological violence or forced marriage.
An estimated 2,000 Afghan women and girls attempt suicide by setting themselves on fire each year, which is linked to domestic violence and early or forced marriages.
At a donor conference in Tokyo in July 2012, the Afghan government promised to do more to enforce the EVAW law in return for USD 16 billion in pledges for future aid to Afghanistan.
The government should also implement the 2008 Plan of Action for the Advancement of Women adopted by the Organization of Islamic Cooperation (OIC), which calls for the elimination of all forms of discrimination against women.
Human Rights Watch urged Karzai to initiate awareness campaigns about the harms of child marriage and domestic violence, and to urgently take the following measures:
. Support passage of a law to set the minimum age for marriage at 18 for girls and boys.
. Launch a country-wide awareness campaign about the negative impacts of child marriage.
. Support immediate steps to establish specialized EVAW prosecution units in every province and track the number of EVAW prosecutions by province and district.
. Develop new and effective initiatives to improve recruitment and retention of female police officers, and ensure that all police Family Response Units are staffed by female police officers. (ANI)
http://in.news.yahoo.com/karzai-prevent-child-marriage-domestic-violence-against-women-063450869.html
-----------
Nigeria: Pastor Rapes Woman in Church during 'Spiritual Bath'
BY DAUD OLATUNJI
Sep 4, 2013
Abeokuta — A 46-year-old Pastor, Olamide Sobowale, of Glory Church of Christ Aladura, Oke-Itoku, Abeokuta, Ogun State, has been ordered to be remanded in prison for allegedly raping a woman while bathing in his church backyard.
Pastor Sobowale, who was arraigned before a Magistrate Court sitting in Isabo, Abeokuta, yesterday, was accused of raping one Dupe Makinde, 30, who lives in Isaje, Abeokuta, while taking a spiritual bath allegedly recommended by the pastor.
The prosecuting counsel, Paul Etusi, told the court that the accused grabbed the complainant while she was in a bathroom within the church premises and raped her.
Etusi said the complainant had already put the soap on her face as she began bathing when the pastor suddenly entered the bathroom, grabbed and raped her with soap on her face.
According to Etusi, the accused had told Mrs. Makinde that he had a vision about her and asked her to come for deliverance in his church.
He said: "He asked the woman to come to the church to take a spiritual bath for her deliverance, but, while the complainant was taking her bath, the accused barged into the bathroom, grabbed the woman and raped her.
"The accused has committed an offence contrary to section 357 and punishable under section 358 of criminal code of law of Ogun State, Nigeria, 2006."
Magistrate A. Araba after listening to the prosecuting counsel, ordered that the accused be remanded in prison till he gets advice from the Director of Public Prosecution and adjourned the case till September 16, 2013.
http://allafrica.com/stories/201309030294.html?aa_source=acrdn-f0
-----------
URL: https://newageislam.com/islam-women-feminism/11-year-old-paksitan-girl,/d/13360