New Age Islam News Bureau
14 Apr 2014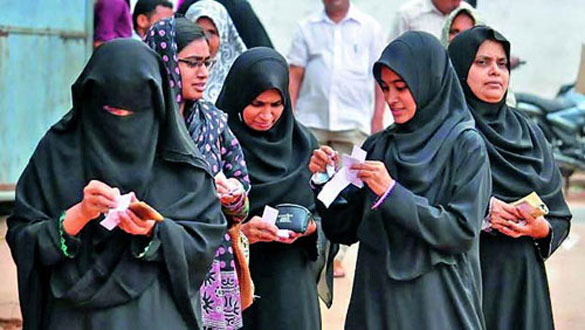 Burqa-clad women arrive at polling centre to cast their vote — File picture
-----------
• Saudi Mahram Rule Shatters Higher Education Dreams of Orphan Girls
• Tenacity Wins Saudi Woman Financial Reward from Government
• IOC Welcomes End to Girls Sport Ban
• In Iran, Keep Your Eye on Jump in Female Literacy
• Third Postponement in Asia Bibi's Appeal As Islamist Threats against Judges Continue
• Tanzania: Child Marriages - Marrying Off Girls No Panacea for Poverty
• France's Former First Lady Is 'Crazy about Israel'
• Making tracks: The Maldives' first female DJ
• Syria Needs Sustained Education Programme and Psychological Support for 5.5m Children — UNICEF
Compiled by New Age Islam News Bureau
URL: https://www.newageislam.com/islam,-women-and-feminism/new-age-islam-news-bureau/why-is-purdah-a-problem-to-indian-election-officials-at-polling-booths?/d/66545
-----------
Why Is Purdah A Problem To Indian Election Officials At Polling Booths?
Jose Kurian | April 14, 2014
Kozhikode: Purdah or Niqab resorted to by some Muslim women has become an issue at several polling booths. Election officials at polling booths in Malabar wanted women wearing Purdah to lift the veil so they could see the face of the voter to reconfirm identity. In Kasargod district and several parts of Kannur the issue is a contentious one.
A practice that is highly discriminatory when it is imposed on women like some diktat, it has its supporters and detractors. Some say that it is in tune with tradition and beliefs while others say that there are provisions to show the face to strangers if it is a requirement of the law of the land. And some denounce it when it is forced on women.
Noted Muslim scholar Syed Hyder Ali Shihab Thangal, who is also the head of the Indian Union Muslim League, told DC that Purdah is a tradition, but that in a democratic set up each one should act in tune with the law.
It has also been pointed out that Purdah is an Arab way of life, not Islamic. "It is a wrong notion that Purdah is Islamic dress," said Dr P.A. Fazal Gafoor, president of the Muslim Educational Society.
"It is an Arab dress. Among the 150 crore Muslims living all over the world, Arabs are only 10 crore. In that, too, the Purdah that covers the face, known as Niqab, is used only by a few such as Yemanies and Saudi people. And it is not limited to women, but men too wear such dress," he said.
Mr Gafoor said that rather than religious reasons, climatic conditions like unexpected desert storms forced people to opt for such dress. Not only Arabs, the Egyptians and Christians living in Arab nations also wear the dress, he noted.
Commenting on the Indian situation, Dr Gafoor said that a majority of Muslims- about 18 crore - live in West Bengal and Bangladesh and wear the sari, an Indian dress.
"In Kerala, it was the Arab interface that brought the Purdah culture. The religious groups encouraged it. My grandmother and great grandmothers never wore Purdah. They wore the indigenous 'Lungi' and 'Mundu'. Wives of C.H. Muhammed Koya or A. A. Rahim never wore Purdah. My wife, who is the daughter of A. A. Rahim and wife of Muneer sahib never wore Purdah," he noted.
Mr Gafoor also said that the popularity of purdah came as a defensive reaction of Islam against cultural invasion of West. "It is a great social leveller which has limited options to show your pomp and wealth. There is no doubt that it also gives a feeling of security to women," is his opinion.
It is not in the Quran: Dr Hussain Madavoor
Eminent Islamic scholar Dr Hussain Madavoor says that Purdah has not been recommended in the Quran. "Quran only directs to cover the body parts that create sexual urges in men. It can be a sari or a Churidar provided it decently covers the female body," he says. He says that some Christian schools in Kozhikode have asked Muslim girl students not to wear the veil.
"At the same time the nuns who run the institution are wearing Purdah like dress covering head, hands and toes. The Christian priests also wear such a dress. Then how can they deny the freedom to Muslim girls?" he asked, forgetting that there is a distinction to be made between religious and lay persons.
But Dr Hussain was also of the opinion that there was no point in protesting when it is legally binding to show your face.
Muslim intellectuals are of a different view. Noted critic K.E.N Kunhammad told DC that whether to wear Purdah or to cover one's face is up to the individual to decide. It cannot be imposed by anyone else. In a male-dominated society, if such a dress code has been imposed on women, it is against individual freedom. At the same time, if a woman wants to wear Purdah, she must have the freedom to do so, he said.
Mr Kunhammed made the point that the Purdah, which was imposed by religious conservatives, has metamorphosed into a form of resistance.
"The clerics brought Purdah to ensure that women always remain unseen, but see how a commercialised society has transformed it, breaking its religious barriers. Now we have different types of Purdah and many of them are fashionable and sexy," he said.
http://www.deccanchronicle.com/140414/nation-current-affairs/article/why-purdah-problem-election-officials-polling-booths
-----------
Saudi Mahram Rule Shatters Higher Education Dreams of Orphan Girls
April 14, 2014
MAKKAH — Many Saudi orphan girls see no way to continue their higher studies by taking advantage of the King Abdullah Foreign Scholarship Program due to their inability to meet the condition of Mahram (male guardian). Some of them resort to marriage as the only way in front of them to overcome this hurdle.
Reacting to this issue, a senior woman official in the Ministry of Social Affairs said the ministry was exploring the prospect of allowing orphan girls to benefit from the scholarship program without a Mahram, Makkah daily reported.
Muna Abdul Qader, an orphan girl, said the condition that a woman can travel only in the company of a Mahram has forced several girls to get married to take advantage of the foreign scholarship program.
She shared the concerns of many orphan girls that they would be deprived of their right to pursue higher studies abroad after graduating from university, unlike their male counterparts or other girls.
She blamed the Ministry of Social Affairs for not making any serious efforts, in coordination with the Ministry of Higher Education, in removing the hurdles in front of orphan girls to continue their higher studies.
"The condition of Mahram forces many of us to think about unsound ways that may create problems in our social life in future. Some of my classmates, who have an outstanding academic record, are thinking of getting married only for the sake of studies and not for building a family at least for the time being," she said, adding that an earlier order from the Ministry of Higher Education that the condition of Mahram would not hamper their higher studies is yet to be implemented.
Another orphan girl said her dreams of seeking higher education were shattered simply because she did not have a Mahram.
"Being an orphan, I could not find a Mahram. We have very limited choices for getting a Mahram, either through getting married or through a foster Mahram. The male guardian shall be one among those in the list of the Ministry of Higher Education like a foster father, foster brother or uncle," she said.
Latiefa Abu Nayyan, assistant undersecretary for family affairs at the Ministry of Social Affairs, said the ministry was exploring the prospect of sending orphan girls for higher studies abroad without a Mahram.
"In such cases, the girls will be under the care of the cultural attaché of the Saudi Embassy in the respective countries. The ministry is keen to safeguard the interests of this section of society," she said.
Abu Nayyan said the ministry was exerting all efforts to support orphan girls in various fields and help them integrate into society by fully utilizing their skills and expertise.
"We will ensure that more orphan girls are taking advantage of the scholarship program and securing all their rights," she said, while stressing the need for addressing the phenomenon of orphan girls seeking husbands as a short cut to benefit from scholarship program.
Describing this as a wrong practice, Abu Nayyan said the ministry would create awareness among young women against this trend through its branch offices and via social networking sites.
http://www.saudigazette.com.sa/index.cfm?method=home.regcon&contentid=20140414201846
-----------
Tenacity Wins Saudi Woman Financial Reward from Government
April 14, 2014
MAKKAH — Saeedah Al-Amri has not found any happiness in her life. She has had a difficult childhood and exhausting adolescence.
She had to strive to support herself and provide for her family, leaving her no time to enjoy life's pleasures.
However, she faced the challenge with a spirit that has made her a role model for others to follow and she recently received a financial award from the government in recognition of her persistence.
She received SR100, 000 from the Ministry of Labour in recognition of her attempts to secure a decent living for her and her family.
Al-Amri is an orphan and has worked in different jobs, such as a cleaning worker for two years, a private guard and receptionist at Prince Sultan Rehabilitation Complex for three years.
This has enabled her to attend many courses and workshops on how to deal with children with special needs, which allowed her to work as an assistant teacher before she later became a fully-fledged teacher.
She said: "My father died when I was 5 years old and I felt deprived of my father's affection and care, but used to keep my pains and sorrows to myself.
"After high school I had to work to assist my mother and that was a very difficult period in my life.
"I endured a lot in order to get a job and did not live my life like other girls in my age, as I always felt older and responsible for my family."
She explained that she was responsible for 30 children when she worked as a cleaning worker and was responsible for their food and changing their clothes, among others.
She added that she later worked for three years as a private guard, responsible for the entry and exit of children and receiving and directing visitors.
Al-Amri noted that during her work, she attended different courses and workshops for self-development and on dealing with children of special needs. This training has allowed her to work as assistant teacher and she was later promoted to teacher.
She said: "Sometimes I felt the pressure and would collapse in tears, but have always felt that God was by my side, providing me with great strength.
"I always look at the condition of special-needs children and they have become my role models for patience and persistence."
She stressed that the reward from the government is only the beginning of the future that she has always dreamed of.
She said: "I have great ambitions and my dream is not complete and I am currently thinking about my master's thesis, which will be about people of special needs.
"I intend to deliver a message about the best methods to educate families of people with special needs and to integrate these people into public education, in addition to searching for the best methods and means to train them."
http://www.saudigazette.com.sa/index.cfm?method=home.regcon&contentid=20140414201854
-----------
IOC welcomes end to girls sport ban
April 14, 2014
JEDDAH — The International Olympic Committee on Sunday urged the Saudi government to push forward with moves to lift a ban on sports in state-run girls schools.
The Kingdom's Shoura Council last week recommended an end to the ban, which was relaxed in private schools last year.
"We welcome this development and look forward to approval by the Education Ministry," IOC spokesman Mark Adams said in a statement in Geneva.
Adams noted that IOC President Thomas Bach had raised women's involvement in sport when he visited Saudi Arabia, according to the AFP news agency.
"On the IOC president's visit to Saudi Arabia last week the National Olympic Committee outlined plans to increase women's participation in sport in the Kingdom at university level, which we fully support," Adams said.
"And following participation by female athletes from Saudi Arabia at the Olympic Games in London and the Youth Olympic Games in Singapore this would be a further step toward full participation by girls and women at all levels of sport in the country," he added.
Following a heated debate, the Shoura Council last Tuesday recommended that the Ministry of Education end the longstanding ban altogether.
The ministry must officially lift the ban as the council is only a advisory body.
Opponents argued that girls' state schools lacked sports facilities and rejected supporters' claims that sports provision would help combat rising childhood obesity. But the council finally approved the recommendation after agreeing that it did not run counter to Islamic law.
The council cited a ruling by Sheikh Abdulaziz Bin Baz, the Kingdom's late grand mufti, that women were entitled to play sports "within the limits set by Islamic law."
http://www.saudigazette.com.sa/index.cfm?method=home.regcon&contentid=20140414201848
-----------
In Iran, Keep Your Eye on Jump in Female Literacy
April 14, 2014
(WOMENSENEWS)--One popular narrative of women in Iran over the last 40 years goes like this:
During the Pahlavi monarchy, women were on an upward trajectory. In a nation on the cusp of modernity, women actively participated. They were given the right to vote, and were free to be in public without veils; they wore miniskirts on university campuses. Then came the Islamic Revolution. With Ayatollah Khomeini at the helm, the burgeoning freedoms for women were extinguished. The veil was required and institutions were segregated by gender.
The one thing with popular narratives is that despite their convenience and some approximation of reality, the real story is often more complicated, more unexpected and less tidy.
I must emphasize from the onset that everything in my background would lead me to adhere to the more commonly understood situation of women in Iran.
Born in Tehran, I was forced to leave at the onset of the 1979 Islamic Revolution, as three generations in my family served as cabinet ministers under the Pahlavis. I have not returned since.
When I initially began to research the history of the women's movement in Iran for my doctoral thesis at Columbia University, I was struck by how they were one of the biggest supporters of Khomeini, and a contributing factor to the collapse of the monarchy.
As an Iranian woman, this information appeared counterintuitive and difficult to reconcile, given that the Pahlavi regime was solely responsible for emancipating the Iranian woman.
In dissecting a complex social and political landscape, the indelible imprints of a not-so-distant past unveiled an inconvenient truth: As a complete unintended consequence, the seemingly patriarchal mandates under Khomeini, intended to establish a chaste atmosphere, may have inadvertently empowered women. This could be particularly true for those traditional women who felt alienated and disconnected from the Pahlavi's visionary, yet disruptive, tides of change favoring the adoption of a Western lifestyle.
Literacy Surge
Case in point: In the three and a half decades since the Islamic Revolution, there's been an unprecedented surge in female literacy and a passionate feminist movement during a most unexpected era.
On the eve of the revolution, the overall literacy rate for the female population in Iran stood at just over 35 percent. In 2007, it was an astonishing 80 percent.
Iran currently exhibits one of the highest female-to-male ratios at the primary school level among all sovereign nations.
The trend towards feminization additionally extends to higher education, where women have begun to outnumber men by a ratio of 127/100.
Evidence suggests that a key factor at play in all this was the eradication of coeducation.
While no studies have been conducted on this subject in Iran, a plethora of studies in Western nations since the 1990s suggest single-sex schools lead to increased confidence, academic engagement, class participation, higher levels of achievement, a stronger sense of identity, as well as better performance in math and sciences. In many ways, for young women born and raised in a patriarchal society, the benefits associated with this type of learning environment are priceless.
Amid this flourishing of women's literary empowerment, the veil, hailed by the late Khomeini as the "flag of the revolution," has lost its initial allure. In a recent interview, his granddaughter Zahra Eshraghi stated "I am sorry that the chador (veil) was forced on women. People have just lost their respect for it."
Reinterpretation of the Quran
One of the most positive outcomes of this extraordinary transformation has been a commitment to reinterpreting verses in the Quran used to justify the inferior position of women.
This gathered momentum during the presidency of Mohammad Khatami (1997-2005) and brought to the forefront the ambiguity of such passages. That helped to demonstrate--for the first time since the advent of Shiite Islam in the 16th century--that Islam is able to evolve and adapt to the demands of time.
This phenomenon in and of itself brings an important distinction to the surface: Although the Islamic Republic appears to function under the same banner, in reality it cannot be categorically viewed as one cohesive entity, especially where women are concerned.
This evolutionary passage is undoubtedly the hallmark of a calamitous interlude, and a rite of passage solely earned by women themselves. It has not been dictated from above nor ordained by Allah. Women have collectively worked to bridge the once secular-religious divide, and in so doing, cultivated a realistic gender ideal forged out of a common predilection for democracy and human rights. They have embraced facets of the West, particularly where women's rights are concerned, and most importantly revitalized Islam by demonstrating its fluidity.
On many levels, what has transpired reflects a compromise between the old and the new, and a cross pollination of once seemingly incompatible ordinances between Iran and the West.
Iran is in a precarious state of affairs and Hassan Rouhani's election as president appears to signal an era where the regime is more amenable to bending the rules, so to speak. Given the role of Iranian women in bringing about the triumph of the republic, they may hold the keys to the direction the society takes next.
http://womensenews.org/story/education/140412/in-iran-keep-your-eye-jump-in-female-literacy#.U0slJlVdU4U
-----------
Third postponement in Asia Bibi's appeal as Islamist threats against judges continue
April 14, 2014
Islamabad (AsiaNews) - Appeal proceedings have been delayed again in the case of Asia Bibi, the Christian mother of five sentenced to death for blasphemy.
Lahore High Court Judges Sardar Tariq Masood and Abdul Sami Khan adjourned the case shortly after the hearing begun and arguments presented.
Court sources said that a new date for the appeal is expected tomorrow in a case that has dragged on without any progress for quite some time.
For several months, extremist groups have also been making threats against the judges in order to pressure them to confirm the death penalty imposed by the lower court.
However, the woman's lawyers said they remain confident and hopeful that the High Court will soon overturn her conviction and let her go.
In recent days, Pakistani Christians have promoted days of fasting and prayer on behalf of Asia Bibi and Sawan Masih, both of whom are innocent but sentenced to death under the infamous "black law".
Asia Bibi, who has been on death row since November 2010 held under solitary confinement on security grounds, has become a symbol of the fight against blasphemy.
Punjab Governor Salman Taseer, and Federal Minority Affairs Minister Shahbaz Bhatti, a Catholic, were killed in 2011 for coming to her defence.
Sawan Masih, a 26-year-old Christian from Lahore, was convicted recently by a lower court on false charges as a result of a personal dispute with the person who reported him.
It is sad "to see how the situation in Pakistan is getting worse by the day, not only for minorities, but especially for women and girls", Fr James Chand, from the Archdiocese of Lahore, told AsiaNews. "Let us continue to pray for Asia Bibi and Sawan Masih," he added.
Fr Arthur Nat, a priest from Central Punjab, joined his appeal, calling for "a day of fasting and prayer on Wednesday."
Meanwhile, a new case of child sexual assault has been reported. Yesterday, a 12-year-old girl was raped by an Islamic cleric in a Punjab mosque.
Witnesses said that the imam sent students home, asking the girl to stay. He then assaulted her ​​with the help of four boys.
The girl's family plans to report the crime, but it appears that the religious leader has already fled the area without leaving a trace.
http://www.asianews.it/news-en/Lahore:-third-postponement-in-Asia-Bibi's-appeal-as-Islamist-threats-against-judges-continue-30828.html
-----------
Tanzania: Child Marriages - Marrying Off Girls No Panacea for Poverty
April 14, 2014
WHEN she returned home to her mother to report the abuse being perpetrated by her husband, 14 year-old Hafswa Gumbo of Kisarawe in Coast Region, did not know that she had already attained puberty and was actually pregnant.
She had been forced to drop out of school when she was in Standard Five and married off by her parents who had been shouldering an embarrassing debt from a land lady. Hafswa's father bought two acres of a cassava farm on which he built a small family house, some four years ago.
However, the poor family had not been able to settle the outstanding 250,000/- and the land owner was threatening to evict them from her property. He had consulted with his wife and both had made a decision to marry off their daughter, so they could spare themselves the shame of being thrown out of the farm.
Unfortunately, the plan worked fine for the farm but not for their child's marriage. Hafswa was not only a child but had been married off against her will.
According to a neighbour Aziza Chaurembo (pen name), whom she had established a kind of friendship and thus confined her sadness and sorrow, she had failed to endure the beatings from the so-called husband.
"Hafswa tells me that her husband is an egoist, who cares about nobody else in their house except himself. He beats her for just a minor thing like when he discovers that his shoes were not polished well enough or if a favourite shirt that he wanted to wear had not been washed," says Aziza who owns a green vegetable stall, adding that the Hafswa's husband treats her like a house girl and orders her to run an errand even when she has visitors.
Although poverty drives families to make unwise decisions, the government has enacted by-laws that prohibits child marriage and which ensures that all children have access to education, whether they are rich or poor. A fine or jail sentence awaits any parent who disobeys this directive.
In some areas of Coast Region, however, parents are still bound by cultural norms and beliefs. There is a general feeling that girls have to get married at a tender age before they start involving themselves in sexual relationship, to avoid pregnancy out of wedlock.
"We also believe that a woman does not have to go very far in education as she will be looked after by her husband when she gets married anyway. Age does not matter; as soon as a girl attains puberty, she can be married off, " says Fauzia Ahmed, "an indigenous resident of Coast Region.
Nafissa Sabaly (17), a Ghanaian girl who has been forced to drop out of school by her parents and was married off, has been quoted online as saying that she regrets that this has limited her ability to pursue her educational goals and love of learning.
The UNICEF warns that girls who are forced to leave school and marry too young are much more likely to experience health complications during childbirth and be vulnerable to domestic violence. Their human rights to education, health and protection, among many others, are being breached.
It also states that attempts to downplay the prevalence and nature of child abuse in society often blame poverty as the main cause. Adding weight to the need for society to protect children especially girls from abuse, the World Health Organisation (WHO) says each year 40 million children under the age of 15 are victims of family abuse or neglect.
It says violence against mothers has serious psychological consequences for children in the household, contributes to the disintegration of families and perpetuates the cycle of violence. While protection of children begins with the family, in areas where child marriage is practised, the tendency is to leave and abandon those children and let them fend for themselves and their babies, without caring for their access to health and wellbeing of their newborns.
"The babies are vulnerable to childhood diseases, including dangerous ailments like diarrhoea and malaria. Child mothers have no strong sources of income, so they cannot fend for their families, " warns a Social Welfare worker in Dar es Salaam, Protus Mngumi.
In their determination to help restore women and children's dignity, the Tanzania Media Women Association (TAMWA), the Tanzania Gender Networking Programme (TGNP), the Crisis Response Centre and the Zanzibar Female Lawyers have launched an initiative named the Gender Equality and Women Empowerment Programme (GEWEII).
The programme which is focusing its activities in the regions of Dar es Salaam ( Ilala and Kinondoni), Morogoro ( Mvomero), Lindi ( Rural), Mtwara, Ruangwa, Coast Region ( Kisarawe), Pemba ( Wete) and Unguja (West, South and Centre) seeks to empower women with knowledge on their basic rights.
"An empowered woman is knowledgeable and demands her right to opportunities. She can defend herself from various social evils, including genderbased violence (GBV). Education for girls is their birth right and no one has right to deny them," says Mr Mngumi.
http://allafrica.com/stories/201404140108.html?viewall=1
-----------
France's former first lady is 'crazy about Israel'
April 14, 2014
France's former first lady Carla Bruni declared herself "crazy about Israel" and talked about Jewish family ties in an interview published by an Israeli daily on Friday.
Ahead of a May 25 concert in Tel Aviv, the singer, guitarist and former model told the Hebrew-language Yediot Aharonot that she hoped to bring both her husband, former president Nicolas Sarkozy, and her son Aurelien with her.
Italian-born Bruni, 46, told the newspaper that her father was Jewish and that while Sarkozy had a Jewish grandfather he also has a Jewish grandson, Solal, through his son Jean's 2008 marriage to Jewish heiress Jessica Sebaoun.
"Jean married Jessica, who is Jewish and is the only observant one in her family," she said.
Aurelien was born in 2001 from her relationship with philosopher Raphael Enthoven, and both circumcised and baptized, she added.
"His father is Jewish and I give him the gift of both heritages," she told Yediot Aharonot.
Bruni said that she had visited Israel twice before; once as a model and once with her husband on a state visit.
"I'm crazy about Israel," she said. "It's full of life."
"Maybe if my husband comes we'll stay for a couple of days more. I want to bring my son to Israel for him to get to know it."
http://english.alarabiya.net/en/variety/2014/04/13/France-s-former-first-lady-is-crazy-about-Israel-.html
-----------
Making tracks: The Maldives' first female DJ
By Lucy Lovell | April 13th, 2014
'We don't need a female Maldivian DJ,' Angie recalls her first rejection from a local DJ agency.
"They didn't even check how I played, if I was good or bad, nothing. Just the fact that I'm a female and Maldivian they could decide that they don't want me."
While the music scene in the Maldives is growing, for a young DJ wishing to enter the DJ circuit, the venues to play are still few and far between. Throw into the equation that you are the first female Maldivian DJ ever to formally graduate, and there are an entirely new set of hurdles to cross if you are to make your name.
"In 2008, I decided that this was what I wanted to do." says 26 year-old Aminath Fazleena Abbas, also known as Angie. "Even when I did the course I didn't realise that I was the only girl, I didn't think that was possible."
Angie is originally from Malé, the capital of the Maldives. After travelling abroad to study Electronic Music Production in Thailand, it wasn't until her return that she realised she was the first woman in the Maldives to do so, she explained.
"I think it's sad, " she said. "I'm sure there are plenty of girls that have an interest, but due to the cultural and religious side of Maldives they are unable to do it."
With no formal clubs in the capital, DJs often get work by playing on nearby islands – either on tourist resorts or at private parties. However, competition for these DJ slots are high – with a few agencies monopolising many of the contracts.
"When I first started in 2013 I didn't have any contacts – no-one – so I just called resorts from the Visit Maldives group. Most of the answers were that 'we didn't need DJs in this resort because they had contracts with different organisations.' "
One such reply was particularly blunt: "They sent me a reply after a few weeks, 'we don't need a female Maldivian DJ'," recalled Angie.
"That really demotivated me, since they were the main people. They didn't even check how I played, if I was good or bad, nothing, just the fact that I'm a female and Maldivian they could decide that they don't want me."
"Once we join these organisations, more than 50 percent of what the resort pays go to the organisation, and the DJ gets payed 50 percent or less. So they really don't like it when someone is around and they are doing it on their own – they want their people to go so they will get the money."
After some time calling around and working hard, she landed a contract with a local agency and began playing gigs at a nearby resort. However, not everything has been easy since forming the new partnership.
"Normally the resort staff are really nice, it's just the organisers – people who are fighting for the money. They want to know – is this oriented for them?"
"The pay differs, mostly US$200/300 per night, but when you come to 3-star it will be like US$100. I have once gone to a resort, and I got payed US$75. But since I was new – since I didn't have experience – I didn't know any better. I took the money, I just wanted the experience."
Not only was there an issue with the pay, Angie continued, but also the music had to be compromised in order to land gigs with certain resorts.
"I like to play deep house, minimal, trance, techno, dub," Angie explains, "But you can't do it here in the Maldives, because you can't get places to play."
"When I did the New Year 2013 gig, I mixed up music that I preferred into it, and it didn't turn out well. Most of the resorts don't want that. Because for those who don't like this kind of music they don't want to hear it – they want to hear the old – really old – retro kind of music."
"That was the first time I realised, 'okay, I have to change to play what they want me to play'. So I did that at first – but now I don't want to do that anymore, because I can find – though very few – resorts where I can play deep house and I can keep to the range of genres that I like."
The opportunity for local DJs to play music they are passionate about often comes at parties organised on private islands.
"There are private islands, there I can play deep house, tech house, minimal. They are not looking for people to come and dance, they want good music in the bar at night, so I love that place because I can play the kind of music I want to play."
Local festivals also provide a place for Angie to play her preferred genres of deep house and minimal. O.T.U.M, Angie explains, is a two-day festival set up by a collective of local DJs and artists called The Underground Movement.
According to the Underground Movement's statement, "It is important to appreciate that the motive behind such a series of gatherings goes beyond mere merry-making and the fulfillment of a badly neglected need for entertainment."
Set on a nearby local island, this two-stage festival gives local acts the chance to play to a crowd just for the love of music, without seeking a huge profit.
Angie will be playing at the pioneering festival alongside an eclectic line-up of DJs, with some travelling from Sri Lanka and India, and representing the cutting edge Maldivian dance music scene.
"Let's say it [the music scene] is getting better, slowly," says Angie. "Slowly, but it's happening now."
http://minivannews.com/society/making-tracks-the-maldives-first-female-dj-82401
-----------
Syria needs sustained education programme and psychological support for 5.5m children — Unicef
April 14, 2014
London: The crisis in Syria, which has left 5.5 million children in need of urgent educational and psychological support, will become an even greater humanitarian catastrophe if the international community does not come up with three years' guaranteed funding, Unicef has warned.
Last month, the UN children's agency said the number of children affected by the conflict had doubled over the past year, raising the prospect of a "lost generation" of Syrians who will be denied the education and opportunities needed to help them rebuild the country.
Maria Calivis, Unicef regional director for the Middle East and north Africa, said that although many countries had responded generously to the crisis with emergency funds, guaranteed money was vital.
"We're calling for three years' predictable funding, because education is an investment that you can't do with funding on just a six-month basis," she said. "We need sustained funding, we need to find cost-effective solutions and we need to make sure that all our interventions help to build resilience in families and communities because this is what will last and this is what will help the recovery. If we don't, it will be a much bigger humanitarian catastrophe than it is now."
Calivis, Unicef's lead on the Syrian crisis, said the war was having an increasingly devastating effect on the country's children, 3 million of whom are internally displaced and 1.2 million of whom have become refugees.
"Because it's now lasted three years, you see among the refugees that have come across, that [the situation] is not what used to be even just a year ago, when in a group of maybe 25 children, 10 needed psycho-social support," she said. "Now, 25 of the 25 children will need psycho-social support. That is an indication of how deeply it has affected children."
As well as losing their relatives, homes and chances of a proper education, Calivis said, they also face the resurgent threat of polio 14 years after the last recorded case in Syria.
She said that although Unicef was doing all it could to protect Syrian children and to help them continue their education, it was a difficult task: some have taken to begging or working in fields or factories to help supplement their families' income, and many girls are getting married earlier without finishing their schooling.
Though Unicef applauds the decision by Jordan and Lebanon to allow some Syrian refugee children into their public schools, it recognises that the move has caused overcrowding, put teachers under enormous pressure and led to resentment and bullying of the newcomers.
According to Calivis, Lebanon, whose public school system serves 300,000 of its own children, is now home to 300,000 Syrian children in need of education. Although it has accommodated 40,000 of them, the overwhelming majority have nowhere to go.
"It is a massive operation, but it's possible with the support of governments and the coalition of partnerships and possible because of the demands of parents: this is something they want and they'll do everything they can to send their kids to school," Calivis said. "The question is: how do we sustain these levels of funding and because it's an emergency, how do we maintain a sense of urgency?"
The agency hopes the host countries will take the lead by adopting a development approach to run alongside the humanitarian response, but acknowledges that urging them to invest in strengthening their own capacities and systems is asking a lot: "Many of the governments, because of the financial crisis, are facing large financial deficits their trade in the subregion has suffered; their tourism has suffered and therefore they are facing more and more fiscal debts."
To make matters worse, the refugee population is putting a strain on resources such as water and electricity, just as the UN World Food Programme warns that a drought will threaten the already fragile food situation in Syria and the Middle East.
But the biggest single problem remains the lack of a political solution to the crisis in Syria. Without one, Calivis said, Unicef and others could do little more than bandage an ever-widening wound. "There is the risk of a generation of children that is growing up shaped by violence, by revenge, by displacement," she said. "And this will have consequences not only for the families and for Syria, but also for the subregion."
On Thursday, the British government announced that it was providing a further 20m to support the protection, counselling and education of Syrian children, and the international development secretary, Justine Greening, urged other international donors to honour their financial promises.
"Britain is committed absolutely to helping this traumatised generation get through this crisis as safely as possible and to supporting their education in order for them to have a future," she said.
"But we cannot do this alone. Nations which have pledged aid must now deliver on their promises. The international community must come together and make it totally clear that their plight has not been forgotten."
The UK has so far pledged 600m to help alleviate the Syria crisis.
http://gulfnews.com/news/region/syria/syria-needs-sustained-education-programme-and-psychological-support-for-5-5m-children-unicef-1.1319149
-----------
URL: https://www.newageislam.com/islam,-women-and-feminism/new-age-islam-news-bureau/why-is-purdah-a-problem-to-indian-election-officials-at-polling-booths?/d/66545