New Age Islam News Bureau
24 Apr 2019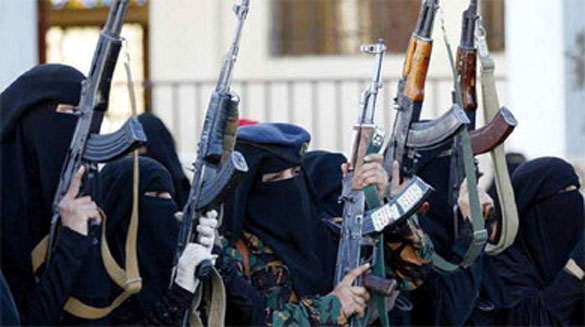 Members of all-female Houthi militias raise arms at insurgency support rally. Getty Images
-----
• Yemeni Activists Blast Houthi Recruitment of All-Female Militias
• Child Marriages Exceed 4,000 in North Khorasan in Just One Year
• 'Tireless Bullying' Makes Nine-Year-Old Syrian Girl Commit Suicide in Canada
• Joining Daesh Was a Disastrous Mistake, Say Former Female Members
• CAS Class Explores Women in the Muslim World
• Nobel Laureate Murad Urges Justice for Yazidi Victims of IS
Compiled by New Age Islam News Bureau
URL: https://www.newageislam.com/islam-women-feminism/love-face-bigotry-woman-takes/d/118413
--------
'Love In The Face Of Bigotry': Woman Takes Smiling Stand Against Islamophobic Protesters
Kari Paul
Wed 24 Apr 2019
While attending an Islamic conference in Washington DC on Sunday, Shaymaa Ismaa'eel, a 24-year-old Muslim woman, passed by a group of angry protesters holding signs against Islam and shouting that she and her friends were going to hell. In response, she crouched in front of them and flashed a peace sign.
The resulting photo, posted on Instagram, has prompted an outpouring of support for Ismaa'eel.
"I wanted them to see the smile on my face, and see how happy I was to be me and walk around being a Muslim woman," she said. "I wanted to show them that we are going to remain kind and unapologetic, and continue to spread love in the face of bigotry."
The conference she was attending was the Islamic Circle of North America (ICNA) convention, a gathering dedicated to promoting Islam in the US that draws thousands of attendees each year. She initially saw the protesters on Saturday and walked past them without stopping. But throughout the conference in the following days, she said, she was thinking of them.
"My face lit up when I saw them again, because I wanted them to see my joy," she said. "I just wish they could hear all the love being spread inside the conference instead of protesting outside."
Ismaa'eel said in the neighboring state where she lives, she and many of her friends who wear hijabs have been harassed and occasionally feel unsafe. She has seen similar protesters in the past and taken photos in front of them as well, but in the environment following the mosque shootings in New Zealand this year, the image took on a new meaning.
"Today, we are getting more unapologetic – we aren't afraid anymore," she said. "Today more than ever we are aware of our struggles and we want to stand up for ourselves."
Ismaa'eel said in the workshop she attended before confronting the protestors, attendees discussed the shooting in New Zealand that killed 50 Muslim worshippers. The speaker noted that as the murderer entered the building, the first victim of the shooting greeted him, saying, "Hello, brother," something Ismaa'eel had in mind when she saw the protesters again.
"His last words were a sign of kindness he was giving someone in the face of hatred," she said. "I want young Muslim children to know that we can still love our religion no matter who hates it."
https://www.theguardian.com/us-news/2019/apr/23/love-in-the-face-of-bigotry-woman-takes-smiling-stand-against-islamophobic-protesters
--------
Yemeni Activists Blast Houthi Recruitment of All-Female Militias
24 April, 2019
Yemeni human rights activists decried Houthi militias over their wide-reaching campaign for recruiting women and girls in territories under their control.
In a fashion which is foreign to Yemen's Arab heritage, drafted women and minor girls are being trained in armed combat and tasked with specialized missions.
The Iran-backed insurgency group has recently celebrated graduating a new all-female brigade, which joined the religiously branded 'Zaynabiyat' force.
The new unit is said to be led by Zainab al-Gharbani and holds light arms and electricshock weapons.
As for its mission, commanders announced that the unit will be deployed to actively disband women protesters holding frequent demonstrations in the Houthi-held capital, Sanaa, and other territory run by coup militias.
A well-informed judicial activist, speaking under the condition of anonymity, confirmed the recruitment of women, stressing that official graduation ceremonies are being held within a short timeframe of a few months.
"Women militias, such as Zaynabiyat, were first detected in 2014 in Sanaa," the activist noted whilst pointing out that their emergence is largely inspired by Iran.
According to data obtained by Asharq Al-Awsat, more than 4,000 women have been trained by foreign military experts from Iran, Lebanon and Iraq in top Houthi-run areas, namely Saada, Sanaa, Dhamar and Amran.
Local reports say several female demonstrations in Sanaa were suppressed by Zaynabiyat personnel, who engaged in physical violence against protesters and arrested hundreds of Yemeni women.
Back in 2017, these militiawomen abducted, according to rights activists, more than 200 demonstrating women within 24 hours.
On par with the Houthi record on recruiting children, the Iran-backed militia is committing another human rights violation by conscribing Yemeni girls into their armed ranks. Yemeni academics considered this practice "a blatant violation of Yemeni women's rights and a serious transgression against all Islamic norms, principles and ethics."
An academic at the University of Sanaa, who asked not to be named, confirmed that nothing sets Houthis apart from other terrorist groups, such as ISIS and al-Qaeda, especially with regard to recruiting women in the areas under their control.
"There is no difference between what Houthi militias did in Yemen and what terrorist groups did in Syria, Iraq and Libya," the academic told Asharq Al-Awsat.
"Houthis rely on recruiting women and children, because they are more obedient in carrying out orders and directives, and easier to brainwash into carrying out all the tasks assigned to them," they explained.
https://aawsat.com/english/home/article/1692801/yemeni-activists-blast-houthi-recruitment-all-female-militias
--------
Child Marriages Exceed 4,000 in North Khorasan in Just One Year
Apr 22, 2019
More than 4,000 child marriages of girls between 10 to 19 years of age have been registered for North Khorasan Province in the year 1397 (March 21, 2018 – March 21, 2019).
Ali Zahedinia, the director of Iran's Census Organization in N. Khorasan province, announced that the largest number of marriages belong to girls between 15 and 19 years old.
Admitting to just one aspect of this catastrophe he added, "In 1397, the marriages of 1,054 girls between 10 and 14 years old have been registered in North Khorasan province." (The state-run IRNA news agency- April 20, 2019)
Masihollah Soltani, an official in Zanjan's governorate, also announced, "From 36,000 registered marriages for girls under 14 in Iran, 1,400 took place in Zanjan," adding, "Unfortunately, Zanjan ranks among the top provinces with regards to child marriages." (The state-run ISNA news agency- April 16, 2019)
Ali Kazemi, advisor for the legal deputy of the Judiciary Branch, announced on March 4, 2019, that in the course of just past year, some 5 to 6 hundred thousand child marriages have taken place in Iran. (The state-run ILNA news agency- March 5, 2019)
In January, Parvaneh Salahshouri, head of the women's faction in the mullahs' parliament, spoke about early marriages of girl children in a meeting in Tehran. She said, "We continue to see girls getting married between 9 and 14 years of age… Some 6 per cent of those who get married are girls between 10 and 14." (The official IRNA news agency – January 6, 2019)
She continued her remarks, "Do we want to realize population growth by marriages of girls under 13?… There are one million young men and women who do not have the wherewithal to get married. Instead of opposition to the bill on child marriages (i.e. increasing the age of marriage) and focusing on the marriage of 40,000 kids, it might be better to provide these youths the resources they need. How could a 10-year-old, who does not have the right to vote, get married? "
https://women.ncr-iran.org/2019/04/22/child-marriages-exceed-4000-in-north-khorasan-in-just-one-year/
--------
'Tireless Bullying' Makes Nine-Year-Old Syrian Girl Commit Suicide in Canada
Apr 24, 2019
A nine-year-old Syrian girl, who along with her parents was forced to flee the violence in the Arab country, has committed suicide as a result of incessant bullying at a school in Canada.
Amal Alshteiwi took her own life in March after what her parents said was due to "tireless bullying" at a Calgary school in the western Canadian province of Alberta.
Aref Alshteiwi and Nasra Abdulrahmin, the parents of a family of eight, said their daughter's teacher had been informed of the bullying but took no action to curtail the situation.
"When I noticed that my kid was having problems at the school and slipping away, and all my other kids, they are not happy at school, I went to the school myself," Nasra said.
Amal's father described the situation as "intolerable," and said, "The kids were bullying my daughter and even asking her to go and hang herself and kill herself."
Amal's parents ultimately decided to transfer their daughter to another school but four days after the move she committed suicide.
Police conducted more than a dozen interviews after Amal's death but no charges have been laid so far.
Speaking of the incident for the first time on Monday, Christopher Usih, the head of the Calgary Board of Education, said there is no place for bullying in the city's schools and that the board was taking the incident "extremely seriously."
Amal's family said there has been an outpouring of support from refugees and support groups in Canada in the weeks following her death.
The Syrian family fled violence in their homeland and arrived in Canada nearly three years ago.
Syria has been gripped by foreign-backed militancy since March 2011. The Syrian government says the Israeli regime and its Western and regional allies are aiding Takfiri terrorist groups wreaking havoc in the country.
The Syrian conflict has left 6.6 million displaced internally and 5.6 million around the world, according to the United Nations High Commissioner for Refugees (UNHCR).
https://www.presstv.com/Detail/2019/04/24/594200/Syrian-girl-Amal-Alshteiwi-suicide-Calgary-school-Alberta-Canada
--------
Joining Daesh Was a Disastrous Mistake, Say Former Female Members
April 23, 2019
AL-HOL CAMP, SYRIA: The women say it was misguided approach, naivety, a search for something to believe in or youthful rebellion. Whatever it was, it led them to travel across the world to join Daesh.
Now after the fall of the last stronghold of the group's "caliphate," they say they regret it and want to come home.
The Associated Press interviewed four foreign women who joined the caliphate and are now among tens of thousands of Daesh family members, mostly women and children, crammed into squalid camps in northern Syria overseen by the US-backed Kurdish-led forces who spearheaded the fight against the extremist group.
Many in the camps remain die-hard supporters of Daesh. Women in general were often active participants in Daesh's rule. Some joined women's branches of the "Hisba," the religious police who brutally enforced the group's laws. Others helped recruit more foreigners. Freed Yazidi women have spoken of cruelties inflicted by female members of the group.
Within the fences of Al-Hol camp, Daesh supporters have tried to recreate the caliphate as much as possible. Some women have re-formed the Hisba to keep camp residents in line, according to officers from the Kurdish-led Syrian Democratic Forces guarding the camp. While the AP was there, women in all-covering black robes and veils known as niqab tried to intimidate anyone speaking to journalists; children threw stones at visitors, calling them "dogs" and "infidels."
The four women interviewed by the AP said joining Daesh was a disastrous mistake. The Kurdish-led Syrian Democratic Forces gave the AP access to speak to the women at two camps under their administration.
"How could I have been so stupid, and so blind?" said Kimberly Polman, a 46-year-old Canadian woman who surrendered herself to the SDF earlier this year.
The women insisted they had not been active Daesh members and had no role in its atrocities, and they all said their husbands were not fighters for Daesh. Those denials and much in their accounts could not be independently confirmed. The interviews took place with Kurdish security guards in the room. To many, their expressions of regret likely ring hollow, self-serving or irrelevant. Traveling to the caliphate, the women joined a group whose horrific atrocities were well known, including sex enslavement of Yazidi women, mass killings of civilians and grotesque punishments of rule-breakers.
Their pleas to return home point to the thorny question of what to do with the men and women who joined the caliphate and their children. Governments around the world are reluctant to take back their nationals.
The SDF complains it is being forced to shoulder the burden of dealing with them.
Al-Hol is home to 73,000 people who streamed out of Daesh's last pockets, including the village of Baghouz, the final site to fall to the SDF in March. Nearly the entire population of the camp is women or children, since most men were taken for screening by the SDF to determine if they were fighters.
http://www.arabnews.com/node/1487131/middle-east
--------
CAS Class Explores Women in the Muslim World
04.24.2019
Class by class, lecture by lecture, question asked by question answered, an education is built. This is one of a series of visits to one class, on one day, in search of those building blocks at BU.
The timing could not be better for Shahla Haeri's BU class Women in the Muslim World, as women in hijab are speaking out, and standing out, in the United States and abroad.
First, there was 22-year-old Alaa Salah, a leader in an Arab Spring–style revolution in the Sudan that earlier this month toppled the presidency of Omar al-Bashir, that nation's leader of 30 years. A dramatic image of Salah in flowing white garb standing on the roof of a car leading chanting protesters went viral on Twitter.
Then, the same week, US Representative Ilhan Omar (D-Minn.), one of the first Muslim women elected to Congress, made remarks about rising Islamophobia in the United States. Her words prompted outrage from conservatives and President Trump, who tweeted an inflammatory video of Omar's face next to the burning Twin Towers.
This is what happens when women become outspoken in the political sphere, says Haeri, a College of Arts & Sciences associate professor of women's studies and anthropology, who has been teaching the class for 15 years.
"People are paying attention to them, and of course, there is a backlash," Haeri says. "The more successful they become politically, the more patriarchal societies try to stifle them."
Muslim feminists are not new—but they are having a moment. In Saudi Arabia last year, a ban on women driving was lifted, a historic change issued by royal decree that upended the status quo and prompted 120,000 Saudi women to apply for driver's licenses within hours of the change. Debate still rages in the United States about whether women in the military should be allowed to wear a hijab, but global athletic apparel company Nike is already selling a breathable mesh sports hijab to women athletes.
The students in Haeri's class, 15 women and 2 men, learn to question the stereotypes of Muslim women, in the United States and in Muslim societies, and examine the religious and historic forces that have kept women away from political life for centuries. Haeri guides students through Quranic and religious examples of Muslim women leaders, like Aisha, Muhammad's third and youngest wife, or the Queen of Sheba and the women sovereigns of medieval Yemen and contemporary Pakistan, noting how these texts and women are being studied by contemporary female scholars with fresh interest. And she uses these examples to explain the legacies of contemporary female leaders, such as former Indonesian president Megawati Sukarnoputri or former Pakistani prime minister Benazir Bhutto, who was assassinated in 2007.
Because a woman wears a headscarf does not mean she has no brain, Haeri says. Students watch movies like Feminism Inshallah: A History of Arab Feminism (inshallah is the Arab word for "God willing") and submit weekly journal entries reflecting on the class readings. They also write weekly entries related to the readings and classroom discussions, and for their final paper, the assignment is: Adopt a queen.
The women studied in the class are not passive or subservient, dispelling Western and Muslim stereotypes of how women should be or behave, Haeri says.
"I want students to realize they're part of the larger human civilization," she says. "We are all in this culture, this civilization together. There is nothing peculiar about Islam, even though people try to make it as much. We need a more representational, truer form of knowledge."
"People get afraid of a woman in power. To ease that fear, they attack to try to lower their status."—Junior Saira Majid (CGS'18, CAS)
Born and raised in Tehran, the granddaughter of a prominent ayatollah, Haeri came to the United States in the early '70s, before the shah was deposed in 1979, to pursue an education. She earned a PhD from UCLA, and her dissertation was the basis for her first book, Law of Desire: Temporary Marriage in Shi'i Iran (Syracuse University Press, 1989), which has been reprinted more than a dozen times, most recently in 2014, and translated into Arabic and Urdu. It examines the controversial Shi'i custom of temporary marriage, which many professional Muslim women view as legalized prostitution.
Haeri emphasizes that feminism has been a part of Muslim societies for more than a century, from early Egyptian pioneers to the feminist activists who led viral internet campaigns during the Arab Spring. Now a new generation of Muslim feminists are increasingly using Twitter hashtags like #Lifeofamuslimfeminst, and online discussion forums to advocate for their rights and discuss the complexities of being a Muslim feminist, both to men and to Western feminists who may see Islam and feminism as incompatible.
The class has changed over the years, intensifying its focus on Muslim women in the political realm. Haeri, who describes herself as "culturally Muslim," says that was largely inspired by Hillary Clinton's historic run for president. She is also at work on the forthcoming book The Unforgettable Queens of Islam: Succession, Patriarchy, Gender (Cambridge University Press), and she is interested in a new body of research by Muslim feminists that helps reinterpret historical and religious texts.
For example, the coursework assesses the way the teachings in the Quran and the revelations and sayings, of the Islamic prophet Muhammad may at times be incongruent. Haeri notes that it's a delicate area, requiring careful research, discussions, and conversation.
One class examines the political legacy of Aisha, Muhammad's third wife. When she was accused of adultery at age 14, Muhammad was urged to divorce her, but she was vindicated through a series of revelations in the Quran. One said that a person accusing a chaste women of adultery without four male witnesses to the adulterous act should be lashed. Many Westerners still believe that women are stoned for such activity, Haeri says, even though the practice is obsolete in most Muslim nations.
Aisha later went to war, lost, and returned to her hometown, where she became an influential source of religious knowledge. Her political activism led to an alleged teaching by the Prophet Muhammad that presumably prohibits women from assuming political office.
"That has tamped down women," Haeri says. "That is why it's so difficult for Muslim women to get involved, though that is changing with time."
Junior Saira Majid (CGS'18, CAS) says she sees parallels with the way Alexandria Ocasio-Cortez (CAS'11) (D-N.Y.), a first-term US congressional representative, has been cut down by conservatives for the way she looks, dresses, and dances. Majid is angry at the way many supporters of President Donald Trump, and Trump himself, have tried to shame her.
"People get afraid of a woman in power," she says. "To ease that fear, they attack to try to lower their status."
Responding to Majid, Haeri recalls the 2001 presidential elections in Iran, when women ran for elected office for the first time, despite massive and heated opposition from the political elite. None of the 47 women won, but the effort helped others break new ground.
"You have to have a seat at the political table or nothing can happen," Haeri says, imploring students to vote and get involved in politics. "They broke the ice, and that's the whole idea of this course. Women in power. Women in authority."
Majid, who is from Queens, says she isn't affiliated with any religion, but the class is helping her reflect on the values of her father, a Pakistani taxi driver in Manhattan. She says she calls him weekly to tell him what she's learning and discuss it with him. They don't always see eye to eye, she adds.
"But because of this class, I'm closer to him," she says.
Sophomore Myles Silsby (CGS), one of the class' two men, says learning the distinctions between the teachings of the Quran and hadith helps him better understand how religion has helped keep women out of authority. The international relations major was raised Catholic, and says he sees similarities in the ways Western religions prohibit women from some activities, like being a priest.
"The more I learn, the more I realize I don't know," Silsby says of the coursework, adding that the experience has been "equally frustrating and refreshing."
Graduate student Corina Morton (GRS), who wears a hijab, is studying international relations and religion. She says the class has been affirming. People often underestimate her intellectual capacity or seem surprised when she does routine activities like driving a car, she says, making comments like, "I didn't know Muslim women were allowed to do that."
Morton's adopted queen is Sultan Razia of India, the only female sultan to rule in Delhi, and her history is often a footnote. She was a 13th-century woman who was given power and authority as a daughter of a sultan and later came into her own political power. She did not wear a veil and adopted the male clothing of the era. Morton says she was intrigued by the part of Razia's story involving her forbidden love affair with an Abyssinian slave with dark skin.
It's taboo to talk about racism in the Muslim community, Morton says, as well as the ways women rise to power with help from their fathers.
"There have always been many different Muslim women who have achieved power," she says. Haeri's course "made me think about those relationships—between power, authority, family and race. It's definitely opened my eyes."
https://www.bu.edu/today/2019/bu-class-explores-women-in-the-muslim-world/
--------
Nobel Laureate Murad Urges Justice for Yazidi Victims of IS
April 23, 2019
UNITED NATIONS —
Nobel laureate and former Islamic State captive Nadia Murad reproached the international community Tuesday, saying in the five years since thousands of ethnic Yazidi women were enslaved by the terror group in Iraq, not a single perpetrator has been brought to justice.
"Thousands of ISIL elements are free. Thousands are detained without trial," Murad said, referring to the group by an acronym. "We come here today and ask that those perpetrators of genocide be brought to justice."
Murad made the appeal at a meeting of the U.N. Security Council on the issue of sexual violence in conflict.
At its peak, the so-called Islamic State controlled large swaths of territory in Syria and Iraq. In 2014, its fighters seized the northern Iraqi town of Sinjar, where tens of thousands of Yazidis lived. The Yazidis are a mostly Kurdish-speaking people who practice a unique monotheistic faith and are a minority in the region.
Fighters killed scores of Yazidi men and enslaved several thousand women and girls, in atrocities the U.N. said amounted to genocide. The women were used as sex slaves, often sold or traded from one fighter to another. Many now have children by the men who raped them. Older women were made to do manual labor.
Last month, IS lost its last stronghold in Syria, and thousands of its fighters have been detained by local Kurdish authorities. The fate of many non-Iraqi and Syrian fighters is unclear as governments in Europe and elsewhere debate what to do about their citizens-turned-terrorists.
"They used Yazidi women as a weapon of war, hence, they need to be tried before a special court so that they will be tried for the crimes they committed," Murad told Security Council members. "Bringing elements of ISIL to justice in the framework of an international tribunal that tries them for crimes of genocide and sexual violence against women, would send messages to others and prevent such crimes in the future."
'We need steps, not just slogans'
Murad, who was kidnapped by the terror group and subjected to sexual violence for three months in 2014 , said there has been little international assistance for survivors.
"We come to the U.N., we deliver statements, but no practical steps are taken that include reconstruction or bringing the perpetrators to justice, or returning victims and displaced to their homes," she said. "We need serious steps on the ground and not just slogans."
Her lawyer, Amal Clooney, also addressed the council, warning that if the international community does not seek accountability now, it could soon be too late.
"Let us remember that the crimes committed by ISIS against women and girls are unlike anything we have witnessed in modern times," Clooney said, using another acronym for the group. "But the question of bringing them to justice has barely raised a whisper."
She said if the Security Council cannot prevent sexual violence, it must at least punish it.
"We are facing an epidemic of sexual violence, and I believe justice is the antidote," Clooney said.
In September 2017, the U.N. Security Council authorized the creation of a U.N. investigative team to collect and preserve evidence of IS crimes in Iraq for future trials. Clooney said the team's work got fully under way last month, and they have begun exhuming mass graves to identify the victims' remains.
On Tuesday, after much discussion and some deep disagreements, the Security Council adopted a resolution that focuses on supporting survivors of sexual violence in conflicts around the world.
"We have now a concentration on accountability. We have a survivor-centered approach. We are putting sanctions much more in the center of actions. We have the U.N. system watching it, reporting it," said German Ambassador Christoph Heusgen, whose delegation drafted the text.
'Real fight' for resolution
The resolution was adopted with 13 votes in favor and the abstentions of Russia and China. The U.S. had threatened to use its veto if language was not removed recognizing the importance of providing sexual reproductive health care assistance to survivors of sexual violence. After difficult negotiations, the Germans dropped the reference.
"It was for us not the ideal solution. As you could imagine, we would have liked to have strong language repeated and strengthened that language, but this was not possible," Heusgen told reporters. "So, the choice was, 'Do we give up everything for not reaching this?' Our choice was the one that civil society and the victims asked us to do."
France's envoy, Francois Delattre, told reporters ahead of the vote that negotiations were "a real fight." He expressed disappointment that there has been backsliding on women's rights by some countries.
"If we believe in the values of the U.N., if we believe in the values of women's rights, this is a real fight,"he said. "There are attitudes that we just don't understand."
"A survivor-centered approach means ensuring both their rights and addressing their needs," Inas Miloud, director of the Tamazight Women Movement in Libya, told council members. "As a priority, access to lifesaving interventions and post-rape medical care, including comprehensive sexual and reproductive health rights services, emergency contraception, the options of safe abortion services, and HIV prevention and treatment."
https://www.voanews.com/a/nobel-laureate-murad-urges-justice-for-yazidi-victims-of-islamic-state/4888517.html
--------
URL: https://www.newageislam.com/islam-women-feminism/love-face-bigotry-woman-takes/d/118413
New Age Islam, Islam Online, Islamic Website, African Muslim News, Arab World News, South Asia News, Indian Muslim News, World Muslim News, Women in Islam, Islamic Feminism, Arab Women, Women In Arab, Islamophobia in America, Muslim Women in West, Islam Women and Feminism