New Age Islam News Bureau
15 Apr 2015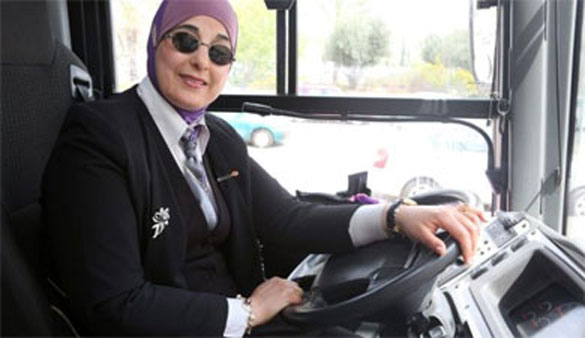 Suhaila Fadila. 'An example of a professional driver with a service orientation,' says the CEO of the Metropoline bus company. Photo by Ofer Vaknin
-----------
• Most Suspected Child Abuse Cases in Ajman Involve Arab Families
• Underage Marriage Bid Foiled In Pakistan
• Bangladesh Female Candidates Say Poll Symbols Show Gender Discrimination
• Unschooled Afghan Girl, Somaya Amiri, Is Now One of Canada's Brightest Lights
• Iran To Appoint First Female Ambassador Since Islamic Revolution
• British-Pakistani Novelist Shamsie among 6 Shortlisted for Baileys Women's Prize For Fiction
• Muslim Taxi Driver Ordered To Pay Lesbian Couple $10k for Telling Them to Stop Kissing
• 181 Women Prisoners Confined In Three Sindh Jails: Report
• Meet Israel's Only Female Muslim Bus Driver
• Burka Avenger Swoops into India to Empower Girls
Compiled by New Age Islam News Bureau
URL: https://newageislam.com/islam-women-feminism/muslim-woman-fighting-sharia-law/d/102477
---------
Muslim Woman Fighting Sharia Law In Europe
15 April, 2015
I just learned about the case from the invaluable Religion Clause blog (Prof. Howard Friedman), but the best source I could find was an March 3 World Crunch adaptation of a Le Monde story. Here's an excerpt:
When her husband died in March 2008, [Shatitzeh] Molla Sali inherited everything through his will, a Greek document registered at a notary's office. But her in-laws immediately challenged the bequest with the local mufti — a Muslim jurist and theologian — in the name of Sharia law, which forbids Muslims to write wills.
Molla Sali took the matter to a civil court and won. But in a decision published in October 2013, the Greek Supreme Court established that matters of inheritance among the Muslim minority must be resolved by the mufti, following Islamic laws.
The reason for the persistence of Sharia law in a traditionally Christian country stems from the 1923 Treaty of Lausanne between Greece and Turkey, which aimed in part at protecting the Greek minority in Turkey and vice versa; two clauses provide,
The Turkish Government undertakes to take, as regards non-Moslem minorities, in so far as concerns their family law or personal status, measures permitting the settlement of these questions in accordance with the customs of those minorities….
The rights conferred by the provisions of the present Section on the non-Moslem minorities of Turkey will be similarly conferred by Greece on the Moslem minority in her territory.
But Sali's lawyer, is quoted as saying,
[T]he Lausanne Treaty does not mention Sharia law or muftis. It is the Greek state that interpreted things this way. In 1923, Turkish society in Ataturk's time was very progressive and secular. So Greece, which was a very conservative, Orthodox state, decided that reinforcing Islamic laws could help reduce Kemalist influence on the Turkish-speaking community in Thrace.
Molla Sali has appealed the decision to the European Court of Human Rights, and it will be interesting to see what the court decides.
http://www.washingtonpost.com/news/volokh-conspiracy/wp/2015/04/13/muslim-woman-fighting-sharia-law-in-europe/
---------
Most Suspected Child Abuse Cases in Ajman Involve Arab Families
15 April, 2015
AJMAN // Most cases of suspected child abuse reported to the emirate's police force last year involved Arab families who used corporal punishment to discipline their children.
A report by the Social Police Section at Ajman Police found that most of the 168 cases reported involved incidents of physical, psychological maltreatment and neglect of a child by families of Middle East descent.
"Child abuse involves all nationalities," said Capt Dr Mohammed Al Suwaidi, director of the SPS. "But most cases have been reported to the department by Arabs because Arab parents use discipline unfortunately instead of advice, guidance and compassion."
Discipline should be instructive and age-appropriate and should include positive reinforcement for good behaviour, said Capt Al Suwaidi.
"Parents have to pay attention on the part of advice and guidance and not use violence, which has negative effects on children."
The director said that any person who witnessed a child, or an adult, being exposed to violence from a parent, spouse or other relative, had the right to report it to police, who would then take the necessary legal action.
The number of cases last year, which also included domestic violence between spouses, was up on 2013 when officers dealt with 144 incidents. Capt Al Suwaidi said the rise was a result of increased public awareness of the SPS and how it can help.
"In the past, most people did not know about the availability of the Social Police Section and know that women can report when they face violence.
"We held a number of campaigns and distributed cards with a dedicated number for victims to call. The number of cases reported has increased, but that does not mean they did not exist, but the victims have become familiar with the department and begun communicating with us."
The UAE signed up to the United Nations convention on children's rights in 1997, which protects the rights of those under 18.
"We receive some child abuse cases from teachers at schools," said Capt Al Suwaidi. "After solving the case between parents and child, we do surveillance to check up on the child and his parents at school and home.
"Our goal is to maintain the family and protect the children."
Nora Hamdi, an Algerian mother of two, said that she used either physical punishment or strong words to discipline her children, depending on the problem and her mood.
"When I am in a bad mood and tired and not in a mood to give advice when my daughter hits her little brother or both make a fault, I hit them. When I am in a good mood, I use advice by telling them do this and don't do that, this is good and that is bad," said the 42-year-old, who also punished her children by depriving them of something they love or telling them off.
Omar Al Shamsi, an Emirati father of two boys, said he preferred to talk to his children rather than physically discipline them. "I deprive them of something they love and when they do the mistake more than twice I use a loud voice to control them."
http://www.thenational.ae/uae/courts/20150413/most-suspected-child-abuse-cases-in-ajman-involve-arab-families
---------
Underage Marriage Bid Foiled In Pakistan
15 April, 2015
LAHORE: Police foiled an attempt to send off (Rukhsati) a six-year-old girl with her 22-year-old groom in Dubai Town near Thokar Niaz baig here on Sunday.
Sumaira was married to a man thrice of her age because the girl's family was unable to repay a loan to the father of groom Khizer, Chuhng ASP Irfan Ali Samoon told Dawn while quoting girl's aunt.
"The bride is a Class-I student while the groom is a labourer at a farmhouse in Green Acres, Nawab Town," the ASP said adding that parents of the bride and the groom were among seven persons arrested for arranging the marriage.
A child rights activist had alerted the Nawab Town police about the marriage ceremony.
The ASP said that groom Khizer, his father Ijaz Husain, his mother, bride Sumaira, her father Abbas and stepmother and two other relatives were arrested.
The minor girl (bride) was later handed over to the Child Protection and Welfare Bureau.
He said that Sumaira was six-month-old when her mother had died and her father contracted the second marriage.
The families of the bride and the groom besides participants of the marriage belonged to a remote village of the Bahawalnagar district.
The ASP said that families of the minor girl and the youth had already completed rituals like Mehndi and solemnized Nikah while Rukhsati (sending off) was being held when the police intervened.
He said that dowry articles, including cloths and jewellery, besides food and catering items for Walima ceremony were also seized.
He said the minor girl was living with her aunt, but her father Abbas had taken her to Lahore about six months back to get her married with a person of his in-laws.
One of the participants told police that it was an exchange marriage.
Girl's father Abbas had contracted second marriage with the aunt of the groom some three years back and had committed to marrying her daughter in his in-laws.
Police had registered a case against the suspects under the Child Marriage Restraint Act on the complaint of the Child Protection and Welfare Bureau.
http://www.dawn.com/news/1175637/underage-marriage-bid-foiled
---------
Bangladesh Female Candidates Say Poll Symbols Show Gender Discrimination
15 April, 2015
Reserved councillor candidates of Dhaka north and south have complained of gender discrimination in allocating their election symbols for the upcoming city corporation polls.
The Election Commission has allocated 10 symbols for the reserved women councillor candidates; these are kettle, bird cage, tissue box, glass, betel leaf, glass bottle, radish, steel Almirah, grinding stone, and cane stool.
In a views-exchange meeting with the chief election commissioner yesterday, Shampa Basu, a candidate for ward 5 of Dhaka South City Corporation asked CEC Kazi Rakibuddin Ahmad why the EC chose these symbols.
"Is it not discriminatory?" she said.
"These symbols represent items generally used by women in household chores. But the female councillors will be public representatives. Allocation of such symbols means complete representation of the patriarchal mentality.
"This type of mentality should be changed," Shampa said.
Candidate Masuma Khatun Munni of Dhaka north ward 4 on April 12 also questioned the symbol allocation procedure.
She asked the CEC: "Why have these types of symbols been allocated for the female candidates? Is it a way to keep women inside home?"
Many other female candidates supported Shampa and Munni by shouting at the views-exchange meeting, which took place on April 12-13.
The CEC, however, did not respond to the questions of the female councillor candidates although he answered the questions from the male candidates present at the meeting.
http://www.dhakatribune.com/politics/2015/apr/14/female-candidates-say-poll-symbols-show-gender-discrimination#sthash.Wv2IZCZ1.dpuf
---------
Unschooled Afghan Girl, Somaya Amiri, Is Now One of Canada's Brightest Lights
15 April, 2015
From a miserable life to one of brightest lights of Canada; the story of a teenager Afghan girl who was unable to attend school due to fears of persecution by the Taliban militants but now she is among the 20 Canadian students sent to France to learn more about the First World War battle.
The 17-year-old Somaya Amiri went to Canada in October 2011 unable to speak English and having never attended school.
The decision by her family not to allow her to attend school was mainly due to fears that she could be attacked by the Taliban insurgents.
She is now visiting France to learn more about the First World War battle that saw the Canadian army push back the Germans over four blood-soaked days from April 9 to 12, 1917.
Growing up in war-torn Afghanistan, understandably, she didn't know much about the First World War, much less Canada's role in it before a Grade 11 social studies class.
Amiri told The Huffington Post Canada before departing for France "I knew about other wars, like the Soviets, Mujahidin and Taliban, those kind of wars mostly in my area. But not much about World War One or Two."
"There's a huge impact when you are affected by war more than when you just learn about it from textbooks. Just living in a country I had to leave because of the consequences of war, there's a huge difference," she added.
Amir said she applied for the Vimy Pilgrimage Award because of her background.
"I'm from a war-torn country and it's really important for me to educate myself and learn what is my responsibility as a leader in this generation. The things that happened in the past feel ongoing," she said, adding that "A lot of these things are still happening, a lot of hatred is still continuing."
Amiri was born in Behsud district of central Wardak which is a relatively volatile province in central Afghanistan with instability still persistent. Just this month, 31 members of Amiri's Hazara community were kidnapped.
"Until you are put in a very tough circumstance you don't realize how strong you are, how much you can stretch and how diverse experiences make you appreciate what you have now," she said.
Amiri said "Living in Afghanistan, I was like a whole different person. Coming to Canada, you find different parts of your identity and you learn how to become a stronger person and overcome challenges and hardships."
She also worked with a school counsellor to apply for a grant to start an adult-free afew months after arriving in Canada – after-school English Welcome Club.
"For me, it was so strange. How is this even possible? In my country you could never do something like that at such a young age. When she suggested it to me, I was just fascinated," Amiri added.
Amiri was one of 30 students to land a Loran scholarship, a $100,000 award for students who match academic success with service and leadership. The prize can be applied to any university she chooses.
https://www.khaama.com/unschooled-afghan-girl-is-now-one-of-canadas-brightest-lights-9383
---------
Iran To Appoint First Female Ambassador Since Islamic Revolution
15 April, 2015
Iran is to appoint its first female ambassador since the 1979 Islamic revolution, marking a breakthrough for women in government under the moderate president, Hassan Rouhani.
Marzieh Afkham, who is the country's first foreign ministry spokeswoman, will head a mission in east Asia, the state news agency reported. It is not clear to which country she will be posted as her appointment has yet to be announced officially.
Afkham will only be the second female ambassador Iran has had. Under the last shah's rule, Mehrangiz Dolatshahi, a three-time MP known for her advocacy of the family protection law, which gave women the right of divorce and child custody, became an ambassador to Denmark in 1976, a post she held until the revolution.
Women in Iran need the permission of their husband or legal custodian, such as their father, to travel abroad. The government is also reluctant to promote women who are single and not married. Afkham was reported to have married last year.
Rouhani said this week that he saw it as his government's duty to create equal opportunities for women and spoke against crackdowns by the religious police on women who push the boundaries of the mandatory hijab by showing their hair. But a decision to overturn discriminatory practices is not solely in his hands.
Gissou Nia, deputy director of the International Campaign for Human Rights in Iran (ICHRI), a leading rights group based in New York, hailed Afkham's appointment on Tuesday.
"This is certainly welcome news for women in Iran," Nia told the Guardian. "It is a positive step that the appointment has been made; we haven't had a female ambassador since the 1970s but it doesn't alleviate the ongoing concerns about pending legislation in the Iranian parliament that seeks to restrict women's role in the public sphere."
Sadeq Zibakalam, a prominent Iranian professor and commentator, said from Tehran: "This is a great decision and will pave the way for women being promoted to more senior jobs in Iran."
Despite a series of setbacks for women's rights after the Islamic revolution, women continued to hold government jobs. Afkham is a veteran of Iran's diplomatic service, having served in it for about 30 years as a ministerial aide and later as head of its public relations department.
In 2013, following the presidential election that brought Rouhani to power, Iran's new US-educated foreign minister, Mohammad Javad Zarif, appointed Afkham as his spokeswoman, the first Iranian woman to hold such a high-profile role that demanded regular contact with the press.
Women have held senior jobs in Tehran in the past but this is the first time a woman will lead a foreign mission in post-revolutionary Iran. Mansoureh Sharifisadr was chargé d'affaires, or deputy head of mission, in Japan. She is currently the director general of the foreign ministry's human rights and women affairs department.
The highest ranking position ever held by a women in the Islamic republic was that of a cabinet minister. Marzieh Vahid Dastjerdi was appointed under Rouhani's predecessor, the hardline Mahmoud Ahmadinejad.
Dastjerdi's appointment in 2009 as health minister drew nationwide interest but she fell out with Ahmadinejad within a few years and was sacked over her objection to inadequate funding for the importation of vital medicine while Iran was under international sanctions.
Since taking office, Rouhani has taken a softer line on gender equality, making clear heopposes segregation of men and women at universities or banning them from attending big sporting events alongside men. But he is yet to deliver on many of his promises. No women currently hold a ministerial role, though Rouhani has a few serving as his aides and vice-presidents.
In December 2013, in a rare example of a politician from a minority group being promoted in Shia-dominated Iran, a Sunni woman, Samieh Baluchzehi, who belongs to the country's Baluchi ethnic minority, was chosen as the mayor of a provincial city, Kalat.
Despite these achievements, Iran remains sensitive about the activities of women's rights activists, including those behind the one-million signatures campaign demanding the repeal of discriminatory laws. Many campaigners have been imprisoned, including the student activist Bahareh Hedayat, who is serving a sentence of nine and half years in jail.
Last month, the human rights group Amnesty issued a strong warning over two proposed bills being considered by the Iranian parliament, which seek to reverse the country's progressive laws on family planning by outlawing voluntary sterilisation and restricting access to contraceptives to increase Iran's population. Amnesty said the move would set Iranian women back by decades and reduce them to "baby-making machines".
Although women can vote and drive in Iran, discriminatory laws persist. Women are required to wear the hijab and in court their testimony is worth only half that of a man.
Mohammadreza Jalaeipour, a former political prisoner and activist, said:
"Rouhani has stepped up his rhetoric for gender quality, which is a good move, but we need to see more women in ministerial, or even middle-ranking political jobs, such as governors and political directors."
http://www.theguardian.com/world/2015/apr/14/iran-marzieh-afkham-first-female-ambassador-since-islamic-revolution
---------
British-Pakistani Novelist Shamsie Among 6 Shortlisted For Baileys Women's Prize For Fiction
15 April, 2015
British-Pakistani novelist Kamila Shamsie is among six contenders shortlisted for the 2015 Baileys Women's Prize for Fiction.
Shamsie has been shortlisted for her novel A God in Every Stone published in 2014, according to Baileys Women's Prize for Fiction website.
A powerful story of friendship, injustice, love and betrayal, the story follows a young Englishwoman, Vivian Rose Spencer.
In the summer of 1914, Spencer finds herself fulfilling a dream by joining an archeological dig in Turkey. Working alongside Germans and Turks, she falls in love with archaeologist, Tahsin Bey, and joins him in his quest to find an ancient silver circlet. The outbreak of war in Europe brings her idyllic summer to a sudden end, and her friends become her nation's enemies.
This is Shamsie's sixth book to be shortlisted for the title.
The novelist was named to Granta magazine's list of best young British novelists in 2013 – a once-a-decade roster with a reputation for predicting literary stars.
Taking to social networking site Twitter, the novelist wrote, "This is truly excellent company to be in."
The books shortlisted include, Rachel Cusk's Outline, Laline Paull's The Bees, Kamila Shamsie's A God in Every Stone, Ali Smith's How to be Both, Anne Tyler's A Spool of Blue Thread and Sarah Waters' The Paying Guests.
According to Telegraph, the chair of the judges Shami Chakrabarti described the panel's deliberations as "heart-rendingly difficult but always as warm and collaborative as they were robust".
http://tribune.com.pk/story/869775/kamila-shamsie-among-6-shortlisted-for-2015-baileys-womens-prize-for-fiction/
---------
Muslim Taxi Driver Ordered To Pay Lesbian Couple $10k For Telling Them To Stop Kissing
15 April, 2015
NEW YORK: A Muslim cab driver has been ordered to pay a lesbian couple $10,000 for telling them to stop kissing in the back of his taxi, a city judge ruled last month.
Mohammed Dahbi, a yellow cab driver in New York City was accused of discriminating against the couple over their sexual orientation by ordering them to "keep that [behaviour] for the bedroom or get out of the cab."
The passengers, Christy Spitzer and Kassie Thornton were reportedly abused with foul language being called names when they decided to get out of the taxi without paying.
The taxi driver was also ordered to attend anti-discrimination training and to pay a $5,000 civil penalty to the city. However, the city's Commission on Human Rights, which brought the complaint against Dahbi on behalf of Spitzer and Thornton, still must approve the judge's decision.
"We felt that what happened to us was wrong and he needed to take responsibility for his actions," Spitzer, a TV executive, told DNAinfo New York on Friday.
The incident occurred on September 18, 2011, after Spitzer and her dog climbed into Dahbi's cab at Columbus Circle and drove south to pick up Thornton in Chelsea. When they arrived in Chelsea, Thornton, who had been traveling, put her luggage in the taxi's trunk, and Dahbi began driving them to Thornton's home in Sunset Park.
The women testified at the trial that, at West 15th Street in the Meatpacking District, the cab driver told them to stop kissing and "save that behavior for the bedroom."
Dhabi, during the hearing claimed that he couldn't keep his eyes on the road and was distracted because Spitzer and Thornton were kissing "heavily" and "touching all over each other."
Dahbi further told the judge that he found their behaviour "distracting" and feared it would make him have an accident.
Spitzer and Thornton both testified at the trial that they had just kissed each other with a "peck on the lips."
Spitzer also told DNAinfo that she was certain it was only a light peck because she had just had massive dental work done.
"That's why I'm so aware of what my behaviour was in the taxi," she informed.
After Dahbi gave his ultimatum to get out of the taxi, Thornton told him that he was discriminating against them because they were gay, according to the decision.
"Don't make me out to be an a–hole," Dahbi responded to her, the decision said.
Thornton told the judge that after that comment she didn't feel comfortable, so she got out of the cab, grabbed her luggage and left.
Spitzer followed shortly after with her dog, according to the decision.
When the women refused to pay him the fare to that point, he hurled expletives at them and sped away.
Dahbi, a married father of four who has been a cabbie for the past 17 years, said at his trial that he was not discriminating against the women because they were gay.
He further told the judge that for the last few weeks he had been volunteering at a food pantry for a charity called Metropolitan Community Church, which served many gay homeless individuals.
Shocked at the news, many took to social media to express their views and concerns about the taxi driver's alleged behaviour.
http://tribune.com.pk/story/869698/muslim-taxi-driver-ordered-to-pay-lesbian-couple-10k-for-telling-them-to-stop-kissing/
---------
181 Women Prisoners Confined In Three Sindh Jails: Report
15 April, 2015
ISLAMABAD: The Sindh Police informed the Supreme Court on Monday that 181 female inmates were confined in three jails of the province.
The sou moto case regarding the miserable conditions of women prisoners in Pakistani jails is being heard by a three-member bench of the apex court, headed by Justice Saqib Nasir.
During the hearing IG Sindh jails submitted a report stating that capacity of female inmates in the jails was 510 but presently, 181 women were confined in three jails of the province.
According to the report, out of the total 181 female inmates, 96 were detained in Karachi Central Jail, 47 in Hyderabad Women Jail whereas 38 in Larkana jail.
It was also revealed that 35 children, along with their mothers, were being kept in these jails.
Under the law, a mother is authorised to keep her less-than-6-year-old kids with herself.
The Sindh Police in its report said there was no social welfare department in the province to look after these children. However, one NGO, run by former Supreme Court judge Nasir Aslam Zaid, is taking measures for the welfare of these detained children, the report added.
During the previous hearing on Wednesday, Punjab Police told the Supreme Court that there were 823 inmates with 175 of them females in different prisons in Punjab and Khyber-Pakhtunkhwa (K-P), respectively.
http://tribune.com.pk/story/869332/181-women-prisoners-confined-in-three-jails-in-sindh-report/
---------
Meet Israel's Only Female Muslim Bus Driver
15 April, 2015
Suhaila Fadila says she always liked to drive. 'I'm a devout Muslim, but I didn't need permission from anyone in order to accept the job.'
Even in 2015 Israel, female bus drivers are a rare sight – not to mention female Arab bus drivers. And yet there is one: Suhaila Fadila, 44, a mother of four, who has been driving for the past three years.
A resident of the town of Tira in the Galilee Triangle, Fadila is a devout Muslim who wears a Hijab, makes sure to dress modestly and drives a Metropoline bus in Kfar Sava. The Metropoline company provides service in an area including Be'er Sheva and Tel Aviv, along with other destinations in the southern and central parts of the country.
"I'm very familiar with that city from the days when I worked with my husband in his driving school," she says. "And Metropoline doesn't operate in Tira."
How did you become a public transportation driver, of all things?
Fadila: "I've always liked to drive, and when my husband decided to get a bus driver's license I asked – Why not me?"
Together with her husband Fadila passed the tests and began a long training period that included both theoretical and practical aspects of the profession; her husband's presence enabling her to continue to study, a lone woman among men. Her husband went on to teach driving, and meanwhile Fadila was hired as a rank-and-file driver – five days a week, seven hours a day.
"They are very willing to compromise," says Fadila of her employers. "I can't work on Fridays, so they didn't insist, and when it comes to clothing they're meticulous only about the colours – black and purple. So my clothes are black, and my hijab is purple." While Metropoline provides clothing for men and for other women drivers, she buys her own in order to meet the demands of her religion, usually sporting an elegant black skirt over black pants.
Fadila's job is even more surprising in light of Central Bureau of Statistics data showing that the vast majority of Muslim women in Israel do not work at all. In 2012, the employment rate among Muslims who were at least 15 years old was 44.5 percent: 65.2 percent among men and a mere 23.7 percent among women. The latter figure was significantly lower than that relating to working Jewish (64.3 percent), Christian (48.1 percent) and Druze (36.7 percent) women.
New dream
During the three years Fadila has been working for Metropoline, she has become well integrated in the work force; she even won a cake-baking contest held in honor of the Shavuot holiday once.
"To this day they ask me to bring 'that' cake," she says. "Like driving, food is also a hobby."
To arrive at work on time, at precisely 6:45 A.M., Fadila rises every morning at 5 A.M., prays, gets organized and leaves the house at 6. Her husband wakes up their 14-year-old son (their three other sons are already adults and have moved out) and sends him off to school.
Fadila explains that everyone in her surroundings accepts the fact that she is working as a bus driver, and adds that she was not required to consult any religious authority before starting out.
"I'm a devout Muslim, but I didn't need permission from anyone in order to accept the job," she notes. "I know exactly what's permitted and what's forbidden – for example, I would not get into a cab where there are only men. That's why I drive to work in my own car. I also know that there's no prohibition against driving a bus."
In a country where relations between Jews and Arabs are often tense, Fadila is a ray of light. To date she reports that she encountered reactions stemming from her external appearance on only two occasions: once when two female soldiers stood at the door to the bus and one said to the other: "You're not boarding this one."
"It happens rarely," she adds, "and I only smile and continue on my way. Basically there's no problem with the passengers, some of whom are regulars, and some incidental. We all live together."
During the trip around Kfar Sava it turns out that the passengers really don't seem to react to the driver who looks so different from her colleagues: "She's 100 percent, even 1,000 percent – there's nothing to be afraid of," says one of the regular riders, an elderly man from Sde Warburg.
Metropoline CEO Ilan Karni is also pleased by her work: "Suhaila is an example of a professional driver with a service orientation and a big commitment to her passengers."
Fadila sees herself as a model not only for young women from Arab society, but for other drivers as well. "We drivers in Israel lack a culture of respect for one another," she says. "Everyone pushes, cuts in, isn't careful. We have to live in peace on the road too."
Although Fadila likes her job, she has already set her sights on another dream: "I told my husband that I want to be a train conductor. I believe that will happen too."
Apparently, Fadila will soon lose her unique status: The finance and transportation ministries will soon be jointly offering a course to teach some 30 Arab women how to drive a bus, in light of the overall shortage of drivers in the country. The pilot program is being conducted by Nateev Express, a transportation company owned by the Afifi family, and they are now recruiting participants. The theoretical and practical training will last for six months, and the participants will receive a stipend of 1,500 shekels ($377) per month.
http://www.haaretz.com/news/national/.premium-1.651711
---------
Burka Avenger Swoops Into India To Empower Girls
15 April, 2015
A female cartoon superhero who dons a Burqa to tackle crimes against girls and other social ills is bringing her message of women's empowerment to India, Burka Avenger's creator Haroon said.
The Emmy-nominated series started in August 2013 and has since launched in Afghanistan, winning global accolades including the Peabody Award, International Gender Equity Prize and Asian Media Award.
Its main protagonist, a teacher called Jiya – who tackles everything from the ban on girls going to school, to child labour to environmental degradation – was named as one of the most influential fictional characters of 2013 by Time magazine.
The series' creator and director Haroon Rashid said Burka Avenger would launch in India in April with the Zee Network and will be broadcast in four languages – Hindi, English, Tamil and Telgu.
"It is launching on the ZeeQ channel which is a children's edutainment channel so it is the perfect fit for 'Burka Avenger'," Haroon said in a statement late on Monday.
"We are rolling out a worldwide launch for the Burka Avenger series this year so it is fantastic that one of the first territories is India where we are able to reach such a large audience."
Commentators say the ironic symbolism in the cartoon – where the burka, often seen as a form of subjugation is used as a form of empowerment, and that Jiya uses books and pens as projectile weapons – is a creative way of capturing viewers' attention.
Aparna Bhosle, deputy business head of ZeeQ, said each of the 13 episodes in the first series gives a positive message with fun, action and comedy, ensuring that "it does not come across as preachy".
"Burka Avenger is an amazing show – both in terms of quality of animation as well as storytelling. We are always on the lookout for shows with themes that are relevant to Indian children and we are very fortunate that we have this show," said Bhosle.
http://tribune.com.pk/story/869765/pakistans-cartoon-burka-avenger-swoops-into-india-to-empower-girls/
---------
URL: https://newageislam.com/islam-women-feminism/muslim-woman-fighting-sharia-law/d/102477