New Age Islam News Bureau
25 Jul 2012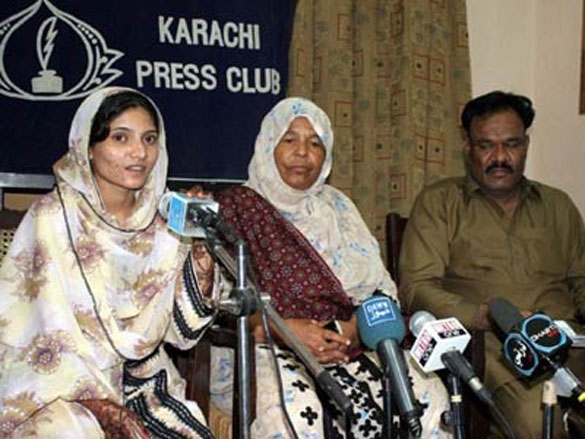 • African man 'raped to death' by 5 'jealous wives'
• Protect Me from My Parents, Girl Who 'Freely' Converted To Marry
• Malaysia women in constant fear of violence
• Fast-changing fashion trends leave women clueless
• For First Time, Women from Every Nation Ready To Rock Olympics
• Domestic violence against women increased in 2011
• Colorado shooting victim's wife has baby, 7 victims still critical
• Olympics scam: FIA arrests wanted human smuggler Madam Babri
• Women boxing clever in Afghanistan
• Himayat opens new doors for women of Kashmir
• Pregnant Malaysian shooter eyes Olympic gold
Compiled by New Age Islam News Bureau
Photo: Protect Me from My Parents, Girl Who 'Freely' Converted To Marry
URL: https://newageislam.com/islam-women-feminism/indian-law-vs-personal-law/d/8039
-----------
Indian Law Vs Personal Law: A Muslim Child Marriage Focuses Debate
By G Pramod Kumar
Jul 25, 2012
The recent incident in Tamil Nadu where a district collector prevented the marriage of a minor Muslim girl that led to communal protests brings to fore, yet again, the conflict between Indian law and personal laws.
Reportedly, the collector prevented the marriage of a 17 year old girl in Perambalur district in central Tamil Nadu to a 36 year old man since she was not of marriageable age. The groom was sent to judicial custody while the girl was sent to a remand home.
Local community leaders went up in arms saying that the action was a violation of their personal law. Apparently further agitation is brewing with the support of the Indian Union Muslim League (IUML).
The Collector took action under the Prohibition of Child Marriage Act 2006 (PCMA) which prohibits marriage of a girl under 18 or a boy less than 21 years of age. However, the Act provides for certain flexibilities that can in effect neutralise a major part of the effectiveness of the law.
Although the protestors are arguing on the basis of their personal law, or more precisely the Sharia, they need not have taken a communal angle. In legal terms, the marriage is not void unless the girl has a complaint.
As per Section 3 of the Child Marriage Act, the marriage is "voidable at the option of the contracting party who was a child at the time of the marriage," which means that in this case, only the girl has the right to ask for an annulment of the marriage.
In fact, the same section also prescribes that the petitioner should be the same person who was a child at the time of marriage.
Under section 13, courts also have the power to issue injunction prohibiting child marriages. States sub section (1):
Notwithstanding anything to the contrary contained in this Act, if, on an application of the Child Marriage Prohibition Officer or on receipt of information a Metropolitan Magistrate is satisfied that a child marriage in contravention of this Act has been arranged or about to be solemnised, such Magistrate shall issue an injunction against any person including a member of an organisation or an association of persons prohibiting such marriage.
The sub-section further states:
(2) A complaint under sub-section (1) may be made by any person having personal knowledge or reason to believe, and a non-governmental organisation having reasonable information, relating to the likelihood of taking place of solemnisation of a child marriage or child marriages.
In this case, it is not clear if the collector took the decision on his own or on complaint from the girl. If the girl has filed a petition, then both the groom and the parents are punishable by imprisonment up to a period of two years and fine up to Rs one lakh. Even those who colluded or participated in the process are punishable.
The collector is steadfast on the issue. In view of the practice of child marriage in the region, he has so far foiled more than 100 such incidents and has also advised schools to keep a tab on girl children dropping out or seeking transfer certificates.
Interestingly, as the provisions of the Child Marriage Act shows, the argument of the Islamic activists to communalise the issue is misplaced. There is no need to argue the case as a violation of Muslim personal law because the same is applicable to Hindu marriages as well. It is an issue of the age of the girl or the boy.
"There is no need for any communal colour or targeting any particular community here," says Geeta Ramaseshan, senior lawyer at the Madras High Court. "A lot of Hindu marriages in India also involve minors," she says.
Child marriage, or marriage of girls under 18, is rampant in India. Communities, irrespective of their religions, even argue that if one goes strictly by the law, a large number of marriages in the country are fit to be annulled, which will have dramatic consequences on the lives of women, ranging from inheritance of property to maintenance of families and children.
The lacunae in the law, the justification of traditional practices in the name of caste and religion, the inability of the victims to protest, as well as lack of awareness keep this shameful practice going. Efforts of lonely rangers such as Dr. Darez Ahmed, the district collector of Perambalur, are the exceptions that need to be multiplied.
http://www.firstpost.com/india/indian-law-vs-personal-law-a-muslim-child-marriage-focuses-debate-390706.html
-----------
African man 'raped to death' by 5 'jealous wives'
Jul 25, 2012
London: A wealthy Nigerian businessman was 'raped to death' by five of his wives because he was paying too much attention to the sixth one.
Uroko Onoja from Ogbadibo was having sex with his youngest wife when the remaining five reportedly set upon him with knives and sticks and demanded him to satisfy each of them too.
According to Nigeria's Daily Post, Onoja, who went on to have intercourse with four of his wives in a marathon sex session, 'stopped breathing' as the fifth wife was making her way to the bed, the Daily Mail reported.
Two women have been arrested in the wake of 'extraordinary' incident last week.
The businessman, who is understood to have returned from a bar at around 3 am on Tuesday, headed for the bedroom of his youngest wife.
His other wives, who were said to have held a meeting to discuss their intentions before their husband arrived home allegedly, ambushed Onoja for their conjugal rights.
Although the businessman tried to resist the group's demand, they eventually overpowered him.
He could not be resuscitated once he stopped breathing during the continuous forced sex session.
His youngest spouse revealed that her five fellow wives ran into the forest when they realized their husband was dead.
http://timesofindia.indiatimes.com/world/mad-mad-world/African-man-raped-to-death-by-5-jealous-wives/articleshow/15137951.cms
-----------
Protect Me from My Parents, Girl Who 'Freely' Converted To Marry
July 22, 2012
KARACHI: A seemingly underage girl, Hawa Bibi, who claimed that she converted to Islam to marry her current husband, has asked the government to protect her and her in-laws from her parents, who had registered a case against them.
Wearing a pretty Baloch dress, Hawa said during a press conference at the Karachi Press Club that she was a Dalit before she converted to Islam on July 9. She said that her previous name was Heerki, and she said that she was the youngest among her nine siblings. The girl's highly polished computerised national identity card, however, mentioned her date of birth as January 1, 1985. She presented her father's name as Babu Bheel.
The newlywed couple hail from Essar Pura, Shaheed Benazirabad district. Hawa's family reportedly lived near Baloch's family, and used to visit them quite often. "She was highly enthusiastic about Islamic customs, and insisted that I help her convert to Islam," said Hameeda Baloch, Amir's mother. "I advised her to ask parents first. We have not forced her to change her religion. There was also no love affair involved."
"Bibi wanted to convert to Islam, and Hameeda gave her shelter. Hawa is not underage," said Rao Faheem, a social worker who accompanied Hawa and her in-laws at the press conference.
"My mother asked me to marry her, and I could not deny her orders. Hawa is nearly eight years older than me, but I accepted her as my wife because she changed her religion," said Amir, who is a rickshaw driver.
Faheem claimed that a fake case was registered against the Baloch family, and that the police were "creating problems" for the couple.
Bibi just replied that Islam is a good religion. "It is my own wish and no one had forced me to change my religion. I am happy with my new life," she added.
Zeenat Naz, Amir's aunt and the Pakistan Peoples Party's ladies wing president for Keamari, said that all possible protection should be provided to the couple. "I will ask party leaders to help them."
Forced conversions
The issue has prompted much debate in Pakistan. Similar incidents involving Rinkle Kumari and Dr Lata Kumari caused outrage in some segments of society a couple of months back.
Human Rights Commission of Pakistan's Amarnath Motumal had claimed that "[Nearly] 20 to 22 girls are converted every month [in Sindh]," but their families do not go public as they fear the incident will ruin their reputation. Rinkle's family, who hailed from Mirpur Mathelo, managed to organise a sizeable public response to the situation, and her case went all the way to the Supreme Court.
The National Assembly's standing committee on national harmony decided on July 16 to forward its recommendations to forced conversion laws already on the books to the law ministry. Some of the key recommendations included prescribing life sentences, as well as financial penalties, for those found involved in the practice. The victims should also have access to a place where they could think about the issue without any pressure from outside groups. Commissions should be established in provinces where such complaints could be brought up.
A resolution against forced conversion was also moved by minority MPAs in the Sindh Assembly and it is still in the doldrums. Saleem Khursheed Khokhar and Pitamber Sewani argued in the resolution that a ban should be imposed on forceful conversions and proposed strict punishment against those people found involved in the practice.
However, in a legal setback, a three-member Supreme Court bench comprising Chief Justice Iftikhar Muhammad Chaudhry, Justice Jawad S Khawaja and Justice Khilji Arif Hussain dismissed a petition filed by the Pakistan Hindu Council in May 2012. The council had asked the court to direct relevant authorities to promulgate a law making forceful conversions a cognisable offence. The bench, in its ruling, cited Article 20 of the constitution, which protects religious freedoms of citizens.
http://tribune.com.pk/story/411459/protect-me-from-my-parents-says-girl-who-freely-converted-to-marry-muslim-man/
-----------
Malaysia women in constant fear of violence
Alisha Hassan | 25 July 2012
KUALA LUMPUR: A new reported incident of violence against women in Malaysia has again highlighted what women here say is more police action and a social campaign to help end violence directed at the female population in the country.
"We are stuck in this continued struggle between action and violence and the violence is winning," said single 25-year-old interior designer Amara Mahammad, who told Bikyamasr.com that "without stiffer penalties towards men who use violence against women, it won't get better."
Her comments came after local newspaper Harian Metro reported that a husband brutally attacked his wife with a rolling pin, beating her repeatedly before pushing it into her genital area.
The incident happened at the couple's home in Jalan Sultan Abdullah in Teluk Intan, Perak, on Monday after the 37-year-old man came home drunk and accused his wife, 36, of having an affair.
After she went unconscious, police reported that he sexually assaulted her and then fled the scene.
The woman was taken to a local hospital where she was treated for her injuries. The husband has been arrested.
But with more and more reports of spousal abuse and violence against women at car parks in the country, numerous Malaysian women are fearful that the government is not doing enough to counter the rise in attacks.
"We need something to be done in this country because the reports are becoming an almost every day occurrence and it is frustrating," added Mahammad.
She said that she refuses to go out in public after sunset without a group of friends for fear she could be attacked.
"The government and the police need to act quicker and make something change," she argued.
For many women, young and old, the violence being perpetrated against Malaysian women is becoming a debilitating situation where they fear walking out of their homes.
http://www.bikyamasr.com/73645/malaysia-women-in-constant-fear-of-violence/
---------
Fast-changing fashion trends leave women clueless
July 25, 2012
ISLAMABAD: Fast-changing fashion trends have left women in a fix to adjust themselves according to latest fashion; however, the issue is becoming more of an economic liability than giving them a sense of being trendy.
For women, fashion does not necessarily mean glamour, or the urge to follow the current trends, it is more a way of life, a reflection of inner beauty, where the intellect shines through, complete with comfort quotient. Fashion not only highlights the social history and the needs of women, but also the overall cultural aesthetic of the various periods. The evolution of fashion dates back to several hundred years and as our attitude and culture change, fashion comes along with it.
But a major problem that women today are experiencing is that fashion changes so rapidly they do not know what to do with their 'short shirts' when long shorts are in fashion or what to do with their long shirts when short shirts are in fashion. Talking to APP, Fatima, a student, said rates of tailors are increasing day by day and they charge Rs 350 for an ordinary suit. One can imagine the price paid to a tailor in case of a suit, which depicts latest fashion trends, she added.
The fashion business is one of the most imaginative and busiest activities in Pakistan. Salons, beauty parlours and clothing outlets are found in every street and corner. When it comes to textile and embroidery, it is one of the industries in which Pakistan excels.
Shamsa, who runs a fashion house in Chaklala, said the seasonal cloth comes out in a variety of patterns and designs, usually worn mix and match, and for those who like to be different solid colours are adorned with block prints, screen-printing or are hand painted to add exclusivity.
She said fashion in Pakistan is not only restricted to the upper class but also maidservants and the shopkeepers have an aesthetic fashion sense.
Weddings, events, festivals and parties are a display of the hottest trends, she added. The word fashion instantaneously brings to mind a flash of colour with a dash of glamour. Women are taking to fashion in a big way, and are experimenting with different looks, styles, and textures. Fashion plays an increasingly important role in an individual's life because it is considered a means of self-expression.
The garments and accessories that women wear, help them to identify with a group of others - whether it is a lifestyle, profession, a religion, or an attitude. Thus, the term "fashion" has become synonymous with the overall growth of the country as well.
http://www.dailytimes.com.pk/default.asp?page=2012\07\25\story_25-7-2012_pg7_25
-----------
For first time, women from every nation ready to rock Olympics
By Scott Stump
Jul 25, 2012
When Frenchman Baron Pierre de Coubertin spearheaded the first modern Olympics in 1896, he excluded female competitors, saying it would be "impractical, uninteresting, unaesthetic, and incorrect.''
It may have taken 116 years, but every nation participating in this year's Olympics has offered a direct rebuttal to that antiquated opinion. "The Year of the Women'' may be upon us in London.
For the first time in Olympic history, all 205 countries participating will send at least one female competitor. Brunei, Qatar and Saudi Arabia are sending women for the first time, while the United States will have more women (269) than men (261) for the first time in history. That's a far cry from 1900, when women first competed in the Olympics in Paris and comprised all of 22 athletes out of the 997 overall competitors.
While sprinter Allyson Felix, swimmer Missy "The Missile" Franklin and a star-studded U.S. gymnastics team may grab the spotlight in London, Afghan sprinter Tahmina Kohistani is one of the athletes most emblematic of the strides made by female Olympians. The 22-year-old is only the third woman in the history of her war-torn nation to compete in the Olympics, and the only female on its team this year.
Full report at:
http://todayinlondonblog.today.msnbc.msn.com/_news/2012/07/24/12926129-for-first-time-women-from-every-nation-ready-to-rock-olympics?lite
-----------
Domestic violence against women increased in 2011
July 25, 2012
LAHORE: The number of reported cases of domestic violence against women in Pakistan witnessed a rising trend in 2011, and innumerable more unreported incidents and cases; yet the state has consistently refused to give legal recognition to this serious and deep-rooted issue.
These were opening remarks of a report titled 'VAW (Violence Against Women) in Pakistan — a qualitative review of statistics 2011', launched by the Aurat Foundation.
This state of affairs continues to perpetuate the public/private divide, as some people think whatever happens at home should not be brought into the public realm.
However, by the state remaining a silent spectator, and the law enforcing mechanism passive on this issue, such violence is overlooked by the government and society.
Treating domestic violence as a private affair has given protection to perpetrators and has led to the victimisation of women.
The report revealed that a total of 8,539 VAW cases were reported in Pakistan in 2011, which is 6.74 percent higher than the cases reported in 2010.
In 42.78 percent cases, the victims were married women whereas almost 39 percent were unmarried and 1.46 percent were widows or divorced.
Full report at:
http://www.dailytimes.com.pk/default.asp?page=2012\07\25\story_25-7-2012_pg13_6
-----------
Colorado shooting victim's wife has baby, 7 victims still critical
Jul 25 2012
AURORA : A 21-year-old woman who escaped injury in the Colorado theater shooting rampage gave birth to a baby boy on Tuesday while her husband was in the same hospital in a medically induced coma with a gunshot wound to the head.
Katie Medley and her husband, Caleb, both wearing Batman apparel, at a showing of The Dark Knight Rises in the Denver suburb of Aurora when a gunman clad in tactical body armor, helmet and gas mask opened fire during a midnight showing early on Friday. Twelve people, including a 6-year-old girl, were killed and 58 wounded.
Twenty people remained hospitalized on Tuesday. Seven were in critical condition and two in serious condition.
James Eagan Holmes, 24, was arrested behind the theater shortly after the massacre and was in court for the first time on Monday, appearing dazed and sleepy. At the hearing, the judge set a date of next Monday for formal charges to be filed.
The judge ruled on Tuesday that no cameras would be allowed in the courtroom when Holmes is charged. Holmes' initial appearance on Monday was televised.
Full report at:
http://www.indianexpress.com/news/colorado-shooting-victims-wife-has-baby-7-victims-still-critical/979179/
-----------
Olympics scam: FIA arrests wanted human smuggler Madam Babri
July 25, 2012
LAHORE: The Federal Investigation Agency (FIA) conducted a raid and arrested Madam Babri, a human smuggler with seven cases registered against her, for scamming people out of millions with fake Olympics visas, Express News reported on Wednesday.
Madam Babri used newspaper advertising spaces for her scam. Complainant Abdul Sattar went to the FIA with the ad from the newspaper and told them that the woman had taken Rs1, 500,000 as fee for five people at Rs300, 000 each. He told the FIA that he did not get a visa in return.
The FIA conducted a raid on this tip-off and managed to arrest Madam Babri and also recovered five passports from her possession.
Earlier, the FIA arrested 11 suspects believed to have been involved in a fake passport scam carried out by a Lahore-based politician and other officials.
UK-based tabloid The Sun had claimed to have unearthed a scam on Monday, involving a "Lahore-based politician" and other officials, wherein Pakistani nationals were brought into England under the garb of participants and officials accompanying the Pakistani Olympics delegation for the summer 2012 games – set to start on Friday.
http://tribune.com.pk/story/412827/olympics-scam-fia-arrests-wanted-human-smuggler-madam-babri/
-----------
Women boxing clever in Afghanistan
Alex Ritman
Jul 25, 2012
The issue of female athletes from conservative Muslim countries is one that has hit the headlines in recent weeks. A group of female boxers from the region have already created quite a stir by becoming the stars of a recent award-winning documentary.
The Boxing Girls of Kabul, which picked up the Inspirit Foundation Pluralism prize at the Hot Docs festival in Canada in April, follows the 18-year-old aspiring boxer Sadaf Rahimi, along with her older sister Shabnam and fellow female pugilist Shahla as they train and compete in Afghanistan, where the Taliban once forbade women from entering sports. "They're extraordinary girls," says the Canadian director Ariel Nasr, who has been working in Kabul off and on for the past three years. "But they're really just boxing because they want to be boxers; they're not trying to be political."Having heard about the girls back in 2007, Nasr says he was immediately interested in making a documentary.
Full report at:
http://www.thenational.ae/arts-culture/film/women-boxing-clever-in-afghanistan
-----------
Himayat opens new doors for women of Kashmir
SMRITI KAK RAMACHANDRAN
July 25, 2012
A programme to help youth with no college education find work has palpable effect on the ground
Six months ago, Parveena Bano's notion of the world beyond the Banihal Tunnel — the only link between Kashmir and the rest of the country — was drawn from television, and her imagination.
Now, having conquered the challenges of living away from home for the first time, in a place where everything from the language, the food and even the weather were strange, the young woman has been transformed into an icon for emancipation and empowerment.
In December 2011, Ms. Bano, who was born in Baramulla, was among the hundreds of jobless youngsters chosen for a government-backed training-cum-job scheme called Himayat and groomed for a business process outsourcing job.
Himayat, meaning support, was started by the Union Rural Development Ministry to help youngsters with no college education find work. The programme has emerged as a platform for women's empowerment.
Full report at:
http://www.thehindu.com/news/national/article3679595.ece
-----------
Pregnant Malaysian shooter eyes Olympic gold
By Jonah Fisher
Nur Suryani Mohamed Taibi talks to her unborn baby before she competes
It is one of the first events of the London Olympics on Saturday morning, but the 10-metre women's air rifle could also be among the most sensational.
Nur Suryani Mohamed Taibi, a shooter from Malaysia, will compete at the Royal Artillery Barracks while eight months pregnant.
At least three expectant mothers have competed at the Olympics before, but Suryani, as she likes to be known, will easily be the most pregnant athlete to have taken part.
"Since I started shooting in 1997, I've been dreaming of going to the Olympics," she said, after a morning training at Malaysia's National Shooting Range on the outskirts of Kuala Lumpur.
So when in January Suryani discovered that she was pregnant, her first thought was that her London ambitions were over.
Full report at:
http://www.bbc.co.uk/news/world-asia-18970859
--------
URL: https://newageislam.com/islam-women-feminism/indian-law-vs-personal-law/d/8039