New Age Islam News Bureau
23 April 2022
• Malaysian Anita Yusof, First Muslim Woman Biker Looks To Spread Message On Women Empowerment
• At Least A Dozen Mosques In Hyderabad Maintain Privacy For Women During Taraweeh
• How 'Powerhouse For Humanity' Bilquis Edhi Changed Lives Of Pakistani Orphans
• Google Doodle Honours Naziha Salim, Iraq's Most Prominent Contemporary Artist
• Women In Pakistan Suffer Unabated Killings For 'Family Honour'
Compiled by New Age Islam News Bureau
URL: https://newageislam.com/islam-women-feminism/haj-committee-india-munnawari-mafuja/d/126846
--------
Haj Committee Of India Gets First Women, Munnawari Begum And Mafuja Khatun As Top Office-Bearers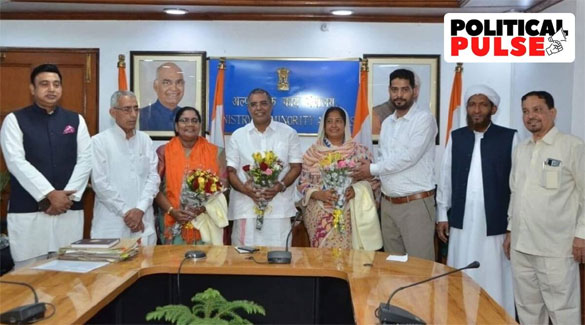 A P Abdullahkutty, Munnawari Begum and Mafuja Khatun after being elected as members of the Haj Committee of India. (Twitter/@a_abdullakutty)
------
April 23, 2022
BJP leader from Kerala A P Abdullahkutty was on Friday elected the chairperson of the Haj Committee of India while party colleagues Munnawari Begum and Mafuja Khatun were chosen as vice-chairpersons.
It's for the first time the panel will have women as top office-bearers.
While Begum has been with the saffron party for more than two decades, Abdullahkutty and Khatun joined the BJP relatively recently. The two were colleagues earlier as well, both rising through the ranks, in the CPI(M).
A national vice-president of the BJP, Abdullahkutty began his political career with the Student Federation of India, the CPI(M)'s student wing, and rose to become its Kerala unit president in 1998.
A former Member of Parliament from Kannur, he swung into prominence when he defeated Kerala Congress chief Mullappally Ramachandran in the Lok Sabha polls — first in 1999 and then in 2004. Kannur has around 30 per cent Muslim population.
In 2009, however, Abdullahkutty fell out with the CPI(M) leadership, one of the reasons being his praise for Narendra Modi's 'Gujarat model'.
Expelled, he joined the Congress the same year and continued to rack up victories in Assembly elections, until 2016, when he lost from Thalassery. Three years later, he joined the BJP.
Mafuja Khatun, a two-time CPI(M) MLA from Kumarganj in West Bengal's South Dinajpur district, joined the BJP in 2017.
Barely six months after her joining, the party recognised her organisational skills and elevated her as the vice-chief of its minority morcha in the state. She is now the party's Bengal unit vice-president, the first Muslim woman to hold the post.
Known for her fiery speeches, Khatun is hugely popular in Muslim-dominated areas of the twin districts of Dinajpur and Murshidabad.
The BJP's hope to create and expand its base among the state's Muslim voters, particularly women, she fought the 2019 General Election from Murshidabad's Jangipur seat.
Although she lost — she was pitted against Congress candidate Abhijit Mukherjee, the son of former President Pranab Mukherjee — Khatun earned fame for being the first Muslim woman ever to be fielded by the BJP in Lok Sabha polls.
A BJP old-timer, Munnawari Begum is a member of the Central Waqf Council and also of the general body of the Minorities Ministry-funded Maulana Azad Education Foundation.
Earlier the vice-president of the BJP's minority cell in Tamil Nadu, she came into prominence when she was seen accompanying Prime Minister Modi as he criss-crossed Tamil Nadu during his campaign for the 2014 Lok Sabha polls.
Source: Indian Express
https://indianexpress.com/article/india/political-pulse/haj-panel-gets-first-women-as-top-office-bearers-7883049/
--------
Malaysian Anita Yusof, First Muslim Woman Biker Looks To Spread Message On Women Empowerment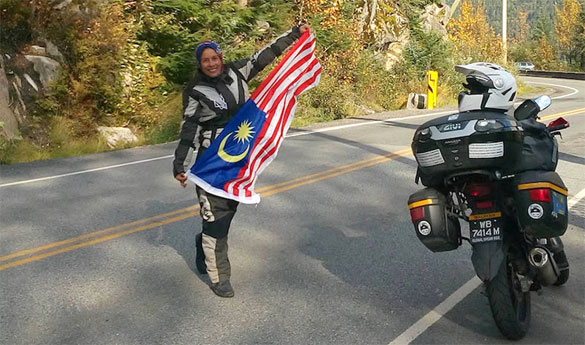 Anita Yusof during her ride
------
April 22 2022
Shafeeq Alingal
Famous Malaysian solo motorcycle rider Anita Yusof was in Qatar while exploring the Gulf on her Yamaha FZ 150. Described as the first Muslim woman to ride around the world solo, she visited Qatar during her Global Dream Ride.
Anita, the first Malaysian to get into the Asia Book of Records for the longest solo bike ride, told Gulf Times in a statement that she is looking to spread the message of empowering women.
"This is my second world ride and I want to tell the women, especially those from the remote places, to pursue education and break the barriers," said the 55-year-old former lecturer in the physical education department at IPG Campus Ipoh and mother of two sons.
Anita learned motorcycle riding in 2012 and started her first round the world ride in 2015. The ride, which started from Putrajaya in Malaysia, saw her covering 40 countries in four continents over a year. Anita covered a total distance of 65,369km before returning home.
Anita said she loves to travel and the passion for solo trips developed after she was inspired by bloggers. "I wanted to explore myself and I chose to travel on bike in order to explore remote places where transportation isn't easy," she said.
The solo rider has so far visited more than 60 countries on her motorbike. During the current ride, she aims to visit 70 countries while covering seven continents. In between she had to take a break after the Covid-19 pandemic broke out. She stored her bike in Ethiopia and went home.
"I follow my heart. This time, I travel without any time frame since I have taken an early retirement from my job," she said. Travelling and passion towards motorcycles have made Anita a technical expert capable of fixing her bike if required during the ride. "I am very well aware of the technical aspects and I am equipped with essential tools," she said.
While visiting countries, Anita spends time learning about their culture and communities. "The most beautiful part of my journey is meeting local people. I stay with them while learning about their cultures and enjoy their cuisine," she said.
Anita has no plans to quit after this ride. "I will always travel. I will choose other modes of travel if health does not allow me to ride," she said.
The solo rider was given a reception by Malaysian ambassador Zamshari Shaharan. She also attended a Iftar programme by the collective of Malaysian bikers in Qatar.
After a tour of Qatar, she left for the UAE yesterday.
"The most beautiful part of my journey is meeting local people. I stay with them while learning about their cultures and enjoy their cuisine,"
Source: Gulf Times
https://www.gulf-times.com/story/715964/Woman-biker-looks-to-spread-message-on-women-empowerment
--------
At Least A Dozen Mosques In Hyderabad Maintain Privacy For Women During Taraweeh
Syed Mohammed
APRIL 23, 2022
A little over an hour after the sirens have stopped blaring and Muslims have broken their nearly 13-hour fast, scores of mosques in Hyderabad prepare for the arrival of worshippers for Taraweeh (extended night prayers). Men enter these mosques, some directly from office, others from home. But there is more. In at least a dozen mosques in the city, women, some wearing burqa, others donning the hijab, are seen entering prayer spaces, and joining the congregation.
Women say that praying in a congregation gives a strong feeling of community. It also enhances the piousness with which Ramzan is associated. "Getting ready and going to the masjid , and even walking to the gate is a different feeling during Ramzan . You know that whatever you are doing is for Allah. And since this is such a pure month, the feeling increases manifold," says Syeda Naina Hussain, an entrepreneur.
Around quarter past eight, there is a steady stream of worshippers entering Masjid-e-Baqi, a mosque on Road Number 12, Banjara Hills. It is here that more than 200 women, including Ms. Hussain, join the obligatory Isha congregation, followed by Taraweeh.
In congruence with Islamic injunctions, such mosques have a separate entrance for women. There are exclusive spaces for performing wazu , ablutions, and women-only washrooms. "Those who were reluctant are encouraging women to join the congregation. It is true that women are discouraged from praying in congregations in mosques in the sub-continent. However, little planning to accommodate women ahead of Ramzan can be done easily. Plus, it would be best if this is done at the designing stage of the mosque," Ahmed Sayeed, secretary of Masjid-e-Baqi, says.
Across the main thoroughfare from the sprawling St. Alphonsus Church complex, but tucked away in a quiet corner, is the Mahmood Habib Masjid and Islamic Centre. Founded in 2007, a couple of the masjid's many aims were to replace the Urdu Bayaan with English, and to welcome women in the mosque.
"The congregation in the masjid brings about a sense of community. Of course, there is the Sawab or reward as well," says Najma Sanai, a congregant of the MHMIC. "Going abroad, we saw how things there are, and that there are prayer spaces for women in masjids. In fact, around 20 years ago, we began Taraweeh prayers at home for family and friends."
Mirza Yawar Baig, a management consultant, with specialisation in family business, who till recently served as the khateeb and imam of MHMIC, says that only a few mosques in India have exclusive prayer spaces for women. But, for the MHMIC, the idea was different, and Prophet Muhammad never prohibited the entry of women into mosques.
"We made the women's section bright, comfortable and attractive," he says. "We recognised where the real power of influence lies at home. And so we decided to open whatever we did in masjid to them," he adds.
There are other masjids in Hyderabad that have a large women congregation. Popularly known as College ki Masjid and on the Muffakham Jah College of Engineering and Technology campus, the place of worship witnesses nearly 300 women worshippers every day.
While many from other faiths are under the impression that entry of women into mosques is restricted, Islamic scholar Maulana Rashid Naseem Nadwi, Head of the Department of Arabic, English and Foreign Languages University, points out that this is far from the truth. " Ulama (Islamic scholars) from the sub-continent are of the opinion that the best place for women to pray is at home, and the Hadith (Prophetic tradition) indicates this. But, this does not mean that entry of women in masjids is prohibited. In fact, during Prophet Muhammad's time, women used to go to masjids."
Source: The Hindu
https://www.thehindu.com/news/national/telangana/mosques-in-hyderabad-maintain-privacy-for-women/article65324533.ece
--------
How 'Powerhouse For Humanity' Bilquis Edhi Changed Lives Of Pakistani Orphans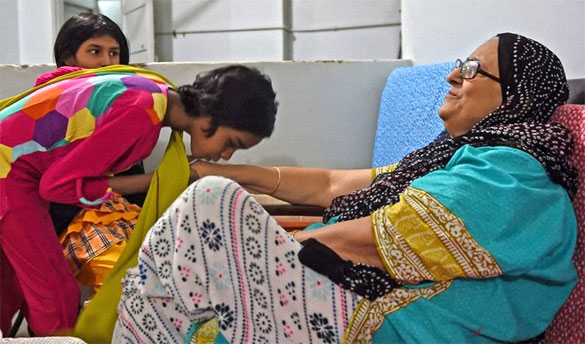 A child pays her respects to Bilquis Edhi at her charity office in Karachi, Pakistan, on Feb. 15, 2016. (AFP/File)
-----
April 22, 2022
KARACHI: When Bilquis Edhi passed away last week, she orphaned not only four of her own children, but also thousands of others she had taken into her care and changed their lives for the better.
Bilquis was 17 years old when in 1964 she joined a nursing home set up by the late Pakistani philanthropist Abdul Sattar Edhi, whose name became synonymous with charitable causes.
She married him at the age of 19 and helped run the charity that today operates nursing homes, orphanages, and Pakistan's largest ambulance service. She died on April 15, six years after her husband.
Together the couple saved the lives of thousands of abandoned newborns by placing cradles outside Edhi centers and other parts of Karachi and Pakistan, where unwanted babies could be left anonymously in a safe place and taken care of by the Edhi Foundation, which would either raise them or find them new parents.
Many Edhi babies, as they call themselves, have become doctors, engineers, and scholars — some in Pakistan, others abroad, mainly in the US, the UK, and Ireland. Not all of them found adoptive parents, but the Edhi charity made sure each and every one had a childhood and received an education.
Rabia Bibi Osman, 28, was one of the children.
"She wanted us to feel loved, have a home, have a family," Osman told Arab News.
"I was very lucky to have been given a family but not a lot of children got that opportunity. As a result, she raised these children on her own, made sure they were loved and happy."
Osman was adopted by a Pakistani family who brought her up in New York, where she gained a bachelor's degree in computer science, a master's degree in cybersecurity at Albany Law School, and now works as a privacy analyst.
The children would address Bilquis as their bari ammi (elder mother).
"Bari ammi was humble and kind. She lived a simple life with an extraordinary purpose. She was loving and empathic," Osman said, describing her as a "powerhouse for humanity."
"She was selfless when it came to her husband, and fearless when it came to the rights of women and children," Osman added.
In a recent interview with Arab News, Bilquis recalled how she and her husband had faced opposition.
"We placed cradles and we faced opposition, we were called infidels," she said, adding that people said her husband would go to hell for raising abandoned children, but "he was not scared of anyone."
Osman was adopted from an Edhi center when she was very little, but she would meet her bari ammi when Bilquis visited the foundation's office in New York.
"The Edhi office in NY is very close to where I grew up," she said.
"We would visit bari ammi when she was in New York, have dinners and talk for hours. I remember watching Pakistani dramas with her and listening to her tell me about her life."
Osman was named after Bilquis' own mother, Rabia Bano.
Bari ammi would always tell her to be proud of being an Edhi baby, to be honest and forgiving, "even if your forgiveness was not asked," she said.
"She always told me to be honest about who I am and where I come from."
Osman was hopeful that her bari ammi's mission would continue after her death.
"So long as we continue to support the Edhi Foundation, her legacy will continue. Her foundation, the other centers, the ambulances, the homes, the orphanage, is her legacy," she said.
"There will be a void created with her death, but our support will keep her legacy alive."
Source: Arab News
https://www.arabnews.com/node/2068761/world
--------
Google doodle honours Naziha Salim, Iraq's most prominent contemporary artist
Diksha Munjal
APRIL 23, 2022
The artist was known for her depiction of rural Iraqi women and peasant life
Google on April 23, 2022, dedicated a doodle on its homepage to celebrate Naziha Salim, the artist who was the most influential figure in the world of Iraqi contemporary art. On this day in 2020, the United Arab Emirates-based Barjeel Art Foundation spotlighted Ms. Salim, in their prestigious collection of female artists. Former Iraqi President Jalal Talabani once called her "the first Iraqi woman who anchored the pillars of Iraqi contemporary art".
The artist, who was also a professor and author, was known for depicting rural Iraqi women and peasant life in her work. Her art was also centred around family, including her own; and women at work.
The doodle, divided into two halves, depicts Ms. Salim with her brush on one side and a combination of the subjects of her artwork on the other. She was born into a family of artists, with her father being a painter, her mother an experienced embroidery artist, and all three of her brothers being immersed in the world of art in their own ways. Her brother Jawad Salim, was known as one of Iraq's most influential sculptors.
Having an affinity for creating her own art since childhood, Ms. Salim enrolled herself at the Baghdad Fine Arts Institute to study painting and graduated with a distinction. Determined to flourish in the field of art, she became one of the first women to be awarded a scholarship at the esteemed fine art school École Nationale Supérieure des Beaux-Arts in Paris. She fixed her focus on honing the fresco technique of making mural paintings while in Paris, after which she spent some more years exploring art and culture abroad.
After eventually returning to Iraq, she worked and taught at Baghdad's Fine Arts Institute, where she was a professor until her retirement. Google said that Ms. Salim is credited with being one of the founders of Al-Ruwwad, also known as the 'Avant Garde' group, "a community of artists that study abroad and incorporate European art techniques into the Iraqi aesthetic". Al-Ruwwad was also the pioneering group to go to Europe and bring back techniques to be assimilated into a uniquely Iraqi aesthetic. She also authored the book Salim Iraq: Contemporary Art in 1977, which is to date considered an essential resource to study the blooming of Iraq's modern art movement.
Today's doodle artwork, Google said, was "an ode to Salim's painting style and a celebration of her long-standing contributions to the art world". MS. Salim's work is currently showcased at the Sharjah Art Museum and the Modern Art Iraqi Archive, where "one can see the magic she created from dripping brushes and brimmed canvases".
Source: The Hindu
https://www.thehindu.com/entertainment/art/google-doodle-honours-naziha-salim/article65347481.ece
--------
Women In Pakistan Suffer Unabated Killings For 'Family Honour'
23 April, 2022
Islamabad [Pakistan], April 23 (ANI): In the name of honour killing, murder committed on the pretext of family honour, women in Pakistan continue to suffer in the hands of perpetrators legitimising their actions through a misplaced sense of justice, reported local media.
In most cases, the idea behind the murders is that of a woman having transgressed the perceived notions of morality or sometimes sexual morality. Notably, it is always the perpetrator who determines when sensibilities have been overstepped or traditions breached and the right or wrong is decided according to their perception.
It is pertinent to note that these perpetrators are not strangers but the men killing at the behest of the family. While the perpetrators are fathers, brothers, and husbands, these crimes often involve a degree of collusion and agreement from family or even the community.
Thus, it is not surprising that there are no clear statistics regarding the specific number of honour killings committed annually in Pakistan as the authorities are misled by the family members who describe such deaths as suicide or natural causes, reported The Friday Times.
It is horrifying how in some cases, the most innocuous of behaviours, such as clapping at a family wedding or wanting to leave an abusive marriage, is interpreted as 'inappropriate', 'unacceptable' or 'dishonourable', leading to killing for "honour".
Though there are laws in place to address these issues, the legislation leaves things open to the court for interpretation as to whether a crime was honour-based or not, in the event that it could lead to a reduced sentence. Thus, this leaves room for bias, according to the media outlet.
According to a Supreme Court judgment in 2020, Pakistan has one of the highest per capita honour killings in the world. However, by using words like 'honour', the Pakistan society not only downplays the atrocity of the crime but legitimises it with a belief that 'bad character', particularly pertaining to a woman, needs to be punished or it will tarnish the community at large. (ANI)
Source: The Print
https://theprint.in/world/women-in-pakistan-suffer-unabated-killings-for-family-honour/927699/
--------
URL: https://newageislam.com/islam-women-feminism/haj-committee-india-munnawari-mafuja/d/126846
New Age Islam Islam Online, Islamic Website, African Muslim News, Arab World News, South Asia News, Indian Muslim News, World Muslim News, Women in Islam, Islamic Feminism, Arab Women, Women In Arab, Islamophobia in America, Muslim Women in West, Islam Women and Feminism