New Age Islam News Bureau
29 Dec 2016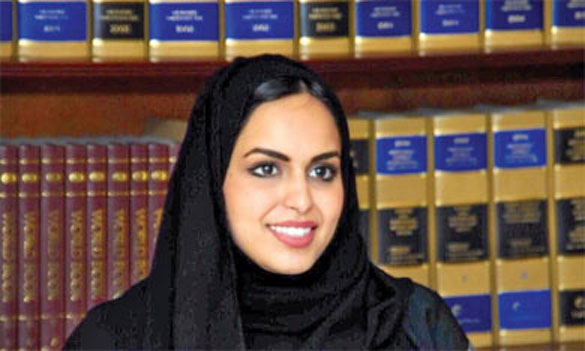 Dima Talal Al-Sharif, a legal consultant at the Health, Food and Medicine Department at The Law Firm of Majed M. Garoub
----------
• Mali Blames Militant Group For French Woman Abduction
• Saudi Women Dance, Skateboard In Incredible Video Winning Social Media
• Pakistan 'Honour': Tracing The Final Steps Of A Woman Searching For Love
• Saudi Policewomen Get Training Abroad
• When Muslim Women Are 'Lyrically Speaking'
• Iran To Do Utmost To Secure Release Of Female National Detained In India
• No Black Men, No Muslim Women: UK Job Market Discrimination Remains Rife, Report Shows
• Queen Bees: How Honey Co-Ops Help Afghan Women Take Control
Compiled by New Age Islam News Bureau
URL: https://newageislam.com/islam-women-feminism/female-lawyers-saudi-courts-'we/d/109535
--------
Female Lawyers In Saudi Courts: 'We Are Equal To Male Counterparts'
AISHA FAREED | 29 December 2016
Dima Talal Al-Sharif
JEDDAH: After years of being prohibited from appearing in court, female lawyers in 2013 achieved a significant victory in being able to practice law and argue their cases in Saudi courtrooms.
Female lawyers have the right to advocate for issues that are not only women-related, but cover a variety of cases such as commercial, personal and labor affairs.
They were not content to just obtain a license to practice law — they demanded to be included in legal committees and bodies, including the Saudi Bar Association.
On their way to realizing their rights, female lawyers had to overcome many obstacles in law offices and courtrooms to work legally and formally under the Ministry of Justice.
Some did not limit their work to the domestic sphere, undertaking studies and research on legal problems at an international level.
A research paper by lawyer Huda Omar Ba-Shmail, entitled "Investment disputes settlement within the framework of the International Center for Settlement of Investment Disputes (ICSID) and the Protection of Foreign Direct Investment (FDI)," was published in an American banking trade magazine.
Bayan Zahran, a Jeddah-based attorney who in January 2014 became the first Saudi woman to open a law firm, says women's presence in courtrooms long predated the granting of licenses.
"I've been arguing my cases since opening my law firm officially, but even before the license we used to do the same through attorneyship," she said.
Women have been authorized lawyers in Saudi courts for three years. They are recognized, and have rights and duties like their male counterparts based on the Saudi legal system.
Zahran said expertise dictated which cases a lawyer could argue: "As long as a lawyer, male or female, has the expertise that qualifies him or her to obtain the law license, they can argue any cases without exceptions."
Some 90 percent of her clients are women, as women usually prefer someone who can relate to their issues, and Saudi Arabia is a conservative place where they would hesitate to talk freely with male lawyers.
Female lawyers can also get male clients who are willing to hire them. Zahran was recently hired by a group of male doctors to get their rights from a hospital they work at.
Among the obstacles female lawyers have had to deal with is society's view of such a job for women. Some people did not accept their presence in courtrooms alongside men.
Zahran said ignoring negative feedback was the best approach: "Criticism doesn't really mean anything to me. What I truly care about is my job, delivering justice and improving work standards in a good and humanitarian manner."
There are neither specific regulations nor privileges that apply to female lawyers in the Saudi legal system.
Zahran says some fresh graduates have the wrong idea about the nature of their work, whereby female lawyers are treated differently than their male counterparts.
"If women keep in mind that law is all about sticking to the text, and interpreting and using it in a way that serves justice, they can defend their rights as lawyers."
A number of female lawyers have volunteered to provide legal aid for those unable to hire lawyers in family and labor cases via a charitable initiative organized by the Takamul Investment Company in Jeddah.
The initiative involves training, employment assistance for participating lawyers, and legal services for those who cannot plead for themselves or afford to hire lawyers, says Takamul's president, lawyer Majed Garoub.
As part of the initiative, graduates from regions throughout the Kingdom have been trained by jurists, judges, academics and members of judicial committees.
Volunteers undergo a training program to provide a thousand hours of voluntary work within five years.
Dima Talal Al-Sharif, a legal consultant at the Health, Food and Medicine Department at The Law Firm of Majed M. Garoub, said Saudi female lawyers were "the pioneers of the human rights renaissance in the Kingdom, where they have added much to the prosperity of this profession."
Al-Sharif, who is a member of the Union Internationale des Avocats (UIA), says practicing law is not a profession or a title, but a passion and a challenge to prove oneself.
"This is what I saw and experienced through the participation of a large number of female lawyers at the Takamul initiative," she said.
Al-Sharif expressed her wish that her colleagues get the encouragement and trust of Saudi society so they could give more.
"I wish that the voice of female lawyers in Saudi Arabia reaches greater places in the field of human rights in the Middle East and globally, not just in the Kingdom."
Source: http://www.arabnews.com/node/1030991/saudi-arabia
--------
Mali blames militant group for French woman abduction
Dec 28, 2016
Malian officials say a key militant group has "certainly" been responsible for the abduction of Sophie Petronin, a French aid worker known for years of charity work in the West African country.
"The first indications show that she was certainly taken hostage by a terrorist group, al-Mourabitoun," prosecutor Boubacar Sidiki Samake said on Wednesday, without elaborating.
Mourabitoun is a major militant group operating in North Africa and the Sahara. The group, which is led by Algerian militant Mokhtar Belmokhtar, has yet to claim responsibility for the alleged kidnapping last weekend in northern Mali.
The French-Swiss aid worker, who has run a charity for malnourished children and had lived in Gao for 15 years, has not been seen publicly since December 24. The woman is believed to be in her sixties and has a specialty in nutrition and tropical diseases. Petronin escaped a kidnapping by militants in Gao in 2012.
France's Foreign Ministry has confirmed that Petronin was kidnapped, adding that a joint search operation has been launched to find the aid worker. Other sources said French military forces were also contributing to the search operation.
Violence erupted in Mali's volatile north after groups linked to al-Qaeda seized areas in the territory in March 2012. The government, pro-government groups and ethnic Tuareg rebels managed to reach a peace pact last year, following some lengthy negotiations but clashes continue unabated.
Mourabitoun, Ansar Dine and an al-Qaeda-linked group have carried out major attacks in Mali from bases in the country's desert north.
http://www.presstv.ir/Detail/2016/12/28/503872/Mali-French-woman-abduction
--------
Saudi Women Dance, Skateboard In Incredible Video Winning Social Media
Offbeat | Written by Amrita Kohli
December 29, 2016
A music video that attempts to tackle various stereotypes about Saudi Arabian women is winning major love on social media. Since being shared on December 23, the video has collected over 1.4 million views on YouTube and much praise on Twitter.
The video shows a group of burqa-clad women dancing, singing, skateboarding, and playing basketball together. It begins by showing the women sitting in a car as a toddler takes the wheel, appearing to mock the country's laws that prevent women from driving and require them to be chaperoned at all times by a male guardian.
The women are then shown skating, skateboarding and riding toy scooters down the road, all the while having men stare and gesture at them to stop. The women, however, ignore the disapproval and continuing with what they are doing.
The video has received tremendous applause on Twitter.
http://www.ndtv.com/offbeat/saudi-women-dance-skateboard-in-incredible-video-winning-social-media-1643108
--------
Pakistan 'honour': Tracing the final steps of a woman searching for love
28 December 2016
Did Sarakat Bibi finally fall into a trap? M Ilyas Khan pieces together the life, love and mysterious last movements of a Pakistani woman who it's feared was killed for "honour".
Sarakat Bibi spent years on the run. She was last heard of a year ago, aged 37, when she rang home.
But her problems began many years before when, aged 14, she refused a marriage with her cousin, arranged by her father.
The 'marriage from hell'
"She didn't like her cousin and his entire family," said her mother, Husanzadgai. "And she was brave, so she went to her father's elder brother and told him so. It sent shockwaves through the family."
Sarakat Bibi's mother, Husanzadgai
Image caption
Husanzadgai says Sarakat was physically and verbally abused by her in-laws
As elsewhere in South Asia, the Pashtun tribes of Khyber Pakhtunkhwa (KP) province in the north-west follow a strict patriarchal code in which all decisions for women are made by men.
Sarakat's father was furious and left her with little choice - he picked up a gun and told her to agree to the proposal or prepare to die.
The woman who survived an 'honour killing'
The model and the mullah: Pakistan's 'Kim Kardashian'
Mother 'burnt her daughter to death'
On the day she was taken as a bride to her husband's house in Barawal Bandi village, in mountainous Dir district, her mother-in-law taunted her for having refused the match and threatened to fix her.
Barawal Bandi villageImage copyrightXXX
Image caption
Barawal Bandi is high in the mountains in the north-west
Over the next 20 years, Sarakat "lived through hell," Husanzadgai said. "She faced verbal abuse and physical violence."
Sarakat, the eldest of seven - four brothers and three sisters - bore five sons, but that didn't earn her respect.
"She was getting hardened too," he mother said. "When things got really ugly, she would come over to our house. I would then plead with her to go back home as it could taint her father's good name."
A wrong number and an escape
But one day in April 2012, when her husband Roghan Shah was away on business, Sarakat disappeared, leaving behind her children, the youngest just four years old. She travelled first to Peshawar and then south, far from her family.
Seven months earlier she had taken a call that would change her life. The man on the other end of the phone was hundreds of miles away, in Sindh province, and he had rung a wrong number.
"That was my first encounter with Sarakat," said Mohammad Somar. "She said hello, and then something in Pashto which I couldn't understand. I spoke back in Urdu, and she disconnected."
Mohammad, 34, lives in Warwalo, a village 1,100km (680 miles) south of Barawal Bandi, along the fertile Indus River plains.
Mohammad Somar's house in WarwaloImage copyrightMOHAMMAD SOMAR
Image caption
Mohammad Somar's house in Warwalo is at the other end of Pakistan
His father married him off when he was just 12 and later put him in charge of the four-acre family farm where wheat, cotton and sugarcane grew.
Farming was good and Mohammad bought shares in a motorcycle dealership, boosting his income. But there was a void in his life. He said he never felt any real love for his wife, with whom he had eight children.
When he heard Sarakat's voice in September 2011 he became desperate to meet her. He had always admired Pashtun women for their courage and good looks, he said.
So even though Sarakat hung up the first time, he persisted and over the following days and weeks she gradually came round to talking with him.
Life on the run
Seven months later, Sarakat left her home in the mountains.
"I went to Peshawar to pick her up," said Mohammad. "We drove in a bus to Sindh, and went straight to a court in [the nearby town of] Ghotki where we got married."
"I wanted to keep the marriage secret from my family and put her up at a house in Ghotki, but she was afraid I might take advantage of her and then abandon her. She wanted to go to my house."
Mohammad SomarImage copyrightMOHAMMAD SOMAR
Image caption
Mohammad Somar said Sarakat tried for a child
Over the next month, his first wife left him, his in-laws turned into his enemies and Sarakat's continued use of her mobile phone gave away her location to the police, allowing her father and husband to track the couple down.
They were arrested on an abduction charge and then released after they produced proof of their marriage. But their troubles were only just beginning.
Soon afterwards, Mohammad was named by the police in a criminal investigation. His house was raided in October 2012 but he was alerted by a friend in the police and the couple escaped.
They fled to Hyderabad, 400km to the south, where they lived in hiding for the next two years.
"We survived on money we had saved from the farmland, the money I got by selling my share in the motorcycle business, and occasional handouts from Sarakat's mother and sister, who knew we were in trouble," Mohammad said.
But things got worse. Mohammad developed a kidney stone and was bed-ridden for months. Sarakat had a miscarriage.
"She had wanted a child so badly," Mohammad said, his voice choking. He sobbed for a minute or so. "She wanted someone of her own in a strange land. She cried for weeks."
Return to court
Driven by hunger and isolation, the couple finally decided to go back to Mohammad's village. He had persuaded some old political contacts to stop the police from arresting him until he had arranged bail.
Inspector Zahir Shah
Image caption
Inspector Zahir Shah is the officer in charge of investigating the case
But by that time, he had been named in as many as 16 criminal cases, he said. Back home, Mohammad spent most of the next year attending court hearings, trying to run his farm and fighting failing health.
Then on 3 December 2015, disaster struck. Sarakat was arrested.
How that happened is not fully explained, but it appears she may have approached the authorities for protection after falling out with one of Mohammad's relatives at a market which she had visited unaccompanied.
Whether she wanted to leave her life in Sindh is not clear - nor is her apparent decision to contact the police, given all the reasons she had to mistrust them.
"I went to the court to see her but she refused to come with me," Mohammad said. "She didn't even talk to me, she just waved goodbye from afar. She was crying."
He believes her relatives paid the police to have her taken back to Peshawar so they could redeem their honour.
No one can say for sure if he is right, but we know what happened next.
The final phone calls
"On 5 December, my phone rang and when I picked up, it was Sarakat," said Husanzadgai, her mother. "She said she was in Peshawar with a policeman from Sindh who needed to hand her over to a blood relation. I was in shock."
Her husband and three elder sons were working in Saudi Arabia so she asked her fourth son, Khalid Mehmood, then aged about 19, to go instead.
Relax Inn hotel in PeshawarImage copyrightBBC
Image caption
Sarakat stayed in the Relax Hotel in Peshawar
The Relax Inn register shows Sarakat Bibi stayed at Room 106, booked in Mohammad Ismail's name
Image caption
The guest register shows she was in Room 106, booked in Mohammad Ismail's name
He later told a court in Peshawar that he had found his sister in a cheap hotel room with a Sindhi policeman in plain clothes, and a local man, Mohammad Ismail, in whose name the room had been booked.
Khalid Mehmood signed the papers, sending the policeman away, but his sister refused to go with him, telling him that her former husband's family would kill her if she set foot in her village. She persuaded him to go back alone.
Later that day, she called her mother again, who says she told her of another man in her life: Abdur Rahman.
He was, she told her mother, a businessman who had a comfortable house in Peshawar and wanted to marry her. How and when she came into touch with him remains unclear.
But the next day, she told her mother that she had been brought to a huge compound where several women put henna on her hands and feet and gave her a wedding dress to wear.
"She sounded satisfied and relieved. But that evening her phone went dead," her mother recalls.
'I knew then she was trapped'
The day after, Sarakat's father called her mother from Saudi Arabia. He said that a brother of Roghan Shah, Sarakat's first husband, had rung up from Pakistan to pass him the message that Sarakat was in their possession and they would now redeem their honour.
Sarakat's father wanted Husanzadgai to go to the police.
"I knew then that she had walked into a trap," Husanzadgai said.
Police investigations later showed that, after Sarakat's brother left the hotel, Mohammad Ismail, an employee of the local tribal Levies force, took her to a residential compound in the Shahkas area of Khyber tribal region, just west of Peshawar.
Ismail confessed in court that he did this as a personal favour to a colleague, Habibur Rahman, who used the fake name Abdur, it is alleged, to contact Sarakat.
Mohammad Somar believes Sarakat's first husband somehow trapped her via a fake Facebook account and may have passed details of the account to Rahman.
Rahman was later arrested, and it transpired that he was a distant cousin of Roghan Shah. Police also arrested Shah's brother, Falak Niaz, who had been outside the compound where Sarakat was taken.
Mobile phone data for all three men corroborated Ismail's statement that they were present in the area at the time Sarakat was delivered there.
A search for love
So did she really walk into an elaborate trap sprung by her former husband's family?
The telephone calls seem to suggest that she did.
But a number of elements in Sarakat's story remain unexplained to this day.
Sarakat BibiImage copyrightMOHAMMAD SOMAR
We may never find out exactly what happened to Sarakat Bibi
Assuming it was a trap, she had first to be lured with a false promise of marriage. Others must also have been taken in, including presumably the women who hennaed her and made her ready for the wedding day itself.
But seeking retribution in this way is not unthinkable in Pakistan's "honour culture".
Then there remains the unanswered question of how long she had known the man she called Abdur Rahman, if he was the real reason for leaving Sindh.
Mohammad Somar, who is living at his farm with two of his children, says Sarakat had tried to leave several months before she ended up in police custody. Did she spend months making plans with Rahman, lured into believing he was her way out?
And how much did her mother and sister, with whom she'd remained in touch, know of her plans? Had her young brother been primed to leave her in the Peshawar hotel room so she could make a new life?
Answers may come out in court. The three men are in custody, awaiting trial.
But what is clear is Sarakat Bibi spent her life looking for a man she could love and trust. Forced into a marriage and a life she never wanted, she managed to escape and reinvent herself once.
Her mother believes the final attempt to find love once again, and lasting happiness, was just a cruel trick that resulted in her death.
But with no body, no murder weapon and all three men denying charges of kidnapping or murder, proving that will be difficult.
http://www.bbc.com/news/world-asia-38328591
--------
Saudi Policewomen Get Training Abroad
Dec 29, 2016
By Arwa Kushaifati
JEDDAH — The security police empowers women officers by providing the with training opportunities in the Kingdom and abroad.
Head of security at Jeddah prisons Capt. Ali Al-Zahrani said the women working for the military police came from various educational backgrounds.
"Some of them have a university degree while others have a high school certificate. Women are hired in various positions. They are highly trained in policing and inspection. They are also trained on using the latest technology. We send them to different centers in the Kingdom for training," said Al-Zahrani.
He added some of them were sent for training in Malaysia.
"They take short courses on how to deal with the public, how to search a suspect, how to prepare police reports and how to seize pieces of evidence," said Al-Zahrani.
Jeddah Prisons Director Col. Mani Al-Otaibi said the directorate aims to offer services for the inmates and their families using the latest technology in the most effective ways.
"We had 16,241 visitors to Briman Prison during the past three months. We get an average of 200 visitors a day on weekdays and 4,000 visitors on weekends. Some come to visit inmates and others come for paperwork," said Al-Otaibi.
http://saudigazette.com.sa/saudi-arabia/policewomen-get-training-abroad/
--------
When Muslim Women Are 'Lyrically Speaking'
Adama Juldeh Munu
28/12/2016
The idea that Muslim woman have an innate inability to fully express themselves because they are Muslim is can be an oft repeated and churned out matter in our social psyche . To be seen and not heard. One word comes to mind - untrue.
These are exciting times; I am fortunate to surround myself with artistic and strong Muslim women who evade these misconstrued perceptions of what they are and supposed to be. They are owning and reclaiming their visibility and audibility. Some of them, you can find on what is supposed to be first Muslim women's UK TV show dedicated to poetry and spoken word, Lyrically Speaking.
It launched on Sunday 18th December 2016 on the Islam Channel with the aim of not shying away from race, colourism, colonialism, mental health, politics and global affairs.
The producer of the show, and an up and coming spoken word artist herself, Shahina Khatun, told me that:
"There's a lot of excitement around the show, it's the first of its kind". I was inspired by my lifelong passion for poetry, recently pursuing it more seriously. I recognised the power of poetry in giving me and other women a voice. I found that there were very few, if any platforms at all for Muslim women to engage in creative expression, especially taking into consideration their religious sensitivities and needs. So I thought, I want a platform, and then I may as well create that platform myself. Hence the creation of 'Lyrically Speaking".
Khatun also explained that the purpose behind the show is not only to celebrate the power and beauty of the art form but to enable Muslim women's voices to be heard on important issues in a creative way and to remind both Muslims and non-Muslims alike that poetry is intrinsically linked to Islam and its history. And that Muslim women are central to that narrative.
Most of us may be familiar with the likes of Rumi and other poetic voices within Islamic history, but how many of us are aware of Nana Asma'u (1793-1864), the daughter of well-known Nigerian leader Usman Dan Fodio. She was not only a scholar and erudite in Latin, Greek and Fulani, much of her oral teaching was through spoken word. She wrote a large collection of poetry in Fulani which primarily was aimed at the aristocracy and in Hausa intended for the larger populace.
The Huffington Post recently named her as one of the 10 most important Muslim women every person should know.
But it is not a historical emblem, Muslim female performers fit into an on-going and cyclical motion of sorts. In the last ten years or so, we have seen within the UK and the US a proliferation of Muslim women in every facet of the arts, whether it be Muslim female rapping duo in the form of 'Poetic Pilgrimage', acoustic spiritual singers such as the 'Pearls of Islam' or the up and coming spoken word artists such as London based Saraiya Bah, Muslim women are certainly making a statement that will and shall be heard.
For Khatun, 'Lyrically speaking' aims to ensure that happens.
http://www.huffingtonpost.co.uk/adama-juldeh-munu/when-muslim-women-are-lyr_b_13843218.html
--------
Iran to do utmost to secure release of female national detained in India
Dec 28, 2016
Iran's Foreign Minister Mohammad Javad Zarif says the Islamic Republic will use all its capacity to secure the release of an Iranian female charity worker who has been detained in India over alleged manslaughter.
"The Foreign Ministry considers it its duty to protect Iranian nationals residing abroad, including students, elites and businessmen,… and will use all its capacity to support them and restore their rights," Zarif said.
Zarif made the remarks in response to a letter by a number of artists, university professors and lawyers about the detained Iranian national, according to a post on Telegram social network by Iranian Foreign Ministry Spokesman Bahram Qassemi.
Narges Kalbasi Ashtari has been embroiled in a criminal case following an accident in 2014, when a child disappeared during a riverside picnic organized for staff, parents and children by the 28-year-old charity worker in India's eastern Odisha State.
Iranian charity worker Narges Kalbasi Ashtari (C) among Indian children
The child belonged to a couple, who worked for Ashtari and were also present at the scene when the child went missing.
Kalbasi has been reportedly denied permission to leave India until the legal action against her concludes. She faces a possible jail term if convicted.
Zarif said the Iranian Foreign Ministry, Iran's embassy in New Delhi and the Iranian consulate general in the Indian city of Hyderabad are following up on her case though diplomatic, consular and legal channels.
The top Iranian diplomat said that he had brought up the issue in his meetings with Indian officials during his visit to the country earlier this month.
He said that the Foreign Ministry would continue to follow up on the issue until a favorable result is achieved.
http://www.presstv.ir/Detail/2016/12/28/503880/Iran-Zarif-charity-worker-Kalbasi-India
--------
No black men, no Muslim women: UK job market discrimination remains rife, report shows
28 Dec, 2016
Muslim and black men are more likely to end up unemployed despite doing better in school than their white peers, a new report suggests, as Britain offers a "broken social mobility promise" to its disadvantaged youth.
A report by the Social Mobility Commission found that while white boys from poor households performed worse in the educational system as a whole, it was their ethnic minority peers who found it difficult to enter professions after school or university.
Children from lower income Chinese families were found to be highly likely to move on to higher education after secondary school (70 percent), while five in 10 Bangladeshi and three in 10 black Caribbean youngsters accessed university. But the numbers were far lower for white British kids, with only 10 percent continuing their education.
But the figures changed radically when the groups were faced with job market conditions, where ethnic minority groups are given fewer secure offers.
"The British social mobility promise is that hard work will be rewarded. This research suggests that promise is being broken for too many people in our society," said commission chairman and former Labour minister Alan Milburn.
"It is striking that many of the groups that are doing best at school or improving their results the most are losing out when it comes to jobs and opportunities later in life."
Muslim women were found to be especially affected by underlying prejudices in the workplace and in obtaining jobs at managerial level or in professional occupations. Indeed, Bangladeshi and Pakistani women are now the lowest earners from all black and ethnic minority groups.
Condemning Britain's failure to offer "a level playing field of opportunity," Milburn added: "It is deeply concerning that poor white British boys are doing so badly in education, from the early years through to university. Yet they are less likely to be unemployed and face social immobility than young people from black and Asian communities, Asian women especially.
"Action is needed across the education system and labour market to better understand barriers to success. Renewed action is needed by government, educators and employers to dismantle them."
The commission published a list of suggestions on how different British establishments can help address the problem.
Universities were told to invest in widening participation programs so to tackle the high dropout rates of poor black British students and make further efforts to appeal to poor white youths.
Businesses were told to employ specific support for Asian Muslim women wanting to progress in their careers.
Schools were advised to work with parents from demographics shown to be the least likely to get involved in their children's education, such as low income white families and Gypsy, Roma and traveler groups.
"Everyone should have the opportunity to go as far as their talents will take them, no matter what their background," a Department for Education spokesman said.
"We are working to make more good school places available, in more parts of the country, so that every child can have access to an education that will unlock their potential."
https://www.rt.com/uk/372066-black-muslim-unemployement-discrimination/
--------
Queen bees: How honey co-ops help Afghan women take control
29-Dec-16
"I make my money for me," declares Afghan beekeeper Jamila pointing emphatically at her chest.
Her small honey-making business provides not only an income but a sense of pride.
In the mountainous central province of Bamiyan, one of the country's least developed but most liberal regions, beekeeping complements its only other commercial crop, potatoes, and gives rural women the chance to become entrepreneurs.
Four beekeeping cooperatives have been set up here in recent years, backed by NGOs and foreign aid. Starting from scratch, they now employ around 400 people, half of them women, and produce 14 tonnes of honey a year.
The district of Yakawlang, around 100 kilometres (60 miles) from the famous giant Buddhas destroyed by the Taliban, sits around 2,600 metres (8,500 feet) above sea-level. Residents are worried the arrival of winter will kill off their bees.
Bundled up tightly, they walk for more than an hour in the snow to fill their pots with honey and fix labels on them, though few know how to read.
– 'I'm my own boss' –
Jamila got her start a year ago thanks to her neighbour, Siamui, a pioneer of the cooperative five years ago who gave her her first colony.
"It was in April and I remember that day perfectly. I was so happy: when I was done with my housework, I could spend the whole day watching my bees and how they work!" she confesses, making the other women around her laugh.
This cooperative has collected about 400 kilogrammes (880 pounds) of honey this year, according to its supervisor Habitullah Noori. Each kilo fetches 800 Afghanis in Bamiyan and 1,000 in Kabul — about $15.
Jamila is a grandmother whose children have left the home; Siamui is raising eight of her own; Siddiqa, an orphan, takes care of four brothers and sisters.
Each of them maintains one to four hives on average — the few thousand Afghanis earned supplements their household incomes.
"I can pay for the bus when I want to visit my daughter, I can buy her chocolate," says Jamila.
"I can buy notepads for the kids," adds Halima, who is in her twenties with two children.
For widowed Marzia, the honey is key to her very survival. She hails from the village Qatakhan, 30 minutes from Yakawlang. It was an area overrun by the Taliban in early 2000, with many of its residents butchered after one commander instructed his charges "to kill everyone, even the dogs and chickens".
Her husband was pulled out of his mosque and shot dead on January 19 that year.
She keeps four hives, explaining: "Earlier I started farming, sewing, reaping weeds in the mountains. My brother assisted me but I was mostly on my own.
"Now with the honey, I can support my family, I am my own boss."
"When you invest $100 in the first year you will make $100 in the next," says Daud Mosavi, director of agricultural programmes for New Zealand's foreign aid agency in Bamiyan.
– Elevated status –
Further down the hill, Fatima and her daughters, wearing beekepers hats and visors, adjust the honeycombs in their beehives on the slopes of Qatakhan. Her husband, Ahmad Hossaini, is helping his wife by bringing the bees their sugar.
"It's the first time we've worked together!" he smiles.
"When they get a revenue for the first time it helps to establish their position better in the household", especially girls who are otherwise seen as potential burdens on their families, explains Sadia Fatimie, a consultant for international institutions. Fifteen years after the fall of the Taliban regime, Afghanistan remains a harsh place for women: in 2016, only 10 percent of salaried female employees worked outside the agricultural sector, earning 30 percent less than their male counterparts.
In the countryside, they constitute an ignored, exhausted and poorly paid workforce.
"Only 34 percent of women in this country say they are allowed to spend the money which they earn," emphasises Fatimie.
"There was no tradition of beekeeping here until the 1960s when it was launched by King Zahir Shah," says Marc Jeanjean, a French beekeeper sent by AFD, the French aid agency, to help revive the sector.
"When we started working in 2005 there was nothing left, but things really began to take off in 2012 when the ministry of agriculture began pushing it," he adds.
"It is widely accepted here by the society that women can be at the frontline to support the family," says provincial agricultural official Abdul Wahab Mohammadi. He added the awareness is increasing people see it as a success story and they are copying it.
http://www.pakistantoday.com.pk/blog/2016/12/29/queen-bees-how-honey-co-ops-help-afghan-women-take-control/
--------
URL: https://newageislam.com/islam-women-feminism/female-lawyers-saudi-courts-'we/d/109535
New Age Islam, Islam Online, Islamic Website, African Muslim News, Arab World News, South Asia News, Indian Muslim News, World Muslim News, Womens in Islam, Islamic Feminism, Arab Women, Womens In Arab, Islamphobia in America, Muslim Women in West, Islam Women and Feminism, Moderate Islam, Moderate Muslims, Progressive Islam, Progressive Muslims, Liberal Islam