New Age Islam News Bureau
05 December 2020
• Muslim Women Group Says Islam Is Against The Dressing Code Of The Ghanaian Second Lady, Samira Bawumia
• Female Diplomats From Israel, Bahrain, UAE Discuss Equality In Diplomacy
• Women's Equality 'To Give Kingdom $400bn Boost By 2030'
• Turkey To Protect Women's Rights At All Costs, Erdoğan Says
• Women and Girls with Disabilities Must Not Be Excluded
Compiled by New Age Islam News Bureau
URL: https://www.newageislam.com/islam-women-feminism/chechen-women-scolded-forced-remove/d/123674
--------
Chechen Women Scolded And Forced To Remove Niqabs On State TV by Mufti Salakha Mezhiyev
2 December 2020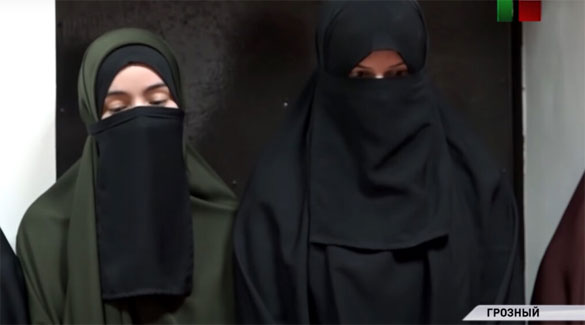 Mufti Salakha Mezhiyev, the traditional Muslim religious leader of the region, scolds women for wearing the Niqab
-----
A group of women have been publicly scolded and forced to remove their Niqabs on Chechen State TV.
The report was aired on Monday on the state-run Grozny TV in a programme billed as an 'educational meeting' between Chechnya's Mufti and the head of Grozny's Interior Ministry.
Mufti Salakha Mezhiyev, the traditional Muslim religious leader of the region, scolds women for wearing the Niqab, an item of clothing that covers a women's entire face except for her eyes.
'The face and hands are not awrat [a part of the body that must be covered in Islam]', Mezhiev said while scolding the women. 'Niqab are the traditions of individual peoples. This tradition has nothing in common with our people.'
The head of the Internal Affairs Department of the city of Grozny, Aslan Iraskhanov, suggested that those who want to wear niqabs should leave Chechnya.
'You have heard too much about Wahhabist movements on the internet. If you want to [wear the niqab], you must go to countries where it is worn. This will not be possible here and we will not allow it', Iraskhanov said.
At the end of the report, Mufti Mezhiev, addressing the women standing with their heads bowed, asked if they understood what he had said and if they agreed, to which the women nodded their heads.
The Mufti then ordered the women to remove the part of the niqab that covered their faces.
'This is what Sharia is', said Mufti Mezhiev.
Mezhiev also ordered the women's male relatives to make sure they did not wear the item in future.
The Chechen muftiate did not respond to a request for comment. The Grozny police department declined to comment on whether the women had been detained and if so, on what basis.
Dress code in Chechnya
The Chechen authorities frequently criticise local residents for actions they perceive to be violations of local traditions. Most of these reprimands, as well as forced public apologies from those involved, are broadcasted on Grozny TV.
The authorities began implementing a dress code for women in 2010, when police officers fired paintball guns at women with uncovered heads.
In 2012, the Chechen authorities introduced a headscarf dress code for all women teachers and university students. At the same time, the authorities have actively opposed women covering part of their chin with a hijab, labelling such people 'Wahhabists'.
There is a strict dress code mandating that women wear a hijab (headscarf) but not a niqab in all government agencies.
https://oc-media.org/chechen-women-scolded-and-forced-to-remove-niqabs-on-state-tv/
--------
Muslim Women Group Says Islam Is Against The Dressing Code Of The Ghanaian Second Lady, Samira Bawumia
4 December 2020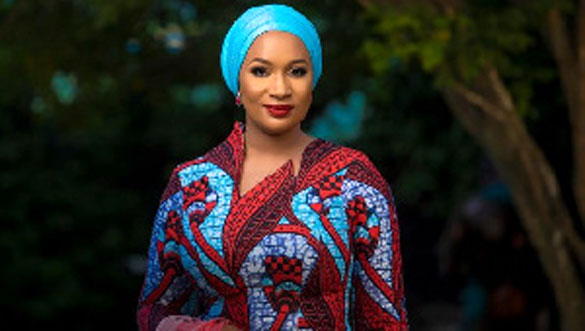 Second Lady, Samira Bawumia
-----
Muslim women known as Hijabis have descended on the Second Lady Samira Bawumia over her dressing as a Muslim married woman.
The leader of the Muslim women group, Hajia Mariam Abubakar, speaking at a press conference says Islam is against the dressing code of the Second Lady and for that matter that they cannot sit as Muslim women to see her dressed like that because a lot of their Muslim children have started dressing that way.
According to them, more than 6, 000 verses in the Quran, about half a dozen refer specifically to the way a woman should dress or walk in the public. The clearest verse on the requirement of modest dress is Surah 24:31, telling women to guard their private parts and draw their Khimar over their bosom.
"As Muslims, the rule of dress for women is modest; the word HIJAB means 'Cover' and refers to both a specific form of veil worn by some Muslim women," the group said.
"H.E Hajia Samira Bawumia who is supposed to be a role model to their Muslim youth has decided to dress like a model and a fashion Icon exposing her feminine attractions to men. It has influenced Muslim girls and women to do same," they added.
They say they are very disappointed in Alhaji Mahmud Bawumia for watching his wife Hajia Samiratu Bawumia dress that way because during the 2016 campaigns, Samiratu Bawumia dressed like a Muslim, covered all her body and after NPP won power H.E Hajia Samira Bawumia seized to be a religious Muslim and started dressing like a paid Versace model and a slay queen.
They added that their group, in general, voted massively for the then-presidential candidate Nana Akuffo Addo in 2016 to clinch the elections because of their Muslim Brother and sister.
However, they thought Alhaji and Hajia Bawumia will display good moral dressing to their children but only witnessed nothing but deceit, lies, and total disrespect to Islam Religion.
They, therefore, call for peaceful, free, and fair elections, they are pledging their votes to H.E John Dramani Mahama and similar call on all Ghanaians both Muslims especially those who believe in Islam and Hijab to join them.
https://www.ghanaweb.com/GhanaHomePage/NewsArchive/Islamic-women-descend-on-Samira-Bawumia-over-her-dressing-1126328
--------
Female diplomats from Israel, Bahrain, UAE discuss equality in diplomacy
By IDAN ZONSHINE
DECEMBER 4, 2020
The Foreign Ministry's "Women in Diplomacy Network" held a panel on Thursday together with government representatives from the United Arab Emirates and the Kingdom of Bahrain, wherein they examined the role of women in diplomacy 20 years after adoption of UN Resolution 1325, which calls for the active inclusion and participation of women in promoting peace and security.
The virtual event was made possible by Israel's recent signing of historic normalization deals with the two countries, and was attended by diplomats from around the globe, spanning from Abu Dhabi to Bahrain to Israel to Geneva and New York.
Ambassador Meirav Eilon Shahar, Israel's UN representative in Geneva, was a featured speaker at the event along with Bahrain's former ambassador to the US, Houda Nonoo, and the UAE's UN representative in New York, Lana Nusseibeh.
The event was moderated by the Network's founder and board member, Sarah Weiss Ma'udi, who currently serves as the Legal Adviser of Israel's UN Mission in New York
During the event, Ambassadors Eilon Shahar, Nonoo, and Nusseibeh highlighted a number of challenging issues facing women diplomats in today's Middle East. "Women need to be an integral part of advancing peace in the Middle East," Ambassador Eilon Shahar said.
The panelists emphasized the importance of the active inclusion of women at the highest levels of decision-making in their three respective countries and discussed their own visions for how gender must play a role in the newfound peace between their countries.
Ambassador Nonoo emphasized her pride in the steps her country has taken in the field of gender and religious equality, saying "I am Bahraini. I am a woman. I am a mother. I am Jewish. I come from a progressive nation that allows the best leaders to lead no matter who they are."
The event stressed the importance of the active involvement of women in promoting peace and security in the Middle East and beyond.
Ambassador Nusseibeh said that "the UAE and Israel are champions of gender equality in our region, and we believe that the peace agreement between our two countries is already beginning to foster partnerships that will unlock enormous opportunities for women in the region."
Israel's Ambassador to the UN in New York, Gilad Erdan, who proposed holding the unique Women in Diplomacy Network event as his first meeting with Israel's new Gulf partners, opened the session by stressing the importance of implementing UN Security Council Resolution 1325.
Ambassador Erdan also spoke of the essential need for advancing gender equality worldwide, saying that "it is essential that women are included on every level of decision-making because a world with gender equality is a better world for all its inhabitants."
"It is essential that women are included on every level of decision-making because a world with gender equality is a better world for all its inhabitants," said Ambassador Erdan.
The "Women in Diplomacy Network" is an initiative run by Israel's Foreign Ministry, aimed at creating partnerships between Israeli and foreign female diplomats and promoting the advancement of women in foreign service.
https://www.jpost.com/middle-east/female-diplomats-from-israel-bahrain-uae-discuss-equality-in-diplomacy-651139
--------
Women's equality 'to give Kingdom $400bn boost by 2030'
December 04, 2020
JEDDAH: Establishing work environments with genuine equality between male and female employees will encourage innovation and productivity, and could boost Saudi Arabia's GDP (gross domestic product) by up to $400 billion over the next decade, according to new research.
Saudi companies that have more equality for men and women perform better overall, according to a joint report published in November by global professional services company Accenture and the Riyadh-based Al-Nahda Society, a non-profit organization dedicated to the socioeconomic empowerment of women.
The "Women in the KSA Workforce" report found that the improvements that create a culture of equality between the sexes benefit not only women but also companies overall. This should encourage Saudi companies to invest more in training women and creating an environment that is welcoming and supportive, it added.
As part of the report, Al-Nahda observed that much has changed in the past decade for Saudi working women. In 2009, 14 percent of Saudi women over 15 worked mostly in the public sector, while occupying only 8.5 percent of private sector jobs. Today, they make up 32 percent of the private sector.
The research showed that in the past many obstacles stopped women from entering the workforce, including familial and spousal obligations and restrictions, unequal pay, and a lack of affordable child care services and transportation.
However, the Kingdom has been pushing women's empowerment since announcing its goals for Vision 2030, lifting a ban on driving, introducing child care programs allowing women to travel without their guardian's consent.
Khaled Al-Dhaher, country managing director for Accenture in Saudi Arabia, said that leadership needs to come from senior managers.
"In Saudi Arabia, a critical starting point for the career advancement of women is at the top. Our research concludes that a positive tone from the top of the organization goes a long way in setting out both the moral and commercial case for gender equality," he said.
"Ultimately, a positive workplace culture facilitates a shift in the collective corporate mindset — and, in turn, enables a resilient economy that is less dependent on oil and more reliant on a young and emerging generation ready to seize the limitless opportunities of the future."
Organizations that follow that module, where the top 10 percent are mostly equal, have female employees with ambition and confidence levels that are 23 percent higher than average and have a 62 percent likelihood of reaching managerial positions.
Such environments also encourage innovation among employees of both genders, Al-Dhaher said. Their ability to be creative is 50 percent higher than organizations that are seen as less equal for women.
In the past three years, Accenture has been working on redefining the cultural reset needed to boost the country's economy. In a survey of 70,000 employees, the company found five major "cultural actions" that can help the Kingdom create greater equality.
"Our analysis highlights three areas of focus: Building more gender-diverse senior leadership teams; setting targets on gender diversity, measuring and sharing progress; and creating environments in which women 'have a voice.' In environments that pull these together, women are 33 percent more likely to advance to manager level and beyond — and their levels of ambition and confidence rise by 7 percent. Employee innovation mindset also rises by 4 percent," Al-Dhaher said.
Protecting women against discrimination, harassment and unethical behavior, and creating an environment where they feel comfortable reporting such misconduct has boosted ambition and confidence by 21 percent in organizations where this is carried. Women employees' likelihood of advancement soared by 15 percent.
Additional factors include providing employees with a flexible work environment, supporting parental leave for both genders, and investing in training programs for both genders. According to Accenture's survey, 88 percent of Saudi women agreed that getting the proper training that helps advance their skillset was important to them, but only 25 percent of employers agreed.
The mistakes companies make in this area are similar around the world, according to author and workplace culture adviser Dawn Metcalfe, who has worked as a consultant with Saudi companies for more than a decade. Companies tend to consider a few successful cases as enough to set women up in the work environment, when there is much more to be done, she said.
"We (companies) don't think about the systemic issues. We don't do enough to remove obstacles, to make sure that all the people who could have an influence understand why this is in their best interest," she told Arab News.
"We are not empowering women here. Women are fine. We're empowering a country by making sure that 50 percent (51 percent globally) of its asset are being fully utilized," she added.
Metcalfe said the challenges that companies face are also universal. In her words, history seems to be the biggest one.
"We have a long history of the same people always being in charge, and those have always been men. The whole system is set up for men," she said.
Change can only happen once more women are seen at senior levels, Metcalfe added. Once women start taking leadership positions, they will hire more women, while men will begin to shift their misconceptions about women in a working environment the more they are exposed to working with female colleagues.
"Saudi companies need to do the same thing as every other company (in order to establish a workforce that is equal and creative for women). If something is important in business, then we put resources behind it, targets against it and hold people accountable."
Empowering women will not be achieved by chanting the words. Metcalfe said companies need to invest in women and to increase the representation of women in the workforce by creating budgets that empower them. Only then will the $400 billion boost to Saudi GDP be achieved by 2030.
https://www.arabnews.com/node/1772541/business-economy
--------
Turkey to protect women's rights at all costs, Erdoğan says
DEC 03, 2020
President Recep Tayyip Erdoğan underscored the importance of standing up against gender-based discrimination and said it is the state's obligation to ensure full protection and equal rights for women. Turkey will continue to take action against everyone who targets their rights, he said.
Speaking at an event organized by the Justice and Development Party's (AK Party) Women's Branch, marking the 86th anniversary of Turkish women's suffrage, Erdoğan said the state is obliged to not only protect the honor of women but also their physical and spiritual well-being.
"Our governments have worked to ensure that women are able to reach their goals in all areas," Erdoğan said, adding that AK Party governments have also been working hard to prevent domestic violence.
Domestic violence claimed the lives of 932 women between 2016 and 2018. Turkey is striving to eradicate the disturbing phenomenon by increasing prison terms for perpetrators and awareness campaigns denouncing violence against women, the product of a twisted patriarchal mindset. Forty women were killed in the first two months of 2020, according to the latest available data.
Erdoğan noted that the fact that Turkish women received suffrage rights before their European counterparts indicates that it was not forced upon the people but took place as a domestic affair.
"We need to do the same thing today. We have to look at our own historical values and civilization to strengthen the idea of family, which is made up of a woman, a man and children," Erdoğan said, as he noted that women and men in Turkey have historically shared the same responsibilities and enjoyed the benefits together.
Turkey was one of the first countries to grant women the right to vote in 1934. In 2013, it lifted a ban on headscarves in public places.
The number of female lawmakers is currently at its highest number.
Seventeen female lawmakers entered Parliament after the first elections held after suffrage was granted to women, making up around 4.6% of the total lawmakers.
The percentage of female lawmakers started to increase after the 2007 elections, hitting 9.1% in 2007, 14.3% in 2011 and 14.7% in the November 2015 elections.
In the current Parliament, 104 women out of 550 lawmakers were elected, making up 17.1% of the total.
The AK Party has the highest number of female lawmakers with 54 out of 289, while there are 17 in the main opposition Republican People's Party (CHP), 23 in the pro-PKK Peoples' Democratic Party (HDP), four in the Nationalist Movement Party (MHP) and two in the Good Party (IP).
The total number of lawmakers currently stands at 584, due to deaths and dismissals, while the number of female lawmakers currently stands at 101.
Erdoğan criticizes CHP for remaining silent on rape allegations
The president also criticized the main opposition CHP for failing to take proper action against recent rape allegations.
"Whoever it is made against, violence and discrimination are evils that need to be fought," the president said, noting that it is necessary to take a firm stand against all types of sexual assault, regardless of who the culprit is.
"There is no such approach as disgusting as one that says your rapist is bad but mine is good, your harasser is bad but mine is good," Erdoğan said, criticizing the CHP administration for remaining silent in the face of rape allegations that erupted after a woman filed a complaint in Istanbul's Maltepe district.
"The CHP administration, which has remained silent about rape allegations and the outcry of its own members, has no say in women's rights," Erdoğan said, as he called the party a "catastrophe" in handling the case.
The CHP is accused of covering up sexual assault allegations after a district deputy chair was detained on suspicion of rape, with some members raising their voices against sexual assault among party members.
Maltepe district Deputy Chairperson Umut Karagöz was arrested after being accused of sexually assaulting a 23-year-old woman in a washroom last month.
Former CHP lawmaker Barış Yarkadaş claimed in a series of tweets that similar incidents have taken place in other districts of Istanbul, including Ümraniye and Sultangazi.
https://www.dailysabah.com/politics/turkey-to-protect-womens-rights-at-all-costs-erdogan-says/news?gallery_image=undefined#big
--------
Women and Girls with Disabilities Must Not Be Excluded
by Achayo Rose Obol and Stephanie Johanssen
DECEMBER 4, 2020
As we commemorate the International Day of Persons with Disabilities on 3 December, we celebrate an increasing recognition of the leadership and expertise that women and girls with disabilities bring to the table.
Recent calls to apply an intersectional lens to humanitarian action have also led to greater attention to women and girls with disabilities. This is a welcome development, but we must not forget that women and girls with disabilities, and their representative organizations, have been self-organizing and advocating for their rights for decades, both in law and in practice.
At the Fourth World Conference on Women, 25 years ago, it was thanks to women with disabilities that the Beijing Declaration and Platform for Action, a progressive blueprint for women's rights, referenced women and girls with disabilities throughout. In particular, the Platform for Action calls on governments to "ensure non-discrimination and equal enjoyment of all human rights and fundamental freedoms by women and girls with disabilities, including their access to information and services in the field of violence."
However, exclusion persists. Structural discrimination against women and girls with disabilities, as well as negative attitudes and stigma, are among the main barriers to the full realization of rights. This is particularly true for adolescent girls with disabilities and displaced women and girls. Women refugees with disabilities face triple discrimination: as a woman, as a person with a disability, and as a refugee. As Nujeen Mustafa, a disability rights advocate who fled the war in Syria, described it: "Being a woman and having a disability makes it doubly more difficult. For example, a man can ask for help from a male friend to flee. But in a society like Syria, a woman cannot. If you don't have an immediate male relative, you cannot just call on a friend to carry you."
Here are some areas where progress is crucial to advancing the rights of women and girls with disabilities.
Ensuring meaningful participation
Too often, women and girls with disabilities are only viewed through a protection lens, but their participation in decisions that affect them and their communities is equally important. Feminist and humanitarian forums can lead the way to be more inclusive and ensure that women with different disabilities are represented and listened to. This starts with the planning process, information sharing, and working in partnership with women-led organizations of persons with disabilities. Women and girls with disabilities must participate in all decisions affecting their future, including on humanitarian, development, and peace and security issues. Last year, the Inter-Agency Steering Committee, a humanitarian coordination forum of the United Nations, published the first-ever Guidelines on Inclusion of Persons with Disabilities in Humanitarian Settings, which provide an important resource to ensure meaningful participation.
Gender-Based Violence
COVID-19 has brought new visibility to the inequalities women and girls face. Ongoing restrictions on movement and lack of income have placed women and girls, including those with physical, intellectual, psychosocial, and sensory disabilities, at heightened risk of violence by abusive partners. Even before the pandemic, studies have shown that women and girls with disabilities are at increased risk of violence, abuse, and exploitation compared to those without disabilities. In crises, loss of community support and protection mechanisms exacerbates the risk of rape and other forms of gender-based violence (GBV), especially for women and girls with disabilities who already face limitations on their personal mobility. And yet, responses to GBV often neglect their specific needs. Health services, shelters, and information for survivors of GBV must be accessible to women and girls with disabilities, who face multiple barriers in seeking help.
Access to Livelihoods
Women with disabilities are also at greater risk of poverty because of the discrimination they face in education and access to livelihoods. The closure of economic opportunities and food shortages caused by COVID-19 have hit women and girls with disabilities hard, especially single mothers. Shifts to remote working and schooling have created additional challenges for women with disabilities, who may not have access to information and communication technology or appropriate assistive devices. Organizations like the National Union of Women with Disabilities of Uganda (NUWODU) have stepped up in providing women with disabilities resources to provide for themselves, but need more support. We must ensure that funding mobilized by the international community and governments in response to COVID-19 also benefits women's rights organizations, especially women-led grassroots organizations.
Sexual and Reproductive Health and Rights
Women and girls with disabilities face discrimination in all spheres, and sexual and reproductive health and rights are no exception. Negative assumptions, for example, that women with disabilities are not capable of having consensual relationships, are patronizing and leave women and girls more vulnerable to abuse, unwanted pregnancies, and sexually transmitted infections. The reproductive rights of women and girls with disabilities continue to be routinely violated, including by countries that have still not banned forced sterilization of women and girls with disabilities. COVID-19 has made scaling up of sexual and reproductive services even more urgent , including access to contraception and menstrual health. Governments and service providers should provide age-, gender-, and disability-inclusive sexual and reproductive services, in particular for adolescent girls who face interruptions in schooling and access to information.
Advocating for the rights and equal opportunities for women and girls with disabilities can't be limited to a commemorative day once a year. It is part of our collective mission to ensure equality for all. Today and every day.
https://reliefweb.int/report/world/women-and-girls-disabilities-must-not-be-excluded
--------
URL: https://www.newageislam.com/islam-women-feminism/chechen-women-scolded-forced-remove/d/123674
New Age Islam, Islam Online, Islamic Website, African Muslim News, Arab World News, South Asia News, Indian Muslim News, World Muslim News, Women in Islam, Islamic Feminism, Arab Women, Women In Arab, Islamophobia in America, Muslim Women in West, Islam Women and Feminism