New Age Islam News Bureau
10 Sept 2012
• Pakistani Veiled-Girl 'Prevented' From Attending Classes, in Kuwait
• 'Please Don't Sell Me off Again, Father': The Runaway Bride
• In Pakistan's Punjab, Parents Stop Sending Girls to School
• Expat Women Face Bleak Job Prospects In Saudi Arabia
• Defying Parents, Some Pakistani Women Risk All to Marry Whom They Choose
• Women to Be Fingerprinted In Saudi Arabia
• WUC Condemns the House Arrest of a Forcibly Disappeared Uyghur's Mother
• Young Saudi Women Break New Ground in Public Health
• Book "Future of Indian Muslim Women" Released In Aligarh
Compiled by New Age Islam News Bureau
Photo: Two abusive husbands and a daughter-selling father later, woman fears for her future
URL: https://www.newageislam.com/islam,-women-and-feminism/by-new-age-islam-news-bureau/girls,-12,-married-off-in-uk-by-british-muslim-imams/d/8619
-----------
Girls, 12, Married Off In UK by British Muslim Imams
By SIMON HUGHES
September 10, 2012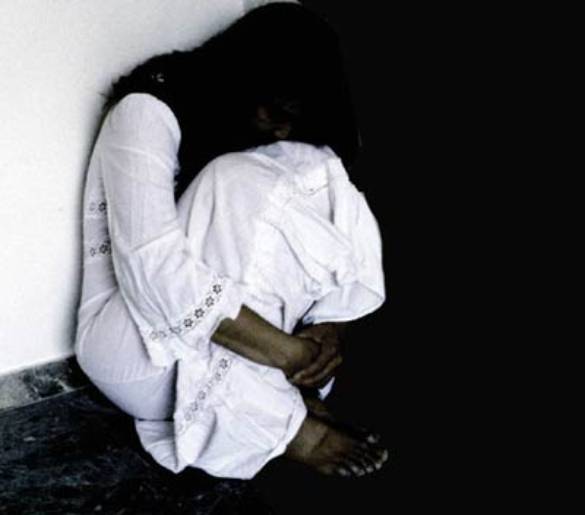 BRITISH Muslim imams are offering to conduct marriages with child brides as young as 12, it was claimed yesterday.
It is feared it could lead to underage sex. An investigator posed as a father wanting to marry off his 12-year-old daughter to an older husband.
Retired imam Abdul Haq, who worships at East London's Shoreditch Mosque, allegedly told him: "Tell people it's an engagement but it will be a marriage. In Islam, once the girl reaches puberty parents have the right.
"Nobody should know about this. If she talks in school, social workers will take her. You and I will be in trouble."
Imam Mohamed Kassamali, of Husaini Islamic Centre in Peterborough, told the investigator he would marry a bride of 12. He allegedly said: "I'd love the girl to go to her husband's house as soon as possible, the younger the better."
He later insisted he would only conduct the wedding if it was legal in Britain — and neither party was forced into it.
UK law lets Imams marry consenting under 16s provided they do not have sex until 16.
Some Muslims claim Sharia law says couples must agree to marriage allowing them to have sex no matter what age.
But Farooq Murad, of the Muslim Council of Great Britain, opposes underage marriage. He said: "Even under Sharia it is highly debatable."
PM David Cameron wants to ban forced marriages. Campaigners want a ban on underage Sharia weddings.
http://www.thesun.co.uk/sol/homepage/news/4529627/Girls-12-married-off-in-UK-by-British-Muslim-imams.html#ixzz263ck1xno
-----------
Pakistani Veiled-Girl 'Prevented' From Attending Classes, in Kuwait
September 9, 2012
KUWAIT CITY, Sept 9: The father of a Pakistani girl has filed a complaint at the Private Education Department in the Ministry of Education against an Indian school, which allegedly prevented his nine-year-old daughter from attending her classes because she was wearing a veil, reports Al-Rai daily quoting sources.
Sources said the complainant was surprised when the teacher did not allow his daughter to enter the classroom without removing her veil. When he demanded for an explanation from the teacher, he was informed that his daughter is attending a Christian school; hence, the need to remove her veil.
Meanwhile, Kuwait Human Rights Society Head Dr Yousef Al-Saqer revealed they contacted the minister immediately after receiving information on the incident. He confirmed the ministry has taken the necessary procedures to verify the complaint. He added the society ensures that everyone respects other people's freedom to practice their own religion as stipulated in the Constitution.
http://www.arabtimesonline.com/NewsDetails/tabid/96/smid/414/ArticleID/187718/reftab/36/Default.aspx
-----------
'Please Don't Sell Me off Again, Father': The Runaway Bride
By Hajra Ilahi
September 10, 2012
ISLAMABAD: She is known as the runaway bride. Gul, despite having a deformity affecting her fingers and toes, once worked as a housemaid and paid most of her family's household expenses. She was married twice, and both times she left her husband. Her father, Zamaan, has publicly sworn to kill her for disgracing the family. Villagers who don't know her side of the story believe she is too much of a 'city girl' to submit to discipline.
The first time she ran away was from her father's house, after he beat her for not handing over all her salary. She went back after he promised not to mistreat her. While Gul looked forward to reuniting with her family, her father had other plans. He interviewed suitors with the caveat that they pay him a bride price. Inevitably, the highest bidder was also the oldest.
To avoid a scene, Zamaan drugged his daughter and the Nikah was performed while she was unconscious. She woke up to find herself in a village in Azad Kashmir. Her husband promptly let her know he had her father's permission to break her legs to prevent her from escaping. Hearing her cry for help, a local councillor called the police. Her in-laws bribed local journalists to dissuade them from breaking the story.
"My marriage and subsequent divorce enriched my father," Gul said with bitterness in her voice. Worried she might be pregnant; her uncle forced her to overdose on abortion pills, causing her to bleed heavily for several days.
A shadow of her former self, Gul thought her father would leave her alone. However, just two months after he swore he would never force her into marriage again, she was sold to a man from Mianwali. "The Nikah was performed verbally without my knowledge," she said.
Escorted by her brothers, she landed in a sandy village in the middle of the night. "I did not even know who my husband was till he grabbed my arm to stop me from following my brothers onto the bus going back home," said Gul.
Gul was welcomed by the sound of women wailing and beating their chests when she stepped into her new home. The women were relatives of her husband's first wife. The next morning, her mother-in-law told her she had better prove her worth considering she had cost a fair sum. Constantly taunted for her deformed hands and feet, she slaved away the entire day toiling in their fields.
Practically starving on a single meal a day, Gul begged her husband, Tanveer, to take her along the next time he came home on leave. "I only managed to get away after I swallowed poison over being denied permission to visit my critically-injured sister," she confided.
Two years into the marriage, he left Gul and went back to Mianwali. She says she had no interest in going back to her husband because "he tried to strangle me once, and he could do it again".
Unfortunately, when her father refused to let her return to the house built with her income, she was once again left with nowhere to go.
Later, caught between her father who had sworn to kill her or to sell her if he catches her alive, and her in-laws who wanted to forcibly take her back to Mianwali to save face, suicide became a serious option. Fortunately, she found refuge with her former employers.
Now back in Bani Gala, Gul raised chickens to make ends meet. While she is in no hurry to find husband number three, she fears that as long as her father lives, it is bound to happen sooner or later.
"I can't believe there is no law to protect women like me who are auctioned by their fathers in the guise of marriage," said Gul while talking to The Express Tribune. "Now that I'm separated from my second husband, I'm officially up for sale again," she added.
http://tribune.com.pk/story/434041/please-dont-sell-me-off-again-father/
-----------
In Pakistan's Punjab, parents stop sending girls to school
September 10, 2012
Islamabad: People in a village in Pakistan's Punjab province have stopped sending their daughters to a school after it was merged with a boys' institute, saying co-education was against Islamic teachings, a media report said Monday.
Parents in Kaccha village in Hassanabdal held a "jirga" (meeting) and announced that they would not send their daughters to the school until the education department withdrew its decision, the Dawn reported.
The report said it was the only girls' school in the area, and the authorities merged it with the boys' school to establish a "model institution", under the Punjab Government Primary School Education Consolidation (PSEC) programme.
They threatened that they would block the Rawalpindi-Peshawar Grand Trunk Road if the authorities failed to resolve the issue within a week.
An official told the daily that in rural areas people enrolled their children at quite a late age and as per their traditions and culture they did not allow them to sit with boys either in the family or in a classroom.
Three primary schools in Hassanabdal are, meanwhile, on the verge of closure due to unavailability of teachers.
Akram Zia, deputy district officer (education), said that under the PSEC programme, 16 boys' and girls' schools in Hassanabdal were being merged to overcome shortage of teachers.
http://www.firstpost.com/fwire/in-pakistans-punjab-parents-stop-sending-girls-to-school-450074.html
-----------
Expat Women Face Bleak Job Prospects In Saudi Arabia
AFSHAN AZIZ
9 September 2012
JEDDAH: Working in Saudi Arabia is a challenge, particularly when it comes to working women. Many expatriate women are facing challenges due to the ongoing Saudisation program. There are very few options for expatriate women to find legal work in the Kingdom.
Many young foreign women are unemployed or have been asked to leave their present jobs. As per the Kingdom's nationalization policy, many companies have restricted themselves to hiring only Saudi women, leaving fewer job openings for expatriates. The job situation for expatriate women has therefore become a great concern for the overseas community.
It is quite rare to find women who work, except in the professions of doctors, nurses and the majority of teachers. There is always a scarcity of qualified and experienced women to cover many of the higher professions.
Summaya Khaleel, a graduate student, said: "It's been a month since I completed my graduation and am still unemployed. It is really difficult to find a job in big companies without a master's degree or experience."
Manal Rehman, an executive assistant, is of the opinion that getting a job in a major reputable company has become impossible. The smaller companies do have jobs for women, but they don't readily accept them for lack of proper security.
Full report at:
http://www.arabnews.com/expat-women-face-bleak-job-prospects
-----------
Defying Parents, Some Pakistani Women Risk All to Marry Whom They Choose
By MEGHAN DAVIDSON LADLY
September 10, 2012
KARACHI, Pakistan — Nusrat Mochi, now 25, left her parents' home one day to go to work and never returned. Instead of starting a job as a domestic worker, she ran away to begin a new life, against her family's wishes, with a husband of her choosing rather than the one they had chosen for her. Her parents' wrath has trailed her ever since.
In the four years since she and her husband, Abbas Bhatti, now 27, eloped, they have moved twice to escape threats to their lives, they say. Even today, with two small children, they try to keep the location of their home a secret. If threats were not enough, Ms. Mochi's parents also brought a legal case charging that Mr. Bhatti had kidnapped her.
"I don't care about my father and mother," Ms. Mochi said, sitting in her two-room house and cradling her youngest child in her lap. "When they are sending some person to kill me, how can I?"
Their story illustrates the conflicts some women encounter in Pakistan when choosing what are known here as freewill marriages. It also shows how women are increasingly asserting their rights against the traditions of forced marriage and parental authority, implicitly challenging one of the most powerful institutions in Pakistani society.
Though some form of arranged marriage remains the most common way for Pakistanis to find spouses, marriage without the consent of a woman's guardian was legalized in 2003. The change in the law has created a larger opening for many women to claim their independence, using the courts and the local news media. Ms. Mochi's parents' suit was defeated in a Karachi court in April.
Full report at:
http://www.nytimes.com/2012/09/09/world/asia/some-pakistani-women-risk-all-to-marry-
-----------
Women To Be Fingerprinted In Saudi Arabia
9 September 2012
JEDDAH: The National Information Centre will collect fingerprint data of all women in Saudi Arabia, its director general Prince Bandar bin Abdullah Al-Mshari, announced yesterday.
He said the fingerprint data would enable courts and government departments to verify the identity of women easily.
"Once we obtain the fingerprints of women, verification of their identities will be easier for all bodies (government departments, courts and notaries) who would be equipped with scanners that can read them," the prince told Al-Hayat daily. He said the centre would cooperate with any government department that needs to benefit from the system.
He said the centre is planning to carry out several projects including a face verification system, a central archiving system, a comprehensive cases system and a project for the integration of data between the centre and government departments.
Other projects include expanding the use of e-gates at airports, developing the fingerprint backup system, the implementation of the ERP Resource Management system at the Ministry of Interior and implementation of electronic passports.
http://www.arabnews.com/women-be-fingerprinted
-----------
WUC Condemns the House Arrest of a Forcibly Disappeared Uyghur's Mother
7 September 2012
The World Uyghur Congress strongly condemns the placing under house arrest of Patigul Ghulam by the Chinese authorities in violation of both international and domestic laws. Against the backdrop of the high-profile 2nd Annual Eurasia-Expo currently being held in Urumqi, she was placed under house arrest without charges or a warrant to prevent her from drawing attention to the enforced disappearance of her son, Imammemet Ali, on whom she has been seeking information. The WUC calls on Chinese government to remove the conditions of house arrest on Patigul and to undertake a full, comprehensive and independent investigation into the disappearance of Imammemet and other Uyghurs since July 5 Unrest of 2009.
According to Radio Free Asia, Patigul discovered that she was being placed under house arrest as she attempted to leave her house only to be prevented from doing so by several Chinese policemen and local Communist Party officials, including local secretary Li Jianming. She was informed that she could not leave her residence until after the Eurasia-Expo is finished on 8 September 2012 so as to avoid "negative publicity", and, when she tried to leave, she was subjected to intimidation and physical abuse.
The very fact that Patigul has not been formally charged for a crime but is under house arrest represents a flagrant abuse of international human rights law under which China is obliged to adhere. It is stipulated under Article 9 of the International Covenant on Civil and Political Rights (ICCPR) that everyone has the right to liberty, to not be subjected to arbitrary detention, to be informed of the charges and to be entitled to take proceedings before a court, all of which have been denied. These are the internationally accepted standard procedures codified under international law for arresting and detaining an individual. Although China has not ratified the ICCPR, it has signed the treaty and is thus obliged to refrain from undertaking measures contrary to the purpose and objective of it.
In addition, China's current Criminal Procedure Laws, changes of which are due to enter into force in January 2013, also clearly state that public security organs must produce a warrant for detention. As she is under house arrest without a warrant, she is being detained outside of the law and any protections that could be afforded to her, a severe violation of international law and China's own laws.
Since she began seeking for her disappeared son, Patigul has often been intimidated to end her search for her son, on whom she last received word from a former inmate who confirmed that Imammemet has been subjected to torture to the point of not being able to stand. In response to her efforts to seek information, she has been detained, received arbitrary reductions in her salary and kept under guard outside her home in order to dissuade her from her efforts.
The WUC recently released a report on enforced disappearances since 5 July 2009, in which Imammemet's case was highlighted along with 22 others. Patigul has been seeking information on the whereabouts, condition and fate of Imammemet since he disappeared on 14 July 2009 in the aftermath of the 5 July crackdown on a peaceful protest by the Chinese authorities in which many Uyghurs were killed and thousands disappeared. Most of those who have been forcibly disappeared were reported by Human Rights Watch to be young Uyghur men in their 20s, though there was evidence of boys as young as 12 also disappeared.
---------
Young Saudi women break new ground in public health
FARHAA ABDULHAQ
10 September 2012
TUBERCULOSIS (TB) rarely comes up in international headlines on health stories, although it still affects around 8.8 million people and takes around 1.4 million lives annually — roughly one person every 25 seconds. And according to World Health Organization experts, 9 million people from Muslim-majority countries will become infected with TB between now and 2015. Today, TB-Manifesto, an advocacy group organized by young women in Saudi Arabia, is showing how much can be done to combat this disease by connecting organizations and individuals across cultures and engaging religious leaders.
The battle to eliminate the disease has conventionally been top-down, with many governments focusing on medical treatment, but paying less attention to finding new, optimal ways to reach those who are most affected by it. But today, community groups and patients have been stepping up to show how much can be done at the grassroots level and this is where TB-Manifesto aims to play a pivotal role.
Recently, TB-Manifesto organized the first independent forum on TB inside Saudi Arabia. On a global scale, Saudi Arabia is noteworthy in that it is the leading Gulf contributor to the Global Fund to Fight AIDS, TB and Malaria. The forum explored what can be done in the country at a community level, especially the role that cross-cultural interaction and faith actors can have in dispelling misconceptions and raising awareness about the disease. At the forum, 12 dedicated local and global TB advocates and experts, including women and children from India and the UK who had survived the disease, shared powerful insights.
Full report at:
http://www.arabnews.com/young-saudi-women-break-new-ground-public-health
-----------
Book "Future of Indian Muslim Women" Released In Aligarh
9 September 2012
Aligarh: The Vice Chancellor of Aligarh Muslim University, Lt. Gen. Zameer Uddin Shah on Saturday released the book "Future of Indian Muslim Women"
The book is authored by Dr. Juhi Gupta, a guest faculty in the Centre for Women's Studies, Aligarh Muslim University.
The book attempts to examine the status and role of Muslim women in India as well as the problems and prospects confronting them. It also makes a critical analysis of the impact of two instruments of dynamism and change Fatwa and Feminism on Indian Muslim women.
The author asserts that recent evidences clearly show the greater assimilation of Muslim women in national awakening and rebuilding process acceptable within both Islamic and Western democratic precincts. The trend seems irrevocably supportive of recent transformations seen in both Fatwa and Feminism in the Islamic world with regard to the role and status of Muslim women. The basic premise of the book is that both fatwa and feminism, if applied in a positive and constructive manner, are indispensable for implementing attitudinal change among Indian Muslims in a bid to improve the present status of their women.
Full report at:
http://twocircles.net/2012sep09/book_%E2%80%9Cfuture_indian_muslim_women%E2%80%9D_released_aligarh.html
-----------
URL: https://www.newageislam.com/islam,-women-and-feminism/by-new-age-islam-news-bureau/girls,-12,-married-off-in-uk-by-british-muslim-imams/d/8619