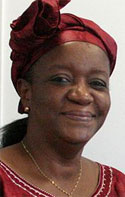 By Zainab Hawa Bangura
April 25, 2014
Conflict-related sexual violence is a war crime mired in myths and shrouded in secrecy and stigma. Perhaps, the greatest misperception is that it is an atrocity of a bygone era and that in today's age of high-tech warfare, rape is no longer used as a weapon of mass destruction. Nothing could be further from the truth.
Shame and stigma prevent many survivors from reporting rape and other sexual violence crimes, but in the last two decades alone, it is estimated that a staggering 60,000 civilians were raped during the civil war in Sierra Leone, 65,000 during the conflict in Liberia, 50,000 during the fighting in Bosnia and over 200,000 during the genocide in Rwanda. These figures are not just abstract numbers; behind every single attack is a face and the story of an individual, a family and a community devastated.
These rapes represent a stain on our collective conscience, a stain that grows with each new rape committed in ongoing conflicts such as those in the Central African Republic, the Democratic Republic of Congo (DRC), Mali, Myanmar, South Sudan, Sudan and Syria.
This year's United Nations report on sexual violence in conflict documents horrendous crimes taking place in conflicts around the world. It chronicles rapes and gang rapes committed during house-to-house searches, in refugee camps and as a part of interrogations.
The report reads as a list of almost unbelievable savagery, but in the midst of this horror there are also glimmers of hope. In the international arena, there is now an undeniable political momentum to tackle this issue. However, the most important changes are happening at the country level, where tangible action is being taken to prevent and respond to these atrocities.
A number of conflict and post-conflict countries are now willing to acknowledge the horrors being committed against their own people, even when these offences are committed by the government's security forces. In the DRC, an increasing number of suspected perpetrators are being prosecuted, including members of the national security forces. In Somalia, where rape victims and journalists have been imprisoned for reporting these crimes, the president has committed to creating a specialised crime unit and dedicated a clinic to deal with cases of sexual violence.
At the United Nations, we are beginning to see the results of years of policy development, training and intense engagement on this issue. The number of ceasefire agreements, including provisions on conflict-related sexual violence, has more than doubled. Peacekeepers in the DRC and Darfur are consulting with local women's groups and provide armed escorts for women collecting firewood and walking to the marketplace. The United Nations' Team of Experts on the Rule of Law and Sexual Violence in Conflict is working with the governments of Colombia, Côte d'Ivoire, DRC, Guinea, Somalia and South Sudan to strengthen the entire chain of justice in order to ensure accountability for perpetrators and justice for survivors.
These are but small steps in the right direction, but they hold the promise of something greater. Only a few years ago, sexual violence was dismissed as the inevitable by-product of war, the unfortunate collateral damage of conflict. Now, after years of concerted effort, the international community has come to accept rape in war as a threat to international peace and security.
This shift in thinking is important not only for survivors, their families and communities, but it is also a prerequisite for international peace and security. Sexual violence fuels displacement, poverty and insecurity and can consign communities and countries to an endless spiral of conflict and vengeance.
Building and maintaining the political will to respond to these offences, and translating that will into action, is a monumental task. While this year's UN report illustrates the many challenges we face in eradicating sexual violence as a tool and a legacy of war, it also highlights the fact that we are making progress in our efforts. It will take international cooperation and commitment from national governments, but a world free of wartime rape is within our reach.
Zainab Hawa Bangura is a United Nations Under-Secretary General and the Special Representative of the Secretary General on Sexual Violence in Conflict
Source: http://tribune.com.pk/story/699820/a-world-free-of-wartime-rape/
URL: http://newageislam.com/islam,-women-and-feminism/zainab-hawa-bangura/a-world-free-of-wartime-rape/d/76741