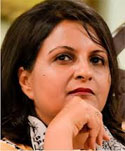 By Yasmeen Aftab Ali
March 25, 2014
She sat on the floor, the tiles hard and cold under her feet. Her knees drawn up to her chin, arms wrapped around her legs. In spite of the cold, she felt sweat dampen her back and armpits. The hair at the nape of her neck stood up. It was fear. Pure, unadulterated fear. She had switched off the TV many hours ago but had been unable to switch off the fear.
The news of a young 18-year-old who doused herself with petrol, setting herself ablaze outside Bet Mir Hazar police station, having gone to lodge a complaint against the investigation officer for helping the main culprit get bail by favouring him in the report, had terrified her. The girl was allegedly raped on January 5, 2014 on her way back from school, by the culprit and four other accomplices.
This was a few days ago. She had followed the news since. The "rape victim" later died at Nishtar Hospital. What a contradiction it is, she thought; they call her a "rape victim", yet the law minister says the girl was not raped, but there was an "attempt" to rape her. She tried to laugh, but it turned into a sob that caught at her throat. How worthy was that extinguished life is reflected in the following sentences: "Very low attendance was witnessed in the sixth sitting of the assembly as members discussed the incident of self-immolation of rape victim through 11 points of order. Opposition legislators, except the JI MPA, staged a token walkout for two minutes against the incident … The opposition MPAs raised slogans against the minister, alleging he was covering up police negligence." (Published March 15)
She recalled a TV channel saying that in spite of the proof presented in the medical report, the main assailant was set free on bail. The "rape victim" decided to set herself on fire in protest. But now they say that she was not raped. Why did the "rape victim" then resort to a course of action that would surely take her own life?
She could feel the fear the "rape victim" must have felt when her assailants would have closed in, the utter helplessness she must have felt. Punishment for rape is harsh:
"1) Whoever commits rape shall be punished with death or imprisonment of either description for a term which shall not be less than 10 years or more than 25 years and shall also be liable to fine.
"2) When rape is committed by two or more persons in furtherance of common intention of all, each of such persons shall be punished with death or imprisonment for life." But if the 'rape victim' was allegedly never raped, do the assailants get off scot free?
She had heard the Punjab chief minister promise the family justice. How? She's already dead. He announced a "compensation" of Rs0.5m for the family of the "rape victim". They must be dirt poor, she assumed. Will the money "compensate" their honour? A life wasted? What exactly was the compensation for? Will they pay more if the same happened to her? They were rich. She feared her uncle's son who lived in the same house. His eyes were beady. She did not like the way they roved over her. She did not like his overtures. He had tried to get physical twice. She had started spending more time in her room recently.
She lived, in fear of being a woman!
Yasmeen Aftab Ali is a lawyer and has authored the book A Comparative Analysis of Media & Media Laws in Pakistan.
Source: http://tribune.com.pk/story/687142/fear-of-being-a-woman/
URL: https://newageislam.com/islam-women-feminism/fear-being-woman-pakistan/d/66276