October 25, 2020
"This is a changing Pakistan, and that change is spearheaded by Pakistani women. You've seen the kind of Tabdeeli [change] that has been brought by men over the past 70 years. This movement for women's rights won't just limit itself to women, it will liberate the entire society," said senior activist Farzana Bari, former director of the Gender Studies Department at Quaid-e-Azam University.
The ongoing months has seen COVID-19 evolve into a pandemic, successively changing into the focus of worldwide, and local, attention. however, nothing could stop the conjointly value reaffirming protest in March led by women for continuation of an important women's liberation movement, that has the potential of reshaping the country for the higher.
The Aurat March, that began in 2018, is organised annually on March eight which is celebrated as International Women's Day globally – saw it grow more with increasing numbers across Asian nation.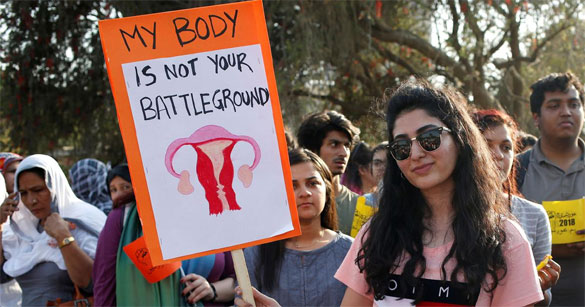 A participant at the Aurat March in Karachi on March 8, 2018. | Akhtar Soomro/Reuters
------
Placards and slogans are designed to challenge the patriarchal established order and highlight the hindrances for women's rights within the country. Rallies are witnessed in various parts of the country. In 2019 with oceans of protestors coming out on the streets to express their solidarity. Its magnanimity in the scale of inclusivity and diversity made people awestruck. People from different social categories, regions, religions, ethnicities and sects came along on a standard platform to protest the multiple patriarchies that oppress, limit and constrain the basic rights of women. From home-based staff to lecturers, from transgender to queer — all protested in their distinctive and innovative ways making their presence impactful. Men and boys in tow, carrying corroboratory placards, and therefore the marchers mirrored unity within diversity, rarely seen in Pakistan's polarized and dissentious social landscape. The issues that resonated the silenced cries of women within the rally were like the enclosed violence against girl's right to education, molestation, systematic gender discrimination among others.
It is these and plenty of different gory realities of women's rights in Asian nation that the Aurat March bring around to attention. The right-wing parties visited the tribunal to ban the Aurat March, but they were rejected. Then they resorted to violence. but it is a section of political policy making Aurat March a criminal politics.
This movement has traditionally been formed in response to national and international reconfiguration of power, together with using, nationalism, Caesarism, democracy and therefore the war on terror. the connection between the women's movement and therefore the Pakistani state has undergone vital shifts from mutual accommodation to confrontation and conflict.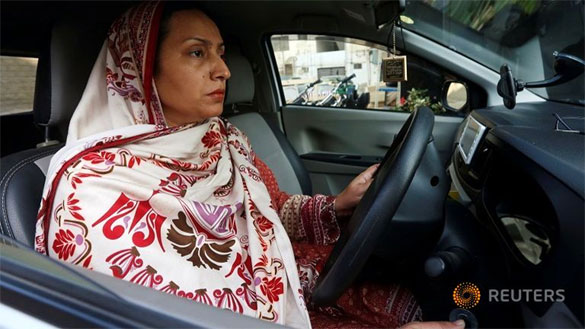 A Changing Pakistan
----
The image of Pakistani womanhood has been a construction of the Pakistani state since its beginning. Pakistani women may be executed in honour killings if they do not meet up to the societal expectations.
The state doesn't stop at showing control, the national narrative however intrudes public and personal life to make your mind up what's legitimate and permissible as 'Pakistani culture' and, what's not.
Going back through the pages in history, Muslim girls were the most badly affected victims of Partition; the reports suggest that seventy five thousand girls were kidnapped and raped throughout this era.
Encouraging additional girls to vote is just the start. girls themselves disagree over what their role ought to be in Pakistani society. The conservative patriarchal mindset believes feminism as a dangerous terror weapon instilled in the heads of women from the west to destroy their holy traditions and customs. people who advocate for equality between girls associated men – the centre of feminism – area unit fighting an uphill battle. They face harsh words and discouragement from the Government, religious groups and most surprisingly: other girls.
There is an entire section of women who have undergone extreme violence and trauma and are now single others. They are the most vulnerable of all. They are not aware enough to know about feminism. On the other side, they have seen the most gruesome horror men can put them through. So, they will do anything to be away from the. This lot are the most vulnerable. They are facing patriarchy and stigma in multiple levels: food insecurity, health insecurity. They just want to survive yet they are scared that they might be deprived of this desire too.
A country where women participation in election is among the worst, where there world have half the credit to a man's in a court, women are defying tear gas, batons and lathis hurled at them and still trotting their way to keep the Aurat March going. It might be really small compared to women protest marches around the world, but the struggles and the sheer will make it impact ten times louder. To lay the foundation of feminism and women empowerment in the society based on acute patriarchy is a revolution. These are women deprived of their right to investigate the outside world and adapt to the modern world. Women who have spent their whole lives in homes, but they stand up and fight against army brutalities. They are ahead of the men. If all women unite and stand in unison, there is nothing stopping them.
Original Headline: A Changing Pakistan – How Women Are Challenging Patriarchy
Source: She the People
URL: https://newageislam.com/islam-women-feminism/pakistan-women-challenging-patriarchy-fighting/d/123294
New Age Islam, Islam Online, Islamic Website, African Muslim News, Arab World News, South Asia News, Indian Muslim News, World Muslim News, Women in Islam, Islamic Feminism, Arab Women, Women In Arab, Islamophobia in America, Muslim Women in West, Islam Women and Feminism