TMV Team
24th November 2020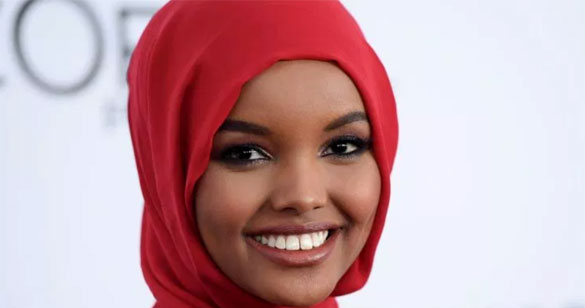 "I had to delete this off my page because honestly this wasn't 'representation' this was MOCKERY and I am SO sorry I was too young and naive to see it back then. But at the time I justified it because 'look! It's Vogue Arabia.'"
In an inspiring move, fashion model Halima Aden took to Instagram to share her personal story of hijab and identity – opening up to the struggles of modelling while wearing hijab and her recent change of heart when it comes to being proud of who she is and what she represents.
Halima Aden is a world-recognized fashion model, made famous for being the first woman to wear a hijab in the Miss Minnesota USA pageant. Halima was later signed IMG Models, and has walked for numerous designers, including Maxmara and Alberta Ferretti. She was also the first hijab-wearing model on the cover for Vogue Arabia, Allure, British Vogue, and most controversially, for Sports Illustrated Swimsuit. Halima is of Somali background and was born in the Kakuma Refugee Camp in Kenya before immigrating to the United States with her family.
Her most recent story on Instagram, where she has 1.2 million followers, has been followed with an outpouring of respect and support – Halima's candid and open discussion of her journey and what she perceives to be her mistakes with hijab has gained widespread respect and empathy.
Admitting that she regrets certain photoshoots and attitudes she held previously during the height of her modeling career, Halima touches upon the fact that her mother helped her realize that she should never allow mainstream media to dictate how she wears hijab:
I was just so desperate back then for any 'representation' that I lost touch with who I was…I wish I never stopped bringing my black hijab to set. Because the minute I got comfortable…well let's just say I got too carried away…"
Posting a picture of herself smiling alongside her mother, Halima wrote: "My mom asked me to quit modeling a LONG time ago. I wish I wasn't so defensive. Sis was literally the only person who had the purest intentions for me. The advice she gave me was 'Deen over Dunya'. And her stance has never once changed."
Her Instagram story, now also stored under an Instagram Highlight titled "Hijab Story", also goes into specific photoshoots that she was uncomfortable in, but at the time, let happen because of pressures to fit in the modeling world – including a photoshoot where she had a pair of jeans on her head instead of a hijab.
In one photoshoot where she felt uncomfortable with how her hijab was being portrayed, Halima wrote: "I went back to my hotel room and just sobbed after this shoot because deep down I knew this wasn't it. But was too scared to speak up."
I can only blame myself for caring more about the opportunity than what was actually at stake. I blame myself for being naive and rebellious. What I do blame the industry for is the lack of MUSLIM women stylists."
Discussing how pressured she felt from both mainstream media as well as the Muslim community, Halima explains that she misinterpreted being a powerful symbol of representation to mean that she had to suppress her own comforts and feelings around hijab to mold into what she hoped would be accepted by social media and the wider world.
I remember wanting to be the 'hot hijabi' as if that didn't just defeat the whole purpose. A hot mess is what it was truthfully…Looking back now I did what I said I would never do. Which is to compromise who I am in order to fit in."
Speaking specifically of her cover photoshoot with Vogue Arabia, in which she is pictured posing with a make-up team around her, she wrote: "I had to delete this off my page because honestly this wasn't 'representation' this was MOCKERY and I am SO sorry I was too young and naive to see it back then. But at the time I justified it because 'look! It's Vogue Arabia.'"
Halima also discussed numerous photoshoots in which she was happy with the way both she and her hijab were represented, however, and explained that both having true supporters and other hijab-wearing Muslim women around her helped her understand where she believed she went wrong.
Acknowledging certain mistakes she made in her life, Halima expresses deep gratitude in being able to experience from them and correct these mistakes – and she again thanked her mother for helping her realize this: "My mom said 'go correct it, you were good and blessed before fashion. THEY came to YOU. Correct the mistake you made publically. PUBLICALLY'…I never felt more free and relieved. God damn Somali moms are so stubborn like why she wait all these years to say that!"
Halima also recognized the importance in learning from mistakes, and understanding that despite the struggles all Muslim women go through who wear hijab, the need to stay true to oneself is above all other societal pressures:
I had to make those mistakes to be the role model you all can trust. Remember I had no one before me paving the way so mistakes are part of the experience. I did good, but that isn't enough. We gotta have these conversations in order to change the system truly."
Halima's open and deeply genuine discussion on hijab, her own journey, and the pressures of society has struck a deep chord with people across the internet – many have taken time to personally express both pleasant shock and appreciation at what was sure to have been a difficult decision to come public about.
While Halima's step is the first among many that need to be taken, it remains more important than ever that the bonds of faith and spiritual comradeship help build a community of Muslim women both supported and brave enough to continue wearing and loving their hijab without the negative pressures of our materialistic society today.
Original Headline: "I Went Wrong": Fashion Model Halima Aden Opens Up About Reconnecting to Hijab on Social Media
Source: The Muslim Vibe
URL: https://newageislam.com/islam-women-feminism/halima-aden-first-woman-wear/d/124202
New Age Islam, Islam Online, Islamic Website, African Muslim News, Arab World News, South Asia News, Indian Muslim News, World Muslim News, Women in Islam, Islamic Feminism, Arab Women, Women In Arab, Islamophobia in America, Muslim Women in West, Islam Women and Feminism