By Tim Walklate
Oct 17, 2014
British Muslim females are just as likely to become radicalised to flee the country and fight jihad as their male counterparts, according to a new study from Queen Mary University of London which also found that those whose families had lived in the UK for generations were more vulnerable than migrants. VoR's Tim Walklate reports.
The new study by Kamaldeep Bhui, professor of cultural psychology and epidemiology at Queen Mary University in London, found that gender made no difference when it came to young Britons being radicalised to fight jihad. Professor Bhui interviewed more than 600 Moslems between the ages of 18 to 45 from Bangladeshi and Pakistani communities in Bradford and London. He asked them various questions about their lives, upbringing and views on terrorism; in order to find out what drives people from Britain to go out and fight in foreign countries like Syria and Iraq.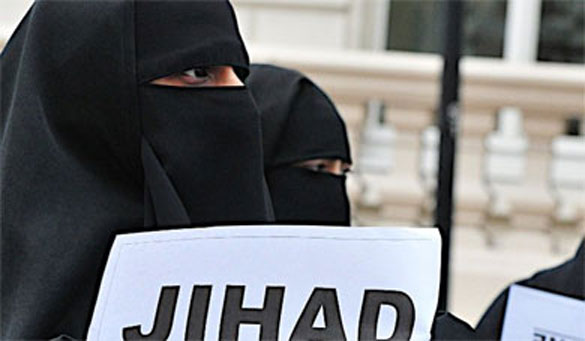 Rex Features
-----
Professor Bhui says that women are just as susceptible to radicalisation as their male counterparts: "We found that women were as likely as men to have sympathies for violence and terrorism, and in fact, if you look just the exact point estimates they were slightly more likely to but it wasn't statistically significant. The main point is that they're no less likely and the popular view is that it was mostly men who were vulnerable. These are people who are ordinary citizens living in the community and they have sympathies; and they may not go on to commit and act. But in our models of understanding this they are the ones who are vulnerable, should they come into contact with certain radicalising influences."
Professor Bhui discovered that people who sympathised with jihadi or terrorist ideologies were sometimes well-educated, middle class and with a household income of more than £75 000. He also suggests that parents who are concerned about their children should look out for any signs of depression or social isolation. And - intriguingly, it's migrants that are less likely to become radicalised than those whose families had grown up in Britain for generations.
His study comes at a time when stories of young British jihadis fleeing their homeland to fight for Islamic State in the Middle East are filling Fleet Street newspapers. MI5 estimates that as many as 500 British people are fighting in Syria; while academics suggest that as many as sixty of these could be female. There have been numerous high-profile reports of women joining the global jihad. Twin sisters Zahra and Salma Halane, aged 16, left their home in greater Manchester back in July to follow in their brother's footsteps and fight in Syria. In August, a mother of two from London named Amal El-Wahabi, who was married to another jihadi, became the first Briton to be convicted under terror laws of funding jihadi fighters in Syria.
Moreover, there is a deep history of female fighters joining the global jihad. Samantha Lewthwaite, better known as the White Widow, is the former wife of the 7/7 London terrorist bomber, Germaine Lindsay. For more than three years she has been on the run from the British, American and Kenyan authorities, charged with conspiracy to cause explosions. She is also suspected of masterminding the Nairobi mall attacks in Kenya.
Elizabeth Pearson is a PHD researcher in gender and radicalisation at the department for defence studies, King's College London. She suggests that although women and girls will support extremist causes, they're less likely to fight: "They're looking to recruit men and women, but what they are doing is differentiating in the roles that they're giving men and women. So if we're talking about violent, Islamist groups, it's men that have the fighting role…women do have a role – they have a really important role in supporting, fostering marriages, of propagating those stories…Women want to go off to Iraq and Syria to presumably support those goals – they want to be part of this fledgling state."
As the number of girls and women heading to the Middle East increases as each month goes by, inevitably media attention on this will also grow; and Britain will need to understand why these people are so attracted to the global jihad.
Source: http://voiceofrussia.com/uk/news/2014_10_16/British-Muslim-women-as-likely-to-become-jihadists-as-men-3065/
URL: https://www.newageislam.com/islam,-women-and-feminism/tim-walklate/british-muslim-women-as-likely-to-become-jihadists-as-men/d/99579