By Tim Craig
May 26, 2016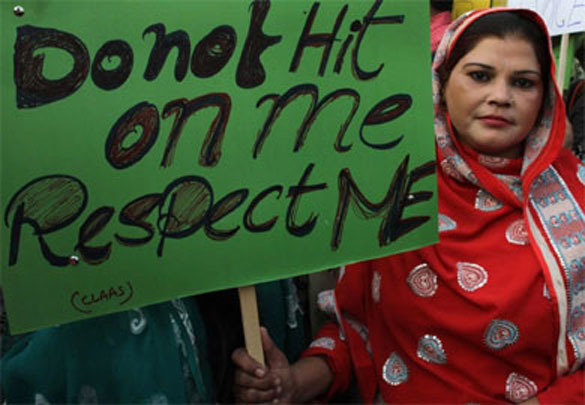 A Pakistani woman holds a sign as she observes the International Day for the Elimination of Violence against Women in Lahore, Pakistan, on Nov. 25, 2015. (K.M. Chaudary/Associated Press)
---------
When Pakistan's most populated province approved a law this year that gives women protection – and a potential escape – from abusive husbands, the country's powerful Council of Islamic Ideology strongly opposed the move.
The council, also known as the CII and made up of Islamic clerics and scholars who advise Pakistani legislators, said it was "un-Islamic" for women to leave an abusive relationship and seek refuge in a shelter.
[If a husband beats his wife in Pakistan, can she flee? Maybe not.]
Before the bill is expanded from Punjab to other areas of Pakistan, the council said it wanted to weigh in with its own proposal. A draft of the proposal is now complete, and reads like an appalling misprint: Husbands should be allowed to "lightly beat" their wives, the CII recommends.
"A husband should be allowed to lightly beat his wife if she defies his commands and refuses to dress up as per his desires; turns down demand of intercourse without any religious excuse or does not take bath after intercourse or menstrual periods," the report states, according to Pakistan's Express-Tribune newspaper.
Reached by phone, a CII official confirmed the report to The Washington Post, but stressed that some changes could still be made to the document before it is forwarded to lawmakers for review.
Currently, Pakistan's domestic violence abuse laws are vague, although prosecution even in the most heinous cases has been rare.
The CII, which claims that its recommendations are based on Quranic teachings and Sharia law, also seeks to legalize domestic violence if a woman refuses to cover her head or face in public, "interacts with strangers; speaks loud enough that she can easily be heard by strangers; and provides monetary support to people without taking consent of her spouse," the Express-Tribune reported.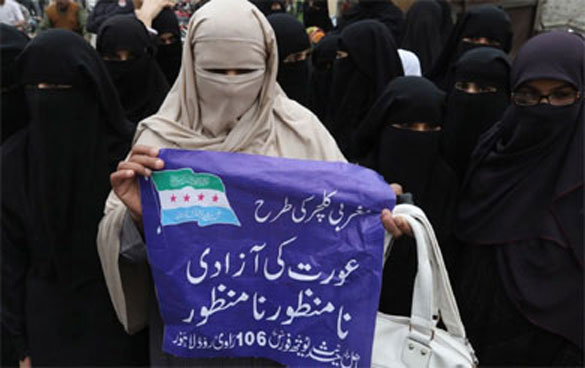 Pakistani supporters of the Islamic group Ahl-e-Hadith youth forum hold placards reading in Urdu "No to women liberation, like in western culture" during a protest in Lahore, Pakistan, on March 17 against the Protection of Women Against Violence Act recently enacted by the Punjab provincial assembly. (Rahat Dar/European Pressphoto Agency)
--------
Although the recommendations are nonbinding, the 163-page document does provide a window into how the most conservative strains of Islam still view the role of women.
The document would ban women from appearing in television or print advertising and would prohibit female nurses from treating male patients. It also would give a husband permission to forbid his wife from visiting males other than relatives.
In an interview, Farzana Bari, an Islamabad-based human rights activist, said the proposal should persuade Pakistanis to rally for the council to be permanently disbanded.
"It shows the decadent mindset of some elements who are part of the council," Bari said. "The proposed bill has nothing to do with Islam and it would just bring a bad name to this country."
Bari notes that even if finalized, the proposal has almost no chance of becoming law.
Despite its reputation for being a place where women's rights lag decades behind the West, Pakistan is actually far more advanced than some other Islamic countries.
Pakistani women have had the right to vote since 1947, the same year that Pakistan was partitioned from India. In 1988, Pakistanis elected the late Benazir Bhutto as prime minister, the first Muslim-majority nation to install a female head of state.
Unlike in Saudi Arabia, Pakistani women are permitted to drive. There are no formal restrictions on what women in Pakistan can wear in public; such decisions are generally made based on a woman's cultural upbringing.
But the freedom women have in major cities such as Islamabad, Karachi and Lahore are often not available to them in more rural areas of the country.
Under its constitution, Pakistan is an "Islamic republic" with democratically elected national and provincial legislators. The Council of Islamic Ideology was created so that legislators can seek clerics' advice before implementing legislation that may conflict with Islamic law.
If legislators defy the council, its members have been known to accuse lawmakers of blasphemy. In Pakistan, a formal blasphemy charge can be punishable by death.
Even the CII, however, appears to be trying to moderate some of its views. The draft document includes provisions endorsing women in government and says a girl should be able to marry without her parents' permission, according to the Express-Tribune.
On one matter, the CII appears even more tolerant than religious conservatives in the United States. It is proposing to wait up until 120 days after conception before abortion is declared "murder."
But Bari hopes the Pakistani public sees the document for what it is: a cringe-worthy example of why the CII should be disbanded.
In national elections, Islamist parties with close links to CII members generally receive no more than 10 percent of the total national vote. Absent political support, the CII has become a vehicle for allowing extreme views to remain entrenched in public policy, she said.
"Violence against women can't be accepted, and it's time for the nation to stand up to people who come up with such proposed laws," Bari said.
Tim Craig is The Post's bureau chief in Pakistan. He has also covered conflicts in Iraq, Afghanistan and within the District of Columbia government.
Source: washingtonpost.com/news/worldviews/wp/2016/05/26/pakistani-husbands-can-lightly-beat-their-wives-islamic-council-says/
URL: https://newageislam.com/islam-women-feminism/pakistani-husbands-'lightly-beat'-their/d/107437