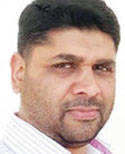 By Syed Tausief Ausaf
22 August 2016
The French Burkini ban seems to have taken swimming lessons in a pool filled with double standard, discrimination, hypocrisy and bigotry. It's a knee-jerk reaction of a government that's playing a political card and has no strategy to stop extremists from striking.
The pro-ban mayors have no answer to the question how the ban is going to make France any safer. The nation doesn't know how imposing a ban on a harmless and modest swimming suit will deter Daesh, whose global victims are mostly Muslims.
The ban gives one to (mis)understand that the faith of the one-fifth of mankind is to blame for the terror attacks in France in which a considerable number of Muslims also lost their lives. France needed some healing in the aftermath of the carnage. But the beach shocker for modest women has deepened divisions.
The Burkini plays an effective role in Muslim integration. It simply allows a Muslim woman the freedom to go to the beach without compromising her values. It is atrocious if she is given two options: Show some flesh or leave.
The ban reeks of Donald Trumpism, which advocates treating all Muslims like criminals. It is bound to encourage zealots like Dutch politician Geert Wilders whose purpose of life is to malign Muslims and Slovak Premier Roberto Fico, who has unabashedly declared that Islam has no place in his country.
If the French premier thinks that the banned swimsuit reflects a worldview based on "the enslavement of women," Manuel Valls should be ready to have his country permanently banned from holding any sporting event like Olympics. Because there have been some proud Hijabi sportswomen from the US, Egypt, Saudi Arabia, Bahrain, Iran and Afghanistan who don't think how they dress up has any bearing on their performance.
One doesn't know whether to laugh or cry over Valls' bombshell that he dropped in a recent interview to a newspaper: The belief that women are "impure and that they should therefore be totally covered" was part of an "archaic vision." Valls urgently needs to revisit Islamic concept of Hijab, which contrary to the western belief, liberates women to move around freely without inviting unwelcome attention.
There is no reason for Valls to believe that Hijab is meant to protect "impure" women. Muslim men and women are required to be modest while mingling with unrelated members of the opposite gender. Burkini is a Muslim woman's attempt to maintain her faith while enjoying life. Hijab also preserves her beauty and enables her to be judged for her worth, not her appearance. The social behaviour of a Muslim woman should attract the least amount of the wrong form of attention.
How difficult is this Islamic concept of modesty for you to understand, Monsieur Valls?
Valls said the Burkini "is not compatible with the values of France." What French values? Islam is the second-most widely professed religion in the country. What about the values of French Muslims? Are their values not important enough to be part of the French values? Can France afford to upset and alienate the 10 percent of its population?
France's secular political class says Burkini subjugates women and is incompatible with a country whose motto celebrates equality and freedom. This argument is absurd. The wearer doesn't go for it under any coercion. It is her way to celebrate freedom. And as far as equality is concerned, Burkini is the replica of the male swimsuit. Why not ban that for men so that no symbols of enslavement are there to be seen on French beaches?
And if it really is a symbol of oppression, why can't Christian nuns, following their version of Hijab, be imagined hitting the beaches in just two pieces? No one dares to object "properly dressed" Catholic women in service of their religion having some fun on the seaside. The Burkini represents the same sense of modesty as endeared by them. The government's double standard strengthens the belief that the measures mainly target the Muslim minority and impinge on freedom of religion.
Aheda Zanetti, the Australian inventor of the Burkini told the Sydney Morning Herald: "The Burkini stands for freedom, flexibility and confidence, it does not stand for misery, torture and terror." The Burkini ban is a clear case of stoking the fire instead of putting it out.
The solution to France's security jitters doesn't lie in such ludicrous moves. They won't thwart France's violent radicals and cannot combat extremism.
Multiculturalism demands every segment of society is given freedom to swim the way they want. Some want to bathe in their birthday suits; some cover just 10 percent of their bodies. But the 10 percent of the population prefer covering the whole of it. If France believes in freedom, then why take away that freedom based on some ridiculous arguments?
Source: arabnews.com/node/973546/columns
URL: https://newageislam.com/islam-women-feminism/whatever-happened-french-ideals/d/108336