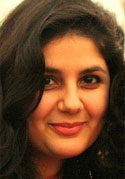 By Sonya Rehman
October 26, 2014
Following on from Sharmeen Obaid-Chinoy's 2012 Oscar win for Saving Face, a documentary about acid victims in Pakistan, this year Pakistani journalist Habiba Nosheen won an Emmy award for her documentary, Outlawed in Pakistan.
Co-directed by Hilke Schellmann, a German journalist, the documentary follows Kainat Soomro, a young Pakistani girl who was gang-raped at the age of 13 on her way to school from a rural village in Sindh. The bold, poignant documentary was filmed over the course of four years, following Soomro's quest for justice and redemption in a country whose legal system is, at best, deeply flawed and riddled with corruption.
In the documentary, Soomro stated: "I was an 8th grade student. One day, I was returning home from school. I stopped by a store to buy some things for my niece. While I was busy shopping, someone put a handkerchief around my face. I became unconscious. They were raping me. There were three men. Then they took me to an unknown place. There, a fourth man came and raped me. They were keeping me drugged. Then they threatened me. They had weapons. They threatened that they would kill me or sell me. Somehow, I managed to escape. I escaped without my headscarf and my shoes. Then I got on a bus. The bus driver knew my dad. He gave me a headscarf and brought me home. I was gone for three days."
Having been featured last year at Sundance and aired on PBS Frontline, Soomro's ordeal continued well after the horrific incident. According to DAWN:
"Talking about rape in a society that turns a blind eye to the offence not only made [Soomro] vulnerable to persecution but also her family; her brother was murdered, her father was repeatedly assaulted. The family was shunned from their home and forced to relocate to Karachi but they did not give up."
In 2013, as reported by the Human Rights Commission of Pakistan, more than 2,000 cases of rape or gang rape were registered in the province of Punjab alone. However, a majority of cases remain unreported and unregistered, given the tradition of shame associated with rape in the country. It is taboo to talk about rape. For a victim to actively pursue justice for a rape crime? She is considered to be disgracing and bringing dishonor to her family's name. In conservative Pakistani society, the accepted approach is to keep such crimes swept under the rug. All too frequently, rape victims will fall prey to honor killing by their families.
Still, some women have begun to fight the system. Mukhtar Mai was gang-raped in 2002. Now one of Pakistan's best-known women's rights advocates, Mai has pursued an unrelenting fight for justice. Mai's case attracted considerable media attention – both in Pakistan and overseas. However, in 2011, Mai's rapists (five of six men) were acquitted by the Supreme Court, placing Mai's life in grave danger. Nonetheless, the activist remains a bold voice, a hero for countless Pakistani women.
Interviewed in Outlawed in Pakistan, Soomro said, "My brother used to say, 'Kainat, no matter what happens, never lose hope. Don't let them go. We're with you. The whole family is with you.' I'm scared to leave the house. Our home in Karachi was attacked. I hope God and the courts will someday give me justice.
"The people who've tortured me, raped me, the people who've displaced me, I'll get them the death penalty."
Sonya Rehman is a journalist based in Lahore, Pakistan.
Source: http://thediplomat.com/2014/10/outlawed-in-pakistan-shows-rape-victims-quest-for-justice/
URL: http://www.newageislam.com/islam,-women-and-feminism/sonya-rehman/outlawed-in-pakistan-shows-rape-victims--quest-for-justice/d/99734