By Shakil Chaudhry
18 July 2013
Dear Mr. Ahmad Hassan,
On the basis of your Facebook post of July 14, 2013, it can be fairly said that you are condoning the murderous attack on Malala. You have not uttered a single word of criticism against those who have launched a dirty smear campaign against her. I have failed to understand your assertions, which are not backed up by facts. Frankly, I expected much better arguments from a senior journalist like yourself, especially because you spent so many years at Dawn, arguably the best newspaper in Pakistan. I thought the Dawn reporters were trained to ensure factual accuracy and to keep their personal prejudices away from their writings. Maybe I had wrong notions about Dawn.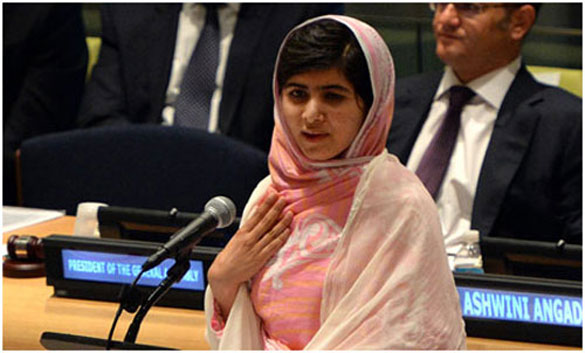 On July 14, you claimed on Facebook that Malala was an ordinary girl who was "trained by a western electronic media person as a writer much before she was attacked to stoutly oppose the Islamic values and coming out in support of western lifestyle and education." You are being hugely fair to the poor girl. Where is your evidence to support these assertions? What is the name of this Western media person and which media organization did he work for? Did he work for the BBC? Is it true that the BBC is widely considered the best news channel in the world? How did this Western media person come to choose her? Did this person train Malala the way Dawn trained you? Who is a better trainer?
A day later, I was astounded to learn that you had totally shifted your ground on this issue. You wrote on Mohammad Shehzad's Facebook page: "She was educated, groomed, trained and brainwashed under the direct direction of the CIA." How did you come to change your story so quickly? You also wrote on his page: "No one would disagree with the notion that Malala was a scapegoat in the hands of the West that wanted to punish Pakistan and Pakistanis by planning a fake attack on her." Do you still expect others to take your seriously?
In response to my post, you wrote: "Don't be misguided. One day everything will be clear like the 9/11 attacks and the WMDs." I hope you have heard of Noam Chomsky? He is one of the biggest critics of the U.S. foreign policy. According to him, the evidence that has been produced in favour of 9/11 conspiracy theorists is essentially worthless. As for the WMDs, why didn't the CIA plant a few nuclear devices in Iraq? In this way, President Bush and others would have been spared a huge embarrassment.
Are you absolutely certain that she was not injured and that she faked her injury? If so, why did Dawn (October 10, 2013) quote the Taliban spokesperson, Ihsanullah Ihsan, as saying that the Taliban had attacked Malala for leading a campaign against Sharia? Are there any journalists, besides yourself, who subscribe to this viewpoint? Do Hamid Mir, Rahimullah Yusufzai, Saleem Safi and Ansar Abbasi agree with you on this?
You have excoriated "liberal media of this country" but you have not named any media organizations. Are you a supporter of an illiberal media? Which, in your view, are best and worst news organizations in this country? Is Dawn one of the best or the worst? It has editorially praised this implacable enemy of Islam in these words: "On her 16th birthday, Malala Yousufzai made her country proud once again… Malala is truly the pride of Pakistan." What words should be used to condemn Dawn for committing this treason against Islam? The News has also committed the same treason by writing: "Malala Yousufzai stood up proud to be a Muslim and a Pakistani, and Pakistan should be proud that she is a daughter of the land." What words do you have to denounce The News? Why don't you quit it in protest? This is an excellent opportunity for you to show the courage of your convictions. After all, it is a matter of faith.
What Islamic values did she "stoutly oppose"? Many people make more serious accusations against Sir Syed Ahmad Khan. Some people such as Maulana Ahmad Raza Khan Barelvi went to the extent of calling him a Khabees Murtad (evil apostate). What do you say about them? Jinnah said on March 10, 1944: "We are victims of evil customs. It is a crime against humanity that our women are shut up within the four walls of the houses as prisoners." Would you say that he "stoutly" opposed Islamic values? Or would you use stronger words to condemn this statement?
You have also indicted Malala for coming out in support of Western lifestyle and education. Is coming out in support of education a crime worthy of death? As for her alleged support for Western lifestyle, is she more westernized than Ruttie Jinnah, Fatima Jinnah, Ra'ana Liaqat Ali Khan, Shaista Ikramullah, Benazir Bhutto and Nasim Wali Khan? Shaista was a prominent Pakistani politician and diplomat. She was the first Indian woman to receive a PhD from the University of London.
Sounding like a religious bigot, you have declared: "When she went to London she was no more a Pakistani Muslim, but a representative of anti-Muslim diatribe." I wish you were not so cruel to her. She was fighting for her life and you were thinking that she had ceased to be a Pakistani Muslim and had become an evil force working for the destruction of Islam. Since you did not bother to check your facts, let me inform you that she did not go to London. She was taken to the Queen Elizabeth Hospital in Birmingham.
Let me draw your attention to the fact that a group of 50 mutfis from the Sunni Ittehad Council issued a fatwa denouncing attempts by the Taliban to mount religious justifications for the shooting of Malala. The fatwa declared the attackers guilty of fasad fil ardh (destroying order in the land). Their self-styled interpretation is contrary to Islam and Sharia. They have trampled on the teachings of Islam (Express, October 12, 2012). What is your fatwa against fatwa?
You say that this country came into being in the name of Islam. "Had our country's education been put on the right track when Pakistan came into being, every one of us would have felt proud to be a Muslim first and bothered to protect Islamic values." Please be honest and answer this question without ifs and buts: Who was responsible for this criminal negligence?
And what words would you use to denounce the person who made this statement while addressing Pakistan's constituent assembly on August 11, 1947: "You may belong to any religion or caste or creed that has nothing to do with the business of the state." Don't you think this statement amounted to undermining the foundations of a pure Islamic state that was going to be established in a few days' time?
Sincerely,
Shakil Chaudhary
Note: Mr. Ahmad Hassan is the Islamabad-based special correspondent for The News. Earlier, he had worked for Dawn for a long time. He is from Balakot and was educated at the University of Peshawar.
Shakil Chaudhry studied international relations at Quaid-i-Azam University and media at the London School of Economics. He has done extensive research on Pakistan's Urdu press.
Source: http://www.viewpointonline.net/letter-to-a-malala-hating-senior-journalist.html
URL: https://www.newageislam.com/islam,-women-and-feminism/shakil-chaudhry/letter-to-malala-hating-senior-journalist/d/12688