By Shailaja Tripathi
May 11, 2017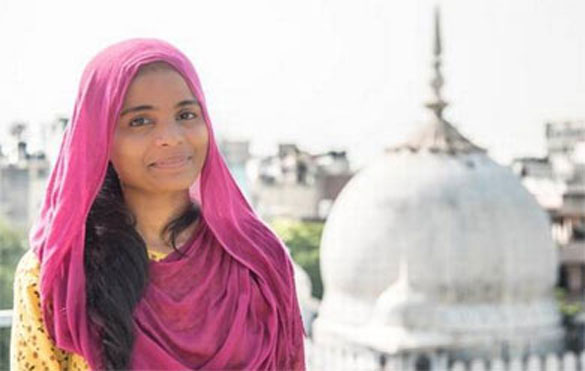 Roshan Ara Khan from Nizamuddin Basti is all set to tell her story of struggle in the US before a distinguished audience for the benefit of other girls like her
----
What strikes about 19-year-old Roshan Ara Khan is her confidence and clarity of vision. The struggles of her life have suffused her with a fighting spirit but not desperation. The self-belief becomes evident when she says, "I will do it. I can handle it. It is my story. I have to narrate that and how difficult can it be," says Roshan Ara. As we write this, the young spark, is en route to the US for an annual fundraising event by NGO, Room to Read, in the US. Representing India, Roshan Ara will give a speech at the Gala Dinner in New York and Washington DC on May 11 and 15. Navtej Sarna, India's ambassador to the United States will be the special guest at the event. The money generated will be utilised for life skills training and mentoring of girls.
But this isn't a first for Roshan Ara. She has travelled to the UK, Zurich and Switzerland earlier to share her compelling story. A story that must be shared. Living in the slums of Nizamuddin Basti, her father, a rickshaw puller at times, couldn't even give her and four siblings three meals a day. "On top of that, he used to gamble. And then one day, my parents fixed my marriage. I was only 15. I refused. I told my mother, I don't want to be helpless like her, dependent on someone else for every penny, struggling to raise kids, falling sick every now and then because of early marriage and motherhood. They understood my point but due to the societal pressure, they went ahead and fixed it. I kept refusing but they wouldn't get convinced but finally, they gave in," recalls Roshan Ara.
Gathering Courage
But how did she gather courage in such dire circumstances? Without any support, how did she avert marriage and follow a different path? Through her school, Roshan Ara was able to connect with Room to Read, an NGO working towards literacy and girls education. "I have been associated with their Girls' Education Program for a long time and my mentor there guided me through this. I discussed my problems with her and she told me how to handle it. She gave me lot of strength." She says, the life skills she acquired at the sessions held by teachers at Room to Read, helped her immensely. "I learnt how important it is to say what you feel. You have to express yourself," said Roshan Ara at the press conference held at Indian Women's Press Corps.
At the press conference, a five minute film on the young girl made by Room to Read was also screened. It will be shown in the US as well.
Though not fluent in English, she will deliver her speech in English. The young girl shows no sign of anxiety. "We have only helped her but every word is hers. She has decided how her story needs to be told. Even the decision to use the word change or transform was taken by her," said Randeep Kaur, Programme Director, GEP, Room To Read.
The NGO tracks the girls' education programme graduates for three years and seeing the commitment and strength of Roshan Ara, the outfit chose zoned in on her for the job.
Working at a doctor's clinic and alongside pursuing a bachelor's degree from Jamia Millia Islamia, Roshan Ara is attracted to the world of computers. "I love computers and want to make a career out of it."
Source: thehindu.com/society/young-roshanara-khan-is-travelling-the-world-to-narrate-her-life-story-dotted-with-struggle/article18423836.ece?utm
URL: https://www.newageislam.com/islam-women-feminism/roshan-ara-khan-nizamuddin-basti/d/111189