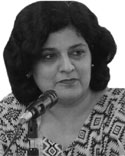 By Shagufta Gul
May 7, 2020
As the world lies shaken to its core after being hit with the biggest pandemic since SARS 2002-2003, the COVID 19 has forced people across the globe, into their shelters and homes with a total transformation in the lifestyles, behaviours, virtual learning and much more.
It was heartening to see the appreciation and positive comments for the few female leaders around the globe for their effective and timely decisions and calculated management of the pandemic including New Zealand s prime minster Jascindra Aden, Germany s Chancellor, Angela Merkel and Prime Minister of Demark s Mette Fredrickson. However, the ideas of gender equality and equal Human rights for women seem to be something still unshaken rather the women's rights activists should get ready for more challenges ahead.
The appreciation for women world leaders came amidst the controversy generated after a comment by a religious scholar creating an impression while discussing the multiple causes of social evils that one of the causes for pandemic was the attire of women, and misguided youth. A few months back a well-known writer also has been uttering similar thoughts and parameters for the beauty of a woman followed by his fight with a female activist.( We may have a difference of opinion during dialogue, or in a conversation, as it is natural but it shouldn't lead to personal attacks )
Surprisingly Social media kept flooding with hundreds and thousands of comments in favour and against the incidents and I was wondering that in this crucial time amidst an emergency and disaster, which isn't differentiating between the rich-poor man women old or young and calls for a collective effort of every one , why the deterioration and social evils are associated with one gender as usual and that too by men? The UDHR, constitutional equality, article 8 to 28 all seem to be a part of a fairy-tale narrative when one comes across such remarks on mainstream media.
In the wake of Covid 19 and consistent lockdowns, it is eminent that the major sufferers are women no matter they are laborers domestic workers or housewives. Researches also claim that it's a fact that the woman workers are the most impoverished and deprived off in normal circumstances and further damage to their rights is caused under such situations. Along with the violation of rights of education, health, labour work, etc , the number of domestic violence cases also jump up even in the most developed countries as it is reported for COVID 19 times ."During times of crisis-such as natural disasters, wars, and epidemics-the risk of gender-based-violence escalates. In China, the number of domestic violence cases reported to the local police tripled in February compared to the previous year, according to Axios. A study conducted in Scotland by Dr. Marsha Scott stated that as a form of domestic abuse, where men are " -micro-managing who they (women and children) talk to, when they eat when they sleep when they go out, and this is all made harder and more frightening in the context of the pandemic…they have fewer opportunities to connect with friends and family and go to school and sports and be away from this environment.
As per a report by the Ministry of Human rights, there is a heightened risk of GBV in the context of Covid 19 and such lockdowns leading to depression economic instability, aggression, and violence among men. The sufferers are going to be women with their fundamental rights of education health mobility, financial empowerment, and labour force badly affected. On April 27, 2020, a Pakistani man shot dead his seven-year-old niece for making noise in the house. Upon interrogation, authorities found out that the man was mentally stable but due to the frustration of confinement in lockdown committed an atrocity of such degree.
This one incident can be simply attributed to the normalization of violence that too the gender-based violence that is embedded in our culture and let me tell you that this isn't the only case. Now, what does this insinuate for a country with a government actively trying to counter violence with kinetic means? These kinetic means normalize violence in daily life. Due to the lack of non-kinetic means, the local populace is accustomed to violence the domestic violence, particularly in the existing patriarchy.
As per a report by the Ministry of Human rights, there is a heightened risk of GBV in the context of Covid 19 and such lockdowns leading to depression economic instability, aggression, and violence among men
The government of Pakistan, despite putting out efforts to tackle the pandemic in its frontiers faces great difficulty in the context of community dynamics, local/religious beliefs, political instability, and economic fragilities. For instance, Saudi Arabia decided to close its mosques, but we couldn't follow suit due to the splitting up on issue and threat of reverberations from the clergy, one major development that puts a dent in the process of Community Resilience and women rights protection in Pakistan – which already lacks a solid foundational framework. This is brought about by disjointing communities on an ethnic, linguistic, and sectarian and gender basis.
The aforementioned comment on mainstream media was pivoted around gender and major outcry and lash back surfaced on remarks on women being the cause of the coronavirus pandemic due to their immodesty. This sent the masses particularly the female population into a frenzy as it lacked substantiated evidence and data and references for such a statement caused him to produce an inept apology by pinning the objectification and negation of women's rights, a "slip of the tongue" and purporting the media as "liars". This redirection of blame betrays the fight for basic human rights for women as it delegitimizes and discredits their movement by throwing a red herring to the public. Meanwhile couldn't someone think of the disproportionate levels of literacy between the two genders (72.5 % males' versus 52.4 %females), access to health right to health only of 55% percent, the sufferings of 20% of the women associated with the existing labour force, constraints on mobility particularly in COVID19 times?
The factors for fragmentation outweigh the factors for constitutional equality for women and cohesion in the society plus shrinking space further for the female population. And again, it's a fact that such comments add up to the challenges of the women from the middle and lower-middle stream as the focus diverts from their actual effort towards the non-issues. Pakistan is a country brimming with GBV, VE, struggling to develop CVE, amidst the challenges of gender-based stereotypes, cultural restrictions and misinterpreted religious ideals. These ideas put men in a superior and exploitative position where they undermine the status of women who are perceived as second-rate in socio-politico and economic frameworks. Therefore, it seems the need-of-the-time to develop an effective policy outlining, the strategy for women as marginalized, presenting a counter-narrative to the GBV approach in the context of constitutional equality, and create socially responsible individuals and equitable and resilient communities.
Furthermore, the leadership, clergy, and public representatives with a significant public following are implored to curb hate speech, propaganda, the negation of basic human rights, and blatant objectification of women. Last but not the least Community Resilience. The community will be resilient if equipped with the necessary tools to be flexible and adaptive when it comes to new policies, tactics, mechanisms in the face of potential threats, and actual disaster. This also calls for ending misogynist narratives in times of crisis especially, where everyone has to contribute so that only a resilient and vigilant culture surfaces up to accept all genders as equal human beings
Shagufta Gul has experience in the field of education and is currently working as a resource person in the development sector
Original Headline: More challenges for gender equality
Source: The Daily Times, Pakistan
URL: https://www.newageislam.com/islam-women-feminism/community-resilience-women-rights-protection/d/121801