By Seema Chishti
February 18, 2014
29-year-old Farheen Naqvi, a Yale doctorate and post-doctoral fellow at what she says is "the best laboratory in the world", the National Superconducting Cyclotron Laboratory at the University of Michigan in the US, has recently gone through a painful divorce.
The annulment of her two-year-old marriage to someone in her conservative, Amroha-based family, has set the young nuclear physicist back somewhat, but she is determined now to talk about the injustice that women like her continue to face — despite their success in the outside world, and despite parental support.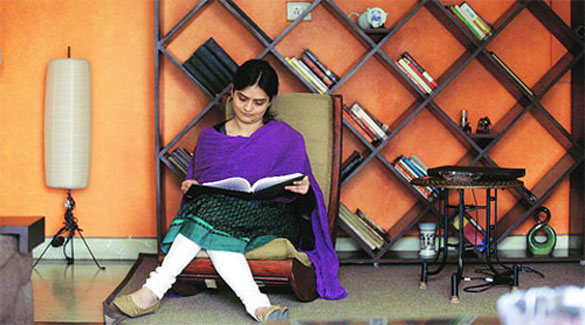 Five women from Farheen's family are in the same boat. Praveen khanna
---------
After being engaged for a year, Farheen married in 2009. The relationship did not work out, however, and the couple agreed to separate. But Farheen did not anticipate the manner in which her "divorce" would go through.
She found that she had been served a "notice", a fake paper in which she was supposed to have asked for the annulment of the Nikah, signed off on her behalf, falsely, by a Quazi she has never known or met, and witnessed by people who were never there — at an event that never was.
What appalled Farheen further is the realisation that five of her cousins have been handed out similar "divorces", initiated by dishonest Quazis, without the woman's consent, and sometimes knowledge.
While Muslim personal law has remained a political minefield since the Shah Bano matter of over 25 years ago, the increasing awareness of women's rights and domestic violence laws that cover all Indians has created an uncertain relationship between Dar-Ul-Quaza, the so-called domestic disputes settlement system for Muslims set up by the Personal Law Board, and the regular legal system.
Islamic law allows for divorce to be initiated by the husband, by the well-known triple Talaaq. But it also allows for Khula, or a process whereby the wife can ask for annulment of the marriage. In the case of Khula, several obligations on the husband don't necessarily apply.
"This is not just something that afflicts Farheen, but thousands like her. The Muslim Personal Law Board has no real locus to ensure quality control over Quazis, and there are innumerable cases where Quazis are randomly picked locally, to help speed up divorces," Farheen's Delhi-based lawyer M R Shamshad said.
Why would grooms try to turn the Talaaq procedure into one where the bride is said to have initiated the divorce?
Shamshad explained: "Scared of the consequences of having to make payments, being subjected to laws which are increasingly supportive of women in matrimonial disputes, especially within seven years of the wedding, men are increasingly resorting to this. There are five cases in just this Amroha family which have witnessed almost identical situations."
Farheen's father was taken ill because of the stress, and spent a long time in hospital — but he continues to support her. Farheen, who was in India briefly, spoke of the abject helplessness she felt when served with divorce papers that she had nothing to do with.
Farheen and her parents had their lawyer send a notice to her ex-husband, the Quazi, and the institutes with which the Quází claimed to be affiliated. Both the ex-husband and the Quazi "denied all charges", and it is now up to Farheen to take the next step.
She has also sent a notice to the All-India Muslim Personal Law Board. The Board's Hyderabad-based assistant general secretary A R Qureishi said, "At several times we have moved to initiate inquiries against errant Quazis and have taken their approvals and credentials away. We have even set up zonal representatives who can be contacted in case of such disputes… It is wrong if in some cases grooms are trying to turn divorces they initiate into Khula, so that they can evade material and moral responsibility."
Lawyers aware of the problem said it was not limited to Amroha, or even to north India. A PIL in the Madras High Court filed last June by former additional advocate general of the state and former AIADMK MLA Badar Sayeed highlighted how Quazis have been issuing Talaaq 'certificates' in violation of the Quazis Act.
"The Quazis continue to do this with impunity all over India. There is no control over their actions," Badar Sayeed said.
Source: http://indianexpress.com/article/india/india-others/groom-qazi-make-yale-nuclear-physicist-victim-of-fake-divorce/99/
URL: https://www.newageislam.com/islam,-women-and-feminism/seema-chishti/quazi-make-yale-nuclear-physicist-victim-of-'fake'-divorce/d/35814