By Salah Uddin Shoaib Choudhury
According to Shia version of Sharia law, marrying a girl [either adult or infant] is legitimate in Iran. Any male can marry a girl or woman in that country, which is under the cruel grips of Mullacracy for decades, simply by performing a religious ritual, which takes less than a minute. In most cases, such 'Marriage for Minutes' or 'Mut'ah Marriage' take place to meet mere sexual desires of the men.
First of all, let us have a glimpse on the existing marriage law in Islamic Republic of Iran. In Iran, marriage law has become extremely complicated, confusing and mostly against the rights of women. Let me begin with a quote from a fatwa by the late and unlamented Ayatollah Khomeini of Iran, where the readers will possibly understand the state of mind of the Islamist clergies on this particular issue:
"A man can marry a girl younger than nine years of age, even if the girl is still a baby being breastfed. A man, however is prohibited from having intercourse with a girl younger than nine, other sexual acts such as foreplay, rubbing, kissing and sodomy is allowed.
A man having intercourse with a girl younger than nine years of age has not committed a crime, but only an infraction, if the girl is not permanently damaged. If the girl, however, is permanently damaged, the man must provide for her all her life. But this girl will not count as one of the man's four permanent wives. He also is not permitted to marry the girl's sister."
Other forms of sexual abuse inflicted on children by Muslim clergies include fondling of genitals, coercing a child to fondle the abuser's genitals, masturbation with the child either as participant or observer, oral sex, anal or vaginal penetration by penis, finger or any other object.
Another technique used by Muslim clergies is called "thighing". The child's legs are pressed together and the abuser inserts his penis between the thighs of the little boy or girl. This was approved of by Ayatollah Khomeini who in his Little Green Book asserted "It is not illegal for an adult male to 'thigh' or enjoy a young girl who is still in the age of weaning; meaning to place his penis between her thighs, and to kiss her."
Full text of ruling by Iranian leader Ayatollah Khomeini on marriage:
"A woman may legally belong to a man in one of two ways; by continuing marriage or temporary marriage. In the former, the duration of the marriage need not be specified; in the latter, it must be stipulated, for example, that it is for a period of an hour, a day, a month, a year, or more."
"A man can marry a girl younger than nine years of age, even if the girl is still a baby being breastfed. A man, however is prohibited from having intercourse with a girl younger than nine, other sexual act such as foreplay, rubbing, kissing and sodomy is allowed. A man having intercourse with a girl younger than nine years of age has not committed a crime, but only an infraction, if the girl is not permanently damaged. If the girl, however, is permanently damaged, the man must provide for her all her life. But this girl will not count as one of the man's four permanent wives. He also is not permitted to marry the girl's sister."
"A father or a paternal grandfather has the right to marry off a child who is insane or has not reached puberty by acting as its representative. The child may not annul such a marriage after reaching puberty or regaining his sanity, unless the marriage is to his manifest disadvantage."
"Any girl who is of age, that is, capable of understanding what is in her own best interest, if she wishes to get married and is a virgin, must procure the authorization of her father or paternal grandfather. The permission of her mother or brother is not required."
"A marriage is annulled if a man finds that his wife is afflicted with one of the seven following disabilities: madness, leprosy, eczema, blindness, paralysis with after-effects, malformation of the urinary and genital tracts or of the genital-tract and rectum through conjoining thereof, or vaginal malformation making Coitus impossible."
"If a wife finds out after marriage that her husband is suffering from mental illness, that he is a castrate, impotent, or has had his testicles excised, she may apply for annulment of her marriage."
"If a wife has her marriage annulled because her husband is unable to have sexual relations with her either vaginally or anally, he must pay her as damages one-half of her Mehryeh [her price] specified in the marriage contract. If the husband or wife annuls the marriage for any of the above-mentioned reasons, the man owes nothing to the woman if they have had sexual relations together; if they have not, he must pay her the full amount of the dowry."
"A Moslem woman may not marry a non-Moslem man; nor may a Moslem man marry a non-Moslem woman in continuing marriage, but he may take a Jewish or Christian woman in temporary marriage."
"A woman who has contracted a continuing marriage does not have the right to go out of the house without her husband's permission; she must remain at his disposal for the fulfillment of any one of his desires, and may not refuse herself to him except for a religiously valid reason. If she is totally submissive to him, the husband must provide her with her food, clothing, and lodging, whether or not he has the means to do so."
"A woman who refuses herself to her husband is guilty, and may not demand from him food, clothing, lodging, or any later sexual relations; however, she retains the right to be paid damages if she is repudiated."
"If a man who has married a girl who has not reached puberty possesses her sexually before her ninth birthday, inflicting traumatisms upon her, he has no right to repeat such an act with her."
"A man who has contracted a continuing marriage may not leave his wife for so long a time as to allow her to question the validity of the marriage; however, he is not obligated to spend one night out of every four with her."
"A husband must have sexual relations with his wife at least once in every four months."
"A woman who has been temporarily married in exchange for a previously established dowry has no right to demand that her daily expenses be paid by her husband, even when she becomes pregnant."
"A temporary marriage, even though only one of convenience, is nevertheless legal."
"A man must not abstain from having sexual relations with his temporary wife for more than four months.
"If a father [or paternal grandfather] marries off his daughter [or granddaughter] in her absence without knowing for a certainty that she is alive, the marriage becomes null and void as soon as it is established that she was dead at the time of the marriage."
"To look upon the face and hair of a girl who has not reached puberty, if it is done without intention of enjoyment thereof, and if one is not afraid of succumbing to temptation, may be tolerated. It is however recommended that one not look upon her belly or thighs, which must remain covered."
"To look upon the faces and hands of Jewish or Christian women, if this is not done with intention of enjoyment thereof, and if one does not fear temptation, is tolerated."
"A woman must hide her body and her hair from the eyes of men. It is highly recommended that she also hide them from those of pre-pubic boys, if she suspects that they may look upon her with lust."
"If a man is called upon, for medical reasons, to look upon a woman other than his wife and to touch her body, he is permitted to do so, but if he can give such care by only looking at the body he must not touch it, and if he can give it by only touching, he must not look at it."
"A woman who becomes pregnant as a result of adultery must not have an abortion. If a man commits adultery with an unmarried woman, and subsequently marries her, the child born of that marriage will be a bastard unless the parents can be sure it was conceived after they were married."
"A child born of an adulterous father is legitimate."
"The best person to breast-feed a newborn baby it its own mother. It is preferable that she not ask to be paid for such service, but that her husband pays her for it of his own free will. If the sum the mother asks for is greater than that charged by a wet nurse, the husband is free to take the child from its mother and turn it over to the wet nurse."
"A man who repudiates his wife must be of sound mind and past the age of puberty. He must do so of his own free will and without any constraint; therefore, if the formula for divorce is spoken in jest the marriage is not annulled."
"A woman temporarily married, say, for a month or a year, has her marriage automatically annulled at the end of that time, or at any other time when the husband releases her from the balance of her engagement. It is not necessary for this that there be any witnesses, or that the woman has had her period."
"A woman who has not yet reached the age of nine or a menopausal woman may remarry immediately after divorce, without waiting the hundred days that are otherwise required."
"A woman who has had her ninth birthday, or who has not yet entered menopause, must wait for three menstrual periods after her divorce before being allowed to remarry. If a woman who has not reached her ninth birthday or who has not entered menopause gets temporarily married, she must, at the end of the contract or when the husband has released her from part of it, wait two menstrual periods or forty-five days before marrying again."
"If the father or paternal grandfather of a boy has him marry a woman for a temporary marriage, he may prematurely cancel it in the boy's interest, even if the marriage was contracted before the boy reached the age of puberty. If, for example, a fourteen-year-old boy has been married off to a woman for a period of two years, they may return her freedom to the woman before this time has run its course; but a continuing marriage cannot be broken in this way."
"If a man repudiates his wife without informing her of it, and continues to meet her expenses for a period of, say, a year, and at the end of that time informs her that he got a divorce a year earlier and shows her proof of it, he may require that she return to him anything he has bought or given her during that time, provided that she has not used it up or consumed it, in which case he cannot demand its return."
"If a child dies within the mother's womb and it is a danger to her life to leave it there, it must be extracted in the easiest way possible; it can. if need be, cut into pieces; this should be done by the woman's husband or a midwife."
"A woman who wishes to pursue her studies toward the end of being able to earn her living through respectable work, and who has a male teacher, may do so if she keeps her face covered and has no contact with men; but if-that is inevitable, and religious and moral tenets are thus undermined, she must give up her studies. Girls and boys who attend coeducational classes in grammar schools, high schools, universities, or other teaching establishments, and who, in order to legalize such a situation, wish to contract a temporary marriage may do so without the permission of their fathers. The same applies if the boy and girl are in love but hesitate to ask for such permission."
Continued oppression by Mullah Regime in Iran is pushing the entire nation into severe poverty, unemployment as well as numerous social problems. Taking the advantage of such situation, many of the wealthy males in Iran are continuing to buy girl children under 'Marriage for Minutes' contract. Moreover, people in administration, inside Revolutionary Guards as well as judiciaries are also hunting female flesh either with the trap of such temporary marriage or simply by blackmailing socially oppressed women. In Iran, obtaining a divorce certificate by most of the women is only possible, if she would offer sexual company to the judges in Sharia courts.
Members of intelligence agencies as well as Revolutionary Guards would use blackmailing tactics by putting adultery allegation on any woman, they target for meeting sexual desire. In most cases, such women being falsely labelled with adultery accusations are forced to give sexual company to these intelligence or Revolutionary Guard men to avert death by stoning.
Such situation inside Iran is forcing many of the sexually abused women and girls into prostitution. Especially situation of the girl children are real vulnerable.
Though Iranian official sources figure the number of prostitutes in Tehran only at 84,000, it is believed that the real number is exceeding two hundred thousand. While Mullahs continue to claim that prostitution is very much confined within authorized 'Comfort Houses' in the Islamic Republic, it is well known to many that, in today's Iran, women and girls are offered to potential overseas customers at various so-called five star hotels as well as restaurants with 'Islamic Cabins'. Each of such cabins measuring approximately 50 square feet is surrounded by 10 feet wooden walls and a door. Inside is a so-called dinning table, which is basically used for sexual purpose. A man can spend one hour inside this Islamic Cabin with a female by spending roughly US$ 40. At the front portion of such so-called restaurants, number of females will be seen sitting wearing Islamic veils, which will be ready to give company to the potential customer. Once the woman is selected, the restaurant manager, a clergy will perform rituals of the Marriage for Minutes, before the 'couple' would enter the cabin.
Women are offered to guests in a number of hotels in Iran by the room-service staffs. There are prayer rooms in each of the hotels, where rituals of Marriage for Minutes take place. Most of the large hotels in Iran are operated by Revolutionary Guards. And most importantly, every day once or twice, rooms will be searched by members of Revolutionary Guards, while there are hidden cameras inside each of the rooms. But, when a customer will take a 'wife' from the hotel management under Marriage for Minute contract, the hidden cameras will be covered as well searches will be paused. In other words, prostitution is rather promoted by the Mullah Regime in Iran.
While Islamist apologists may argue that sex slavery exists around the world, exploiting innocent girls, women, boys and men, the fact will remain that in these Muslim nations this human-rights abuse has become institutionalized, with government-run brothels in Iran, for instance, offering what is called Mut'ah [Marriage for Minutes allowed by Shia version of Islam] or a temporary contract that allows men to "marry" for sexual purposes women other than the four concurrent wives. Many of these brothels are near "holy sites," so that male pilgrims can "relieve their urges" while on a "religious" pilgrimage.
There are roughly 300 brothels only in Tehran. Head of Iran's Interpol bureau believes that sex trade is one of the most profitable activities in Iran today, which continues very much within the knowledge of ruling clergies, government officials, and members of Revolutionary Guard.
There is sex trade in Iran even in an open manner, where owners of brothel would circulate flyers drawing attention of the 'virgins' in offering 'noble service'.
And here is the extract from one of such flyers, which I discovered, while researching the issue:
"Bismellah Her Rahmanir Rahim
Temporary Marriage [Marriage is among the traditions of the Prophet Mohammad]
In order to elevate the spiritual atmosphere, create proper psychological conditions and tranquility of mind, the Province of the Quds'eh-Razavi of Khorassan has created centers for temporary marriage [just next door to the shrine] for those brothers who are on pilgrimage to the shrine of our eighth Imam, Imam Reza, and who are far away from their spouses.
To that end, we call on all our sisters who are virgins, who are between the ages of 12 and 35 to cooperate with us. Each of our sisters who signs up will be bound by a two year contract with the province of the Quds'eh-Razavi of Khorassan and will be required to spend at least 25 days of each month temporarily married to those brothers who are on pilgrimage. The period of the contract will be considered as a part of the employment experience of the applicant. The period of each temporary marriage can be anywhere between 5 hours to 10 days. The prices are as follows:
5 hour temporary marriage – 50,000 Tomans [$50 US]
One day temporary marriage – 75,000 Tomans [$75 US]
Two day temporary marriage – 100,000 Tomans [$100 US]
Three day temporary marriage – 150,000 Tomans [$150 US]
Between 4 and 10 day temporary marriage – 300,000 Tomans [$300 US]
Our sisters who are virgins will receive a bonus of 100,000 Tomans [$100 US] for the removal of their hymen.
After the expiration of the two year contract, should our sisters still be under 35 years of age and should they be so inclined, they can be added to the waiting list of those who are seeking long-term temporary marriage. The employed sisters are obligated to donate 5% of their earnings to the Shrine of Imam Reza. We ask that all the sisters who are interested in applying, to furnish two full-length photographs [fully hijabed and properly veiled], their academic diplomas, proof of their virginity and a certificate of good physical and psychological health which they can obtain through the health and human services of the township of their residence. Please forward all compiled material and send to the below address by the 31st of the month of Ordibehesht, 1389 [May 21st, 2010].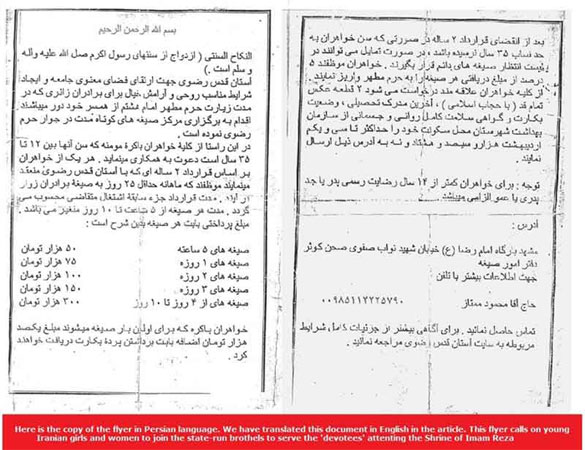 Attention: For sisters who are below 14 years of age, a written consent from their fathers or male guardian is required.
Address: Mash'had, Shrine of Imam Reza, Shaheed Navab-Safavi, Kossar passage, Bureau of Temporary Marriages or call Haji Mahmood Momtaz: 98-511-222-5790.
For further information, please refer to the Quds'eh Razavi website www.aqrazavi.org"
Truly sick! Isn't it? Yes, the above contents of the flyer clearly show the status of women in Iran today.
Source: Blitz Weekly, Bangladesh
URL: https://newageislam.com/islam-women-feminism/iran-marriage-minutes-forces-children/d/3263