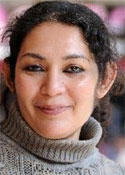 By Saba Naqvi
Jun 30, 2019
There is a picture shared on social media by writer Rana Safvi who is counselling three young Muslim girls about their career prospects. The girls (wearing head-scarves) have the following grades in class 12 CBSE exam. Nizhat got 95.5 per cent and has admission in Lady Irwin college, Suhana has 94.5 per cent and has admission in Zakir Hussain College and Sana, hold your breath has 98.5 per cent and admission in Hindu college (According to Rana Safvi posts, Sana's father is a chef at Jawahar restaurant in old Delhi - for those who know the second best to Karims next door).
There should be nothing special about Muslim women getting good grades in a standardised exam as girls seem to do better than boys in that anyway. But it is a happy thing to see and take note off particularly as the entire nation seems to be in a state over the choices made by women who happen to be Muslim.
First, let's deal with the case of Trinamool Congress MP Nusrat Jahan. She won the Basirhat seat in West Bengal with a margin of over 3.5 Lakh votes. She landed in parliament looking radiant and modern in jeans, whereby she was scolded by twitterati for looking so casual. She then took off for Turkey where she married one Nikhil Jain and returned to Parliament in a sari with Sindoor in her hair parting.
That is when a cleric of Dar-ul-Uloom in Deoband reportedly issued a fatwa against her for collective Haram acts that apparently included acting in films and then marrying a non-Muslim and wearing Sindoor - according to media reports. Having once investigated Fatwas, here's my two bit: Ever since Iran's Ayatollah Khomeini gave the fatwa demanding the death of Salman Rushdie, worldwide there has been an impression that a fatwa is a command or edict. In Shia tradition, an imam's fatwa is binding but not every two-bit mullah can issue one.
But in Sunni Islam, a fatwa is nothing more than an opinion. It is just a view of a mufti and is not binding in India. In principle, only those Muslims who wish to live by Sharia laws should ask for fatwas. But what happens is that media or ordinary citizens ask for these opinions/fatwas. Now ask a mullah about the length of the skirt worn by tennis champion Sania Mirza and I can guarantee that he will say it is against the dress code of Islam. That is why our champion has had a fatwa issued against her in the past.
I do not know if anyone asked the cleric at Deoband about Nusrat Jahan or whether it was a spontaneous outpouring. But I do know this that a cleric would say that Sindoor and marrying outside is against Islam. I had once gone researching Fatwas in a 10 volume set titled Fatwai Darul Uloom and discovered some gems. Fatwas were often replies to such questions about body and desire and impure thoughts. For instance, one fatwa I recall was a reply to the following query: Will my prayers be accepted by Allah if I pass wind? The answer was not if the wind is passed but if you hold it in Allah will accept your prayers.
It's because of stuff such as this perhaps that the poet Faiz Ahmed Faiz had said."Sheikh Saheb Se Rasmo Raah Na Ki/ Shukr Hai Zindagi Tabah Na Ki (I did not engage with the religious sheikh/ Thank god I did not destroy my life)".
Delhi's very own Mirza Ghalib has several verses mocking the clerics so irreverence is a finely honed tradition among a section of South Asian Muslims.
But there are folks who do want to observe all the correct practices and thereby pose these questions. Many scholars argue that Islam actually gives no formal position to the Ulema and the habit of Fatwas comes from the search for legitimacy and influence over the community.
More controversial than the Nusrat Jahan fatwa has been the decision of a national award-winning Kashmiri actor's to quit films to pursue her relationship with her faith. Zaira Wasim, Srinagar born and raised, whose family still lives there, wrote a poignant Facebook post saying that "though I may fit here perfectly I do not belong here." We do not know the reality of her mind, circumstances or inner world. She has every right to pursue a spiritual life if she so wishes. Who are we to judge her and I'm surprised to find so many liberals doing so.
Many people of faith find a great deal of peace and structure in their daily lives. It's a frontier I have never crossed but I see many people finding strength in religion - and they are liberal, generous and open-minded as well.
Muslim women are as ordinary and extraordinary as other women and should not have to bear the burden of being singled out and profiled just because their names are Muslims. But this happens every day, in big little ways, in our day to day lives.
I hope Nusrat has a happy life and marriage and a successful political career. I hope Zaira finds her path with Allah as she writes and her inner world is more peaceful than the outer world in the troubled valley. And I hope Sana, the girl with 98.5 per cent marks, will make friends and enjoy her time in Hindu college, where my own daughter enters the third year.
I also wish that people would just leave Muslim women alone to make their choices - whatever they may be.
Saba Naqvi is a guest contributor. Views expressed are personal.
Source: Times Now News
URL: http://www.newageislam.com/islam,-women-and-feminism/saba-naqvi/more-controversial-than-the-nusrat-jahan-fatwa-has-been-the-decision-of-zaira-wasim's-to-quit-films-to-pursue-her-relationship-with-her-faith/d/119052