By Rokhaya Diallo
28 May 2018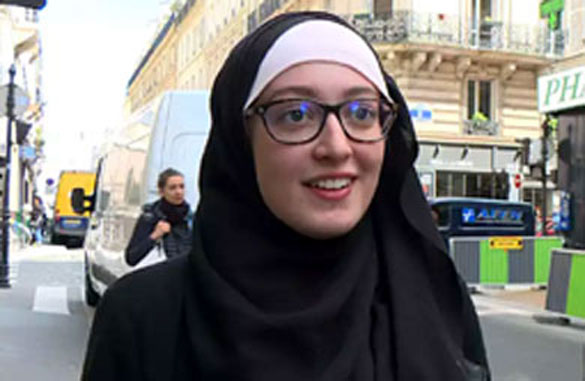 Maryam Pougetoux in Paris. Photograph: STR/AFP/Getty Images
-------
"She wears a particular veil that covers all her hair, the neck: a hijab". Last Tuesday on French TV two men – a pundit, Thomas Legrand, and celebrity host, Yann Barthès – described in detail a woman's outfit before labelling it "the opposite of feminism". Few people in France appeared surprised. For the past two weeks the hijab has once more been at the centre of a national debate that has verged on hysteria.
It all started on 12 May when the political scientist Laurent Bouvet, known for his activism and sometimes referred to as a "gladiator of secularism", published on his Facebook page an image taken from a televised interview with the elected president of the Sorbonne branch of the national student union (Unef), Maryam Pougetoux. The interview was about student protests against government reforms, but Bouvet's attention was caught not by Pougetoux's comments but by the hijab that surrounds her face.
The reaction on social media was immediate. On Facebook, the prominent socialist Julien Dray said: "As a founding member of Unef … the union leadership that approves this young woman as a leader defiles all the struggles we led in the universities."
The minister of the interior, Gérard Collomb, joined in, describing Pougetoux's appearance as "shocking" and referring to "young people that can fall for Daesh's thesis". The cyber bullying that followed has included publication of Pougetoux's telephone number.
The satirical magazine Charlie Hebdo put a caricature on the front page, giving her ape-like, coarse features. The overpowering impression is of a woman's politics and achievements completely overwhelmed by her physical appearance.
So what did Pougetoux do wrong? She dared to wear a religious symbol while being a union leader. Bouvet asserted that he was simply observing an inconsistency: "How is it possible simultaneously to defend progressive/feminist principles (contraception, abortion, marriage for everyone …) and ostentatiously display religious belief?" It is striking how many people seem willing to judge the choice to wear a scarf while hearing nothing from Pougetoux herself. How can one interpret the meaning of a garment without asking the opinion of the women who wear it?
She had some defenders, too, in a debate that completely took over the airwaves. La République En Marche MP Aurélien Taché, himself a former Unef leader, said "I believe it's up to the students to choose their representative and that they don't need us for that."
The controversy came just a few weeks after another row about a Muslim woman, the first veiled candidate on the French version of the television singing competition The Voice, Mennel Ibtissem. The discovery of Facebook posts in which Ibtissem had appeared to question whether the 2016 Nice lorry attack, in which 86 people were killed, should be classified as terrorism, led to her withdrawal.
My point is not to defend these comments. But the fact is that for three decades now, controversy around the headscarf in France has been never-ending: visibly Muslim women have again and again been singled out for criticism, denied their own agency or intellect, and prevented from engaging in public life. As the furore around Maryam Pougetoux shows, France is stuck in an identity crisis, unable to recognise all its citizens and apparently frightened of its own multicultural reflection.
• Rokhaya Diallo is a writer, journalist, film director and activist
Source: theguardian.com/commentisfree/2018/may/28/union-leader-maryam-pougetoux-france-hijab
URL: https://www.newageislam.com/islam-women-feminism/media-attacks-maryam-pougetoux-show/d/115385