By Reham Khan
29 March, 2018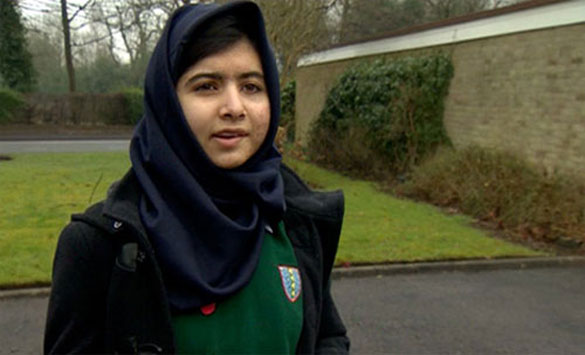 Malala Yousafzai
--------
In my role as a television anchor, my team cautioned me not to say anything about Malala on air, because of the belief that she was a CIA agent.
I met Malala Yousafzai for the first time in November 2015. The family had invited me over for dinner.
My daughters, who never accompany me to any of my official visits, happily joined me and appeared genuinely eager to meet this girl they had read so much about.
Malala was a child hero to the world, but in Pakistan, she was the target of inexplicable, visceral hatred.
Back in November 2012, I was asked to host a fashion show in London in support of Malala's cause. The young girl was recovering at a hospital in Birmingham at the time.
During the show, as we announced the prizes, our sponsors kept asking us not to announce their names. The jewellers were happy to donate, but did not want their names associated with Malala. They told us of threats they were receiving back home in Karachi. Businessmen in Pakistan's biggest city lived in fear of militant attacks and abductions.
When I landed in Pakistan only a month later, I was shocked at the propaganda machinery against this young child. People were convinced that this girl had brought shame to the country. Apparently, it was clearly Malala's fault for having been shot point blank by terrorists in her school bus.
As I embarked on my TV career, my content team cautioned me not to say anything about Malala and just avoid the subject if I felt uncomfortable attacking her on air. Media people showed me ample evidence that Malala was indeed a CIA agent. The proof was a photograph of Malala and her father meeting with an American diplomat. They said that the father had taken money to get his daughter shot; the treatment was all fabricated.
In fact, forensics experts in the TV team even showed me how the bullet wound was in a different place in different pictures.
When I failed to fall for what I was being fed, their counter was to ask: Why did Madonna never sing for Palestinian kids?
A few months in Pakistan and one learns not to argue with idiots.
Malala settled in Birmingham after the attack, far away from the divided public opinion back home.
During our meeting with Malala, my daughters immediately took to her; they were soon chatting away about showbiz and music like only teenage girls can. I had made this trip because I had recently been labelled an agent by the Pakistani media myself, and it struck me how horrible this child must have felt all these years. I was pleasantly surprised to find a bright undefeated spirit in this young girl, who was completely unaffected by her celebrity status.
From time to time, she would chip in with a sharp witty comment. She was an unusually intelligent teen. She was hated because she genuinely possessed above-average abilities.
It was also very obvious that she had a father who was a cut above the rest. The intelligence was perhaps not only inherited but had been nurtured by philosophical discussions and a progressive mindset in her family.
I was not surprised as it reminded me of my origins in Swat. Not only had Malala been injured brutally in the attack, our traditional Swati sensibilities had been damaged in front of the whole world.
Her family was quintessentially Swati, not those who took over our beautiful land and inflicted violence. Like the serene Swat river flowing harmoniously with the Kabul river, we had managed to live side by side with other people for centuries. Malala is a warrior who remains true to her Swati roots.
Today, we invited her and welcomed her back to her own home. A home she speaks so lovingly and proudly of. But will she be allowed to roam freely like she was meant to?
Today, it seems that the state and the military are all on board for her long-overdue and sudden return home. But will she be honoured in our hearts too?
Have we really become a nation that takes a united stance against extremism, or is this just a knee-jerk reaction in response to the grey-listing by FATF?
I hope the winds of change are here to stay and that this will not be the last visit by Malala. May the day come soon where our daughters are not vilified because they want equality. May Malala return for longer than a four-day visit to lead the country to a glorious future, where there is no place for hatred and lies.
Source: theprint.in/opinion/will-pakistan-change-its-mind-about-malala-or-continue-to-think-shes-a-cia-agent/45805/
URL: https://www.newageislam.com/islam-women-feminism/will-pakistan-change-its-mind/d/114777