By Reem Leila
February 6, 2013
"It happened abruptly and very quickly," said Yasmine Al-Baramawi, a female protester assaulted in Cairo's Tahrir Square. "All of a sudden, dozens of men were running after me and my friend, who managed to escape. But I fell to the ground. I found myself alone in the middle of them. Suddenly, they started hitting me and tearing off my clothes. They were touching every single part of my body. Countless hands were under my shirt and inside my underwear," Al-Baramawi said, still traumatised at the memory.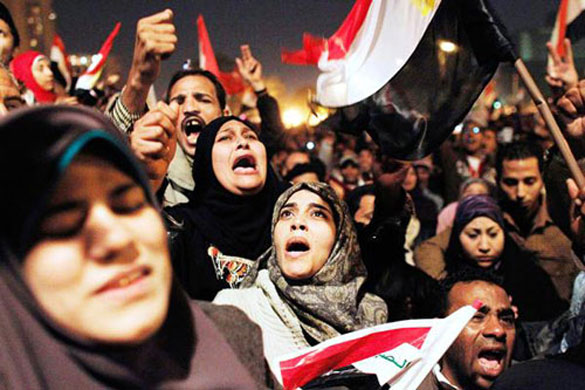 "I was so angry at being physically assaulted. The harassers molesting me made me feel helpless as a woman," she added.
Soha, another victim of aggressive sexual harassment in Tahrir Square, was hospitalised for three days after she was attacked. She had gone to Tahrir Square on 25 January for the anniversary of the 25 January Revolution. "Suddenly, I found myself in the middle of a circle and surrounded by what seemed to be hundreds of men. The circle was getting smaller and smaller around me. I started screaming for help, but no one heard me. Their voices were louder than mine. As I tried to escape, they grabbed my clothes, tearing them apart. Dozens of hands were touching my body," Soha said, still shocked by the experience.
Soha continued by saying that "people were screaming at the harassers to make them stop, and eventually I escaped. However, worse was to follow, as the ones I thought were my rescuers turned out to be other molesters who also wanted to have their share in groping me. I guess I must have fainted, but before passing out a group of men carried me away to one of the nearby stores."
There have been increasing numbers of reports of sexual assault during demonstrations in Tahrir Square over recent weeks. More than 20 women were sexually harassed on 25 January during the demonstrations in and around Tahrir Square. Many of the assaulted women suffered from wounds and cuts as a result.
It was on 25 January itself that eyewitnesses reported the most important attacks, with many women being violently molested and groped in sensitive areas of their bodies. Some women had their clothes torn off by gangs of attackers. Hundreds of men assaulted three other women near Al-Dobara Palace Church, then being used as a field hospital. The women fled their harassers to the Mugamma building, where employees locked the doors to prevent the harassers from following them.
At the same time, other demonstrators holding a sit-in in the square beat the harassers with sticks and threw rocks at them to make them leave the square. The assaulted women were later taken to hospital for medical care.
It seems that such sexual attacks are on the rise, and there have been more this year than there were two years ago, when the 2011 attacks sparked the formation of several groups and organisations aiming to prevent such attacks, rescue women who were harassed, raise awareness about the issue and instruct women on how to protect themselves against assaults.
Among such organisations are the Operation Anti-Sexual Harassment (OpAntiSH), the Harassmap, Tahrir Bodyguard, and the Egyptian Initiative for Personal Rights (EIPR). These organisations have since been cooperating with other women rights' organisations, such as the Egyptian Centre for Women's Rights (ECWR) and the National Council for Women (NCW).
Nevertheless, despite the work of these and other organisations Tahrir Square has become a place where women feel unsafe during demonstrations, and the attacks on them have become more frequent and more brutal. Mohamed Al-Khatib, a volunteer for OpAntiSH, said that men should not stand by, as the violence against women was increasing. "Our mission is not an easy one, but it's a fight we must continue. We must not allow the harassers to win," he said.
This year's attacks have not been the first of their kind. In 2011, there were also reports of sexual assaults in Tahrir Square, though these were not as brutal as the current ones. CBS reporter Lara Logan was sexually assaulted in Tahrir Square on 11 February 2011, the same day that former president Hosni Mubarak renounced power. The Logan incident, the first in which a female foreign reporter had been attacked, made international headlines as the first sexual assault in Tahrir Square.
According to Al-Khatib, the anti-harassment organisations are cooperating with each other, as well as with women rights' organisations, in efforts to end the attacks. People working for the organisations divide themselves into groups when they are working in Tahrir Square, he said, in order to cover the widest possible area. The anti-harassment groups wear special clothes with a logo reading "anti-harassment personnel".
"The groups usually carry bags of clothes and medical supplies which women may need if they are harassed," he said. "Other groups actively protect women against assaults, and they also take any attacked women to safe houses."
Groups are also stationed beside landline telephones to receive calls for help, and all the anti-harassment organisations routinely man hotlines to receive calls. "They immediately report any incidents to group members on site in order to move swiftly and rescue the harassed person," he said.
However, some members of these organisations have themselves been attacked while carrying out their work. Ingy Ghozlan of Harassmap said that she believed that the attacks had been carried out by thugs paid by the Muslim Brotherhood to scare women away and stop them from going to Tahrir.
According to Ghozlan, listening to the testimonies of the harassed women and the statements of eyewitnesses was enough to make one understand that the attacks were planned. Most of the incidents have followed the same technique, she said. "The harassers start by gradually isolating the victim from her group. Then, they beat her and tear off her clothes. They start groping and touching every part of her body in a very humiliating way," Ghozlan said.
Sally Zohni, a protester, has now decided not to go to Tahrir Square because of the attacks. "Things are going seriously bad in Tahrir," she wrote on her Twitter account. "It kills me that a couple of years after the revolution, women cannot spend time in Tahrir Square."
Another protester, Mariam Ali, who has been present in Tahrir for most of the protests over the past two years, wrote on her Facebook account that "Tahrir Square has become a dangerous area. Women are being stripped and beaten. This feels like the worst days Egyptian women are now witnessing."
Two years of lobbying against government inaction on the issue has pressed the police to intervene more forcibly against such attacks, and Nihad Abul-Qomsan, head of the ECWR, commented that "sexual harassment is now at the forefront of issues being dealt with by the centre." Sexual harassment in public areas is not limited to a specific age category or social class, she said, adding that the centre was leading the campaign against this "social cancer and unwelcome behaviour of a sexual nature that is making women feel uncomfortable and unsafe."
According to a recent study released by the ECWR, 62 per cent of Egyptian men have admitted to sexually harassing women, and 83 per cent of Egyptian women have reported being harassed. Half of the women surveyed said that sexual harassment happened every day, while 53 per cent of the Egyptian men blamed women for "inviting" sexual harassment.
The survey found that 98 per cent of foreign women visitors had also experienced some harassment. The study, the first of its kind, had revealed that "harassment is a real issue, and it has been becoming worse over the past decade," Abul-Qomsan said. "People say that up until the 1970s there was very little harassment in Egypt, but things are very different now."
Abul-Qomsan added that some foreign embassies now consider Egypt to be one of the worst countries for sexual offences against foreign women, warning their female nationals to be "extra cautious" in public places, especially when alone. Abul-Qomsan said that in the light of such reactions Egyptians needed to re-evaluate their value system and school curricula, in order to ensure that the rule of law prevailed and offenders were not allowed to walk free because of a failure of basic notions of right and wrong.
"This phenomenon requires immediate attention from the government. What is happening in Tahrir is directly linked to Egypt's endemic social problems of daily sexual harassment against women," she said.
Female activists have also complained about the alleged police failure to take action against harassers even when they are given details about the perpetrators. "Most police officers simply ask about the identity of the harasser, without taking any action against him," said Hussein Al-Shafei, a volunteer for Tahrir Bodyguard.
According to Al-Shafei, some of the harassers are even policemen themselves. "Although they are in the lowest ranks, they should be the ones protecting women. They shouldn't be participating in such shameful acts," he said. "Other police officers sympathise with the harassers and blame women for going into the streets on such occasions."
The OpAntiSH group, another anti-harassment group operating in Tahrir, has rescued and treated some 16 women, while Tahrir Bodyguard has helped in saving another nine, thus making a total of 25, with the two teams hearing reports of at least nine more attacks.
Meanwhile, there is uncertainty about who is behind the attacks, though the representatives of the anti-harassment organisations believe that they are organised by those opposed to the protests. "What we are sure about is that these attacks are organised, because they happen most of the time in the same spots of Tahrir Square using the same techniques," Al-Shafei said.
The government has condemned the incidents, with Prime Minister Hisham Kandil describing the attacks as a "catastrophe" that threatens society. Kandil had previously announced that the cabinet would be legislating to impose harsher penalties for sexual harassment. However, nothing has yet been done.
UN High Commissioner for Human Rights Navi Pillay has also called on President Mohamed Morsi to take swift action against the assaults as well as other violent actions against the demonstrators. "It is unacceptable and a dereliction of duty not to intervene when protesters are being attacked by thugs and when women are being raped and sexually assaulted," Pillay said in a written statement.
On 3 February, the opposition National Salvation Front (NSF) joined anti-harassment organisations in condemning the incidents of sexual harassment that had taken place in Tahrir Square during the recent demonstrations. "The NSF declares its full support for all anti-harassment organisations. It also condemns the systematic violence used against female protesters which occurred on 25 January and over the following days in Tahrir Square as well as in nearby streets. The NSF also denounces the use of bladed weapons in cutting and injuring women in an unprecedented manner," the statement read.
The NSF blamed Morsi, Minister of Interior Mohamed Ibrahim and the Muslim Brotherhood for not protecting the female protesters. It "declares its full political and judicial support for the female victims of these brutal events," the statement said.
Freedom and Justice Party (FJP) member Hoda Ghaniya said on the Muslim Brotherhood's website that "we condemn the increasing number of sexual harassment crimes against women in Tahrir Square. Women should not be intimidated by these incidents, and they should continue to play their leading role in the political and social arena," the statement said.
Psychiatrist Mona Hammad said that the harassers were likely to be from a combination of personality types. "Some of them could be men with anti-social personalities who feel no sense of guilt for what they do. Others may feel hate or aggression towards women," she said.
There were also those who may be adopting a "mob mentality", Hammad said, losing self-control as a result of being part of a crowd and so less likely to follow normal social restrictions. This could lead them to engage in a level of violence they would not engage in if they were alone, she said.
Although most women agree that it is better to speak out about such attacks, because of its sensitive nature the issue should still be addressed carefully. Hammad said that some of the women who have been subjected to sexual violence may feel stigmatised, and their reputations may be at risk if they speak out, even putting their own security and that of their families on the line.
"Some families, parents and partners could prohibit the victim from participating in any further demonstrations, or even from leaving the house. Such reactions are due to the families' fear of exposing the girl to another attack," Hammad said.
Unfortunately, in many cases of sexual harassment women were blamed for the incident, Hammad said. "The police, her family and her relatives might ask her questions such as, what were you wearing and were you alone? Was it late at night?" Hammad commented. Some people continue to believe that those women who have been attacked were targeted because of their behaviour or dress, she added.
At the same time, victims of sexual harassment could take months or even years to overcome the effects of such incidents. Many become overwhelmed by what has happened to them, even becoming psychologically unable to deal with the outside world.
"The victims often feel humiliated or vulnerable. Some may experience hallucinations, insomnia, or restlessness. Some sounds, especially loud voices, may become intolerable to them, and they may be fearful about going out into the streets," Hammad said. "In extreme cases, the victims may completely avoid people." One woman who was severely assaulted was in such a state of shock that she could not stop screaming, Hammad said, while another was unable to speak for a month.
Al-Baramawi said that in her case every time she sees the place where she was assaulted she feels uncomfortable. "I was not able to sleep for three days after the attack. Even now, I am not able to sleep properly, and I often have nightmares," she said, adding that she hoped the trauma would lift soon.
In protest against the rise in the number of attacks, a Women's March against Sexual Harassment, Assault and Rape took place yesterday afternoon, with demonstrators departing from the Al-Sayeda Zeinab district at 4pm and heading towards Tahrir Square.
How to protect yourself against harassment:
- Always stay in the middle of your friends and close to them.
- Never walk alone during the night in remote areas.
- Think about carrying a weapon to defend yourself, such as a self-defence spray.
- Wear double layers of clothes, for example two pairs of trousers, along with a belt that is hard to unfasten.
- Add the phone number/s of rescue teams to your mobile phone and ensure that you can be reached at all times.
- In cases of actual harassment, report the incident immediately to the police and try to remember any details about the harassers that will make it easier to identify them.
Source: http://weekly.ahram.org.eg/News/1308/24/Tainted-by-sexual-harassment.aspx
URL: https://newageislam.com/islam-women-feminism/tahrir-square-tainted-sexual-harassment/d/10367