By Ran Meir
April 27, 2016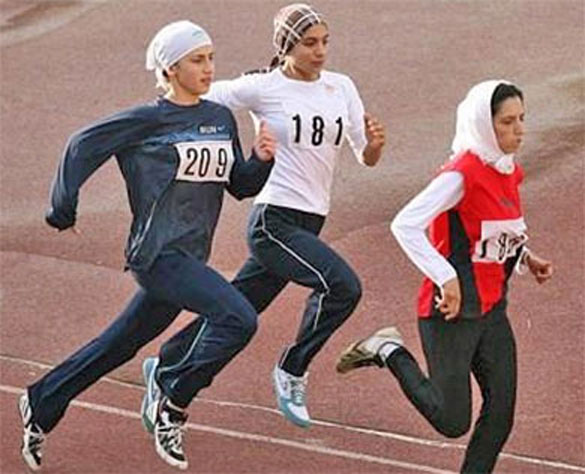 (Tineeeneen / flickr)
-------
Modern life gives us no choice other than spending endless hours sitting, the office and home as one. Of course this directly impacts our health. Sporting activity is crucial in offsetting this – weight loss, disease prevention, lowering blood pressure and strengthening our frame. Likewise it improves our mood and overall quality of life.
Women and Sport in Arab States
Of course not everyone participates in sport for a variety of reasons, be they personal or cultural. Is it fair to say in 2016 that men find it easier to make time for physical endeavour? Possibly, but not by a significant margin. In Arab countries though, things are different.
Sport in the Arab world is not as high a priority as it is in the West and concomitantly for Arab women. Take Aida Yassin for example. She works in the public relations industry in Saudi Arabia. She loves basketball.
"Even though I like playing basketball, I can only play in the confines of my home with my female relatives," she says. "Of course there are no sports halls for women in Saudi Arabia, so what can a woman do other than sporting activity at home?"
Females in these countries are already struggling to gain basic rights such as the right to leave one's home unaccompanied and without permission, independent decision making and freedom to seek employment. As a result sport is a marginalized issue for women.
Often men make decisions on behalf of women. Therefore, even if she receives permission to take up sport, it must be in closed environs, with no men present.
A Little Optimism Won't Hurt
Despite this negative picture, there is some good news.
More than a few women do take part in sporting activities. They join sports clubs, even making their mark on the international arena.
Success stories include that of Hind Razek. She is the first female boxing trainer in the Arab world and also happens to be African boxing champion. She trains others in martial arts and is a karate black belt.
Predominantly, stories of sporting openness for women are largely restricted to large cities.
In rural areas people retain reservations against women in sport. This is particularly so regarding sportswear. Here, more often than not, women only play sports in secret, as if it were a forbidden or shameful act.
If a woman is unmarried it is certainly easier for her.
Many seek the easy way out, exercising at home. Something as simple as jogging or cycling becomes a challenge. Images on social media suggest lots of women do cycle in Arab countries, despite looks, comments, curses and even physical abuse.
Women in the Arab world fight daily for their rights and do hold sport in high regard. Some start with small steps like attending sporting events to cheer for their favourite athlete or team. But even this can cause problems. For others, as in the West, sport is their passion; cyclists, boxers, fencers, martial art exponents. Team sports such as handball and soccer provide a group environment for women.
There is progress. Sporting activity for women is a growing movement in Arab states but perhaps not as quickly as the women themselves would like to see.
Could sport be a new path of liberation and promotion of women's rights?
Source: clarionproject.org/analysis/it%E2%80%99s-sport-you-and-me-women-arab-lands%E2%80%A6
URL: https://www.newageislam.com/islam,-women-and-feminism/ran-meir/it's-sport-to-you-and-me;-but-for-women-in-arab-lands…/d/107151