By Rafia Zakaria
April 12, 2014
In a recent essay, "Making Martyrs", published in Guernica magazine, author Hassan Altaf writes about Malala Yousafzai's memoir. With the earnest dark-eyed Malala staring out from the book's cover, Altaf says, "comes the suggestion that this is an entirely straightforward book: a courageous answer to the question posed by a gunman at the back of a school van." What you get instead, he argues, is an "autohagiography," the conversion of a teenager into a saint, a flattening of edges, and an erasure of details to produce an unambiguous story of triumph.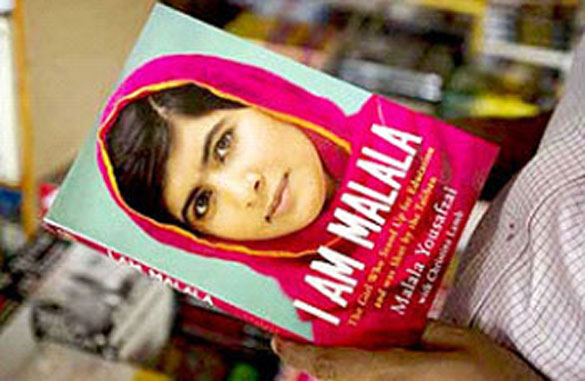 Christina Lamb, the book's co-author, Altaf accuses, takes over the book's narrative to produce what is required: a thrilling and uncomplicated book about "the girl who stood up for education and got shot by the Taliban."
Altaf's critique is apt and so is the location of its publication: beyond the fraught borders of Pakistan. In this fact, lie the other complications of Malala's story, the ones not occasioned by the West's appetite for Pakistan packaged in a box with instructions detailing solutions. In Pakistan itself, it is the very question of Malala's heroism that is at issue. The outcry against the book, its banning and burning, all pointing to the dark reality that there are a number of Pakistanis, whose anti-imperialism has become so blind that they are not quite sure about the moral contours of a girl demanding an education.
In the limited local context of Pakistan, a critique of Malala is difficult to posit; the narrow straits of political choices situate critics of Malala in the subterranean anti-intellectual realm of those who imagine Islamic authenticity as an entirely illiterate female population.
However, while Malala's story exists within this narrow space of war-weary contestation in Pakistan, the global dynamics of its construction nevertheless do require attention. While reductionism, as Altaf points out, may be the book's first failing, unsaid power differentials can also be located in its combination of authors.
A white, female, seasoned British journalist writing in conjunction with a brown Pakistani teenager poses its own questions of feminism, the location of the subaltern, and the trope that situates white women as somehow necessary midwives to the production of this brown girl's emancipation.
These gradations of race and feminism, where white women stand at the zenith of global opportunity, pose their own questions regarding the embrace of Malala Yousafzai. Would she be as loved, as embraced by white feminists, if she was less accommodating, if she had insisted on telling her story herself? It did not happen, so we will never know.
An older Malala perhaps may have done that; a young Malala is hence safe, brave, heroic, and courageous, but not yet sophisticated enough to question racial privilege in the global context as she did gender privilege in her local one. The global Malala has a fund, but not yet a global agenda. Education is not a contested issue in the world of award ceremonies and transnational conferences; if she chooses to remain radical within that realm, Malala must define a new agenda.
Turning back inward, within Pakistan, not all of the blame for reductionism can be similarly placed on the shoulders of Christina Lamb or Western demands for easy answers to the complicated questions Pakistan poses. As Siobhan Lambert-Hurley, a scholar who studies South Asian Muslim women's biography has pointed out, the tradition of such written accounts in the subcontinent follows patterns of highlighting the possession of positive moral qualities worth emulating.
The purpose of sharing the story (examples include for instance "Memoirs of a Rebel Princess", the life story of Princess Abida Sultan, the last heir to the throne of Bhopal) was not the exposition of self, an embrace of imperfection as part of the process of self-realisation. Instead, the life story was quite simply an example, an unarguably good one, a story safe to tell, if lacking in depth and dimension.
It is in this last point that I see a challenge in Hassan Altaf's questioning of "I am Malala". If the reduction of Pakistan to a simple trope is to stop, it requires a prior or at least simultaneous commitment by Pakistani writers and artists to tell complicated stories, to risk self-exposition, and to go beyond the yearning for universal acclaim.
It is only within a future context populated by the open discussion of mistakes and meanderings, of the less than heroic but also true, that the Pakistani memoir can be resuscitated from the safe and singular, to rebellious and even radical. That undertaking requires a collective effort that cannot, by definition, belong to Malala alone.
Rafia Zakaria is a columnist for DAWN. She is a writer and PhD candidate in Political Philosophy whose work and views have been featured in the New York Times, Dissent the Progressive, Guernica, and on Al Jazeera English, the BBC, and National Public Radio. She is the author of Silence in Karachi, forthcoming from Beacon Press.
Source: https://www.dawn.com/news/1099398/the-global-malala
URL: https://newageislam.com/islam-women-feminism/the-global-malala/d/66555