By Nicolas Rochon
July 25, 2013
Even at the tender age of 16, Malala Yousafzai is celebrated as a powerful education and women's rights activist from Pakistan's Swat valley.
In 2009, Yousafzai began blogging for BBC News under the pseudonym Gul Makai, to describe her day-to-day routine in a town threatened by constant militant activity. In October of 2012, she was shot in the head and neck by local Taliban insurgents for speaking out against the group's edict banning girls from attending school. Yousafzai has already earned a spot on TIME magazine's "The 100 Most Influential People In The World," an international day of recognition, a nomination for the Nobel Peace Prize, making her the youngest to ever be considered for the award, and most recently, the attention of the United Nations General Assembly.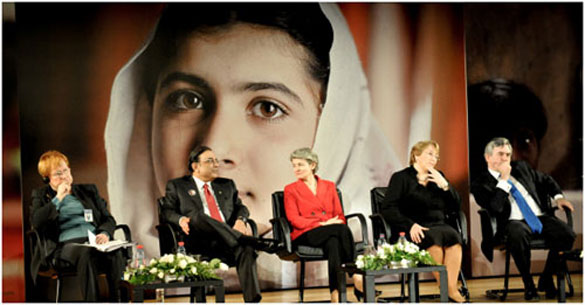 Photo: UN Women: A U.N. panel listens during a presentation at the "Stand Up for Malala" event.
----------
In response to her July 17 U.N. speech, a senior member of the Taliban published an open letter to Malala Yousafzai. In the letter, the lead commander writes, "Taliban attacked you, was it Islamically correct or wrong… let's we leave it to Allah All mighty, He is the best judge… you must know that if the pen is mightier than the sword then tongue is sharper and the injury of sword can be hailed but the injury of the tongue never hails and in the wars tongue is more destructive than any weapon." Most recently, a senior commander of the extremist Islamic movement declared that they will shoot her again if she decides to return to Pakistan.
State Of Emergency
Pakistan, a country ranked as the 27th largest economy in terms of purchasing power parity by the International Monetary Fund, spends a mere 2.1 percent of the country's GDP on education, seven times less than its investment in military forces. Comparatively, this puts the country in the bottom eight worldwide for its commitment to educating a population whose majority are under the age of 22 and never complete basic, primary school education. Furthermore, 75 percent of young girls never attend primary school, contributing to a global scale of 32 million young girls without this opportunity, according to Equal Times' Aoun Sahi.
During last month's general elections, all of the running political parties promised to improve Pakistan's state of education. The Pakistan Muslim League-Nawaz (P.M.L.-N), whose leader, Nawaz Sharif, earned enough of the vote in May to become the country's prime minister for a third time, committed to raising the education budget up to 4 percent by 2018.
In Pakistan's Punjab province, the P.M.L.-N has reportedly done much to improve the local education system. According to the party's media and manifesto committee member Zubair Mohammad, unlike previous provincial governments, "[P.M.L.-N] truly stands out when compared with the performance of other provinces and the federal government." Specifically, Mohammad cites an overall increase of "900 percent over the last five years" in education spending, as well as "the quality of investment" in various initiatives to provide financial assistance to poor children for their schooling. In total, Pakistan's most developed province invested near $3 billion since 2008 in education, marking the highest investment in the education sector in 50 years.
But for a country whose economy is only getting worse – foreign exchange reserves continue to decay, IMF loans are expected to be paid back by the year's end, and investment remains low across the board – many fear that the government's promises were illegitimate. Speaking as the head of Alif Ailaan, an NGO alliance working to bring universal education to Pakistan, Mosharraf Zaidi cautions that, "Before Pakistan can ask what the government will deliver with an increased education budget, it has to ask where this money is going to come from." And it is not just the economy which is to blame for Pakistan's perilous state of education, but the local Taliban as well.
Violence In The Streets
In 2007, Swat valley lost its autonomy and safety as Taliban militants began to spread across Pakistan's northern zone. Led by Maulana Fazlullah, the once prime tourist destination along with adjacent Buner and Dir districts quickly transformed into a war zone. By 2009, the Pakistani military had deployed at least 25,000 troops to face the region's rising insurgency, further contributing to the violence. Over the past five years, more than 400 schools have been the target of insurgent extremists who believe in leaving equal education in the rubble.
In Quetta last month, the extremist militant outfit Lashkar-e-Jhangvi (LeJ) carried out two attacks that left 25 students and medical personnel dead. A day later, Abubakar Siddiq, a spokesman for the Sunni LeJ, told a local newspaper that, "The suicide attack on the bus was carried out by one of our sisters. She boarded the student bus and blew herself up. Then we carried out a second suicide attack at the hospital and our fighters killed several people."
Upset that all of the bus victims were female educators and students, U.N. Secretary General Ban Ki-moon deplored the attacks saying, "Violence against women and educators has increased in recent years. The aim being to keep girls from attaining a basic right to education."
Quetta saw two bigger attacks earlier this year when a planted bomb inside a water tanker killed 90 Shiite civilians one month after another suicide bomber left 92 others dead in January. Responsible for the two attacks was LeJ, a Sunni Muslim group which has grown to become Pakistan's largest extremist organization since the mid-1900s. In 2012 alone, Sunni groups have claimed the lives of 400 Shiites, raising questions about the role of jihad, or the war and struggle against unbelievers, in today's Islam.
In a January 2013 report for the Institute For Social Policy and Understanding, researcher
Shehzad H. Qazi surveyed a number of Pakistanis to interpret the general understanding of jihad. In the end, Qazi found that 31 percent of individuals believe jihad to mean fighting cruelty, 17 percent defined it as fighting one's own desire, 8 percent believe that it means fighting the enemies of Islam, while 5 percent define it as spreading Islam around the world.
Qazi argues that the results indicate that only a minority of respondents—only 13 percent—have "a clearly radical and militant understanding of jihad." He continues, "Nevertheless, even the more benign response of "fighting against cruelty" is of concern because its vagueness makes it vulnerable to radical interpretation, especially when 14% prefer offensive armed jihad to defensive jihad."
'Reason' For Her Attack
In an interview with the BBC's Nel Hedayat, a well-known mullah at one of Swat's madrasas (a school for Islamic instruction) talked of Yousafzai's attack. He said, "There was a reason, she talked about being open minded and liberal on the internet… she said there's no need for the veil, and she always spoke against Islam. That's why the West likes her. She crossed Islamic boundary and that is wrong. Islam doesn't allow you to cross those boundaries… but we appreciate her educational endeavours." On her struggle for education, Umme Hasaan, who teaches at the madrasa, said, "The Taliban has said that girls can be educated… [but] Islam is number one."
Under the curriculum of a madrasa, children spend 80 percent of their day learning from the Quran, while their remaining time is spent learning mathematics, science and the computer. Following September 11, madrasas in Pakistan were seen as "breeding grounds for extremism and militancy," Dr. Syed Manzar Abbas Zaidi said in a 2013 report.
Today, Zubair Torwali, a newspaper columnist from the Swat Valley, writes, "Anything here in Pakistan related to the West or America becomes a thing of conspiracy. The Taliban's ideology is flourishing in Pakistan."
Malala's Future
Having spoken out against the Taliban since age 11, Malala Yousafzai has not only been courageous, she has learned to inspire others. As 17 year-old Ayesha Mir, daughter of the revered Pakistani journalist Hamid Mir, learned of a planted bomb under her father's car, she became angry at her father for his work as a news host who publicly criticizes the Taliban. Even as she was recovering from surgery in a London hospital, Yousafzai found the strength to call Mir to tell her, "I understand that what happened was tragic, but you need to stay strong. You cannot give up." Later Mir replied, "The way she spoke was so inspirational. She made me realize that my father was fighting our enemies and that it was something I should be proud of, not afraid [of]."
Writing for TIME magazine, Aryn Baker et al. explained, "In trying, and failing, to kill Malala, the Taliban appear to have made a crucial mistake… [She] was already a spokesperson; the Taliban made her a symbol, and a powerful one… a parable as tragic and triumphant as hers can raise an army of disciples."
On July 12, Yousafzai spoke at U.N. Headquarters in New York City to continue her imperative work as an advocate for women's right to education and equal opportunity. Adorned with the shawl of the late Benazir Bhutto, Pakistan's first female prime minister, Yousafzai affirmed that since her failed assassination nothing has changed, except: "Weakness, fear and hopelessness died. Strength, power and courage was born."
During and after her speech, many social media followers applauded Yousafzai for her fearlessness and confidence in speaking for compulsory education, while others squabbled over her indifference towards military drones or other perils affecting the country. In response, editor and journalist Faiza S. Khan tweeted, "Just to remind people — a drone did not land on Malala. She was shot by the Taliban. Drones [are] not actually Pak's [sic] only problem. Not even close."
She concluded her speech by saying, "So let us wage a global struggle against illiteracy, poverty and terrorism and let us pick up our books and pens. They are our most powerful weapons. One child, one teacher, one book and one pen can change the world. Education is the only solution. Education first. Thank you."
Nicolas Rochon is a reporter for The International.
Source: http://www.theinternational.org/articles/447-malala-yousafzai-and-the-fight-for-young
URL: https://newageislam.com/islam-women-feminism/malala-yousafzai-fight-young-girls/d/12766