Taliban Should First Honour the Rights of Afghan Women
Main Points:
1. Teenage girls of Afghanistan have been barred from attending school by Taliban
2. Women are being removed from jobs and media by Taliban
3. Taliban believes in rule of the gun.
4. Indian Muslims believe democratic values.
----
By New Age Islam Staff Writer
17 February 2022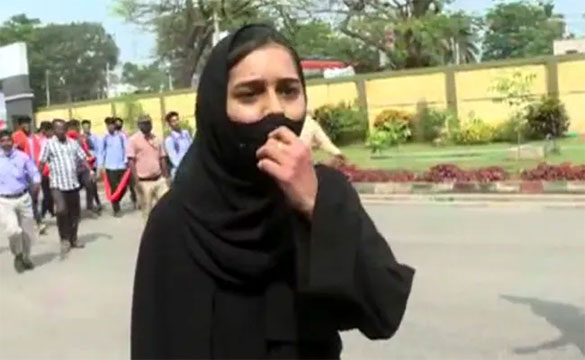 Muskan Khan, shouted Allahu Akbar amidst saffron flag weilding students
----
The Hijab controversy of Karnataka College in India has drawn the attention of the world and particularly the Muslim world has stood up with the Muslim college student Muskan Khan who shouted Allahu Akbar amidst saffron flag wielding students opposing Hijab in the college campus.
The college had banned Hijab worn by Muslim girl students and the girls had resorted to the legal process to claim their constitutional right enshrined in the Article 14 and 25 if the Indian Constitution.
But soon the issue was politicised and took an ugly turn when students opposing Hijab heckled a girl student who instinctively responded by shouting Allahu Akbar. Her response was more the result of her fear and nervousness in the middle of saffron flag weilding aggressive youth than of any ideological passion as she was well aware of mob lynchings in the country. This created a flutter in the media and Muskan Khan became popular overnight. The Muslim community read too much into it.
There are many Hindus who have defended the Muslim girls' right to wear Hijab to college and also there are liberal Muslims who are of the opinion that the girls should not have insisted on wearing Hijab at the cost of their bright .educational career. So the issue was not Islam versus Hinduism. But soon some communal minded Muslim clerics and political leaders communalised the issue and made it to appear that the entire Hindu community was against Hijab or against the Muslims.
First Maulana Mahmood Madani of Jamiat Ulema Hind announced a reward of Rs one lakh to the brave girl for the courage she demonstrated. Next Asaduddin Owaisi whose brother and colleague have in past talked about eliminating the Hindus got an election issue to polarise Hindus and Muslims of Uttar Pradesh. Even the Organisation of Islamic Co-operation took up the issue.
But this did not stop at that. The militant Islamic organisation of Afghanistan Taliban with its ideological branches in Tehreek-e-Taliban Pakistan in Pakistan jumped into the controversy by praising Muskan Khan for her fight to protect her cultural and religious values. The Taliban, the Al Qaida and the ISIS keep looking out for social and religious issues to gain moral acceptability among the Muslims of the Indian sub-continent particularly India. In their ideological publications, these militant and terrorist organisations reportedly advise their supporters to use social and religious issues of Muslims to promote rebellious mentality among the Muslim youth and to carry out terrorist acts as lone wolves. They also advise their cadre to infiltrate popular democratic movements for just causes and turn them into a violent revolt. They succeeded in this in Syria when they hijacked the Arab Spring and turned it into a civil war.
Therefore, by espousing the cause of Muskan Khan and of her classmates, Taliban have followed the same strategy. By interfering in the internal matter of Muslims of India, they have put the secular defenders of Muskan into an embarrassing position. Now the political opponents of the secularists of India will call them the friends of Taliban since both are on Muskan's side. They have made this well thought out move to win the sympathy of the Muslims of India as the defenders of religious rights of Muslims.
But Muslims should remember that Taliban in Afghanistan and Pakistan have a very poor track record of honouring and protecting the religious and cultural values of Muslims particularly in the field of rights of girls and women.
The Taliban are defending an Indian Muslim girl but they have deprived the girls and women of Afghanistan of their legal and Sharia-enshrined rights. During their rule from 1996 to 2001, they banned girls' education and restricted their movement. Women and girls were allowed outside only in full covering Burqa with a Mahram. They were not allowed to study in schools, colleges and universities or to work.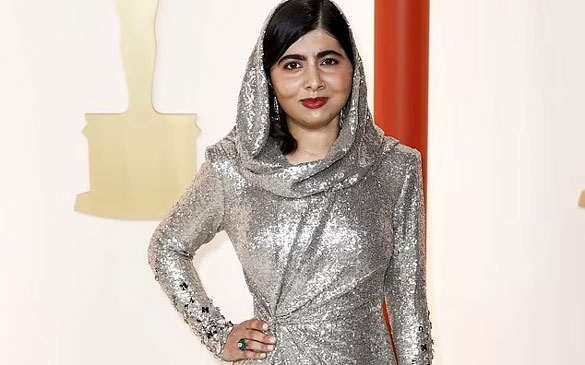 Malala Yousufzai, Nobel Peace Prize laureate
----
In 2009, the Tehreek-e-Taliban Pakistan captured power in the tribal area of Swat in Pakistan and banned girls' education in the valley. They closed or destroyed all the schools in the region.
Swat was a very liberal society and before independence, the rulers of the region promoted girls' education along with boy's education. The first boys' primary school was opened there in 1922 and the first girls' school was opened in 1923. In later periods, the Muslim rulers of Swat opened colleges for the girls and boys of Swat. The result was that the area produced professionals and people of Swat were known for their education all over Pakistan.
But in 2009, the Pakistani Taliban tried to reverse this trend and barred women from going to school. When a teenage girl Malala protested against Taliban's ban on girl's education, they shot her with a gun on a bus. She survived and went on to become the second Nobel Laureate of Pakistan.

Afghan Taliban
----
The Taliban who are praising Muskan would not have allowed her to study in a college and would not have allowed her to go to a college in a bike without a Mahram in a Hijab and would not allowed her to attend class without a partition between female and male students if she had been in Afghanistan.
In India, she has the freedom to study, to dream of a bright career and to move freely with her own choice of clothing. No one has forced the Hijab on her and no one will gun her down if she someday decides to forego the Hijab.
Unlike the Taliban, she and her classmates believe in peaceful and democratic means of resolving issues. In India, she has the constitutional right to go to a court of law and get justice. In Taliban's rule, the women can't go to the court and get justice.
Teenage girls in Afghanistan have been barred from going to schools and many girls studying in colleges and universities have left college because of fear of Taliban or because of restrictions.
Therefore, instead of showing solidarity with Muskan or Indian women, the Taliban should first give women and girls of Afghanistan their rights. Indian Muslims don't consider them worth a thought.
URL: https://www.newageislam.com/islam-women-feminism/muskan-malala-taliban/d/126390
New Age Islam
,
Islam Online
,
Islamic Website
,
African Muslim News
,
Arab World News
,
South Asia News
,
Indian Muslim News
,
World Muslim News
,
Women in Islam
,
Islamic Feminism
,
Arab Women
,
Women In Arab
,
Islamophobia in America
,
Muslim Women in West
,
Islam Women and Feminism