Taliban Say They May Be Barred From Appearing On TV
Main Points:
1. Taliban woman TV anchors were told to cover their face while presenting news.
2. They appeared on TV without face cover.
3. Taliban leader Akhundzadeh had issued order mandating women to wear burqa in public places.
4. Earlier, woman TV anchors were only required to wear headscarf.
-----
By New Age Islam Staff Writer
30 May 2022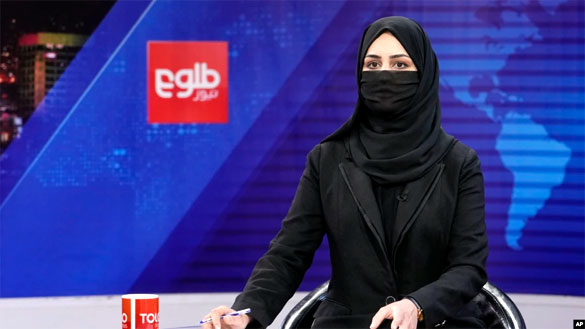 Khatereh Ahmadi a TV anchor, wears a face covering as she reads the news on TOLO NEWS, in Kabul, Afghanistan, May 22, 2022.
------
Ever since Taliban came to power last year, they have continually harassed women in the name of implementing Shariah law in the country. They have mandated complete purdah for women and barred them from appearing in public without Burqa or veil. This has made difficult for professional women working in the media, business, arts and sports to work and continue their profession. Many women journalists had to leave their job in TV channels and many women journalists and activists had to leave Afghanistan.
Under foreign pressure, the Taliban had relaxed some restrictions on women journalists and they were only required to cover their head but last week, the Taliban again issued new orders mandating women TV anchors to cover their face while appearing on the TV. This caused another round of disappointment and frustration among woman TV journalists.
The woman TV anchors this time defied Taliban dictat and appeared on the TV with uncovered face. Tolo News, Shamshad TV and One TV telecast programmes with women anchors appearing without face cover.
The bureau chief of Shamshad TV Abid Ehsas said that the woman anchors felt that if they complied Taliban order by covering their face, they may next be barred from working on the TV. One woman journalist observed that since Taliban came to power, many women journalists were compelled to leave Afghanistan due to such restrictions on them. The women journalists are extremely disappointed over the attitude of the Taliban towards women and they think that their career and life in this country has no future. She further said that she was contemplating leaving the country and others like her will also leave Afghanistan if the restrictions and harassment continued.
The spokesman of the Ministry of Promotion of Virtue and Prevention of Vices, Mohammad Sadiq Akif Mohajir said that if the woman anchors did not comply with the order, we shall talk to their managers and guardians (husbands or fathers). He said everyone has to abide by the rules of the government.
The Taliban has said that the women defying dress code should be expelled from their jobs. Not only that, if the women defied the law, the managers of their media outlets and their guardians may face penalties and if their husbands or fathers are in government service, they may be dismissed from service.
This stance of the Taliban is totally opposite of what they had initially said after coming to power. Taliban had tried to don a pragmatic approach towards women and minorities. They had announced general amnesty and had said that they would respect the rights of women and women would be allowed their place within the framework of Islamic shariah. In a statement Taliban spokesman Zabihullah Mujahid had said that the woman would be free to work within the framework of Islam but did not elaborate on what he meant by 'the framework of Islam.'
Two days later, Taliban leader Waheedullah Hashmi had said that Muslim women's right to work and education will be decided by 'Islamic scholars'.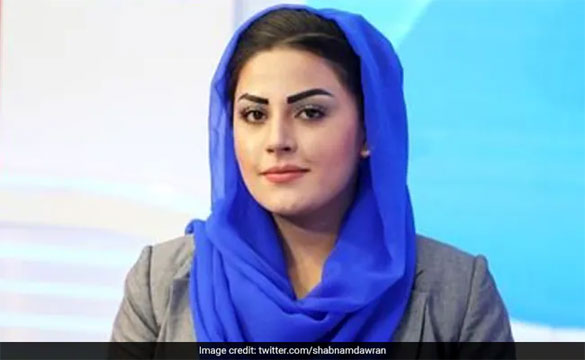 Shabnam Dawran worked as a journalist for six years for state-owned RTA
----
Earlier, a woman anchor of state-owned TV RTA Shabnam Dawran, was barred from joining work on the basis that the 'system' had changed. Shabnam Dawran, an anchor said she was barred from joining her duty after the Taliban's takeover. This was in contradiction to what the Taliban leaders have been saying.
It seems that the Taliban have not been able to chalk out a clear cut policy on women's rights and on whether they should be allowed to work.
That women will be allowed their rights within the framework of Islam and that Islamic scholars will decide on the issue is an ambiguous statement. There are many interpretations of Shariah and there are also many opinions of Islamic scholars or Ulema on the veil and education and jobs for women. And Taliban have been following the interpretations of their own Ulema since the inception of Taliban. So it seems a little confusing when they say that their Islamic scholars will decide on the issue of education and the extent of veil for
It is known to all that Taliban have their own theology and their own Islamic scholars who present a violent and extremist Islamic ideology. According to their theology, women should not be allowed to lead public life and girls should not be allowed to acquire education. If they allow all this they will violate their own theology and even if they show some pragmatic approach they cannot go far in that direction. Their own conservative interpretation will come in their way. From what they have been saying for the last week and what they have been practicing it is evident that they are trying to present before the world a liberal and reformed picture of their organization but their ideological commitments are pulling them backwards.
The hardline stand on the veil is not a specific Taliban ideology. Many mainstream Islamic scholars of Islam are of the view that the Muslim women should be covered from head to toe in public. These Ulema stress that the women should a Burqa which has hole before only the left eye and their whole body is Satar (to be covered) though in many Muslim countries women are not asked to cover their face.
The Security Council of the United Nations had demanded that the Afghanistan government should remove restrictions on women but the Taliban representative in the Security Council said that the imposition of hijab on women was in accordance with the religious and cultural traditions of Afghanistan. The Security Council had passed a resolution condemning restrictions on girls' education, employment of women and an on protests. The resolution had demanded reopening of girls' schools, and removing of curbs on human rights of women in the country.
The preoccupation of Taliban with the issues of women has prevented them from concentrating on fundamental issues facing the nation. The foremost issue is that of starvation of millions of Afghan children due to the collapse of economy. The government cannot pay salaries to the employees on time. Billions of Afghan money are frozen in the US banks because of the hostilities. The Taliban's rigid and uncompromising posture has become an obstacle in the country's development and it's return to normalcy. The Taliban are caught in the web of religious ideology and modern global conventions. The result is that Afghanistan's women and innocent children are suffering.
URL: https://newageislam.com/islam-women-feminism/afghan-woman-tv-anchors-/d/127126
New Age Islam, Islam Online, Islamic Website, African Muslim News, Arab World News, South Asia News, Indian Muslim News, World Muslim News, Women in Islam, Islamic Feminism, Arab Women, Women In Arab, Islamophobia in America, Muslim Women in West, Islam Women and Feminism