New Age Islam News Bureau
16 Dec 2018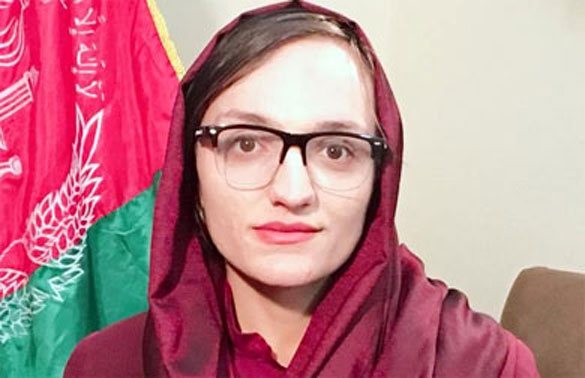 The newly-appointed mayor of Maidan Shahr city,Zarifa Ghafari, has been barred from assuming office.
-----
• Turkish Court Reaffirms State's Duty to Protect Women's Right To Go Out At Night
• Arab Women Deserve To Be Academic Leaders
• Arab Women Journalists Play Key Role for Peace -- Personalities
• Cultural Deterrents Limiting Growth of Women's Start-Ups: Report
• Kerala: Two Years after Girl 'Joined IS', Her Sister among 10 Missing
• US Airstrike Kills 20 Women, Children In Afghanistan
• Cameroon Attack: Two Female Suicide Bombers Detonate Devices near Nigerian Border
• Women's March Leaders Face Anti-Semitic, Corruption Charges Ahead of Second Anti-Trump Event
Compiled by New Age Islam News Bureau
URL: https://www.newageislam.com/islam-women-feminism/newly-appointed-female-afghan-mayor/d/117172
--------
Newly-Appointed Female Afghan Mayor Barred From Taking Office
Dec 16 2018
The newly-appointed mayor of Maidan Shahr city, the provincial capital of Maidan Wardak province, has been barred from assuming office.
Zarifa Ghafari was appointed as the mayor of Maidan Shahr city nearly five months ago and was due to assume office during a ceremony on Saturday.
However, Ghafari has reportedly been barred from assuming office as the newly-appointed mayor due to the intervention of influential figures.
Ghafari has said she has been residing in Kabul for the past five months and has not been able to assume charge of Maidan Shahr municipality so far.
She was appointed as the mayor of Maidan Shahr based on a presidential decree and her appointment was confirmed by the provincial government as per decree.
According to Ghafari, she has been barred from assuming the office due to the interventions of haji Ghulam Mohammad who is the brother of Haji Mohammad Musa, president Ghani's aide.
Haji Ghulam has confirmed his intervention and claims that Ghafari has been elected as the mayor by committing forgery.
This comes as efforts are underway to increase the role of women in the government leadership and the country's first female mayor was appointed for Neli city of Daikundi province few months back.
https://www.khaama.com/newly-appointed-female-afghan-mayor-barred-from-taking-office-02935/
--------
Turkish Court Reaffirms State's Duty to Protect Women's Right To Go Out At Night
December 14 2018
A high court in Turkey has reaffirmed in its latest ruling the state's duty to protect women's right to go out at night.
A foreign woman was sexually assaulted and robbed by the driver of a public bus in Ankara at night last year.
A heavy penal court in Ankara had sentenced the driver, İbrahim Tuncay, to more than 34 years in prison after refusing his argument for a lighter sentence suggesting that the woman should not have been out in the street at 11 p.m. and she had "consent."
After his request was rejected by a higher court, Tuncay had filed his final appeal to Turkey's Court of Cassation.
The Court of Cassation's 14th Penal Chamber upheld the earlier rulings in a final verdict on June 6, stressing that issuing the maximum possible sentence in the case was the right decision.
According to the ruling, going out at any time she wants is a woman's constitutional right, which is under the guarantee of the state.
The ruling will set a precedent in similar cases in the future, disallowing a man's defence claiming that a woman going out late at night can be a matter of mitigation in cases on sexual offences.
Hüsniye Şimşek, the attorney of the victim in the latest case, told Hürriyet that the Court of Cassation's ruling is "important, but deficient."
She stressed that the convicted should have also been sentenced for attempted murder, which could increase the number of years he would serve in prison on top of the current 34-year-long sentence.
Kadın Cinayetlerini Durduracağız Platformu (We Will Stop Femicides Platform), an association that monitors cases of violence against women, had also filed an appeal to the earlier rulings, demanding a heavier jail sentence for attempted murder.
The association counted 409 murders of women or girls in Turkey in 2017 and 328 in 2016.
Violence against women is a recurrent issue in Turkey.
Thousands of women took to the streets across Turkey to mark the U.N. International Day for the Elimination of Violence against Women on Nov. 26.
http://www.hurriyetdailynews.com/turkish-court-reaffirms-states-duty-to-protect-womens-right-to-go-out-at-night-139711
--------
Arab Women Deserve To Be Academic Leaders
16/12/2018
A recent survey by Al-Fanar Media and InfoTimes, an independent data analysis company, stated that less than 7% of Arab universities have women presidents. Only 48 of the 702 universities surveyed were led by women.
Nine Arab countries have no female academic leaders: Bahrain, Comoros, Djibouti, Kuwait, Libya, Mauritania, Qatar, Somalia and Yemen. There is some progress in the Gulf region, where women lead more than 13% of universities, and in Saudi Arabia, where they lead more than 11%.
The issue is about fairness to women whose academic and leadership achievements qualify them for such positions. As they become the majorities in many, if not most Arab universities, female students need role models.
Jouhaina Gherib, president of Manouba University in northern Tunisia, says seeing women in academic leadership roles "increases female students' confidence in their abilities and promotes their ambition to reach an advanced position."
https://thearabweekly.com/arab-women-deserve-be-academic-leaders
--------
Arab Women Journalists Play Key Role for Peace -- Personalities
14/12/2018
By Clovis Chouweifaty
BEIRUT, Dec 14 (KUNA) -- Arab women media personalities have affirmed the sector vital role for promoting peace and morals in Arab communities.
Dr. Samira Abdullah of Kuwait in remarks to KUNA, on sidelines of a ceremony marking launch of the "Arab women media personnel center," urged her colleagues in the sector to focus on cultural and intelligent essence, rather than superficial presentation.
Her fellow journalist from Saudi Arabia, Hanaa Al-Rekabi, expressed deep gratitude for those who launched the center in acknowledgement of the role of the female media personnel as messengers of peace, compassion, culture and advocates of Arabs' solidarity.
Dr. Lamia Mahmoud, the head of the Egyptian network, "Sawt Al-Arab," echoed identical sentiments, praising the honoring for the active women who have been promoting peace and liberties in the Arab countries.
The freshly-launched center has honored eminent Arab women in the field during a ceremony sponsored by the Lebanese Ministry of Tourism; attended by MPs, diplomats including the head of the Kuwaiti diplomatic mission, Abdullah Al-Shahin.
The Lebanon-headquartered center advocates justice and freedoms in Arab communities.
Lebanese Minister of Tourism Avedis Guidanian said in a keynote speech during the ceremony that Arab countries and female media figures should seek to promote tourism in Lebanon and to convey the genuine picture of this Arab country to the entire world.
Reassuring about security in Lebanon, the minister said the stable security situation is a catalyst for Arab tourism, urging Arab people to visit his country. (end) cc.ayb.rk
https://www.kuna.net.kw/ArticleDetails.aspx?id=2765602&language=en#
--------
Cultural Deterrents Limiting Growth of Women's Start-Ups: Report
December 16, 2018
ISLAMABAD: A growing number of women connected to tech-enabled start-ups in the country face cultural deterrents, such as a lack of support for mothers, difficulty networking and an absence of reasonably priced and safe commuting options, a new publication has found.
Launched by Media Matters for Democracy and Friedrich Ebert Stiftung on Saturday, SheConnects – tech-enabled women entrepreneurship in Pakistan found that these deterrents limit the growth of women's start-ups.
The research also highlights challenges within the taxation system that have been deemed unfriendly to start-ups by multiple interviewees. The author of the study recommended creating new tax brackets that are responsive to the particular challenges that face start-ups that have yet to become profitable.
The research also celebrates the engagement of government initiatives and private sector incubators and accelerators as enables for women entrepreneurs.
However, the study found the role of academic institutions to be questionable. The author recommended that institutions offer expertise on local markets to increase connections with the industry and the focus on innovative and tech-enabled solutions.
Speaking at the launch of the report, acting Ambassador of the Netherlands Marain Kappeyne said: "I think it is a very timely report, on what are the challenges Pakistani women can face and how can technology and internet help. The recommendations are very clear and I recognised many of them as in my country it was and still is difficult for women to start a business. I think this research is giving tools to Pakistani women."
She also added that women should join forces and support each other in such matters.
Media Matters for Democracy co-founder and the author of the study, Sadaf Khan, said the research is a very basic mapping of the growing trend of women entrepreneurs entering the tech-enabled economy in Pakistan.
"Based on interviews with 10 women entrepreneurs, I have mapped the enabling factors, the pitfalls, the challenges and possible solutions," she said.
"It was very interesting to note that technology is not just enabling women entrepreneurs but actually expanding opportunities for different kinds of home-based workers who start working with these start-ups."
Dr Jens Jokisch, deputy head of the German mission, noted that women around the world face similar issues when they step out to work or use technology. He stressed that we need to work collectively to overcome the barriers.
https://www.dawn.com/news/1451620/cultural-deterrents-limiting-growth-of-womens-start-ups-report
--------
Kerala: Two Years after Girl 'Joined IS', Her Sister among 10 Missing
December 16, 2018
Two years ago, the third of Muhammed Kunhi's five daughters, her husband and their three children allegedly joined the Islamic State in Syria. Even as the 67-year-old has been spending his days in a harrowing wait, he has been hit by another blow: another of Kunhi's daughters, her husband and their three minor children have gone missing in mysterious circumstances.
Police have confirmed that Kunhi's fourth daughter Nafsila, her husband Anwar and their children have moved to Iran, allegedly in a bid to sneak into either Syria or Afghanistan to join the Islamic State. They are among 10 people, including children, from Kannur district who allegedly moved out of the country last month to join the Islamic State. Kunhi is now devastated. "I miss my grandchildren… they filled our home and our lives with joy," he says at his home in Naluvayal in Kannur city. Kunhi says Nafsila was expecting her fourth baby when they went missing.
He says there was no hint about their plan. Anwar, a driver in UAE, was home in Kerala on a month-long vacation, and had left on November 19 with Nafsila and their three children on the pretext of a holiday to Mysore and Bangalore. "He promised to return after two days. But when they didn't come back and we didn't hear from them for several days, I informed police,'' he says.
What prompted Kunhi to alert the police was the fate of his third daughter, Fousiya. Two years ago, Fousiya, her husband T V Shameer, and their three children allegedly moved to Syria to fight for the Islamic State. Last year, security agencies confirmed that Shameer and sons Safvan and Salman had died while fighting for the Islamic State.
"I haven't heard anything about Fousiya and her daughter Najila yet. I hope they are alive,'' Kunhi says.
Police say Shameer and Anwar were activists of the right-wing Popular Front of India and close friends. It was after Shameer who proposed Anwar's name when Kunhi was looking for a groom for Nafsila.
A few km away, at Anwar's house in Poothappara near Kannur, his father T O Majeed says his son made a WhatsApp call last Tuesday from the UAE. "Since then, his cellphone has been switched off. I don't know what happened to him.'' Kunhi says his son-in-law has been "behaving strangely" of late. "His eldest daughter was supposed to be in Class 1, but this year she was not sent to school but to a madrassa. When I questioned him, Anwar said religious education was enough for the child at her age,'' he says.
Kunhi says Anwar had also stopped offering namaz at the local mosque. Anwar, Kunhi says, offered no reason for not offering namaz.
Police sources said they had confirmed from other security agencies that the latest batch of missing persons from Kerala, including the children, had reached Iran in their bid to move to either Afghan or Syria.
"So far, we have identified around 100 persons from Kerala who have either joined the Islamic State or have tried to sneak into Afghanistan or Syria. At least 35 people from Kannur have gone. Most of them have got killed fighting for the Islamic State,'' said a source in the police.
https://indianexpress.com/article/india/kerala-two-years-after-girl-joined-is-her-sister-among-10-missing-5495662/
--------
US Airstrike Kills 20 Women, Children In Afghanistan
Dec 15, 2018
At least 20 women and children have been killed in an airstrike conducted by US warplanes in Afghanistan's eastern province of Kunar, local officials say.
The deadly aerial aggression occurred late on Friday and claimed the lives of eight women and 12 children, Abdul Latif Fazly, a member of the provincial council, said on Saturday, adding that the airstrike also wounded more than 15 other civilians.
Kunar governor Abdul Satar Mirzakwal said an operation by Afghan forces in Sheltan district killed 38 members of the Taliban militant group and a number of terrorists belonging to the Takfiri al-Qaeda terror group, including four foreign nationals, and wounded 12 more.
He also said that the operation had targeted Sharif Mawiya, a Taliban commander believed to be a facilitator with al-Qaeda terrorists.
Mirzakwal, however, added that an unspecified number of civilians had been hit in the airstrike. He gave no details regarding the casualties.
"We know that a number of civilians, including women and children, have also been killed but we are sending a fact finding team," he said.
Back in October, the United Nations said the number of civilians killed or injured by airstrikes in Afghanistan in the first nine months of the year had been already higher than in any entire year since at least 2009.
According to UN figures, 313 civilians were killed and 336 wounded in airstrikes by US and Afghan forces in the nine months to the end of September, showing a 39-percent increase compared to the same period last year.
The United States has stepped up its air operations in an attempt to exert pressure on the Taliban to force them to accept a negotiated end to the 17-year war.
The US, along with a number of fellow-NATO members, invaded Afghanistan in 2001, toppling a Taliban regime in control of most of the country at the time, but it has failed to restore security in a country plagued by militancy and terrorism.
The administration of US President Donald Trump is now negotiating with the Taliban group, excluding the Kabul government.
Over 8,000 people lost their lives or were wounded in Afghanistan between January and September this year, with the country on track to be deadlier than Syria in 2018. Kabul blames the Taliban for the bulk of the deaths.
In 2017, Washington added thousands of additional troops to its forces in Afghanistan. It claims the American troops are deployed in Afghanistan to train Afghan forces and conduct counter-terrorism missions against militant groups.
https://www.presstv.com/Detail/2018/12/15/583010/Afghanistan-Kunar-airstrike
--------
Cameroon Attack: Two Female Suicide Bombers Detonate Devices near Nigerian Border
December 16, 2018
A Cameroon official says two female suicide bombers have died after detonating in a northern town near the Nigerian border.
The governor of the Far North region, Midjiyawa Bakari, said the attack in Kolofata town occurred Friday night and wounded a woman and a 12-year-old girl.
The governor says the attackers came from Nigeria, adding that "you know that the borders are very porous."
He says the bombers targeted a home where women had gathered to prepare for a weekly market.
It was the third suicide bombing in Kolofata in less than a week. The governor said the military has been deployed "to search everywhere" for further threats ahead of the holidays.
Cameroon has been fighting the Boko Haram extremist insurgency based in Nigeria for five years.
https://www.independent.co.uk/news/world/africa/female-suicide-bomber-pair-detonating-bomb-nigerian-border-boko-haram-insurgency-a8684996.html
--------
Women's March Leaders Face Anti-Semitic, Corruption Charges Ahead of Second Anti-Trump Event
15 Dec 2018
The anti-Trump Women's March that hit the streets the day after President Donald Trump's inauguration is now gearing up for a repeat event on January 19 in Washington, DC, but some of its founders are facing charges from former fellow activists that the left-wing group is promoting the bigotry and corruption it claims to oppose.
Teresa Shook, credited as one of the women who launched the march on social media, spearheaded the criticism last month when she called on the women now running the "movement" to step down.
Those women include Women's March National co-chairwomen Carmen Perez, Bob Bland, Tamika D. Mallory, and Linda Sarsour, who is a Palestinian American known for her anti-Israel stance.
The HuffPost reported in November:
In a Facebook post published Monday afternoon, Shook wrote that the four public faces of the Women's March should resign because they have strayed from the group's goals.
"I have waited, hoping they would right the ship. But they have not," Shook wrote. "In opposition to our Unity Principles, they have allowed anti-Semitism, anti-LBGTQIA sentiment and hateful, racist rhetoric to become a part of the platform by their refusal to separate themselves from groups that espouse these racist, hateful beliefs."
"I call for the current Co-Chairs to step down and to let others lead who can restore faith in the Movement and its original intent," Shook continued. "I stand in Solidarity with all the Sister March Organizations, to bring the Movement back to its authentic purpose."
March leaders have also come under scrutiny for their association with anti-Semite and Nation of Islam leader Louis Farrakhan.
The Washington Examiner reported:
Ms. Mallory, who attended a Farrakhan event in February and called him the "GOAT" [greatest of all time] in a 2015 Instagram post, said her critics have skewed her words and accused them of trying to "rewrite history."
"I also think that people need to understand that it is a form of black-on-black violence, in my opinion, to pit black people against each other," said Ms. Mallory, adding, "That's not something that anybody's ever going to see me participate in."
Women's March leaders also deny that they contracted the Fruit of Islam (FOI), the Nation of Islam's security wing, to provide security for its leaders.
The latest round of criticism came in an in-depth article the Tablet website published on Monday, including what unfolded as the women behind the march first met up in New York City:
It was there that, as the women were opening up about their backgrounds and personal investments in creating a resistance movement to Trump, Perez and Mallory allegedly first asserted that Jewish people bore a special collective responsibility as exploiters of black and brown people—and even, according to a close secondhand source, claimed that Jews were proven to have been leaders of the American slave trade. These are canards popularized by The Secret Relationship Between Blacks and Jews, a book published by Louis Farrakhan's Nation of Islam—"the bible of the new anti-Semitism," according to Henry Louis Gates Jr., who noted in 1992: "Among significant sectors of the black community, this brief has become a credo of a new philosophy of black self-affirmation."
The Tablet reported Mallory and Bland deny this account but "six of the seven women in attendance would not speak openly to Tablet about the meeting, but multiple sources with knowledge of what happened confirmed the story."
The Tablet also examined the controversy surrounding the Women March's finances:
Over time, new details of the Women's March's organizational structure have been dragged into public view that reveal complicated financial arrangements, confusing even to experts.
Yet within no time, the March leaders would be named 2017 Women of the Year by Glamour magazine. There was a glossy book published with Condé Nast, a lucrative merchandise business selling branded Women's March gear, and millions of dollars raised through individual donations and institutional funding from major organizations like Planned Parenthood and the powerful hospital workers union, 1199SEIU.
The women in question have pushed back against the criticism and did so also after Shook's attack, posting an "official statement on anti-Semitism and all forms of Bigotry" on November 20 on its Facebook page, crafted by Sarsour:
The Women's March exists to fight bigotry and discrimination in all their forms — including homophobia and anti-semitism — and to lift up the voices of women who are too often left out. We believe in a world where women from all backgrounds are equally represented in government, media, politics, and everywhere and invite everyone who shares these values to join us.
It's become clear, amidst this media storm, that our values and our message have — too often — been lost. That loss caused a lot of harm, and a lot pain. We should have been faster and clearer in helping people understand our values and our commitment to fighting anti-semitism. We regret that.
Every member of our movement matters to us — including our incredible Jewish and LGBTQ members. We are deeply sorry for the harm we have caused, but we see you, we love you, and we are fighting with you.
Sansour said the group is "deeply invested in building better and deeper relationships with the Jewish community." The group also responded to the Tablet piece, sending an email to the publication, which describes itself as an online magazine featuring "Jewish news, ideas, and culture":
Women's March models intersectional leadership through our organizing work, which includes 200 women who worked on the conveners table, 500 partners, 24 women involved in developing the Unity Principles—including some of the folks who are expressing concern now. They were part of the process then, and did not express the concerns they are noting today. Women's March is greater than our small team of national staff and leadership, and we've never claimed their identities equal full representation of U.S. women.
Following the Tablet expose, the four women who are now the leadership of the Women's March — Mallory, Perez, Bland, and Sarsour — held a Facebook Live event this week where they defended themselves without specifically addresses their critics' claims.
"One of the things that has happened is that we have been put to such a high standard, unreachable standard, that we would never hold any men in the movement to," Sarsour said in the video.
"I don't think it's just men," Mallory said. "Women also. Even other women who are at the helm of leadership in different organizations that are mainly white-led organizations are not held to the same standards that we've been held to."
Sarsour also criticized her "feminist" counterparts for "undermining [their] leadership."
"There is a lot of talk about 'smash the patriarchy,' when, in fact, the very people who uphold the patriarchy are women and women who claim to be part of the movements that we're a part of," Sarsour said.
"During Wednesday's live-stream, Ms. Sarsour said that the group planned to enlarge its tent by unveiling a 30-member women's steering committee and revamping its Unity Principles," the Examiner reported.
"We will have a great program of women leaders," Sarsour said. "You will be very proud of the updating of the Unity Principles. You will see the efforts we have put in to keep making the table bigger."
The National Review published a commentary on the state of the Women's March, speculating on its unraveling:
The apparent bigotry of women such as Sarsour and Mallory seems to be a feature, not a bug, of their identity-based ideology and their insistence on intersectionality. A narrative of historical, society-wide victimization is at the heart of their vision of progress. And any such story requires a hierarchy of grievances, which naturally separates the interest groups supposedly tied together by their shared victim status.
At the same time, every story of victimization requires a victimizer. Intersectionality and its accompanying goal of privileging the powerless necessarily requires identifying and attacking the powerful oppressors — whether it be the specter of capitalism, the ogre of white male privilege, or a figurehead such as Donald Trump. In the case of Women's March leaders, the search for a villain has taken a sinister turn into anti-Semitism.
Of course, most left-wing agitators drawn to identity politics as a means of motivating the alienated will not go so far as to vilify or hate Jewish people. But the devolution of the Women's March serves as a cautionary tale about what can happen to political movements that idolize victimhood and invent useful enemies to energize the oppressed.
But if you visit the Women's March website, the trouble facing it is absent, replaced with enthusiasm for a second march in the nation's capital next month.
"It's time to march again," the website said. "The 2017 Women's March inspired hundreds of women to run, millions more to vote, and dozens to win elected office. The 2019 Women's March marks two years of resistance to the Trump presidency, two years of training new activists, and two years of building power. And this time, we're coming back with an agenda."
"On January 19, 2019, we're going to flood the streets of Washington, D.C., and cities across the globe," the website also said. "The #WomensWave is coming, and we're sweeping the world forward with us."
https://www.breitbart.com/politics/2018/12/15/womens-march-leaders-face-anti-semitic-corruption-charges-second-anti-trump-event/
--------
URL: https://www.newageislam.com/islam-women-feminism/newly-appointed-female-afghan-mayor/d/117172
New Age Islam, Islam Online, Islamic Website, African Muslim News, Arab World News, South Asia News, Indian Muslim News, World Muslim News, Women in Islam, Islamic Feminism, Arab Women, Women In Arab, Islamophobia in America, Muslim Women in West, Islam Women and Feminism