New Age Islam News Bureau
07 March 2022
• In Remote Pakistani City, Jacobabad, Young Women Break Taboo with Hockey Sticks
• Rami Malek, Yara Shahidi to Celebrate International Women's Day in Dubai
• In Greek Migrant Camp, Afghan Woman Finds Strength in Art
• Angelina Jolie Arrives In Yemen to Draw Attention to Dire Humanitarian Situation
• A Year on from Iraq's Yazidi Survivors Law, Nothing Has Changed for Those Who Return
• As Women's Marches Gain Steam in Pakistan, Conservatives Grow Alarmed
• Indonesian Envoy Urges To Promote 'Women Economic Empowerment' In Islamic World
• International Women's Day: Condition of Pakistani Women Continues to Decline, Says Report
Compiled by New Age Islam News Bureau
URL: https://www.newageislam.com/islam-women-feminism/nobel-prize-laureate-malala-burqa-bikini/d/126524
--------
Youngest Nobel-Prize Laureate, Malala Yousafzai: Women Have the Right to Choose between Burqa and Bikini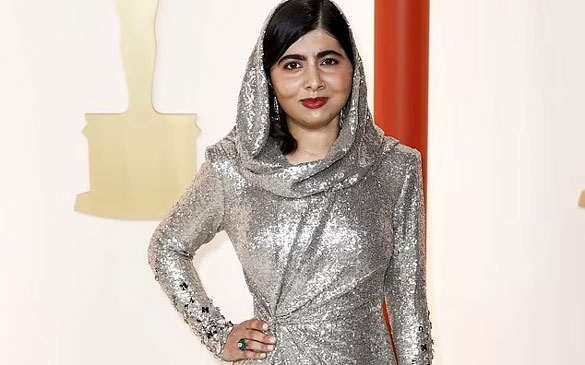 Youngest Nobel-Prize Laureate, Malala Yousafzai
------
March 07, 2022
The youngest Nobel-Prize laureate, Malala Yousafzai, has often made headlines while sharing her opinion on imperative Matters. As Women's Day approaches, Malala has put her words to paper and shared her two cents on defending every woman's right to determine what she wears.
She started with how one of her relatives complained to her father about how she "should be at home, not in front of the cameras," as she gave interviews to the local publications while shedding light on the need for girls' education in her hometown. She further revealed that her relative then added how if Malala was "going to speak, she should at least cover her face!" She penned, "Girls should be neither seen nor heard – and especially not both at once."
Adding on, she continued, "Many people in Swat Valley, Pakistan shared his [Malala's relative] perspective. Like other Pashtun women, my mother wore a long, hefty embroidered shawl that swirled around her shoulders and covered her face." Malala further shared, "When the Taliban took over Swat Valley, and these shawls were not Islamic enough for them. They mandated that all women must wear a black Abaya and shuttlecock Burqa. Dare to step outside in anything other than the uniform chosen for you by Taliban men and you risked a severe beating. I, too, wore a Burqa for a while when I was 10 or 11 years old."
She then commented how in Pakistan today, Muslim girls' and women's clothing varies by region, community and family. "They might wear Shalwar Kameez or a business suit. They may wear a scarf around their neck, on their head, covering their face, or no scarf at all. They might wear a Burqa," Malala asserted. She added, "As Pakistani girl transitions into adolescence, her family, neighbours and even strangers expect her to look a certain way. How a girl chooses to dress determines what people think of her and how they will treat her. If you do not follow your community's established dress code, you're a threat to the culture, to religion. You're an outsider, not to be trusted or befriended."
Malala, however, said was determined to decide for herself. "My face meant identity, presence and power for me – and I refused to cover it," she wrote.
Policing women on clothing
"Around the world, girls are under attack for what they wear. Last month the Indian state of Karnataka banned girls wearing hijabs from classrooms and colleges, forcing them to choose between their educations or suffering the humiliation of removing their head coverings at the school gates. Senators in France voted 160 to 143 to ban hijabs in sports competitions in January," she then communicated. "Until last year, schools in Indonesia directed all girls to wear a jibab covering their head, neck and chest. Though a recent government decree banned this practice, Christian and other non-Muslim girls report some teachers are still insisting that they wear the Jilbab. Meanwhile in Afghanistan, Taliban officials advise women to wear blankets to work."
Adding on, Malala retorted, "South Africa's High Court found that a school had violated a Hindu girl's rights by requiring her to remove her nose ring. Schools in both the United Kingdom and United States have punished Black girls for their hairstyles, sending them home or giving them detention for wearing their hair as they pleased. The International Handball Federation required women to wear revealing outfits in competition, while a woman in a similar outfit was told she couldn't board a plane unless she covered up. In Japan, women are told to wear high heels and take off their eyeglasses at work."
Malala continued that women and girls in every corner of the globe understand that, if they are harassed or assaulted on the street, their clothes are more likely to face trial than their attackers.
"Women are constantly being told to put on or take off various items of clothing, constantly sexualised or suppressed. We are beaten at home, punished at school and harassed in public for what we wear," she remarked. "Years ago I spoke against the Taliban forcing women in my community to wear burqas – and last month I spoke against Indian authorities forcing girls to remove their hijabs at school. These aren't contradictions – both cases involve objectifying women. If someone forces me to cover my head, I will protest. If someone forces me to remove my scarf, I will protest."
She then made a point and shared, "Whether a woman chooses a burqa or a bikini, she has the right to decide for herself. Come and talk to us about individual freedom and autonomy, about preventing harm and violence, about education and emancipation. Do not come with your wardrobe notes."
Malala's 'westernised' shift
The 24-year-old then spoke about the time when people criticised her for wearing jeans and a jacket in a picture. "A decade after the Taliban forced women in my community to wear Burqas, a photo of me at college in Oxford made news around the world. In it, I am wearing a jacket, jeans and a scarf around my head," she wrote.
Further adding on, Malala commented "Some people were shocked to see me out of the traditional Shalwar Kameez I wore for much of my early life. They criticised me for being too Western and claimed I had abandoned Pakistan and Islam. Some said the jeans were permissible as long as I kept my scarf on. Others said my scarf was a symbol of oppression and I should take it off as if I could not be fully emancipated until I erased all traces of my ethnicity and faith. I said nothing. I felt no obligation to defend myself or meet anyone's expectations of me."
Malala then opines, "The truth is, I love my scarves. I feel closer to my culture when I wear them. I hope girls from my village will see that someone who looks like them and dresses like them can complete her education, have a career and choose her own future."
She concluded with, "Someday I might make changes to my wardrobe. I also might not. But exploring and understanding clothing will remain part of my life, as will defending every woman's right to determine what she wears. I love my patterned, floral Shalwar Kameez. I love my jeans too. And I am proud of my scarves."
Have something to add to the story? Share it in the comments below.
Source: Tribune Pakistan
https://tribune.com.pk/story/2346790/women-have-the-right-to-choose-between-burqa-and-bikini-malala
--------
In Remote Pakistani City, Jacobabad, Young Women Break Taboo with Hockey Sticks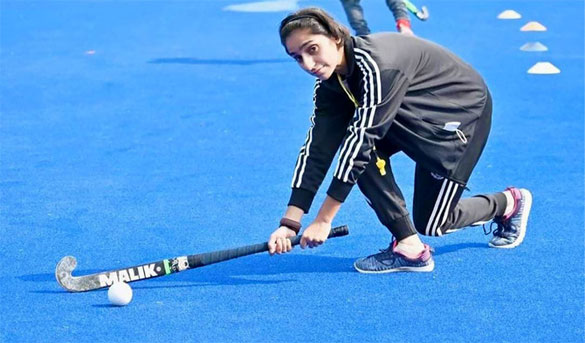 Erum Baloch, founder of Stars Women Hockey Academy in Jacobabad, Sindh, Pakistan, poses during training. (Photo courtesy: Erum Baloch)
------
March 07, 2022
JACOBABAD: When Erum Baloch's hopes of becoming a professional hockey player were shattered by social norms, she started to dream even bigger and promised to create an environment where the dreams of other girls could come true.
For many girls in Jacobabad, a city of 200,000 in an impoverished rural area of southern Pakistan's Sindh province, sports remain a taboo and a source of stigma.
"It was very difficult for me to proceed," Baloch told Arab News. "Girls could not join sports."
But in 2017, when she was only 23, Baloch established the Stars Women Hockey Academy Jacobabad. The club she and her friends founded from their own savings was the first such academy for women in the region.
"It became my dream to establish a hockey academy, so that girls who wanted to play would not find themselves in the situations like those that I faced," Baloch said.
Orphaned by her father at the age of four, and having lost her only brother to a bomb blast in 2015, Baloch found all support in her mother, Asifa Begum, who allowed her to pursue her childhood dream in hopes that it could heal her trauma.
"My son's death was a tragedy for the whole family. One way for Erum to come out of it was to concentrate on her childhood dream of running a hockey club," Begum said.
"Despite pressure from extended family and friends, I let her do what she wanted."
In the beginning, it was not easy.
"People were not mentally prepared for how girls play, so they started creating hurdles. Many also threatened us. But we didn't stop," Baloch said.
The girls struggled to find a pitch, but eventually were permitted to play at a sports ground of a girl's college.
They still spend their own savings on the club, but recently have also started to receive small donations to keep the academy running.
Eighteen of their players have participated in provincial and national-level tournaments, including Nabeela Bhayo, 21, one of the club's co-founding members, who now plays for the provincial Sindh Hockey Team as a goalkeeper.
Bhayo is also one of the four Jacobabad girl hockey players who were admitted to study at Punjab University under its sports quota in 2019 and completed her master's of commerce degree.
"Back home, people are so conservative that they object to us wearing sports trousers and shirts," she told Arab News. "I am thankful that my family is supportive."
Bhayo's biggest supporter is her father, Nabeel Bhayo, who says it is an honor that his daughter is representing Jacobabad on the national level.
He has also been advocating among other parents to let their daughters play sports and achieve something in their lives.
"Jacobabad is a highly conservative area," he said. "My daughter and her club members are breaking the taboo."
Source: Arab News
https://www.arabnews.com/node/2037326/world
--------
Rami Malek, Yara Shahidi to celebrate International Women's Day in Dubai
March 07, 2022
DUBAI: Expo 2020 Dubai has world-class attractions for International Women's Day on March 8 including the Middle East's biggest female-led music festival and the appearance of top celebrities.
US actress Yara Shahidi and Egyptian-American star Rami Malek are scheduled to turn up at the Women's Pavilion in collaboration with French luxury brand Cartier.
Meanwhile, the two-day music event has been taking place at the Festival Garden ending March 7. The performances are part of the collaboration between "Dignified Storytelling," the Expo 2020 Dubai Women's Pavilion, and Cartier's campaign "We, The Women." This is in line with the 2022 theme of International Women's Day "Break the Bias."
The artists were picked for their contribution to culture, diversity, and the promotion of gender equality. The performers include Les Amazones d'Afrique, a musical group from Mali, East African retro pop band Alsarah & The Nubatones, Algerian singer Souad Massi and Egyptian musician Dina El-Wedidi.
The concerts will be supplemented with a string of panel talks and forums that will feature a group of celebrities, including Lebanese actress and director Nadine Labaki, who will appear alongside several notable women including Sheikh Hasina, prime minister of Bangladesh and Dr. Anwar Gargash, diplomatic adviser to the UAE president.
Rounding off the celebrations is a guest appearance from Oscar-winning Malek, who will hit the stage at the Al-Wasl Dome for a ceremony to celebrate the day, also organized by Cartier.
Slam poet Emi Mahmoud and the orchestra of renowned composer Thomas Roussel will also perform during the ceremony on March 8.
Source: Arab News
https://www.arabnews.com/node/2037641/lifestyle
--------
In Greek migrant camp, Afghan woman finds strength in art
Mar 07, 2022
In a tiny classroom in a migrant camp in Greece, 18-year-old Roya Rasuli teaches a bustling group of young girls how to paint. For Rasuli, it's also a lesson in women's empowerment.
"What is your message for women, for girls?" Rasuli, who was born in Iran to Afghan refugees, asks her class.
"To be strong!" one of the girls shouts.
Hanging on the blue wall behind her is some of Rasuli's own artwork, including a painting of the green-eyed "Afghan Girl" whose iconic 1985 photo in National Geographic in a red headscarf became a symbol of Afghanistan's wars. Rasuli painted her without a mouth.
"I think this is the situation for a lot of women. Maybe in Syria, maybe in Iraq, maybe in Pakistan, maybe in some country in Europe."
Rasuli had never picked up a paintbrush before arriving in Greece three years ago but she has since taught herself to draw.
She along with about 500 asylum-seekers - most of them Afghans - live in the Thiva camp, one of dozens set up across Greece since Europe's 2015 migration crisis, when nearly a million refugees and migrants fleeing war and poverty in the Middle East and beyond arrived on the continent through Greece.
She leaves the camp at 5 a.m. for an hour-and-a-half long bus ride to the Athens School of Fine Arts for class, from where she hopes to receive a scholarship to study full-time.
"When I start to paint (it's) like I'm traveling in another world, in another place that there is peace," said Rasuli, who also taught herself English.
Another one of her paintings, in the style of Vincent van Gogh's "Starry Night", shows a woman in the traditional blue Afghan burqa playing the guitar.
Rasuli, whose class in the Thiva camp in central Greece meets every week thanks to a UNICEF-funded program run by Greek charity Solidarity Now, says she hopes to inspire other young women to pursue their goals.
"I changed my life with my hopes and my dreams," she said. "I will try my best to show them that they can do whatever they want, to be free." Reuters
Source: Tribune India
https://www.tribuneindia.com/news/schools/in-greek-migrant-camp-afghan-woman-finds-strength-in-art-375827
--------
Angelina Jolie arrives in Yemen to draw attention to dire humanitarian situation
06 March ,2022
UNHCR Special Envoy Angelina Jolie arrived in Yemen as part of a visit that aims to draw attention to the implications of the dire humanitarian situation in the country, the United Nations refugee agency said on Sunday.
According to the UNHCR, Jolie will visit Yemeni families, including internally displaced ones to learn from them how the conflict, which is now in its seventh year, has ripped their lives apart.
The Hollywood actress's visit to Yemen comes ahead of the annual High-Level Pledging Conference for Yemen, which will be held on March 16.
The agency voiced hope that her visit "will highlight the increasing humanitarian needs in Yemen and help mobilize urgent support for humanitarian work" ahead of the conference.
"I've landed in Aden, to meet displaced families and refugees for UNHCR and show my support for the people of Yemen. I will do my best to communicate from the ground as the days unfold," Jolie wrote on Instagram.
"As we continue to watch the horrors unfolding in Ukraine, and call for an immediate end to the conflict and humanitarian access, I'm here in Yemen to support people who also desperately need peace," she added.
Jolie also described the situation in Yemen as one of "the worst humanitarian crises in the world," noting that one civilian is either killed or injured every hour in 2022.
Known for her philanthropic activities, she added in a post on Instagram that the "shocking situation" in Ukraine where more than 1.5 million people have fled the war must be a lesson which teaches everyone that people "cannot be selective about who deserves support."
She reaffirmed that the lives of civilian victims are all of equal value.
"After seven years of war, the people of Yemen also need protection, support, and above all, peace," Jolie added.
Source: Al Arabiya
https://english.alarabiya.net/News/gulf/2022/03/06/Angelina-Jolie-arrives-in-Yemen-to-draw-attention-to-dire-humanitarian-situation
--------
A year on from Iraq's Yazidi Survivors Law, nothing has changed for those who return
05-03-2022
KHANKE, Kurdistan Region - A little under two months ago, from her home in the village of Khanke in Iraq's Kurdistan Region, Khansa Khder Khadida received a phone call informing her of the discovery of her eldest grandchild, 18-year-old Roza Ameen Barakat, by the Syrian Democratic Forces (SDF) near the Syrian town of Tal Abyad on the Turkish border. On February 16, after returning to her hometown of Shingal the previous day, Roza was reunited with her two sisters, youngest brother and grandmother for the first time in almost eight years.
Among the most irredeemably grotesque acts of the Islamic State (ISIS) was its attack upon the Yazidi homeland of Shingal, northern Iraq, on August 3, 2014, setting into the motion the killing of thousands, and capture of thousands more, as it irreparably fractured the religious minority's community. Over seven years later, thousands of Yazidis remain unaccounted for and there is little provision for survivors who live in Iraq, existing below the poverty line despite warm words.
Mostly women and young children, over 6,417 Yazidis were kidnapped, according to the Kurdistan Regional Government's Office for Rescuing Kidnapped Yazidis. In recent years, some have been found in Turkey, Yemen, and even Halabja, and hundreds more have returned to ruptured families as a result of uncomfortable bribes and people smuggling operations, chiefly in Syria.
In 2022, the fate of almost 3,000 of the abducted is unknown.
Figures issued by the same office, approved by the United Nations, put the number of those left in the hands of ISIS at 2,763: 1,293 women and girls, and 1,470 boys and men; many of whom were children at the time of capture.
Until last month, Roza was among the missing.
Just over a week later, dressed in jeans and silver jewellery, she pushes open the gate outside the stone building she lives in, ushering a curious journalist into the courtyard. Her grandmother - clothed in a traditional white dress and headscarf, with a black sweater and cardigan for warmth - brings tea.
In this outhouse of survivors, Khansa looks after four of her grandchildren: Roza and three siblings; a brother, 11, and two sisters aged 14 and 16. Almost immediately, as she introduces the family, Khansa explains how the youngest sister spent ten months in ISIS captivity, and the middle child was held for just under four years. Listening, the three young women touch each other gently as they settle onto doshaks (mattresses) in a bare stone room.
The following day, under the tree in the courtyard, a relative recounts a story of how, heavily pregnant, Khansa once stood in front of US military tanks on the outskirts of Mosul in 2003, requesting access to the city to give birth. She is a tough woman. The youngest daughter she birthed after the tanks passed is now one of the missing.
Of Roza's family of 14, seven are still unaccounted for. The children haven't seen their mother, Hazu Murad, and father since August 2014, and they long to know their fate. A further three sisters remain in captivity, along with an older 13-year old brother. Nobody knows where they might be, so nobody can actively search for them.
The youngest child was released from Mosul only after his extended family paid $9,000 to a smuggler three years ago as the so-called caliphate fell. He sits politely, engrossed in playing a Lego game on a borrowed smartphone. None of the rescued have yet received support.
"Just imagine that someone has to buy their children," Roza says, describing how relatives and friends contributed to securing his freedom. They have received nothing to date from the Kurdistan Region's Office for Rescuing Kidnapped Yazidis, affiliated to Kurdistan Region President Nechirvan Barzani, nor as a result of last year's groundbreaking Yazidi Survivors Law, passed by the Iraqi parliament on March 1, 2021.
Around 200,000 displaced Yazidis live in the Kurdistan Region, and there is rampant confusion as to what the law might mean for their community; so far, it has not been implemented, so reparations and support have not been delivered.
The Yazidi [Female] Survivors Law
The legislation formally recognises that genocide was committed against the Yazidi, Turkmen, Christian, and Shabak communities by ISIS, promising a number of reparation measures, including financial, medical, and psychological support, the provision of land, housing, education, and a two percent quota in public sector employment to women survivors, Yazidi children abducted and released, and members of these four communities - both women and men - who survived mass killings.
Under the auspices of Iraq's ministry of labour and social affairs, the General Directorate of Yazidi Female Survivors' Affairs was established, headed by Sarab Alias, with an office opened in Mosul in August 2021 in a ceremony attended by survivors, and Iraq's Prime Minister Mustafa al-Kadhimi.
The directorate has responsibility for providing support and searching for the missing; the first in the list of survivors' priorities. Under Article 3, it may open branches in locations with high numbers of survivors; a Shingal branch is planned, as well one in Duhok and Tal Afar. Many survivors were not happy with the headquarters being based in Mosul; the location where many women had been held captive and sold into slavery.
Among the Yazidi community, there is understandably little faith in the system, compounded by fake information circulating on social media. As time passes, trust wanes.
There is still no application process, but there are hopes for an online portal, allowing survivors to directly seek the support the law promises in as burdenless a way as possible. Monthly salaries will be provided, it says, no "less than twice the minimum pension salary stipulated in the Unified Pension Law No. 9 of 2014 and its amendments." The law itself is yet to be costed. An alliance of 31 Iraqi civil society organisations, the Coalition for Just Reparations (C4JR) are pushing a survivor-centred approach to implementing the law.
It also needs the funding to function. "Apart from the preliminary emergency funding allocated in 2021, no financial means have, as of yet, been envisaged to support sustainable and thorough implementation of the law in 2022," they say.
With political chaos continuing in Baghdad, and a new government still to be formed following Iraq's October election, the Iraqi Federal Budget for 2022 has been kicked down the road meaning there is nothing for survivors to access.
Head of Program for Rights and Justice at Jiyan Foundation for Human Rights, Bojan Gavrilovic, explained to Rudaw English that a renewed commitment from political stakeholders and the international community is necessary to deliver on the law's promises.
"Let us not forget that delayed and ineffective implementation of the Yazidi Law prolongs the agony of survivors, many of whom still linger in IDP camps or live under the poverty line, traumatised, without access to services and recognition," he said.
Reflecting on the anniversary of the law's passage, barely a week after Roza's arrival in Khanke, the Kurdistan Region's SEED Foundation called upon the Iraqi government to act on its obligations to survivors and to ensure the allocation of sufficient funding in the budget. But while the KRG is not mandated to contribute to funding the law, it can provide information to the committee tasked with processing claims (Article 10 of the Survivors Law).
Roza's story
Half a dozen children from Khanke's sprawling camp, just down the hill, run around the courtyard, occasionally peering through the door. Birds chirp, a cockerel cries, electricity flickers.
Speaking in a mix of Arabic and Kurmanji, Roza begins to explain how she was abducted in August 2014, aged just 11. She lived at first with an ISIS family from Tal Afar who treated her terribly. After attempts to escape, she was moved to Raqqa; the de facto capital of the caliphate.
As the years passed and the coalition bore down on ISIS, Roza found herself in Baghouz, where she endured heavy bombing and limited information about what was happening in the outside world. Her foot and back were injured in two airstrikes. The ISIS fighter she had been forced into marriage with was killed.
Following his death, and before the liberation of ISIS' last-stand in March 2019, she says she was smuggled out of Baghouz by a Lebanese family. The majority of her next three years were spent in Deir ez-Zor, as well as a period in Idlib.
From there, towards the end of 2021, Roza attempted to reach the town of Tal Abyad on the Turkish border when the SDF set in motion the process of her return to Iraq last month.
Distant relatives - neighbours, visitors - frequently sit next to us as we talk, stunting Roza's flow and subtly changing the depth of conversation. Later, Roza notes the date - December 24 - that she was brought to a Yazidi safe house in Hasaka. From now on, she says, she will mark her birthday on this day.
While it has been good to return to her community, her happiness is not complete. "Many of my Yazidi friends and relatives remain in captivity."
Roza is calm and strong. She doesn't want to think about the things she experienced, she says. She thought about the past when she was in Syria; now she is in Iraq, it must be forgotten.
Contemplating the future
Asked about the future, she says she wants to complete her studies. It would be nice to make friends, and she audibly contemplates what it might be like to return to school like her sisters, and how much effort it will take to register to attend.
If she can, she would like to be a psychiatrist. Along with her siblings, Roza has not received any psychological support herself.
There's shattered faith in what one naively assumes might have been provided by the international community, federal government, or Kurdistan Regional Government (KRG).
"If they wanted to help us, they would have helped us before," Roza says. "Since returning, I have not received any support, but maybe this will change in the future."
Farhad Ali, 24, also from Shingal, agrees. If there was genuine support for these survivors, he told Rudaw English, assistance would be available already and immediately. In an effort to help his community, Farhad founded an NGO, Progress in Peace. Unsurprisingly, they do not receive government funding of any kind, relying solely on donations.
Roza continues. The main thing she says her community wants is the release of the thousands of others in captivity. "Still there are so many Yazidi women suffering from persecution at the hands of ISIS."
"The other thing that is so difficult for us is our financial situation," Roza says, stressing the point throughout the conversation, lamenting the limited income opportunities for her household. "It is so bad, we are a house of women and an eleven-year-old boy."
The family have little savings, and will be unable to live without support for much longer, Khansa frets. The rent for the bare, ramshackle building is $100 a month, not including water and limited electricity; a cost covered by a distant taxi-driving uncle. With no men in the home, there is no income, and it is difficult to live without the support of Roza's father, Amin Barakat. "We need financial support, and someone to tell us they are with us," she says; something her family have asked for many times.
Later, in a corrugated shed structure in nearby Khanke camp, home to around 20,000 Yazidis, a neighbour of Roza's family from their time in Shingal explains how hard the situation is for the matriarch of the family. Avoiding the need to ask directly, the women estimate that she is at least in her late 60s.
"She [Khansa] only had one son, Roza's father. Now he is gone, there is no one to support her, and she has all of these grandchildren."
Outside, as the sun sets overlooking the Tigris river, children dressed in tatty clothing run around, keen to try out their English. For Rondik, 8, Khanke camp is the only home she can remember. Slightly older, her cousin, Shahira, asks questions about countries she wants to visit.
The great narrative of Yazidi suffering is essentially just this; children, teenagers, young adults across Iraq with stunted lives, wondering who they are and how to pick up the pieces.
As the conversation with Roza closes, a group of distant, desperate relatives and neighbours from the days of her Shingal childhood arrive at the house to ask about their own missing relatives; some have returned to Shingal, others live in Duhok and nearby camps. They hope that during her time in Raqqa, Baghouz, Deir ez-Zor and Idlib, she may have seen a glimpse of someone; a lead on their whereabouts, perhaps, or confirmation of a final moment.
The chances of this seem slim. Earlier, Roza said she hadn't seen another Yazidi woman since she left Baghouz just over three years ago. Yet even in this futile attempt, in this one moment, an eighteen-year-old woman is perhaps doing more to help find Yazidis than entire governments.
In passing the Yazidi Survivors Law in 2021, Iraqi decision-makers laid the groundwork for a bearable future for a broken and traumatised community. Until it is implemented, however, for the thousands of missing Yazidis yet to return, and young women like Roza and her siblings, there is little to come back to.
Source: Rudaw
https://www.rudaw.net/english/middleeast/iraq/030320222
--------
As Women's Marches Gain Steam in Pakistan, Conservatives Grow Alarmed
By Zia ur-Rehman
March 6, 2022
KARACHI, Pakistan — The reaction to Pakistan's first women's march was relatively mild: criticism and condemnation from Islamist parties and conservatives, who called the participants "anti-religion" and "vulgar."
That did not deter the organizers of the 2018 march in Karachi, the significance of which reverberates to this day.
What started as a single demonstration to observe International Women's Day has become an annual lightning rod for religious conservatives across Pakistan, who have been adopting harsher attitudes toward female activists. Now, as women prepare to march on Tuesday in Karachi and other cities, powerful figures in Pakistan want the event banned altogether.
Women planning to join the Aurat Marches, as they are called — Urdu for "women's march" — have faced countless threats of murder and rape, along with accusations that they receive Western funding as part of a plot to promote obscenity in Pakistan.
"The growing uneasiness surrounding Aurat March every year shows that the campaign for women's rights has been making an impact," said Sheema Kermani, one of the march's founders.
Last year, opposition peaked when Islamist groups demonstrated in major cities, accusing the marchers of using blasphemous slogans — a crime punishable by death in Pakistan, accusations of which have provoked lynchings and murders. The Pakistani Taliban have ominously warned the marchers to "fix their ways."
The first Aurat March was organized by a small group of women in the port city of Karachi, who hoped to draw attention to the violence, inequality and other challenges faced by women across the country.
"We had held discussions and mobilized women in various communities, collected funds by small contributions from individuals, and wrote a manifesto to articulate demands related to women's bodily rights to the government and Pakistani society," Ms. Kermani said.
It worked. On March 8, 2018, the march drew thousands to the grassy grounds of Frere Hall, a majestic monument in Karachi dating from the British colonial era.
It also inspired women in other Pakistani cities, like Lahore and Islamabad. Since then, Aurat Marches have been held annually in major urban centers.
Analysts said the success of the first march made it a polarizing event in Pakistan, even as it advanced the possibilities of women's activism in the Muslim-majority nation.
"Younger feminists who were inspired by a series of global women's marches took their rage against violence, moral policing and lack of bodily or sexual choices for women and marginalized genders to the streets," said Afiya Shehrbano Zia, the author of a book on feminism and Islam in Pakistan.
Girls brought placards proclaiming, "My body, my choice," and performed an Urdu version of a Chilean protest song, "A Rapist in Your Path," that assails rape culture and victim-shaming.
"There was nothing subtle about their slogans and banners from the first march," Ms. Zia said, noting that the protesters had even highlighted L.G.B.T.Q. rights, a bold move in Pakistan.
As the event grew bigger over the years, marchers started raising even more sensitive issues, including abortion rights. Pakistan's abortion rate is among the highest in the world; women who end their pregnancies often do so themselves, because many doctors refuse to perform the procedure on religious and cultural grounds.
Some Islamist parties responded to the marches' growing popularity by organizing their own "modesty march." In 2020, conservatives filed court petitions in an unsuccessful attempt to stop the Aurat Marches. That same year, a group of students and supporters of the Lal Masjid, the mosque at the center of a bloody 2007 clash between militant Islamists and the army, assaulted marchers in Islamabad.
After last year's march, opponents doctored footage to make it appear that marchers had used blasphemous slogans, then circulated the faked videos on social media. A newspaper published a front-page story that referred to the marchers as prostitutes.
Pakistan's minister for religious affairs, Noorul Haq Qadri, has spoken out against the Aurat March, claiming it violates the principles of Islam. He recently asked Prime Minister Imran Khan to declare March 8 to be International Hijab Day.
And some Islamist parties have threatened further violence. "The marchers spread obscenity in the name of women's rights," said Abdul Majeed Hazarvi, a leader of the Jamiat-e-Ulema Islam-Fazl party in Islamabad. "If the government allows the march, we will use a baton to stop it."
Kiran Masih, 46, a Christian nurse with two daughters, has joined an Aurat March for the past two years, bringing a placard that reads, "Save our daughters."
"As a minority, we feel increasingly insecure," Mrs. Masih said. "At the workplace, we fear anyone can harm us on the false allegations of blasphemy, and at our homes, we fear that our daughters could be kidnapped and converted to Islam."
Last year, at least 84 people were accused of breaking Pakistan's blasphemy laws, and three people suspected of doing so were killed by mobs, according to the Center for Social Justice, a Lahore-based organization that campaigns for the rights of minority groups.
The Aurat marchers have claimed victories. They campaigned against the physically intrusive "virginity tests" often inflicted on women who bring accusations of rape, and a court in the northern city of Lahore banned them last year. The government has also passed a measure allowing the chemical castration of convicted rapists, another demand of the marchers.
But the increasingly aggressive opposition has left some march organizers fearing for their lives. Many have deactivated their social media accounts. Still, they are undaunted.
"We were and are scared, but we know that without putting ourselves in such a dangerous situation we cannot bring change," Ms. Kermani said.
Source: New York Times
https://www.nytimes.com/2022/03/06/world/asia/pakistan-aurat-march-women.html
--------
Indonesian envoy urges to promote 'Women Economic Empowerment' in Islamic world
March 7, 2022
Ambassador of Indonesia in Pakistan, Adam M. Tugio here on Sunday stressed the need for promoting 'Women Economic empowerment in Islamic World by participating in business and economic activities, For women's economic empowerment, they need to pave the way for inclusion in the national economy and women in Islamic countries are second to none in their abilities, the Ambassador said.
The event was part of series of discussions to share best practices of women's breakthrough leadership in socio-economic affairs, politics and policy making in the Islamic world.—APP
Source: Pak Observer
https://pakobserver.net/indonesian-envoy-urges-to-promote-women-economic-empowerment-in-islamic-world/
--------
International Women's Day: Condition of Pakistani women continues to decline, says report
6 March, 2022
Islamabad [Pakistan], March 6 (ANI): While the world celebrates International Women's Day on March 8, women in Pakistan are still caught in the trap of a feudal conservative patriarchal society, where women's day celebrations are condemned and seen against the 'Islamic' values, local media reported.
According to the last year's 'Global Gender Gap Report 2021', Pakistan ranked 153 out of 156 countries on the gender parity index, that is, among the last four. It ranked seventh among eight countries in South Asia, only better than Afghanistan. Pakistan's gender gap has even widened by 0.7 per cent points in 2021 compared to 2020.
Notably, since the Imran Khan government came to power in August 2018, Pakistan's Global Gender Gap Index has worsened over time. In 2017, Pakistan ranked 143, slipping to 148 in 2018.
The report indicates that Pakistan needs 136 years to close the gender gap, with its existing performance rate. These statistics show that overall progress in reducing the gender gap is stagnant in Pakistan in four areas: economic participation and opportunity; education attainment; health and survival, and political empowerment.
In other words, women in Pakistan are faring badly to men in these four dimensions of the gender index. The report also pointed out that women in Pakistan do not have equal access to justice, ownership of land and non-financial assets or inheritance rights.
In addition to the debilitating gender index, Pakistan is infamous for brazen cases of "honour killings" and domestic violence against women. According to Human Rights Watch, almost 1,000 women are murdered annually in Pakistan in the name of honour.
The high profile "honour killing" of Qandeel Baloch in 2016, a social media personality in Pakistan, by her brother Muhammad Waseem is a case in point, where the perpetrator (her brother) openly confessed his crime without a sign of remorse. Waseem had received a life-imprisonment sentence in 2019 for the killing. But after serving less than six years in prison, he is set to walk free on the grounds of a "family settlement and lack of evidence."
In another case of violence against women, Noor Mukadam, daughter of former Pakistani diplomat Shaukat Mukadam, was brutally raped and then killed in Islamabad in July 2021. The case grabbed global attention because of the victim's 'high-profile' family background. However, a majority of women in Pakistan who are also victims of similar violence are among the country's poor and middle classes, and their deaths are often not reported or, when they are, ignored in most cases.
Furthermore, women belonging to minority communities face 'double' marginalisation. Besides the usual patriarchal subjugations, they are also the victims of forced conversions, marriages, abduction and rapes as well as regular targets of false blasphemy charges. More importantly, they are deprived of any justice because of their 'non-Muslim' status.
In November last year, the United Kingdom's All-Party Parliamentary Group (APPG) for Pakistani Minorities had published a report which revealed that around 1,000 girls (Hindus and Christians) between the ages of 12-25 are forcibly converted to Islam every year and married to their abductors. The report described this situation as a "human-rights catastrophe".
Crimes against women in Pakistan cut across classes and is driven by various factors such as religious conservatism, loopholes in women-centric laws, lack of employment and educational opportunities, blatant misogyny against women by political leaders, among others. The misogynist attitude prevails right from the top levels of the government.
In an interview last year, Imran Khan had blamed women wearing "very few clothes" for rising sexual violence. In an earlier interview, he had criticised Pakistanis for adopting what he called the "immoral mannerisms" of the West. Khan in fact has attempted to belittle the women's day by declaring March 8 as the 'International Hijab Day', the Dawn newspaper reported.
These instances show that the misogynistic attitudes of Pakistan's democratically-elected leadership align with the religious conservatives who demand implementation of the 'Sharia Law'.
The rights of women in Pakistan have been a longstanding issue of public debate and international interest. As the world is moving forward and women are getting equal status in the fields of education or employment opportunities, Pakistan is witnessing a backsliding as far as women's rights are concerned. The country has become more conservative since Imran Khan came to power. Islamist parties such as Tehreek-i-Labbaik and Jamaat-e-Islami, among others, are feeling emboldened and have gained more popularity across the country in the last three years, spreading harsher version of Islam, especially targeting women and minorities.
In addition, the Taliban's forceful takeover of Afghanistan last year and the subsequent increase in violence against women under the Sharia Law has further exacerbated fears among women in Pakistan.
For Imran Khan, issues related to women do not feature in his top policy priorities. Moreover, he dreams of turning Pakistan into the Riyasat-i-Medina, which suggests more repressive rules and regulations for women under the Islamic laws. Therefore, the future of women's freedom in Pakistan looks bleak, especially for girls and women from minority communities, as cases of domestic violence, honour killings, intimidation and discrimination are expected to rise unless there are serious judicial reforms in the existing laws discriminating against women in Pakistan. (ANI)
Source: The Print
https://theprint.in/world/international-womens-day-condition-of-pakistani-women-continues-to-decline-says-report/860635/
--------
URL: https://www.newageislam.com/islam-women-feminism/nobel-prize-laureate-malala-burqa-bikini/d/126524
New Age Islam, Islam Online, Islamic Website, African Muslim News, Arab World News, South Asia News, Indian Muslim News, World Muslim News, Women in Islam, Islamic Feminism, Arab Women, Women In Arab, Islamophobia in America, Muslim Women in West, Islam Women and Feminism