New Age Islam News Bureau
25 Aug 2014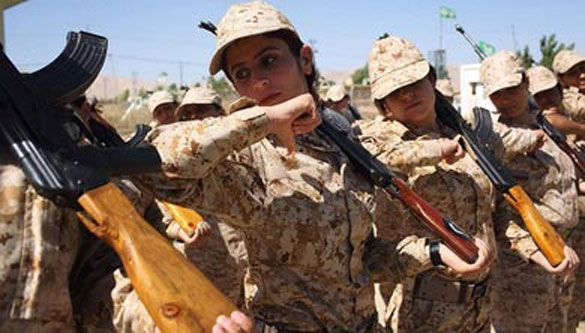 Women from the female-only 106 unit of the Peshmerga's 2nd Battalion on parade at the Genral Command Peshmerga base in Sulimaniyah Photo: Andrew Quilty / Oculi
----------
• Malala Hits Out At Western Pop Music
• South Africa Women Have Pioneered Economic Freedom
• Tanzania: Female Journos Urged to Help Fellow Women
• Kenya: Actress Rallies against FGM
• Life in the All-Female Peshmerga Unit in Iraqi Kurdistan
• Helping Uganda's HIV Positive Women Avoid Unplanned Pregnancies
• Saudi Female Telemarketers Complain Of Harassment, Low Salaries
• Bangladesh Advisory Council Member Urges Women to Remain United
• 690 Iraqi Women Held Captive by ISIL Radicals
Compiled by New Age Islam News Bureau
URL: https://newageislam.com/islam-women-feminism/young,-vulnerable-women-being-groomed/d/98728
-----------
Young, Vulnerable Women Being Groomed For Jihad
August 25, 2014
The social media messages the women post sound so appealing. They tell us about their trips to the Mediterranean for beach days, the wonderful spiritual and emotional fulfilment they experience, how everything they and their children need for a comfortable life is generously provided for them by the 'Dawla' (state), and they describe the affectionate domestic bliss they enjoy with their brave, loving, heroic husbands. These are the prizes being offered to young (mainly, but not solely) Muslim women who choose to leave the 
capitalist West and join the new Islamic State (formerly ISIS or ISIL).
On Twitter, a young British woman going under the handle @Umm_Ammar- 
described herself as a "British Muhajirah living under the Khalifah". Last Friday, she tweeted: "I've never experienced true happiness and contentment until I stepped in Shaam [Greater Syria]". The day before she had written: "Know that Jihad for the sake of Allah will never bring death earlier nor delay it. What is meant for you will never miss you."
Last week, we saw the infamous tweet from 22-year-old Khadijah Dare (married to a Swedish jihadist) asserting her wish to become the first British woman to kill a UK or US citizen, in the wake of the video showing the horrific execution of James Foley by a terrorist with a British accent. Dare (who tweets under the handle Muhajirah fi Sham (immigrant in Syria) appeared in a Channel 4 video on IS where she told her interviewers that she studied media, film and psychology at college. Her avatar shows her two-year-old son swinging an AK-47.
Are these women for real? We can't be sure. But what we do know is that increasing numbers of very young western women are heeding the calls of their Jihadi "sisters" and heading to Iraq and Syria, not just as wives to the militants but also as fighters. Last month, greater Manchester Police Chief Constable Peter Fahy warned young women against becoming brainwashed by "perverted messages" and travelling to the Middle East to become "jihad brides".
Melanie Smith, a research associate with the International Centre for the Study of Radicalisation said that most women travelling to join IS fit into two groups: those who travel with their husbands to jihad and those who travel to Syria or Iraq to get married. "The latter is certainly a trend," she said. "Many questions flood the male foreign fighters on social media about the possibility of marrying them or even becoming their third wife. [These women] tend to be extremely pious and have been IS 'fan girls' for the duration of the Syrian conflict, active on social media," she added.
And yet we know from the actions and ideology of IS, that women in their newly imagined Caliphate (let us be clear, what these terrorists preach has no connection with the peaceful Islam of millions of people around the globe) are accorded lesser status than cattle. Soon after taking over the city of Raqqah, IS issued a statement declaring that women must be entirely covered, face and body at all times; that make-up, jeans and sweaters were banned; that women were not allowed sit on chairs; that women were not to see a male gynaecologist. And on it goes.
In captured Mosul, the city charter now says that women are to remain in the home except in cases of emergency. And why would they risk going out? Earlier this month the UN Women's executive director, Phumzile Miambo-Ngcuka, said that UN Women is "outraged by the deliberate targeting of women and girls in Iraq [and Syria] and reports of kidnapping, rape and forced marriages by militants".
So why then do educated western girls, with good families and from stable communities, suddenly decide - as 18-year-old Khadija [not her real name] from the Netherlands did at the end of 2013 - to join an ideology which so discriminates against them?
Khadija told Al Jazeera journalist Brenda Stoter that, "I always wanted to live under Sharia . . . Besides, my Muslim brothers and sisters over there need help". Another Dutch girl, Sara, said that she went to Syria, "to follow God's rules" and to "help people". In April, two Austrian girls aged 15 and 16 disappeared before turning up in Syria and in May two British 16-year-old twins, Salma and Zahra Halane sneaked out of their beds in Manchester and travelled to Syria to become Jihadi brides. They telephoned their parents to say, "we're not coming back".
Montasser Al De'emeh, a researcher studying jihadist figures, believes that there are several reasons why European women join radical Islamist groups: the rise of right-wing parties in Europe is one factor, as is the girls' experience of childhood. "The girls feel that there is no place for them in society", he says, "as they are being rejected by everyone, including Muslims. By contacting Muslims who feel the same way, they try to fulfil needs such as love, recognition and sisterhood". Whatever their reasons, what these women seem to have in common is that they are generally young, quite vulnerable and active on social media.
Haras Rafiq from the London-based Quilliam Foundation said: "These could be girls that are looking for an avenue, something to do for themselves - some sort of empowerment. Charismatic recruiters either online or on the ground will play on this. The recruiters will play up the 'romantic idyllic' notion of an Islamic State when encouraging women to come," he said, careful to add that this "isn't just a Muslim" phenomenon. And certainly those Islamists working on social media to recruit women to their cause seem to be exploiting that most western of phenomenon: the dissatisfied, disaffected teenage girl looking for a romantic rebellious cause.
On social media, a recruiting woman calling herself Umm Layth warns the girls she is "grooming": "Even if 
you know how right this path and decision is . . . the first phone call you make once you cross the borders is one of the most difficult things you will ever have to do . . . when you hear them sob and beg like crazy on the phone for you to come back, it's so hard," she writes, adding, "many people in present day do not understand . . . why a female would choose to make this decision. They will point fingers and say behind your back and to your families' faces that you are taking part in . . . sexual jihad."
Dear God, as if parents didn't have enough to worry about.
http://www.independent.ie/opinion/columnists/carol-hunt/young-vulnerable-women-being-groomed-for-jihad-30531667.html#sthash.c7FT2tCH.dpuf
-----------
Malala Hits Out At Western Pop Music
August 25, 2014
London: Malala Yousafzai, the activist schoolgirl shot in the head by the Taliban, has said she is angered by how pop music represents women.
The 17-year-old campaigner has claimed most female artists in the West have accepted that they should be 'treated like objects'. She rose to prominence after surviving an assassination attempt in October 2012 when her calls for equal rights angered militants in her homeland.
A bullet narrowly missed her brain and she was airlifted to Queen Elizabeth Hospital in Birmingham where she was treated for life-threatening injuries. The schoolgirl has settled into a new life in the city with her family, but revealed she has been shocked by some aspects of Western culture.
'What I get a bit angry about is the image of women. It gets quite difficult for me when I listen to pop music. I don't often understand the words, but when someone translates them to me, I think, 'What is this song representing? That, women are just there to be treated like objects?' 'Most of the time they do not even make sense. And the thing is that most of the female artists seem to have accepted all this. But they have a role to play,' she told The Observer Magazine.
Malala has recently become involved in the campaign against female genital mutilation. 'It doesn't happen in Pakistan,' she explained, 'so this was the first time I knew about it. People think, 'Oh, everything is good here because it is a developed country,' but I have seen that there are things here that need to be highlighted and solved.'
She acknowledged that there are many positives to living in England and is impressed by the facilities at Edgbaston High School for Girls, where she is studying for her GCSEs. '
They have computer labs, science labs, nice books - everything you need. And the internet' she exclaimed. 'Before I came here, in my whole life in Pakistan I did not do a single piece of research on Google. Not a single.'
Malala revealed she is prioritising her school work in a bid to empower herself with education and use it as a 'weapon' in the future. 'I will only miss school for an engagement if it is going to bring real change,' she said. 'That is the question I have to ask myself with each request and if the answer is yes, I say, 'OK, I will sacrifice one day of my school for the education of millions of children who are out of school'.'
http://www.nation.com.pk/entertainment/25-Aug-2014/malala-hits-out-at-western-pop-music
-----------
South Africa Women Have Pioneered Economic Freedom
August 25, 2014
PRETORIA, Aug 25 (BERNAMA-NNN-SA news) -- Communications Minister, Faith Muthambi, says women have shown courage in pioneering economic emancipation in Southern Africa and beyond.
The Minister was speaking to women gathered at the Black Management Forum (BMF) Limpopo Women of Excellence Awards on Saturday, in Polokwane.
The awards took place as South Africa commemorates Women's Month and the 1956 march by women to the Union Buildings to protest against the apartheid pass laws.
"Fifty years later, we continue to enjoy the fruits of 1956 women resolve," said Minister Muthambi.
She said today South Africa was able to deploy powerful women to any part of the world to represent South Africa.
"We are all aware that 2010-2020 has been declared as the women's decade by the African Heads of State, to whom our own President is a signatory. It can therefore not be expected of these esteem leaders and their governments alone to make this declaration a reality," said Minister Muthambi.
She said South African women in all their respective environments and positions of power had the responsibility to ensure that they translate the women's decade declaration into action.
"The kind of action that will leave a lasting legacy for generations to come as we emulate the Women of 1954,"said Minister Muthambi.
http://www.bernama.com.my/bernama/v7/wn/newsworld.php?id=1063042
-----------
Tanzania: Female Journos Urged to Help Fellow Women
August 25, 2014
WOMEN journalists in Coast Region have been urged to be involved in empowering women economically and liberating them from poverty, which was the cause for their being abused by their spouses.
Tanzania Women's Bank (TWB) Managing Director, Ms Margaret Chacha, threw the challenge on Saturday when launching Pwani Women Media Organisation (PWMO) in Kibaha town.
"I urge you to use your pens to educate your fellow women on ways through which they can free themselves economically. One way which can liberate women is for them to form groups and apply for loans which they will use to start small projects," she explained.
Speaking at the event, Superintendent of Police Yusta Millinga, from Regional Police department who is in-charge of Gender Desk in the region, said her desk received a large number of rape, sodomy, child pregnancies, desertion and marital conflict cases which were rooted in outdated customs and traditions.
"Child pregnancies lead in all the cases I have mentioned and one reason for this is the false belief that a girl child has only one responsibility - to get married and bearing children.
"On the other hand, traditional dances which are held at night also result in a large number of girls becoming pregnant and leaving schools.
There is a serious need for the society to be educated on the matter," she said. According to the PWMO chairperson, Ms Mwamvua Mwinyi, the economic status of women and girls in the region was among factors which had pushed women journalists to establish the union.
The union was officially registered in 2013 and has a total of 15 members. Union leaders are Ms. Celina Koka, who is the matron; Margaret Malisa, secretary; Juliet Mkireli, treasurer, and Celina Wilson, the coordinator.
She mentioned some of the union's objectives as fighting gender related oppression; collaboration with other stakeholders; building the capacity of its members through training, and working with other media organisations to bring positive changes to the society.
She said PWMO faced a number of challenges, including funds scarcity and lack of a permanent office and working equipment.
http://allafrica.com/stories/201408250099.html
-----------
Kenya: Actress Rallies against FGM
August 25, 2014
ACTRESS and comedian Rose Nyabhate is championing the rights of the girl child via an anti-female genital mutilation campaign dubbed 'We Are Watching'.
According to her, having grown up in a rural area where FGM is rampant, gave her and fellow partners the basis to start the initiative which aims at sensitising community members against the risky practice.
She says: "We wanted to sensitise the community against practicing FGM in a way they can better understand. One thing is that force cannot be used to impose change but via this initiative we hope to achieve a lot. We want to ensure Kenya attains zero tolerance to the practice. Most of the people involved in the campaign are public figures and from communities that practice FGM and we hope that through them, the girls will easily relate and understand us better."
"This December, we are holding events in Narok and Kajiado before heading to Marakwet, Meru, Kisii, Garissa, Kuria, and Samburu. Next year we plan to do a school project where we will visit schools and give peer education training. So far, we have positive response from stakeholders and we just hope the community members will also embrace the initiative," she adds.
http://allafrica.com/stories/201408250331.html
-----------
Life in the All-Female Peshmerga Unit in Iraqi Kurdistan
August 25, 2014
Colonel Nahida Ahmed Rashid receives us in her office in the head-quarters of Unit 106 of the Peshmerga, in the outskirts of Sulaymaniyah, the second largest city of Iraqi Kurdistan. The compound is eerily quiet since most of the men in the Unit are on the frontline, responding to the advancement of the ISIS - the Islamic State of Iraq and al-Sham. Colonel Nahida Ahmed Rashid commands the 2nd Battalion of Unit 106, the only all-female battalion in Kurdistan. She is now in charge of the Directorate and, with her soldiers, is protecting the premises and getting ready to war.
"We are Peshmerga and it is our national duty to protect our land and achieve sovereignty," she tells us while a young woman soldier serves teas after having clicked her boot heels before entering the room.
Even though they made it to the news only recently, women have been an integral part of the Kurdish political and military struggle for autonomy since the 1970s.
"Saddam Hussein made no difference between men and women when he attacked the Kurds, we are therefore equally part of the same struggle," Colonel Nahida Ahmed Rashid adds.
The Unit 106 2nd Battalion was established on the 11th of November 1996, but that only marked the formalisation of an already existing participation. Colonel Nahida Ahmed Rashid was, in fact, part of the struggle since the 1980s when she was still in school and worked under cover for the Peshmerga.
"My task then was mainly smuggling medicines to the fighters on the mountains. I would go to the doctor every week and tell him that my head ached or that I fell and needed disinfectant for a wound or things like that. Then I'd run and take them to the Peshmarga. My family didn't know about my political activity and all went well until my plot was discovered. One day the Ba'ath army arrested a girl they had mistaken for me. I hid in the barn for a while – I was as afraid of my father as I was of the police – and then joined the Peshmerga on the mountains. I stayed there for one and a half years fighting shoulder to shoulder with men."
Since 1992, after the institutionalisation of the Kurdistan Regional Government (KRG), the Peshmerga are regular military force. Peshmerga literally means 'those who are willing to face death' and their story dates back several decades, when they mainly fought a guerrilla war from the mountains against Saddam Hussein and to support the struggle for self-determination.
"We are here for a cause and a mission," explains Colonel Nahida Ahmed Rashid. "We are here to continue years of struggle and to protect what we achieved: parliament, stability and security. We are here to make Azadi – freedom, liberation – possible. With Azadi, women will be fully equal and will have better opportunities in Kurdistan."
After an initial phase where the 2nd Battalion acted as a voluntary force, they are now completely integrated in the Army's hierarchy. As members of an infantry unit, they have a full training in heavy and light artillery – pistols, machine guns, AK47s, RPGs (Rocket Propelled Grenades), 60 mm mortars. There are also five specialised snipers. "For this task, we tend to chose girls who come from the villages: they are very patient, are used to wait for a long time and tend to have a better concentration," tells us Captain Juana Rafiq, who is the Training Officer.
A plump woman with heavy makeup and pink nail polish, Captain Juana Rafiq is welcoming and prone to banter. "We are fighters, but we are also mothers. Our duty goes beyond looking after our families and supporting women's rights. We are here to fight for our country."
Many of the women who are part of the Battalion come from families of Peshmerga, but they still have to fight against a widespread, if decreasing, social stigma. "Many people think we joined the Army because we are homeless, we have nowhere to go and at least here we get some money and food. It is not like that, most of us are educated and have voluntarily chosen this career. My husband is also a Peshmerga, that's what we believe."
Before taking her leave, we ask her how she deals with her mother-in-law as a working woman.
"Kurdistan is not like that," she replies laughing. "We are emancipated women and we do what we want. And, besides, we are the ones with the guns so they better be happy with what we do!"
http://www.dailylife.com.au/news-and-views/news-features/life-in-the-allfemale-peshmerga-unit-in-iraqi-kurdistan-20140815-3dqs6.html
-----------
Helping Uganda's HIV Positive Women Avoid Unplanned Pregnancies
August 25, 2014
Barbara Kemigisa used to call herself an "HIV/AIDS campaigner". These days she would rather be known as an "HIV/AIDS family planning campaigner".
"We need to reduce unplanned pregnancies and the HIV infection rate in our country," Kemigisa told IPS during Uganda's first national family planning conference on July 28. "It's about dual protection."
Raped by two uncles from an early age, Kemigisa later became promiscuous. When she was 22, she discovered she was HIV positive - and two months pregnant. Her daughter, Kourtney, now five, was born negative. But the mother couldn't afford to buy her formula milk and, when she was just six-months-old, the baby tested positive, through breastfeeding.
Kemigisa, an informed activist who gets her ARVs the Infectious Diseases Institute at Mulago Hospital and works with KiBO Foundation in Kampala, never had any problem obtaining contraceptives.
The same can't be said for many young HIV positive women Kemigisa regularly meets.
"Health workers tell them 'you're positive, you're not supposed to be having children'," she says.
In the last decade, Uganda's modern contraceptive use among women has slowly increased from 18 percent to 26 percent.
Though low, this level of contraceptive use likely averted 20 percent of paediatric HIV infections and 13 percent of AIDS-related children's deaths, says a study. Expanding family planning services can substantially reduce child infections, it concluded.
This is crucial. Uganda's HIV infection rate of seven percent is steadily rising after a steep drop in the 1990s, when more than a quarter of the population was infected.
Uganda now accounts for the third largest number of annual new HIV infections in the world, after South Africa and Nigeria, according to the United Nations Joint Programme on HIV/AIDS (UNAIDS).
Turning women away
Contraception is the second pillar of preventing mother to child HIV transmission (PMTCT) but one that is often neglected although, at an average of six children per woman, Uganda has one of the world's highest fertility rates.
Women trying to cope with HIV also struggle to get the "right and correct information" on family planning, says Dorothy Namutamba, of the International Community of Women living with HIV/AIDS Eastern Africa (ICWEA).
"Information doesn't reach women living with HIV in their reproductive age," she says.
Women may face violence at home for being HIV positive and for using contraception, only to be further mistreated when they turn to health workers, says Namutamba.
"Some are told 'oh, this is best for you' and brushed off at the health facility," says Namutamba.
In the worst-case scenarios, some HIV positive women have undergone coerced sterilisation.
Namutamba says this may happen when the woman has a caesarean section or goes for family planning services: "They're told that this is the best for you as a HIV positive woman."
In Kenya, ICWEA and other groups have documented about fifty cases of coerced sterilization and will release later this year a report about similar cases in Uganda.
http://allafrica.com/stories/201408191117.html
-----------
Saudi Female Telemarketers Complain Of Harassment, Low Salaries
August 25, 2014
MAKKAH — Saudi women who work as telemarketers in the private sector have complained that they face constant harassment by clients and are poorly compensated for their work, Makkah daily reported.
Although the women said dealing with the harassment they face is one of the most difficult aspects of the job, there are other problems such as low salaries, belittlement of their capabilities as telemarketers, society's attitude toward women working in this field and the job's effects on their relationships with their husbands.
Fatima Muhammad has spent five years working as a telemarketer and she has faced many difficulties, especially from male clients.
"The moment I call anyone to market a product, they believe that this gives them the right to know me on a personal level and not the product I am marketing. In most cases, when I tell them about the purpose of my call, they hang up," she said.
Muhammad said she spends a lot of time at work without receiving sufficient financial compensation for the suffering and harassment she is subjected to on a daily basis.
According to marketing company managers, telemarketers are compensated on the number of products they can sell.
"Company officials link employees' success to a commission that depends on how many items a telemarketer can sell. In most cases, employees do not get a commission for achieving the target as their rights are usurped for no reason," said one manager on condition of anonymity.
http://www.saudigazette.com.sa/index.cfm?method=home.regcon&contentid=20140825215834
-----------
Bangladesh Advisory Council Member Urges Women to Remain United
August 25, 2014
Awami League Advisory Council Member Amir Hossain Amu yesterday called upon the women to stand united against the communal forces.
"Women will have to stand against them who want to suppress and women have to be united against communal forces," he made the call at a discussion on the 39th martyrdom of Father of the Nation Bangabandhu Sheikh Mujibur Rahman and National Mourning Day in front of the party central office at Bangabandhu Avenue.
Awami Jubo Mohila League (AJML) organized the discussion, while president of the organization former lawmaker Nazma Akter presideed over. The programme was also addressed, among others, by Railway Minister M Mazibul Hoque, general secretary of AJML Apu Ukil, vice president Zakia Parveen and lawmaker Sabina Akter Tuhin.
Amu, also industries minister said people of Bangladesh are god-fearing, but not fanatic, adding, "All the people of the country irrespective of cast, creed and religion are now united to build a non-communal Bangladesh under the dynamic leadership of Prime Minister Sheikh Hasina."
People of the country particularly women have to remain alert so that no conspiracy designed by the evil forces would not be materialized in the sacred soil, the minister said.
Prime Minister Sheikh Hasina is working for women's development; he said women would have to resist them who assumed to power by misguiding women in the name of religion.
The senior AL leader also urged Jubo Mohila League leaders and workers to aware women across the country and protest such of these propagandas.
http://www.dhakatribune.com/politics/2014/aug/24/amu-urges-women-remain-united#sthash.LUNdzDKg.dpuf
-----------
690 Iraqi Women Held Captive by ISIL Radicals
August 25, 2014
At least 690 Iraqi Izadi and Shiite women and girls are taken hostage by the Islamic State of Iraq and the Levant (ISIL) Takfiri militants, facing abuse and slavery, Iraq's Minister of Human Rights said.
Muhammad Shiya al-Sudani speaking at a press conference said 600 Izadi girls held captive in Asar School in Tal Afar are facing excruciating torture as well as abuse, Al-Alam reported.
ISIL militants also had taken 75 Shiite women hostage in Sinjar region and abducted 15 more in the town of Jurf al-Sukhr in the province of Babil, Sudani said.
Underscoring that the abduction of women by ISIL militants has become a dangerous phenomenon, Sundani added that ISIL militants sell the captive women as slaves.
The ISIL terrorists executed 350 Izadi people in Sinjar and raided an Izadi village killing 70 Iraqi civilians, Sudani added.
Sudani also mentioned that his ministry was closely investigating reports that abducted Izadi and Shiite girls are being sold as slaves at markets in regions under ISIL control.
The minister added that, for the past several weeks ISIL had laid siege to the Turkmen town of Amrli in Tuz Khurmatu, killing residents on a regular basis.
http://english.farsnews.com/newstext.aspx?nn=13930602000247
-----------
URL: https://newageislam.com/islam-women-feminism/young,-vulnerable-women-being-groomed/d/98728