New Age Islam News Bureau
26 October 2020
• Young Saudi Women Take Charge Of T20's Digital Demands
• Poles Protest Abortion Ban in Churches and on Streets
• Qatar 'Forcibly Examined' Women Passengers After Premature Baby Found In Airport Bathroom
• Egypt, Sexual Assault Fuel 'Feminist Revolution', Victims Are Now Fighting Back Like Never Before
Compiled by New Age Islam News Bureau
URL: https://www.newageislam.com/islam-women-feminism/young-saudi-women-take-charge/d/123272
------
Young Saudi women take charge of T20's digital demands
RAWAN RADWAN
October 26, 2020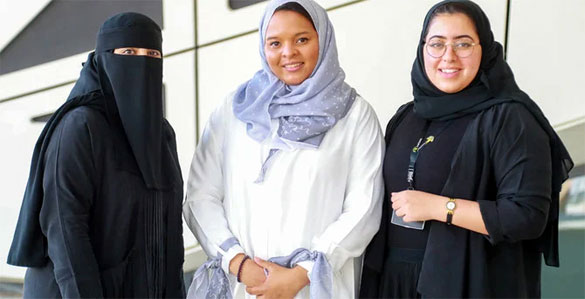 From left: Noura Alhosain, Lama Yaseen and Lina Alhamdan were selected to handle communications for the T20. (Saad Al-Anzi for Arab News)
-----
RIYADH: A trio of young Saudi women have taken charge of the digital demands of the G20's "ideas bank" by leading its content creation and social media.
Think 20 (T20), which was established in 2012, is considered the G20's policy recommendation engagement group that is responsible for connecting and collaborating with regional and international think tanks.
Saudi Arabia holds the 2020 G20 presidency, and the T20 has led events and webinars throughout the year that address pressing issues such as cybersecurity, climate change and the coronavirus pandemic.
Lama Yaseen, Linah Alhamdan, and Nourah Alhosain were selected to handle communications for the T20, and their lack of experience in digital content creation did not prove to be a problem.
The researchers, from the King Abdullah Petroleum Studies and Research Center (KAPSARC), took charge of the T20 website and social media platforms to create a link between the people working behind the scenes and the group's global audience, as well as gaining knowledge and skills along the way.
Yaseen, who moved from Jeddah six years ago, is a research associate and software developer at KAPSARC. She is also a part-time software engineering student.
Alhamdan, a senior research analyst, works with KAPSARC's Energy Information Management team as a data analyst and a web developer. She joined the team in August, at the height of preparations for the summit, to lend an extra hand. Alhosain joined KAPSARC in 2017 with a background in computer science. The three women teamed up to help with the technical parts of communication and social media.
Cian Mulligan, a senior research associate at the center, was communications lead. The team provides content for the website and across social media in both English and Arabic to ensure wider audience reach, a task that proved a little difficult given none of them were used to working in translation. However, as time went on, they embraced the challenges and found themselves enjoying the process. The T20 summit is set to take place between Oct. 31 and Nov. 1. Key policy recommendations will be presented for the upcoming G20 Leaders' Summit next month in Riyadh on Nov. 21-22.
https://www.arabnews.com/node/1754076/saudi-arabia
---------
Poles Protest Abortion Ban in Churches and on Streets
BY VANESSA GERA
Oct. 25, 2020
Members of a far-right organization and police remove women from a church where they were protesting church support for tightening Poland's already restrictive abortion law in Warsaw, Poland, Sunday, Oct. 25, 2020. Poland constitutional court issued a ruling on Thursday that further restricts abortion rights in Poland, triggering four straight days of protests across Poland.(AP Photo/Czarek Sokolowski)
-----
WARSAW, Poland (AP) — Women's rights activists furious over a tightening of Poland's already restrictive abortion law staged protests outside and inside churches Sunday, disrupting Masses and finding themselves confronted with accusations of "barbaric" behavior.
With the coronavirus surging in Poland, large protests also erupted for a fourth straight night in cities large and small across the nation, including in Warsaw, Gdansk and Poznan, where police on horseback guarded a church.
In the southern city of Katowice, tensions were high as a large presence of riot police separated protesters and about 30 people with the All-Polish Youth, a far-right ultranationalist group. Police used tear gas and scuffled with the women's rights protesters after they began to push the police toward the anti-abortion group, the RMF FM broadcaster reported.
At the Holy Cross Church in Warsaw, a group of far-right nationalists blocked stairs leading to the entrance. When one woman managed to push her way through, the nationalists grabbed her and forced her down the stairs.
A video posted from the northern Polish city of Szczecinek showed young women surrounding a priest and yelling at him to "Go back to the church" and to "F—- off."
The actions on Sunday follow a ruling on Thursday by Poland's constitutional court that declared that aborting fetuses with congenital defects is unconstitutional. Poland already had one of Europe's most restrictive abortion laws, and the ruling will result in a near-complete ban on abortion.
TVN24, a private news station, broadcast images of farmers on tractors driving through the town of Nowy Dwor Gdanski in support of women's reproductive rights. A sign on one tractor said, "We want choice, not PiS terror." PiS is the Polish acronym for the country's conservative governing party, Law and Justice.
Scenes of angry young women entering churches and confronting priests with obscenities signals a dramatic historical change in Poland, where the Roman Catholic Church has been venerated for centuries as the highest authority and where such events would have been unthinkable not so long ago.
The Catholic Church earned respect during the communist era for supporting pro-democracy dissidents in their struggle for freedom, and the late Polish pope St. John Paul II is held up as a national hero.
But today, its authority is being challenged as it supports the country's right-wing government and struggles to manage a string of clerical abuse scandals.
Sunday's events marked a further escalation of a culture war in Poland as women's and LGBT rights activists have increasingly turned to more radical protest methods after feeling that years of lobbying for greater rights have not brought the desired results.
An LGBT rights group, Grupa Stonewall, posted a video showing people protesting in a church in the western Polish city of Poznan, chanting "We've had enough!" Churchgoers replied by chanting "Barbarians!"
People also spray-painted churches with slogans and the phone number to an organization aiding women seeking abortions abroad or abortion pills.
"The position of the Catholic Church on the right to life is unchanged; obscenities, violence and disrupting services as well as profanation are not the right method of action," Gadecki said in a statement. "I ask everyone to express their views in a socially acceptable way."
Women's Strike, the organizer of the protests, argues that forcing women to give birth to fetuses with severe defects will result in unnecessary physical and mental suffering.
The organization vowed more protests in the coming week, including blockades of cities on Monday, a nationwide strike by women on Wednesday and street protests on Friday.
The actions are planned at a time when the Polish government is struggling to contain escalating coronavirus cases and anger over restrictions causing economic pain.
Health Ministry figures show that 1,110 legal abortions were carried out in Poland in 2019, mostly because of fetal defects. The only other legal cases remaining for abortion are rape or incest or if the pregnancy threatens the woman's life or health.
https://www.usnews.com/news/world/articles/2020-10-25/polish-women-protest-new-abortion-restriction-in-churches
-----------
Qatar 'forcibly examined' women passengers after premature baby found in airport bathroom
Agence France-Presse
26 Oct, 2020
Female passengers flying from Qatar were subjected to invasive searches after a premature baby was found abandoned in an airport bathroom, in procedures the Australian government on Monday described as "grossly disturbing" and "offensive".
A number of women - including from Australia - were removed from their flight and examined for signs of childbirth after the baby was found in a bathroom at Hamad International in the Qatari capital.
Australia's government on Monday condemned the October 2 incident, which only came to light after Australian passengers spoke out, and said concerns had been lodged with Qatar.
"This is a grossly, grossly disturbing, offensive, concerning set of events. It is not something that I have ever heard of occurring in my life," Foreign Minister Marise Payne said.
"We have made our concerns very clear to the Qatari authorities at this point," she said, adding that the matter had also been referred to Australian Federal Police.
A source in Doha briefed on the incident said that officials "were forcing women to undergo invasive body searches - basically forced Pap smears," an internal examination of the cervix.
Passenger Wolfgang Babeck said women returned to his flight from Doha to Sydney in a "shell-shocked" state, having been told to remove clothing from the lower half of their bodies for an examination by a female doctor.
"All of them were upset, some were angry, one was crying, but basically nobody could believe what happened," the commercial lawyer said, adding he thought the incident could be "a violation of international law".
That flight, Qatar Airways' QR908 to Sydney, was four hours late departing Doha as a result, according to air traffic website Flightradar24. It is not clear how many flights were involved.
In an official statement, Doha's Hamad International airport confirmed a broad outline of events, without providing details of the procedures, or the number of women and flights involved.
"Medical professionals expressed concern to officials about the health and welfare of a mother who had just given birth and requested she be located prior to departing," the statement said.
"Individuals who had access to the specific area of the airport where the newborn infant was found were asked to assist in the query".
Newborn baby girl abandoned next to garbage bin in China because her parents wanted a boy Newborn baby girl abandoned next to garbage bin in China because her parents wanted a boy
Some of the group received assistance and mental health support while spending the last two weeks in quarantine, under rules put in place by Australian authorities to contain the spread of coronavirus.
A report from the Qatari authorities about the incident was "imminent" according to Payne, who admitted Australian officials were made aware of the situation by passengers "at the time of the flight".
The incident could damage Qatar's reputation as it prepares to host tens of thousands of foreign visitors for the 2022 soccer world cup.
Qatar practices a strict form of Islamic law, with stiff penalties applied to women who fall pregnant or bear children outside marriage.
Doha airport on Sunday launched an appeal for the child's mother to come forward, suggesting that the checks undertaken at the time were inconclusive.
The newborn infant remains unidentified, but is safe under the professional care of medical and social workers," it said in its statement, and requested that anyone with information come forward.
https://www.scmp.com/news/world/middle-east/article/3107041/qatar-forcibly-examined-women-search-mother-newborn-dumped
---------
Egypt, Sexual Assault Fuel 'Feminist Revolution', Victims Are Now Fighting Back Like Never Before
Salma El-Wardany
26-10-2020
It has become part of everyday life in a country where for women picking an outfit is less about style, and more about protection.
Over the years, a culture of patriarchy, religion and conservatism has meant women often stay silent when sexual abuse happens because victim-blaming is all too common.
Now though, women and girls are finally breaking decades of silence, taking to social media to share their stories of assault, empower one another and call for justice.
Nadeen Ashraf, a 22-year-old fellow student, set up the Instagram account Assault Police to share these allegations and received an outpouring of messages from women claiming that Ahmed Bassam Zaki had blackmailed, assaulted, harassed and raped them.
Within days he was arrested and is on trial charged with "sexually assaulting three girls under the age of 18 and threatening them, along with blackmailing a fourth girl". He denies the charges.
Nadeen was overwhelmed with the reaction and speed of progress. She said "within weeks there was a new law that was introduced in parliament to protect women's identities when they're in crimes of a sexual nature".
The sexual assault of one particular activist, Sabah Khodir, was so harrowing that it drove her to leave the country and move to the US last year.
Still, Sabah has been instrumental in helping women coming forward, putting them in touch with lawyers and therapists, and is now seeing her efforts rewarded.
Earlier this year the highest religious authority in the land, Al-Azhar Mosque, released a statement in support of women, declaring that a woman's clothing is never a justification for assault.
"And during the first Friday prayers after the [Assault Police] movement, most mosques were asked to speak about being anti-sexual harassment," Sabah says.
"I got so angry and frustrated with what was going on, it had reached a ludicrous level, I don't think it will ever be made right until men take accountability for their actions and put others on the spot."
Women's rights defenders in the country have been pushing for a better legal system for sexual crimes for years, with very little success.
There are few prosecutions for rape, and sexual harassment was only made illegal in 2014 thanks to lobbying from feminists like prominent women's rights campaigner Mozn Hassan.
Rothna Begum, women's rights researcher at Human Rights Watch, says that although the government seems to be on the side of women, there is pushback against women in the public sphere, including online.
"The authorities have gone out of their way to arrest women who are social media influencers posting on TikTok... calling them out for inciting debauchery."
In addition, there are concerns surrounding a shocking case at a luxury Cairo hotel in 2014, which surfaced as a result of this movement.
The incident involved nine men from powerful families in Egyptian society who allegedly raped a young woman, filmed the assault then circulated the video among friends.
While the Public Prosecution ordered the arrests of the accused men, they also arrested witnesses and people associated with the case, subjecting them to medical examinations and seizing their phones and laptops to extract personal information.
According to Rothna Begum, the government is "leaving women with the message that if you come forward to report rape or to act as a witness, you could find yourself at risk of arrest".
Despite a legal system that does not fully protect them, the shaming they may receive from families and the fact that so-called "honour killings" still happen, the women and girls of Egypt are speaking out more than ever.
Egyptian American feminist Mona Eltahawy says she is "tenaciously optimistic… that a feminist revolution is beginning", despite evidence that authorities are trying to silence and oppress women across the country by arresting witnesses and TikTok girls.
"I look now at these young women and girls and queer people torpedoing through shame, and I am thrilled," she says.
https://www.bbc.com/news/world-middle-east-54643463
--------
URL: https://www.newageislam.com/islam-women-feminism/young-saudi-women-take-charge/d/123272
New Age Islam, Islam Online, Islamic Website, African Muslim News, Arab World News, South Asia News, Indian Muslim News, World Muslim News, Women in Islam, Islamic Feminism, Arab Women, Women In Arab, Islamophobia in America, Muslim Women in West, Islam Women and Feminism