New Age Islam News Bureau
24 Jan 2019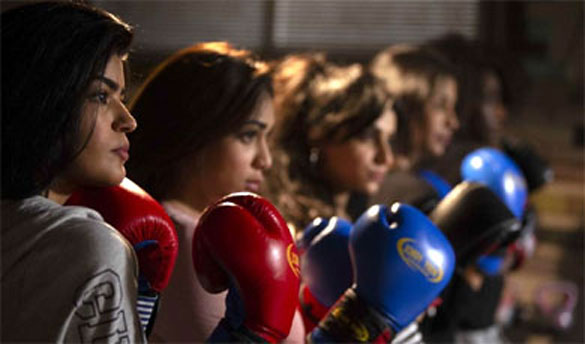 Directed by Saudi filmmaker Samir Aref, 'Boxing Girls' is the screenwriting debut of Afnan Alqasimi, and stars a slew of well-known names in Arab entertainment, including Fatima Al Hosani, Ali Al Sherif and Shaifan Al Otaibi. — Courtesy photo
----
• Muslim Girls Should Not Be Forced To Wear A Hijab At School Simply Because Of Pressures At Home, Head Of Ofsted Says
• Stop Portraying Arab Women as Victims, Leading Saudi Filmmaker Says
• A Singaporean Woman Civil Servant Converts to Islam, Father Approves
• Stop Female Circumcision, It Has No Medical Benefit, Say Sisters in Islam
• Saudi Sisters' Deaths in New York Ruled Suicide
• Pakistan's Top Court To Decide On Asia Bibi Appeal On January 29: Lawyer
• Afghanistan's Future Policewomen Brave Winter For Training
• 'If Vogue Can't Identify Muslim Girls, Why Not Hire Someone Who Can?'
• House Of Spirits Cuts Across Faiths To Empower Flores Women
• Meet Dubai's First Female Stunt Bike Rider
• First Russian Female Running for Mayor of Turkish City
Compiled by New Age Islam News Bureau
URL: https://www.newageislam.com/islam-women-feminism/young-saudi-women-take-centre/d/117550
--------
Young Saudi Women Take Centre-Stage in Brand-New TV Drama, 'Boxing Girls'
2019-01-23
Abu Dhabi — MBC Studios is unveiling 'Boxing Girls', a brand-new Arabic-language drama produced by O3 Productions and twofour54 Abu Dhabi.
Directed by Saudi filmmaker Samir Aref, 'Boxing Girls' is the screenwriting debut of Afnan Alqasimi, and stars a slew of well-known names in Arab entertainment, including Fatima Al Hosani, Ali Al Sherif and Shaifan Al Otaibi.
The program places young people at the center of the gripping story, as well as behind the scenes.
Teams with both O3 Productions — which falls under MBC Studios — and twofour54 spent two months shooting in Abu Dhabi across locations in the UAE capital, before moving to Riyadh to complete the second phase of production.
As well as the series benefitting from twofour54's award-winning production and post-production services and facilities, it also was able to take advantage of Abu Dhabi Film Commission's attractive 30% rebate on production spend.
Maryam Eid AlMheiri, CEO of Media Zone Authority, Abu Dhabi (MZA) and twofour54, said: "This drama production is particularly unique, because it puts a real emphasis on the region's young talent — both in front of and behind the camera."
'Boxing Girls' also stars Mila Zahrani, Abdul Aziz Skeirin, Alaa Shaker, Dana Al Salem, Anoud Al Saoud, Abeer Sander, Noura Ezzer, Mohammed Meshaal, Rakan, Zuhair Haider and Zara Al Balushi. It is set to debut in February 2019, on MBC channels. — SG
http://saudigazette.com.sa/article/557582/Life/Life-Style/Young-Saudi-women-take-center-stage-in-brand-new-TV-drama
--------
Muslim Girls Should Not Be Forced To Wear A Hijab At School Simply Because Of Pressures At Home, Head Of Ofsted Says
23 JANUARY 2019
Muslim girls should not be forced to wear headscarves in schools just because they are facing pressures from their families, the head of Ofsted has suggested.
Amanda Spielman, the chief inspector of Ofsted, made the comments as she was grilled by MPs about Muslim primary school children being questioned about hijabs during inspections.
It follows a recommendation by the schools watchdog in 2017 that officials should ask girls who wear garments such as hijabs "why they do so in school".
Ms Spielman last year publicly offered her backing to the headteacher of a primary school when she faced a backlash for trying to ban the youngest Muslim girls wearing the hijab.
Giving evidence to the Public Accounts Committee, Ms Spielman was questioned by Labour MP Shabana Mahmood about why pupils who are simply trying to look like their mothers should be scrutinised by state officials.
She replied: "My concern is that children at school should be free from the pressures that exist in many communities outside of school.
"We know that some children are feeling pressurised to wear headscarves, that it can make children unhappy to be told they are not good because they are not wearing a headscarf.
"This is something that is difficult and is contested, but I don't think we can say that children should simply be 'allowed to look like their mothers' is the solution."
Ms Spielman said she would write to the committee to provide further detail about how Muslim schoolgirls were questioned by inspectors on the issue.
The Ofsted chief also stuck by her assertion that schools should enforce a "muscular liberalism" and not allow religious groups to influence the curriculum at the expense of others.
She cited the example of Yesodey Hatorah, a Haredi Jewish secondary school in Hackney, east London, where female pupils had their experience "shut down quite considerably".
"We also see claims that the protection given to religion should get priority over all the other protected characteristics," she said, in reference to the Equality Act.
"The arguments that are advanced, for example, by Haredi schools essentially are saying religion should justify not having to have regard for the Equality Act."
https://www.telegraph.co.uk/news/2019/01/23/schools-should-free-religious-pressuresofsted-chief-says-claims/
--------
Stop Portraying Arab Women as Victims, Leading Saudi Filmmaker Says
January 24, 2019
Acclaimed Saudi Arabian filmmaker Haifaa al-Mansour has a message for Western audiences: stop seeing Arab women as victims.
Portraying the women of her region as strong and resilient is one of the missions of her highly-awarded films, al-Mansour — who is one of Saudi Arabia's most famous, as well as most controversial directors — told CNBC's Hadley Gamble during a panel at the World Economic Forum in Davos on Wednesday.
"Whether it's coming from the region, or internationally, I really enjoy portraying strong female protagonists, women who don't see themselves as victims," al-Mansour said.
"In all the scripts I get, Muslim and Arab women are all victims and sad, and things are happening to them — and it's like no, we're very sassy. We're very strong. Don't take us for granted."
She opposed the stereotype that "Arab women are not in control of their destiny," while adding that "sometimes they are not, because of family ... but that does not take their soul, and that does not take who they are as people, as fighters, with a strong will to survive and to succeed. So that is a huge misconception, we are way more than who they think we are as women."
Al-Mansour is Saudi Arabia's first female filmmaker and the country's most well-known. Coming from a country known for its highly conservative interpretation of Islam and austere rules surrounding women's lives, her work, which shines a light on the lives of women in the Gulf, was hailed as groundbreaking. Her feature debut, Wadjda, which premiered at the Venice Film Festival in 2012, was the first to be fully shot in Saudi Arabia as a feature-length film and the only one filmed in the country by a female Saudi national.
Al-Mansour this week was honored with the WEF's Crystal Award, along with conductor Marin Alsop and naturalist Sir David Attenborough, as an "exceptional cultural leader" and a force for positive change.
But the director didn't deny the hardships of being a female artist in the conservative Gulf country — or in general. Al-Mansour received death threats and criticism from the more hard-line elements of Saudi society, and acknowledges that women often have to work harder than men to prove themselves in a place where the workplace has always been dominated by men.
"The general public in the Middle East is not used to women in positions of leadership, so they need support to push them and cultivate their existence... so they have that now, it's up to them to take it to the next level, show the general public they can succeed," she said. "And it's a lot of work — and maybe a woman will have to work twice as hard as a man, which is really frustrating. But hopefully the next generation of females entering the workplace don't have to work as much to prove themselves and to prove that we can succeed and handle the responsibility."
Women make up about 22 percent of the Saudi workforce, according to official statistics, a figure the government aims to bring to 30 percent over the next decade.
Saudi Arabia has seen significant liberalization as part of the government's Vision 2030 program, intended to open up the country and diversify its economy away from oil. A decades-long female driving ban was lifted last year and movie theaters were reintroduced to the country. But serious concerns remain over issues like the country's male guardianship law, as well as the fact that several female activists remain in prison for their efforts in bringing about some of these very changes. Regional observers welcome the kingdom's moves toward more modern gender laws, but maintain that there remains significant work to be done.
https://www.cnbc.com/2019/01/23/leading-saudi-filmmaker-haifaa-al-mansour-stop-portraying-arab-women-as-victims.html
--------
A Singaporean Woman Civil Servant Converts to Islam, Father Approves
23 Jan 2019
PETALING JAYA: A Singaporean civil servant won praises after she wrote a post on Facebook about her father understands reaction to her conversion to Islam.
In the post, 29-year-old Li Jinghan, her 60-year-old retiree father Lee Soon Koon was recounting the time when he was collecting an item purchased over Carousell from a Malay seller last week in Singapore.
The seller was surprised when Lee turned up and told him that he was expecting a Malay person to pick up the item. The seller was also surprised when he learned that Lee allowed his daughter to convert to Islam.
Lee asked: "Why is everyone so shocked when they know I let you convert?".
To this, Li replied: "Cos you very rare la! Most parents don't let mah."
In the post, Li also asked her father why he allowed her to convert.
His reply in Chinese was that he did so because he understands life.
"I understand the pursuit of happiness. What's the purpose of life? To seek happiness," he said.
Lee said what parents want most for their children is for them to be happy.
"Every religion teaches good. If you tell me that this religion makes you happy, why should I stop you?" he added.
Li, who now goes by the name Nur Jihan Li, wrote that her father was "so simple, yet so profound".
"A lot of what he says is almost common sense; it doesn't take a lot for anyone to come up with what he said," she wrote.
"He doesn't struggle with what society thinks, what our relatives would think, (or even) how it would mean (now) I can't eat his favourite BBQ with him anymore.
"His sole concern was really just my happiness," Li wrote.
She said her father was a man of his word.
The post received over 10,000 likes and was shared over 4,000 times.
When contacted by The Star, Li said this was not the first time she had written about her father on Facebook.
"Last time, he would visit me about once a week. But since my father moved, he lives closer to me. Now, he is able to see me and daughter anytime," she said.
Li also sincerely wished people would show kindness to each other regardless of race
https://www.thestar.com.my/news/nation/2019/01/23/daughter-converts-to-islam-father-approves/
--------
Stop Female Circumcision, It Has No Medical Benefit, Say Sisters in Islam
Melissa Darlyne Chow and Ainaa Aiman
January 23, 2019
KUALA LUMPUR: Female circumcision does not have any medical benefit and must be stopped, women's rights groups said today, adding that the practice is still prevalent in certain Malay communities.
Sisters in Islam executive director Rozana Isa said the practice was nothing more than a cultural tradition.
"It is a cultural tradition. It is something that we can change because culture can change for the betterment of women and girls," Rozana said at a press conference after the launch of a report on gender equality.
She, along with other women's rights groups, urged the health ministry to educate people about the practice not serving any medical purpose.
She added they would welcome engagement with the ministry and also relevant religious bodies towards implementing a policy to protect Malaysian girls from this.
Meanwhile, Mary Shanthi Dairiam, founding director of International Women's Rights Action Watch Asia Pacific (IWRAW), said even though the practice in Malaysia might not be harmful, it perpetuated a "harmful ideology" that women were not equal to men.
"It may not be seen to be harmful, but there may be an ideology behind it that perpetuates the inferior status of women. And female genital mutilation comes in this category.
"It may seem like a minor thing – it doesn't hurt, it has no repercussions, it has no harmful effect on the body – and therefore, some people may be questioning why we want to get rid of it," she said.
The bigger issue, she said, was the belief that female circumcision would prevent a woman from having sexual urges and "going wild".
"This is very, very dangerous. It shows that women and men are not equally valued, and it perpetuates that inequality."
Rozana and Shanthi were speaking on the sidelines of the launch of a gender equality report called "The Status of Women's Human Rights: 24 years of CEDAW in Malaysia" coordinated by the Women's Aid Organisation (WAO) and the Joint Action Group for Gender Equality (JAG).
CEDAW refers to the UN's Convention on the Elimination of all Forms of Discrimination Against Women (CEDAW).
However, the chairman of the Parliamentary Select Committee for Rights and Gender Equality, Nor Azrina Surip, said female circumcision was often misunderstood as female genital mutilation.
She added that female circumcision in Islam was allowed, but not mandatory.
"Actually, it is a tradition only in some parts of Malaysia. However, a lot of Malays do partake and have placed it as something that must be done.
"I understand their concerns, but the practice in Malaysia is not female genital mutilation," she said.
She also argued that the method of female circumcision practised in Malaysia was not as extreme as genital mutilation, whereby some part or the whole external female genitalia, including the labia and clitoris, are removed.
"The medical operation is minor and often does not draw blood," she said.
https://www.freemalaysiatoday.com/category/nation/2019/01/23/stop-female-circumcision-it-has-no-medical-benefit-say-womens-groups/
--------
Saudi Sisters' Deaths in New York Ruled Suicide
January 23, 2019
JEDDAH: The deaths of Saudi-born sisters Rotana Farea, 22, and Tala Farea, 16, in New York's Hudson River last October were the result of drowning by suicide, said the office of the city's chief medical examiner, Dr. Barbara Samson.
"My office determined that the death of the Farea sisters was the result of suicide, in which the young women bound themselves together before descending into the Hudson River," Samson said in a statement.
The two bodies were discovered by a passer-by just before 3 p.m. on Oct. 24. The New York Police Department (NYPD) said police responded to a 911 call and "upon arrival, officers discovered two unidentified females unconscious and unresponsive with no obvious signs of trauma." Emergency personnel declared them dead at the scene.
An official at the Saudi Embassy in Washington refuted an Associated Press (AP) claim that the mother of the sisters said she had received a call from the embassy requesting that the family leave the US because the daughters had requested asylum.
"Any/all communications with the mother had nothing to do with a supposed asylum claim," the Saudi official told Arab News.
The NYPD denied releasing any information regarding an alleged asylum request. The family declined an Arab News request for comment.
http://www.arabnews.com/node/1440546/saudi-arabia
--------
Pakistan's Top Court To Decide On Asia Bibi Appeal On January 29: Lawyer
January 24, 2019
ISLAMABAD: Pakistan's Supreme Court will decide on January 29 whether to allow an appeal against its acquittal of a Christian woman at the centre of a blasphemy row, a lawyer involved in the case said Thursday.
If the court refuses to allow the appeal, it will remove the last legal hurdle facing Asia Bibi, who is a prime target in conservative Muslim-majority Pakistan and remains in protective custody.
Bibi was on death row for eight years for blasphemy, a hugely sensitive charge.
The Supreme Court's decision in October last year to overturn her conviction ignited days of violent demonstrations, with enraged Islamists calling for her beheading, mutiny within the powerful military and the assassination of the country's top judges.
The government has since launched a crackdown on the Tehreek-e-Labaik Pakistan (TLP) party -- the Islamist group driving the violent protests -- charging its leaders with sedition and terrorism.
But authorities also struck a deal with the protesters to end the violence, forming an agreement which included allowing a final review of the Supreme Court's judgement.
On January 29, "the court will determine if our appeal against her acquittal is admitted", Ghulam Mustafa Chaudhry, the lawyer who filed the petition seeking an appeal, told AFP.
"Usually the court decides on the same day if the appeal is admitted or not," he added.
Under Pakistan's creaky legal system any private citizen can petition the courts on any matter of public interest or human rights, as in the Bibi case.
However legal experts said it would be highly unusual for the Supreme Court to overturn its own decision, especially one that as carefully drafted as the Bibi ruling.
"It is very rare," lawyer Saad Rasool told AFP.
The three-member bench that will hear the petition will be headed by new Chief Justice Asif Saeed Khosa, considered the country's top expert in criminal law and who helped draft the decision to acquit Bibi.
Blasphemy continues to be a massively inflammatory issue in Pakistan, where even unproven accusations of insulting Islam can spark lynchings.
Approximately 40 people are believed to be on death row or serving a life sentence for blasphemy, according to a 2018 report by the United States Commission on International Religious Freedom.
Many cases see Muslims accusing Muslims. But rights activists have warned that minorities -- particularly Christians -- are often caught in the crossfire, with blasphemy charges used to settle personal scores.
Speculation has been rife since Bibi's acquittal that an asylum deal with a European or North American country may be in the works.
The allegations against her date back to 2009, when Muslim women accused her of blasphemy against the Prophet Mohammed, a charge punishable by death under the colonial-era legislation.
Her case drew the attention of international rights groups and swiftly became the most high-profile in the country.
Pope Benedict XVI called for her release in 2010, while in 2015 her daughter met his successor and the current head of the Catholic Church, Pope Francis.
https://www.ndtv.com/world-news/lawyer-says-pakistans-top-court-to-decide-on-asia-bibi-appeal-on-january-29-1982557
--------
Afghanistan's Future Policewomen Brave Winter For Training
January 24, 2019
Temperatures drop below zero but few among the 168 Afghan women flinch as they brandish their pistols before a mock raid. It is just another morning of training for cadets at the Police Vocational Education Center in central Turkey's Sivas. With a determined look on their faces, the women take a dive against mock bullets in a simulated shootout and have to crawl on chilling snow to reach for their rifles left by their instructors a few hundred meters away.
Once they complete their six-month training that started last November, they will become new additions to the police force of Afghanistan, a country where the fragile security situation is one of the main problems. Some 3,353 Afghan police officers completed their training in Turkey, courtesy of a security agreement between Turkey and Afghanistan in 2011 and 1,213 among them are women.
Although they are nearly 3,000 kilometers apart, Afghanistan and Turkey enjoy close ties dating back to the early years of the Republic of Turkey. Turkey was the first country to open a diplomatic mission in Kabul in 1921 and both Muslim-majority countries maintain deep cultural ties dating back to the Turkic rule of Afghanistan up to the 12th century.
The employment of female police officers is relatively novel in Afghanistan where women were shunned from such tasks during the period of Taliban rule. The number of female police officers still remains low compared to their male colleagues, but Afghanistan seeks to enroll more female police officers in the face of the ongoing Taliban threat and crimes against women.
Apart from Afghanistan, Turkey offers training for law enforcement officials from various countries, mostly developing or underdeveloped ones. Turkish Cooperation and Coordination Agency (TİKA), the leading state-run agency for development aid, organizes the training projects in cooperation with the Turkish National Police. TİKA last year trained 564 policemen and policewomen from countries ranging from Azerbaijan and Macedonia to Ecuador, Yemen and Mongolia. The project, which has reached out to some 8,000 people since it was launched in 2007, covers all aspects of police training, from VIP protection to risk analysis in drug crimes, from cybercrimes to sharpshooting and how to detect forgery.
https://www.dailysabah.com/turkey/2019/01/24/afghanistans-future-policewomen-brave-winter-for-training
--------
'If Vogue Can't Identify Muslim Girls, Why Not Hire Someone Who Can?'
23 Jan, 2019
Fashion magazine Vogue had to apologize after misidentifying a Muslim activist featured in its latest issue. Avoiding such gaffes may be as simple as diversifying its staff, an American Muslim author told RT.
The magazine got into an embarrassing situation after putting the wrong name next to a photo of Libyan-American journalist Noor Tagouri. The botched caption is a common problem with "misrepresentation and misidentification" of Muslim women in the US media, the journalist said.
Amani Al-Khatahtbeh, the founder of muslimgirl.com, a blog about what it's like to be a young Muslim woman in a Western culture, told RT that the "surest way that we can regulate mistakes like this is by hiring people of color and placing the mic in the hands of people we're reporting on and the stories that we're trying to tell."
Tagouri tweeted a video of herself excitedly opening the magazine to see her feature – but captured her reaction quickly changing to disappointment upon realizing that the fashion magazine had used the wrong name.
In its apology, Vogue promised to "be more thoughtful and careful" in the future, noting, as if in excuse, that it understood that there was "a larger issue of misidentification in media — especially among nonwhite subjects."
Tagouri said that her team had specifically made sure to send an email to Vogue before publication to ensure the content and caption for the feature were correct. In a lengthier post on Instagram, Tagouri called out the magazine and said it was not the first time that she had been misidentified by the media, explaining that it was a "constant problem" she faced as a Muslim woman. "As much as I work to fight this, there are moments like this where I feel defeated," she wrote.
Tagouri was dangerously misidentified last year online as the wife of Pulse nightclub shooter Omar Mateen, which led to online harassment.
The suggestion that more people should be hired from minority groups, which Al-Khatahtbeh communicated to RT, was also voiced by an anonymous Vogue employee, who said the incident "never would have happened" if there had been any people of color in leadership positions. The former employee accused the magazine of having a "deep-seated discomfort with diversity" which "permeates through every inch of their DNA from the top down," she said in a scathing interview with Fashionista.
https://www.rt.com/usa/449478-vogue-misidentifies-muslim-journalist/
--------
House Of Spirits Cuts Across Faiths To Empower Flores Women
January 24, 2019
At the "House of Ancestral Spirits" in central Flores Island in East Nusa Tenggara province, Christian and Muslim women sit side by side weaving colorful fabrics to keep a traditional craft alive and support their families.
Known as Sa'o Pipi Tolo in Indonesian, this thriving small business is the brainchild of Gregorius "Gories" Mere, a Catholic ex-cop who now serves as a presidential adviser on security.
He is helping to bridge the rift between women of different faiths while boosting the local economy and raising the stature of a "signature" product to represent the cultural identity of those who live on the island.
"Traditional woven cloths in Flores are known for their good quality, but the industry here is not well organized. The cloths are made sporadically at people's homes, which makes them hard to find," Mere told ucanews.com.
"They also sell for low prices, so only people with strong business connections can make a profit," he said.
Challenged by his daughter to invest in the industry, he set up his business in the central part of the island, which is mostly Christian, last year for women with traditional weaving skills from Nagekeo, Ngada, and Ende districts.
Mere said there was a need for a base to facilitate production and help them market their products better.
His daughter Jessica came to him after visiting the village of Tonggo, where Mere was born. She has spoken with local villagers, listened to their stories, seen the symbols of Christianity some were producing, and been by the natural beauty of the place. She urged him to get involved and help out.
East Nusa Tenggara has a population of 5.2 million. Some 89 percent are Christians, mostly Catholic, with Muslims making up the remainder.
Mere said his goal is to see women's weaving groups in the three districts earn more money from selling these traditional cloths.
Now dozens of women from different locations have a central location where they can produce a variety of styles. This makes it easier for buyers to source their goods rather than having to hunt and forage all over the island.
Each of the handmade cloths takes many hours to produce and sells for around US$20-25. Mere said this is below the market price and that he is confident they can earn more as they become more organized.
"It's not fair. They deserve more than that," he said, pledging to help market their products at national and international markets.
Archbishop Vinsentius Sensi Potokota, who cut the ribbon on the center in December 2018, praised Mere for taking the initiative.
The archbishop said he expects it will play a significant role in empowering both Christian and Muslim women in the archdiocese.
"What he has done inspires us pastors to do something concrete to help these women," the prelate said.
"This is also a place to showcase religious tolerance through the art of weaving, which is a part of Flores' cultural identity."
To ensure the products are of high quality, Mere hired Alfonsa Horeng, a leader in the industry, from the neighboring district of Sikka.
Her work has been recognized by the Ministry of Tourism and Creative Economy and she has exported her handmade fabrics to many countries.
She said woven fabrics from Flores are often used for cultural events, and also as a dowry.
"It's a form of local heritage that bonds people together, and it must be preserved," she said.
Siti Lutwina, who represents weavers from Nangaroro in Nagekeo district, described the center as a dream come true and said it is enabling women to experiment more creatively with their patterns and designs.
"Here, we focus on the kind of designs that are typical to our area, but these can be added to a variety of collections," she said.
"Our goal is to have our products reach a wider scope of buyers, both at a national and global level," she said.
Yohanes Don Bosco, the chief of Nagekeo district, said the facility has paved the way for this industry to "get to the next level."
Hironimus Tuga, the architect who built the center, said he designed it to reflect traditional homes in Nagekeo, which have roofs made of cogon grass.
Construction began with a special ritual to invoke the spirits of people's ancestors to protect those working in the house, he said, in explaining the name.
https://www.ucanews.com/news/house-of-spirits-cuts-across-faiths-to-empower-flores-women/84335
--------
Meet Dubai's First Female Stunt Bike Rider
January 23, 2019
Dubai: The city's very own sports hub XDubai has just unveiled its latest star performer, global stunt biker Sarah Lezito.
In an online video that was uploaded on Wednesday, 26-year-old Lezito can be seen performing various stunts at the new island destination Bluewaters – home to the world's world's largest observation wheel.
As part of her debut, the French athlete showcases her world-famous skills, performing technical stunts that include stand-up wheelies, dead-spins, drifts and circle combos with Dubai's impressive skyline as her backdrop.
Throughout the video, Lezito's identity remains hidden as she speeds along the island, making her way through residential, retail and hospitality areas to meet friends at Caesar's Palace Bluewaters Dubai.
Mohammad Javad, General Manager of XDubai, said: "As an athlete at the top of her game, Sarah shows us what it means to defy your limits and we couldn't think of a more fitting location than Bluewaters to officially announce that she is part of the XDubai family".
For XDubai, Lezito is the first motorcycle stunt rider and one of six women currently signed by the action sport brand.
Lezito started honing her craft in her native France at the age of 13, and is one of the only female athletes competing at the highest levels in what is considered to be a male-dominated sport.
https://gulfnews.com/uae/watch-meet-dubais-first-female-stunt-bike-rider-1.1548235056769
--------
First Russian Female Running for Mayor of Turkish City
January 23, 2019
In a historic first, a Russian-born female is running for mayor of the Turkish resort city of Alanya.
"It has been a long road," Anastasia Petrova Cetinkaya told Al-Monitor in explaining how she decided to run for mayor in the March 31 election. "Three years ago I got this idea. Two years ago I started to write my election program."
Petrova Cetinkaya, 36, was born in Murmansk, a port city on the Barents Sea in the far northwestern part of Russia. She graduated from two universities — one in Murmansk and the other in Oslo, Norway, where she studied political science. After graduation, she returned to her hometown, where she worked for a while as a business development manager at a foreign company. In 2010 Petrova Cetinkaya moved to Turkey, where she and her Turkish husband are engaged in the printing, design and branding business. She speaks five languages — Russian, English, Norwegian, Turkish and French — studies Arabic and plans to master Chinese. Petrova Cetinkaya also writes for local newspapers.
Alanya is a resort city in Antalya province in Turkey's Mediterranean region. More than 30,000 foreigners live there, including Germans, Russians, Ukrainians, Iranians and Iraqis, among others. Thus, being a candidate with foreign roots does not appear to be a problem for Petrova Cetinkaya. However, she says that first of all she is a Turkish citizen and that she would be elected as a Turkish citizen by other Turkish citizens. She promises to improve local people's lives and create new jobs.
Her program includes more than 40 proposed projects that seek to improve local citizens' living conditions, increase tourism and implement a number of infrastructure and environmental projects. The slogan of the election campaign is "Change To Be," which calls for, first of all, personal responsibility.
"We have no printed election brochures. Everyone asks why? I can explain. Every year billions of printed brochures are thrown away. It's just useless garbage. So, we decided not to do that. We are widely represented on social media. Everyone can easily find us there," she told Al-Monitor.
Petrova Cetinkaya is campaigning as an independent candidate but doesn't deny that in the future she could join some political party. However, at this point she prefers not to show her political sympathies.
Although the mayor candidate says tourism is not a top priority of her campaign, she calls for dramatically increasing tourist flow to 6 million in the next five years. Currently around 2 million tourists come to the city annually.
For the last two years Alanya has been the most popular destination for Russian tourists who come to Turkey, according to Russia's online service for finding and booking tours Travelata.ru. Daria Toropova, head of the client department of Travelata.ru, said Antalya's popularity can be explained by low cost.
"The prices are lower there as Alanya is the farthest resort from Antalya Airport. Another factor affecting pricing is that Alanya is not as green as other popular Turkish resorts — Kemer and Belek. As a result, 35% of all the tours sold last year were tours to Alanya. The main advantage of the resort is the southern location, so you can safely go there in April, and the season lasts in Alanya until late November," Toropova told Al-Monitor.
In 2018 Turkey was the most popular foreign destination for Russian tourists, with visitor numbers rising 25%. According to Maya Lomidze, head of the Russian Association of Tour Operators, the overall Russian tourist flow grew 8% in 2018 compared with the previous year. Visa-free travel, short flights and an all-inclusive system are among the most important factors for Russian tourists when they choose their travel destination.
However, Petrova Cetinkaya told Al-Monitor that while the all-inclusive system is good, Alanya needs something new.
"We need to think big. It is important to distribute tourist flow rationally. We should attract more tourists not only from EU countries, Russia or Ukraine but also from Asian countries, such as China, Japan, Singapore and others," the mayoral candidate said. She said Alanya is not popular among tourists from Asian countries.
Among her plans is the creation of a "Turkish village" — a touristic place where people could see what a traditional local village looks like. "It can be a center for winter and summer tourism," Petrova Cetinkaya said.
She also wants to organize more festivals and other cultural events between Alanya and its 12 sister cities, most of which are based in Europe.
Petrova Cetinkaya's hometown of Murmansk is among the sister cities; due to her personal initiative, the two cities became sisters in February 2014.
The candidate said her Russian origin is not an impediment but rather an advantage in the upcoming local elections given the current positive dynamics between Turkey and Russia. These include stable political and economic relations, cooperation on Syria, the two mega projects of the TurkStream gas pipeline and the Akkuyu nuclear power plant and personal chemistry between Presidents Recep Tayyip Erdogan and Vladimir Putin. Last year the two leaders had seven one-on-one meetings and 18 phone calls to discuss bilateral relations and regional developments, especially the Syrian crisis.
Petrova Cetinkaya disagrees with the position that it is difficult for women to make their way in Turkish politics.
"It is a very silly stereotype about Turkey. Women are very welcomed in politics. Look at the last general and presidential elections. Meral Aksener and her party showed good results," Petrova Cetinkaya said.
She said she loves Alanya with all her heart.
"I have been living in Alanya for nine years but still every time I go somewhere it opens something new for me here," she said.
https://www.al-monitor.com/pulse/originals/2019/01/russia-turkey-alanya-elections.html
--------
URL: https://www.newageislam.com/islam-women-feminism/young-saudi-women-take-centre/d/117550
New Age Islam, Islam Online, Islamic Website, African Muslim News, Arab World News, South Asia News, Indian Muslim News, World Muslim News, Women in Islam, Islamic Feminism, Arab Women, Women In Arab, Islamophobia in America, Muslim Women in West, Islam Women and Feminism