New Age Islam News Bureau
25 Feb 2014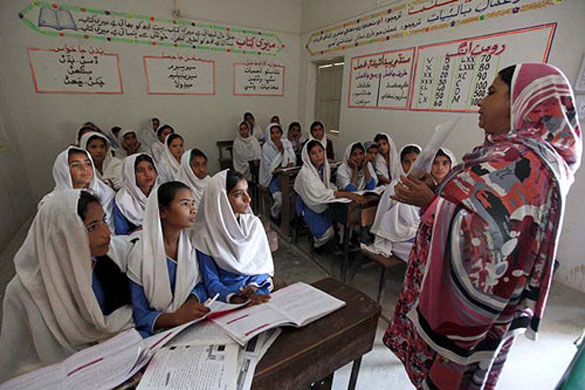 A teacher displays a flash card to students while describing measures to take when sexual harassment occurs, during a class in Shadabad Girls Elementary School in Pakistan. (Reuters photo)
--------------
• Pakistani Village Gives Girls Pioneering Sex Education Class
• India's Muslims Prefer Fashionable Niqab
• Kids Fathered By Saudis Toil with Mothers in Syria Camps
• Religion Is Being Used In Afghanistan to Deny Women Their Rights
• Saudi Women Involved In 25 Demonstrations, 14 Sit-Ins
• Saudis Lay Claim on Wives' Salaries as 'Legal Guardians'
• Drinking Alcohol While Pregnant Could Become a Crime in UK
• Forced Marriage: Two Saudi Women File Lawsuits
• 16 Women Journalists on the Middle East Front Lines
• Lebanese Parents Encouraging Children to Move Abroad
• Proposed 'Ministry of Marriage and Divorce' Sparks Controversy
• Hala Shukrallah President of Constitution Party: 'Something Has Changed'
• Products by Saudi Women Steal the Show at Jeddah Wedding Expo
• Arab Woman Awards KSA 2014 Winners Honoured
• Bihar's Urdu Girls' High School to Celebrate Its Golden Jubilee
Compiled by New Age Islam News Bureau
URL: https://newageislam.com/islam-women-feminism/young-saudi-ladies-smoke-'to/d/35926
--------------
Young Saudi Ladies Smoke 'To Stay With the Times'
25 Feb, 2013
JEDDAH — There has been a noticeable increase in young women smokers who claim they are into smoking as a fad or have taken to smoking by imitating other women smokers only to be left with the habit, Al-Madinah daily reported.
Many women can be seen in shopping malls, restaurants and cafes flaunting their smoking habit without realizing the hazards of smoking for themselves and others.
Maha, a 16-year-old, said she and her friends frequent shopping malls and restaurants and noticed many women smoking. This led her to try cigarettes and this imitation eventually became an addiction.
Dhuha, a 21-year-old university student, said she and her friends usually go to a nearby restaurant to have breakfast and smoke.
Because smoking is a fad, she believes that one should stay with the times. "Invariably some university lectures are boring and it is important to break that boring routine. This is one fad that helps us do that," she said.
Family and psychiatric consultant Dr. Sahar Rajab said imitating others, unrestrained freedom and the abundance of money lead some individuals to harm themselves and those around them.
She pointed out that smoking is hazardous to health and can cause many illnesses that may result in death.
"I have noticed many young men and women frequenting cafes during the past few years, and groups of young women, between the ages of 16-20, are seen smoking at will and seemingly enjoying it," she said.
She questioned families' willingness to allow young women to harm themselves under the pretext of giving them freedom. "It is very painful to see university students playing truant for the purpose of smoking," she added.
She stressed that it was even ironic that some families allow their children to smoke in their presence, claiming that it is better than smoking behind their backs.
She questioned this action, asking whether this was the correct way to raise children or whether this was part of the opening up of civil society and social behaviour.
Rajab advised all smokers to quit smoking and to stay away from friends who may lead them to harmful habits.
http://www.saudigazette.com.sa/index.cfm?method=home.regcon&contentid=20140224196673
--------------
Pakistani village gives girls pioneering sex education class
Reuters
Johi, Pakistan, February 25, 2014
In neat rows, the Pakistani girls in white headscarves listened carefully as the teacher described the changes in their bodies. When the teacher asked what they should do if a stranger touched them, the class erupted.
"Scream!" one called out.
"Bite!" another suggested.
"Scratch really hard with your nails!" a third said.
Sex education is common in Western schools but these ground-breaking lessons are taking place in deeply conservative rural Pakistan, a Muslim nation of 180 million people.
Publicly talking about sex in Pakistan is taboo and can even be a death sentence. Parents have slit their daughters' throats or doused them in acid for crimes as innocuous as dancing at a wedding or looking out the window.
Almost nowhere in Pakistan offers any kind of organised sex education. In some places it has been banned.
But teachers operating in the village of Johi in poverty-stricken Sindh province say most families there support their sex education project.
Around 700 girls are enrolled in eight local schools run by the Village Shadabad Organisation. Their sex education lessons - starting at age 8 - cover changes in their bodies, what their rights are and how to protect themselves.
"We cannot close our eyes," said Akbar Lashari, head of the organisation. "It's a topic people don't want to talk about but it's fact of our life."
Facts of life
Lashari said most of the girls in the villages used to hit puberty without realising they will begin to menstruate or they got married without understanding the mechanics of sex.
The lessons even teach the girls about marital rape - a revolutionary idea in Pakistan, where forcing a spouse to have sex is not a crime.
"We tell them their husband can't have sex with them if they are not willing," Lashari said.
The lessons are an addition to regular classes and parents are told before they enroll their daughters. None has objected and the school has faced no opposition, Lashari said.
The eight schools received sponsorship from BHP Billiton, an Australian company that operates a nearby gas plant, but Lashari says sex education was the villagers' own idea.
Teacher Sarah Baloch, whose yellow shalwar khameez brightens up the dusty school yard, said she hoped to help girls understand what growing up meant.
"When girls start menstruating they think it is shameful and don't tell their parents and think they have fallen sick," she said.
Baloch teaches at a tiny school of three brick classrooms. A fourth class is held outside because there are so many girls.
Three girls cram into each seat made for two, listening attentively to Baloch. One flashcard shows a girl stopping an old man from touching her leg. Other cards encourage girls to tell their parents or friends if someone is stalking them.
The girls are shy but the lessons have sunk in.
"My body is only mine and only I have the rights on it. If someone touches my private parts I'll bite or slap him in the face," said 10-year-old Uzma Panhwar defiantly as she blushed.
The lessons also cover marriage.
"Our teacher has told us everything that we'll have to do when we get married. Now we've learned what we should do and what not," said Sajida Baloch, 16, staring at the ground.
Ahead of its time?
Some of Pakistan's most prominent schools, including the prestigious Beaconhouse School System, have been considering the type of sex education practised in Johi.
"Girls feel shy to talk to their parents about sex," said Roohi Haq, director of studies at Beaconhouse.
There is definitely demand. Lahore-based Arshad Javed has written three books on sex education and said he sells about 7,000 per year. None are sold to schools.
But not everyone agrees with the lessons, partly because young people were not supposed to have sex before adulthood. Recently the government forced the elite Lahore Grammar School to remove all sex education from its curriculum.
"It is against our constitution and religion," said Mirza Kashif Ali, president of the All Pakistan Private Schools Federation, which says it represents more than 152,000 institutions across the country.
"What's the point of knowing about a thing you're not supposed to do? It should not be allowed at school level."
In neighbouring India, many government schools formally offer sex education but Pakistani government schools have no such plans. Nisar Ahmed Khuhro, the education minister for Sindh province, was shocked to hear of the lessons.
"Sex education for girls? How can they do that? That is not part of our curriculum, whether public or private," he said.
But Tahir Ashrafi, who heads an alliance of moderate clerics called the Pakistan Ulema Council, said such lessons were permissible under Islamic law as long as they were segregated and confined to theory.
"If the teachers are female, they can give such information to girls in the limits of Sharia," he said.
http://www.hindustantimes.com/world-news/pakistani-village-gives-girls-pioneering-sex-education-class/article1-1187899.aspx#sthash.7VmP8i4W.dpuf
--------------
India's Muslims Prefer Fashionable Niqab
February 25, 2014
NEW DELHI – Worn by Muslim women, Burqa or veil is now becoming a fashion statement in India, with more young Indian Muslims preferring face-veils that are made fancy or ornate through embroidery, designs and decorative works.
"With times even burqa is changing its color and design. More and more girls and women are demanding colorful and fashionable veils from us," Rizwan Khan, owner of Rizwan Burqa House, a major veil shop in central India, told OnIslam.net.
"We have to keep pace with demand; otherwise we may be out of business. We are also experimenting by designing new styles.
"Earlier, we used to sell only black burqas but now we have to keep all the colors," she added.
Burqa or niqab is a face-veil worn traditionally by Muslim women as a sign of modesty and in accordance with the teachings from the Qur'an.
In India, these garments are now coming in different colors and styles to draw the attention of others, rather than to hide them from people's eyes.
Shimala is just 19-year-old and loves to wear veil.
"I think burqa now-a-days is a fashion statement and people no longer treat you as oppressed," she told OnIslam.net.
"My non-Muslim friends give me compliment about my veil. I enjoy wearing it."
The numbers of women opting for the traditional black veils have come down significantly. Veils that are made fancy or ornate through embroidery, designs and decorative works are preferred and are being produced at many places in India.
Nowadays, an ordinary black veil could cost anywhere between Rs 550 and 800 (US$9 to 13), but the price for a designer one will depend on the work done on the cloth.
Some prefer less designer work, while some others prefer to wear veil with heavy designer work for special occasions like marriage and other functions. Sometimes work is so heavy on these burqas that it could be more than a designer dress.
"We have been successful in increasing our business with these designer burqas. Even our profit margin has gone up," another burqa maker, Izhar Khan, said.
Popular Fashion
Number of women opting for burqa has suddenly shot up in the last few years, due to increase in cases of sexual harassment against girls and women in India.
"Apart from being a Muslim attire, it also saves you from harassment by men in public places, which is very common in India now-a-days," 28-year-old Farah, who is thinking about wearing burqa, told OnIslam.net.
"If you are wearing a "burqa", a man thinks twice before making any comment or advances."
Over the past years, veil is becoming popular among young girls to save them from the gazing eyes of men in India.
"It's no longer a forced-upon thing for Muslim girls. Even those who were opposed to it earlier are now enjoying wearing veils," said another student Iram Shah to Onislam.net.
"I believe it's a part of our culture and there is no harm in making certain changes to suit our looks. We could wear black or any other color with certain designs and embroidery."
22-year-old Fatima says that black color is something which shows a woman as oppressed and something being forced on her. But if you are wearing a colorful and stylish one, people don't think like that.
Muslim girls want more and more designer work in their "burqa", so that it may look more attractive and trendy.
"I have been designing burqas for years, but never seen such a change like we are witnessing today," Azmat Khan, a local burqa maker in his late sixties in the city of Bhopal, told OnIslam.net.
"I understand that after design and so much decoration, burqa no longer remains a burqa.
"But this is something we have to do. Otherwise, who is going to come to us for work?"
However, there are many who believe that this new trend is defeating the very purpose of wearing burqa.
"Muslim women should wear burqa to hide them from the gazing eyes of men and to show modesty. But by wearing designer burqas, they come in the eyes of men," said Rafat Anjum, a Muslim woman in her late fifties, who has been wearing burqa since her childhood.
She further said that it is one of the best clothes, which could save one from evil eyes of men and even give respect to women in public places.
"I think wearing something which will bring you more in the eyes of men is against the spirit of Islam," Anjum said.
"These girls are making fun of Muslim attire," she added.
http://www.onislam.net/english/news/asia-pacific/469535-indias-muslims-prefer-fashionable-niqab.html
--------------
Kids fathered by Saudis toil with mothers in Syria camps
25 Feb, 2013
Local human rights organizations are demanding that government agencies track down the Saudi biological fathers of children born to Syrian women who have since become refugees in Jordan and Turkey in the wake of the Syrian civil war.
These citizens-turned-refugees have no documents to prove that they are Saudi nationals.
"Many Saudis visited Syria before the Syrian revolution and married Syrian women, with whom they had children. These children were abandoned by their fathers and now face uncertain future after the war in Syria," said Mohammed Al-Turkawi, a member of the Syrian opposition living in Jeddah. "These families should contact the Saudi embassies in Jordan and Turkey to find solutions."
"There are no accurate figures on the number of undocumented Saudis living in Syrian refugee camps in Jordan and Turkey," Al-Turkawi told Arab News. A local newspaper reported that the Saudi Embassy in Amman confirmed that it was taking care of local Saudi refugees.
According to the report, the embassy pays monthly sums to 26 Saudi families in Jordan and ensures that they are sheltered. The report also states that they are looking for their fathers with the cooperation of several Kingdom-based organizations.
Yet many of these men deny ever having been married.
"It is a shame to know that there are Saudis out there who have been abandoned by their fathers and who have no choice but to live with their mothers at these refugee camps," said Suhaila Zain Al-Abdeen, a female Saudi member of the National Society for Human Rights (NSHR).
Local governmental bodies must look for their fathers and help this category of citizens return home."
"This issue has still not come up in NSHR meetings. However, we know of local societies who have adopted the cause," she told Arab News.
Kahlid Al-Fakheri, a member of the Human Rights Commission, told Arab News, "The commission follows up on Saudi families living in Jordan and coordinates with the Saudi Charitable Society for the Welfare of Saudi Families Abroad (Awaser)."
Jordan is home to more than 1.5 million Syrians, less than half of whom are registered as UN refugees living in several refugee camps subsidized by United Nations agencies and donor countries in the country's northern provinces.
Other refugees are living off their own resources and are contributing to the national economy.
While some view the Syrian refugee crisis as a burden on the country's infrastructure and scarce natural resources, such as water, many Jordanian commercial and industrial representatives regard the refugee phenomenon as the driving force behind new local economic opportunities.
http://www.arabnews.com/news/531036
--------------
Religion is being used in Afghanistan to deny women their rights
25 Feb, 2013
Washington D.C., UNITED STATES, AMERICAS: Even though the vast majority of Afghanistan's population professes to be the followers of Islam, women are not given their rights that Islam guarantees them. Mostly, women are mistreated in Afghanistan due to the traditions that undermine the basic human rights of women.
Conservative practices are used in the name of religion and tradition, denying women their formal legal rights. One such example is women's rights to inheritance and property. In Afghanistan, Islamic law determines inheritance rights. However, when it comes to women, tribal law decides their inheritance rights. Tribal laws ignore the fact that women are entitled to inherit property and land, restricting the role of women and preventing them from having secure rights to inheritance.
Islamic law grants inheritance rights to women which they may not have under tribal law. Since women are less powerful in the society, they are denied their rights due under Islamic law. Islam gives women half the share of inheritance available to men. However, even that share is not given to them under tribal norms.
Generally speaking, women by default are not considered a part of inheritance rights throughout Afghanistan. There are statutory laws on paper that guarantee women their property rights. However, mostly, women living in the cities benefit from them.
A majority of Afghans live in rural Afghanistan and women living in rural areas do not benefit from these laws, not because these laws don't apply to them but because tribal laws are more powerful and dominant in rural Afghanistan. To say that all women living in the cities are guaranteed their inheritance/property rights would be wrong as well because most women who live in the cities do not or are not able to ask for their inheritance rights for the following reasons:
Women who do ask for their property rights whether they live in urban or rural areas are considered "shameless" by their own family members, relatives, and community as a whole.
The stigma of being labeled as "shameless", forces women to remain silent and not ask for their own rights. Women are given this perception that they have to "gift" all their share of the property to their male relatives in order to remain honorable among their family and friends. In other words, the tradition is that it is inappropriate for women to inherit any property even though Islam is clear on this that they can inherit.
In a collectivistic Afghan culture, no woman wants to be branded as such because it ruins her reputation, which is very important for her survival in the community.
If a woman asks for her legal property rights from her male relatives, she is not considered a part of the family anymore or is not deemed respectful as before. In some instances, the family disowns her completely. If a woman goes through law enforcement agencies to gain her legal rights to property, it means disgracing her family's honor, and she will lose the respect she had in the family and in the community.
Women are discriminated against in Jirgas held in rural areas to decide their inheritance rights. So even if they try, they will not be given their due rights. Thus a woman cannot take the risk of being labeled as shameless and at the same time get nothing out of the case. This unfair and discriminatory local tradition has pushed women into bearing all the mishaps and remaining silent.
It is noteworthy that age is a big constraint in getting justice in Afghan society. Only older women are taken seriously. In the present times, if a woman is younger and starts to fight for her rights, she is not seen as a hero as much as an older woman would be. Therefore, younger women don't even bother to ask for their property rights because they know they will not be able to gain anything out of it.
Most of the time, women refuse to inherit and give their share to their brothers, instead, to show their love and support for them even though they know they have legal rights to inherit. They do so to gain respect in their family and community.
This has become the norm to the point that brothers expect their sisters to give them their share of inheritance. Many times a woman is not even asked if she wants to give her property to her male relatives because people know what is expected of her in such situations. Women, who do ask for their formal legal rights, lose their respect in their own family. This makes them give up their legal rights in exchange for "respect" gained in their male relative's house.
Women have to think twice before claiming their share of family property because of the consequences attached to it, discouraging them to ask for their legal property rights. In most cases, women remain silent.
When Afghans claim to be strict followers of Islamic religion, why don't they give women their legal rights to inherit according to the orders stated in the Quran? Why does tribal law determine inheritance rights for women in Afghanistan?
While there might be other reasons, poverty has a direct connection to why tribal laws decide property for women in rural areas of the country, where the majority of the population lives. Afghanistan is one of the poorest countries in the world.
The past three decades war has had a devastating impact on the economy of the country.
Even though poverty is widespread in both rural and urban areas of Afghanistan, poverty is more severe in rural areas. Poor people own some land and cattle, which they want to pass on to their sons because the daughters will be married off anyways to live in other peoples' houses. It makes much more sense for poor people in rural Afghanistan to apply tribal law in this case because it is to their benefit. If they let women inherit, not much would be left to the male relatives because, generally speaking, families in Afghanistan tend to be large.
Another reason that discourages men to give property rights to women in most cases in both rural and urban areas of Afghanistan is losing tribal connection.
Afghanistan has a tribal society. If for instance a share of land is given to a woman who has been married off to a man in a different tribe, it would mean her husband is directly involved in her father's land. This could be frustrating especially if the "new man" in the family belongs to a powerful family.
The males in a tribe do not want to lose their influence to an outsider. This is one of the reasons why people who own a lot of land prefer their daughters to be married off to their cousins because that way the property stays within the family.
There is also less judicial support for women's inheritance rights. Afghanistan has a patriarchal and male-dominated society. Those in the position of power in the judicial system do not deem women's rights important. While there are laws on papers, they are rarely applied and violators are barely punished.
In short, the only solution to this problem is economic development and implementation of law.
Women should be guaranteed their rights. Educating girls in a way that they can trust themselves should be one of the priorities of the government so that they will be able to fight for their rights instead of shying away due to the social stigmas attached to speaking up.
This may take time but is not impossible. Most women know they have a legal right to inherit property and land but they can't do anything because they can't go into war with their own family members and can't afford to lose their respect in their community.
Follow Pashtun Women Viewpoint on Twitter @PashtunWomenVP
Washington D.C. based BBC columnist Ms. Spogmay Waziri Kakar is a graduate of George Mason University with a degree in Government and International Politics. Kakar also consults with various news agencies. Her special focus includes U.S. foreign policy in South Asia, as well as women and gender studies and education. You can follow her on Twitter @Spogmayy
http://womennewsnetwork.net/2014/02/24/religion-afghanistan-women/
--------------
Saudi Women Involved In 25 Demonstrations, 14 Sit-Ins
25 Feb, 2013
RIYADH — Judicial sources pointed out that women were the main suspects in 25 demonstrations and 14 sit-ins last year, Al-Hayat daily reported.
The source said that there were 22 cases of instigations to demonstrate in Buraidah, and three in Makkah Province, in addition to 14 sit-ins in Buraidah.
Abdulmunem Al-Mushawwah of the Ministry of Islamic Affairs said that the women influence is important in any movement. Such influence can be positive by promoting education and guidance, or negative by promoting terrorism and other devious behaviors.
He claims that 95 percent of such instigations are imported from outside the country to violate religion and the laws.
Such instigations take the form of publishing photos and exaggerating events.
"Since 2011 there has been an increase in instigations of women to participate in demonstrations and sit-ins by eluding the public," he said.
http://www.saudigazette.com.sa/index.cfm?method=home.regcon&contentid=20140224196720
--------------
Saudis Lay Claim on Wives' Salaries as 'Legal Guardians'
25 Feb, 2013
MAKKAH — At the end of every month, many wives have become accustomed to a monthly quarrel with their husbands, who claim their rights to their wives' salaries.
Soad Salman, a teacher, experiences tension at the end of every month, as she fears the regular dispute between her husband and her family on each party's right to her salary.
She has to exert strenuous efforts to calm both sides down, and resolve the issue with minimal losses.
Soad is one of many employed wives whose salaries become a dilemma between their husbands and families.
Such dilemmas sometimes end in a court case which last for long periods, and many times end in divorce.
Husbands justify their demands as they have the right to prevent their wives from going to work under the pretext of their authority and guardianship over their wives, while wives believe that they have sole rights to their salaries.
Fouziyah Aqeel, a nurse, said she stipulated her right to her salary, before she agreed to marry her husband.
She has been married for five years and her husband never asked for any financial assistance during that period.
However, she does assist him when she feels that he is in need of such assistance.
Yasmin Ali pointed out that some employed wives get into trouble at the end of each month, as their fathers and husbands disagree on who has the right to the wives salary, and each one of them wants a lion's share of it.
She said some wives split their salaries between their husbands and fathers, while others give their salaries to their fathers, and live in continuous daily problems with their husbands.
Taghreed Abdullah, an employed wife, said she experiences monthly trouble with her domineering husband.
He works in a private company and his salary does not exceed SR 5,000 a month, of which he only pays the rent, and she described him as a "stingy".
She claims that she provides for her children's expenses and house necessities, in addition to the housemaid's salary.
However, she added that even that was not enough, as she gives him a daily allowance and pays his car's expenses.
When she refuses to give him money, he prevents her from working, and she then has to accept his demands.
Lawyer and legal consultant Sultan Al-Harthy said husbands are required to provide for their children and wives, even if the wives are employed.
He pointed out that whatever money the wife has, whether it was a salary or inheritance, is her own money, and the husband does not have the right to such money, except with her consent.
He stated that the husband has the right to ask his wife to spend on herself, her children, and the house, if he is in a financial hardship.
However, the wife has to agree to such spending, and the husband cannot force her to do so.
"Some cases of salary disputes between husbands and wives have ended in divorce, because some wives lose trust in their husbands who confiscate their salaries without any right to do so," he said.
Social researcher Hafsa Shoaib said many wives are complaining of this problem.
She pointed out that the majority of girls excel over their brothers in school, and therefore, graduate and are employed before them.
In many such cases, brothers become accustomed that their sisters provide for them, and as such, become used to taking their wives salaries.
"In the past, men used to refuse any assistance from their wives, as they feel that it degrades their status and manhood, but nowadays, men look for employed women to marry, to assist them in house expenses," she said.
http://www.saudigazette.com.sa/index.cfm?method=home.regcon&contentid=20140224196663
--------------
Drinking alcohol while pregnant could become a crime in UK
25 Feb, 2013
LONDON: A landmark test case due to be heard by the court of appeal could criminalize excessive drinking during pregnancy. It will be argued that a six-year-old girl is the victim of a crime because she suffered brain damage when she was exposed to alcohol in the womb — a risk that her mother was aware of, Sky News has reported.
The case comes amid a 50 per cent rise in foetal alcohol syndrome (FAS) in the past three years, with 313 damaged from exposure to alcohol in the womb in 2012/2013.
Figures from the department of health show in total around one in 100 babies are now born with alcohol-related disorders.
Consultant psychiatrist Dr Raja Mukherjee warned that pregnant women do not have to binge-drink to be at risk.
"If you avoid it that's the safest route," he told Sky News.
"That doesn't mean that people who've drunk a little bit have harmed their child, most people won't have done, but if you want to guarantee safety and you want to guarantee no risk then no alcohol is the best way forward," he added.
Sue Brett, the adoptive mother of 15-year-old Glenn who was born with FAS after his mother drank excessively, said women need to be better alerted to the dangers.
She told the news channel: "It should be to abstain from alcohol throughout pregnancy. You can't make it a criminal offence if you are still legally saying this is a safe amount to drink or you can drink. It needs to be clear from the start that you can't drink."
After Glenn was exposed to alcohol in his mother's womb, he has physical disabilities affecting his vision and movement, and the mental age of a four-year-old.
Susan Fleisher, the founder of the charity NOFAS-UK which promotes awareness about the impact of alcohol during pregnancy, agrees more needs to be done to cut the number of children being affected, but does not think prosecution is the answer.
"Women can't be prosecuted for something they don't know about, and, to be fair, women who are alcoholics, who have an issue with drinking, should be given support and should be given information so they know there's a chance they could harm another life," she told Sky News.
http://timesofindia.indiatimes.com/world/uk/Drinking-alcohol-while-pregnant-could-become-a-crime-in-UK/articleshow/30908333.cms
--------------
Forced Marriage: Two Saudi Women File Lawsuits
25 Feb, 2013
JEDDAH — Two women have filed lawsuits against their fathers who they claim forced them to marry without their consent, Al-Madinah daily reported. Courts in the Kingdom reviewed 10 similar cases last year. Legal consultant and lawyer Omar Ishaq said women have the right to choose their husbands. He noted the woman's consent is necessary to ensure the validity of the marriage contract. He stressed such cases are very rare in the Kingdom and it is mainly the result of women neglecting their marital rights.
http://www.saudigazette.com.sa/index.cfm?method=home.regcon&contentid=20140224196668
--------------
16 women journalists on the Middle East front lines
25 Feb, 2013
Female reporters in the Middle East have shown exceptional courage on the front lines of war, dodging bullets, fending off sexual harassment and lining the corridors of power to deliver the news.
In September, Jill Filipovic of The Guardian created a stir with her article "Can girls even find Syria on a map," observing, "The overwhelming majority of expert talking heads and op-ed writers on US intervention in Syria are male."
We picked up that theme and asked 16 of the top women journalists covering the Middle East for Al-Monitor and other publications — Rania Abouzeid, Asmaa al-Ghoul, Deborah Amos, Ayah Aman, Francesca Borri, Yasemin Congar, Tulin Daloglu, Hala Jaber, Zeina Khodr, Mazal Mualem, Laura Rozen, Sarah el-Sirgany, Barbara Slavin, Liz Sly, Bel Trew and Amberin Zaman — what is it like to be a female journalist in one of the most dangerous regions in the world and how gender has played a role in their reporting, if at all.
http://www.al-monitor.com/pulse/originals/2014/02/women-journalists-middle-east-syria.html#ixzz2uMu6ht5C
--------------
Lebanese parents encouraging children to move abroad
25 Feb, 2013
BEIRUT: Keeping kids close to home normally means peace of mind for parents. Not so these days in Lebanon, where increasingly frequent bombings have left many shaken, putting parents in the unfortunate position of trying to keep their children safe by asking them to leave their country. "When I came to Lebanon [from Kuwait] 18 years ago with my three babies, I thought we were going to live in a country where my children would never go through what we went through," says Amine-Jules Iskandar, a Beirut-born architect. Having spent most of his life abroad, Iskandar returned to Lebanon after the Civil War to raise his triplet daughters, now 18, two of whom are now studying in Lebanon while another is at university in France.
"When I see this coming again, I hate it. One thing is for sure: things will get worse. I'm not worried about myself, but my children are something else."
Since last July, there have been 14 suicide bombings, killing a total of 143 and wounding hundreds more. The numbers tell a grim tale; the faces tell an even grimmer one.
Two days after Christmas, a car bomb ripped through Downtown Beirut, assassinating former Finance Minister Mohammad Shatah and killing seven others.
Among the victims was 16-year-old Mohammad Shaar, who had taken a picture of himself with friends just moments before the deadly blast. The contrast between the "before" picture of the teen smiling in a hoodie and enjoying the sunny day and an "after" picture showing him lying limp on the street in a pool of blood struck a chord, with many Lebanese remarking that he could have been anyone's son.
The location of the attack also resonated with many Beirutis, who until then had only seen bombings in less central neighborhoods.
"As long as bombings were happening in Tripoli and the southern suburbs, I could tell myself that things were OK," Iskander says. "But when the explosion happened in Downtown, it became a problem. I saw that it could happen anywhere. The road where Mohammad Shatah was assassinated is the exact street my daughters take to go to university. Now it seems things are back to normal, if you can call a bombing in south Beirut normal."
On the campus of the American University of Beirut in Ras Beirut, it's hard to find students whose parents want them to stay in Lebanon, a far cry from just two years ago when many families did all they could to keep their children in the country. Back then, it was often the kids who wanted to go abroad and the parents who fought to keep them home.
"My parents want me to transfer now," says Robert Jamal, a 20-year-old civil engineering student who is considering going to the U.K.'s University of Manchester to complete his studies.
He says that his parents started pressuring him to leave around six months ago when the car bombs started becoming more frequent. Even without the explosions, he admits that, although he would prefer to stay in Lebanon, it would make more sense for him to leave, given the low salary he would likely be paid at whatever job he finds after graduation.
Yet this is home for him. " Lebanon is a nice country," he says. "Two years ago, I never thought about going abroad."
As a compromise, he is spending this summer at the University of California at Berkeley to see how he likes studying abroad and will then decide what to do after that.
Lynn Jabra, an 18-year-old sociology student, is also nervous about moving abroad, even though both she and her family think it would be best for her. She recalls that when her older sister went to Canada, she returned home after just three months because she felt homesick.
"I think it's better that I leave, but I just love it here," she says, gesturing around at the tree-lined courtyards of the AUB campus.
She says she can't imagine raising kids abroad, adding that she always thought her children would grow up in Lebanon and attend the same school she did.
Her friend, Ghina Awad, is looking to move to Montreal at the suggestion of her parents. She already knows some people in the Canadian city, which is home to a large Lebanese community, and so her parents wouldn't fear so much for her safety.
"I'm used to it here. I'm not used to living alone. I've had the same friends since I was young," says the 18-year-old studio arts major.
Yet she admits she doesn't like to see her parents worry about her. "Maybe if I go away, they'll be less stressed," she says.
For Abed Yassin, leaving Lebanon means leaving behind his dreams of working as a doctor here.
"I don't want to leave because I love it here," the 18-year-old pre-med student says. "I feel like I belong here. I can't leave."
But he might not have much of a choice: "My parents are against me staying. They say they wish I could find a college in the U.S."
Sitting on one of AUB's many long outdoor stairways, he looks down at the ground pensively.
"I do feel bad. I imagine myself living outside and seeing Lebanon from a faraway place. I'd feel depressed. I'd feel homesick."
And then he pauses, remembering the advice of his parents: "There's no future here. Maybe I need to go away and live peacefully."
http://www.dailystar.com.lb/News/Lebanon-News/2014/Feb-25/248394-lebanese-parents-encouraging-children-to-move-abroad.ashx#ixzz2uMtBvqR3
--------------
Proposed 'Ministry of Marriage and Divorce' sparks controversy
25 Feb, 2013
Official statistics released in late 2013 by the government of Iran revealed that one of out of five marriages overall, and one out of three in Iran's bigger cities, end in divorce in less than four years. The latest idea to surface as a possible way to address this issue is the drafting and submission of a proposal to establish a Ministry of Marriage and Divorce.
In an interview at the end of December with ISNA, the state news agency, Mahmoud Golzari, deputy minister of organization at the Ministry of Sports and Youth, connected Iranian's marital problems to a lack of education, describing thorough knowledge of marital life before entering it as a form of vaccination. Golzari said that 20% and 30% are incredibly high percentages for divorce. He went on to say that unmarried counselors are unqualified to offer marriage counseling, as, according to him, "What would a young graduate know about marital problems if they are unmarried themselves? They should not be receiving a license."
In response to critics opposing a separate ministry to deal with matters of marriage and divorce, supporters of the proposal point out that the Ministry of Sports and Youth tends primarily to deal with athletic-related affairs far more than marital affairs.
After reports confirming completion of a draft proposal for the new ministry on Feb. 10, eyebrows were raised, fun was poked, and disbelief was expressed. Officials were quick to defend, explain, and justify the plan while emphasizing that it is, in fact, serious, after a few satirists wrote articles ridiculing the idea and questioning the authenticity of the news.
In an interview Feb. 15 with MEHR News, Ebrahim Nekou, a member of parliament, defended the proposal, arguing that the Ministry of Sports and Youth is essentially only the Ministry of Sports. He asserted, "The Ministry of Sports and Youth has not played a significant role in resolving the problematic aspects of social and marital problems of younger Iranian citizens. This proposal is targeted at helping more young people deal with major life challenges and changes."
A few other officials have said that supporting and enlightening troubled couples, separated young people and divorcees preparing to remarry should all be functions of the proposed new ministry. Still, some believe that the ministry would be redundant, duplicating the activities of the current Ministry for Sports and Youth.
Nekou, explaining the reasoning behind the proposal, told reporters, "The new ministry is not parallel to the existing one of sports and youth, in which the youth have basically been slighted, and sports matters have been extensively tended to. The existing ministry was expected to present projects aimed at creating more job opportunities for youth, and facilitating marriage and married life for them; this did not happen. Not only was none of this done, but even providing marriage loans to newlyweds has ceased in the past year. On the other hand, we are witnessing an increase in the number of failed marriages recently. Thus, if and when this draft proposal manages to pass the Majles' Social Commission, the related bill would be eligible and prepared to be voted upon."
In an interview with Iran's MEHR News agency on Feb. 20, Abdolreza Azizi, head of the parliamentary Social Commission, expressed his objection to the proposal and to the small budget dedicated to youth affairs. Azizi stated, "Rather than establishing new ministries dedicated to youth matters, we should address existing problems and unfinished projects, and make efforts to resolve them through implementing more effective solutions."
Azizi went on to say that sports is, above all else, the focus of the administration, claiming that athletic programs and projects absorb almost every penny of the budget intended for youths, and what remains is only a very small amount.
This Iranian parliamentarian and some of his peers who have raised objections to a Ministry of Marriage and Divorce argue that new names, different titles, and more bureaucracy will in no way lighten the load of the demons the younger generation of Iranians is battling. They foresee very little chance of the proposal passing, based on its contravening the fifth development program, which encourages smaller government rather than an expanded one.
Azizi, in his interview with MEHR News, noted that the Majles' Social Commission had approved 3 trillion toomans (around $3 billion) for nuptial assistance, but another body, the Commission of Combination, rejected it. Some Majles members base their opposition to the ministry proposal on the following logic: Why not tend to what is already defined but clearly problematic instead of starting over and creating a new set of problems?
http://www.al-monitor.com/pulse/originals/2014/02/iran-proposes-marriage-divorce-ministry.html#ixzz2uMtpKl3l
--------------
Hala Shukrallah President of Constitution Party: 'Something Has Changed'
25 Feb, 2013
Hala Shukrallah is the most sought-after politician by the Egyptian media. On Friday 21 February, her political party, the Constitution, held its general assembly and elected her as president. In that moment, she became the first woman to be elected president of a political party in Egypt and also the first Coptic Christian. She's also the successor of Nobel Laureate Mohamed ElBaradei, who launched the liberal Constitution Party in April 2012.
At 59, Shukrallah, a leftist sociologist, political activist and mother who runs a development consultancy and is largely unknown to the media, is the latest star to rise in Egyptian politics.
"I have a huge headache which overwhelms me," she said on Sunday evening to describe the frenzy that began after her election and hasn't stopped since.
"I haven't had time to think about it or absorb what happened or make my tea with milk," a tired-looking but exhilarated Shukrallah told Ahram Online in her Muhaddeseen living room. Her mobile constantly flashes new numbers she doesn't recognize, she can't keep up with the avalanche of text messages and her home is swarming with members of her party and media representatives.
In the relative stalemate of Egypt's political scene -- focused entirely on the expected candidacy (and victory) of defence minister Field Marshal Abdel-Fattah El-Sisi in upcoming presidential elections and also the crackdown on both supporters of deposed president Mohamed Morsi and facets of dissent -- the results of the Constitution Party's internal elections were an unexpected yet pleasant surprise for many.
"It was thrilling," says Shukrallah. "The moment it happened, I felt very happy because it reflected the hopes of so many young people in the party who wanted this so badly. It was a moment when you feel something has changed, that there is an element of possibility."
The Constitution Party was launched on 28 April 2012 by ElBaradei as an "Egyptian and inclusive" political force attracting youth from diverse ideological backgrounds, including Salafists with a message intent on surpassing the Islamist-secularist divide. But like the vast majority of Egypt's post-revolution political parties, the Constitution has struggled with the harsh realities and complexities of the new fluid political order.
In response to Morsi's authoritarian constitutional declaration in November 2012, the Constitution Party joined the National Salvation Front (NSF), an alliance of secular, liberal and left-wing political parties that aimed to defeat him. When the military removed Morsi on 3 July 2013, ElBaradei resigned from his post in the party to become acting vice president. But less than two months later, he resigned for good in protest against a bloody police clampdown and dispersal of a massive encampment of Morsi supporters in east Cairo that left hundreds dead. A few days later, he left the country.
Since the Constitution Party's launch, ElBaradei has continued to cast a long shadow over it, even after his departure. When ElBaradei was the most important figure in the NSF and later became acting vice president, the Constitution Party was viewed favorably by many who sought a political career and possibly a place in the new political order. His resignation hit the party hard, prompting many to jump ship.
But the party had been suffering from resignations and divisions long before this episode. Its premise as a non-ideological party for all Egyptians might have been appealing for many at first but this proved unrealistic -- its diverse membership wanted different things and rarely agreed on anything.
Even the political celebrities that joined or co-founded the Constitution Party either unofficially froze their memberships (like former Kafayah leader George Ishak) or left the it (like former culture minister Emad Abou-Ghazi who moved to the Egyptian Social Democratic party).
And not too long ago, Shukrallah herself had become indifferent to the party and was contemplating unofficially freezing her membership as well. But it didn't happen -- the party had finally started working towards holding its first conference to elect its leadership. The process provided a sense of meaning to many who felt alienated by the party's existential problems but still wanted it to work.
Originally Shukrallah had no interest in the post because she didn't like the limelight. But she came under immense pressure from the party's youth and finally agreed to run in the internal elections. Her election campaign's motto was: an idea to unite us.
"All throughout the campaign, the issue of my being a woman or a Copt was never brought up inside the party," she says. "The only time that it was mentioned was by the media."
Having co-founded the Egyptians against Discrimination movement in 2006, Shukrallah understandably has mixed feelings about this issue.
"It does reach me that this is significant and reflects a breakthrough in the way people look and think of things. Having come that far, these things no longer matter."
But on the other hand, she adds, the issue is being "forced" in a way.
"You're making a statement by just being there. It really doesn't matter whether you're a Copt, a Muslim, a woman or a man, as long as you believe in people's rights and actually have a vision for the whole of society."
So even though the "first woman and Copt" phrase is "a positive thing", she'd like it to stop. "I think it sometimes blinds people to dealing with the content of what you're saying. They're looking outwards and blinded by that statement over and over again."
And although she dislikes labels on principle, when pressed Shukrallah identifies herself as a leftist. Some of her ex-comrades remain perplexed as to why she chose to join the Constitution Party, considered a social democratic party, rather than a radical socialist party instead. She says she's "evolved" throughout the past 20 years of activism. The Egyptian left has become, perhaps, too dogmatic for her.
So how does Shukrallah propose to restore a party which, in her own words, has experienced several crises that have left it in a state of semi-paralysis?
"I'm not doing it alone," she says. "This is a party that's going to be based on a lot of participation, built on a base-consensus. And we're going to bring in the different governorates. It's not going to be Cairo-based."
In fact, the plan is to restructure the party, including its platform and vision, but not the basic pretexts of social justice, freedom and human dignity.
"How do you get there and what do you need to do?" she asks. "How do you take political positions? How do you get your point across?"
One of the issues the party will have to address under Shukrallah's leadership is the possible merger with the Egyptian Social Democratic Party. But for that to happen, she says, it must be debated "from below, from the party base." And that's not for the purpose of consolidating their position in the next parliamentary elections, Shukrallah explains, "but to unite and strengthen the democratic forces which are currently being sidelined" in favor of the Brotherhood/ancien-régime binary.
The party has yet to officially declare who it will support in the upcoming presidential elections, but Shukrallah says it's going to back the candidate who clearly presents a democratic vision and agenda.
"By default, putting the military in the political scene affects the mechanisms of democracy entirely," she says. Shukralla
http://english.ahram.org.eg/NewsContent/1/64/95068/Egypt/Politics-/Hala-Shukrallah-Something-has-changed.aspx
--------------
Products by Saudi women steal the show at Jeddah Wedding expo
25 Feb, 2013
The 15th Saudi international Wedding Exhibition 2014 was launched in Jeddah under the sponsorship of Princess Moudi bint Nasir bin Abdulaziz Sunday at Hilton hotel.
The exhibition, showcasing wedding trends, bridal dresses, jewelry and decorations, was organized to spread awareness among people, especially women interested in this field. More than 2,500 visitors attended the exhibition and were impressed by the handmade products by 45 Saudi families that included clothes, jewelries, beauty products and house hold products.
The three-day expo with the participation of more than 170 Saudi as well as other international companies was jointly organized by the Jeddah Chamber of Commerce and Industry (JCCI) and XS Conventions and Exhibition Company.
In her inaugural speech, Princess Moudi said she is very pleased to see Saudi productive families who are experts in providing wedding clothes, decorations and jewelries display their products in this event.
She further said that their participation showcased the success of the event and confirmed the continued success of the productive families in the exhibition.
"Other families will be motivated to participate in such exhibitions and develop their capabilities while making a name for themselves in the market," she said.
She also emphasized that workshops be held to help these families to develop their skills in art and craft.
Iman Adil Al-Shakour, president of the Organizing Committee, said the Saudi International Wedding exhibition was distinguished by a comprehensive approach to the latest developments in the bridal world.
The event, he said, represents an exciting family experience for visitors who want to see and get a broader knowledge of the local and international products and services under one roof.
"The show is unique in that visitors from across the Kingdom can see, touch, taste, hear, compare and learn about the products and services all displayed under one roof, from wedding dresses to decorations, and other arrangements," she said.
Al-Shakour said the exhibition has developed a great reputation as it is the largest gathering of businesswomen with the latest fashion, designers and new trends attracting young brides, families, and the affluent expatriate community who benefits from attending the largest bridal exhibition in the Kingdom to source their wedding requirements.
She said the exhibition reflects the evolution of the industry. It has also helped to develop locally produced beauty products after many new international companies entered the domestic market.
"The aim is to provide the latest business information to small and medium-sized wedding planners, companies and entrepreneurs," she saidadding, "There is no doubt that the growing market for weddings in the region is directly affected by the development of other markets such as gold and jewelry where people spend an estimated 700 million dollars annually."
According to current statistics the beauty industry and related items have recorded the highest increase of almost up to 15 percent per annum and 1.7 billion US dollars this year, according to official reports. The per capita consumption of perfumes, cosmetics and face and body care in the Arabian Gulf is one of the highest in the world, she said.
http://www.arabnews.com/news/531006
--------------
Arab Woman Awards KSA 2014 winners Honoured
25 Feb, 2013
RIYADH — The Arab Woman Awards KSA 2014 winners were honored at a gala reception at the Faisaliah Hotel here on Sunday evening. The ceremony was attended by over 300 women from the Kingdom.
This ceremony marks the first ever Arab Woman Awards to be held in the Kingdom, the awards have been held in three other GCC countries in the past five years including the United Arab Emirates, Kuwait and Qatar.
The awards taking place in Saudi Arabia this year, aim to provide a culturally acceptable platform to recognize 16 inspirational winners from diverse fields including business, education, literature, entrepreneurship, humanitarian sciences, art and sashion.
"Since launching in the UAE in 2009, the Arab Woman Awards have recognized some of the region's most outstanding women and provided a platform for further achievements. Accordingly, it was an honor to be asked to be the patron of the inaugural Arab Woman Awards in the Kingdom of Saudi Arabia. I am pleased to see these awards highlighting the endeavors of many hardworking Saudi women in their various fields, and also providing inspiration for the next generation of young Saudi women," said Princess Reema Bandar Al-Saud, patron of the Arab Woman Awards KSA 2014.
Princess Lolowah Al-Faisal was acknowledged as KSA's education winner for the year 2014 while the Lifetime Achievement Award was presented to Samar Fatany.
"I am honored to be a holder of such a prestigious award which is a positive initiative that recognizes the achievements of women who have contributed to the progress and development of our beloved country," said Fatany.
Established in 2009 by ITP Consumer the Arab Woman Awards are now held annually in the UAE, Qatar and Kuwait with the addition of Saudi Arabia this year.
To date over 165 women have been recognized from sectors including business, education, art, medical, literature, sport, fashion, media and entrepreneurship.
The winners are selected following a three-month process by a private judging board. The KSA 214 board of judges was chaired by Princess Reema and included experts from different areas and representatives from across the Kingdom.
http://www.saudigazette.com.sa/index.cfm?method=home.regcon&contentid=20140225196778
--------------
Bihar's Urdu Girls' High School to Celebrate Its Golden Jubilee
February 25, 2014
Gaya: In 1964 when the community was witnessing girls' shyness or feeling unworthy of schooling, some revered souls of Gaya, now in their eternal abodes, founded an institution, exclusively for the girls in the city. The "Urdu Girls High School" came into being at the Waqf land dedicated to the Madrasa Anwar ul-Uloom that spared a portion of the big compound for the promotion of girls' education as well as the Urdu language.
The institution situated off the busy Sorajpuri Road near Maroofganj is now all set to commemorate its 50th anniversary on the 1 March' 2014. More importantly, this was the first school established exclusively for the Muslim girls' secular education in Urdu language in the city and has been running since January 1964 as a Bihar Government aided religious minority secondary school. The purpose behind organizing this event is to recall the mission and vision of its founders and make the way to achieve its unfulfilled cherished goals.
The disparity of Muslim girls' education with the rest of the girls' in the area was felt by the then group Muslim intellectuals of the city and held several meetings in 1963 at the residence of the late M Zafir Alam, the nephew of the famous satirical writer of India, the late Anjum Manpuri. The prominent personalities of the city who came along with the founder were the late Nawab syed Ahmed Sayeed Quadri, late Ibrar Ahmed Advocate, Late Md Idris Alam, Late Syed Ali Hyder Warsi and Mr Abdus Salaam Khan.
Over the six decades after Independence, the Muslim female literacy rate is 50.3% in India while the national female literacy rate is 65.46%. If we compare this with the other minorities' women, it is 76% literacy among Christians, 64% among Sikhs, 62% among Buddhists and a whopping 90% among Jain women!
In comparison, 20% Hindus and 31% Christians pursue higher education (technical, vocational and professional courses at secondary and post-secondary levels), only 11% Muslims are enrolled in higher education while at national level it is 18.8% according to the report based on the National Sample Survey (2009-10) data, compiled by the union ministry of human resource and development. The situation is worse in rural India – only 6.7% Muslims take up higher education.
The role of "Urdu Girls High School, Gaya" in meeting the challenge of this disparity in this area is laudable as around 2000 girl students, mostly from poor background, got their secondary level education from this institution in the last 50 years. But the state of the Muslim girl child in the area is such that no single institution – be it government or private – can bring about lasting change. What is needed is an ideal mix between non-governmental organizations, local community and the government.
The dropout rate of the girl child is to be checked besides providing the quality education at the primary level. The said school after its establishment was the alternative to the famous convent school of the area—Nazareth Academy for the first few decades particularly for the Muslim girls because of the quality education that the then a number of Muslim girl students joined this school after leaving their convent schools. This phenomenon continued till 1980s but later due to the popularity of the English-medium schools, the community segment that affords began to lose its interest in Urdu-medium schools and strictness for the Muslim culture in schooling as well as to give their children better admission opportunities for higher education.
Now the school management is again striving for the due standards and taken a vow of the past glory on the occasion of its Golden Jubilee.
The Golden Jubilee celebrations on the 1st of March will be graced, In Shaa Allah, by Mr K Rahman Khan, Union Minister of Minority Affairs, as the Chief Guest. The other guests who have given their consents are Mr Syed Faisal Ali, Group Editor, Sahara Urdu daily and Aalami Sahara TV; Dr (Md.) Ishtiyaque, Vice-chancellor, Magadh University; Mr Prashant Kumar Sahi, HRD Minister, Govt. of Bihar; Mr Shahid Ali Khan, IT & Minority Welfare Minister, Govt. of Bihar; Mr Jeetan Ram Manjhi, SC & ST Welfare Minister, Govt. of Bihar; Md Irshadullah, Chairman, Bihar State Sunni Wakf Board; Mr Sanjiv Shyam Singh, MLC, Gaya.
Sachar Committee Report says, "While the education system appears to have given up on Muslim girls, the girls themselves have not given up on education. There is a strong desire and enthusiasm for education."
The school aims to streamline the desire of education among the girls, particularly of the poor background in the area, motivating them to pursue their education, by organizing this Golden Jubilee.
http://twocircles.net/2014feb25/gaya%E2%80%99s_urdu_girls%E2%80%99_high_school_celebrate_its_golden_jubilee.html
--------------
URL: https://newageislam.com/islam-women-feminism/young-saudi-ladies-smoke-'to/d/35926