New Age Islam News Bureau
24 Feb 2020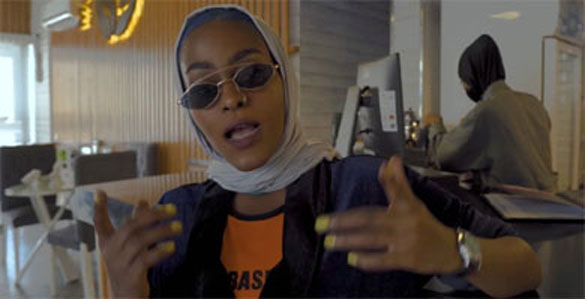 Saudi officials have called for the arrest of a female rapper who released a music video for her song Mecca Girl that praises women from the holy city as "powerful and beautiful".
-----
• France: Muslim on Trial for Beating Wife, Daughters for Not Wearing Hijab
• Egyptian Doctor, Parents Face Trial for Girl's Death after Genital Cutting
• Egypt to Propose New Strict Penalties for Female Genital Mutilation
• Cinema Festival in Egypt's Aswan Highlights Women's Issues
• Women Making Inroads in GCC's Political, Fiscal Environments
• No Guarantees for Afghan Women in Draft U.S.-Taliban Deal
• Women's Employment Rises in Turkey As Govt Launches New Measures
Compiled By New Age Islam News Bureau
URL: https://www.newageislam.com/islam-women-feminism/young-rapper-mecca-asayel-slay/d/121140
--------
Young Rapper from Mecca, Asayel Slay, Faces Arrest for 'Mecca Girl' Music Video
February 24, 2020
RIYADH: Official calls to arrest a Saudi female rapper who appeared in a music video has sparked an online backlash with many calling the move hypocritical as the kingdom invites Western women to perform.
In the video, the young rapper from Mecca, who identifies herself as Asayel Slay, praises what she describes as bold women in Islam's holiest city.
Wearing a headscarf and sunglasses, she describes the women as "sugar candy" in the song titled "Mecca Girl".
But Mecca governor Khaled al-Faisal has ordered the arrest of those behind the video, saying in a statement on Twitter that the video "offends the customs and traditions" of local Saudis.
The move underscores the limits of a recent Western-style liberalisation drive in a society steeped in conservatism.
The statement sparked indignation on social media, with many tweeting their support under the hashtag "Mecca girl represents me".
"I am from Mecca & the only thing I find offensive is your racism, misogyny and your war on a young woman & her artistic expression of her culture & her people," said one Twitter user.
"This is so typical for the #Saudi government — bring Western influencers to artwash the regimes crimes but attack real Saudi women who try to artistically express their cultural identities," tweeted Amani al-Ahmadi, who calls herself a Saudi feminist.
"This is racist, sexist."
A host of Western women musicians — from Janet Jackson to Mariah Carey and rapper Nicki Minaj — have been invited to perform in the kingdom as its eases its tight restrictions on various forms of entertainment, in a bid to shake of the country's ultra-conservative image.
Nicki Minaj however pulled out of the concert in what she described as a show of support for women's and gay rights in the kingdom.
De facto ruler Crown Prince Mohammed bin Salman has has scrapped decades-old bans on cinemas and women drivers while allowing gender-mixed concerts and sports tournaments.
The relaxed social norms have been welcomed by many Saudis, two-thirds of whom are under 30.
https://www.freemalaysiatoday.com/category/world/2020/02/24/saudi-female-rapper-faces-arrest-for-mecca-girl-music-video/
--------
France: Muslim on Trial for Beating Wife, Daughters for Not Wearing Hijab
CHRIS TOMLINSON
23 Feb 2020
A 35-year-old Muslim man in the commune of Cavaillon is facing trial after being accused of domestically abusing his wife and daughters who refused to wear an Islamic veil.
The man, who defines himself as a traditionalist Muslim, is said to have become enraged after his daughters refused to wear a hijab and did not engage in their homework that they received from the Quranic school they attended, Le Dauphine reports.
The mother testified that to police that the 35-year-old had beaten both her and her daughters repeatedly with various weapons including belts, sticks, and electrical cables.
Investigators say that the man may be charged with sexual offences as well.
The 35-year-old was arrested by French police the day after the mother reported the abuse to investigators . He has disputed the statements of the mother, which were backed up by the couple's children.
Breitbart London
@BreitbartLondon
Honour Crime: Swedish Muslim Migrant Sentenced for Beating Daughter with Kebab Spit https://www.breitbart.com/europe/2020/02/11/swedish-muslim-migrant-sentenced-beating-daughter-kebab-spit/ …
Swedish Muslim Migrant Sentenced for Beating Daughter with Kebab Spit
A Swedish court has sentenced an Iraqi asylum seeker to eight years in prison for honour crimes after he beat his daughter with a kebab spit.
breitbart.com
32
11:07 PM - Feb 11, 2020
Twitter Ads info and privacy
38 people are talking about this
The case comes just weeks after a court in Sweden sentenced an Iraqi asylum seeker to eight years in prison for beating his daughters and his wife with a kebab spit because they refused to wear the Islamic veil.
The investigation, which was labelled a case of honour crime, also revealed that the man, who came with his family to Sweden in 2006, refused to let his wife leave the house except to take the garbage outside.
A similar case also took place in Sweden in 2018, when a 19-year-old was charged with beating his 14-year-old sister with a baseball bat because she refused to wear the veil.
Another 2018 case in Germany involving the wearing of the Islamic headscarf turned deadly when a bogus Afghan asylum seeker murdered his German girlfriend because she refused to wear the garment and convert to Islam.
18-year-old Ahmad G. was arrested in the town of Flensburg with a friend of the victim claiming that the asylum seeker had always been jealous and started fights when she refused to wear the headscarf.
Breitbart London
@BreitbartLondon
German Teen Murdered by Asylum Seeker After She Refused to Convert to Islam http://www.breitbart.com/london/2018/03/16/german-teen-murdered-asylum-seeker-refused-convert-islam …
German Teen Murdered by Asylum Seeker After She Refused to Convert to Islam
A failed asylum seeker has been arrested on suspicion of killing his girlfriend; her friends claim he was angry she would not convert to Islam.
breitbart.com
42
7:54 PM - Mar 16, 2018
Twitter Ads info and privacy
80 people are talking about this
https://www.breitbart.com/europe/2020/02/23/france-muslim-on-trial-for-beating-wife-daughters-for-not-wearing-hijab/
--------
Egyptian Doctor, Parents Face Trial for Girl's Death after Genital Cutting
24 February 2020
A retired doctor and the parents of a 12-year-old girl who died after female genital mutilation (FGM) surgery are to stand trial in Egypt, with child rights campaigners calling for jail terms to deter others from the illegal practice.
Egypt's Prosecutor General Hamada El-Sawy this weekend ordered the referral of the trio to the criminal court.
Doctor Abdel Fadeel Rashwan and the parents of Nada Hassan Abdel-Maqsoud were arrested last month after her death at a private clinic in Manfalout, close to Assiut in southern Egypt, but then released on bail, causing public outrage.
"It is a serious step towards putting the defendants behind bars," said Randa Fakhr El Deen, executive director of the NGOs' Union Against Harmful Practices on Women and Children, hoping a tough punishment would discourage other cases of FGM.
Genital cutting of girls was banned in Egypt in 2008 but a 2016 survey by the UN Children's Fund found 87 percent of women and girls aged 15-49 had undergone the ritual, which typically involves the partial or total removal of the external genitalia.
In 2016 the practice was made a felony, meaning doctors who perform the procedure can be jailed for up to seven years and anyone requesting the operation jailed for up to three years.
Activists, however, say the law has not been strictly enforced and the few found guilty tend to get light penalties.
Also read: It is time to stop FGM
World leaders have pledged by 2030 to eradicate FGM which can cause long-lasting mental and physical health problems, but campaigners say the ancient ritual remains deeply entrenched in many places.
An investigation after the arrests last month revealed that the child's parents wanted their daughter cut and the doctor, aged about 70, conducted the surgery on their request.
Prosecutors said the operation lasted about 30 minutes and left the girl unconscious. Efforts to revive her failed.
Most genital cutting in Egypt is carried out by doctors and nurses at private clinics, with the rest done at home, according to the Egypt Demographic and Health Survey of 2014.
But prosecutors said the hospital where the girl died had not had a license since August 2016, was ill equipped, and its operations room did not meet the terms for combating infection.
Egypt's Prosecutor General Hamada El-Sawy called on parents not to expose their daughters to dangerous processes linked to obsolete customs and traditions.
"Be aware that their purity and chastity will not exist but through their good upbringing, embracing them and their enlightenment," he said in a statement.
https://english.alarabiya.net/en/News/middle-east/2020/02/24/Egyptian-Doctor-parents-face-trial-for-girl-s-death-after-genital-cutting-.html
--------
Cinema festival in Egypt's Aswan highlights women's issues
23/02/2020
CAIRO - The fourth Aswan International Women's Film Festival featured the innovative skills of female film-makers in addressing the issues, including inequality, domestic violence and social stigmas, that women face around the world.
"It is a unique cinema event because it sheds light on cinema works by women and about women," said Sharif Bendari, a member of the festival jury. "The works demonstrated the artistry of their makers and the depth of the problems facing women, which are almost the same everywhere, whether it is in the Arab region or elsewhere."
A total of 31 films, including two making their world premieres and 18 having their debuts in Africa, were entered in the 6-day festival that ended February 15. The participating films included Academy Award nominees "Honeyland" (Foreign Language Film and Documentary Feature), "The Cave" (Documentary Feature) and "Dcera" ("Daughter") (Animated Short Film).
The festival was designed to make cinema an empowerment tool for women and a medium to bring awareness to women's issues and analyse challenges facing them. Some of this year's entries told the stories of women that cry for attention while others highlighted the society's cruelness to women.
"Certified Mail" by Egyptian director Hisham Saqr was featured at the festival's opening February 10. It tells the story of Hala, a mother and wife who works to steer her family towards a safe shore after her husband goes to jail and her father dies. She is a real-life heroine like millions of women, even as the world does not give her credit or recognise her sacrifices.
Saqr said his film conveys a clear message that "it is about time the world paid attention to the sacrifices made by women so that life can go on."
"I think there is more attention for women in the Arab region now. This attention is manifest in the number of cinema works that specify leading roles for women and also address women's issues and problems," Saqr said.
"Aga's House" won the award for Long Feature Films. A joint Kosovan-Croatian-Albanian-French-production directed by Kosovar Lendita Zeqiraj, the film tells the story of a boy who must learn Serbian to find his missing father.
The Chinese-American documentary film "Confucian Dream" won the Grand Jury Award. The film tells the story of a mother who tries to find an ideal upbringing method for her son.
"The Bombay Rose," an Indian animated film written, edited, designed and directed by Gitanjali Rao, won the Best Screenplay award.
Among activities on the sidelines of the festival was a workshop that brought together cinema students and researchers with film-makers from around the world. There was also a forum debating themes of various participating films and how those themes threw light on women's problems in real life.
Azza Kamel, an Egyptian women's rights advocate who serves as the deputy chairwoman of the festival's board of trustees, said the discussions "primarily focused on the challenges facing women."
"We try to invite the attention of film-makers to these challenges and discuss how cinema can contribute to changing realities in the lives of women around the world," she said.
The selection of Aswan, the southernmost city in Egypt, as the setting for the festival is daring, given the distance — more than 8,000km — separating it from Cairo, where most Egyptian cultural events are concentrated.
However, Aswan is becoming an epicentre of cultural events in Egypt. In 2019, it was declared the Capital of African Youth. Over the past few years, it hosted many conferences, workshops and gatherings.
The Aswan International Women Film Festival this year honoured several international and Egyptian cinema icons, including Spanish actress Victoria Abril and Egyptian actresses Nelly Karim and Ragaa El-Giddawy.
The jury of the festival consisted of international cinema experts, including Romanian producer Alexandru Teodorescu, Philippine director and producer Khavn De La Cruz and Dutch director and screenwriter Mijke de Jong.
The European Union officially sponsored the festival this year, adding to its international scope and inviting attention to it as an event.
"This is one of the few cinema gatherings that dedicate themselves for women, their cinema innovations and problems," said Egyptian film critic Samir Saeed. "This is why it is an event that never fails to invite the attention of cinema specialists."
https://thearabweekly.com/cinema-festival-egypts-aswan-highlights-womens-issues
--------
Women Making Inroads in GCC's Political, Fiscal Environments
Jareer Elass
23/02/2020
The appointment of Kuwait's first female finance minister and the reappointment of the first woman to lead the Saudi stock exchange are noteworthy milestones for women attaining high-profile positions in the traditionally male-dominated political and fiscal cultures of the Gulf Cooperation Council.
While Mariam al-Aqeel's tenure as Kuwaiti finance minister was short-lived — she served in her post for two months before a cabinet reshuffle February 16 — she remains in the Kuwaiti cabinet with two key portfolios.
Female ministers began being introduced into Gulf Cooperation Council (GCC) cabinets more than 15 years ago but women generally constitute a small percentage of those cabinet makeups and typically are assigned portfolios considered traditionally acceptable for women by Arabian Gulf norms, such as overseeing education, health and culture sectors.
This makes the naming of Aqeel as Kuwait's first female finance minister all the more significant. Not only was she the first woman to hold that position in the Kuwaiti cabinet, she was the first female finance minister within the GCC.
Aqeel previously served as Kuwait's state minister for economic affairs and acting minister of finance. In a new government formed December 17, she was appointed Kuwait's finance minister and acting state minister for economic affairs.
As finance minister, Aqeel oversaw the Kuwait Investment Authority — the world's fifth-largest sovereign wealth fund with estimated assets of more than $592 billion. Though she was replaced as finance minister in the reshuffle, Aqeel stayed on in the Kuwaiti cabinet as minister of social affairs and minister of state for economic affairs. A second female cabinet member, Rana al-Fares, was named minister of public works and state minister for housing affairs in December.
In Saudi Arabia, Sarah al-Suhaimi was recently appointed chairwoman of the Saudi domestic stock exchange, the Tadawul, for a second 3-year term. Suhaimi is CEO and board director of NCB Capital, the kingdom's largest asset management bank.
In overseeing the Saudi exchange since 2017, Suhaimi helped push through reforms that encouraged more inflows of foreign funds as the exchange joined major emerging market indexes and prepared for the initial public offering of state oil and gas giant Saudi Aramco in December. The success of the Saudi Aramco share flotation lifted the Tadawul to ninth globally in market capitalisation.
In 2014, Nada Abbas Haffadh was named Bahraini health minister and Sheikha Lubna bint Khalid al-Qasimi became the first woman to join the UAE cabinet as minister of economy and planning. In June 2005, Massouma al-Mubarak became Kuwait's first female minister, overseeing the planning and administrative development portfolios.
Female representation in the UAE government is an anomaly compared with the lesser number of women that serve in other GCC cabinets. The United Arab Emirates has nine female ministers — 29% of the cabinet makeup.
Those women oversee a range of portfolios, from public education and international cooperation to cultural and knowledge development. In 2017, UAE Vice-President and Prime Minister and ruler of Dubai Sheikh Mohammed bin Rashid al-Maktoum created two ministries headed by women: Sara al-Amiri was appointed minister of state for advanced sciences and Mariam Al Meheiri was named minister of state for food security.
Bahrain, which had three female ministers in its cabinet six years ago, currently has one: Faeqa bint Saeed al-Saleh, who oversees the Health Ministry.
The positioning of women in GCC cabinets and heading financial institutions is a relatively young process, though one can argue that progress is being made by the mere existence of female ministers and a woman managing a domestic stock exchange.
Jareer Elass is a Washington-based energy analyst, with 25 years of industry experience and a particular focus on the Arabian Gulf producers and OPEC.
https://middle-east-online.com/en/women-making-inroads-gcc%E2%80%99s-political-fiscal-environments
--------
No Guarantees for Afghan Women in Draft U.S.-Taliban Deal
By Dan De Luce
Feb. 23, 2020
WASHINGTON — The United States once vowed to liberate Afghan women from the draconian repression of the Taliban, but a planned deal between the U.S. and the insurgents offers no protections for the country's women, who fear that their hard-won rights could be lost.
The proposed U.S.-Taliban deal, which the Trump administration said Friday will be signed Feb. 29 after a partial truce goes into effect, would set out a timeline to withdraw American troops in exchange for the Taliban's renouncing terrorism and entering into peace talks with the Afghan government. But the agreement provides no guarantees to preserve women's rights or civil liberties enshrined in the country's constitution, which the insurgents do not recognize.
The Trump administration, eager to pull U.S. troops out of America's longest war, is treating the issue as an internal matter to be hammered out among the Afghans in future peace talks, which are supposed to start once the U.S.-Taliban deal is signed.
The United States would "support whatever consensus the Afghans are able to reach about their future political and governing arrangements," Molly Phee, the U.S. deputy special representative for Afghanistan reconciliation, said Tuesday at an event at a Washington think tank.
For years, the U.S. promoted the idea of safeguarding Afghan women's rights as a part of the rationale for its fight against the Taliban, a cause first championed by President George W. Bush.
But President Donald Trump's impatience with the U.S. troop presence in Afghanistan, and the uncertainty surrounding a potential peace process, could jeopardize two decades of progress for Afghan women, who have gained a foothold in the workplace and in political life, according to rights advocates, Afghan officials and former U.S. officials.
"The question is whether peace will come on the backs of women," said Gayle Tzemach Lemmon, the author of "The Dressmaker of Khair Khana," about an Afghan woman's struggle for dignity under Taliban repression.
Under the Taliban's extremist rule from 1996 to 2001, women were barred from attending school, holding jobs, taking part in politics and leaving their homes without male escorts. Violators were flogged in public, beaten or stoned to death. Since U.S.-led forces toppled the Taliban in 2001 after the terrorist attacks of Sept. 11, Afghan women have experienced a sea change in their status.
In the past two decades, women have entered universities and the workplace in unprecedented numbers, with dozens of women holding seats in Parliament and thousands serving as teachers, doctors and even police officers. The country's culture also has evolved, with annual surveys showing that an overwhelming majority of Afghans now support women's right to work and to education.
But in areas of the country where the Taliban retains control, women face severe restrictions and have come under attack for trying to go to school, according to human rights groups.
"We've already seen the oppression of women and girls return where the Taliban has regained control," Sen. Jeanne Shaheen, D-N.H., a member of the Foreign Relations Committee, said in an interview. "We should not risk unraveling the progress that's been made."
Belquis Ahmadi, an Afghan-born human rights expert who has worked with the U.S. Agency for International Development, said she is concerned about the fate of women in a future peace settlement with the Taliban. To protect the progress that has been made, Ahmadi said, the U.S. and other foreign governments need to pressure the Taliban and the future Afghan government to uphold fundamental rights for women.
"We, the international community — especially the U.S. — can and should use leverage over them," said Ahmadi, a senior program officer at the U.S. Institute for Peace. "What the Taliban want is recognition that they have evolved. I think we should not give them that recognition without abiding by rules and respecting international laws and treaties."
Secretary of State Mike Pompeo and other U.S. officials have said future U.S. and international aid will be contingent on Afghanistan's respecting rights for women and minorities. But the Trump administration has never made it clear whether the pullout of American troops would be contingent on a final peace deal or a commitment to preserving women's rights.
The State Department did not respond to a request for comment.
In the Qatari capital, Doha, an all-male Taliban delegation has held marathon talks with U.S. special envoy Zalmay Khalilzad and other officials since November to work out the terms of the deal, which the Trump administration refers to as a peace agreement.
"Unfortunately, Afghan women have been excluded from the process so far," Ahmadi said.
When Shaheen grilled Pompeo in April over whether the administration was pushing the Taliban and the Afghan government to include women in the discussion, Pompeo said, "I hope the [Afghan] women will make themselves heard to their leadership."
In the peace talks that are supposed to follow the signing of the U.S.-Taliban agreement, it's not clear whether women will play a prominent role in the government's delegation, which will include representatives from inside and outside the government.
"I remain concerned about the future for Afghan women under any agreement with the Taliban, which is why I continue to press the administration to prioritize women's inclusion in this peace process," Shaheen said. "There is so much at stake."
The Taliban have offered vague suggestions that they will adopt a less draconian stance toward women than when they ruled Afghanistan, without offering details.
"They will have all their rights. Whether it is right for education or it is right for work, they will have it according to Islamic rules," a Taliban spokesman, Sohail Shaheen, said in an interview last year. "So there will be no problem with that."
Under the terms of the U.S.-Taliban deal, which have not been released yet, American troops likely would withdraw over a period of years. Once all U.S. troops depart, many military analysts and former U.S. officers say, the Kabul government will be hard-pressed to fend off the Taliban. It's not clear whether the U.S. would still carry out air strikes in an emergency.
The Defense Department last year stopped releasing figures on how many districts were under government or Taliban control. The last reported numbers, in Jan. 30, 2019, showed that the government controlled only 53.8 percent of all districts, while 12 percent were under Taliban control or influence, with the remaining 34 percent contested. That marked an all-time low for the government.
Despite the uncertainty over the country's future, Ahmadi said she has reason to be hopeful given the attitudes of younger Afghan women.
"The women of today are very different than my generation. They have been loud and clear they won't go back to the traditional roles, to go back to the earlier era when they were subject to public humiliation, flogging and exclusion from social, political and economic rights," she said.
The female Afghan ambassador to the U.S., Roya Rahmani, declined to comment on the implications of the U.S.-Taliban deal, but she said, "The women of Afghanistan are extremely resilient."
After the U.S.-led intervention in Afghanistan following the 9/11 attacks, which ousted the Taliban regime for sheltering al Qaeda leaders, the Bush White House made the plight of Afghan women a top priority.
First lady Laura Bush took over her husband's weekly radio address on Nov. 17, 2001, to draw attention to the plight of Afghan women, calling for international condemnation of the Taliban's repression. The State Department at the time issued a report on "the Taliban's War Against Women."
President Barack Obama sought to scale back the U.S. military mission, but his first secretary of state, Hillary Clinton, highlighted women's issues and once said at a meeting of female activists in Kabul that any peace deal "can't come at the cost of women and women's lives."
"Going back to 2001, the treatment of women by the Taliban in Afghanistan was one of the central tenets of engagement by the U.S. and coalition countries in Afghanistan," said Anita McBride, who served as chief of staff to Laura Bush and in other senior government posts. "Beyond defending ourselves and rooting out terrorism, there was a very real case for humanitarian assistance for women and children."
Trump's daughter Ivanka Trump, who has led a global initiative to empower women, said via video at a conference on Afghan women in Kazakhstan in September 2018 that "the United States stands side by side with the brave Afghan women and girls as they strive to create a stable and prosperous future for their children and families."
Afghan women have harbored fears for years that if the outside world lost interest in Afghanistan, their newly won rights would be lost, McBride said.
One moment during the closing months of the Bush administration has stuck with McBride. The first lady held a farewell meeting with a group of female Afghan members of Parliament in the Roosevelt Room of the White House. "One of them stretched her arm across the table to take Mrs. Bush's hand and said, 'Please don't forget us.'"
https://www.nbcnews.com/politics/national-security/no-guarantees-afghan-women-draft-u-s-taliban-deal-n1140471
--------
Women's Employment Rises in Turkey As Govt Launches New Measures
23.02.2020
Turkey's first lady, Emine Erdoğan, lauded the country's progress in female employment and urged women to take on more entrepreneurial roles as the government prepares to kick off new programs to boost women's participation in the workforce.
Speaking at the opening ceremony of the Women Entrepreneurship Centre (GİKAMER), Erdoğan said the female employment rate rose to 34% from 23% between 2004 and 2018 in Turkey and emphasized the importance of government incentives to boost women's employment.
"Our government is working toward helping women to have a work-life balance through incentives such as maternity and breastfeeding leave and better nursery options," Erdoğan said.
She stated that more women enterprises would support the country's economic growth and lead the way for the younger generation of women to assume more leadership roles.
The first lady called on women to equip themselves with the necessary skills to become entrepreneurs through training on finance, economy, networking and communication offered at the GIKAMER.
Also present at the event, Zehra Zümrüt Selçuk, the country's minister for labor, social services and family, said 47% of participants of her ministry's entrepreneurship program were women, underlining the female potential in this area.
She said the ministry will continue to facilitate women's entry into the workforce and increase the number of female entrepreneurs.
Women's employment remains a major issue for Turkey, like elsewhere in the world, Turkey still lags behind in the participation of women in the workforce. Women's cooperatives, which allow women to join their forces for self-employment, may help boost women's employment in the country. The government, with a project supported by EU funds, will launch a cooperative program in 2020.
For the first time, the government will implement a project worth 5 million euros ($5.53 million) for women's cooperatives. TL 1.4 billion will be spent as loans for students and young people for employment opportunities while 325,000 disadvantaged students will receive direct cash assistance. Other projects will create employment opportunities for 450,000 people as well.
The ministry will also launch vocational training programs for women in guesthouses or shelters for women domestic violence victims. With EU funds, a total of 20,000 women will receive incentives to "stay" employed.
Entrepreneurship training to have more women in the workforce based on their skills will also be supported. The government will also expand daycare facilities in industrial and technology zones to encourage women who quit their jobs after giving birth to return to work.
https://www.dailysabah.com/economy/2020/02/23/womens-employment-rises-in-turkey-as-govt-launches-new-measures
--------
URL: https://www.newageislam.com/islam-women-feminism/young-rapper-mecca-asayel-slay/d/121140
New Age Islam, Islam Online, Islamic Website, African Muslim News, Arab World News, South Asia News, Indian Muslim News, World Muslim News, Women in Islam, Islamic Feminism, Arab Women, Women In Arab, Islamophobia in America, Muslim Women in West, Islam Women and Feminism