New Age Islam News Bureau
4 May 2019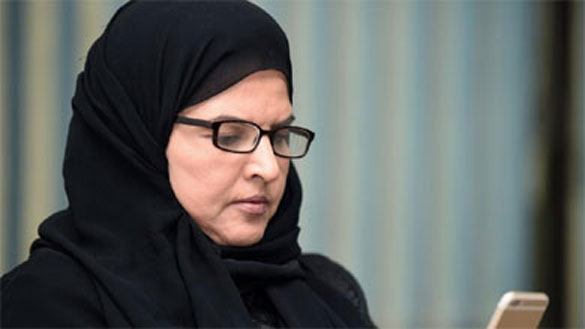 In this file photo taken on September 27, 2016, activist Aziza al-Yousef is pictured checking her phone during an interview in Riyadh. (AFP)
----
• Niqab Not Mandatory in Islam: Kerala Nadvathul Mujahideen
• German Woman Who Converts To Islam Goes On Trial
• Saudi Court Releases Four Additional Women Accused Of Undermining Security
• US Female Landlord Who Refused To Rent to Muslim Men Settles Lawsuit
• Burqa Ban: Muslim Women from Mumbra Protest against Shiv Sena MP Sanjay Raut
• First Women Emirati Doctors Honoured
• Amnesty Demands That Saudi Arabia Free Remaining Women Activists in Jail
Compiled by New Age Islam News Bureau
URL: https://www.newageislam.com/islam-women-feminism/-be-kitchen-afghan-assembly/d/118503
--------
'You Should Be in the Kitchen': At Afghan Assembly, Women Are Told They Don't Belong
By Fatima Faizi and David Zucchino
May 3, 2019
KABUL, Afghanistan — On the second day of a traditional Afghan assembly this week, a delegate rose to speak on the topic at hand, peace in Afghanistan.
A bearded man from Kandahar ordered her to shut up.
"He told her: 'Peace has nothing to do with you. Sit down! You should be in the kitchen cooking!'" recalled Behnoh Benod, 31, a male delegate who witnessed the put-down.
The assembly, known as a loya jirga, was convened by President Ashraf Ghani to debate Afghanistan's path to peace. Organizers proudly pointed out that 30 percent of the 3,200 delegates were women.
But several female delegates said they felt ignored, marginalized or patronized. They were told that men should lead the jirga's 51 committees and women should serve as secretaries. Some women complained that they were groped and fondled — not by men, but by women who patted them down during security checks.
Other women said they had been confronted by male delegates who claimed to support women's rights, but only under Shariah, or Islamic law — a view shared by the Taliban.
"I asked them which Shariah law, the Taliban Shariah law or ISIS Shariah law," said a delegate, Sakina Hussaini, referring to the Islamic State.
"Some men didn't accept women as human beings and I had to scream at them," she said.
Mr. Benod said just 16 of the delegates on his 108-member committee were women. A male delegate was selected as committee chair. Of the 51 committees, 13 were headed by women, and 28 elected women as committee secretaries.
For many women, the jirga got off to a dismaying start when Mr. Ghani appointed as chairman Abdul Rab Rasoul Sayyaf, a combative former warlord known for his harsh views on women's rights. Things quickly went downhill when a female delegate complained directly to Mr. Sayyaf and was hustled out by security guards. Other delegates hooted and clapped to drown out her protest.
State-run television, RTA, which broadcast the proceedings, posted a banner on Twitter showing images of Mr. Ghani and Sher Mohammed Abas Stanekzai, the chief Taliban peace negotiator. Beside them were photos of two women with their faces covered — one by a niqab, a veil that leaves the eyes visible, and the other by a burqa, the all-encompassing garment forced upon women under the Taliban regime that was toppled in 2001.
After a torrent of complaints on social media, a new banner appeared. Mr. Ghani and Mr. Stanekzai were still depicted, but four smiling women wearing head scarves that left their faces uncovered were added to the two with their faces concealed.
And on Monday, as the jirga opened, some female delegates arrived dressed in burqas.
"Most of these women have come from provinces and they have no idea why they are here," said a delegate, Taiyaba Khavari.
Ms. Khavari and other women said they grew disillusioned as they were insulted or interrupted by male delegates.
Torpekai, 45, a delegate who goes by one name, said she had been pleased to be among war victims invited to Kabul. She said her 18-year-old son, a police officer, had been killed by the Taliban.
Ms. Torpekai said she had planned to tell delegates that she wanted the Taliban punished if a peace deal gave them a role in a postwar government. But the men who dominated the jirga did not bother to listen.
"No one would hear me out," Ms. Torpekai said. "They said women shouldn't be here — this isn't a discussion for women."
It was not just women who felt disillusioned by the jirga. Social media lit up with arch commentary from Afghans who dismissed the assembly as a patronage tool for Mr. Ghani. Some critics said the jirga usurped Afghanistan's Parliament.
The government shut down the capital for five days, giving government workers the week off while other Afghans fumed over blocked roads and security sweeps. Taxi drivers complained that they were cut off from fares. Shopkeepers moaned that customers could not reach them.
The jirga was caught up in a bruising presidential election campaign, in which Mr. Ghani is struggling to stay relevant while his government is excluded from peace talks in Doha, Qatar, between the Taliban and the United States. The militants refuse to meet with the government, calling it illegitimate.
Many of Mr. Ghani's political rivals boycotted the jirga, among them Abdullah Abdullah, the president's partner in the unity government. Mr. Abdullah is running for president against Mr. Ghani.
Rahmatullah Nabil, another presidential candidate who boycotted, called the jirga a waste of money and a campaign rally for Mr. Ghani.
Jirga organizers said it was an effective exercise in grass-roots democracy that incorporated a wide range of Afghan society. Among the delegates were urban and rural residents, victims of war and terrorism, young people, traditional elders, and ulema, or Islamic religious scholars.
Organizers said that with the government sidelined at the peace talks, the jirga produced a national consensus on conditions for peace with the Taliban. The assembly's recommendations are not legally binding.
"It's our sacred tradition," said Mohammed Umer Daudzai, who organized the gathering. "I doubt that anybody will say consensus-building or dialogue is a bad idea."
The jirga has a long and contentious history. After delegates to a secret jirga in the late 18th century conspired to replace the Afghan ruler, Zaman Shah, he had them all killed. In 1987, a gunfight erupted outside a jirga hall, killing or wounding 30 people.
In 2002, some 200 female delegates attended a jirga that elected Hamid Karzai president. But many women had to jostle with male delegates for public microphones. Others said they had been threatened by government intelligence agents.
At the close of the jirga on Friday, Mr. Ghani accepted its recommendation to seek a cease-fire, a goal of the Doha peace negotiations. He urged the Taliban to negotiate within Afghanistan and said he would release 175 Taliban prisoners.
Among other recommendations accepted by Mr. Ghani was a demand that any postwar government honor the Afghan Constitution and protect the rights of women and children. He thanked the delegates, "especially the women."
One delegate, Wazhma Tukhi, 25, said she was satisfied. "The Constitution protects our rights, and that's all Afghan women want," she said.
But another, Masuma Bahar, 24, said the jirga should have made a stronger case for preserving women's gains over the past 18 years.
"There were women on the board and they should have raised their voices, but they haven't done anything," she said.
https://www.nytimes.com/2019/05/03/world/asia/afghanistan-women-assembly-loya-jirga.html
--------
Niqab Not Mandatory in Islam: Kerala Nadvathul Mujahideen
May 4, 2019
KOZHIKODE: The Muslim Educational Society decision to ban 'Niqab' or any dress that covers the face for girls on its campuses has found a mixed reaction.
Kerala Nadvathul Mujahideen (Markazudawa), a prominent Muslim organisation, has said that there is no need to create a controversy over the decision as covering the face of women is not mandatory in Islam.
Markazudawa state president E K Ahamedkutty and general secretary C P Umer Sullami said in a statement that it was not desirable to ignite a row in the name of Islam as the religion gives freedom to women to wear any modest dress that covers the body parts except the face and forearms.
"Women can wear any dress that are not tight-fitting and does not reveal the ups and downs in the body. There is no insistence that they should wear purdah," it said.
Jaleel: It's time to introspect Higher education minister K T Jaleel said it was time that Muslim religious organisations introspected if there is a need to follow rules not prescribed by Islam. "Even during haj and prayers, women don't cover faces, but some people are particular that women should wear the burqa, which is not right," he said.
'Women do not cover their face for haj or umrah' Sullami told TOI that the face-covering dress came to Islam from the local traditions in Arabia. "Slaves were not allowed to cover their face and other parts of the body there. Elite women used to cover the entire body, including the face, to distinguish themselves from the slave women then," he said.
Samastha Kerala Jem-Iyyathul Ulema had earlier said it was part of the faith to cover the face when confronting other men.
Sullami pointed out that women do not cover their face when they go for Haj or Umrah but said there are certain stipulations in Islam, like women being advised to avoid provocative dresses, to prevent adultery.
"They (women) are not allowed to move out of their house without the companionship of a mahram (a close relative) when they travel for more than a day. In earlier times, women had to use camels for travel and had to camp in tents," he said, adding that this has been relaxed now as women have the facility to travel in a group of their own.
However, some extreme Salafi groups have opposed the MES decision. Niaf bin Khalid, a Salafi preacher, said some people were trying their best to "present themselves as progressives and to get applause from Kafiirs."
In a post in the Facebook page Al Aswala, Niaf said women who covered their faces have accepted Ayesha, the wife of Prophet Muhammad, as their role model. He also quoted several Hadees to argue that covering of faces was indeed mandatory for women in Islam.
https://timesofindia.indiatimes.com/city/kozhikode/niqab-not-mandatory-in-islam-markazudawa/articleshow/69172066.cms
--------
German Woman Who Converts To Islam Goes On Trial
May 3, 2019
A German woman, Sabine S, who converted to Islam and went to live under Islamic State in the Middle East before returning to Germany, went on trial for membership of the terrorist organisation on Friday.
Sabine S, 32, had lived in Syria and Iraq between December 2013 and August 2017, federal prosecutor Stefan Biel told the Higher State Court in Stuttgart.
"I wanted to live under Islamic law, but not fight,'' the defendant told the court as the trial began.
She was arrested in Baden-Baden in mid-2018 following her return.
Before leaving for the Middle East, Sabine S lived with the father of her two children in Berlin, converting to Islam at the age of 22.
According to her own version of events, she became radicalised before she left.
On arriving in Syria, she married a high-ranking Islamic State fighter from Azerbaijan, who was previously unknown to her, Biel said.
She had two more children with this man, who died in December 2016.
According to the charge sheet, she praised life under Islamic State in internet blogs.
She is charged with participating in public executions as a spectator and with having undergone training in the use of firearms.
She is said to have done household duties and cared for her children, being paid 100 dollars a month and receiving 35 dollars a month from Islamic State for each of the children.
Prosecutors had earlier successfully appealed against a federal court ruling that she should not be held in custody while awaiting trial.
The federal court initially ruled that merely living under Islamic State and participating in daily life was insufficient for her to be held in custody.
https://www.pmnewsnigeria.com/2019/05/03/german-woman-who-converts-to-islam-goes-on-trial/
--------
Saudi Court Releases Four Additional Women Accused Of Undermining Security
3 May 2019
A Saudi court temporarily released on Thursday four women accused of undermining the Kingdom's security.
Saudi Arabia's laws prohibit the official publication of the names of those accused while on trial. The released detainees were identified by Reuters as Hatoon al Fassi, Amal al Harbi, Maysaa al Manea and Abeer Namnakani.
They join three other women released over a month ago, on condition they continue to appear in court.
Saudi Arabia's Public Prosecution issued a statement early last month that it had concluded its investigation and prepared an indictment list against the defendants, a Saudi Press Agency (SPA) report said.
The detainees were arrested by the Presidency of State Security after the discovery of coordinated and organized attacks "to undermine the Kingdom's security, stability and national unity."
On June 2, the Public Prosecutor's Office had announced the arrest of nine suspects - five men and four women out of 17 wanted individuals - after obtaining sufficient evidence mandating the arrests.
The prosecution also said that the suspects admitted to having links with hostile organizations.
https://english.alarabiya.net/en/News/gulf/2019/05/03/Saudi-court-releases-four-additional-women-accused-of-undermining-security.html
--------
US Female Landlord Who Refused To Rent to Muslim Men Settles Lawsuit
May 3, 2019
An American landlord in Denver, Colorado, who was recorded telling her tenant not to sublease her property to a Muslim father and son seeking to open their second restaurant must pay the men $675,000 under a settlement.
The men sued last year, generating local news coverage and online pleas to boycott the woman's business, which mirrored the response to racist comments captured on video across the US in recent months.
The parties finalized the settlement in April. Rashad Khan said it was a relief after more than a year of reliving his first experience of someone refusing to work with him and his father because of their faith and race.
Khan was born in England and came to the United States with his parents when he was 11. His father, Zuned, was born in Bangladesh.
"My dad and I just wanted to know that there's justice, that she can't do this," Khan, 36, told The Associated Press.
"Just to look at my name and assume everything in my life, everything that I am," he told the AP. "I was angry, I was disappointed. I started to have a little bit of self-doubt. It kind of creeps into your mind: Who else is thinking these things? Is she the only one?"
Khan earned a degree at the University of Colorado Boulder and worked in information technology before teaming up with his dad.
Craig Caldwell, who is white, began renting a building in 2016 but decided to close his fried chicken restaurant there in late 2017. Caldwell had to continue paying rent to Katina Gatchis, the building's owner, for the five-year lease unless he could find someone to sublease it.
The Khans seemed like his solution. They hoped to open a second Indian restaurant, replicating a fast-casual model that proved popular in the nearby city of Boulder. But weeks went by without approval of the sublease agreement by Gatchis. Caldwell said he was shocked when the woman's son blamed the Khans' Islamic faith.
"I didn't believe it, and I didn't think anybody would believe me," said Caldwell, who is 71.
He decided to use a voice recording app on his mobile phone during his next conversation with Gatchis.
"American person!" Gatchis said in the recording, provided to The Associated Press by Caldwell's attorneys. "American person, I need. Good like you and me."
Caldwell returned to see her a few days later. He hoped Gatchis would change her mind, but she remained insistent in a recording of that conversation. "They bring all the Muslims from the Middle East, and then I have a problem around here, bam boom, bam boom," she said.
In a court document filed in March, Attorneys for Gatchis said she admitted making the statements "and that the recordings are accurate." Gatchis acknowledged in the document that she "unlawfully discriminated" against the Khans' company.
Caldwell took the recordings of Gatchis to his business attorney. He referred Caldwell to Denver attorney Qusair Mohamedbhai, whose firm often handles discrimination claims and other civil rights cases. Mohamedbhai said proving discrimination is often difficult and credited Caldwell for speaking up.
"Businesses in Colorado and across the country should know that these laws are on the books, they are highly enforceable, and that if they will discriminate, people will stand up against them and tell them it is wrong," Mohamedbhai said.
https://www.presstv.com/Detail/2019/05/03/595012/US-female-landlord-Denver-Muslim
--------
Burqa Ban: Muslim Women from Mumbra Protest against Shiv Sena MP Sanjay Raut
May 03, 2019
Thane: Two days after Shiv Sena mouthpiece urged the Narendra Modi government to ban burqa on the grounds of national security, Muslim women from Mumbra in Maharashtra's Thane district on Friday took out a protest.
The women protested against Shiv Sena MP Sanjay Raut for his comment on the ban of burqas.
Shiv Sena leader Sanjay Raut is the editor of party's mouthpiece Saamana. In the editorial, he had urged Prime Minister Narendra Modi to ban burqa after Sri Lanka declared a ban on face coverings in the wake of Easter Sunday bombings.
The Shiv Sena editorial has stirred off a major controversy. Interestingly, Shiv Sena's leadership has officially dissociated itself from the demand.
Shiv Sena spokesperson Neelam Gorhe, in a categorical statement, had said: "Today's editorial has neither been discussed nor been announced by Uddhavji and thus it may be a personal opinion of the editor on the current affairs in Sri Lanka, but is not endorsed by the party President or the party."
The party's ally, the Republican Party of India-A, also vehemently opposed the Shiv Sena.
"Not all women who wear the burqa are terrorists, it is their custom and their right, too. There should not be such a ban on the burqa in India," said Union Minister and RPI(A) chief Ramdas Athawale.
https://www.timesnownews.com/india/article/burqa-ban-muslim-women-from-mumbra-protest-against-shiv-sena-mp-sanjay-raut/412172
--------
First Women Emirati Doctors Honoured
May 03, 2019
Dubai
The first two Emirati women doctors to have graduated from the Arab Board of Health Specialisations - Dr Fayeza Ahmad Yousuf and Dr Aisha Al Shiba - were honoured by Dr Mohammad Salim Al Olama, Undersecretary of the Ministry of Health and Prevention (MoHAP) at Kuwait Hospital on Thursday.
The two doctors, who specialise in ear, nose, throat, head and neck treatment with surgical and medical management, are considered the first batch of Emirati women doctors.
Dr Al Olama said the Ministry is proud of its medical competencies, while stressing a commitment to attract and develop more Emirati talents in order to fast-track Emiratisation in the healthcare sector.
"Healthcare is one of the country's fast-growing sectors. In order to keep pace with growth, we always bet on our national medical competencies that are equipped with future skills," Al Olama said.
https://gulfnews.com/uae/health/first-women-emirati-doctors-honoured-1.63717875
--------
Amnesty Demands That Saudi Arabia Free Remaining Women Activists in Jail
3 May 2019
Amnesty International has demanded that six women activists held by Saudi Arabia "must all be unconditionally and immediately released".
The rights group said four women remain detained pending trial – Loujain Hathloul, Maya'a al-Zahrani, Nouf Abdulaziz and Shadan al-Anezi – as well as two others who have yet to be charged.
Last month, Hathloul's brother, Walid, said the detained activist had no access to legal representation.
Amnesty's call comes on the heels of Saudi Arabia's conditional release of four women's rights activists the day before.
At the time, the Saudi court said it ordered their release "after it studied their requests submitted during the trial sessions", the state-run SPA news agency reported.
Riyadh has accused about a dozen women's rights advocates, several of whom had campaigned for women's right to drive vehicles in the country, of harming Saudi Arabia's national interests and being "agents of embassies".
The women were detained last year as part of a wider wave of arrests in the Gulf kingdom, as Saudi Arabia's powerful Crown Prince Mohammed bin Salman launched a crackdown on dissent.
Activists say some detainees, including Hathloul, were held in solitary confinement and subjected to mistreatment and torture, including electric shocks, flogging and sexual assault.
Saudi officials have denied those allegations as "false".
Hathloul, who advocated for an end to a ban on women driving and the kingdom's male guardianship system, was previously detained for 73 days in 2014, after she attempted to drive into Saudi Arabia from the United Arab Emirates.
The driving ban was lifted in June, weeks after she was re-arrested. The guardianship system, which requires women to obtain the consent of a male relative for major decisions such as travel outside the country, remains intact.
Dozens of other activists, intellectuals and clerics have been arrested separately in the past two years in an apparent bid to stamp out opposition to the crown prince, who has consolidated power partly through his sweeping "anti-corruption" campaign.
The women's arrests have intensified international criticism of Saudi Arabia after the murder of journalist Jamal Khashoggi last October in the Saudi consulate in Istanbul sparked global outrage.
https://www.middleeasteye.net/news/amnesty-demands-saudi-arabia-free-remaining-women-activists-jail
--------
URL: https://www.newageislam.com/islam-women-feminism/-be-kitchen-afghan-assembly/d/118503
New Age Islam, Islam Online, Islamic Website, African Muslim News, Arab World News, South Asia News, Indian Muslim News, World Muslim News, Women in Islam, Islamic Feminism, Arab Women, Women In Arab, Islamophobia in America, Muslim Women in West, Islam Women and Feminism