New Age Islam News Bureau
23 Jan 2017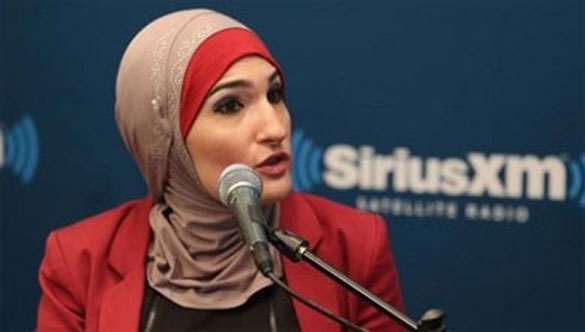 Palestinian-American activist Linda Sarsour was a co-chair of the Women's March on Washington. | Photo: AFP
----
• Muslim-Palestinian Linda Sarsour Makes History at Women's March
• A Women-Only, Hijab-Friendly Salon Grows In Brooklyn
• Five Lebanese Women Struggling With the Complex Systems of Divorce within A Multi-Faith Community
• MPA Miss Abbasi Complains Of Indifference from Women MPAs
• Rulers Lied to Nation on Aafia Issue: Fowzia
• Iran Finalizes Five-Year Prison for Iranian-British Woman
• Zaira Wasim Is Not Malala; Let's Not Make Her the Poster Girl for Women Empowerment
Compiled by New Age Islam News Bureau
URL: https://newageislam.com/islam-women-feminism/yemeni-women-join-workforce-more/d/109822
--------
Yemeni women join workforce as more become sole breadwinners
23 January 2017
The conflict in Yemen has taken a devastating toll, particularly on the most vulnerable members of society; women and children who are forced to find alternative means to sustain and support their families in one of the poorest countries in the Middle East.
The outbreak of the conflict in March 2015, when Houthi militias overthrew the legitimate government and seized power, aggravated the poor economic conditions and daily struggles for those women who lost their spouses, the main breadwinners, during the ongoing war.
"I have no choice but to start a small project to secure my children's future and their daily needs. My husband was killed in the war against the Houthis, God damn them all", said a Yemeni woman working in a tiny kiosk she owns selling small items.
Presently, Yemeni women face a myriad of challenges in order to provide the emotional and financial support that their siblings and families need. This is bravely carried out amid extensive devastation caused by the militias.
"I'm supporting my son and daughter so that they can live in dignity. I have resorted to selling cards after the Houthi rebels killed their father," another woman told Al Arabiya.
https://english.alarabiya.net/en/News/gulf/2017/01/23/Yemeni-women-join-workforce-as-more-become-sole-breadwinners.html
--------
Muslim-Palestinian Linda Sarsour Makes History at Women's March
22 January 2017
Declaring herself "unapologetically" Muslim and Palestinian-American, the U.S. activist said women of color must be the leaders of women's rights.
One of the most powerful speeches at Saturday's massive Women's March on Washington was delivered by co-organizer of the march Linda Sarsour, a Muslim Palestinian-American who has been a rising star in advocacy for the rights of women of color.
Declaring herself an "unapologetically" Muslim-American, Palestinian-American and a U.S. citizen from Brooklyn, New York, Sarsour said, "Sisters and brothers, you are what democracy looks like, sisters and brothers, you are my hope for my community."
She went on to say that while she respects the office of the president of the country, she had none of that for President Donald Trump.
"I will not accept an administration that won an election on the backs of Muslims and Black people and undocumented people and Mexicans and people with disabilities and on the backs of women," the executive director of the Arab-American Association of New York and founder and CEO of MPower Change, said to cheers from the crowd.
Women activists, outraged by Trump's campaign rhetoric and behavior they found to be especially misogynistic, spearheaded scores of marches in the U.S. and around the world just a day after his inauguration drawing almost 5 million protesters in all, far surpassing crowd expectations.
Sarsour went on to highlight the plight of Muslim Americans under both former Presidents George W. Bush and Barack Obama. "Many of our communities, including the Muslim community, have been suffering in silence for the past 15 years under the Bush administration and the Obama administration."
She said that most of the things that Trump has suggested and promised to do to her community, such as an entry ban and a national registry for Muslims, have already been around the past 15 years.
She then issued a call for unity across the marginalized and oppressed communities in the country. "Sisters and brothers if you have come here today as your first time at a march, I welcome you and I ask you to stand and continue to keep your voice loud for Black women, for native women, for undocumented women, for LGBTQ communities, for people with disabilities."
Speaking at a stage in Washington just miles away from the White House, she stressed that the women and the people who joined the march were "the conscious of these United States of America. We are this nation's moral compass."
And for those who wish to bring about change and achieve justice, Sarsour argued that they must follow "women of color sisters and brothers. We know where we need to go and we know where justice is because when we fight for justice we fight for it for all people, for all our communities."
As her family and children stood right behind her while she made history, the Muslim activist reminded the masses that "ordinary people made this happen," referring to the Women's March, "not cooperate dollars, no money from corporations. This are your dollars, this your work. You made this happen."
http://www.telesurtv.net/english/news/Muslim-Palestinian-Linda-Sarsour-Makes-History-at-Womens-March-20170122-0026.html
--------
A Women-Only, Hijab-Friendly Salon Grows In Brooklyn
JANUARY 23, 2017
Getting a trim seems simple enough, but for devout Muslim women who wear a it's not as easy as just making an appointment. Since Islam forbids women from showing their hair to men outside of their own families, scheduling a haircut is far from simple. Huda Quhshi is changing that with Le'Jemalik, a Brooklyn beauty shop that caters to Muslim women.
"I have always had a difficult time finding a salon that could accommodate me, even for a simple haircut," Quhshi, who wears a hijab, told the New York Post.
Quhshi explains that many women who wear a hijab are often sequestered to a different area of a salon or even denied service. She fallen victim to a few horror stories herself, she explains. "I once decided to go to a salon and when a man walked, in I had to throw my headscarf over my wet hair and run to a back room," she said. "After that experience, I was like, 'You know what? We can't do this.'"
With Le'Jemalik, which translates to "for your beauty," Quhshi hopes to offer women a sanctuary. The salon's entrance is an opaque revolving door and the reception area separates customers from the male gaze. "We want women to be able to come in and feel completely relaxed," ­Quhshi added.
The salon is outfitted with blush-colored chairs, ornate white-framed mirrors, and plenty of places to sit and relax between services. Le'Jamalik offers standard services, such as haircuts, waxing, facials, and manicures and pedicures, but also sets itself apart with henna, halal nail services, and eyebrow shaping.
Le'Jemalik is women-only, but Quhshi explains that all women, no matter their ethnicity or religion, are welcome. The salon is set to open next Sunday.
http://www.refinery29.com/2017/01/137263/lejemalik-salon-hijab-brooklyn
--------
Five Lebanese Women Struggling With the Complex Systems of Divorce within A Multi-Faith Community
18 Jan 2017
Beirut's recent woes about rubbish have given light to its underlying political instability but Lebanon is often overlooked for its religious tolerance and diversity. The small country that borders the Mediterranean officially recognises 18 religious denominations, each with the freedom to administer marriage, divorce and alimony matters to those of their faith.
Civil marriage is also a viable option for all denominations, and is increasingly popular, especially among couples from different faiths. Some might argue, however, that the increased freedoms come at a price.
According to statistics from the United Nations Economic and Social Commission for Western Asia, between the years of 2000 and 2013 the divorce rate in Lebanon increased by 55 percent. Regardless, many maintain that the flexibility is necessary. This system legitimises various religious courts which then coordinate and communicate with other courts, government bodies, that control disputes outside the religious context.
"The modern republic was established by the previous generation and was protected as one of the pillars of religious coexistence. The state can't impose civil marriage as it's not accepted by some religions," says Bishop Hanna Alwan, the Maronite patriarchal vicar for legal issues.
The sentiment is echoed by many in the Lebanese community, including those working towards a more secular way of life.
Blogger and activist Imad Bazzi is one of those in support of freedom of choice between religious and civil marriage.
He says: "Sectarianism grows if people are mobilised by religious groups and courts to follow certain political or sectarian ideologies. But if they're subject to a civil authority, it can't mobilise people for religious, sectarian or political purposes. People who get married under civil law are free to choose what they want to do and how. Those who go through the religious courts system choose to be under the umbrella of their religious group."
However, it is clear that each religious court comes with its own set of rules that women may view as obstacles in the case of dissolving a marriage.
Often it can be difficult to achieve what are considered to be fair settlements and obtain rights for the female that would be standard in some parts of the world. Some women struggle to retain custody of their children, even when there is evidence of domestic violence.
Dina Semaan is a Maronite Christian who eloped and married a Muslim man without her parents' consent. Her divorce was relatively straightforward but took nine months and she was granted custody of her children in the Islamic court. The ruling only stands if she does not remarry.
"Is it acceptable for the judge to be in favour of a ruling which strips the woman of all of her rights? Didn't he consider my future?" she asks.
Legalities and faith-based complications aren't the only issues women who wish to divorce in Lebanon have to contend with. Although the state is working towards recognising women's needs, some in the Lebanese community are yet to be as accepting.
Majida Faour is Druze, a well-recognised Abrahamic religion in Lebanon. She has been divorced twice; the second time owing to the societal pressures placed on her marital status.
"To avoid being called a divorcee, I threw myself at another marriage. This was my mistake. I did it to silence people around me," she says. "I'm tired of how people look at me when I go out or attend an event ... Some people are quite difficult to deal with and I get to the point where I wish I had a man to protect me or stand by me."
Shia Muslim Jafari court judge Sheikh Hussein Al Qassas believes people are avoiding the real issues within Lebanese society.
"The problem isn't civil or religious marriage. It's people suffering because of the reality they live in," he says. "They're suffering from religious, racial and intellectual fanaticism. These have nothing to do with religious or human law."
http://www.aljazeera.com/programmes/aljazeeraworld/2017/01/divorce-lebanon-170117073031972.html?utm
--------
MPA Miss Abbasi Complains Of Indifference from Women MPAs
Jan 23, 2017
Member Provincial Assembly (MPA) Nusrat Sehar Abbasi Sunday said she was grieved that her fellow female MPAs did not condemn the abuse she was facing in the assembly.
Talking to a private media channel, she said she was upset over the indifference showed by women MPAs when she was being "abused" on the floor of the assembly after comments were passed by PPP's Sindh Works and Services Minister Imdad Pitafi
"I am waiting for the decision of Bilawal Bhutto Zardari as the credit of us being a part of the legislature goes to Benazir Bhutto. I admit this and am proud of the fact that we are sitting in the assembly because of her," she said, adding that a member of Benazir's party abused me.
"I cannot explain what I am facing [right] now. My political career is at a stake, I am facing pressure from within my family and even my son, as he does not want her mother to continue [politics] because of the remarks I had to listen to," said the Pakistan Muslim League-Functional (PML-F)'s leader.
She said those dishonouring women from the platform of a party once led by a woman should be sacked.
"It was not ordinary eve-teasing or catcalling. A remark was passed and I was harassed. It is a matter of my honour," said Abbasi.
She requested the PPP chairman to look into the matter, and thanked him for taking notice of the incident but added that he should continue the legacy of his mother.
She termed the incident a matter of life and death to her, and said: "If women are mistreated in the assembly, imagine how it is out on the streets."
She recalled that in past, a chit was sent to PPP's Shazia Marri in the same assembly, "At that time, my brothers from PPP physically assaulted the person involved because their honour was hurt. Where did their honour go when it came to me," she questioned.
Within minutes after the issuance of Bilawal's condemnatory statement, Pitafi said that he had already confessed his mistake and sought pardon on the issue, adding he would also apologise on the floor of the house.
The minister also said that he will respond to the notice, when received, and will accept any decision taken by the party leadership in that regard.
Earlier, Abbasi had demanded that the PPP leadership remove Pitafi from the ministry, as well as from the provincial assembly.
http://www.pakistantoday.com.pk/2017/01/23/nusrat-abbasi-complains-of-indifference-from-women-mpas/
--------
Rulers lied to nation on Aafia issue: Fowzia
January 23, 2017
KARACHI - Pakistani rulers lied to the nation on the issue of Dr Aafia Siddiqui therefore Articles 62 and 63 of the Constitution should come into force against them, said Aafia Movement leader Dr Fowzia Siddiqui during a press conference at her residence here on Sunday.
She said that January 19 was a black day indeed in the history of Pakistan because Pakistani leaders once again betrayed "the daughter of the nation" on this day. They missed a "golden opportunity" that would have given them dignity and a much-needed booster to the morale of the Pakistani people, she said.
Fowzia said that rulers had double standards; they were safeguarding the interests of politicians and not of the ordinary citizens. She said that Aafia's supporters worldwide wanted to know what was next for her and they wanted to protest and demonstrate in her support. She emphasised that securing the release of Aafia should be the first and foremost priority of any democratic government in Pakistan because her sufferings were the result of an illegal and inhuman act of a dictator.
She said it was not an issue of an individual woman; it was an issue of national dignity and honour. She regretted that the government was not discharging its duties in this regard as per Constitution of Pakistan. Every second Aafia spends in the US jail affects Pakistan's dignity and value of its green passport, she said.
She said that successive governments had lied and deceived the nation in the Aafia case. She said that current and former rulers should be tried under Articles 62 and 63 of the Constitution.
She asked, "If the Nawaz government claims it is taking steps to repatriate Aafia, why did not it take me or our attorneys into confidence on this issue?"
Regarding the new administration in the US, she said that Aafia's case was not dependent on any individual. "It is a humanitarian issue at its core and has a universal appeal. We will appeal to President Donald Trump to dispense us justice in this case on merit."
"I want to let our Pakistani politicians know that their role in the Aafia case will be a decisive factor in 2018 elections. The people have seen their true faces and the Aafia case has once again has provided us the litmus test for who is true to the nation and who is not."
She lauded efforts of all political parties and human rights organisations, which became part of the Aafia Movement and joined peaceful demonstrations for repatriation of Aafia.
Speaking on the occasion, Pasban President Altaf Shakoor said that incumbent rulers had harmed their political credibility by shying away from writing a simple letter. He said, "We will go for more peaceful protests to highlight the issue of Dr Aafia's detention."
HRN Karachi chapter president Intikhab Alam Soori appealed to US President Donald Trump to make dispensation of justice to Aafia part of his party's agenda.
http://nation.com.pk/karachi/23-Jan-2017/rulers-lied-to-nation-on-aafia-issue-fowzia
--------
Iran Finalizes Five-Year Prison for Iranian-British Woman
22 January 2017
An Iranian news agency is reporting that a woman with dual Iranian and British citizenship has been sentenced to five years in prison.
The report by Mizanonline.ir, which is affiliated with the country's judiciary, on Sunday quoted Tehran prosecutor Abbas Jafari Dolatabadi as saying the sentence on security charges against Nazanin Zaghari-Ratcliffe has been finalized. He did not elaborate.
Zaghari-Ratcliffe works for the Thomson Reuters Foundation, the news agency's charitable arm.
Zaghari-Ratcliffe was detained in April 2016 while trying to leave the country with her toddler daughter, Gabriella. She remains in Iran with family after authorities seized her passport.
Iran does not recognize dual nationalities, and those detained cannot receive consular assistance.
https://english.alarabiya.net/en/News/middle-east/2017/01/22/Iran-finalizes-five-year-prison-for-Iranian-British.html
--------
Zaira Wasim is not Malala; let's not make her the poster girl for women empowerment
Somi Das
Jan 23, 2017
BJP leader and Sports Minister Vijay Goel's tweet to Dangal actress Zaira Wasim comparing her to a Muslim girl trapped in a burqa was not only unwarranted but also in a bad taste. It exposed his insidious schemes of using a 16-year-old girl in a highly political debate targeting the faith she practices. It must be noted that BJP has a way of using rights of women in Islam as a political hook. The party's promise of bringing Uniform Civil Code is largely based on the 'evil' practice of triple talaq in Islam. So, Goel's tweet was very much in line with the politics of BJP.
On her part, Wasim rightly took on Goel's unabashed attempt at dragging her into a political controversy and shut him up by saying "women in hijab are free and beautiful" and that she didn't agree with his depiction of women in the valley in particular and Muslim women in general as being trapped in a hijab or a burqa. Gutsy and articulate by all means. Isn't it?
But one obvious thought comes, if we were to keep aside the seemingly nefarious intentions of Goel: why didn't Wasim show similar guts and articulation in taking down the trolls in the valley?
They were far more humiliating in nature. She was targeted with sexist filth for acting in a Bollywood film by Islamic hardliners. She was pitted against pellet gun victims and made to feel guilty for no fault of her own. None of this made her angry. Instead, she chose to apologise and asked people not to look up to her as a "role model" and that she is not "proud of what she is doing".
Obviously, it is entirely her personal choice. It's for her to decide if she wants to encourage the girls from valley to do more mainstream work and take a stand against the kind of horror the all-girls band in Kashmir Pragaash had to face before disbanding.
It is also her right to protect herself from becoming a pawn in the national narrative of the Kashmir issue and give it back to people like Goel. And most importantly, it is her right to continue doing the good work she is doing for herself without trying to be the representative of any religion or state. She doesn't have to spell out her political views or take a stand on the decades-old Kashmir conflict. But then there is no need for the media to jump to her rescue and glorify her for taking a stand against Goel or project her as a victim if she apologises to Islamic hardliners. There is no need to merge her celluloid persona of taking on the boys by mastering the sport of wrestling and make her a poster girl for women empowerment in the valley. The media clearly doesn't need to provide her any kind of protection when she needs none. She is not a Malala Yousafzai working in the Taliban-controled Swat valley of Pakistan and braving bullets for standing up for a girl's right to education. She is just an actor from the valley who has the agency to defend herself when needed. Let's respect Zaira Wasim's plea and not create a role model out of her.
http://www.inuth.com/india/jammu-and-kashmir/zaira-wasim-in-not-malala-lets-not-make-her-a-poster-girl-for-women-empowerment/
--------
URL: https://newageislam.com/islam-women-feminism/yemeni-women-join-workforce-more/d/109822
New Age Islam, Islam Online, Islamic Website, African Muslim News, Arab World News, South Asia News, Indian Muslim News, World Muslim News, Womens in Islam, Islamic Feminism, Arab Women, Womens In Arab, Islamphobia in America, Muslim Women in West, Islam Women and Feminism, Moderate Islam, Moderate Muslims, Progressive Islam, Progressive Muslims, Liberal Islam