New Age Islam News Bureau
19 Oct 2018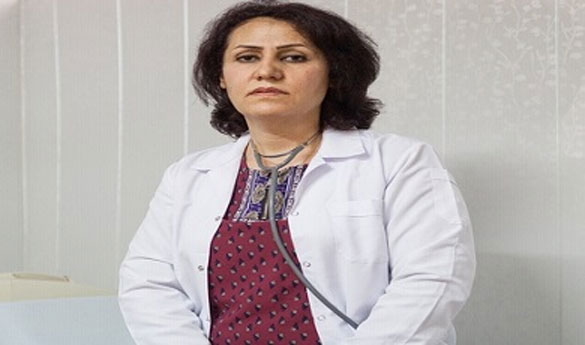 Photo: Yazidi gynaecologist Dr Nagham Nawzat has helped hundreds of Yazidi women overcome trauma (MEE/Sebastian Castelier)
-----
• Women among 12 Pakistani Hindu pilgrims held in India
• As Afghans Prepare to Vote, Women Seek Expanded Rights
• Haji Ali: Two years on, women entering inner sanctum freely
• From the US congress to comic-book cosplay, Muslim women shatter stereotypes by being themselves
• Maharashtra man gives 'triple talaq' to wife via WhatsApp, booked
• Russia negotiates deal with ISIS to release abducted women in Syria's Sweida
• Over 400 Afghan women aim to break male stranglehold on Parliament
• Arab Woman Awards Kuwait 2018 winners announced
• Birth spacing 'improving health of Omani women'
• Woman sells minor daughter for Dh50,000, jewellery in UAE
• Iran's chief prosecutor: Women watching half-naked men play soccer is sinful
• Addiction age has plunged under 15 for Iranian women and girls
• Baha'i women continue to get arrested and dismissed for their faith
Compiled by New Age Islam News Bureau
URL: https://www.newageislam.com/islam-women-feminism/yazidi-doctor-devotes-her-life/d/116666
--------
Yazidi doctor devotes her life to women who survived Islamic State
18 October 2018
DUHOK, Iraq – Shireen was studying for a high school examination at her home in the northern Iraqi town of Sinjar on 3 August 2014, when Islamic State group (IS) militants broke into her house and kidnapped her from her family.
At the age of 19, she was sold as a sex slave to an IS militant in the north-western city of Tal Afar.
Three months later, Shireen was sold once again to another IS fighter in Mosul, Abu Omar, to become his third wife.
"He said 'I love you' but when you love someone, you don't rape her. It destroyed my life," Shireen tells MEE. "Abu Omar already had two Iraqi wives."
Although Abu Omar's other wives lived in a separate house, Shireen says that they used to beat her whenever they got together.
Shireen's story is just one from the thousands of stories recounted by Yazidi women that have experienced the raw cruelty of IS.
Last week, the Nobel Peace Prize was awarded to Nadia Murad, a Yazidi woman who also survived IS, and Congolese doctor Denis Mukwege. The international recognition put a spotlight on those fighting against the use of rape as a weapon of war and has once again brought the Yazidi cause to the forefront of the media.
Shireen is a Yazidi, one of Iraq's oldest religious minorities. Their beliefs are drawn from Zoroastrianism, Christianity and Islam. The Islamic State group considers Yazidis "devil worshippers".
She was told that Melek Tawwus, or the Peacock Angel - one of seven angels Yazidis worship - was the devil and was forced to convert to Islam. Yazidis believe in Yasdan, a god who emanates seven angels. The greatest one they worship is Melek Tawwus.
For more than two years, Shireen says she was not allowed to leave the house in Mosul. She was forced to cook, wash the dishes and clean every day.
"There were two guards at the entrance of the house and I was not allowed to go outside, [or] even to the garden to breathe fresh air," she says.
According to Shireen, Abu Omar later brought two other Yazidi girls to the house. One was six years old and was forced to clean the house, while the other was ten years old. She was raped frequently by Abu Omar. Shireen says she tried to stop Abu Omar from raping the child, but her pleas fell on deaf ears.
In 2016, Shireen was released by Iraqi forces during the campaign to retake Mosul from IS.
After more than two years of captivity, Shireen suffered from depression and constant nightmares that prevented her from sleeping. Her uncle and many of her friends were killed by IS, while her father and one of her sisters have been missing since 2014, after they were also kidnapped by IS.
"It's too horrible, the skeletons of my uncle and my friends are under the ground."
Upon her release, she visited Dr Nagham Nawzat, a Yazidi gynaecologist operating in the city of Duhok, in Iraq's Kurdish region, for a physical check-up, but Dr Nawzat also listened to Shireen and offered her emotional support.
"Dr Nawzat helped all of us. Without her help, I wouldn't be here today," the 23-year-old confesses. "After I came back from captivity, Dr Nawzat sat down with me and told me that I was brave."
"I love her so much," she adds.
A doctor devoted to survivors
Dr Nawzat is highly respected among the Yazidi community. According to Hussein al-Qaidi, the director of the Kidnapped Affairs department at the Kurdistan Regional Government (KRG) in Duhok, 2,023 Yazidi women have been liberated from IS territories as of July 2018.
Dr Nawzat, 42, has provided life-saving support to more than half of them, helping around 1,200 Yazidi women, according to al-Qaidi.
In March 2016, Dr Nawzat received the International Women of Courage Award from United States Secretary of State John Kerry for providing psychological support to traumatised Yazidi survivors and for combating gender-based violence.
Born in Mosul to a Yazidi family in 1976, it was a life-long dream of Dr Nawzat to study medicine. Concerned about women's issues from an early age, Dr Nawzat graduated with a degree in gynaecology from Mosul's Medical College in 2002.
"[I wanted] to better understand issues related to women's health, teach women about health care and provide support for them," she explains.
In 2014, Dr Nawzat was forced to flee her home near the northern city of Sinjar, as IS militants advanced and took over the Yazidi heartland. She witnessed first-hand the difficulties Yazidi survivors faced after being displaced.
In 2014, IS seized almost a third of Iraq. At least 12,000 Yazidis were killed or kidnapped as part of what the United Nations describes as an "ongoing genocide" against the religious minority.
In 2015, Dr Nawzat decided to Join the Duhok Survivors' Centre, where she volunteers to provide healthcare and psychological support for Iraqi women who survived IS. Funded by the United Nations Population Fund (UNFPA), the centre is the only facility in Iraq that specialises in gender-based violence.
Rebuilding a community
Shocked by the horrific stories survivors have shared with her, Dr Nawzat opts for a post-traumatic medical approach commonly used in Iraq.
First patients are offered some time to talk "to establish a climate of trust," Dr Nawzat says. Afterwards, she conducts a thorough physical check-up and then listens attentively as her patients talk about their fears and their traumatising experiences. She offers them support and positive reinforcement "like a big sister the survivors can confide in," she says.
According to Dr Nawzat, as she creates a relationship with her patients based on mutual trust, they confide in her and reveal their deepest emotions and fears with ease. Dr Nawzat is happy to meet her patients again whenever they request psychological support.
In severe cases where women suffer from depression, post-traumatic stress disorder or there is a suicide risk, patients are directed to the nearby psychiatric department of Duhok's Azadi hospital for treatment.
Because of her engagement with Yazidi community survivors, Dr Nawzat says that she has received frequent death threats from IS sympathisers in phone calls or via social networks.
Yazidis still in captivity
Although Iraqi forces declared a final victory over IS in December 2017, 1,500 Yazidi women still remain captive in Iraq, Syria and Turkey, according to al-Qaidi.
Today, Sinjar is still in ruins and memories of IS brutality still weigh heavily on the people.
According to the Board of Relief and Humanitarian Affairs in Duhok (BRHA), Ninety-thousand Yazidis have fled abroad and 160,000 live in limbo in 17 precarious displacement camps scattered across Duhok Governorate in northern Iraq.
Shireen lives alone in a tent at the Khanke internally displaced population camp in Dhokok and rejects the idea of returning to Sinjar, as most of her family members managed to obtain asylum in Germany.
In 2014, Khurto Hajji Ismail, the supreme leader of the Yazidis who is known as Baba Sheikh, declared that Yazidi women who had been enslaved by IS were welcome back to the Yazidi community. This announcement helped facilitate Dr Nawzat's daily work and ease the women's reintegration back into the community.
According to al-Qaidi, four years on Yazidi survivors are still being released by IS in exchange for ransom.
Dr Nawzat says she will continue her mission to be there for other Yazidi women and help heal their wounds. "I dedicate my life to the Yazidis," she says.
https://www.middleeasteye.net/in-depth/features/yazidi-doctor-devotes-her-life-to-women-who-survived-the-Islamic-State-1057630460
--------
Women among 12 Pakistani Hindu pilgrims held in India
by Dawood Rehman
October 18, 2018
JAIPUR – Indian authorities have detained twelve Pakistani nationals, including four women, in Sriganganagar district of Rajasthan after alleging them of violating visa norms, Press Trust of India reported on Thursday.
The Pakistani nationals had entered the neighbouring country on October 13 to visit Haridwar, a Hindu pilgrimage site. Before returning to Pakistan, they arrived in Saroopsar area to meet their relatives.
Station House Office of Jetsar police station Vijay Singh told the PTI that the pilgrims, known as Hindu Jathas, were taken into custody as they did not have permission to visit the area. They are being interrogated by intelligence agencies, he added.
Hindu pilgrims visit Haridwar to immerse mortal remains of their families into the river Ganga.
https://en.dailypakistan.com.pk/pakistan/women-among-12-pakistani-hindu-pilgrims-held-in-india/
--------
As Afghans Prepare to Vote, Women Seek Expanded Rights
October 18, 2018
Afghans will mark ballots in long-delayed elections on Saturday.
The Associated Press reports that about 16 percent of the 2,565 candidates are women. They are competing for 249 seats in Afghanistan's parliament.
Twenty-nine-year-old Hameeda Danesh is competing against six men for a seat. She is seeking to represent the district of Jalrez in Wardak province.
Jalrez is home to many ethnic Pashtun. The Taliban is said to be in control of the area. People there follow a strict form of Islam, which bars women from a number of activities. Many women are not registered to vote.
Hameeda Danesh told the AP her story about the difficulties women face in Afghanistan.
Danesh claims that she was locked away by her uncles at the age of 13 and beaten every day for six months. The men did this because they did not want her to attend school.
Danesh said she hopes to guarantee education for the next generation of Afghan girls. But resistance to this idea comes from the Taliban and local militia leaders allied with the government.
Danesh said this election is extremely important for women. She noted that traditional ideas of religion in the country are gaining strength and efforts to negotiate with the Taliban are increasing. However, the last time the group ruled Afghanistan, girls were not permitted to attend school or women to work.
She showed the AP marks from her beatings as a child 16 years ago. She said, "This is why I struggle, because no woman or girl should ever have to face these tortures."
She added, "This election is so important because we need a new generation."
Gains for women slow to arrive
It has been 17 years since a United States-led coalition ousted the Taliban government from power. The U.S. and other nations have provided billions of dollars in aid to help rebuild Afghanistan. Yet rights activists say they struggle to get parliament to approve laws protecting women or guaranteeing education and worker rights.
Abdul Wadood Pedram heads the group Human Rights and the Eradication of Violence Organization, which is based in Kabul.
Pedram said, "A lot of members of parliament are against these laws because they don't like some of the articles that allow women to work outside the house, or guarantee their education or their right to divorce or protection from their husbands."
Pedram added that, after 10 years, parliament has yet to approve a law on stopping violence.
However, he noted that women have seen gains since the Taliban leadership was ousted.
Today, Afghan girls are able to attend school, and women appear on television programs and serve in parliament. They are on provincial councils, head government ministries and lead the Independent Human Rights Commission. Women also are members of the High Peace Council, which holds peace talks with rebels, Pedram noted.
Danesh's husband Bilal said he supports his wife's independence. However, he worries when she leaves her home in Kabul to travel to Wardak, about 40 kilometers away.
The security situation before the election remains very tense.
On Thursday, at least two Afghan officials were killed in a shooting incident during a visit of the top U.S. general in Afghanistan. The dead included Abdul Raziq, a police commander who had survived several earlier attempts on his life.
Two American soldiers were injured in the attack.
The Taliban claimed responsibility. It said the targets were Raziq and the American general, Scott Miller, who was unharmed. Miller was visiting the offices of Kandahar's governor for a meeting with the governor and other Afghan officials.
Raziq was said to have kept Taliban rebels under control but he also was criticized by human rights activists for abuses.
Afghan officials have promised to protect Afghans who vote and voting stations across the country during the elections.
https://learningenglish.voanews.com/a/as-afghans-prepare-to-vote-women-seek-expanded-rights/4619269.html
--------
Haji Ali: Two years on, women entering inner sanctum freely
by Sadaf Modak
October 19, 2018
A group of young women assembled to take a selfie outside the sanctum sanctorum at Haji Ali Thursday evening while others, their heads covered, went inside to pray. Even as protests rocked Kerala where Sabarimala temple opened its doors to women for the first time following a Supreme Court order, a little over two years since the Bombay High Court permitted women to enter the sanctum sanctorum of the Haji Ali shrine, fraught emotions and tension amid Mumbai litigation are now a thing of the past.
The Haji Ali Dargah Trust, which initially resisted women's entry after a ban was put in place in 2011-12 and which filed an appeal before the Supreme Court, conceded in October 2016 that women can enter the sanctum.
Like in the Sabarimala case, some of the resistance in the Haji Ali case came from women devotees who had said that even though the ban was lifted, they would not be comfortable accessing the sanctum sanctorum.
But on Thursday, the three plywood doorways that allowed women into the sanctum saw a long queue as the devotees waited to see the tomb of Pir Haji Ali Shah Bukhari. Women stood in a line, some offering flowers and chadar, handing them over to male attendants. Others pressed their foreheads to the donation box, lying prostrate, as a mark of respect to the saint. The tomb lay metres away, separated by barricades for the male devotees as well. The male attendants hurried the crowds on, both men and women in separate sections, asking devotees to move faster to allow others in.
"I have been visiting the dargah since I was very young. But I have come back after many years now. I was told that the entry of women was stopped in between. But I am glad that it has changed. I find peace going in. Even if it is for a few minutes," said Shaheeda Begum, who had travelled from Uttar Pradesh, with her sons, to visit the dargah. Even as the devotees were being hurried along, she emerged through the doorway that marks a spot beyond which women were not allowed when the ban was in place, and joined other women who sat to pray. Outside the sanctum, male volunteers stopped women from entering with their footwear on or with their heads uncovered, some even offering scarves to women.
"Women were not allowed for some time. But after the court order, it is accessible again. Everyone can go in now," said Shoaib, a volunteer outside the sanctum.
The trust had told the Supreme Court on October 24, 2016, that it would require two weeks to ready the shrine for women devotees who would like to enter the sanctum. The court had given the trust a period of four months to complete the process.
A trust member said that since the shrine previously permitted women to enter the sanctum, all that had to be done was to remove the steel barricades and relay the flooring to fashion a separate path for women, as per the court's directions.
The petitioners had told the court that they had visited the sanctum in their childhood, and it was only since 2012 that they had been stopped from entering it.
In November 2016, Noorjehan Safia Naz, along with a group of 75-80 women from across the country, including members of the Bharatiya Muslim Mahila Andolan (BMMA), visited the dargah to re-enter the space. A trust member said once the barricades were removed, volunteers facilitated the entry of women into the dargah, returning to the way things were before the ban.
The PIL was filed by Naz and Zakia Soman, office bearers of the BMMA. The two had written to the trust's president in 2012, and also approached various state authorities requesting intervention, including the minorities commission, women's commission and charity commissioner, before approaching the High Court. Before the court as well, the trust said "free mixing" between men and women was discouraged in Islam and that menstruating women are "unclean" and hence, could not offer prayers at the mosque.
"These beliefs stem out of a patriarchal mindset leading to gender-based discrimination against women. The intervention of courts through judgments help demolish these mindsets and perceptions," said Naz Thursday.
https://indianexpress.com/article/cities/mumbai/mumbai-haji-ali-dargah-women-entering-inner-sanctum-sabarimala-supreme-court-5408259/
--------
From the US congress to comic-book cosplay, Muslim women shatter stereotypes by being themselves
Shelina Janmohamed
October 18, 2018
Stereotypes. I'm fed up with them. It often feels like all I'm doing, day after day, is battling people's kneejerk preconceptions of who I am. From simply going about my day as a Muslim woman in a headscarf to TV news appearances patiently explaining, yet again, that burkini swimming costumes are nothing to be scared of, and that, no, Muslim women who believe in standing up for their rights are not somehow contravening the basic principles of Islam, the task is relentless and exhausting.
I'm not alone in facing this burden. Millions of women in majority- and minority-Muslim countries are tirelessly fighting other people's ideas of who we are and who we should be. In the West, particularly, the stereotypes aren't even consistent. One day we are being portrayed as victims of an oppressive culture, with no agency or opinions of our own. The next, we are jihadi brides bringing up a generation of terrorists. Sometimes, we are both at the same time. And often, within the Muslim community, if we have opinions and want rights, heaven forbid. We just can't win.
Fortunately, this week alone, there have been many stories that prove how reductive these ideas are. In the US, a photograph of a group of women at Comic Con, dressed at the Avengers and in full hijab, went viral. In Canada, the photographer Alia Youssef's rapturously received Sisters Project aims to represent Muslim womanhood in all its diversity. In the UK, the Second World War hero Noor Inayat Khan could become the next face of the £50 note. And let's not forget that Rashida Tlaib is expected to become the first Muslim woman in the US Congress.
It's great that barriers are being broken down and that Muslim women are talking increasingly prominent places in public life. Role models like these will encourage a new generation of young women to step forward. However, the prevailing narratives surrounding Muslim women remain largely unchanged. I've been commenting in the media for 15 years and have pretty much lost count of the amount of times the same old stories have circled back around.
The truth is that while more and more stories of the "Muslim women are human beings too" variety are doing the rounds, Muslim women have actually been dehumanised to the degree that it is increasingly dangerous to be one, visibly and in public. Figures released by the UK government this week showed that in the last year, hate crimes have doubled and that more than half of religiously motivated hate crime is aimed at Muslims. A previous report by the organisation Tell Mama has shown that Muslim women are more likely to be targeted than Muslim men.
So, what is the point of all this stereotype-busting work, if it is having so little effect? The problem with trying to break down people's preconceptions is that sometimes you can end up stoking their resentments, simply by daring to speak out and be yourself. One way around this is to get on with your life and work as a regular, everyday woman who just happens to be Muslim. That can work, until you run into the discrimination that puts barriers in your way to progress.
It's a horrible double bind to spend all your time trying to prove that Muslim womanhood comprises many different perspectives and experiences, only to discover that most of your efforts have fallen on deaf ears.
It is worth remembering, however, that recognition as full human beings is not something that those who enjoy structural privileges of race, gender and class want to extend to Muslim women. After all, doing so would involve giving up or accepting radical changes to their own status. The way they avoid having to do this is by continually stoking the flames of stereotypes, so we have to spend all our time fighting them.
Now that we're wise to their game, the way ahead is not to waste time telling people what we're not, but to continue claiming space for ourselves, creating our own narratives and, loudly and proudly, showing the world what we are.
https://www.thenational.ae/opinion/comment/from-the-us-congress-to-comic-book-cosplay-muslim-women-shatter-stereotypes-by-being-themselves-1.781849
--------
Maharashtra man gives 'triple talaq' to wife via WhatsApp, booked
October 18, 2018
A 26-year-old Muslim man in Aurangabad district of Maharashtra allegedly gave triple talaq to his wife through WhatsApp and was booked following a complaint lodged by her, police said Thursday.
The man, Javed Saber Pathan, a resident of Khandala village in Vaijapur taluka in the district, was booked on Wednesday under section 4 of the Muslim Women (Protection of Rights on Marriage) Ordinance, 2018, a police officer said.
"Javed had married Shabana Nisar Shaikh alias Sabha in December 2016. Things were fine between them for about a year. However, after that they regularly started arguing over small issues," police inspector Anant Kulkarni said.
"On September 9 (2018), Javed dropped Shabana at her maternal aunt's house in Kannad tehsil (in the district), but did not return to take her back. Shabana's parents visited his house to request him to patch up with her. But on September 23, Javed sent a triple talaq message on her WhatsApp," he added.
Shabana lodged a complaint against him with Vaijapur police station on Wednesday, following which a case was registered, Kulkarni said.
Javed was yet to be arrested, the inspector said adding that an investigation has been launched into the case.
On 28 December 2017, the Lok Sabha had passed The Muslim Women (Protection of Rights on Marriage) Bill, 2017. The bill made instant triple talaq (talaq-e-biddah) in any form spoken, in writing or by electronic means such as email, SMS and WhatsApp illegal and void, with up to three years in jail for the husband.
The Union cabinet last month approved an ordinance making triple talaq a punishable offence.
https://indianexpress.com/article/india/man-gives-triple-talaq-to-wife-via-whatsapp-booked-5407570/
--------
Russia negotiates deal with ISIS to release abducted women in Syria's Sweida
18 October 2018
Moscow is seeking to negotiate a deal with ISIS by recruiting young men in Syria's Sweida and enlisting them in compulsory conscription in return for the release of abducted women that are held by the extremist group.
Sweida residents are awaiting the results of these negotiations over the release of Druze women and children kidnapped by the terrorist group on July 25, after a series of coordinated attacks in the southern province of Sweida that killed more than 250 people, mostly civilians.
According to the Syrian Observatory for Human Rights, anticipation is very high in the province, where many are saying that the release of the abductees is expected to happen the coming hours.
Sweida residents, who are mostly a Druze religious minority, have been in fierce opposition of the Syrian war, as many of their youth serve in the army.
Russian news agency Sputnik revealed another deal between the Assad regime's forces and ISIS to release six of the abductees, in exchange for 17 ISIS members detained by the regime, without specifying the date for the implementation of the agreement.
These deals come 24 hours after the signing of the first ceasefire agreement in Tulul al-Safa, a mountainous region in eastern Sweida.
On July 25, ISIS carried out a series of coordinated attacks in the southern province of Sweida that killed more than 250 people, mostly civilians.
It was the deadliest attack ever to target the mostly government-held province and the Druze religious minority that populates it. Read more
https://english.alarabiya.net/en/News/middle-east/2018/10/18/Russia-negotiates-deal-with-ISIS-to-release-Syria-s-Sweida-abductees-.html
--------
Over 400 Afghan women aim to break male stranglehold on Parliament
October 18, 2018
KABUL: For women in Afghanistan's Parliament, what a difference a year makes.
Last December, the government proposed 12 candidates for ministerial positions; only one was female, and she failed to win enough votes.
Now hundreds of women aim to be agents of change by standing for Parliament in elections on Saturday.
More than 400 of the 2,691 candidates are women. Their aims are to encourage a consensus among female members of Parliament and to end the reliance on factional leaders and strongmen with power and wealth.
"The young and new candidates are a powerful tool to make Parliament exercise its rights as stipulated in the constitution," said Zahra Nawabi, 28, a candidate from Kabul who has two master's degrees.
"Our priority should be women, first and foremost addressing their health. Parliament should not become a source of shame for the nation."
The practice of wealthy figures and men with power supporting their own choice of female nominees was a greater threat to Afghan democracy than the threatened attacks on the election process by Taliban insurgents, she said.
"The government needs to intervene to stop this, otherwise the next Parliament could be worse than the current one."
Shinkay Karokhail, who was elected as an MP in 2005, was re-elected in 2010 and is standing again, admitted that female MPs had failed to form a powerful bloc in Parliament. Some of them regarded themselves "as extra-ordinary," she said, and it was too early to say whether any of the new batch of candidates would be an improvement.
http://www.arabnews.com/node/1390156/world
--------
Arab Woman Awards Kuwait 2018 winners announced
18 Oct 2018
The Arab Woman Awards held its sixth annual ceremony on Wednesday October 17 at Sheraton Kuwait luxury collection hotel under the patronage of H E Sheikh Mubarak Al-Salem Al Sabah.
The awards were presented by Harper's Bazaar Al Arabiya and were used to support the Hayatt Breast Cancer Association.
The ceremony honoured 19 inspiring Arab women who were chosen to win in the award's various categories in recognition of their outstanding contributions across fields including business, education, medicine, and literature.
Amongst the winners were Mona K Al-Daas who was acknowledged for her role as General Manager in the governments statistical bureau, Noor Boodai, founder & CEO at Dars, a start-up company working on advancing education in the Arab world and Mariam Alraghim who was given the Lifetime Achievement Award for her services to nursing with an accomplished career spanning across 35 years.
Arab Woman Awards Kuwait 2018 - in pictures
The Arab Woman Awards held its sixth annual ceremony on Wednesday October 17 at Sheraton Kuwait luxury collection hotel under the patronage of H E Sheikh Mubarak Al-Salem Al Sabah.
Arab Woman Awards founder and managing director of ITP Media Group, Sue Holt said, "Everyone has such busy lives now that we often forget to stop and reflect on how much progress has been made so far. The awards are our chance to do just that and to take a moment to celebrate individuals who are really driving change and achieving great success in their respective fields."
The winners were selected by an independent board of judges who this year was honorary chair, Sheikh Mubarak Fahad al Salem Al Sabah, Kuwait Undersecretary of State along with Professor Moudhi Al-Humoud previous Kuwait Minister of Education; leading fashion designer and founder of Sirdab6, Sheikha Souad J A Al Sabah and Dr Labiba Temmim, co-founder of the Arab Woman Awards Kuwait and Managing Director of Hayatt Breast Cancer Association.
Mozah Rashed Alsheredah winner of the Media category commented: "I considered myself very lucky when I was selected to be an Arab Women Award winner this year. I dedicate this award to all listeners and readers who have listened and enjoyed my stories through Kuwait radio. I am thankful to my family and friends and everyone who worked with me in swalf mozah."
Arab Women Awards H E Sheikh Mubarak Fahed Al-Salem Al Sabah honorary chair and head of judges said: "Our Arab Women Awards winners made us proud to be Kuwaitis with their relentless support, achievements, and efforts to make our beloved country an outstanding nation."
The awards were held as a private dinner at the Sheraton Kuwait Luxury Collection Hotel, with over 180 guests in attendance including the judging board, winners, their families, and Hayatt breast cancer survivors.
Attendees were treated to music from Dubai-based vocalist Leanna Kerry who flew over especially for the evening and an inspirational speech from Rasha Al Akhras.
Partners of the event were Roche & Co, The Flower Room, Views Dentsu, Tanagra, the Sheraton Kuwait and Hello! magazine.
The full list of the Arab Woman Awards Kuwait 2018
Government: Mona K Al-Daas
Lifetime Achievement: Mariam Alraghim
Business: Hetaf M Khajah
Finance: Huda Al-Shemmari
Entrepreneur: Rugaya Al Nafisi & Najla Al Nafisi
Medical: Dr Sabiha Al-Motawa
Young Talent: Tamara Qaddoumi
Social Entrepreneurship: Noor Boodai
Energy: Ameena Rajab Saleh
Sport: Lamees Nijem
Inspirational Women: Nada Faris
Art: Zahra Ali Baba
Fashion Designer: Mariam Al-Bader
Designer: Alia Madouh
Legal: Hanadi J Al-Omani
Education: Lubna Al-Kazi
Media: Mozah Rashed Alsheredah
Literature: Hanan B AlRoomi
https://www.arabianbusiness.com/kuwait/406455-arab-woman-awards-kuwait-2018-winners-announced
--------
Birth spacing 'improving health of Omani women'
October 18, 2018
Muscat: The process of birth spacing — or maintaining a time frame between pregnancies — in Oman got its first boost in 1993, following a public declaration by Sultan Qaboos Bin Said on the issue of high population growth putting a burden on Omani families as well as on national resources.
Birth spacing programmes are offered for free by the Omani Health Ministry. Dr. Fatma Al Hinai, Director of Women and Child Health at the ministry, believes spacing the birth of children is essential to improve the health of women, as it reduces maternal and infant mortality.
Although every pregnancy carries with it a risk of maternal death or morbidity, some pregnancies are higher risk than others. A birth spacing programme attempts to reduce these risks in young or middle-aged women, the senior Omani health official told Gulf News.
A wide range of birth spacing services are administered through MoH clinics. These includes access to information and education, and counselling for women for using birth spacing methods.
Birth spacing enables women to rebuild the deficiencies that their bodies develop during pregnancy and labour. Taking a gap between pregnancies enables women to minimise the risks involved in the intrapartum (onset of labour through delivery) and post-partum stages of childbirth.
Dr Al Hinai said: "It is imperative that women maintain birth spacing. It also empowers a woman, giving her choice for her health needs."
Modern medical methods
Clinical services fostering birth spacing methods are oral or injectable hormonal contraceptives, intrauterine devices, family planning preventions and implants such as Implanon NXT. These implants are hormone-filled rods (referred to as capsules) that are inserted under the skin of a woman's arm. Implanon NXT is a single-rod system that continually releases a low, steady dose of the progestin etonogestril (medication used for birth control) for three years.
Intrauterine Contraceptive Devices (IUCDs), made of plastic and medicated, are small flexible (T) shaped device inserted in the uterine cavity for effective long-term contraception. In Oman, the MoH provides Copper T 380 A type, which is effective for 10 years.
Speaking about the benefits of birth spacing, Dr. Al Hinai said: "Child spacing empowers women to regulate fertility safely and effectively. This allows them to exercise their reproductive rights and improve the health of their children."
UN assistance
The MoH adopted a joint annual plan with the United Nations Population Fund (UNFPA) GCC sub-regional office in Oman. Under the plan, technical and financial support is provided to the Ministry during the planning, action and execution of activities that are under the purview of its birth spacing programmes.
The WHO mission to review the birth spacing programme in the Sultanate noted that it had made a significant contribution to the reduction of maternal and child mortality, over the past few years.
Oman's Heath Minister, Dr Ahmad Bin Obaid Al Sa'eedi, said the health sector had advanced over the years owing to the quality of its services and improvements in lifestyle.
The UNFPA GCC sub-regional office in Oman is also helping the government arrest a decline in birth spacing. Asr Toson, UNFPA's GCC representative, was earlier quoted as saying: "The Health Vision 2050 of the Sultanate and MoH's mission focuses on improving access to health services and ensuring equity in health service availability and utilisation. There are major developments regarding the health services available to women through many public clinics and hospitals. UNFPA GCC has been working with the Ministry of Health to ensure the availability of such services since the office's inauguration in 2006."
https://gulfnews.com/news/gulf/oman/birth-spacing-improving-health-of-omani-women-1.2291282
--------
Woman sells minor daughter for Dh50,000, jewellery in UAE
October 18, 2018
A woman in Sharjah tried to sell her underage daughter's virginity on Thursday. Three other women were also accomplices in the crime.
She faces charges of human trafficking and sexual exploitation by forcing her 17-year-old daughter into prostitution, as per Emarat Al Youm report.
The Arab woman, who worked as a prostitute, had put out word with friends and relatives that she was selling her daughter's virginity for Dh50,000 and a gold necklace.
Sharjah Police had been notified that there was a victim of human trafficking for sale.
After gathering information and confirming the report, the police arranged an ambush. The money was handed over in exchange for the girl through three accomplices at the hotel.
Security forces were called in and the women were arrested and referred for prosecution.
They testified that the woman's accomplices had also solicited money for a dance and some sexual favours.
The victim testified that her mother had forced her to go to the hotel and surrender to the man in exchange for the Dh50,000. All accused confessed to their crime.
Such crimes are punishable by no less than 5 years in jail and minimum fine of Dh100,000. If the victim is a child or a person of determination, the perpetrator could get a life sentence.
https://www.khaleejtimes.com/news/crime-and-courts/woman-sells-minor-daughter-for-dh50000-jewellery-in-uae
--------
Iran's chief prosecutor: Women watching half-naked men play soccer is sinful
19 October 2018
Iran's Chief Prosecutor Mohammad Jafar Montazeri threatening officials who allow women to enter football stadiums has caused an uproar among Iranian activists.
Montazeri, the powerful head of the country's judiciary, claimed that women should be banned from going to stadiums because it is "sinful" for them to watch "half-naked men play soccer." He added that action will be taken if they continue to go.
Soccer stadiums have been off-limits for women for the past four decades in Iran, a ban that has divided Iran's political establishment.
Iranian Revolutionary Guards leader, Abdullah Hajj Sadeqi, also shocked the public when he called on guards to prevent women from entering stadiums, and said that "women's presence in stadiums is dangerous."
"We first let women watch the World Cup on television, then we let them enter the stadiums to watch football claims. Next, women will want to mix with men and watch the games together. We must not lose our religious faith, and we need to be wary of our social behavior," Sadeqi said.
Officials from the Azadi Stadium in Tehran had selected about 150 women to attend the football match between the Iranian and Bolivian teams on Tuesday, which ended with a victorious win for Iran.
Women were first allowed to attend football stadiums when FIFA demanded that the Iranian Football Federation allow women to watch the football games.
The Federation's Cultural Advisor, Gholam Hussein Zanam Abadi, said: "FIFA requested that women be allowed in the stadiums. We could not risk being barred from the competition because of the ban."
During the last football match, officials allowed some women entry into the stadium and banned others. They also prohibited photographers from taking any photos of female fans so as to prevent backlash from fundamentalists. However, pictures and videos of female fans were widely circulated on social media with captions encouraging more freedom for Iranian women.
https://english.alarabiya.net/en/News/middle-east/2018/10/19/Iranian-Revolutionary-Guard-Leader-Women-s-presence-in-stadiums-is-dangerous.html
--------
Addiction age has plunged under 15 for Iranian women and girls
18 October 2018
Addiction has been spreading at an alarming rate among Iranian women and girls, compelling the regime's officials and experts to acknowledge it. Akram Mosavvari Manesh has asserted that the average addiction age has dropped to under 15 years of age among Iranian women and girls.
Executive director of women's studies and research made the remarks on October 16, 2018, on the addiction of Iranian women and girls. She said, "Addiction age has dropped to the 15-18 range and even under 15."
Mosavvari Manesh added, "The worst social harm in Iran is addiction which also includes women and girls. The disaster has even entered schools." (The official IRNA news agency – October 15, 2018)
This confession is of course not the entire reality of addiction among Iranian women and girls. Three years ago, Shahindokht Molaverdai, presidential deputy on Women and Family Affairs, had announced that, "The average addiction age has plunged to 13 years for girls." (The state-run ISNA news agency – September 4, 2015)
In light of the deteriorating economic conditions in Iran and soaring unemployment, addiction has spread viciously among low-income and impoverished sectors affecting even young children.
So, the recent announcement of the U15 addiction age of women and girls, is an effort to conceal rather than revealing the realities transparently.
Zahra Shojaii, secretary general of the so-called reformist women's assembly, has stressed on feminization of poverty in Iran. She says, "Poverty has become feminized. Social ailments, suicide, runaway girls, addiction, and a rising number of female prisoners are some of the issues we face." (The state-run dustaan.com, June 20, 2018)
According to previous figures reported by the Iranian regime, there are at least 4 million drug addicts in the entire country which puts the population of Iranian women drug addicts at about 19 percent, indicating a dramatic increase in the percentage of addicted women in Iran.
https://women.ncr-iran.org/iran-women-news/5529-addiction-age-under-15-iranian-women-girls
--------
Baha'i women continue to get arrested and dismissed for their faith
18 October 2018
The arrest and dismissal of Baha'i women and citizens have continued in various cities over the past weeks.
Elham Salmanzadeh, a Baha'i woman in Karaj was arrested for her faith by Intelligence Ministry agents on Tuesday, October 16, 2018, after her house was ransacked and her personal belongings and books were confiscated.
Earlier, on October 2, 2018, Sahar Rouhani, another Baha'i woman was fired from job in Yazd because of believing in the Baha'i faith. Ms. Rouhani had been already expelled from school where she was studying the fourth semester of photojournalism in 2009. Now, she has been also deprived of her job due to her faith.
Sahar Rouhani was one of the officers in charge of advertising for the Samsung Company. She had been working there for more than a year and was one of the company's best employees. She was fired under the pressure and order of the Department of Intelligence in Yazd.
Baha'i women and citizens in Iran have been expelled from work, deprived of education and arrested for their faith since the beginning of the mullahs' rule in Iran.
Baha'i women and citizens are systematically deprived of their human rights while according to article 18 of the Universal Declaration of Human Rights and article 18 of the International Covenant on Civil and Political Rights, "everyone shall have the right to freedom of thought, conscience and religion. This right shall include freedom to have or to adopt a religion or belief of his choice, and freedom, either individually or in community with others and in public or private, to manifest his religion or belief in worship, observance, practice and teaching."
Just last month, the names of 21 Baha'i women were announced who had participated in and passed the 2018 National University Entrance Exam, but were deprived of education.
Also in September, nine Baha'i women were arrested in the cities of Karaj, Shiraz and Isfahan.
https://women.ncr-iran.org/iran-women-news/5528-baha-i-women-continue-get-arrested-dismissed-their-faith
--------
URL: https://www.newageislam.com/islam-women-feminism/yazidi-doctor-devotes-her-life/d/116666
New Age Islam, Islam Online, Islamic Website, African Muslim News, Arab World News, South Asia News, Indian Muslim News, World Muslim News, Women in Islam, Islamic Feminism, Arab Women, Women In Arab, Islamophobia in America, Muslim Women in West, Islam Women and Feminism