New Age Islam News Bureau
16 March 2016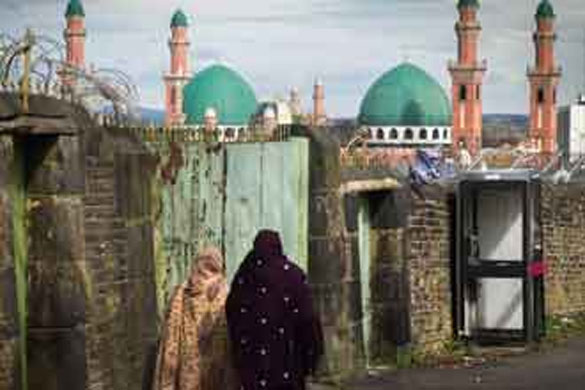 Photo: Muslims in Bradford tend to be conservative in dress and attitude, more so than in many other countries Getty
----------
• Muslim Girls Enlisting in Israeli Army!
• NZ 'Jihadi Brides' Left From Australia
• Law Protecting Women from Abuse 'Un-Islamic': Pakistan Religious Groups
• Pakistani-American Women Find Space on the U.S. Comedy Stage
Compiled by New Age Islam News Bureau
URL: https://newageislam.com/islam-women-feminism/worshipping-equals-plans-build-britain/d/106672
---------
Worshipping as equals: Plans to build Britain's first women-led mosque
In Bradford, the Muslim Women's Council thinks its plans will go some way to address divisions in the community. David Barnett reports on their hopes and prayers
David Barnett March 15, 2016
Nabeelah Hafeez had just left her studies at the University of Bradford and was running a little late for evening prayers. She headed for the nearest mosque she knew of, not one she had visited before.Weighed down with her bags, books and the remains of a half-eaten sandwich left over from lunch, she rushed through the main doors of the building without really looking around, quickly removed her shoes as custom dictates, and hurried through to the main hall where prayers were about to start.Too late, Nabeelah realised that she had made a big mistake, and was being stared at as though she was completely out of place.
"Without knowing, I had just walked into the men-only space," she says. "I plucked up the courage to look around at the disapproving expressions, some men awkwardly looking away, some depreciatively staring directly at me, shaking their heads, and some confused and disoriented at a female figure invading their space, slowly moving away."One of the men, out of kindness to Nabeelah, offered to show her to the women's prayer space in the mosque. Well, almost in the mosque. She was taken back outside through the grand main entrance and directed around the side of the building to a back door, labelled with a marker pen as the "women's prayer room". It couldn't have been more different from the calm, ordered atmosphere of the main mosque.
"The first thing I noticed was the smell of dust and dampness," remembers Nabeelah. "A few women were already praying, so I made my way in and slowly settled into a small space by the wall. Feeling disengaged due to the unpleasant surroundings, I completed my prayers quickly and then I left, promising myself I would never return to pray there again."
There are almost a hundred mosques in Bradford and Keighley (a fair-sized town that's part of the Bradford metropolitan district). The website mosques.muslimsinbritain.org lists them all with their facilities represented by icons. A "W" means there is a women's space – but many of them have a W that is struck through, indicating the mosque is men-only.
Some of the mosques are ornate and grand, with gilded minarets from which the (generally recorded) muezzins' calls to prayer issue; others are converted warehouses or old cinemas, or even former residential properties. The majority of Bradford's areas that are home to the highest proportion of Muslims – such as Manningham and Great Horton – are clustered around the city centre. On Fridays in particular, at the time of the Jumu'ah prayers, the most important and well-attended prayers for Muslims, the faithful spill out into the streets, congregating around the entrances. They are mainly always groups of men. Women – their heads covered by the hijab, sometimes veiled with the niqab, separated into women's prayer rooms, if they are allowed at all – are rarely seen at these often-convivial-looking pre- and post-prayer gatherings.
Nabeelah, who worked for a time as social media co-ordinator for the Muslim Women's Council in Bradford, says that, despite her feeling of alienation in the mosque she visited, she wasn't particularly surprised.
"There have been countless times I have walked away from a beautiful mosque, questioning whether or not they accommodate women, if there would be space and if the proper facilities would be available," she says. "I admire the beauty of a mosque from the outside – its walls, towering minarets and impressive domes and windows. I feel the greatest sense of awe and appreciation for the incomparable architectural features. Yet many of us also desire to experience a moment of spiritual reflection within the mosque itself.
"Mosque spaces for women are slowly becoming ghost towns, and it's time that we ask ourselves why."
It's a question that has also been asked in Copenhagen, and last month something was done about it: Scandinavia's first female-led mosque opened its doors. It's for a mixed congregation, apart from Fridays, which is women-only. But the organisation and governance of it is by women. For all its problems with immigration, Denmark's homegrown Muslims are suitably Scandinavian when it comes to equal rights – the Mariam mosque in Copenhagen comes complete with female imams. In Britain, Islamic women can only dream of that. But, at least in Bradford, they're making a start. In May, the Muslim Women's Council will begin raising funds for the UK's first women-led mosque, to be sited somewhere in the city.
Bana Gora is chief executive of the Muslim Women's Council. When she was growing up, her father and brothers would go to the mosque to pray; Bana, her mother and her sisters would worship at home. That was just the way things were. At the group's offices in the Carlisle Business Centre in Bradford, she outlines the historical reasons why mosques might not be such welcoming places for women.
"If you look at the Muslim migration in places such as Bradford, the first cohort was made up mainly of men, and quite naturally one of the first things they wanted to do was set up places of worship," she says.
"What that meant in reality was that, when more women came over, the mosques were already established and the spaces were dominated by men. It probably wasn't a deliberate attempt to exclude women, it was just that women's access to the mosques was not a priority at that time.
"That's why today we often find that mosques are located in poorly lit areas, so there might be a safety issue for women who attend the mosque, having to use an entrance that's in a dark back street. Space for women to worship is quite often an afterthought to the original set-up, so this could be the reason that these spaces are perhaps not as well developed. There might be issues with washroom facilities."
Of course, in the early 1960s there were many places where women weren't welcome in the UK – particularly the working men's clubs. These days, though – apart from hold-outs such as the Garrick – there are few places where women are actively made to feel unwelcome; or at least there should be, if the Sex Discrimination Act is being adhered to.
But while even the working men's clubs have moved with the times, mosques seem more reticent. What Gora is keen to stress, though, is that the plans for Bradford are for a women-led mosque, not a women-only space. There's a crucial difference, she says: "It isn't our intention to build a space only for women. We want the organisation to be women-led, and we want the governance to be by women, because you just don't get women on the governing bodies of mosques. We want to create a space where women and families can worship together, not where women are shunted off to a side room."
What will be exclusively for women, though, is what Gora calls the "centre for excellence", a part of the mosque that will provide facilities and advice relating to a variety of topics, a safe space where Muslim women can get information and guidance in potentially sensitive areas – such as divorce, bereavement, parenting and legal issues.
In August last year the Muslim Women's Council launched a public consultation on the mosque project. A public meeting was held, attended by 150 people, and speakers included the Dean of the Cambridge Islamic College, Shaykh Akram Nadwi, who said the plan was "an initiative that deserves to be supported financially and morally by both men and women. I admire and appreciate the intention and the will and determination of those leading this project".
Bradford Council's leader David Green issued a statement afterwards, taking the pragmatic view: "If there is a demand for a women-led mosque and the Muslim women want it, then I am more than happy for that to happen. If there is a demand for it, then why shouldn't there be a mosque? If Muslim women want to build their own mosque, and have that space to worship and have control over their worship, then that's great."
In May, the Muslim Women's Council will unveil its funding strategy for the mosque project
Gora says response to the consultations has been "overwhelming", although there have been sticking points. The male-led Council for Mosques in Bradford initially said little in response to the project when it was first announced last year. But since then, the council's president, Mohammed Rafiq Sehgal, has given the project his blessing "as long as it is inclusive of all Muslims and operates in accordance with Islamic principles and etiquettes". And now,Gora says, she has its full support.
"There were perhaps some misconceptions at first," she adds. "Some people thought we were planning a women-only mosque where men would be banned. There were also concerns about who would be leading the prayers."
So no female imams, then, like those in the newly opened Copenhagen mosque?
"No," says Gora. Bradford, and perhaps the UK, are maybe not quite ready for that. But it is the governance of the facility that is important to her, and setting in motion what could be a quiet revolution in the way women have a say in the country's mosques.
Which, in the end, is the raison d'être of the Muslim Women's Council: improving the lot and perception of Muslim women both in their own communities and in the outside world. Gora set up the organisation in 2011, and the mosque project is only a part of what it does. One of its most successful enterprises is the Curry Circle, which on a weekly basis in Bradford and neighbouring Keighley provides hot food for homeless and destitute people. And it also organises the annual Daughters of Eve conference to debate women's issues in Islam (and guest speakers at one-off events have included Channel 4 News presenter Jon Snow).
One perhaps inevitable result of setting up the organisation is that the Muslim Women's Council has become the go-to place for the media seeking quotes. In January, David Cameron said that the lack of English among Muslim women must be tackled to combat extremism in their communities: on that day, Gora's phone was ringing off the hook. Not wanting to be merely a source of soundbites, she declined most requests, instead releasing a thought-through statement. But that, added to the periodic debates about whether Muslim women should or should not wear the veil in certain situations, means that a lot is being laid at the door of Muslim women, Gora thinks.
"We're now being seen as the enemy within," she says, with a sigh. "That's what we are facing right now. The worst thing for Muslim women in recent years has been the rise of Isis: the noise it is making is creating havoc for ordinary Muslims, especially women."
After 9/11, there was a lot of anti-Muslim feeling, says Gora. That subsided, but now she hears from a lot of women that Isis-related comments are directed at them in the streets. "I get asked if I know any jihadi brides," she says, with an almost desperate laugh. "No! Of course I don't!"
Two decades ago, says Gora, the main issues facing Muslim women in the UK were around health, education and integration. These areas are been slowly addressed. So how does she see the situation of Muslim women in 20 years' time?
"I dread what things are going to be like then," she says. "When you have a Government that's using strong language in relation to Muslim women and talking in terms of deportation, anti-Muslim sentiment is likely to worsen." She pauses. "Were you expecting something more hopeful?" she asks. "What I hope is for Isis to be totally eradicated. Then we can see if things improve."
But while Bana Gora, who formerly worked for the Joseph Rowntree Foundation on a 10-year project to influence social-policy issues in the Bradford area, takes the long view, she's also focused on the more immediate – and more positive – issue of the women-led mosque.
In May, the Muslim Women's Council will unveil its funding strategy for the mosque project. It has been in talks with architects and obtained some private finance; and a crowd-funding scheme is likely to be on the table to fill the pot. Gora has not yet revealed the projected cost, and about the location she will only say: "We're considering several sites, and yet to decide whether this will be a new build or an adaptation of an existing building."
The Muslim Women's Council will be keeping a close eye on the Copenhagen mosque. Its founder, Sherin Khankan, a renowned author and commentator in Denmark, born to a Syrian father and Finnish mother, told the news agency Agence France-Presse last month that the Mariam mosque was an attempt to challenge the "patriarchal structures" of Islam and to encourage debate and dialogue.
Khankan said: "We have normalised patriarchal structures in our religious institutions. Not just in Islam, but also within Judaism and Christianity and other religions. And we would like to challenge that."
The reaction, said Khankan, had been mostly positive, but there had been what she called "moderate" negativity. And some of that came from Waseem Hussein, a Copenhagen imam who told the Politiken newspaper, "Should we also make a mosque only for men? Then there would certainly be an outcry among the Danish population."
Khankan responded that the project was not about exclusion, but making women feel more welcome in mosques. And on the subject of female imams, she said there was clearly "an Islamic tradition allowing women to be imams" and that criticism was founded on ignorance.
Over the coming weeks, the drive to site Britain's first female-led mosque in Bradford will begin in earnest, with the hope that it also forces the established system to look again at how women are treated in these all-important places of worship.
For women such as Nabeelah Hafeez, the day when Bradford's women-led mosque joins its counterpart in Copenhagen cannot come soon enough. "It is clear that there is a need to reform our mosques, focusing on better governance with equal representation for men and women at leadership level. There should be proper facilities for women and a focus on the involvement of women in all aspects of the mosque, including the inclusivity of women within the main prayer hall," she says.
What might be most surprising is that Britain and Europe lag behind other countries: China has had women-only mosques for a long time, and it's more than a year since the opening of the Women's Mosque of America in California. Its founder, M Hasna Maznavi, told MuslimGirl.net that it was not only about providing a safe space for women, but also about empowerment. She said: "We want women to come here, gain inspiration, and go back to their mosques with that inspiration. We want these women to join the boards at their mosques, and bring all the things that they learned from us – strength and empowerment – to their mosques and make them better."
The opening of Britain's first women-led mosque might just herald a sea-change in the way mosques and Islam are perceived, with Bradford's Muslim women no longer being seen as "the enemy within", but rather as agents for change and reform.
independent.co.uk/news/uk/worshipping-as-equals-plans-to-build-britains-first-women-led-mosque-a6933021.html
-------
Muslim Girls Enlisting in Israeli Army!
March 16, 2016 | David Lazarus
Still think Israel is a racist, apartheid state? You wouldn't know it to listen to these young Muslim and Christian Arab girls, who are joining the Israeli army in ever greater numbers.
Young Muslim girls are joining the fight, on Israel's side! These courageous young women have a unique and important story to tell, and together with a growing number of Christian Arab girls, they are breaking new ground joining ranks with the Israeli army.
When Private 'A', one of the Muslim girls now serving in the IDF decided to enlist, her parents refused to support her. She had to leave home and received support from the army as a lone soldier.
"I need to support myself," she says, "and it's really difficult, even with the help I get from the army. It is rare for a Muslim girl to join the army, because our families will not accept it. Even so, I would still recommend others to enlist. It is a great, life-changing experience."
Private 'G', a devout Muslim, grew up in a Jewish neighborhood. She decided to enlist after she saw all of her neighbors going to serve.
"The army is an important part of everyone's life in my neighborhood," she explained. "I wanted to serve just like everyone else. I want to give something back to Israel, my country."
She added that her mother has been very supportive and sends her regular letters for moral support. "Mom said that she would have enlisted also if it had been possible when she was my age."
According to Private 'G', recent tensions in Israel caused by young Muslims running through the streets attacking Israeli soldiers with knives does not influence her commitment to serve in the army.
"I am so angry, just like the other soldiers, with these attacks. I am angry that anyone would try to harm these soldiers who are supporting me," she said.
Private 'S' also grew up in a Jewish neighborhood. "My whole life I went to school with Jewish girls, so I wanted to finish high school, and enlist in the army, just like my friends," she noted.
"I have never been ashamed of my [Muslim] faith, not even in the army. I wanted to enlist because it is my duty to serve and protect my country," she added. "I want to serve in a way that makes a significant contribution."
According to Private 'S', the army allows her to practice her religious traditions during her army service. "They allow my to go home during the Muslim Ramadan fast, once a week to be with my family," she explained. "Some may think it is strange, but at home we actually celebrate some of the Jewish holidays like Purim."
Corporal 'M' is a Christian Arab serving in a sensitive operational unit. "One day I saw a group of girl soldiers walking by carrying machine guns. I asked them about their army service, and it sounded really interesting. I didn't even know where one would go to sign up, so they told me what I needed to do to enlist," she recounted.
"After I enlisted," continued the corporal, "I was walking around the [Arab] neighborhood where I live in uniform. When people saw me they deleted me from their Facebook and erased my number from their telephone. It was very hard, but a few friends still supported me, and I have made a lot of new friends in the army," she shared.
All the young Muslim and Christian soldiers say that other girls are asking them about enlisting too. "I tell them that I feel like I am doing something important for my country," said Corporal 'M'. "And when I explain to the Jewish soldiers why I decided to enlist, they all show real respect for the decision that I made."
israeltoday.co.il/Default.aspx?tabid=178&nid=28547
------
NZ 'Jihadi Brides' Left From Australia
Wednesday 16 Mar 2016 8:28 p.m.
The New Zealand "Jihadi brides" who went to Syria and Iraq actually left from Australia, it has been revealed. It was headline news last year when the head of the Security Intelligence Service (SIS), Rebecca Kitteridge, told a Parliamentary committee "the issue of women going to Syria and Iraq" was a new development.
Prime Minister John Key, the chairman of the committee, then asked her if the women were going to become Jihadi brides.
"Presumably," Ms Kitteridge said.
"It's difficult to see what they do when they get there, whether they're going to fight or support other fighters isn't clear but it's a concern they're going at all."
Now the SIS, in response to an Official Information Act request from RNZ, has said the women concerned didn't leave New Zealand.
"They were New Zealand citizens domiciled in Australia and they left from there," the SIS said.
It was never revealed how many women left, apparently to join Islamic State.
Labour leader Andrew Little, a member of the Intelligence and Security Committee alongside Mr Key, says he gained the impression at the time that the women were resident in New Zealand when they left.
The Green Party, which isn't represented on the committee, says the public were misled and "a paranoid shadow" was cast over Muslim women in New Zealand.
"These comments came at the time the Government launched a review into the spy agencies," said co-leader Metiria Turei.
"It is my belief the comments were used to whip up fear in order to justify far-reaching extensions of spy powers."
Chris Finlayson, the minister in charge of the SIS and the GCSB, denies the Government deliberately created the wrong impression.
newshub.co.nz/politics/nz-jihadi-brides-left-from-australia-2016031620#axzz4347nLTQt
----------
Law protecting women from abuse 'un-Islamic': Pakistan religious groups
Mubasher Bukhari, Reuters
Tuesday, March 15, 2016
LAHORE, Pakistan - An all-parties conference convened by Pakistan's oldest Islamic political party and attended by powerful religious groups asked the government on Tuesday to retract an "un-Islamic" law that gives unprecedented protection to female victims of violence.
The Women's Protection Act, passed by Pakistan's largest province of Punjab last month, gives legal protection to women from domestic, psychological and sexual violence.
It also calls for the creation of a toll-free abuse reporting hot line, women's shelters and district-level panels to investigate reports of abuse and mandates the use of GPS bracelets to keep track of offenders.
Domestic abuse, economic discrimination and acid attacks made Pakistan the world's third most dangerous country in the world for women, a 2011 Thomson Reuters Foundation expert poll showed.
But since the law's passage, many conservative clerics and religious leaders have denounced it as being in conflict with the Muslim holy book, the Koran, and the constitution.
On Tuesday, representatives of more than 35 religious parties and groups came together for a conference called by the Jamaat-e-Islami party and condemned the women's protection law as un-Islamic.
"The controversial law to protect women was promulgated to accomplish the West's agenda to destroy the family system in Pakistan," read the joint declaration issued at the end of the concrescence. "This act ... is redundant and would add to the miseries of women."
The passage of the new law was welcomed by rights groups but spirits have since dampened as conservative voices have increasingly called for its retraction.
On Monday, Fazlur Rehman, the chief of one of Pakistan's largest religious parties, the Jamiat-i-Ulema Islam, said Prime Minister Nawaz Sharif had promised him at a meeting that he would address the reservations of religious parties.
"Prime Minister Nawaz Sharif heard our reservations against the Punjab Protection of Women Against Violence Act 2016. He promised to amend the law so that it doesn't contravene the teachings of the holy Koran," Maulana Fazl told journalists at his residence.
Earlier this month, the Council of Islamic Ideology, a powerful Pakistani religious body that advises the government on the compatibility of laws with Islam, declared the Women's Protection Act un-Islamic.
A prominent lawyer has also filed a petition in the top sharia court asking it to strike down the law.
chathamdailynews.ca/2016/03/15/law-protecting-women-from-abuse-un-islamic-pakistan-religious-groups
--------
Pakistani-American Women Find Space On The U.S. Comedy Stage
MARCH 15, 2016
By Marisa Endicott and Meggie Morris
Imagine a "Dancing with the Stars" competition that pits the Taliban against Al Queda. The winner isn't presented a trophy shaped like a miniature disco ball, however. Mona Shaikh would award them a bar of soap.
"A girl can only dream," said Shaikh, a Los Angeles-based stand-up comedianwho envisioned the parody.
Shaikh moved to the United States from Pakistan at the age of 15. As a Pakistani-Muslim woman, she is a rare sight in the male-dominated world of American performance comedy. Women still make up a relatively small part of the comedy scene, and struggle with gender-based discrimination to get there and stay there.
comedian Mona Shaikh
Mona Shaikh was the first Pakistani woman to qualify for the Laugh Factory's "Funniest Person in the World" competition. (Photo courtesy of Mona Shaikh/Real Flava Comedy Club Dubai)
The standup and improv industries in Chicago drew criticism recently after widespread allegations of sexual harassment of female comics surfaced. In L.A., the artistic director of the iO West comedy theater was fired last month following numerous accusations of sexual harassment.
Muslim women face an even steeper battle in an industry and country that constantly pigeonholes them for both their gender and religion. "A lot of the roles out there now are just a woman in a hijab with an accent," said Aizzah Fatima, a New York-based Pakistani-American comedienne. "We need many more voices in this field, coming from both America and abroad."
There are not enough representative roles out there for Muslim women, and not enough actors or comedians to fill them, she said. "There's like three other people, and I know them."
Still, with the meteoric rise of a few female comics including Amy Schumer and Samantha Bee, and a growing number of women-led sitcoms and comedy films like Broad City Bridesmaids, opportunities are emerging.
"There are a lot more female comedians now than ever before," Shaikh said. They're "out there doing great things, breaking stereotypes and making big waves. I see what kind of significant change they're making."
Among the women from diverse backgrounds starting to make names for themselves are three Pakistani-Americans.
Fawzia Mirza left her job as a lawyer to pursue comedy and acting full-time. With her sister in architecture school and her brother studying to become a doctor, Mirza said she used her legal career as "a way of not worrying about getting married but still sort of fulfilling family obligation."
comedian Fawzia Mirza
She developed her sense of humor as a child to cope with being the only brown kid in her Nova Scotian town, and then as a teenager in rural Indiana, Mirza said. A Pakistani-American-Muslim who identifies as queer, comedy helped Mirza connect with others, and allowed her to explore the complicated intersection of her conflicting identities.
"I think that expressing yourself is something that's important and valuable for us as a country of Pakistan, as a culture, as women," she said. "I think there's a time to do it now that there wasn't before."
Personal motivations also pushed Shaikh into comedy and performance. "Being an artist saved my life," she said. When Shaikh left her home in Karachi, Pakistan for the U.S., she was not prepared for the difficult transition she would face.
"No one told me anything about how different high schools are in America, where every kid has their own clique and their own environment. That I was going to stand out like a sore thumb and I was not going to have any friends," she said. "I was possibly gonna face a lot of prejudice, no one really prepped me for that… I was just kinda thrown in the storm."
Being on stage empowered Shaikh to address her own insecurities and fears, to understand herself better and connect more easily with others as a result.
The deep-rooted passion these comediennes discovered encouraged them to continue on despite obstacles ranging from family disapproval to career-limiting stereotyping.
Shaikh's parents almost sent her back to Pakistan to be married off when she told them about her career plans, she said. She packed up and left at 18, but now, years later, her family has come to terms with her choices.
"My mom came and stayed with me in New York and she saw the amount of hard work and the sweat, blood and tears that goes into being a performer," she said. "She's become one of my biggest cheerleaders."
After falling out with her own family, Mirza used her work to bridge the gap between herself and her mother. Her one-woman-show, "Me, My Mom and Sharmila," navigates their relationship through their love of a Bollywood actress.
"The one thing I know is I can connect with my mom by making her laugh," Mirza said.
These women face a whole other set of challenges when it comes to the general public. Divisive political rhetoric promotes a single narrative that exists around Muslims, said Fatima who left her job as an advertising engineer at Google to pursue a career in the performing arts. "I feel like there's a lot of misconceptions and ideas about Muslims out there that are just inaccurate." Fatima is currently touring her one-woman-show, "Dirty Paki Lingerie," in the United Kingdom.
Comedy can be a tool to address those misconceptions.
In Mirza's new mockumentary out this month, she plays the illegitimate daughter of Donald Trump. "Donald Trump is definitely making America hate again," Mirza proclaims in the trailer. "I am Ayesha Trump: 50 percent Trump and 1000 percent American."
These Pakistani comediennes discovered a natural progression into social activism through their work. Whether that was their primary goal or not, they have embraced the opportunity to reframe how people in the U.S. see women in comedy and Muslim women in general.
"Sometimes comedy just opens up the door for people to come in, and they're able to laugh and connect to something that they might see as the 'other,'" Fatima said. "When people do that, that 'other' actually becomes something very familiar, and a part of who you are…You relate to it because you're laughing."
news.medill.northwestern.edu/chicago/pakistani-american-women-find-space-on-the-u-s-comedy-stage/
URL: https://newageislam.com/islam-women-feminism/worshipping-equals-plans-build-britain/d/106672
New Age Islam, Islam Online, Islamic Website, African Muslim News, Arab World News, South Asia News, Indian Muslim News, World Muslim News, Womens in Islam, Islamic Feminism, Arab Women, Womens In Arab, Islamphobia in America, Muslim Women in West, Islam Women and Feminism